Oozing with glamour and sophistication, the shell chair is a statement price for just about any room in the home. Typically upholstered in a velvet finish, you can buy a shell chair in just about any colour to match your room.
Whether you're looking to fill a corner in your bedroom, mix and match with your sofa setup in your living room or have as a comfy place in your spare room or makeup parlour – the shell chair is one of those decor prices that will add instant style to your room while being super comfy.
The shell/scalloped chair has been a trend in the interior world for some time now, and if like us, you follow an obsessively amount of Instagram accounts with #DecorInspiration then you'll be no stranger to this beautifully designed chair that's popping on Instagram. Why not give us a follow on Instagram for daily decor inspiration?
Meanwhile, we've hand picked some of our ultimate favourite shell chairs for all budget types (and colour schemes, of course) below for you to add to your wish list.
Dunelm Shell Chair – £149
This gorgeous velvet deep blue shell chair by Dunelm is an elegant find. We love the blue velvet matched with the gold legs to give the chair an Art Deco elegance that would look amazing in a blue styled living room.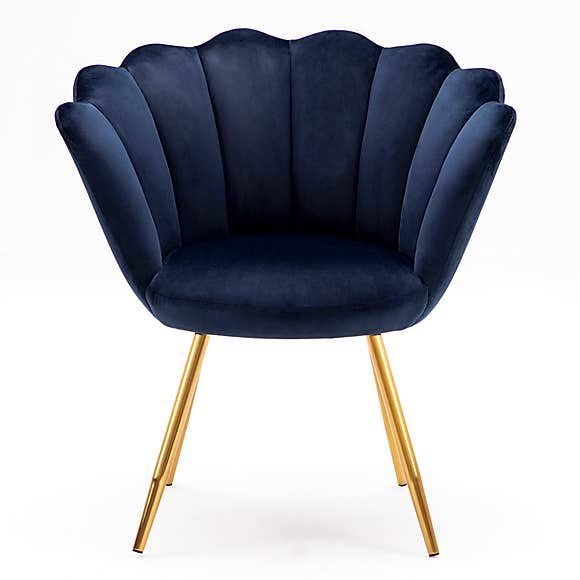 Daals Hepburn Pink Shell Chair – £152.99
We can imagine this beautiful pink shell chair matched with an elegant dresser in the bedroom. The super soft cushion base adds extra comfort while being elegant and feminine in a stunning baby pink colour and gold legs for a class finish.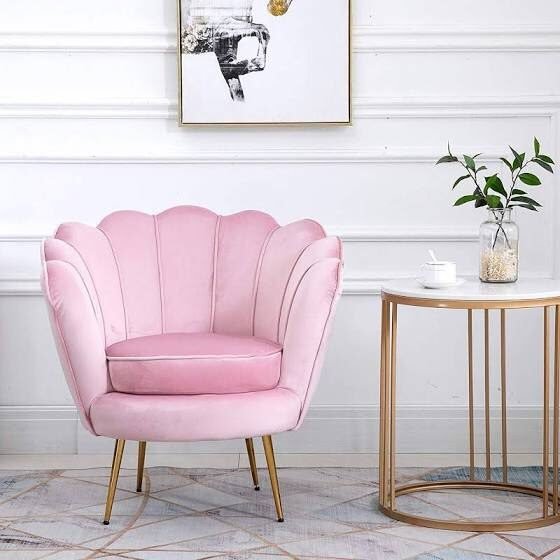 Scout About Interiors Shell Chair – £239
If bold colours aren't your thing why not opt for a gorgeous pale grey shell chair instead? We love this design from Scout About Interiors as it's subtle but stylish. You can always add a pop of colour with a cushion too. We think this chair would look great as part of a round dining table setup in a small space.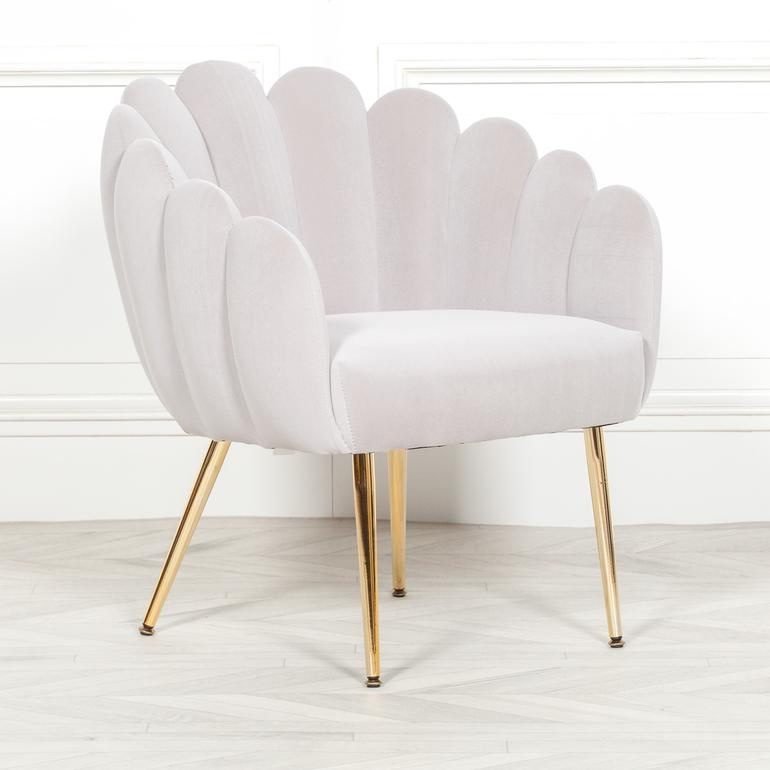 Olivia's Grey Velvet Shell Chair – £880
For a contemporary styled lounge we've picked this gorgeous grey shell chair from Olivia's which is one of the higher end price tags for the shell chair but definitely adds a touch of luxury into your home. If you adore a grey living room colour scheme we think this chair would fit beautifully with your decor. (Image source Oliva's)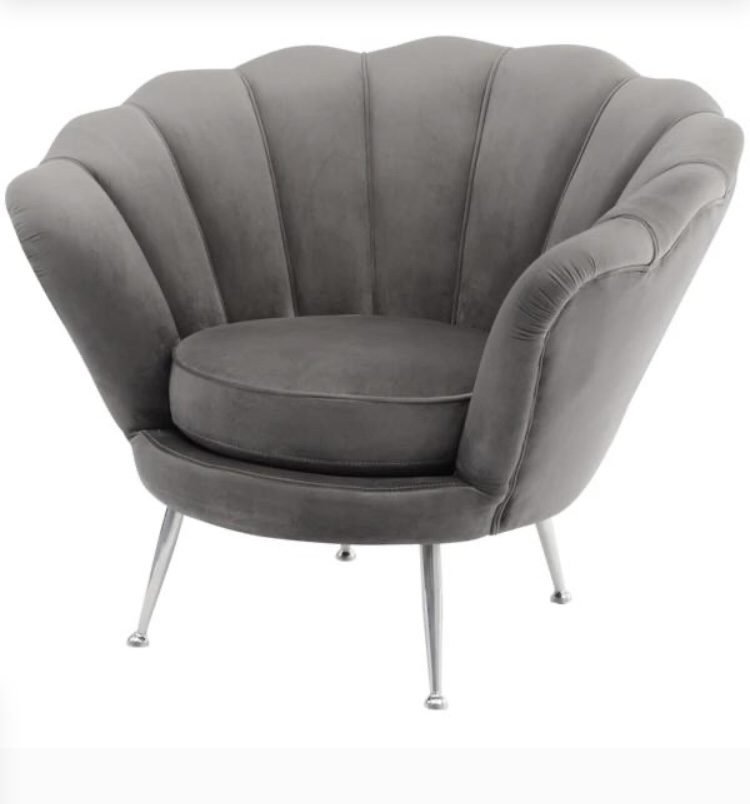 Read our blog on how to choose the right colour scheme for your living room
Oliver Bonas Flora Scalloped Armchair – £395
If you're looking to add a pop of colour but not overly bright, this mustard yellow shell chair from Oliver Bonas is the perfect addition to your home. The beech legs add a warmth finish to the chair and we think this would make a cosy chair for reading and relaxing in your living room or bedroom.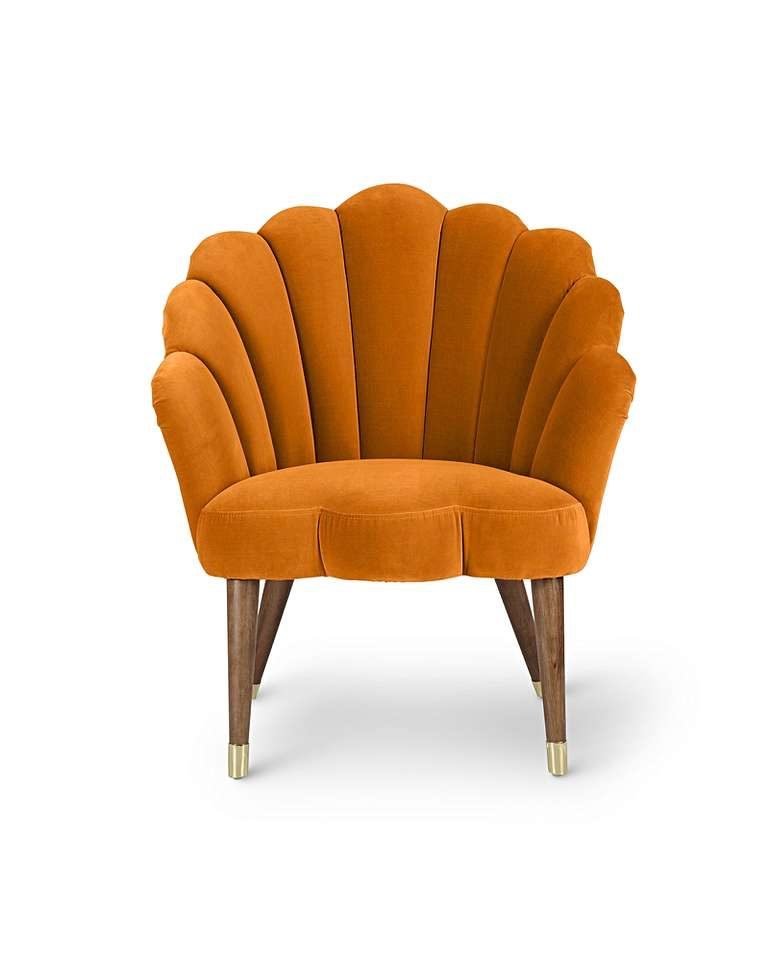 Sogoo Velvet Shell Tub Chair – £208.99
Sink into this gorgeous green shell chair by Sogoo, which comes with a gorgeous matching pillow for extra comfort. The tub design allows you to sit comfortably while being supportive to your back. This chair is upholstered with luxurious velvet and features metal legs, which allow the chair to be low down to add to the cosiness.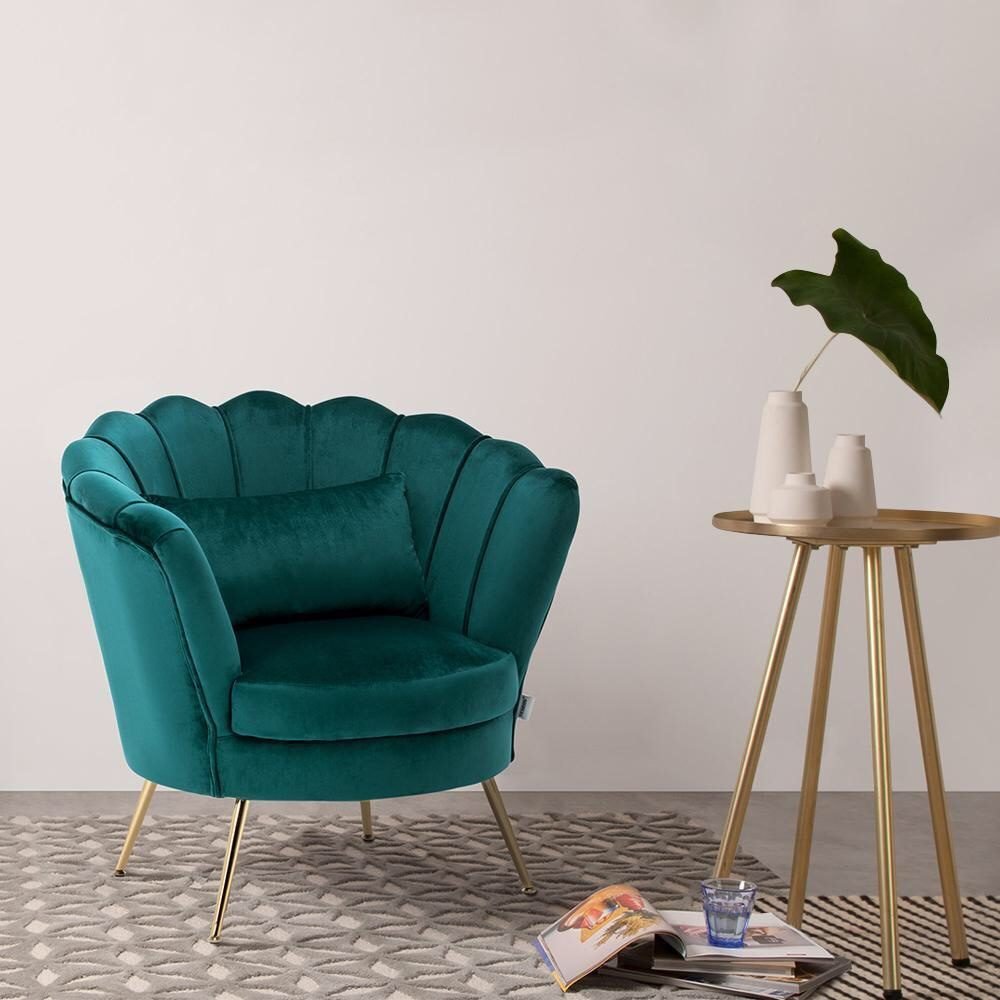 Lifelook Rose Velvet Accent Shell Chair – £228.99
You can stop your search for the perfect, bold statement reading chair! We love this vibrant rose chair from Lifelook with comfy cushioned seat to sink into after a hard day of work. The pretty gold tint legs add a touch of elegant and glamour to the overall look too, which we love! Would you be daring to have this colour in your living room?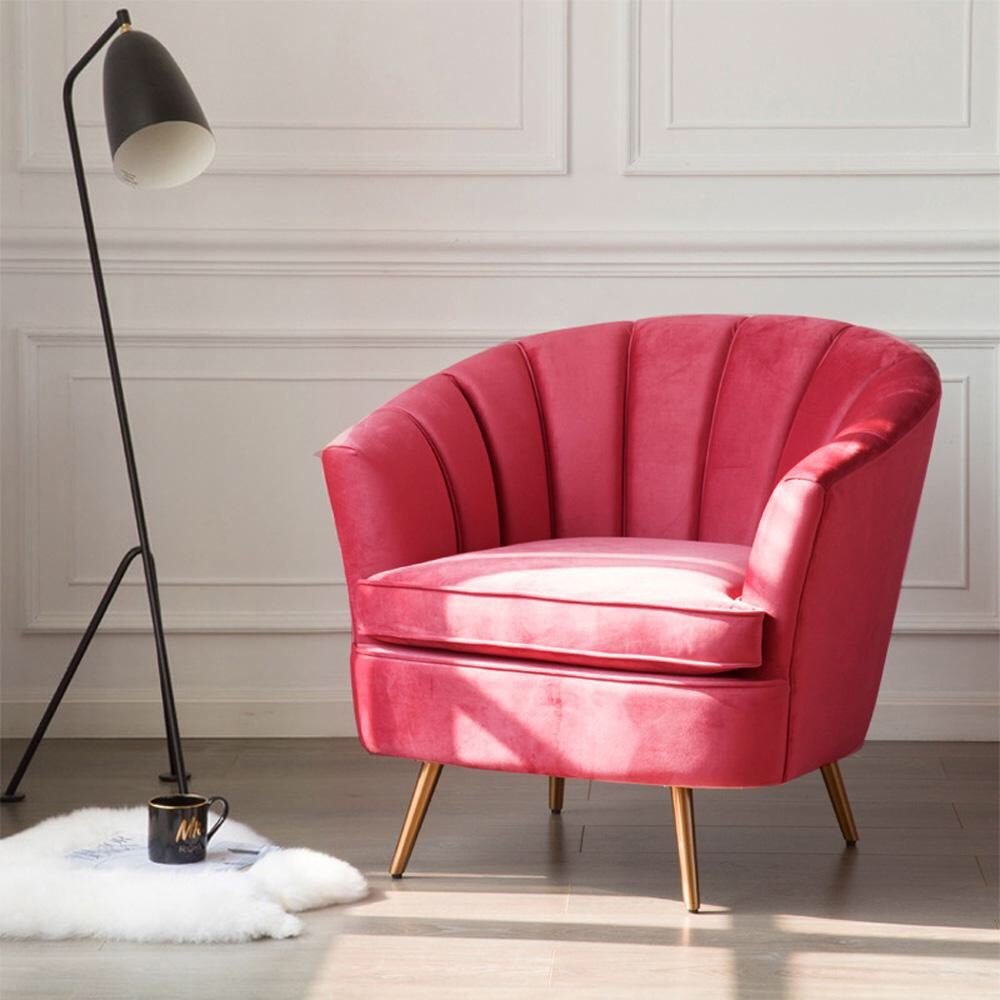 Shropshire Design Purple Velvet Petal Chair – £284
Adorn your home with colour in an elegant way with this beautiful purple shell chair by Shropshire Design, the deep plum colour and the shell back design makes this chair a show stopping staple in your home. Style up a corner in your living room or add to your sofa arrangement to add instant glam.