This article is written by Leanne, editor at Style Your Sanctuary to provide an honest review.
Hello there! Welcome to the product review series where I test household goods to see their value around the home. This week, I am reviewing the Think Gizmo Indoor Heated Clothes Airer from Amazon.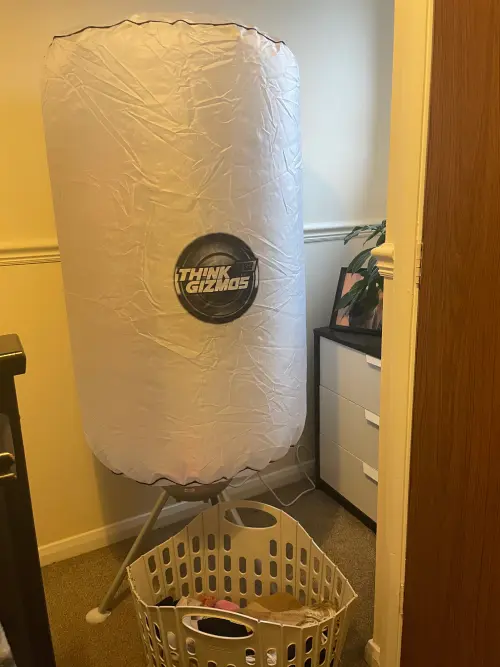 My indoor heated airer sits comfortably on the landing
Why get an indoor heated clothes air dryer?
I needed an indoor airer badly this winter. I moved into a small house last year and I found that drying clothes in the garden and on a clothes rack just didn't cut it in winter. I don't have space for a tumble dryer, so I dried clothes on a rack and sometimes it would take a day and a half to dry out clothes, only to feel unclean and not so fresh.
This winter, I decided that I wanted to get an indoor heated clothes airer because I wanted my clothes to dry quicker and still feel and smell as good as they came out of the washing machine.
I was undecided between getting a heated drying rack or a covered airer. I went through Amazon to skim through all of the reviews. This made me conclude that a drying rack was not for me, as most people said that it only dries on the sections that the clothes hang on, and takes ages. I wanted something easy.
Advantages of the indoor heated clothes airer
I bought the Think Gizmo Indoor Heated Clothes Airer from Amazon because it seemed like the best alternative to a tumble dryer. With its blow-drying element and cover to heat and dry your clothes. This gadget was easy to put up and use. I am really pleased with it, so here are some advantages that I have found with this indoor heated airer.
Compact – It doesn't take up much space compared to a rack
It's not as loud as you would think – slightly quieter than a hair dryer
A full load of washing can be dried the same day
Acts as an iron too!
rotating rail to hang clothes easily
Heats up the room it's in
It can dry bulky items like jeans, towels and bedding – just don't overload it!
These are just some of my favourite things about this airer. I've had it for a few months now, and it's remained in quality which is good.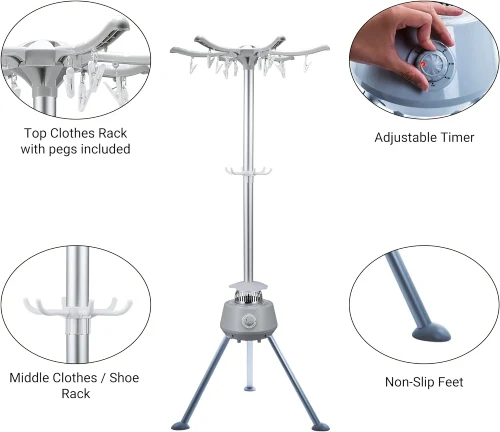 Disadvantages of the indoor heated clothes airer
Along with its advantages come some disadvantages, but these points below don't turn me off using or recommending this product, it is something to probably consider if you're thinking of buying an indoor heated clothes airer.
Storing it can be difficult if you don't have a spare cupboard. You can take the legs and rail off easily enough but it can be annoying if you're constantly using it.
Condensation – make sure you keep the room or area ventilated as moisture will circulate. I dry my clothes by a window and keep it open ever so slightly.
Noisy – it's a little noisy if you're in the same room when it's on which could get annoying, but I don't have an issue with this as it's on the landing.
You can't overload it too much. I dry clothes for just me and my other half, so it's manageable. If you've got a big family, your load may be a lot bigger so it would take more time.
Drying time for an indoor heated clothes airer
One of the key points for getting an indoor heated clothes airer was that I wanted to dry my clothes quicker than on a normal drying rack. I am not a huge fan of drying racks, as I feel that clothes just sit there and the moisture just goes into the air, making the room or space damp.
The Think Gizmo Indoor Heated clothes Airer from Amazon is relatively good when it comes to drying times. I've had it a while now, and have times how long each type of wash takes:
Medium load (mix of hoodies, tops, jeans, underwear) – 3-3.5 hours
Light load (white wash) – 1.5 hours
Towels – 3.5-4 hours
Express dry (if the washing has been outside but not fully dry) – 1 – 1.5 hours depending on how big the load is)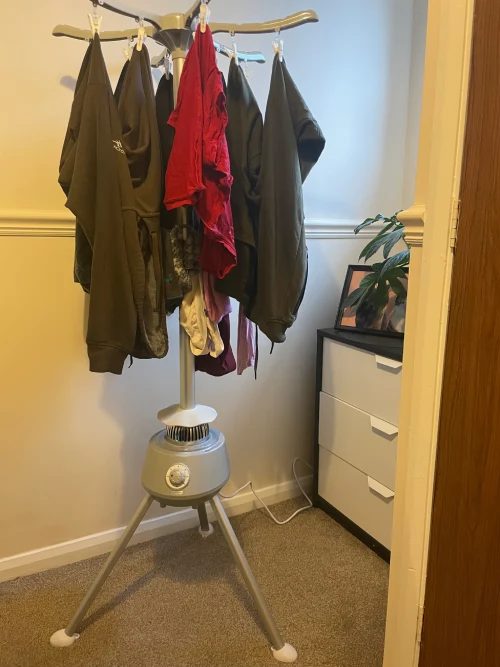 Light load using the peg hooks (view before the cover goes on) – I also add clothes over the rails to increase the drying load.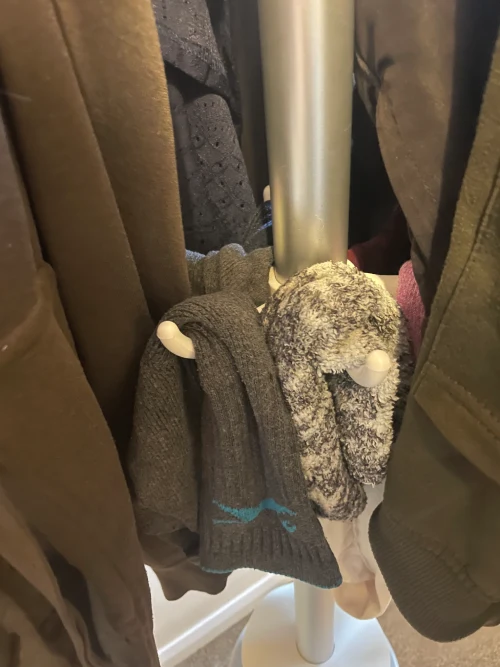 Additional hooks inside for socks, underwear and anything small to hang or hook onto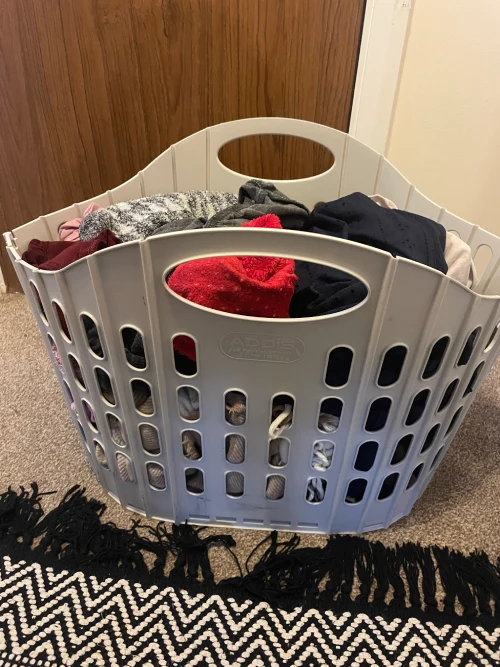 A full load of washing takes around 3 – 3.5 hours to dry in the heated clothes airer
When compared to a tumble dryer, the heated clothes drier takes about double the time to dry clothes. When you take into consideration its compact size and power, it's not that bad at all. I would highly recommend this indoor heated clothes airer to anyone who can't get a tumble dryer or doesn't want to spend that much on one, and for those in small apartments and houses as this has been a lifesaver this winter!
Buy the heated clothes airer on Amazon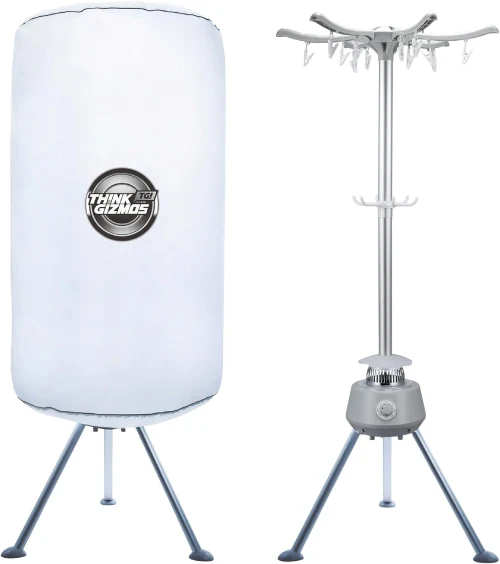 Did you enjoy this article? Follow us on Instagram or Facebook to stay up-to-date with ideas and tips around the home!