Are you looking to transform your outdoor space without breaking the bank or harming the environment? Look no further! Here are some eco-friendly design ideas that will help you to create a beautiful outdoor oasis on a budget. With a little bit of creativity and effort, you can turn your outdoor area into a relaxing and inviting retreat that you and your loved ones can enjoy year-round.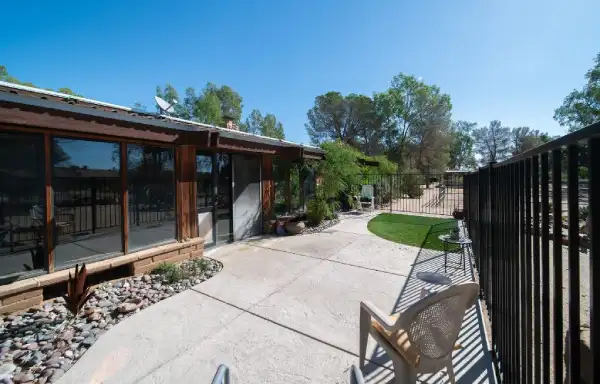 Upcycle and Repurpose
One of the best ways to transform your outdoor space on a budget while being eco-friendly is to upcycle and repurpose it. For example, instead of buying new outdoor furniture, consider using old pallets or crates to create unique and personalized pieces. You'll find a ton of DIY tutorials and inspiration online! Another way to upcycle is by turning old buckets, cans, or kitchenware into planters. You can also use old doors or windows to create a greenhouse or trellis. 
Artificial Turf
If you're looking to give your outdoor space a fresh, new look without spending a lot of green, consider installing artificial turf. It's an eco-friendly, cost-effective alternative to natural grass, and it requires little maintenance. Plus, it's perfect for areas where you experience drought, or if you want a consistently green lawn all year round. You can easily have this installed by professionals like Amazing Scapes LLC.
Use Solar Lights
Say goodbye to traditional lights that require electricity and say hello to solar lights! Not only are they eco-friendly and won't add to your electricity bill, but they provide lovely outdoor lighting at night. Solar lights store energy from the sun during the day and use that energy to illuminate your yard at night. Not to mention, they're easy to install and come in a variety of styles and colors to suit your taste.
Go Thrifting
Another budget-friendly and eco-friendly option is to go thrifting for outdoor decor or furniture. You might be surprised by the unique pieces and antiques you can find for a fraction of the price you'd pay for new items. It's also a great way to recycle and give new life to old items that might've otherwise ended up in a landfill.
Composting
If you're someone that likes to garden or grow plants, then starting a compost pile is an excellent way to make use of food scraps, grass clippings, and other organic items. Composting not only helps to reduce your environmental footprint, it also creates nutrient-rich fertilizer for your garden. Plus, it's easy to start and requires little effort to maintain.
Transforming your outdoor space on a budget with eco-friendly design ideas is not only affordable but good for the planet. Upcycling and repurposing supplies, installing artificial turf, using solar lights, going thrifting, and composting are just a few ways to get started. With a little bit of creativity, your outdoor space can become your own beautiful oasis without hurting the environment. So go ahead and enjoy your outdoor space knowing that you're doing your part to help the planet. 
Did you enjoy this article? Follow us on Instagram or Facebook to stay up-to-date with ideas and tips around the home!