This article is written by Viking Pavers to provide you with advice in your home and garden.
An inviting outdoor space is a valuable enhancement to any home. When thoughtfully designed with occupant enjoyment and long-term value in mind, a patio bears immense potential. This article explores a variety of patio features and their impact on livability, aesthetic appeal, and property worth through maximizing usable space and stylistic curb presence. insightful homeowners strategically develop fully-realized patios reaping ample returns.
The Value of Outdoor Living Spaces
A well-designed patio can greatly enhance the aesthetic appeal and market value of a home. By extending living space outside, homeowners gain additional room for entertaining guests or simply relaxing at the end of a long day. With the right layout and features customized for the occupants' needs, an outdoor area becomes a highly usable asset.
Choosing the Right Flooring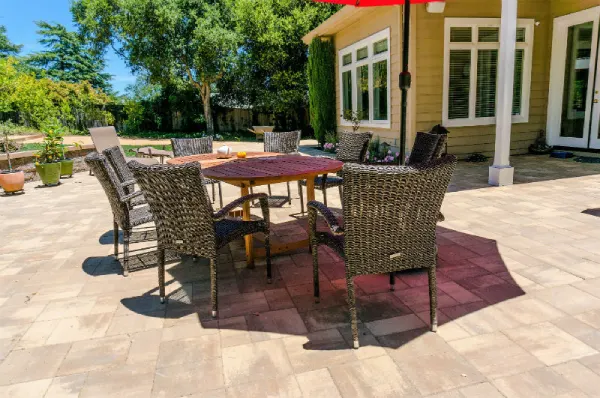 The patio surface is arguably the most important design decision, as it dictates not only the appearance but also longevity and maintenance requirements. Concrete slabs are practical and budget-friendly but lack visual appeal. Pavers offer more aesthetic options and allow movement between pieces for repairs. According to Viking Pavers, interlocking concrete pavers are an excellent choice as they are durable, contribute to curb appeal, and increase property value. Flagstone grips nicely underfoot yet installing it is labor-intensive. Ceramic tile comes in vibrant colors and patterns, yet grout lines require sealing to prevent cracking. While upfront material costs vary, pavers and stone generally provide the best return on investment through added home value.
Covered Patios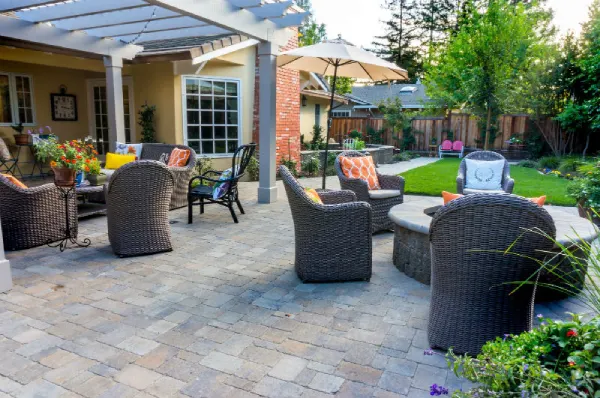 A covered patio expands opportunities for outdoor living even in inclement weather. With a roof overhang or freestanding pergola overhead, occupants gain an outdoor room suitable for everything from lounging to dining al fresco. Weather protection makes the covered patio usable 365 days a year versus an open design limited to fair-weather months. Extending living space and usability enhances the home's functionality and provides more room for entertaining guests, thus contributing to value. Pergolas and roofs with vertical structure like latticework also boost curb appeal.
Fire Pits and Outdoor Fireplaces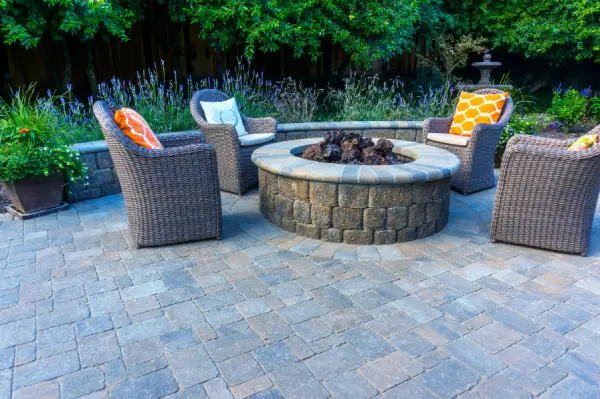 Gathering around an outdoor fire is a cozy way to pass evenings, and incorporating a fire feature like a fire pit or masonry fireplace makes the patio an inviting destination year-round. These build on the patio's functionality for relaxing and socializing. Beyond ambiance, a fire also provides supplemental outdoor warmth extending the usable season. Masonry styles blend attractively with landscaping while contemporary steel pits fit a variety of aesthetic tastes. Both significantly improve the living experience, increasing enjoyment and potential resale value.
Built-In Seating and Storage
Rather than wasting space with loose patio furniture, built-in designs integrate seating, planters, and storage to maximize the area. Planters double as short retaining walls for tiered seating or serve as dividers between activity areas. Storage under or behind seating conceals discarded items while keeping essentials close at hand. Numerous styles complement any design aesthetic. The functional organization appeals to buyers needing usable room without excess furniture. Built-ins also strengthen curb appeal and contribute lasting value homeowners can appreciate for years.
Outdoor Kitchens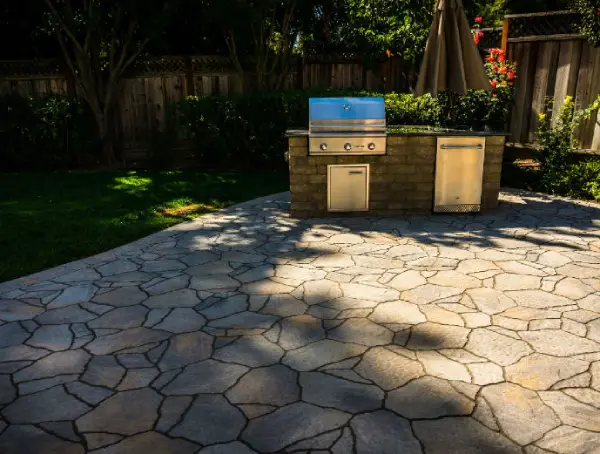 An outdoor kitchen transforms a patio into an ideal epicenter for cooking and socializing. With features like a grill, sink, and prep space topped by a durable counter, food preparation happens seamlessly between indoors and out. Parties flow freely whether grilling meats or making salads. Integral appliances also cut back on kitchen crowding during large gatherings. Beyond functionality, outdoor kitchens boost curb appeal and property value substantially through expanding living space. Upscale fixtures and layouts blend aesthetics with true practicality.
Enhancing Ambiance and Practicality
Well-placed lights and electrical outlets enhance functionality at every hour. Post lights and path lamps guide safely around the patio after dark. Under-cabinet fixtures illuminate food prep spaces. String lights strung from pergola beams set a festive atmosphere. Duplex outlets dispersed conveniently make it easy to play music, charge devices, or operate small appliances anywhere needed. Lighting influences ambiance and safety while electrical additions maximize usability. Together they increase enjoyment and value derived from the patio at all hours.
Bringing Life to Your Patio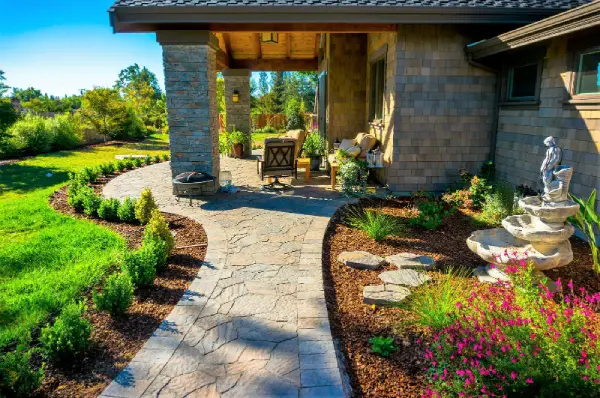 Landscaping blends function and natural beauty through softens hardscapes. Flowering vines soften fences and walls. Potted plants in warm hues cue seasonal enjoyment. Shade trees provide protection from harsh sun where wanted. Edible gardens integrate herbs and fruits within sitting areas. Flowers, shrubs, and trees supplement curb appeal with living foliage framing the patio and blending it into the surrounding yard. Well-incorporated greenery enhances desirability, increasing value and dedication to outdoor living over many years.
The Final Touches
As integral outdoor rooms, spaces gain personality from thoughtful accessory choices. Wicker chairs and sofas in neutral tones maintain a breezy atmosphere. Area rugs grounded in earth tones accent tables and seating groupings. Pendant lights strung overheads cultivate intimacy. Vintage-inspired accessories like planters, wall art, and pillows tell a story engaging the eye and comfort the senses. Combined with quality furniture, an aesthetic takes shape drawing occupants outside for leisure and conversation. Accessory choices contribute greatly to morale and enjoyment of a fully accessorized patio.
Maintenance and Upkeep
Quality materials require periodic maintenance to sustain appearance and performance over the long run. Sealed cracks prevents water damage. Clear drainage systems shed fluids evenly. Stained or painted surfaces get fresh coats as needed to prevent fading. Furniture cushions and textiles receive protective or waterproof covers in inclement weather. Decks receive routine power washing. Plants receive deadheading and pruning to flourish. Upkeep preserves initial investment over time, retaining visual appeal, durability and derived property value through years of enjoyment.
In-Summary
A well-designed patio customized for residents' needs provides an outdoor room extending living space, increasing usable areas for activities like dining or lounging. Quality hardscaping like pavers combined with lighting, greenery, and functional additions significantly boost curb appeal and add lasting value through maximizing enjoyment. Regular maintenance ensures longevity of materials and derived value. Overall, investing strategically in all patio elements creates a desirable outdoor haven for leisure, conversation, and food preparation – improving quality of life for occupants for years to come and for future homeowners as well. 
Did you enjoy this article? Follow us on Instagram or Facebook to stay up-to-date with ideas and tips around the home!