Are you dealing with a small space and struggling to find efficient storage solutions? Don't worry, we've got you covered! This article with creative and practical ways to transform your compact utility room into a powerhouse of organization. Say goodbye to clutter and hello to a well-organized, functional space that will make your daily chores a breeze. Whether you're a busy parent or a neat freak, these ideas will provide you with all the information you need to maximize the potential of your utility room. So, let's dive in and explore the world of modern utility room ideas!
Getting the most out of your small utility room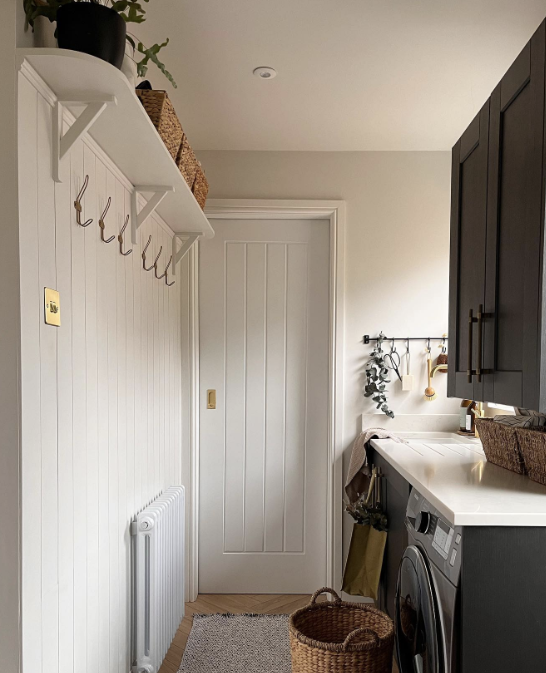 Be clever with your small utility room with shelving and hooks on unused wall space / Image by @georginaraineinteriors on Instagram
It's essential to optimize every square inch of your small utility room. With clever tricks and layout tips, you can create a functional and organised space that feels surprisingly spacious.
Here are some tips to help you get the most out of your compact utility room:
Be clever and use vertical storage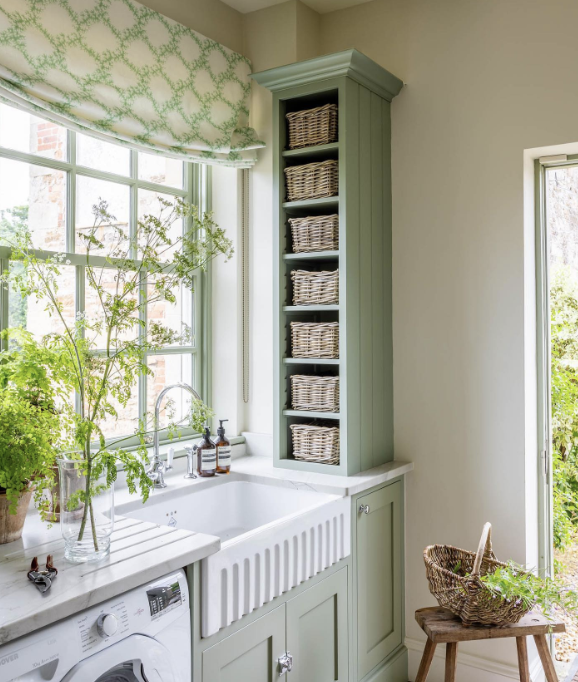 Space-saving utility idea using vertical storage with baskets to conceal items away for a minimal look / Image by @seansymington on Instagram
Look up! Most people waste a lot of the space in their utility room by having everything at ground level. Save space and open up your floor area by embracing vertical storage. This could take the form of shelving, hanging items from the ceiling, or compartmentalised storage like in the image above. It's much less of a chore when everything has its proper home!
Be practical and choose multifunctional furniture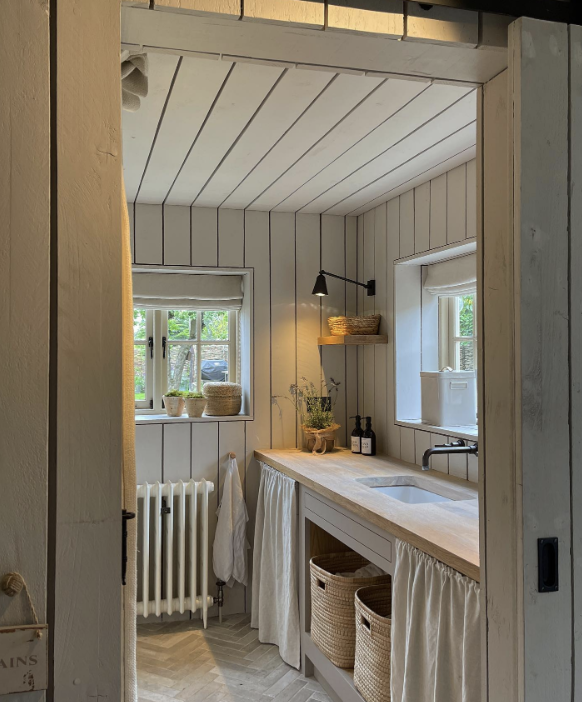 Multi-purpose utility room with soft furnishings and hidden features / Image by @osborninteriors on Instagram
Invest in furniture pieces that serve multiple purposes. For example, a wall-mounted table is great for quick tasks such as folding laundry and it can be put away in seconds. A storage ottoman is great for multipurpose use too, as you can store bigger items in there as well as use it as a stool or chair.
Be savvy and opt for space-saving appliances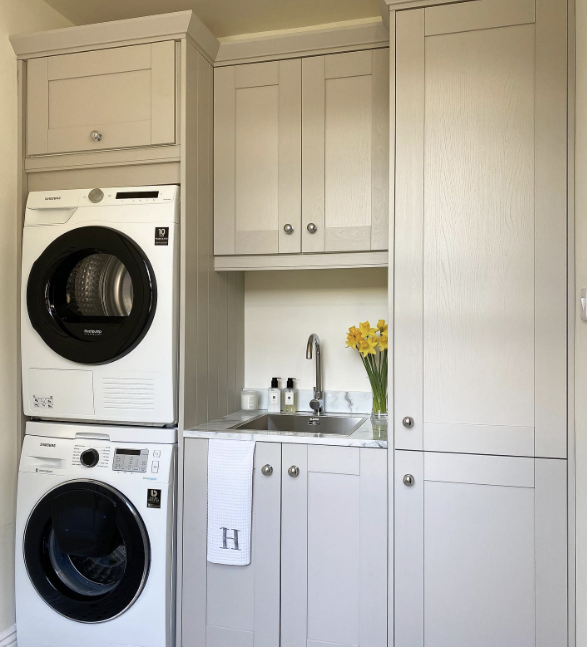 Custom-built utility storage, at just 2 meters wide with stacked washer and dryer and plenty of storage cupboards / Image by @thetaleofelmsvale on Instagram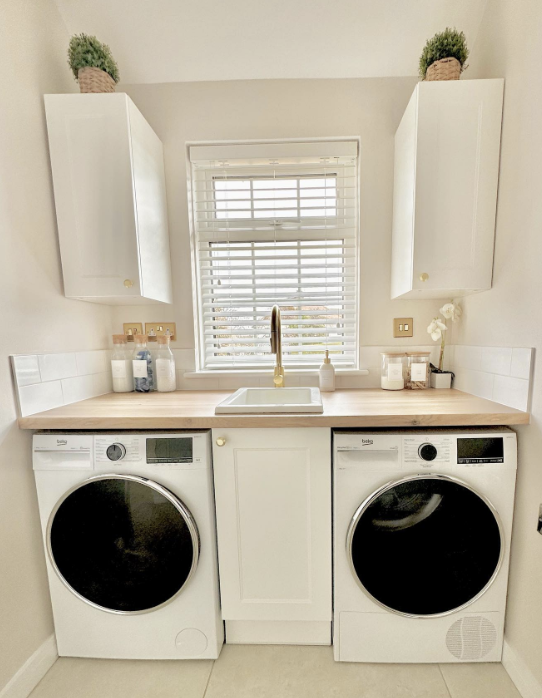 Space-saving utility room with condensed sink and cupboards to maximise on space for appliances whilst having plenty of countertop space / Image by @thewhitehouse16
Consider downsizing your appliances to fit the scale of your small utility room. Compact washer-dryer combos or stackable units can free up valuable floor space. Additionally, choose slimline storage solutions, such as corner cabinets to store irons, vacuum cleaners, and other bulky equipment.
Be mindful of your tasks and decorate with light and bright colours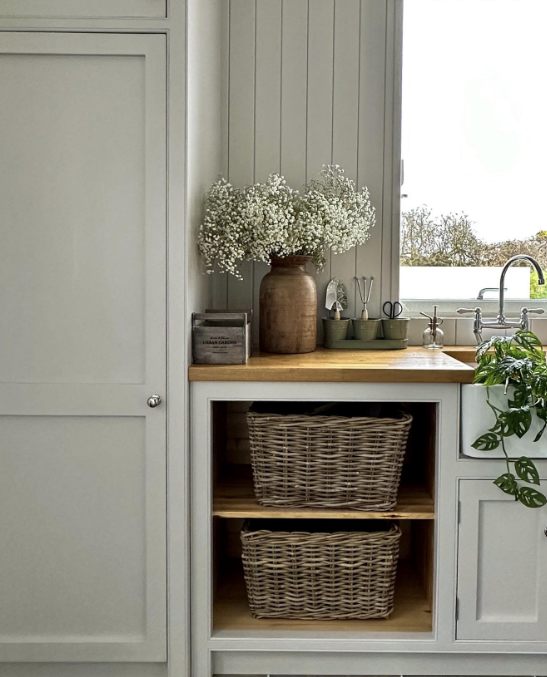 Light grey utility room idea with country charm and panelling detail / Image by @iaorana_house on Instagram
Create an illusion of space by incorporating light and bright colours in your small utility room, such as grey. Choose light paint colours for the walls, install good lighting, and use mirrors strategically to reflect light. This simple trick can instantly make your room appear more spacious and inviting. What'smore if you have large windows, this will instantly make a grey utility room feel bright and airy.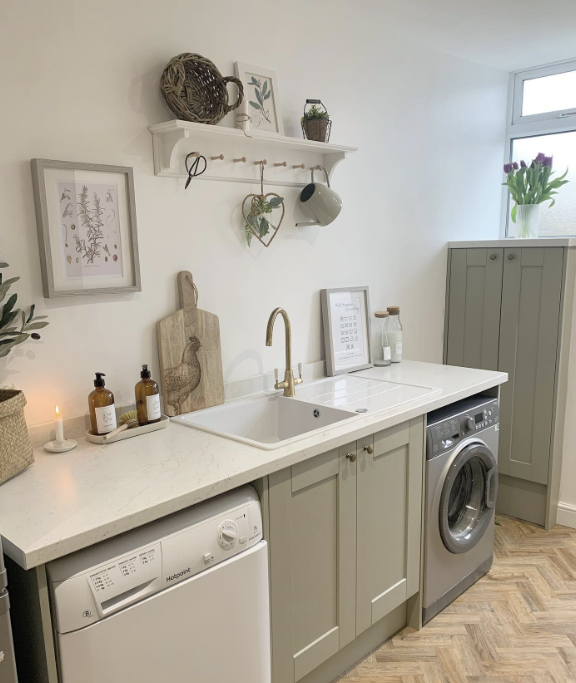 Sage green utility room with soft decor / Image by @_home_atno5 on Instagram
For a soothing utility room look, choose a delicate colour such as sage green. This relaxing shade can be used on your cupboards. Wooden flooring and white walls go particularly well with sage green, to create a stunning and harmonious aesthetic in your utility room.
Be unique and design a space with bespoke cabinets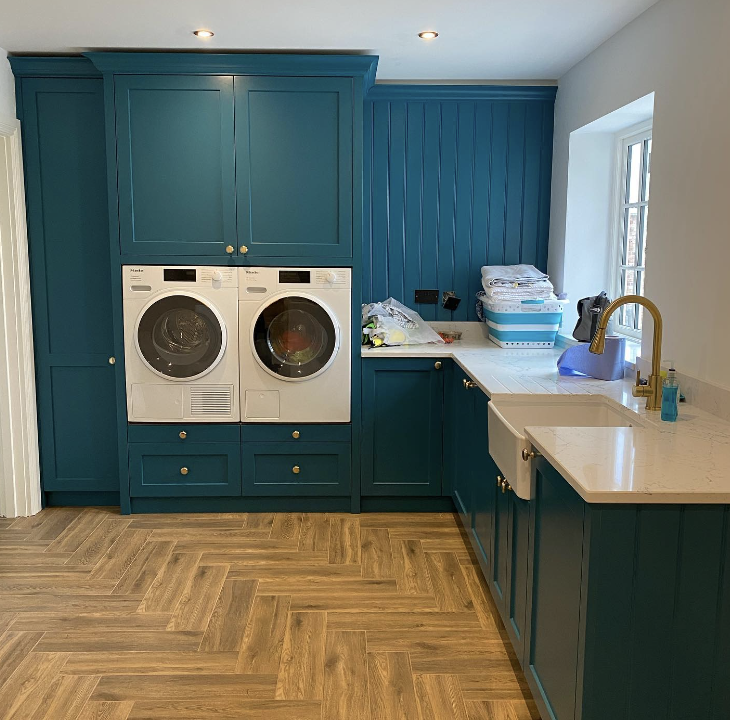 Stunning blue cabinetry in a spacious utility room with lots of storage / Image by @willowfield_bespoke on Instagram
Bespoke cabinetry is the ultimate game-changer when it comes to designing your utility room. At Style Your Sanctuary, we can't stress enough the impact of custom-made storage solutions. With bespoke cabinetry, you have the freedom to design functional and visually appealing shelves, cabinets, and drawers that perfectly fit your unique needs and the dimensions of your utility room. From selecting materials and finishes to choosing hardware and accessories, every detail can be personalised to create a truly remarkable space.
Small Utility Room Ideas FAQ
How can I create more storage in my small utility room?
Utilise vertical space with shelves or cabinets that reach up to the ceiling. Use hooks or racks on the back of the door for additional storage. Consider multifunctional furniture and slimline storage solutions for appliances and cleaning supplies.
What colour scheme works best for a small utility room?
Light and bright colour schemes work well in small utility rooms. Opt for white walls to create an illusion of space. Consider incorporating pastel or neutral tones for a calming and airy feel. If you are thinking of going dark in a small utility room, consider factors such as natural daylight and mirrors to keep the space feeling airy. Use white as a contrast colour to brighten up dark hues. 
How can I make my small utility room feel larger?
Maximize natural light by keeping windows uncovered or using sheer curtains. Install good lighting to brighten up the space. Use mirrors strategically to reflect light and create a sense of depth. Keep the room clutter-free and organized to create a more spacious feeling.
What are some space-saving ideas for a small utility room?
Invest in compact appliances or stackable washer-dryer units. Opt for foldable or collapsible furniture. Use wall-mounted drying racks or folding ironing boards. Consider installing a retractable clothesline or hanging organisers to maximize vertical space.
How can I add style and personality to my small utility room?
 Choose decorative storage containers or baskets to add a touch of style while keeping things organized. Incorporate artwork or wall decals to bring visual interest to the room. Use patterned or textured flooring to add personality. Consider adding a small indoor plant or fresh flowers to bring life and freshness to the space.
How do you Style Your Sanctuary?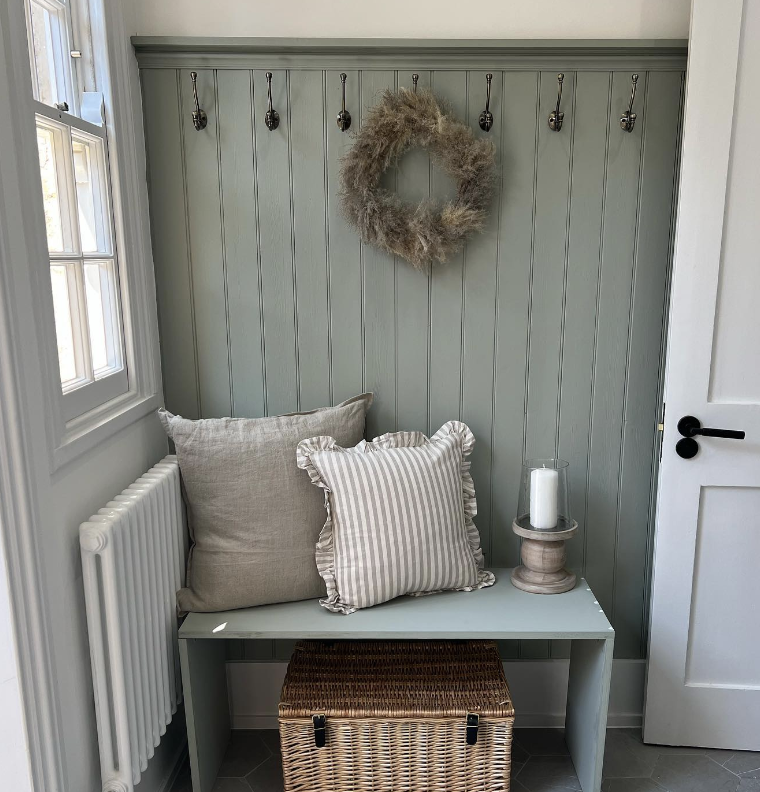 Bedroom Colour trends Home Decor Ideas Home Improvements Interior Trends Living Room Organisation & Storage panelling Small Spaces Wellbeing