This article is written by Cabinets Select to provide you with professional advice for your kitchen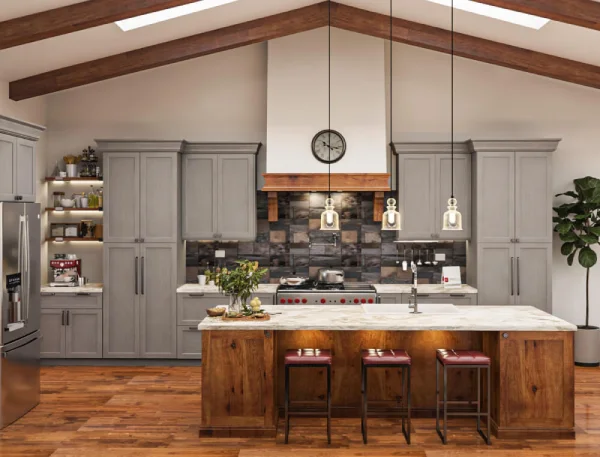 Image source: Cabinets Select
In the ever-evolving world of interior design, trends come and go, but some colors stand the test of time. In the current landscape of kitchen aesthetics, gray has taken the spotlight as a timeless champion.
Gray kitchen cabinets have been capturing hearts and imaginations across the design spectrum, providing a sleek and sophisticated canvas for your culinary haven. Their versatility knows no bounds, effortlessly harmonizing with various accent colors to breathe life into your kitchen.
Gray and White: A Classic Duo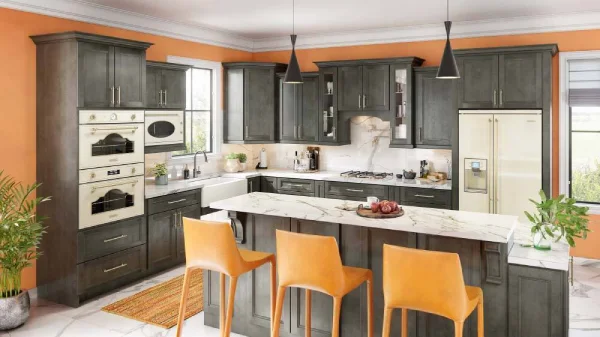 Image source: Cabinets Select
Gray and white, a classic pairing in the world of interior design, forms a timeless combination that continues to charm homeowners and designers alike. It's a recipe for a kitchen that exudes cleanliness, freshness, and spaciousness, making it an enduring choice for those seeking a harmonious ambiance.
The beauty of this combination lies in its versatility; the depth of gray in your cabinets can determine the level of contrast with white elements, allowing you to create a look that suits your personal taste.
White countertops, in particular, seamlessly complement white kitchens, enhancing the sense of purity and openness. They serve as a perfect canvas for culinary creativity, reflecting light and contributing to an airy feel. If you're seeking inspiration and examples of how gray cabinets and white countertops can come together in harmony, look at CabinetSelect's Gray Cabinets page. There, you'll find many captivating kitchen designs showcasing this timeless duo.
To infuse character and warmth into this classic pairing, consider incorporating warm-toned wood or metallic accents, adding a touch of California coolness or a contemporary edge with cool metals and glass.
Embracing Gray with a Hint of Navy Blue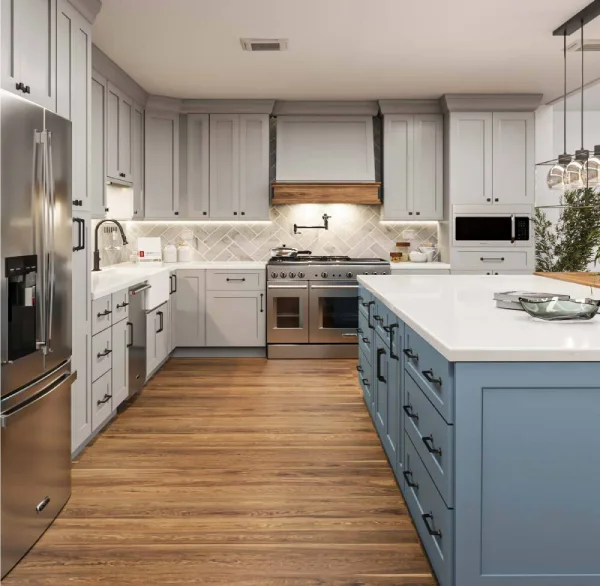 Image source: Cabinets Select
While blue kitchens aren't fading into obscurity just yet, they are making room for the subtle rise of gray kitchen cabinets. Incorporating navy blue as an accent can lend a moody and relaxing ambiance, but be cautious not to overindulge. An accent wall of navy blue paired with a primarily white palette keeps the space fresh and inviting, ensuring your culinary creations are always in the spotlight.
Gray Meets the Texture of Wood
Pairing gray with the warmth of wood textures sparks a captivating conversation between two design elements. Gray often symbolizes modernity and urban aesthetics, while wood brings nature into the mix. Dark wood tones like walnut and mahogany add a sleek, smart vibe, while lighter varieties such as oak and maple infuse a chic contemporary touch.
Contrasting Gray with Terracotta
Introduce a vibrant terracotta backsplash for a bold departure from neutrality to contrast with the calming gray kitchen cabinets. Terracotta's rich orange undertones inject energy into the space, allowing the gray to recede into the background. Distribute touches of terracotta throughout the room via crockery, plant pots, dining chairs, and other accessories to maintain a cohesive design.
A Mellow Blend of Gray and Mid Blue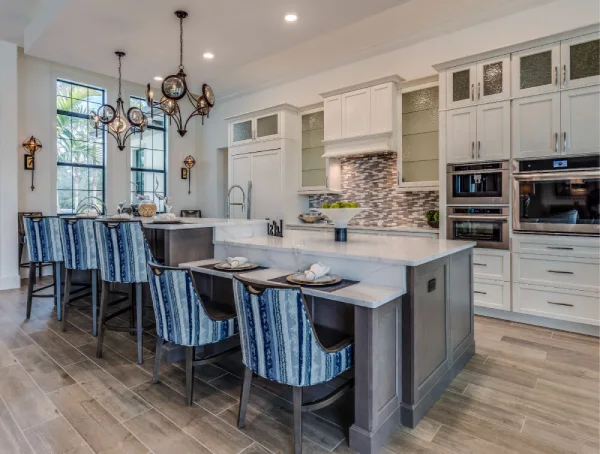 Image source: Cabinets Select
Create a tranquil kitchen environment by pairing a mid-gray shade with a mid-tone blue. Matching their tones and undertones ensures a seamless and cohesive look. Both colors tend to be on the cooler side, so opt for gray and blue hues with warm undertones to infuse warmth and charm. If you're feeling adventurous, embrace the two-tone cabinet trend by adding a splash of blue to your kitchen island.
Elevating Gray with a Touch of Gold
Inject a dose of glamour into your gray kitchen cabinets with a gleaming gold backsplash. The metallic finish adds a touch of luxury, reflecting light and offering a striking contrast to the subdued gray. To maintain elegance, use gold sparingly in light fixtures, select pieces of furniture, or as tasteful decorative accents.
Turquoise: A Refreshing Partner for Gray
Balance the calm neutrality of gray with the refreshing vibrancy of turquoise. This green-blue hue energizes the space, promoting mental clarity and tranquility. It's the ideal opportunity to introduce a playful backsplash, such as scallop tiles, to accentuate your kitchen's design. Here, gray kitchen cabinets prove their adaptability and neutrality.
Layering Depth with Gray and Black
Black can add depth and character to a tonal gray kitchen, but don't go overboard. Instead, incorporate black accents strategically. Observe how a black extractor hood and island break up the sea of gray cabinets, while a black beam celebrates architectural features. Use the 60-30-10 rule to maintain the right balance of colors.
Infusing Elegance with Gray and Dusty Pink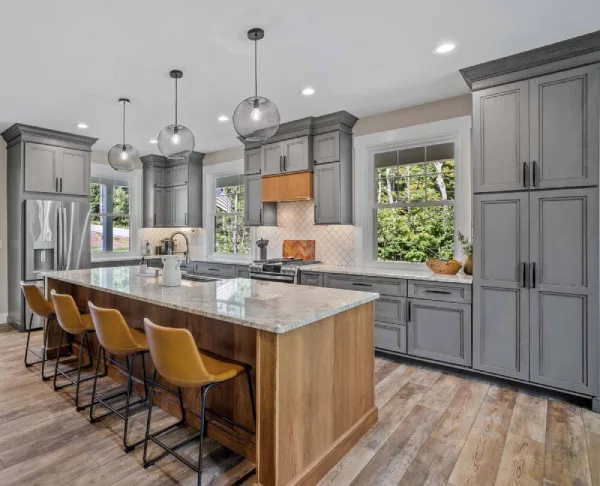 Image source: Cabinets Select
For a touch of sweetness in your gray kitchen, consider introducing dusty pink. This delicate, rosy shade exudes elegance and sophistication with a hint of nostalgia. Soft textiles like upholstered seating and window treatments, rosy tiles, and cookware in dusty pink can breathe life into your space.
Harmonizing Gray with Taupe
To offset the cool serenity of gray, embrace a warm neutral-like taupe. Positioned between gray and brown, taupe preserves the tranquility of gray while adding a layer of coziness. Ensure that their tones and undertones align for a harmonious transition. Incorporate different textures, such as stone flooring, tiles, paint, and upholstery, to create depth, punctuating with warm white and dark wood accents for a complete look.
In the ever-evolving landscape of kitchen design, gray kitchen cabinets remain a steadfast choice, offering a canvas for endless creative possibilities. Whether you prefer the classic combination of gray and white or are ready to embrace bolder choices like terracotta or turquoise, gray cabinets prove their adaptability and timelessness. As we welcome 2023, consider these captivating color pairings to elevate your kitchen to a new level of sophistication and style.