The kitchen is the center of every home. It's where you cook, interact with family and friends, and maybe even sneak a midnight snack. But what if you hate your kitchen? What if every time you walk in, you feel frustrated? It's time to dig deep and uncover the real reasons why you hate your kitchen.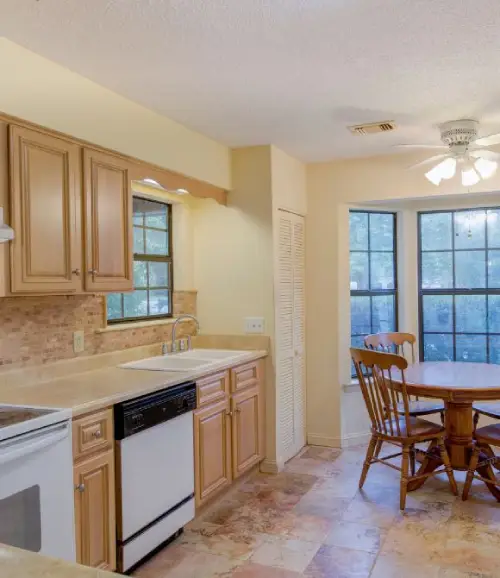 Lack of functionality
A lack of functionality can make your home feel like a nightmare. Maybe you always have clutter on your counters, your cabinets are out of order, or your appliances are obsolete. Whatever the reason, it can make it difficult for you to cook, entertain, and enjoy your space. The good news is that there are ways to fix this. You can design a functional kitchen by investing in storage solutions, upgrading your appliances, and creating a layout that works for you!
Not enough counter space
One of the most common complaints about kitchens is that there isn't enough counter space. This can make it difficult to prep meals (especially if you have a large family). If you constantly bump into things or struggle to find a spot to set things down, consider purchasing a kitchen island.
An alternative solution is investing in space-saving tools like a magnetic knife holder or an over-the-sink cutting board. These small additions can make a big difference in your day-to-day kitchen experience.
Have you considered a roll-out kitchen island? It's a great alternative if you don't have much storage or countertop space, as it doubles up as an island and pantry with fold-in sides to tuck away when you don't use it.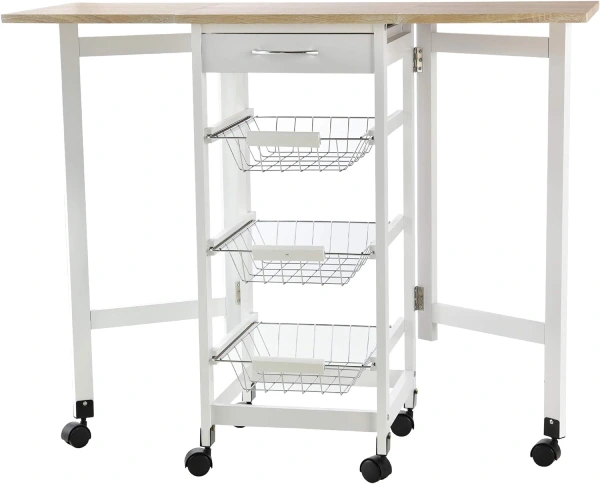 Poor lighting
Poor lighting is another reason why you may hate your kitchen. If your space is too dim, it's difficult to see what you're doing. Not to mention, it creates a dreary atmosphere that makes the room undesirable. Fortunately, there's a quick remedy to this issue! Consider installing under-cabinet lighting, adding a pendant light over your sink, or swapping out your light bulbs for brighter ones. In fact, LED bulbs are brighter and more energy efficient than incandescent light bulbs.
Outdated design
An outdated kitchen is likely the source of frustration. Maybe it's the old-fashioned cabinets, the outdated backsplash, or the worn-out flooring. Regardless of the reason, a kitchen renovation may be the solution. You don't have to gut the entire space, but even small updates can make a big difference. For example, new lighting fixtures or fresh coats of paint can give your kitchen a fresh, modern feel.
Inadequate storage space
If you love to cook, you likely have lots of kitchen gadgets and tools. But if you don't have enough storage space, it's challenging to organize everything. Consider adding additional shelves or cabinets or even utilizing vertical storage space. You can also get creative with your storage solutions using a pegboard or a utensil holder! 
Why not consider installing a pegboard along your countertop to keep your pots, pans and utensils in place? This saves space in your cupboards and it's easier to quicky grab when it's in sight.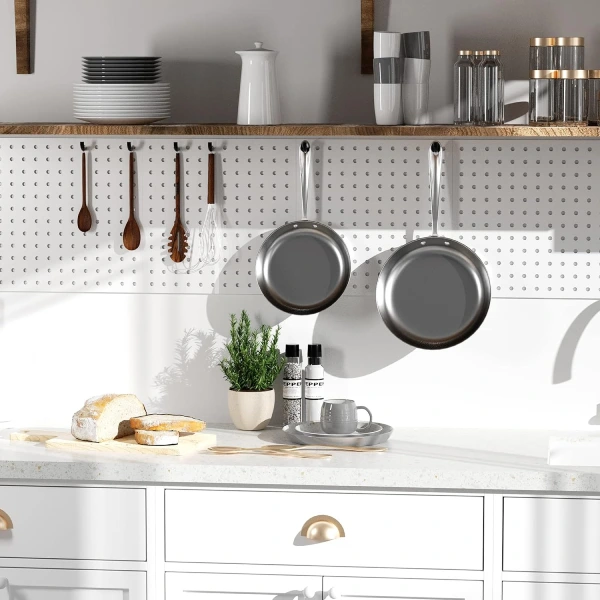 Lack of personalization
If your kitchen doesn't feel like it's truly yours, it's hard to enjoy the space. Therefore, you should add some personal touches, like family photos or a unique piece of artwork. You can even paint the walls a color that makes you happy or add decorative elements like a new rug or curtains. The more you personalize your space, the more likely you'll be to love it.
Your kitchen should be a room that makes you feel happy, not overwhelmed. Whether you do small updates or full renovations, the key is to create a space that works for you!
Did you enjoy this article? Follow us on Instagram or Facebook to stay up-to-date with ideas and tips around the home!