Creating a home library is no small task, but the reward of having a personal sanctuary filled with books and the wisdom they bring is immeasurable. As a homeowner, you'll need to think about the space, the shelving, the seating, and how you'll organize your collection. We'll discuss the things to consider when designing a home library so that you can create a personal haven of tranquility and learning.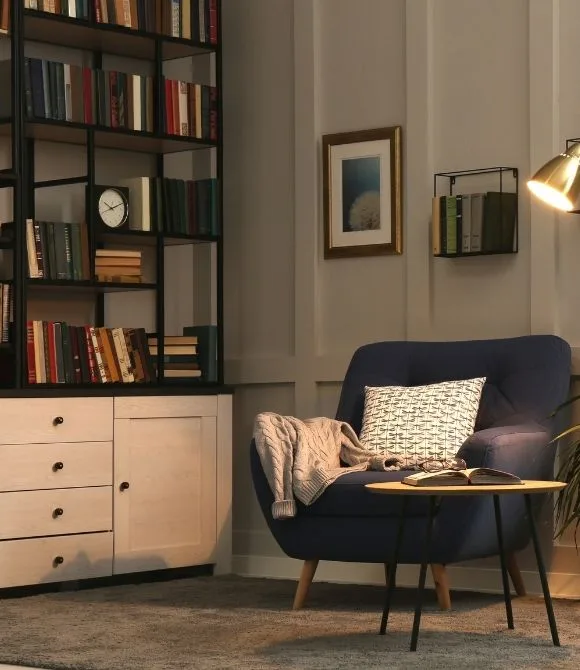 What shelving to use
One of the main things to consider when designing a home library is what type of shelving you'll use for your books. The choice of bookshelves is pivotal as these structures will store your collection and define the aesthetic of your library. The options are plentiful, from wall-mounted shelves that save floor space to freestanding bookcases that can double as room dividers.
Modular shelves offer flexibility, and you can adjust them as your collection grows, while built-in units add a classic, permanent feel that's ideal for large collections. Remember, good shelving showcases your books and caters to their preservation. Consider the materials, the weight capacity, and even the distance between shelves, as these factors contribute to the longevity, accessibility, and aesthetic appeal of your home library.
The type of seating
When designing your home library, the seating type you choose is as important as the shelving. After all, this is where you'll spend countless hours engrossed in books, feeding your mind and imagination. The seating should be stylish and comfortable to invite hours of uninterrupted reading. A classic leather armchair or a plush chaise lounge can add a touch of elegance and comfort. For those who prefer a more casual setting, consider bean bags or floor cushions.
If your library will host book club meetings or reading sessions with family and friends, consider adding more seating, like a comfortable sofa or multiple chairs. Remember, the seating is a reflection of your style and reading habits. Therefore, ensure that your seating option fits your comfort, contributes to the room's aesthetics, and accommodates your reading lifestyle.
How you'll organize
Establishing a system for organizing your books is vital to designing your home library. How you arrange your books can significantly shape your relationship with your collection and influence your reading experience. A well-organized library allows for easy access and efficient navigation, saving you time and effort when locating a specific book.
There are several ways to organize your home library. You could opt for the traditional alphabetical arrangement by an author's last name or title, or you might prefer to categorize by genre. Consider arranging your books by color for a more visual approach, creating a unique aesthetic appeal.
Remember, personal preference should guide your organization process. Whatever system you choose, ensure it's one that makes your library intuitive and pleasurable to use.
Now that you understand what to consider when designing a home library, you can begin the process today. Enjoy the process, and let your creativity flow. In the end, you will have a functional space filled with books and a room that reflects your style, fuels your imagination, and nourishes your knowledge. 
Did you enjoy this article? Follow us on Instagram or Facebook to stay up-to-date with ideas and tips around the home!