Step into the captivating world of Barbiecore through colourful and wonderful interior design! Inspired by the iconic Barbie doll, this trend adds whimsy and nostalgia to your home. With vibrant colours, playful patterns, and a touch of retro glam, Barbiecore invites you to create your own life-size dollhouse. From bold pinks to vintage-inspired furniture, you can infuse your space with Barbie's fashionable spirit.
Keep reading to explore real-life, colourful interiors that will transport you to the Barbie world. Ready to embrace the magic of Barbiecore in your home? Let's dive in!
Perfectly pink kitchen with tropical accents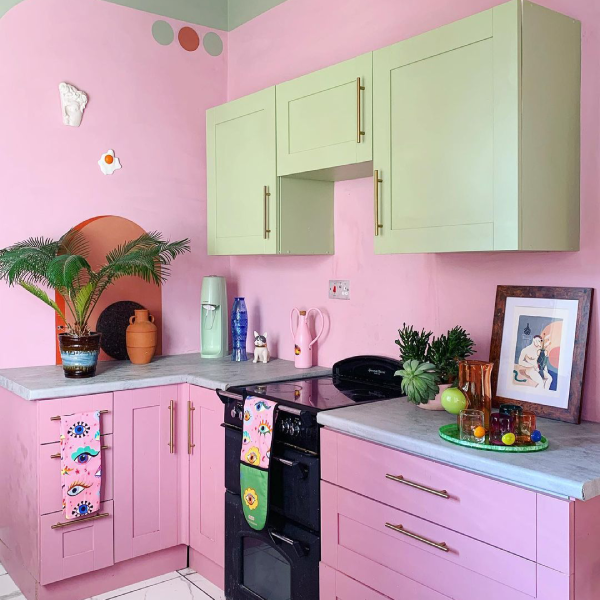 This beautiful pink kitchen with greens and dark oranges transports us to the Barbie world on vacay / Image by @househomo on Instagram
Privacy pen living room with bright colours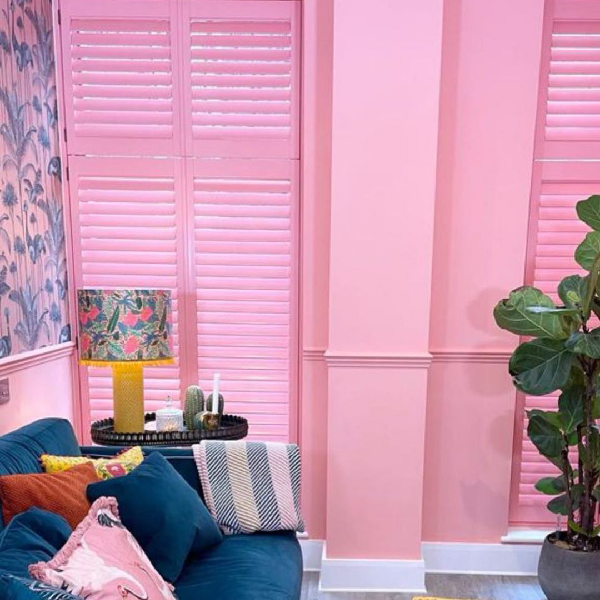 Shutters don't have to be boring, turn them pink to transform your home into a fun oasis and match the walls for a statement look / Image by @londoninteriorshutters on Instagram / https://www.inshutters.co.uk/
Bright and bold in a Barbie world!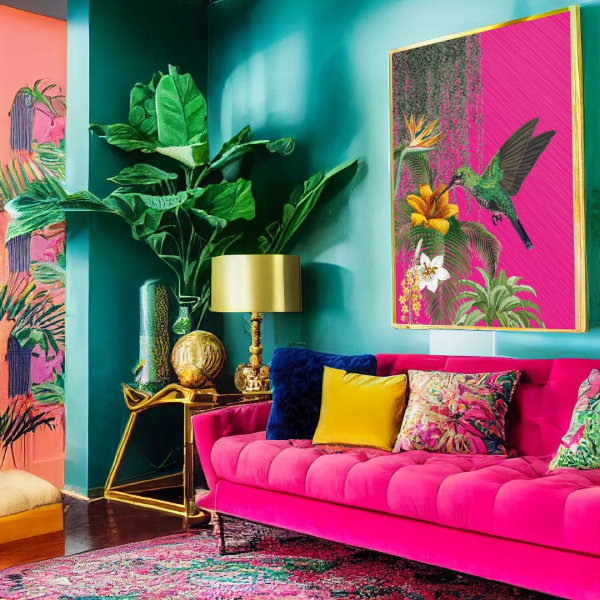 When in doubt, always add a pink sofa and accessories. This statement living room exudes luxury and elegancy through eclectic flare in a fun way / Image by @iam_kayleighmarie on Instagram
Walk-in wardrobe for a fashionista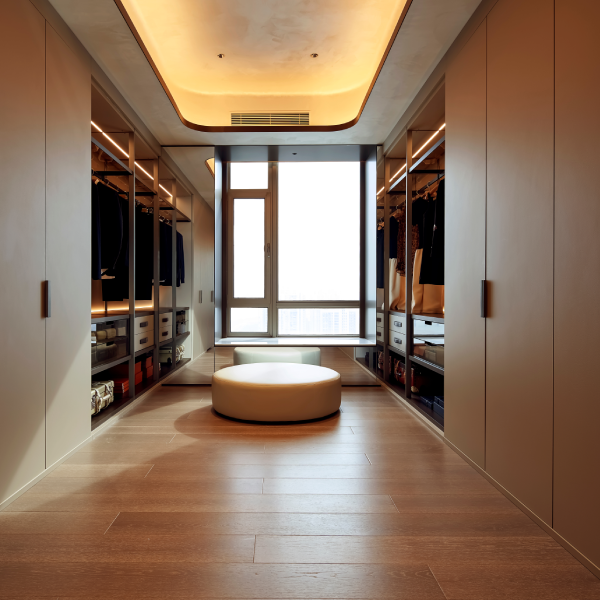 Luxurious walk-in wardrobe with plenty of storage and a 'getting ready' area is what every Barbie needs to look glam for the day of fun ahead!
Four poster bed for the perfect night's sleep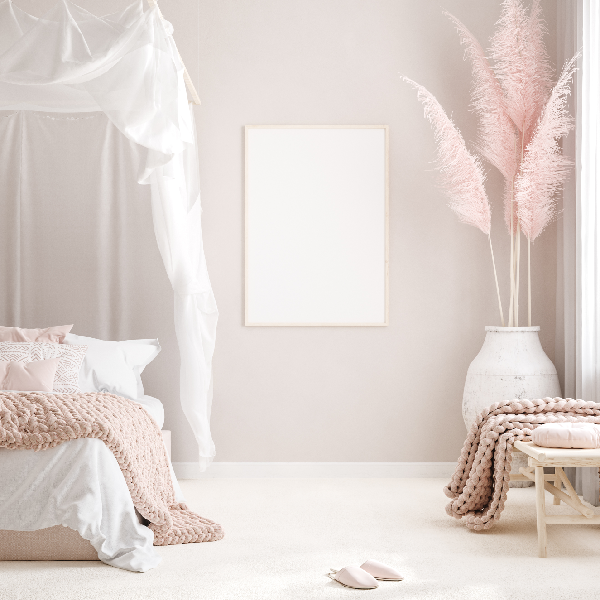 This gorgeous soft pink bedroom is made for relaxation, with cozy throws and sheer canopy for a romantic touch.
Lavish pink bathroom with large tub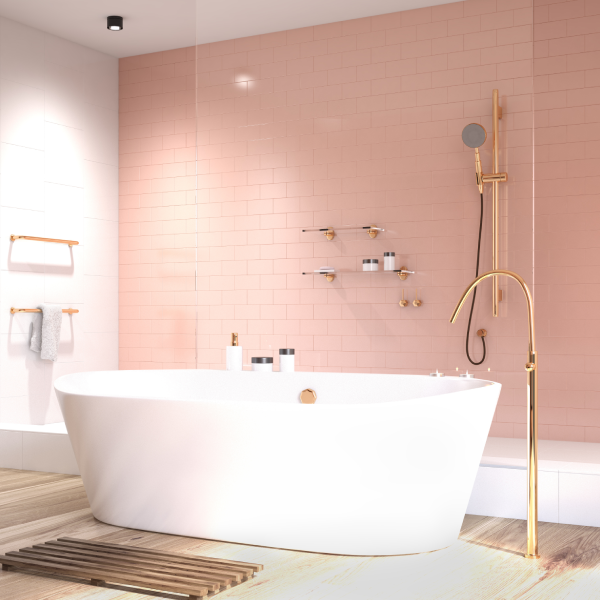 Add a sprinkle of Barbiecore into your bathroom with glossy pink metro tiles, gold fixtures and a large white tub for a luxurious space for getting ready for a glam night out.
French dresser for looking glam and gorgeous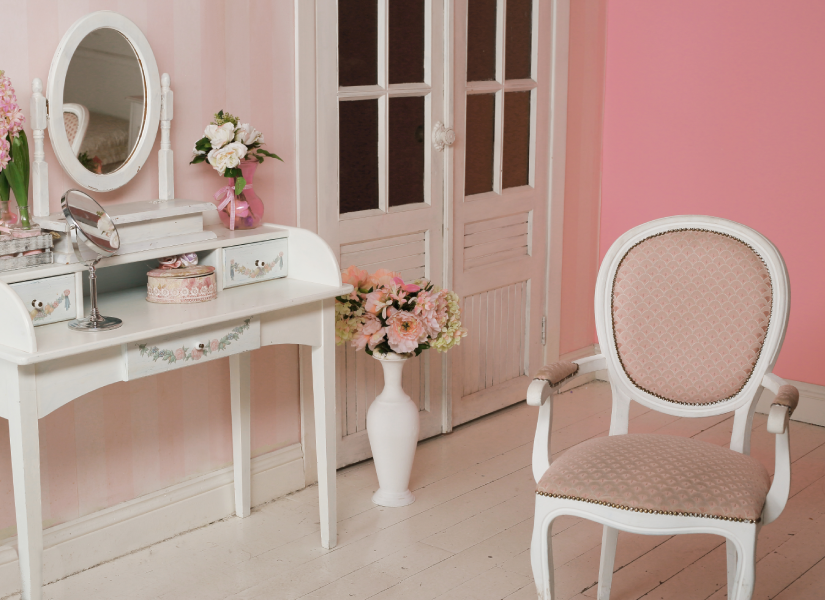 Get ready in style with a French inspired dresser styled with pink accents for a beautiful and colourful space to feel your best come morning or night!
Shop Barbiecore interiors!
Popular Barbiecore trend FAQs
Hey there! Curious to know more about the Barbiecore trend? You're in the right place! Here are some frequently asked questions about Barbiecore:
What is the Barbiecore trend?
Barbiecore is an exciting interior design trend inspired by the iconic Barbie doll. It captures the essence of youth, joy, and unapologetic femininity through vibrant colors, playful patterns, and a touch of retro glamour. It's all about transforming your living space into a life-size dollhouse and embracing the whimsical charm of Barbie's world.
How can I incorporate Barbiecore into my home?
There are numerous ways to infuse your home with Barbiecore elements. Start by embracing bold and vibrant colors like pinks, blues, and purples. Mix and match patterns, add vintage-inspired furniture with sleek lines, and don't shy away from glamorous accents. Think oversized bows, statement chandeliers, and floral wallpapers to bring the playful spirit of Barbie to life.
Where can I find inspiration for Barbiecore interiors?
There are endless sources of inspiration for Barbiecore! Start by exploring social media platforms like Instagram and Pinterest, where you'll find a plethora of stunning Barbiecore interiors. Additionally, you can draw inspiration from Barbie's iconic style, fashion magazines, retro decor, and even your childhood memories of playing with Barbie dolls.
Can Barbiecore be temporary or is it a long-term trend?
Trends come and go, but the joy and whimsy of Barbiecore are timeless. Whether you want to fully commit to Barbiecore or incorporate temporary elements that can easily be changed, it's entirely up to you. Remember, the most important thing is to create a space that brings you joy and reflects your unique personality.
HWe hope these FAQs shed some light on the fascinating world of Barbiecore trends! Now, go forth and let your imagination run wild as you infuse your home with the magic of Barbiecore. Have fun and enjoy the journey!
Explore more home ideas and trends below!
[caf_filter id='10500′]