How important is having a bedside table? We delve into purposes and styles to help you style your bedroom beautifully…
Your bedside table is no exception when it comes to impact on the style of your bedroom. It's a small space that greatly impacts your bedroom's look and feel. In this article, we will share the latest interior design trends for bedside tables, explore creative alternatives, and provide tips on making your bedside table a stunning addition to your bedroom.
Jump to parts of this article:
What are the Interior Design Trends for a Bedside Table?
Minimalistic Marvels
One of the hottest trends in interior design is minimalism. Clean lines, uncluttered surfaces, and a "less is more" approach. To incorporate this trend into your bedside table, choose a sleek design with a single drawer or shelf. Opt for neutral colours like white, grey, or soft pastels to create a soothing, clutter-free look.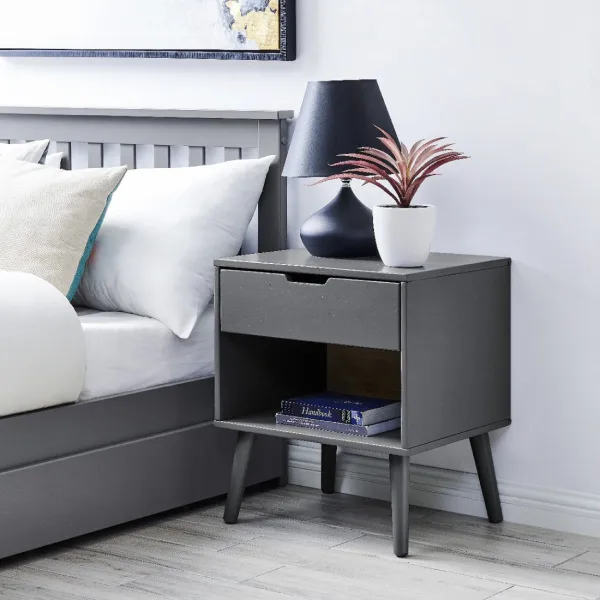 This simple bedside table with drawer and shelf is great for a minimalist look in a neutral bedroom.
Natural and Sustainable Materials
Sustainability is at the forefront of design choices. Consider a bedside table made from reclaimed wood, bamboo, or rattan. These materials not only look stunning but also help reduce your carbon footprint.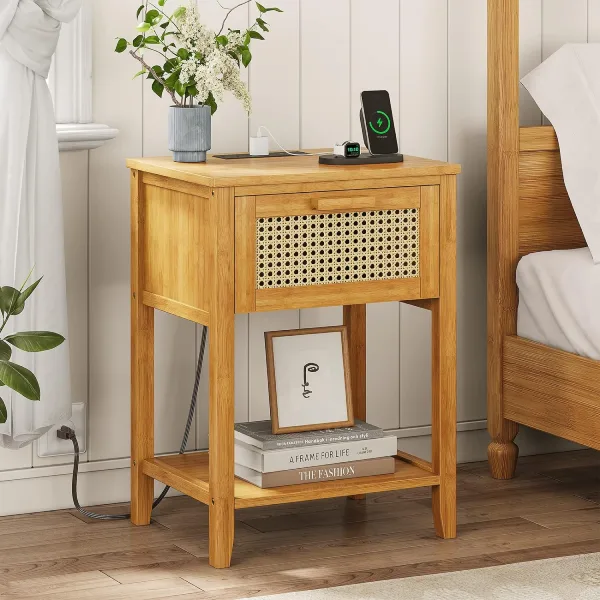 Floating Nightstands
For a modern and space-saving option, floating nightstands are all the rage. They create a sense of openness in your bedroom and can be customized to fit your space perfectly.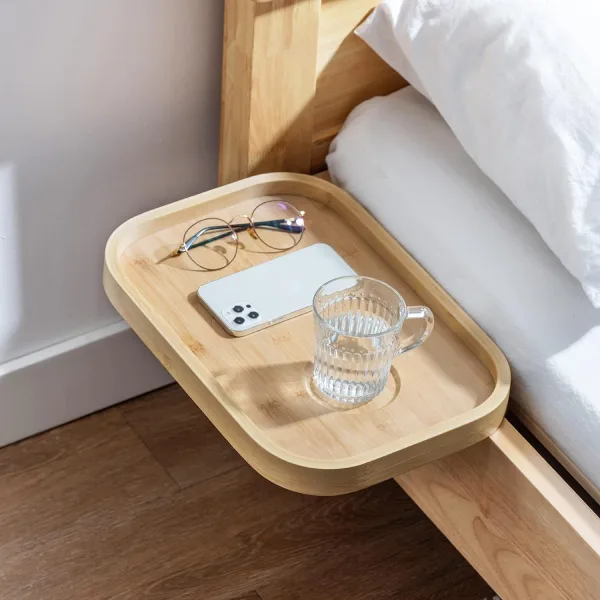 What Are Alternatives for a Bedside Table?
Wall-Mounted Shelves
Wall-mounted shelves can double as functional storage and stylish decor. Place a small plant, a few books, or a decorative item on these shelves for a personalized touch.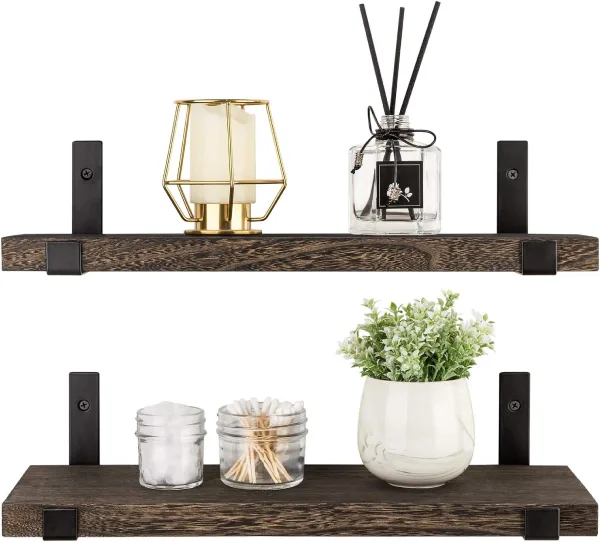 How Do You Make a Bedside Table Look Nice?
Lighting is Key
Add a chic table lamp to your bedside table. It not only provides functional light but also serves as a stylish accessory. Consider lamps with unique bases or shades to add a touch of personality.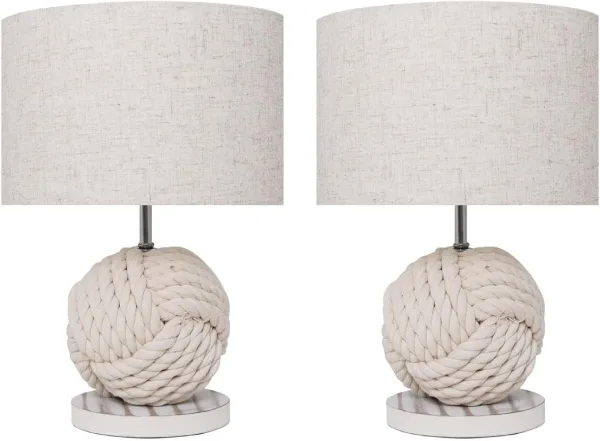 These neutral bedside table lamps feature a knotted ball design, which is right on trend and adds visual interest and texture to a minimalist and neutral bedroom.
Personal Touches – What accessories to put on your bedside table
Display items that reflect your personality, like framed photos, artwork, or small decorative pieces. These will make your bedside table feel more inviting. If you love light therapy, the sunrise alarm clock with 20 adjustable ambient colours can make up wake up in the morning.
Keeping a pretty trinket tray on your bedside table is a good way to keep all your jewellery together so you can access them easily the next day.
If you love to have your phone nearby, consider investing in a phone holder for your bedside table which will protect your phone in case you spill a drink, as well as being a mini stand for watching videos.
Additionally, add a scented candle to help you fall asleep at bedtime for a calming evening ritual.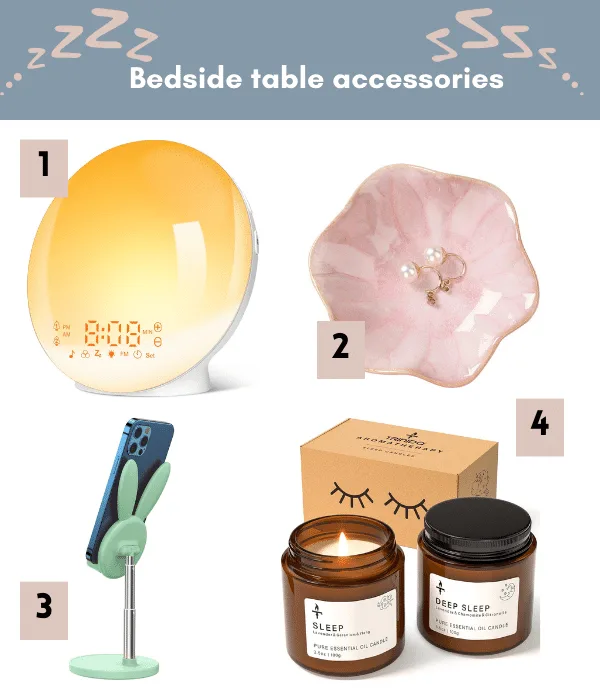 Keep it Tidy
Clutter can quickly ruin the look of your bedside table. Use trays or small storage containers to keep essentials like books, tissues, or charging cables organised.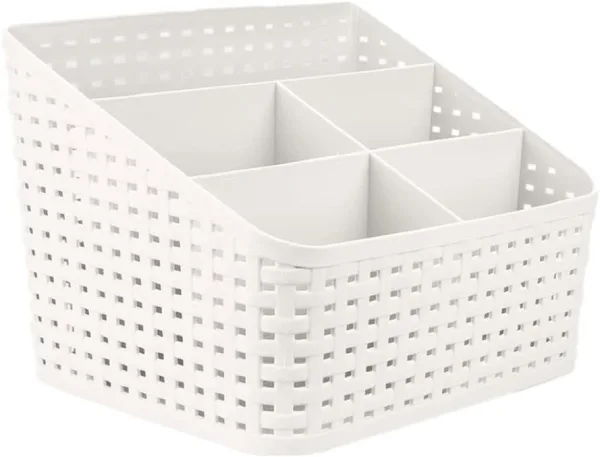 Bedside table ideas FAQs
Can I use a chair as a bedside table?
While it's unconventional, using a chair as a bedside table can work in the right setting. Just make sure it's the right height and size for your needs.
What's the ideal height for a bedside table?
The ideal height is roughly level with your mattress, making it easy to reach. Generally, this falls between 24 to 30 inches.
Can I mix and match bedside tables on either side of the bed?
Absolutely! Mixing different tables can add a unique touch to your bedroom decor, and ensure they complement each other in some way, like through colour or style.
Conclusion
Your bedside table is a small but significant part of your bedroom's design. It's a functional space that can also be a beautiful addition to your room. By following the latest interior design trends, considering alternative options, and adding your personal touch, you can create a bedside table that not only looks nice but also enhances the overall ambience of your bedroom. Happy decorating!
Did you enjoy this article? Follow us on Instagram or Facebook to stay up-to-date with ideas and tips around the home!