Deck the halls and spread the holiday cheer without breaking the bank with our budget-friendly Christmas decor ideas. Christmas is a time for joy and celebration, and we believe that decorating your home shouldn't become a burden on your wallet. In this article, we will guide you through creative and affordable ways to transform your space into a winter wonderland.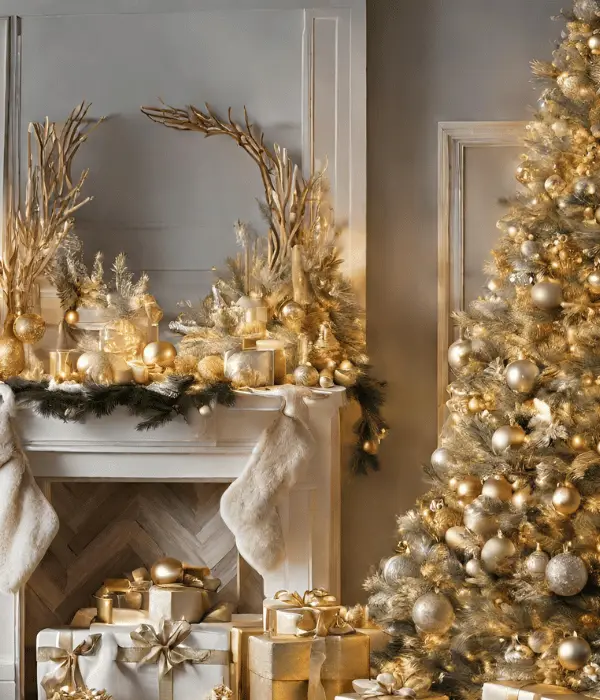 From DIY ornaments to repurposing everyday items, we have something for every budget and style. Our expert tips and tricks will help you create stunning centrepieces, whimsical wreaths, and festive garlands that will impress your guests and make your home feel incredibly cozy.
Whether you prefer a traditional red and green colour scheme, a rustic woodland theme, or a modern minimalist aesthetic, we have ideas that will suit your taste and your budget. By tapping into your creativity and using affordable materials, you can have a beautifully decorated home that will make your Christmas celebrations even more memorable.
Make this season merry and bright without spending a fortune. Let's dive into our wallet-friendly Christmas decor ideas and turn your home into a holiday haven.
Benefits of decorating on a budget
Decorating your home on a budget not only helps you save money but also allows you to unleash your creativity and think outside the box. By finding affordable alternatives and repurposing items, you can create unique and personalized decorations that truly reflect your style. Plus, when you decorate on a budget, you won't feel guilty about spending too much money on temporary decorations that will only be used for a few weeks.
Not only will budget-friendly Christmas decor ideas help you save money, but they will also encourage you to be more mindful of your spending during the holiday season. Instead of getting caught up in the consumerist frenzy, you can focus on what truly matters – spending quality time with your loved ones and creating meaningful memories.
Tips for finding affordable Christmas decor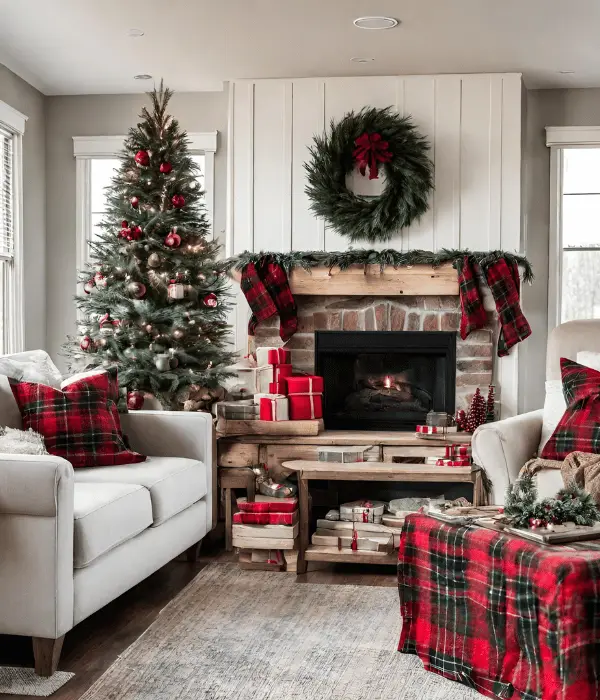 Here are some tips for finding the best deals:
1. Shop off-season: Look for Christmas decorations during the off-season or right after the holidays when stores offer significant discounts to clear their inventory.
Extra tip: Buy your Christmas decorations in the January sales, including Christmas cards and gifts. A lot of stores produce similar gifts year on year, so saving in January means you won't pay the premium come next Christmas.
2. Check online marketplaces: Browse online marketplaces like eBay or Facebook Marketplace for second-hand Christmas decorations at a fraction of the original price. Be sure to check the quality and workings of second-hand decorations before you hand over the money (try to stick to collection only if you can, especially for large items like trees).
3. Visit local thrift stores: Thrift stores often have hidden gems, including vintage Christmas decorations that can add a unique touch to your holiday decor. Large charity shop chains, like Sue Ryder, have lots of dinnerware and random ornaments that can be used as final touches to your home at Christmas.
4. Take advantage of sales and coupons: Keep an eye on sales and use coupons to get the best deals on Christmas decorations. For up-to-date deals and vouchers, keep an eye on Money Saving Expert's deal finder page.
5. DIY it: Embrace your creative side and make your own decorations using affordable materials and supplies. *Continue reading in our next section for 4 Christmas decor ideas you can make yourself!
By following these tips, you can find budget-friendly Christmas decorations that will help you create a festive atmosphere without breaking the bank.

DIY Christmas decor ideas
One of the most cost-effective ways to decorate for Christmas is by making your own decorations. Not only will you save money, but you will also have the satisfaction of knowing that your decorations are one-of-a-kind. Here are some DIY Christmas decor ideas to get you started:
1. Handmade ornaments: Create personalised ornaments using materials like clay, felt, or popsicle sticks. Get creative with paint, glitter, and ribbons to add a festive touch.
Create your own tree ornaments with this 150-piece DIY Christmas decoration set (see below). This set comes with card cut-outs, glitter pens, lattice ribbons, pom poms and more som for a family-friendly creative activity during Christmas!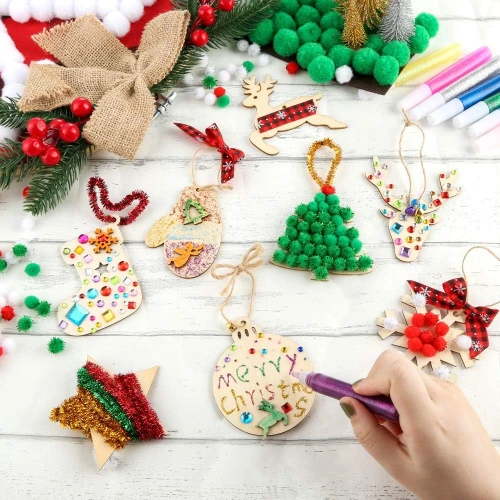 2. Paper snowflakes: Cut snowflakes out of white paper and hang them from the ceiling or tape them to windows for a whimsical winter wonderland effect.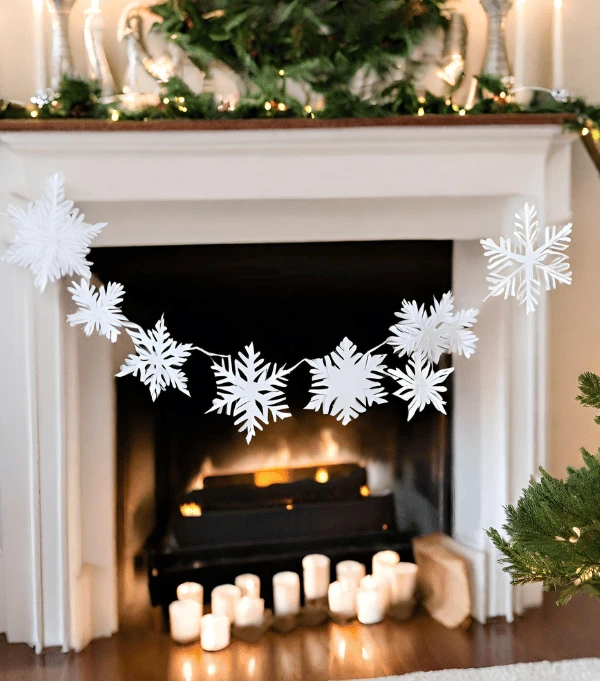 3. Mason jar luminaries: Fill mason jars with fairy lights or candles to create a warm and cozy ambience.
4. Pinecone decorations: Collect pinecones from your garden, or when you are out on winter walks, and spray paint them in gold or silver for an elegant touch. Use them to make wreaths, table centrepieces, or tree ornaments.
With these DIY Christmas decor ideas, you can add a personal touch to your holiday decorations while staying within your budget.
Repurposing items for Christmas decor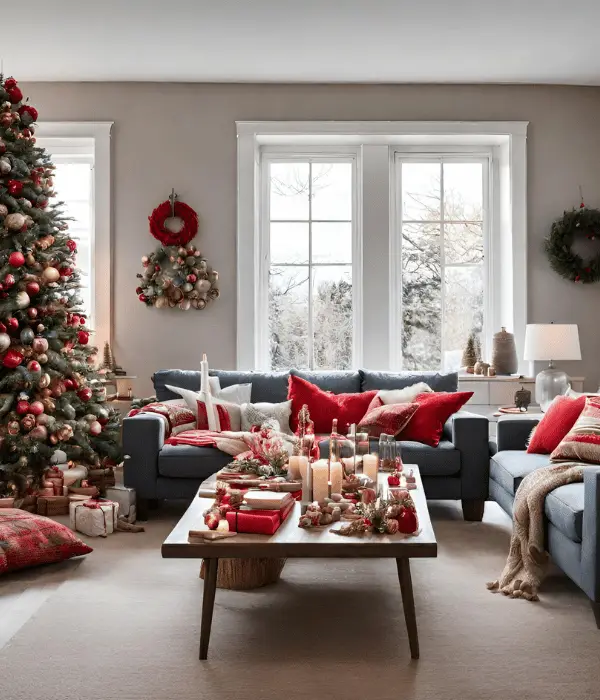 Another way to save money on Christmas decorations is by repurposing items you already have at home. Look around your house for everyday objects that can be transformed into festive decor:
1. Old Christmas cards: Cut out the front of old Christmas cards and use them as unique gift tags or ornaments. Additionally, you can turn your cards into a gallery wall by framing them and hanging them up in a creative way. (You could also do this with leftover wrapping paper).
2. Candles: Dress up plain candles with ribbons, twine, or dried flowers to create beautiful centerpieces.
3. Empty wine bottles: Clean empty wine bottles and put fairy lights inside them for a twinkling display.
4. Scarves or fabric: Use scarves or fabric remnants as table runners or to wrap around chair backs for a cozy touch.
By repurposing items, you not only save money but also give new life to objects that would otherwise go to waste. It's also a great way to add uniqueness to your home and a personal touch.
Thrift store finds for Christmas decorations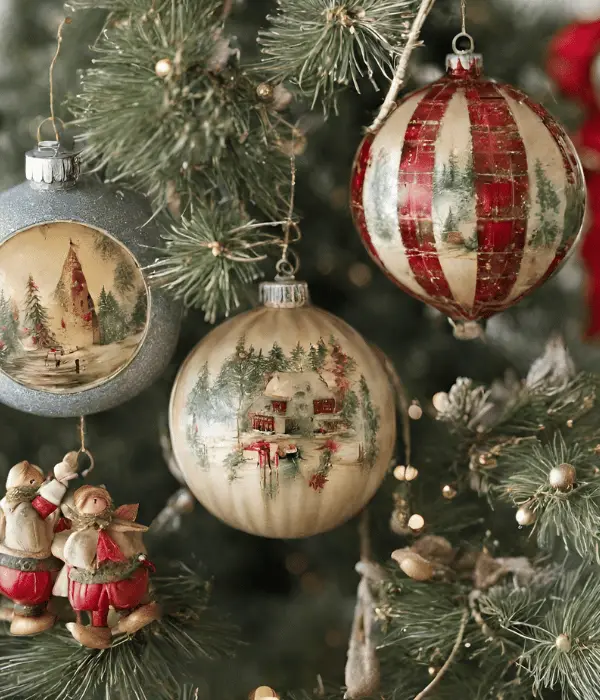 Thrift stores are treasure troves when it comes to finding unique and affordable Christmas decorations. Keep an eye out for:
1. Vintage ornaments: Look for vintage glass ornaments that can add a touch of nostalgia to your Christmas tree.
2. Holiday-themed dishware: Find festive plates, mugs, and serving trays to make your holiday meals even more special.
3. String lights: Check for gently used string lights that you can use to illuminate your indoor and outdoor spaces.
4. Stockings and tree skirts: Thrift stores often have an assortment of stockings and tree skirts in various styles and colours.
By shopping at thrift stores, you can find budget-friendly Christmas decorations that are not only affordable but also eco-friendly.
£1 store Christmas decor ideas
If you're on a tight budget, £1 stores are your best friend when it comes to finding inexpensive Christmas decorations. Here are some ideas to get you started:
1. Ornaments and garlands: £1 stores usually have a wide selection of affordable ornaments and garlands in various colours and styles.
2. Wrapping paper: Stock up on cheap wrapping paper to add a festive touch to your presents.
3. Artificial flowers: Use artificial flowers to create beautiful floral arrangements for your holiday table.
4. Candles and candle holders: Dollar stores often have a selection of candles and candle holders that can add a warm glow to your home.
Remember, just because these items are affordable doesn't mean they can't be beautiful. With a little creativity, you can turn discount store finds into stunning Christmas decorations.
Online resources for budget-friendly Christmas decor
If you prefer shopping online, there are plenty of websites and resources where you can find budget-friendly Christmas decor. Here are a few to check out:
1. Pinterest: Browse through Pinterest for endless ideas and DIY tutorials for budget-friendly Christmas decorations.
2. Etsy: Support small businesses on Etsy and find unique handmade decorations at affordable prices.
3. Discount websites: Keep an eye on discount websites like TKMaxx or Wayfair for deals on Christmas decor.
4. Facebook groups: Join local Facebook groups where people often sell or give away their unwanted Christmas decorations.
By exploring these online resources, you can find affordable Christmas decorations that suit your style and budget.

Creating a cohesive and festive look on a budget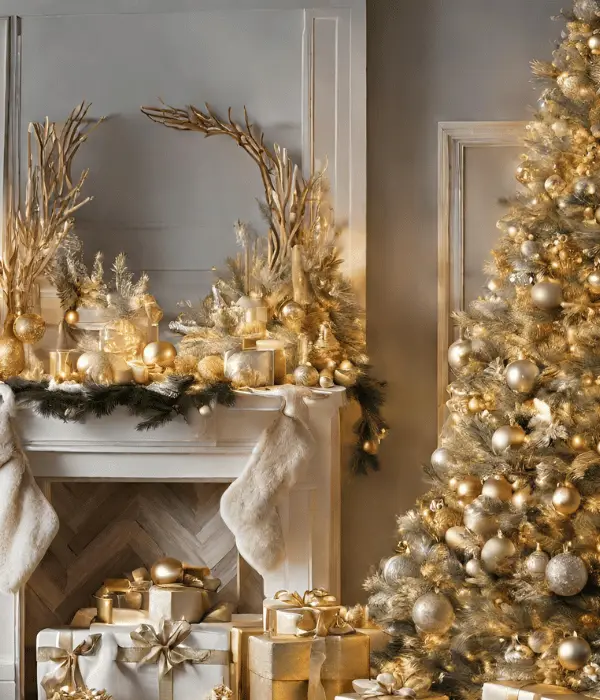 To create a cohesive and festive look, it's important to have a plan in mind. Here are some tips to help you achieve the perfect holiday decor:
1. Choose a colour scheme: Decide on a colour scheme that complements your existing home decor. This will help you stay focused and make your decorations look cohesive.
2. Use natural elements: Incorporate natural elements like pinecones, twigs, or dried flowers to add a rustic and cozy feel to your decorations.
3. Layer and mix textures: Play with different textures by combining shiny, matte, and textured ornaments. This will add depth and visual interest to your decor.
4. Don't forget the lights: Use string lights to create a warm and magical atmosphere. Hang them on trees, drape them on mantels, or weave them through garlands.
5. Focus on focal points: Instead of spreading your decorations all over the house, choose a few focal points like the front door, the fireplace, or the dining table, and make them stand out.
With a little planning and creativity, you can create a cohesive and festive look that will impress your guests without going over budget.
Conclusion: Celebrating the holidays without breaking the bank
Decorating your home for Christmas doesn't have to be expensive. By following our budget-friendly Christmas decor ideas, you can transform your space into a winter wonderland without breaking the bank. From DIY ornaments to repurposing everyday items, there are endless possibilities to create stunning decorations on a dime.
Remember, the true magic of Christmas lies in the joy and love we share with our loved ones. Make this holiday season merry and bright by focusing on what truly matters – spending time with your family and creating memories that will last a lifetime.
So, embrace your creativity, think outside the box, and have fun decorating your home for Christmas without worrying about the cost. Happy decorating and happy holidays!
Did you enjoy this article? Follow us on Instagram or Facebook to stay up-to-date with ideas and tips around the home!