Get ready to make your home glow with holiday cheer! In this article, we will explore a range of creative indoor Christmas lights ideas that will add a touch of magic to your festive decor. Whether you prefer a cozy and warm ambience or a dazzling and whimsical display, these ideas are sure to inspire you.
Not only do indoor Christmas lights create a mesmerizing atmosphere, but they also add a dose of nostalgia and joy to the holiday season. So gather your loved ones, put on your favourite holiday tunes, and let your creativity shine as you bring the magic of Christmas indoors with these creative indoor Christmas lights ideas. Get ready to be dazzled!
How indoor Christmas lighting can transform your home?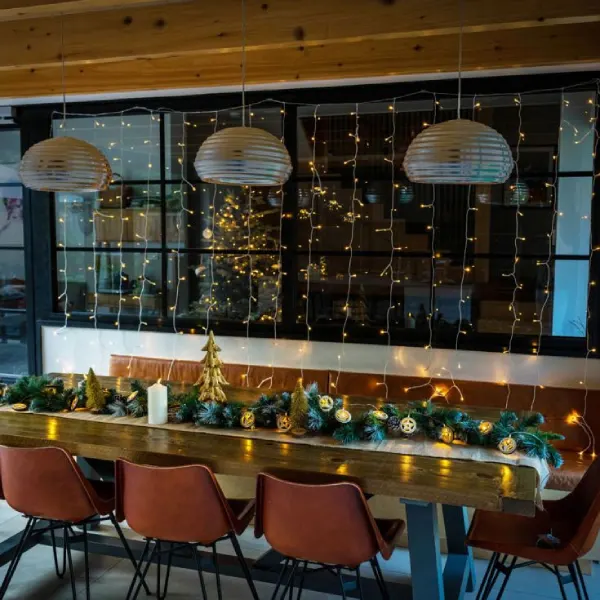 The soft glow of indoor Christmas lights has the power to instantly transform any space into a cozy and festive retreat. These twinkling lights create a warm and inviting ambience, making your home the perfect place to celebrate the holiday season. Whether you're hosting a festive gathering or simply enjoying a quiet evening at home, indoor Christmas lights set the mood and create a magical atmosphere that everyone will love.
Discover below, our 4 favourite types of Christmas lights you can use indoors to create that magical ambience of the holiday season.
Indoor Christmas lights ideas by type
When it comes to indoor Christmas lights, there are a variety of options to choose from. Each type of light has its unique qualities and can be used to create different effects and moods. Here are some of the most popular types of indoor Christmas lights:
1. Get creative this Christmas with string lights
String lights are the classic choice for indoor Christmas decor. They consist of a string of small bulbs connected by a wire. String lights come in various colours, sizes, and shapes, allowing you to customize your display. You can wrap them around your Christmas tree, drape them along staircases or doorways, or use them to highlight architectural features in your home.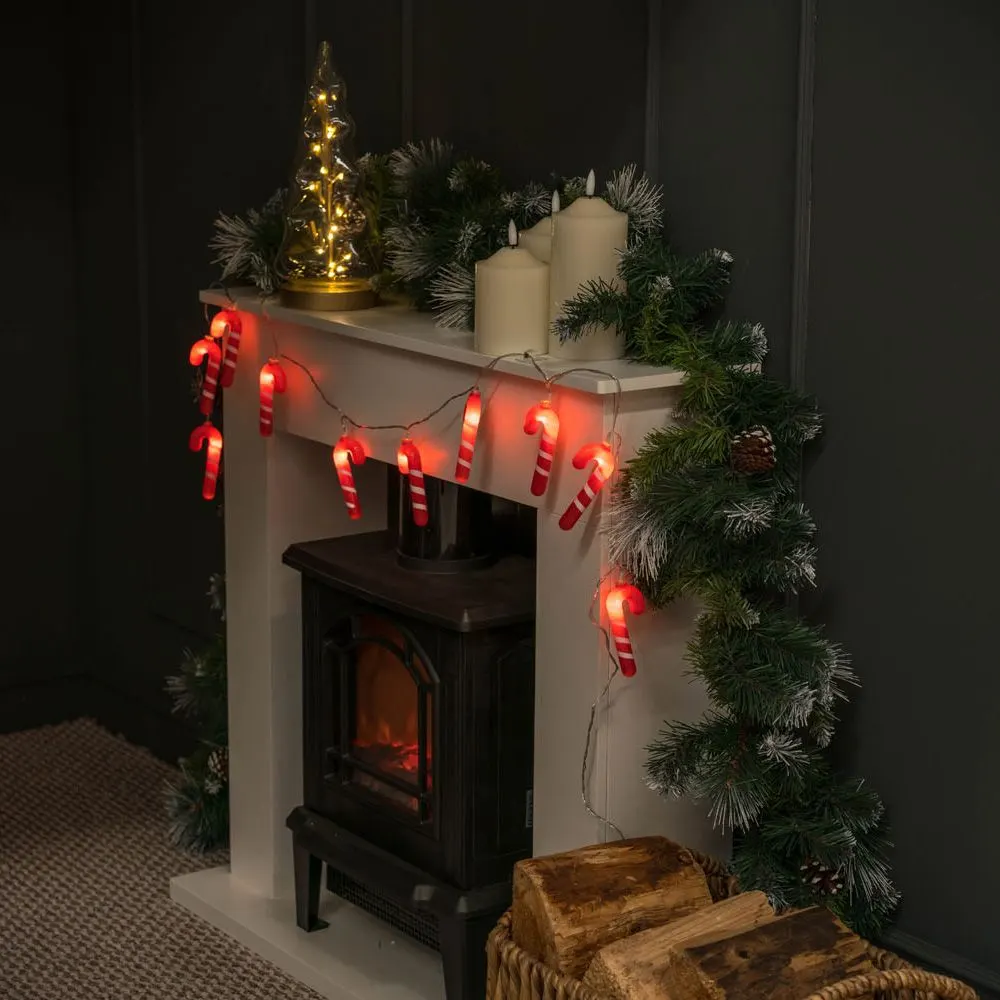 These candy cane string lights by Value Lights are fun for decorating a fireplace, with the red lighting emulating a crackling fire for a cozy effect.
2. Brighten up your indoor light display with LED Christmas lights
LED lights are energy-efficient and long-lasting, making them a popular choice for indoor Christmas lighting. They emit a bright and vibrant glow, adding a festive touch to any space. LED lights are available in a wide range of colours and can be used in various ways, from accentuating your Christmas tree to creating a stunning centrepiece.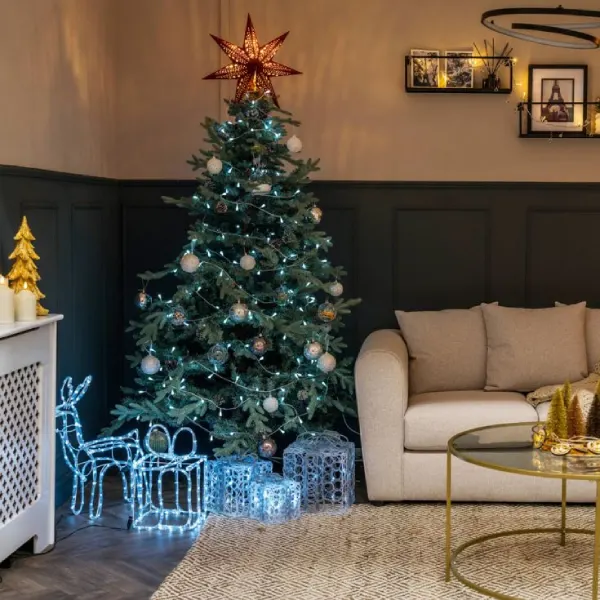 Give your tree a brighter look with LED Christmas lighting. These fun LED reindeer and gift light feature is a great way to make the bottom of your tree interesting. The cool LED lighting also makes it magical, like a snowy Christmas morning.
3. Add a touch of magic to your Christmas decor with fairy lights
Fairy lights are delicate and whimsical, adding a touch of magic to your indoor Christmas decor. These tiny lights are often used to create a twinkling effect, resembling stars or fireflies. Fairy lights can be wrapped around objects or used to create intricate patterns and designs. They are perfect for creating a dreamy and enchanting atmosphere.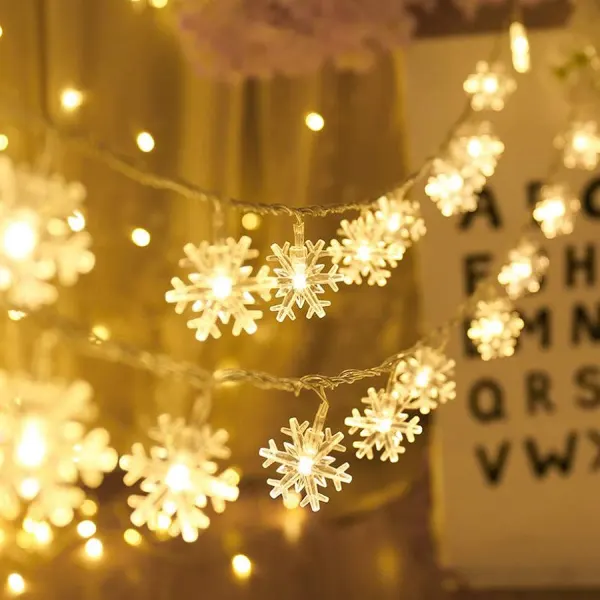 4. Curtain Lights
Curtain lights are a unique and eye-catching option for indoor Christmas lighting. They consist of multiple strings of lights hanging vertically, resembling a curtain. Curtain lights can be used to create a dramatic backdrop or to divide spaces. They are often used in windows or behind sheer curtains to create a stunning visual display.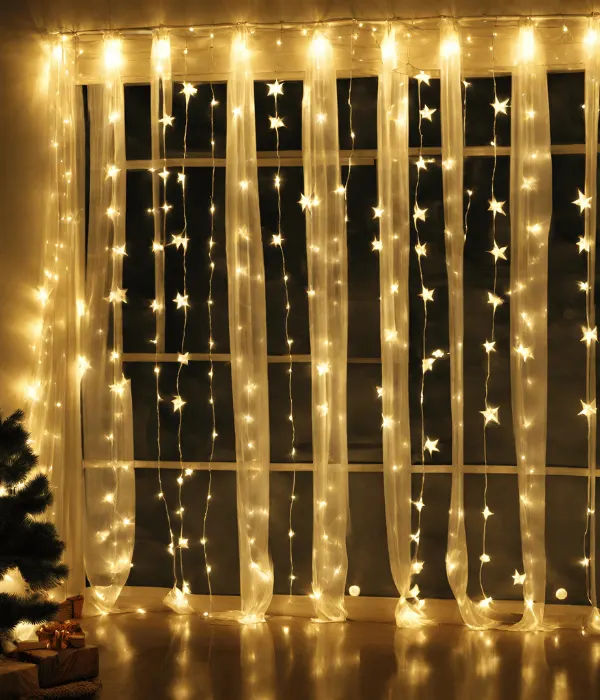 These are just a few examples of the types of indoor Christmas lights available. When choosing the right lights for your home, consider the overall theme and style of your decor. Experiment with different types of lights to create a unique and personalized display that reflects your personality and celebrates the magic of the holiday season.
Unique indoor Christmas lights ideas
Indoor Christmas lights are not limited to traditional uses like decorating Christmas trees or hanging them around windows. With a little creativity, you can use these lights in unique ways to add a special touch to your holiday decor. Here are some creative ways to incorporate indoor Christmas lights into your home:
1. Lighted mason jar Christmas decor idea
Transform ordinary mason jars into magical lanterns by inserting a string of fairy lights inside. Place these lighted mason jars on your mantel, dining table, or window sills for a cozy and whimsical look. You can also personalize the jars by adding ornaments, ribbons, or fake snow.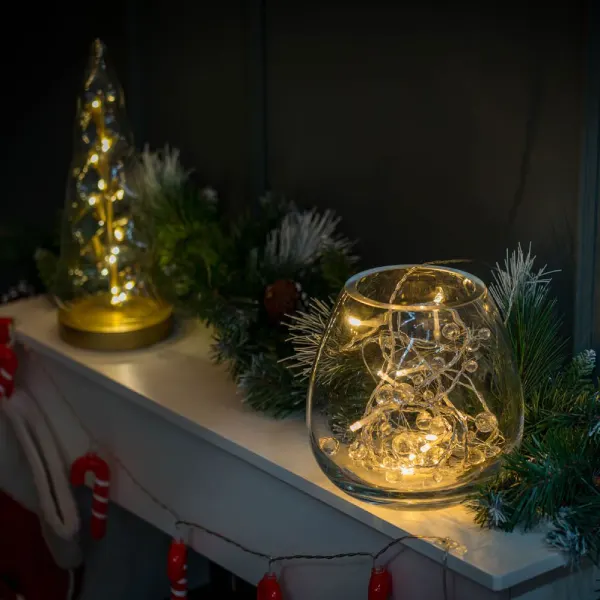 Give your surfaces a whimsical glow by bundling up some gem string lights in a jar or vase for a cozy ambience that can make your Christmas decor glow up.
2. Lighted Wall Art
Use indoor Christmas lights to create stunning lighted wall art. Arrange the lights in the shape of a Christmas tree, snowflake, or any other design you like. Mount the lights on a canvas or poster board and hang it on your wall as a focal point. This unique and eye-catching piece will add a festive touch to any room.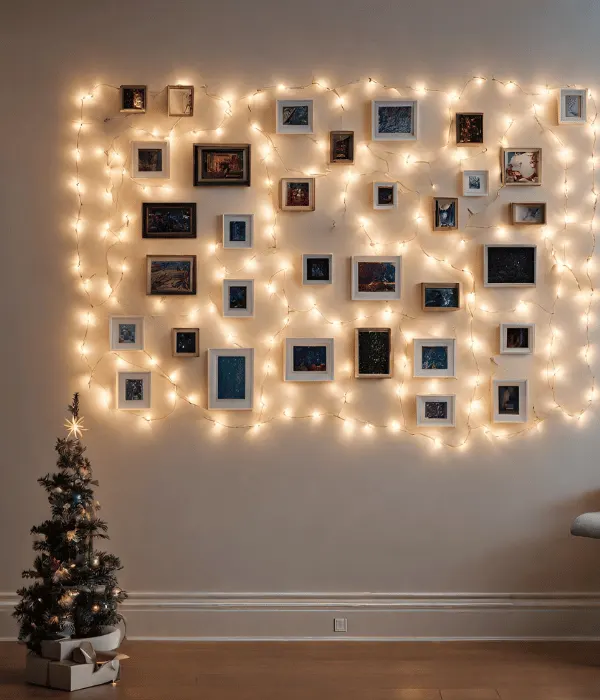 3. Lighted centerpieces for dining tables
Create stunning centrepieces by incorporating indoor Christmas lights into your table decor. Fill glass vases or bowls with string lights and place them in the centre of your dining table. You can also add ornaments, pinecones, or greenery to enhance the festive look. The soft glow of the lights will create a warm and inviting atmosphere for your guests.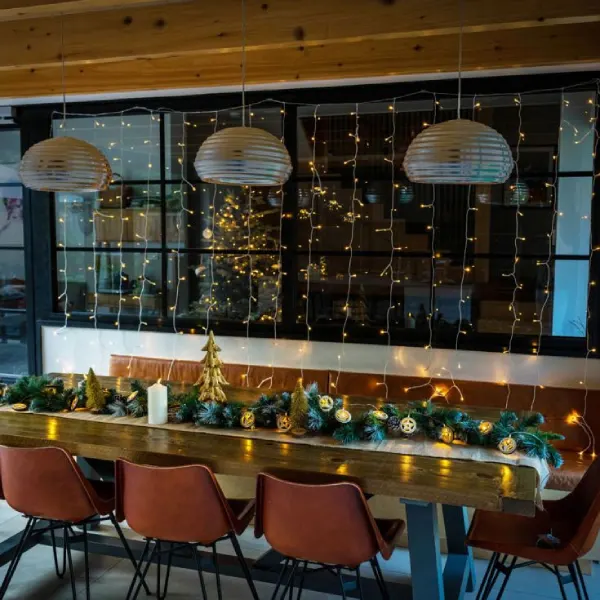 Create an atmospheric dining table with these charming reindeer string slights that will add a warm glow to your space.
4. Lighted garland for a cozy Christmas
Instead of using traditional garland, create your own lighted garland by weaving string lights through greenery or fabric. Hang the garland along stair railings, mantels, or doorways for a festive and elegant look. The lights will add a touch of magic and make your home feel cozy and inviting.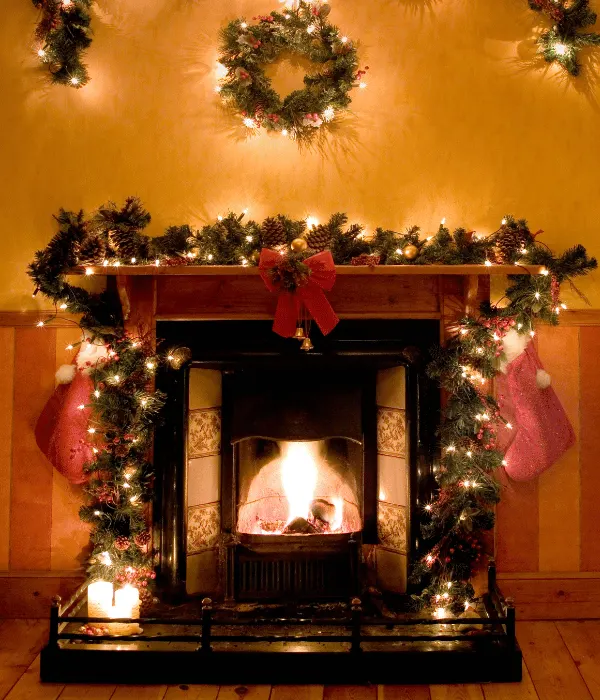 These are just a few creative ways to use indoor Christmas lights. Let your imagination run wild and experiment with different ideas to create a unique and enchanting display. The key is to have fun and let the magic of Christmas inspire your creativity.

Did you enjoy this article? Follow us on Instagram or Facebook to stay up-to-date with ideas and tips around the home!