Hello there! Are you thinking about transforming your home into a snug winter wonderland?
Our ultimate guide on creating a cozy Christmas aesthetic covers everything from crackling fireplaces to twinkling lights, we'll show you how to infuse every nook and cranny with that irresistible holiday charm. Whether you're aiming for a rustic, Nordic, or modern aesthetic, we have plenty of ideas you can use to make your home feel merry and bright.
In this article we discuss:
Understanding the concept of a cozy Christmas aesthetic
Creating a cozy Christmas ashetic goes beyond traditional decorations and encompasses a feeling of warmth, comfort, and joy.
When aiming for a cozy Christmas aesthetic, consider elements such as soft lighting, natural textures, and familiar scents that evoke the spirit of the holidays. Whether you prefer a traditional, vintage-inspired look or a more contemporary approach, the key is to create a space that feels welcoming and festive.
Cozy Christmas aesthetic themes
Scandinavian Christmas Aesthetic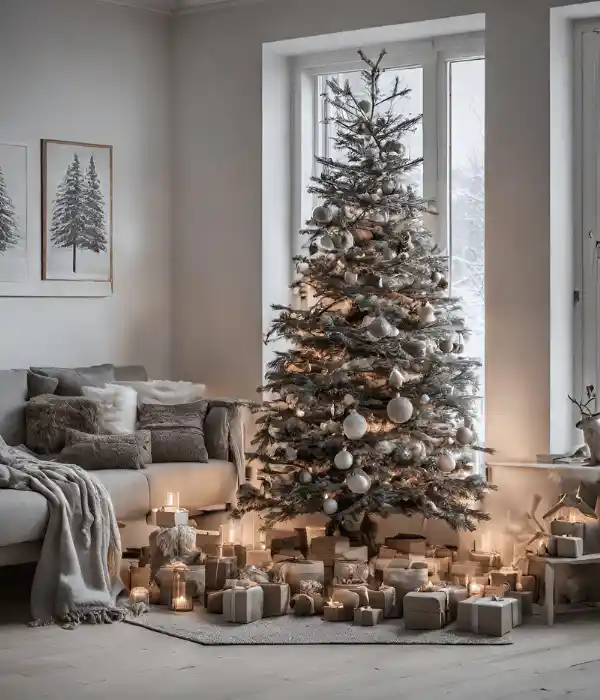 The elements of a cozy Scandinavian Christmas aesthetic include a combination of minimalist and natural decor, thoughtful details, and a focus on creating a warm and inviting atmosphere. Incorporating natural elements such as evergreen branches, pinecones, and wood accents can add a rustic charm to your space. Additionally, cozy textiles like chunky knit blankets, plush pillows, and faux fur throws can instantly enhance the comfort factor and contribute to the overall ambience.
Get the Scandi Christmas look: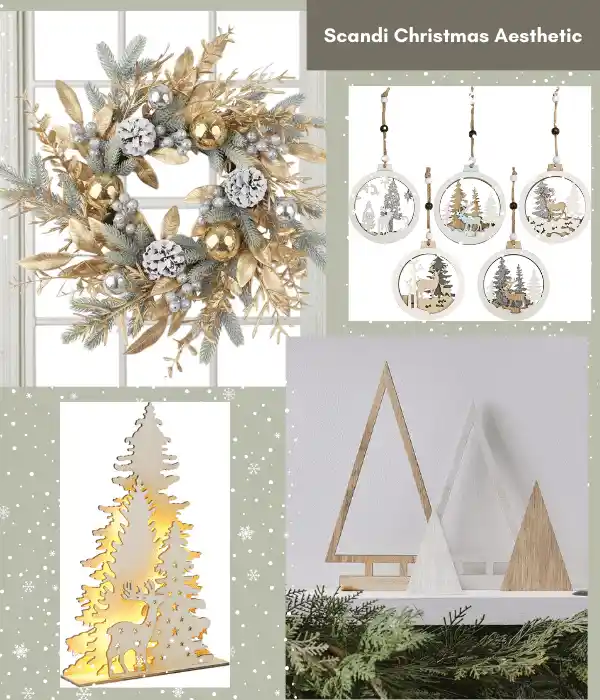 Shop the look: 4 Scandi tree mantel ornaments | Light up reindeer ornaments | Wooden baubles | Gold and light green wreath
Farmhouse Christmas Aesthetic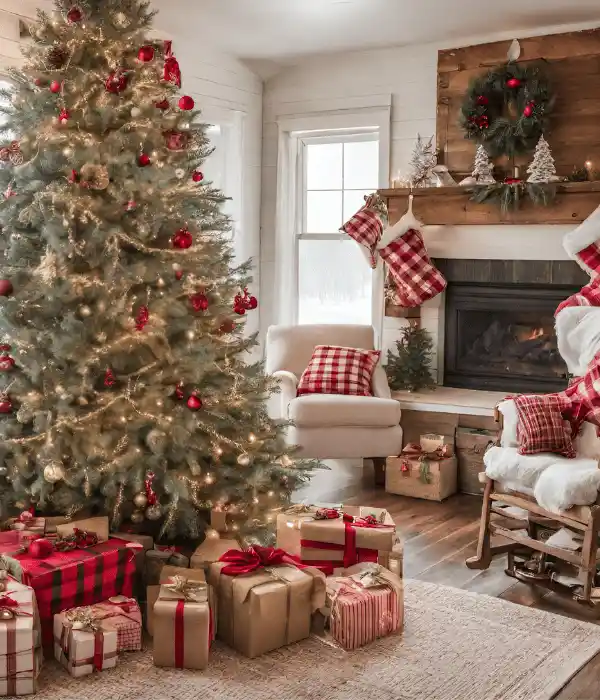 When it comes to decorating for a cozy Christmas aesthetic, consider incorporating elements that appeal to the senses. From the crackling sound of a fireplace to the scent of cinnamon and cloves, each sensory detail plays a role in creating a cozy atmosphere. Embracing the warmth of candlelight, whether through traditional candles or flickering LED alternatives, can also contribute to the inviting glow of a cozy Christmas setting.
Get the farmhouse Christmas aesthetic: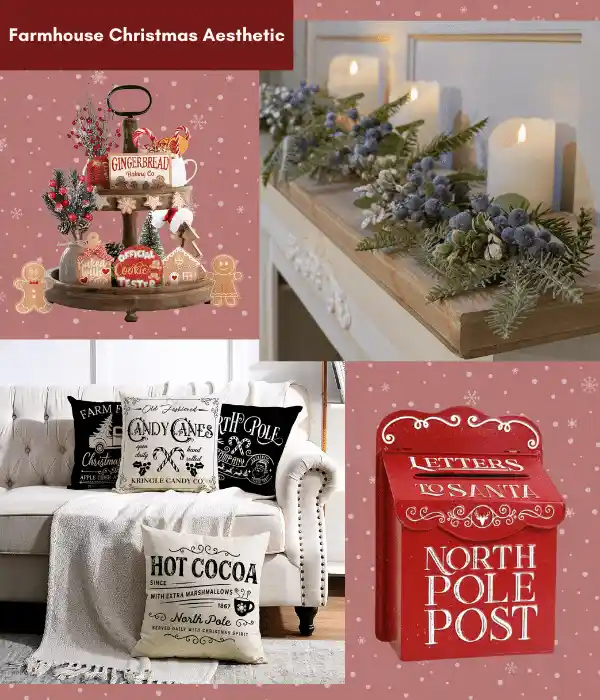 Shop the look: Farmhouse Christmas cushions | Fireplace garland | Farmhouse Christmas signs | Santa letterbox
Traditional Christmas Aesthetic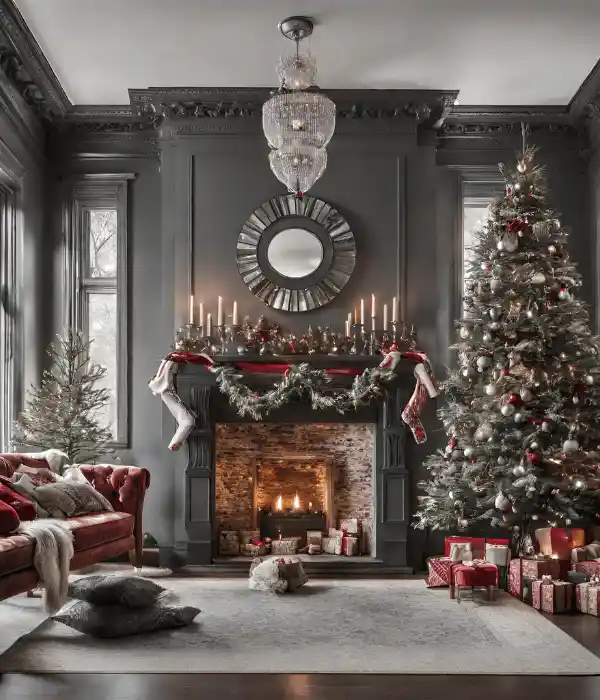 To truly capture the essence of a cozy Christmas aesthetic, consider a traditional Christmas look. Think about colours like classic red, green, and gold decorations with elements like holly, mistletoe, and nutcrackers. Personalized ornaments, family heirlooms, and handmade decor can add a sentimental touch to your space, infusing it with the spirit of the season.
Get the traditional Christmas aesthetic: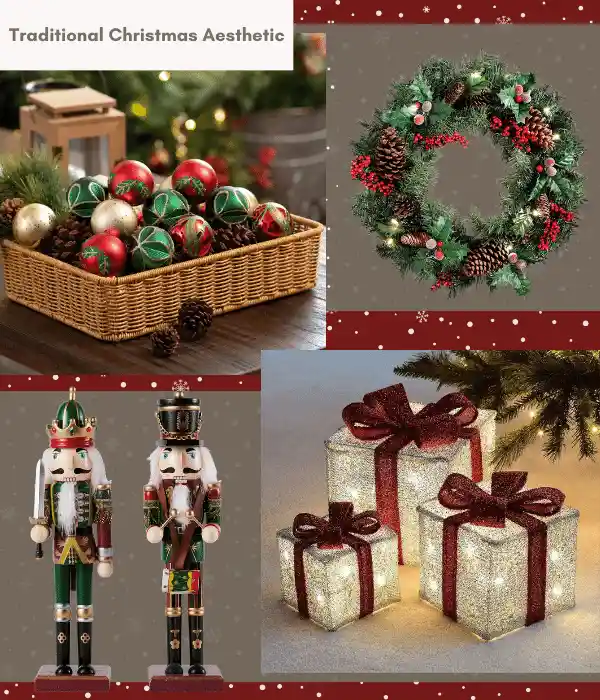 Shop the look: LED Christmas present lights | Classic Christmas Nutcrackers | Green, Gold and Red Baubles | Traditional Christmas Wreath
Colour schemes for a cozy Christmas aesthetic
Choosing the right colour scheme for Christmas can significantly impact the festive atmosphere in your home. Here are four popular Christmas colour schemes you might consider:
1. Classic Red and Green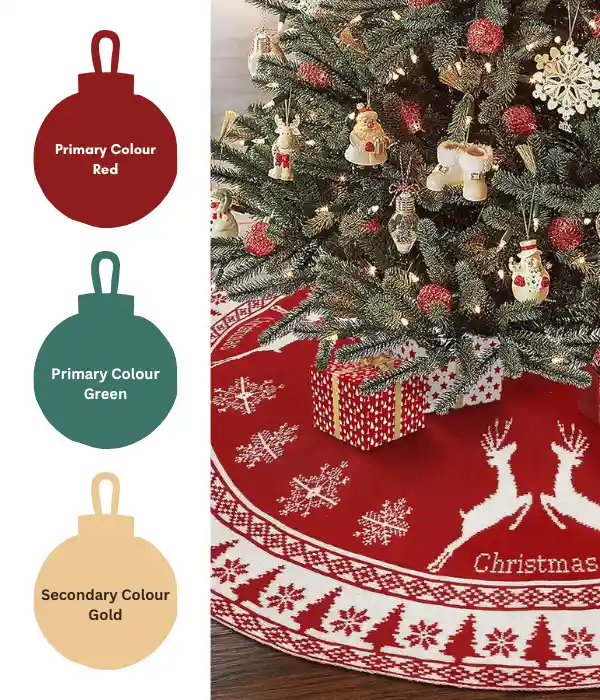 Shop the look: Red Christmas Skirt from Amazon
This timeless combination brings warmth and tradition to your home. Red represents the festive spirit, while green symbolizes the evergreen elements of the season. Incorporate white or gold accents for an elegant touch.
2. Winter Wonderland: Blue and Silver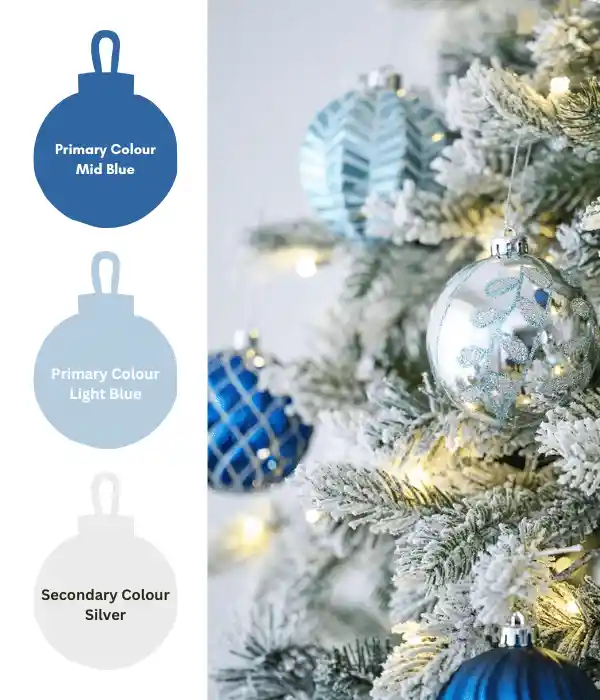 Shop the look: Blue and silver Christmas baubles from Amazon
Create a serene and icy atmosphere with a palette of cool blues and shimmering silvers. This color scheme mimics the beauty of a snowy winter landscape. Add white or crystal elements to enhance the wintry feel.
3. Neutral Elegance: Gold and White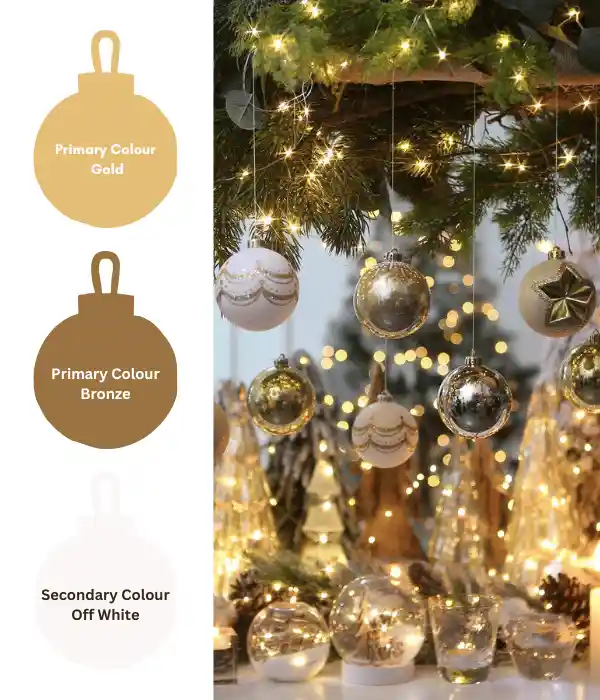 Shop the look: Gold and white Christmas baubles from Amazon
Achieve a sophisticated and elegant look with a combination of gold and white. This timeless duo exudes luxury and pairs well with various decorating styles. Consider adding hints of greenery for a touch of nature.
4. Candy Cane Delight: Red, White, and Peppermint Twist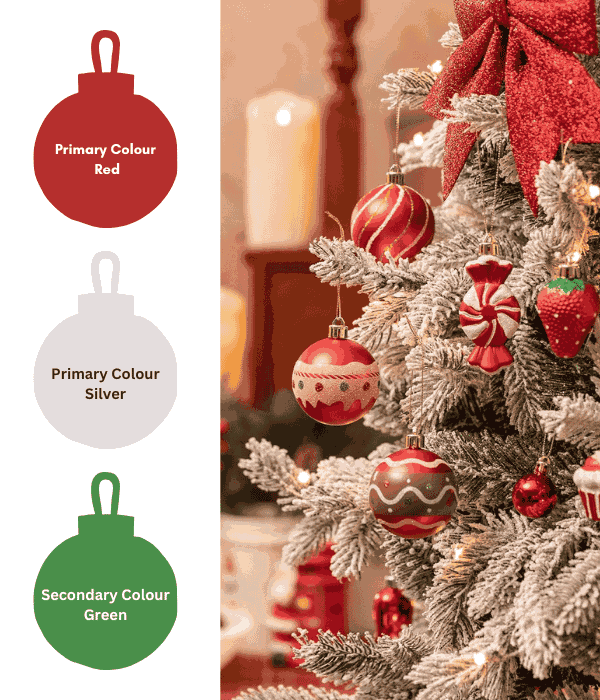 Shop the look: Red and white Christmas baubles from Amazon
Embrace the sweetness of the season with the iconic colors of candy canes. Red and white stripes create a playful and festive atmosphere. Consider adding touches of green for balance.
Remember, the key is to choose a colour scheme that resonates with your personal style and complements your existing home decor. Whether you prefer traditional, modern, or rustic, these colour schemes can be adapted to suit various design aesthetics.
DIY projects to enhance your cozy Christmas aesthetic
Engaging in do-it-yourself (DIY) projects is a delightful way to personalize your cozy Christmas aesthetic and infuse your home with handmade charm. From crafting unique ornaments to creating custom decor pieces, DIY projects offer a wonderful opportunity to express your creativity and add a personal touch to your holiday setting. Consider gathering friends and family for a fun-filled crafting session to create memorable keepsakes and decorations.
Maintaining your cozy Christmas aesthetic throughout the holiday season
Consider rotating seasonal elements such as wreaths, garlands, and centrepieces to keep your space feeling fresh and inviting.
Incorporate small changes such as updating accent pillows, switching out candles, and introducing new scents to infuse your home with a sense of novelty and delight. By staying attuned to the details and embracing the evolving spirit of the season, you can ensure that your cozy Christmas aesthetic remains captivating and engaging for you and your guests.
Conclusion and final tips for a warm and inviting Christmas home
In conclusion, creating a cozy Christmas aesthetic is a delightful opportunity to infuse your home with warmth, nostalgia, and joy. By understanding the concept of a cozy Christmas aesthetic and incorporating elements such as decor, lighting, scents, and entertainment, you can curate a space that embodies the spirit of the season. Whether you're celebrating with loved ones or savoring peaceful moments, a cozy Christmas aesthetic sets the stage for cherished memories and heartwarming experiences.
As a final tip, remember that the key to a warm and inviting Christmas home lies in the thoughtful details and personal touches that reflect your unique style and spirit. Embrace the magic of the season by creating a space that resonates with comfort, joy, and togetherness, allowing your cozy Christmas aesthetic to envelop your home in a festive embrace.
At Styl Your Sanctuary, we hope your holiday season is filled with moments of laughter, love, and the unmistakable charm of a cozy Christmas setting. Share your Chrismtas looks with us on Instagram and we may reshare them!
Did you enjoy this article? Follow us on Instagram or Facebook to stay up-to-date with ideas and tips around the home!