This article provides real insight into an Interior Designer's project.
Welcome to our Designer Diaries, where we have a casual chat with an interior designer and their recent project to inspire your next renovation. In this article, Heather shares a living room project that she has worked on with her client and the beauty of using wall panelling in your lounge.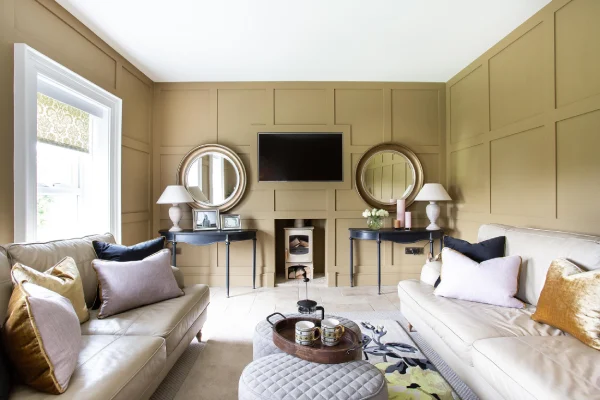 Introducing Heather from Heather Interior Designs…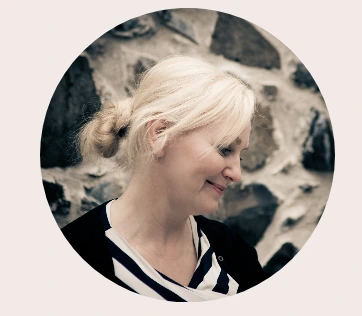 "I have been an interior designer for over 18 years, having previously worked as an interior designer for retail stores I decided to start my own business in 2009."
"I would say my design style is classic and elegant with a timeless aesthetic, although I design for clients that have their individual style."
The client design brief
"The design brief was to create a cosy but elegant space using the existing sofas and Designer's Guild Rug. They weren't happy with the plain walls but didn't want wallpaper and felt it lacked some architectural detail. We decided on panelling all of the walls to create detail and texture."
What the room looked like before…
"The furniture had side tables that looked more shabby chic in cream and glass which the client had for a long time and was happy to change them if necessary. The overall look was quite light, because the room was very small. Most people think small rooms make it light however, I prefer to think of how the room is used to lead me to a colour palette. In this instance it was the family den, used in the evenings to watch television with their teenage children and they wanted it to feel cosy."
Design elements used to transform the space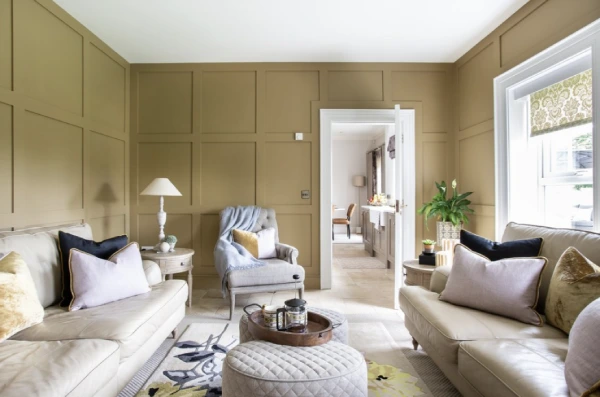 "I decided to add some linen and velvet to the mix which I knew would look cosier with the leather sofas."
"To create a more intimate feel (the room is mostly used in the evenings) I chose a colour scheme based on the rug.  The walls are painted in Benjamin Moore Jonesboro Gold, I picked out the lilac colour in linen and gold velvet along with black and gold piping cushions."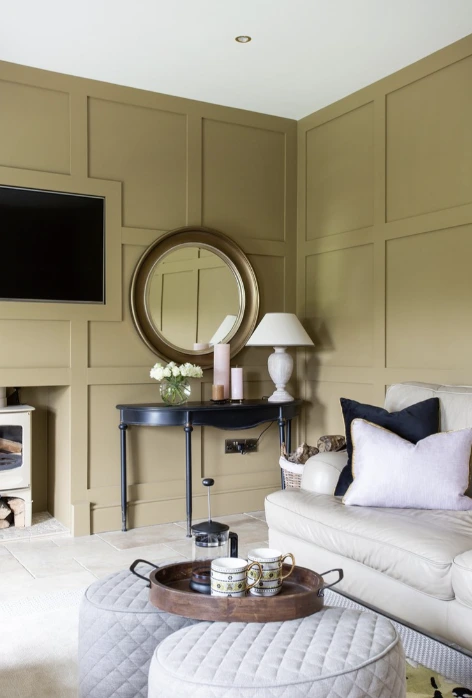 "Given the small space, it is good to add some pieces that are multi-purposeful, these little oval footstools are ideal to use as coffee tables as well and don't take up a lot of space."
What to consider when thinking about wall panelling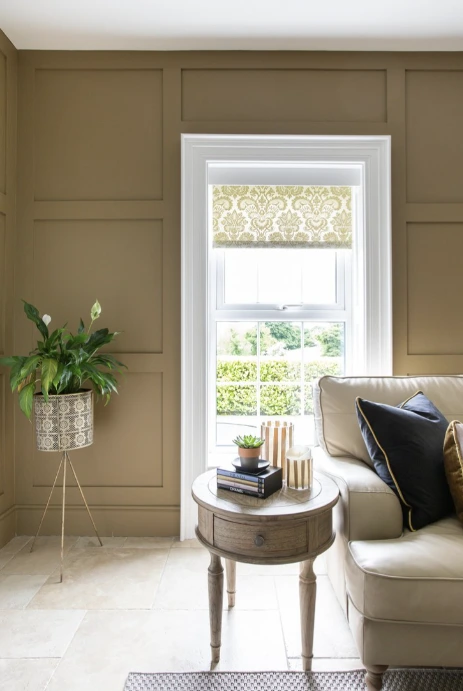 "Although wall panelling is very on trend at the moment I would advise taking the style of your home into consideration. For example, this Georgian-style home had very high ceilings and this particular style suited the space. They are also a fantastic way to create some texture and architectural detailing in a room."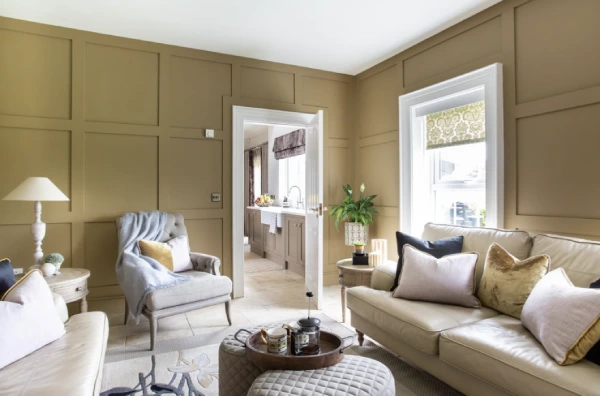 "When choosing panelling try to follow existing lines in your home, perhaps window frames or other detailing like coving and skirting can play a part for a more cohesive look. This particular room is just off the kitchen which has shaker-style door fronts so this was taken into consideration when deciding on the panelling."
Interior Design services at Heather Interior Designs
"At Heather Interior Design I think one of the key skills in designing a home is to listen to your client and ask the right questions, I particularly feel very intuitive upon our first consultation as we walk through the home, there are little clues everywhere that speak to you about how your client lives. There is a huge amount of trust and leap of faith as they can be taken out of their comfort zone but this trust soon comes easily as they see the design evolve."
"I am also a mother of five, so understand how busy life can be and the challenges of creating a home that is both practical and beautiful."
Design trends Heather is currently loving…
"The design trends I'm particularly loving at the moment would be the colour palette of warm neutrals like truffle, caramel and cinnamon/burgundy, I just love that we are stepping away from the greys that have dominated interiors (in the UK), getting back to nature with wood and introducing greens and blues as accents. Since the pandemic, I feel we are drawn more to an injection of colour in our lives."
"Curved furniture in mid-modern and my favourite Art Deco style I feel will always elevate your home so I'm looking forward to seeing more of this."
How to get in touch with Heather Interior Designs
You can find interior design services at heatherinteriordesign.co.uk
Follow Heather Interior Designs on Social Media:
Did you enjoy this article? Follow us on Instagram or Facebook to stay up-to-date with ideas and tips around the home!