Have you got the DIY urge to revamp your kitchen? You've come to the right place!
From creating your own kitchen island to simple paint jobs or huge renovations that completely transform the home. Our list of the best DIY kitchen ideas will inspire you to pick up the brush, get the sander out, and start creating your dream kitchen.
Continue reading for ideas.
1. DIY Farmhouse Style Kitchen 
If you're looking to remodel your kitchen with a country or farmhouse aesthetic, there are a few elements you can insert into your space to create an authentic look. Wood beams are a great feature to create a statement look in your kitchen and will shape the rest of your space in terms of where you put countertops, cabinets and islands.
Image by @simplycaroline.co.uk has completely transformed the open plan kitchen and living room into an ultra-modern farmhouse with luxurious touches, such as the marble top island and counters that effortlessly match the traditional brick wall for a homely touch.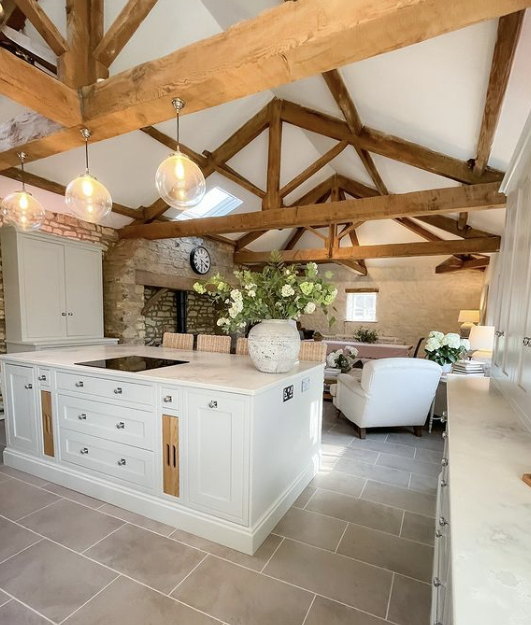 Love this? Read more about Caroline's home projects on her blog https://www.simplycaroline.co.uk/
2. DIY Kitchen Cupboard Makeover
Painting over your kitchen cupboards is an affordable way to give your kitchen a refresh. It's also a great way to completely change the look of your kitchen. You can go from dull cupboards that make the space feel dark and closed in, to painting them a bright or neutral colour to give your space an open and airy feel.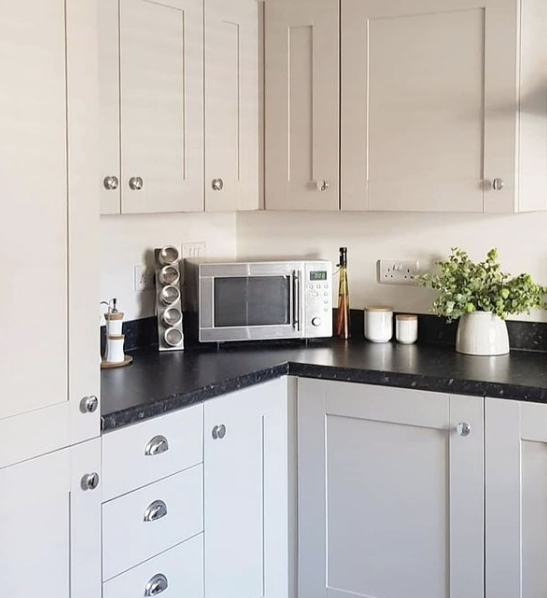 Image by @forever_and_always_home has completely transformed the kitchen by repainting the cupboards from brown to white which has opened up the space to make it feel brighter. By repainting the cabinets white, the space feels more modern and the black countertops now provide a striking contrast for a stylish kitchen space.
See the before photo here.
3. DIY MDF Kitchen Island
If you're looking to add a kitchen island to your space without the high costs, why not consider creating your own island using MDF to create the base? It's affordable and completely customisable to your space, making it a unique and wonderful DIY project for your kitchen.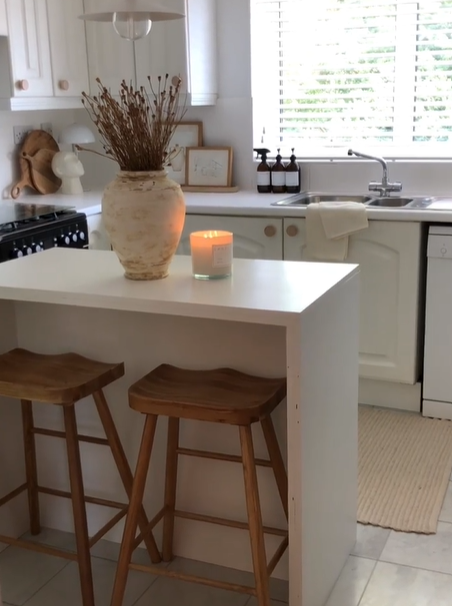 Image by @sculptureyourhome uses custom-cut MDF to create a beautiful kitchen island with double sided seating and plenty of countertop space to give a small kitchen extra prep and dining areas.
Materials needed: MDF wood cut to size, Wood filler (paint, wood and metal)
See the full DIY project here.
4. DIY Kitchen Splashback Tiles 
Give your kitchen a makeover by adding texture and colour to the walls between your countertops and cabinets with splashback tiles. Not only are splashback tiles great for giving your kitchen a makeover, but they also offer protection for your walls to avoid dampness and grime from cooking and prepping food.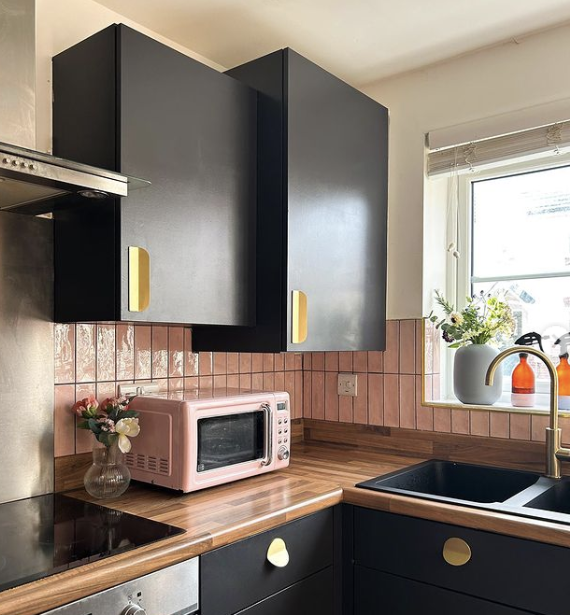 Image by @thehousewiththepinkbed brightens up the walls in this black-and-white kitchen with a pop of pink that brings out the dark accents of the room. We love the choice of tiles used in this kitchen space that gives the kitchen a glam look with the glossy metro tiles and matching pink accessories for a cohesive look.
5. DIY Kitchen Decor Updates 
If you don't want to knock down walls, build new installations, or paint your kitchen, but you may want a change in how your kitchen looks, simple changes such as decor and styling can give your space a new lease of life.
Create a moodboard of colour schemes you like and the decor styles that give you joy, and implement them into your space through the art of styling. Whether it's a tropical theme you love with an abundance of plants that fill up your space or ornamental styling where every detail is handpicked to suit your personality, there's no limit to styling a kitchen that feels right to you (without the heavy lifting!).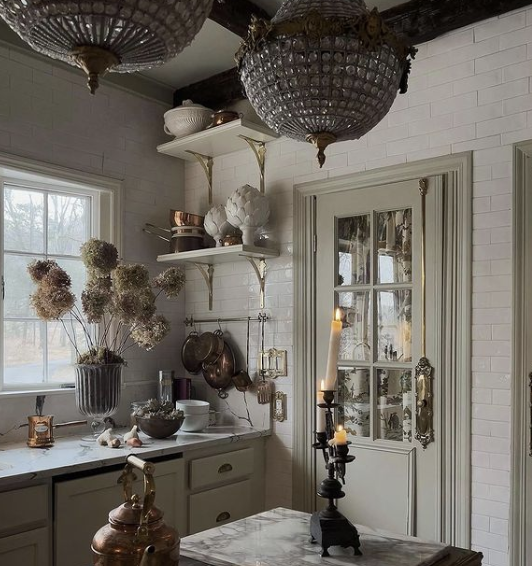 Image by @paigekontrafouris uses the art of styling to create a neutral and maximalist kitchen space with lots of texture for a warm and inviting room to enjoy.
Talking about her kitchen DIY project, she explains:
"When I redid this space we kept the layout exactly the same for a few reasons budget( biggest reason), unless we were willing to take down/ open up walls there was really no way to change the layout keeping the same footprint and timeline of getting this done fast. You don't need to do a grand renovation to make a big impact classic Finishes, interesting accents and layers of decor is what really brings a space to life."
6. DIY Inserting a fitted kitchen
Save on the pennies when it comes to installing your dream kitchen by doing it yourself! You will learn a lot along the way and the effort and knowledge doing it will spur on other creative projects around the home.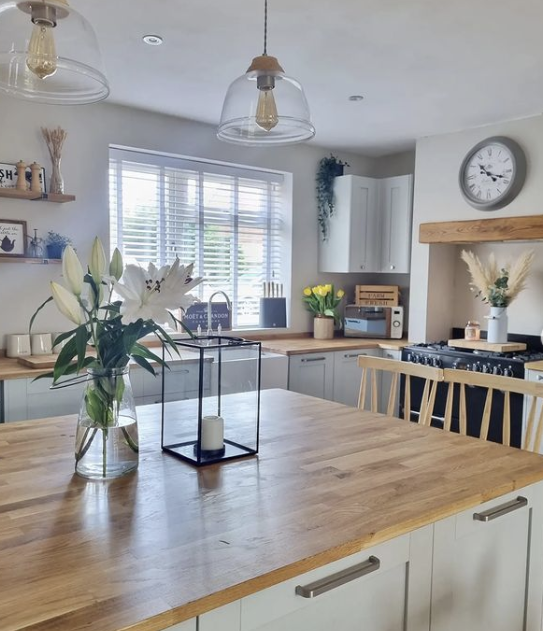 Image by @lifeatnumber_.10 has a fitted B&Q kitchen which was done by themselves. Explaining about fitting your own fitted kitchen: "Endless amount of hours, days and weeks have gone into this room! I'm super proud of us for doing this ourselves. We did have help with the worktops, but apart from that, we did it. If we can do it so can you!!!"
7. DIY Colourful Kitchen Using Paint and Patterns
The kitchen is a space that is used for most of life's events and celebrations. That's why it's always a popular room that we see having makeovers and renovations time and time again. If you've currently got a plain white kitchen and you're looking to add life to it, use colour through painted cupboards and patterns through countertops and decor to bring your space to life.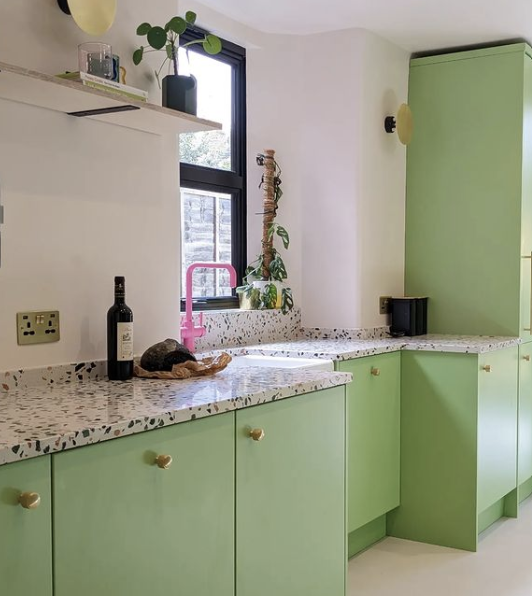 Image by @sharnshouse uses colourful cupboards and patterned countertops to bring a white kitchen to life through customisation that is completely unique to her style.
Explaining about choosing a custom colour for her kitchen, Sharn says: "We could not for the life of us find a kitchen showroom that did any fun cabinet colours outside of your usual, grey, white, beige or navy, and while I love those colours in the right home, it was always going to be something a bit more out there for us. I'm so glad we didn't settle and went for a custom colour, because who else have you seen with a bright pistachio green kitchen? It really is the absolute star of the house."
See the full renovation video here.
8. DIY Painted Kitchen for a Colourful Space
Colour can really transform your kitchen into something wonderful. If you're thinking of undergoing a DIY project in your kitchen, but you don't want to completely rip out your cabinets and fittings, consider giving your kitchen a makeover using clever paintwork. Separating walls and sections with different paint colours, to upcycling chairs and furnishings with a new colour can make all the difference.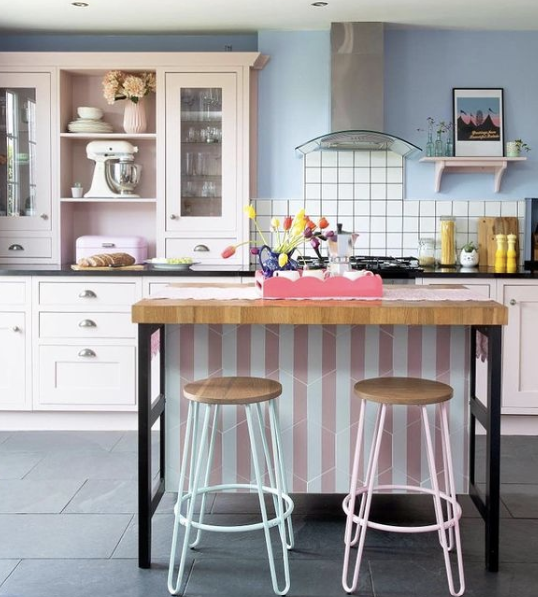 Image by @heatherscolourfulhome has given her kitchen a new lease of life using pastel colours to brighten up a North-West facing kitchen to add a pop of colour to brighten up the space when there's little natural sunlight.
9. DIY Kitchen Makeover from Cream to White
When considering which colour to choose for your kitchen, think about the space and how much light it gets in the day, what the evening light is like and the colour scheme of your appliances, which all should be considered when repainting your kitchen.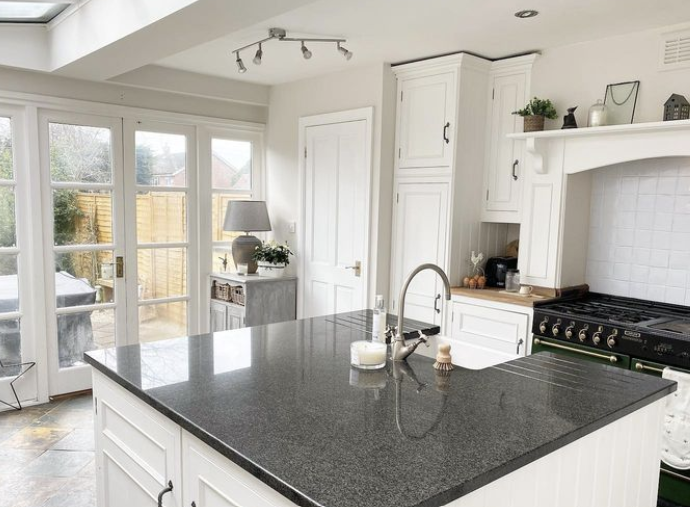 Image by @sammiesvictorianhome transforms her cream kitchen into a bright and sophisticated space that makes it look like a brand-new fitted kitchen with just a lick of paint.
See the incredible before and after here.
10. DIY Fully Customised Kitchen
Creating a kitchen that is completely one-off and full of character that expresses your personality is a rewarding experience. Whether it's a complete renovation where you want to make everything from scratch, or part customised where you add your own touches along the way, can make your space feel more homely rather than a carbon copy from a showroom.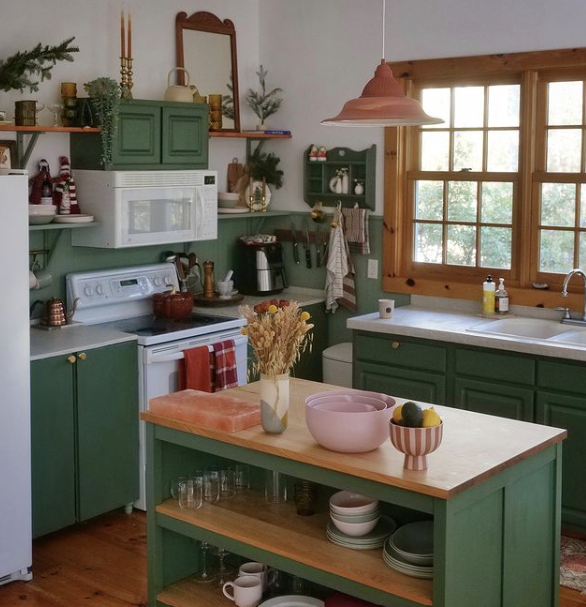 Image by @jessiefinds has created a unique kitchen space with bespoke furnishings, paintwork, and crafts to match her home's colourful aesthetic. From painting a makeshift island with cottage-style curtains to bespoke fitted shelving and DIY countertops, this space is truly unique and wonderful.
See the full renovation from start to finish here.
Find more inspiration for your kitchen and home: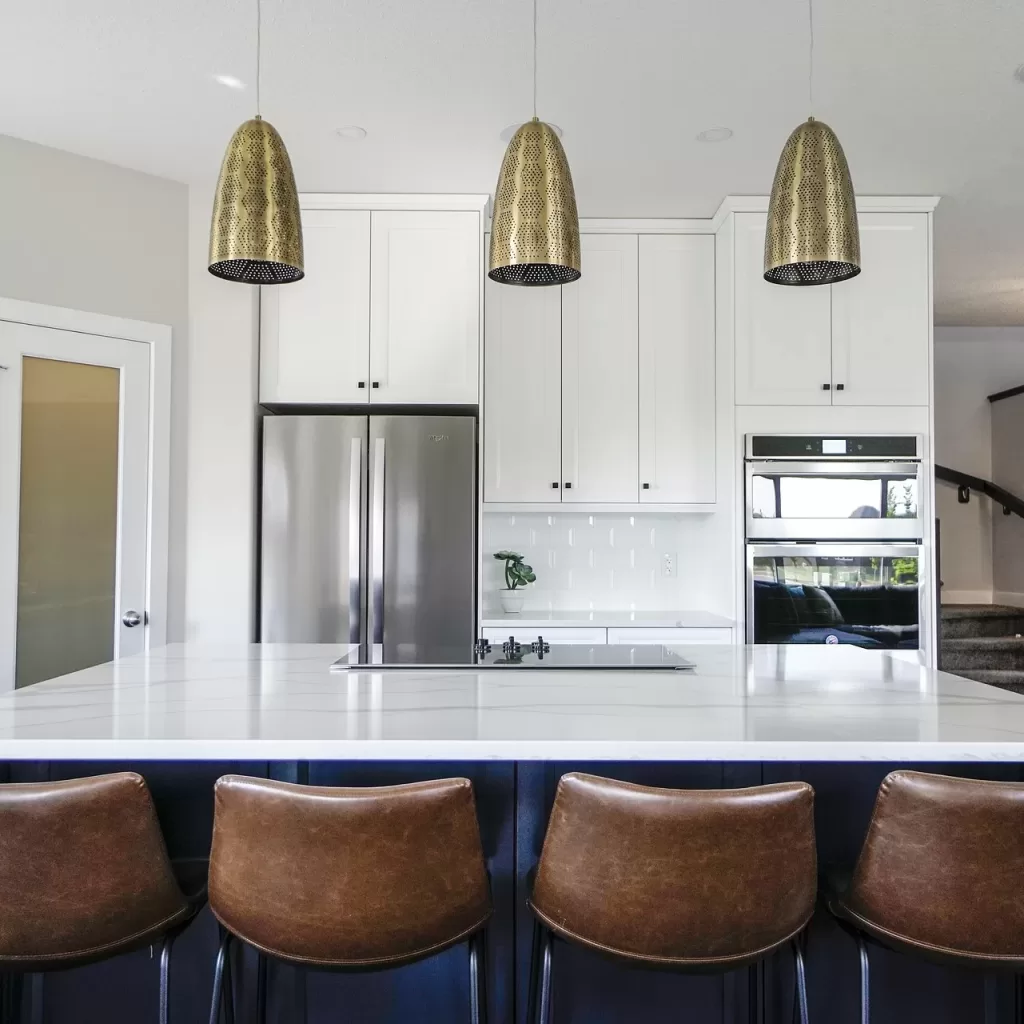 Bathroom Bedroom Decor Inspo DIY and renovation Hallway How To Interior Trends Kitchen Living Room Uncategorized