This article is written by Nick's Building Supply Inc to provide you with advice for your home
The two places where you feel at peace are nature and your house. They are soothing spaces that encourage stress-free relaxation.
But do you ever feel like your house has a little too much chaos? The best way to resolve this issue is to implement more natural elements around your home.
Use an earthy color palette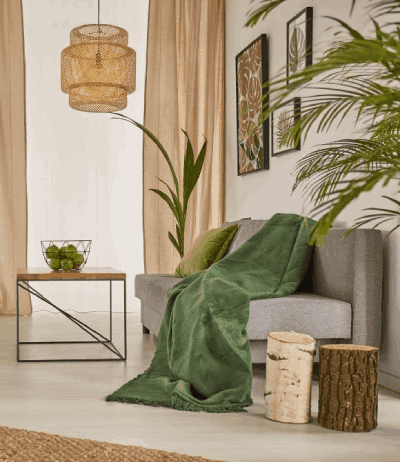 Earth tones are the foundation of a home decorated with natural materials. A simple way to accentuate natural elements is to decide which colors you resonate with the most.
Earth tones consist of shades of green, brown, gray, blue, red, and pink. All you need is the proper approach to select the preferred shades.
A warm-toned earthy color palette
Nothing makes a space feel cozier than a warm color palette. Colors like navy blue, brick red, reddish brown, pale pink, tan, and olive green fit effortlessly.
A cool-toned earthy color palette
Cool colors have gray and blue undertones. They make homes feel contemporary yet calming. The cool-toned earthy color palette includes light gray, sage green, pale blue, white, sandy brown, and pastel yellow.
A moody earthy color palette
Perhaps the warm- and cool-toned colors are too bright. You love the dark academic aesthetic and moody shades of each color.
Your home will thrive when you select the following colors: terracotta, dark olive green, charcoal gray, dark brown, and beige.
A green earthy color palette
Maybe none of these ideas resonate with your style. Instead, you want your home to be as green as can be! Olive green, sunshine yellow, light green, and beige will complement one another admirably.
Incorporate a rustic wood feature wall
Painting four walls the same plain color can become boring. Feature walls are wonderful ways to establish a room's focal point and add interest.
Wood is one of the most praised natural materials. You likely have plenty of wooden furniture around the house. The natural gritty grain and sensational stain will result in a sumptuous bedroom, kitchen, or living room.
Embrace floral designs
Although fresh flowers are lovely to have around the house, using them is a non-permanent solution. Homeowners who adore florals should consider embracing this pattern through home décor.
Use floral tiles in the shower or for the backsplash in the kitchen. Try installing a floral wallpaper feature wall in the bathroom, bedroom, or office space. There are many flower species to choose from, alongside plenty of different styles, from realistic to moody to classic.
Add stone and crystal décor
There are countless décor opportunities available outside of deciding the color palette or installing feature walls. A simple addition is to incorporate décor made of stone. This includes stone vases or uncommon pottery sculptures.
Crystals are another unique option. They're natural materials available in colors ranging from white to purple to red. Consider adding a glass jar full of an array of crystals or a large crystal with illuminating colors and jagged edges. Each little element will collectively contribute to creating a cohesive interior design.
Integrate solid wood doors
Natural wood is one of the most sought-after components for homeowners searching to elevate their home's design. The final effective way to implement natural elements around your home is to upgrade each interior door with solid wood.
There are many shades of brown to choose from based on your favored earthy color palette. Whether they're beige, reddish brown, or a classic dark brown, new interior solid wood doors will make a difference in your home's design.
Did you enjoy this article? Follow us on Instagram or Facebook to stay up-to-date with ideas and tips around the home!