This article is written by Align West Homes to provide you with advice for buying or renovating a lakeside property
Are you craving a waterfront property? Relaxing along a lakeside property or enjoying occasional kayaking or boating are things that attract buyers to invest in waterfront properties. But avoid feeling overwhelmed as you are yet to know what the must-have features of a lakeside home are.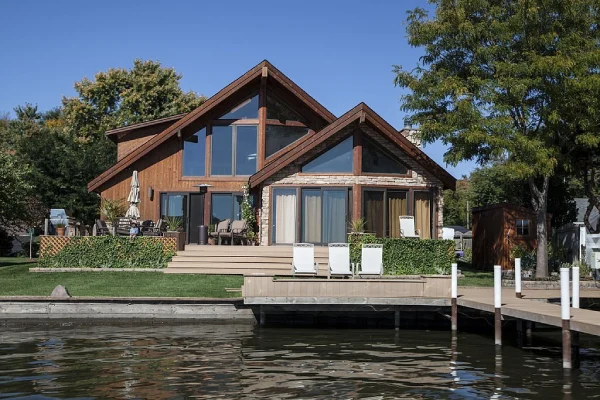 If you are trying to create memories in your lakeside home, here is what you need as must-have features.
Panoramic views
Among the things that make a lakeside property special is the view from inside the house. Surely, you would be looking for a property with exceptional viewing opportunities. Just imagine cozying up near one of the windows of your bedroom from where you can establish direct contact with nature. Having a good view from your lakeside home also gives you the option of stunning interior decor. Make sure to discuss with your custom home builders on how to design a house that enjoys good views from all sides.
Large garage
Do you love going boating in the lake and wondering where to store the boat? Well, stretch the size of the garage and you are good to go, or make it a two-car garage to make sure you can store the boating accessories comfortably. Keeping in mind that a majority of lakeside residents enjoy occasional water rides or more, home builders should cater to these requirements appropriately. Just discuss your plan with experts before you decide. Align West Homes is an award-winning house-building company in Kelowna to assist in building a lake-side property, keeping your preferences in mind.
Deck or patio
Do you prioritise a deck or patio in your newly-built lakeside property? If not, think again. As far as a waterfront property is concerned, not having a deck or patio may mean, you will not enjoy the fresh breeze. Just make sure the Kelowna home builders you are consulting should know how to obtain a permit for building a deck or patio. For a waterfront property, you can play with several options when revving up the deck or patio. Build a barbeque for entertaining your friends at evening parties or simply read, relax or play with your pets and kids.
Don't miss the smallest of details
Most home buyers go for bigger details when building waterfront homes and miss the smallest details that add vigour to the house. For instance, you can make the entrance or the doorway unique and have lots of plants surrounding it for an eco-friendly look. Alternatively, you can pick from décor ideas for modern entrances if your custom home design is contemporary.
Outdoor Kitchen
Having an outdoor kitchen on your waterfront property is the best you can ask for. What's more, you can also have a bar counter outdoors to boost the spirit of those outdoor parties. Be ready to sip your cocktail while enjoying stunning views of the water.
Focus on rooms with the best views
Which rooms would you like to have for the best views? The living room and a couple of bedrooms are those places where you may have waterfront views. Naturally, you must focus on those rooms more than the other areas of your house and leverage the best you can to make sure that the design aligns with your perception.
Outdoor mudroom
If you are lucky enough to buy a custom home on the lakeside, you will get plenty of opportunities to engage in water sports but what's awful is the mud and sand you bring with the fun things you can do. But don't worry, you can have an outdoor mudroom and a shower unit to prevent your house from becoming dirty, especially if you have kids and pets in your house. Additionally, for those times when you need to be away, consider reputable pet boarding resorts to ensure your furry companions are well taken care of.
Include a fire pit
A waterfront property will usually have more things outside than in the interiors to make sure you leverage the best views of the water body surrounding it along with the cool breeze. A fire pit to accompany in the evening gatherings is a must-have. It will give a wonderful glow to your garden and make your weekends more invigorating.
Enhance the window size
The Windows of a lakeside home need to be special as you can make the views more encapsulating. Imagine viewing the lake from indoors. A small window will not provide you with half as much pleasure when gazing out at the lake as large windows would do. So, ask your custom home builders to build a house that will offer the scope of the best views.
Having a lakeside property is just like enjoying a slice of life. So, make sure you include these must-have attributes to enhance your living experience.
Did you enjoy this article? Follow us on Instagram or Facebook to stay up-to-date with ideas and tips around the home!