Dulux has announced the colour of the year as 'Wild Wonder'. But how can you style this colour in your home?
What colour is Dulux Wild Wonder?
Dulux has described Wild Wonder as "a positive, glowing tone, inspired by the natural word". The HEX code for this colour is #BFB699 which shows up on Coolors as Khaki. This warm shade of brownish green is great to use with blue, cream, dark brown and even purple. 
How can I style Dulux Wild Wonder in my home?
There are lots of different ways that you can style Dulux Wild Wonder. From neutral and cozy living rooms with blue and creams to warm it up. In the bedroom, you can add bold colours such as purple for a luxurious look. We've got some colour ideas below with our moodboards to help inspire you with this delightful shade. 
How to use Dulux Wild Wonder in your living room (option 1)
If you love cozy and warm spaces in your living room, you can use Dulux Wild Wonder to create a relaxing space. We've added this beautiful woodland themed wallpaper that gives the paint colour a warm contrast. Matched with a warm taupe sofa, curved coffee table and rug to bring in a variation of shapes into the space for that cozy feel.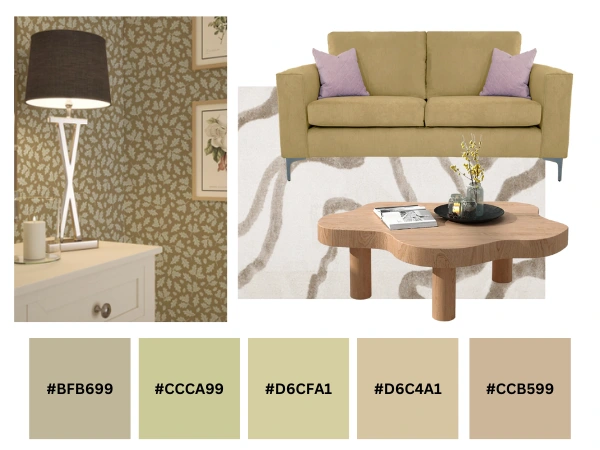 Shop the look below:
How to use Dulux Wild Wonder in your living room (option 2)
Another way that you can style your living room using Wild Wonder is with a complimentary colour scheme. This is where you have 2 colours that are opposite each other on the colour wheel. In this instance, we have Wild Wonder with blueish-purple tones. For this look, we went with a cozy cream wallpaper matched with purple and cream cushions. The gold and purple floor lamp brings in a pop of colour too and the gold accents follow through on the bookshelf details for a cohesive look.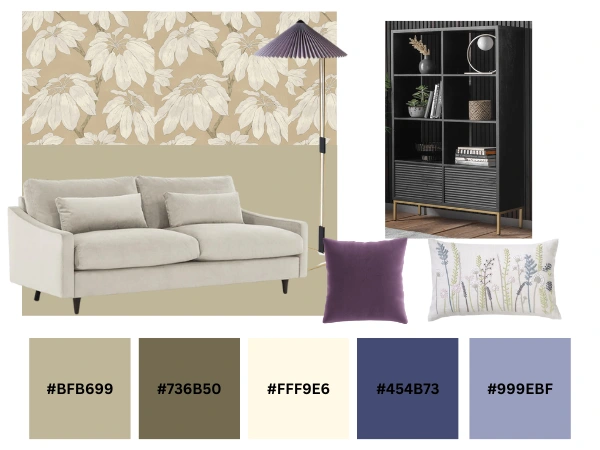 Shop the look below:
How to use Dulux Wild Wonder in your kitchen
Dulux Wild Wonder is inspired by nature, and what better way to add this than in the kitchen? This colour can brighten and softly contrast dark woods for a monochromatic look. Furthermore, this paint colour can complement its other tones like gold which can be used through fixtures and fittings like taps. On the darker side of the scheme, you can pair Wild Wonder with dark wood cabinets for a sophisticated kitchen design.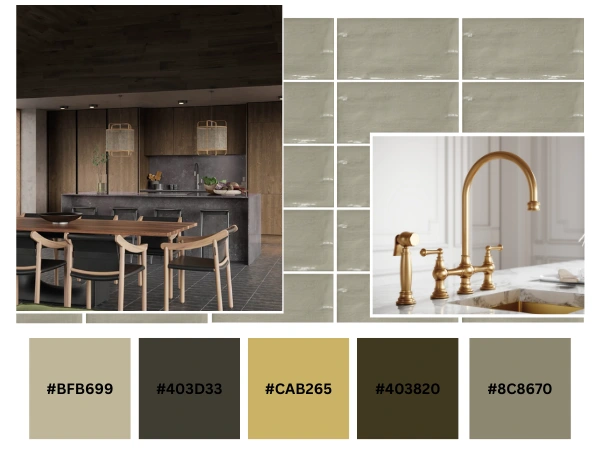 Shop the look below:
How to use Dulux Wild Wonder in your bedroom
Wild Wonder is a beautiful shade for the bedroom as it can be used in many different ways. We've decided to express this colour using a triad colour scheme, which uses 3 colours spaced evenly across the wheel. These include Wild Wonder mixed with blue and purple. A vintage theme works really well with this scheme and this gorgeous wallpaper set the tone for the room aesthetic. We glammed up the space with gold accents such as the pendant light and mirror. The look is complete with a vintage-style chest of drawers to really bring the colours from the wallpaper into other elements of the space.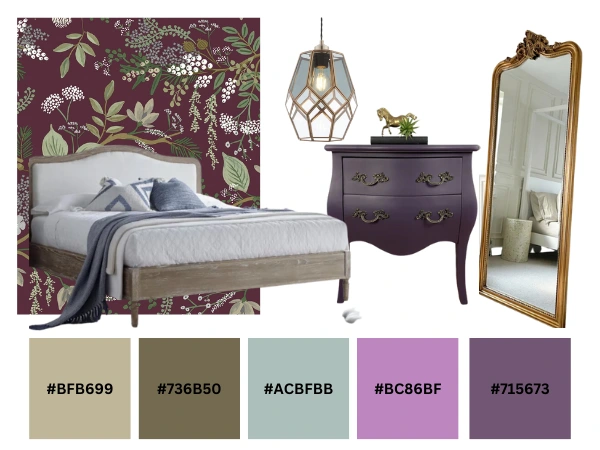 Shop the look below:
How to use Dulux Wild Wonder in your bathroom
For the bathroom, we decided to go moody. We chose a split complementary colour scheme, which is Wild Wonder combined with two colours that are adjacent to its complimentary colour. With blue and purple being the split complimentary colours, we chose a grey bathtub to draw in the dark colours and use Wild Wonder as the primary wall colour alongside purple tiling. To complete the look we chose blue accessories like the mirror and accessories to brighten up the space.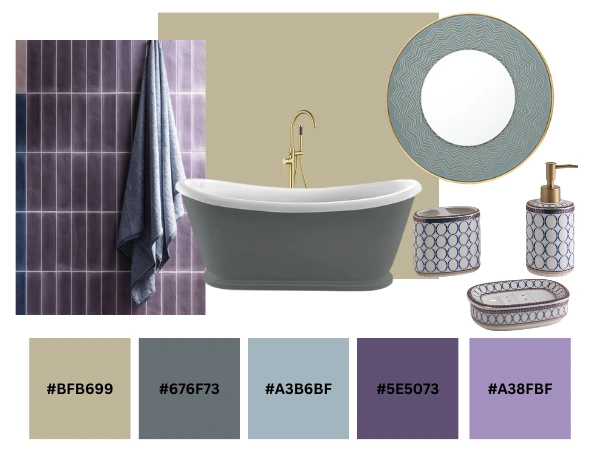 Shop the look below:
Inspired by Dulux Wild Wonder? Explore more ideas below!
[caf_filter id='10592′]