Are you someone who is trying to renovate your home office? Searching for ideas that will elevate the look of your place of work. Then you've come to the right place.  
In this article, we share the best ways to decorate your office at home.  
Having a workplace of your own may be a dream project that you are thinking of tackling. Don't worry, we are here to help inspire you to decorate your home office in a stylish way that won't sacrifice function and productivity.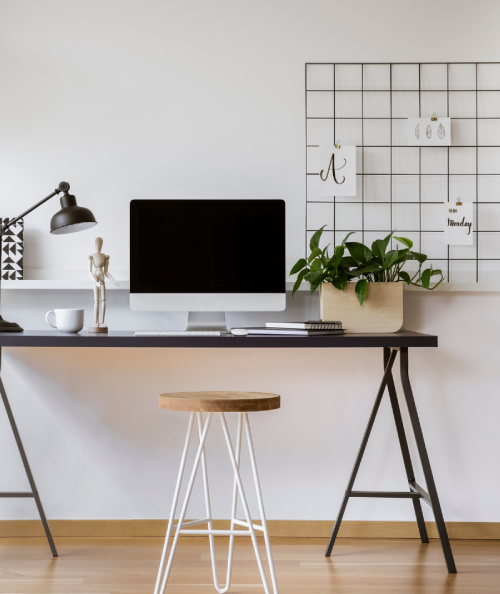 How can I customize my home office?
As we have said in the beginning, it is important to make sure that you design or decorate your home office according to your needs and comfort.
Along with that, there are a few things that you should keep in mind before you start, that will make it easier to decorate your room:  
Accessorize  
Now, one of the easiest ways to decorate any space is by adding accessories. Adding a few statutes, and sculptures here and there will elevate the look of the whole room by many folds.
Different types of statues bring out different energy and vibe of a place. Simple things like a Brass Buddha statue are said to improve the flow of positive energy in a place.
Not just a Buddha statue but other kinds of Brass idols are said to bring prosperity as well as good luck to the person who keeps it around themselves.
Not just statues but also pictures of your beloved on your table will not only keep you happy but also motivate you to keep going when going gets tough.
Designated space  
While making or decorating a home office, it is important to set a specific space for work. Along with that what kind of location is also important that you set a space up to your liking.
Now, it depends that what kind of atmosphere you like to have around you that will help you to work productively. For example- some people like to work with a good view in front of them while others like to work in front of a wall to prevent distraction.
Similarly, you should make sure that you set up the furniture and your working desk in the right position so that you don't get glare or sunlight directly on your face that will distract you from work.
Invest in comfortable furniture  
Now, this is an important aspect to talk about. It is a good thing to have a good-looking chair and desk that will go with your decor.  
But you must get a chair that will provide support to your backbone as a bad posture will result in severe back pain in the later years.
Let's talk about other furniture, such as a functional desk which is super important to have. When it comes to having a good desk there are a few things that you should look for like storage and height. 
There should be ample storage space on the desk that will help in storing files and other things. Height is also an important aspect that you should look for while buying a desk.
Paint the walls  
Ok, this one was quite obvious but it is an important thing while we are decorating our office. We, humans, are visual creatures who are consciously or subconsciously affected by colours.
So, what colour should you get on the walls? The answer to that question will differ from person to person. As we tend to function differently as well perceive things differently.
But there are a few colours that, according to psychology, affect the mood of a person. Colours like white were associated with peace.
While for some yellow was seen as a happy colour while others stated that it made them anxious. That's why we said that the colour should be something that will keep you motivated and calm while working or something that will provide you peace.
Use natural light  
One of the biggest advantages of having a home office is that we can use natural light in our office as a form of light. As in many offices or workplaces, we do not have access to sunlight.
Using natural light has benefits of its own as sunlight is said to help in increasing the productivity of a person. Along with that having healthy exposure to sunlight is said to remove negative energy from the surrounding.
Personalise your office  
Add a personal touch to your home office. Many times we are just trapped in boring office cubicles. Just because we have to work and be productive does not mean that we have to work in a boring space.
The key advantage of having a home office is that we can customize and decorate it as we like. Do you want orange walls? go get it, wooden furniture? Get it.
Conclusion
We are at the end of this blog, which has been about ideas for decorating your home office.
In the beginning, we talked about the things that are important while decorating your home office. Then we talked about the different ways and ideas with the help of which we can have our home office decoration.  
[caf_filter id='10597′]