We love sharing inspiration from interior designers and homeowners to give you realistic form of ideas when thinking about styling your home.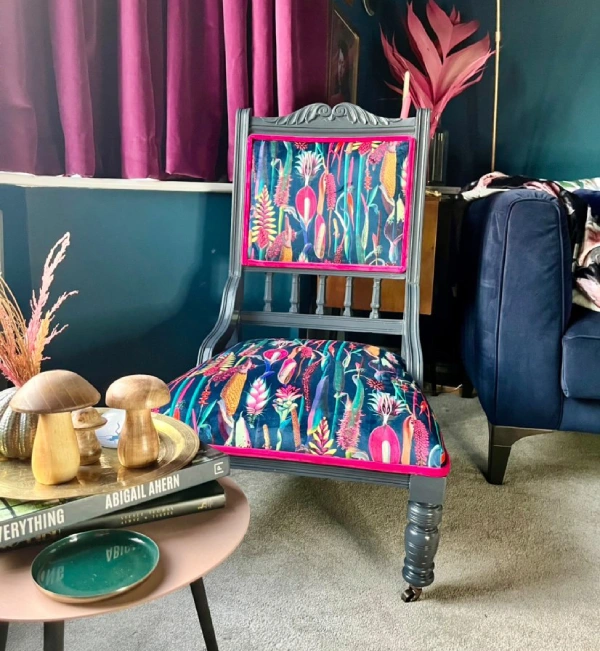 This week, we caught up with Sophie Adele, from Sophie Adele Interiors to share with you her love for all things eclectic. Whether you absolutely love this type of interior style, or you're thinking about adding this to your home, Sophie Adele shares some lovely insights into how she began her journey to inspire you.
Continue reading for an interview with Sophie…
Tell us a bit about yourself and your journey in interior design….
"Hi, I'm Sophie and I have my own Business Sophie Adele Interiors (Adele is my middle name) I am an upholsterer but also make soft furnishings and love designing and creating fab interiors for people.  
I've always been creative in some way or another from childhood, but interiors came to the forefront when we bought our first home and had our own first space to make truly ours and it just developed slowly into the style it is now. As you don't often know what your style is at first and we went through a few stages of decorating to realise what we liked.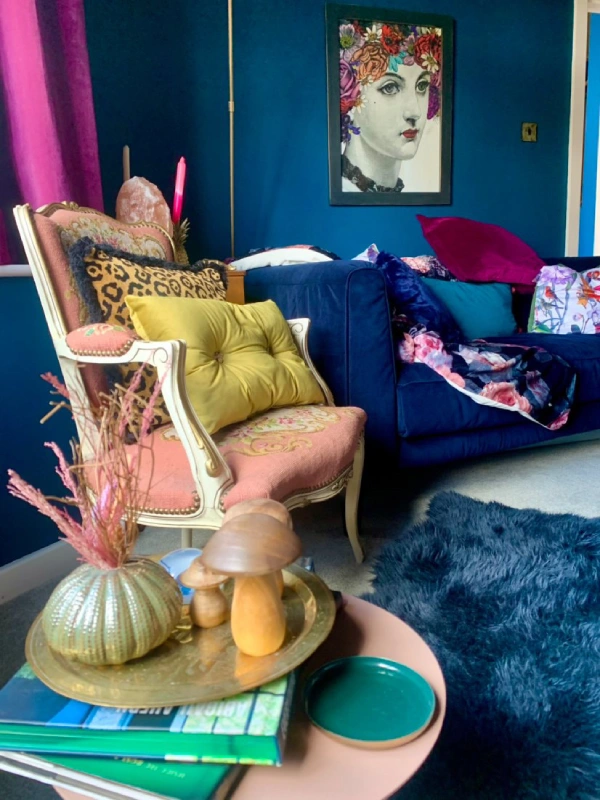 Image by Sophie Adele Interiors
"I'm now trying to take my business more down the interior design route as this is really what excites me and feeds my creativity,  also I've run out of rooms in my house to decorate so I can put all my energy and ideas into other people's homes!"
What makes your home your sanctuary?
"It comes down to being filled with all the things we love and have collected and carry meaning for us."
"We collect a lot from our travels in Asia and around the world so we have a lot of memories around us including things we've 'inherited' from family. We also love DIY projects and making what we can ourselves, even decorative pieces, so we also have our own creations around us and unique things. Upcycling to get the exact thing you want, is what I love to do and another bonus is no one else will have it in their home."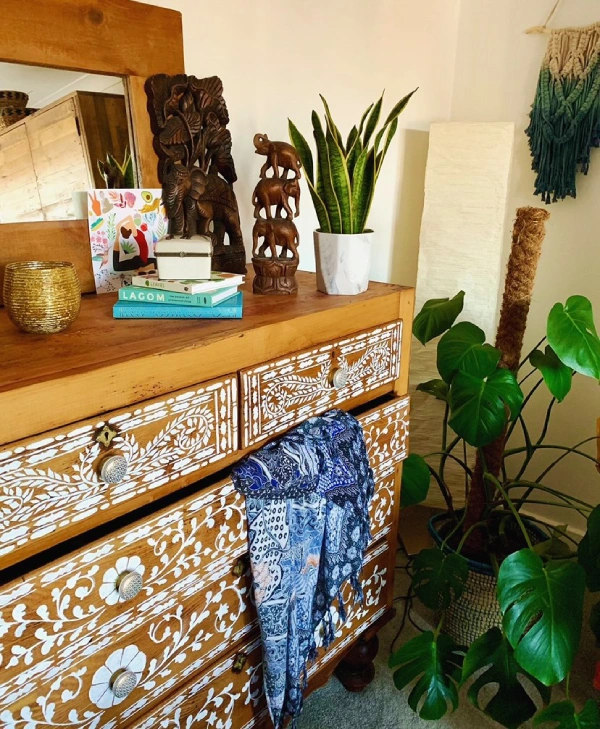 Image by Sophie Adele Interiors – collecting quirky items for the home from her travels
"It feels like we are on holiday when we come home, it's all personal as some people probably couldn't relax in my home because of the colour and maximalism but equally, I couldn't relax in a minimalist white house but I still appreciate that style and like it but it's just not me and not for this house, so you really have to find what makes you happy and relaxed."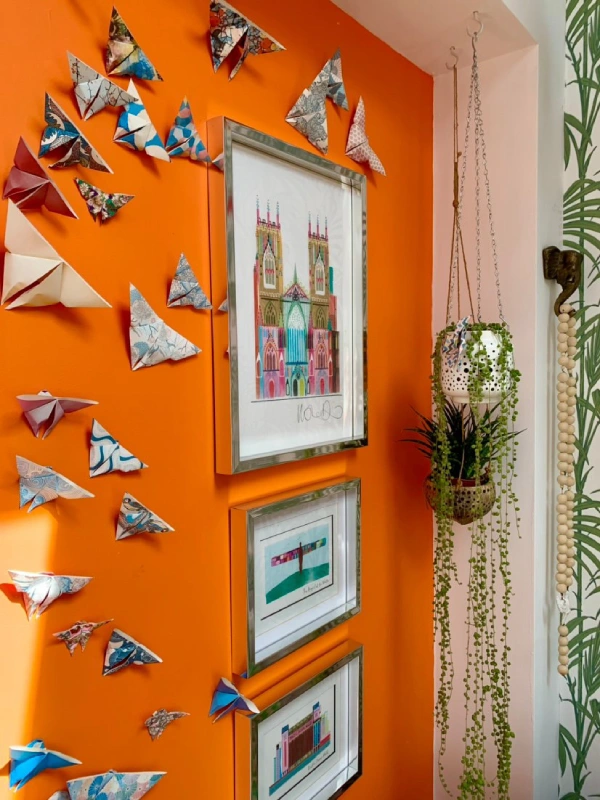 Image by Sophie Adele Interiors
"I think also my home allows me to be creative and express myself without judgment and that is calming in itself, although the mess I create sometimes isn't!"
What's your favourite room in your home and why?
"This is a tricky one as I love them all and I love different ones in different seasons or times of the day even."
"We have a front room snug with a log burner so we nest in there in the winter and it's so cosy, sometimes it's so cosy I can't stay awake through a movie!"
"In the summer we live in our open plan kitchen where I sit and do my craft hobbies and it's so warm and bright, colourful, and opens onto the garden. It's a great space where we can be together but do different activities. I'm really not moving toward the trend of closing rooms back off, I love this space!"
"One of my favourite places is the loft as we've made it into a bit of a relaxation space/ reggae room inspired by reggae bars on holiday, it's still a work in progress but a great place to escape to and read or listen to vinyl and no one knows its there!"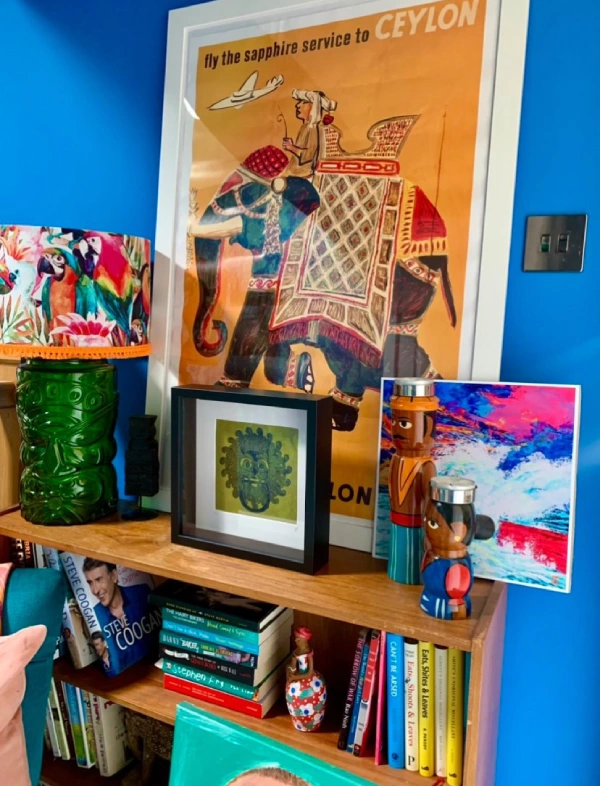 Image by Sophie Adele Interiors
What inspires your design style and how does it influence your work?
"I think the main influence is traveling and colour. People have described it as a bit bohemian, I didn't really set out with a style in mind it just grew.  Although I've never been, India and Morocco really inspire me which, again is very colourful and tropical. Bali is also one of my favourite places and like paradise, so I guess I'm always trying to recreate elements of these places."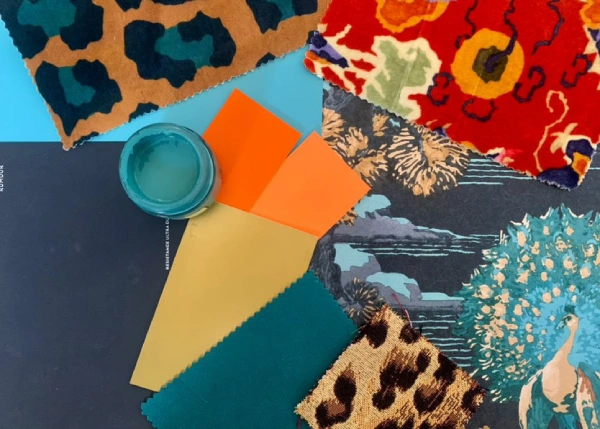 Image by Sophie Adele Interiors
Do you have a particular colour palette that you often gravitate towards? If so, why?
"I don't really have one colour palette I gravitate towards. There are colours I love and funnily enough, blue was never one of them! However, nearly every room in the house has large blue elements to it and it just happened subconsciously!"
"Each room just starts with one thing e.g the main bathroom has grey tiles and so the gorgeous teal blue goes perfectly, then I added little bits of white and black and greenery."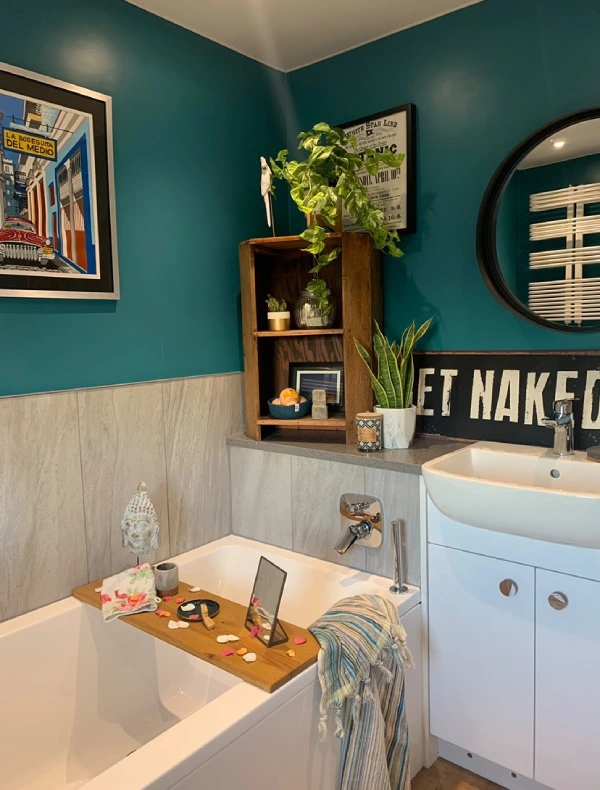 Image by Sophie Adele Interiors
"Our landing and hallway started with a monkey wallpaper in blue and green (I just loved the pattern) so I picked the blue for wall colours getting it mixed to match and wanted a pop of colour and yellow worked best after many testers with the light in that space. So it really does depend on your starting point and as I'm drawn to eclectic styling, every room can be a completely different theme/feel but they all work together. "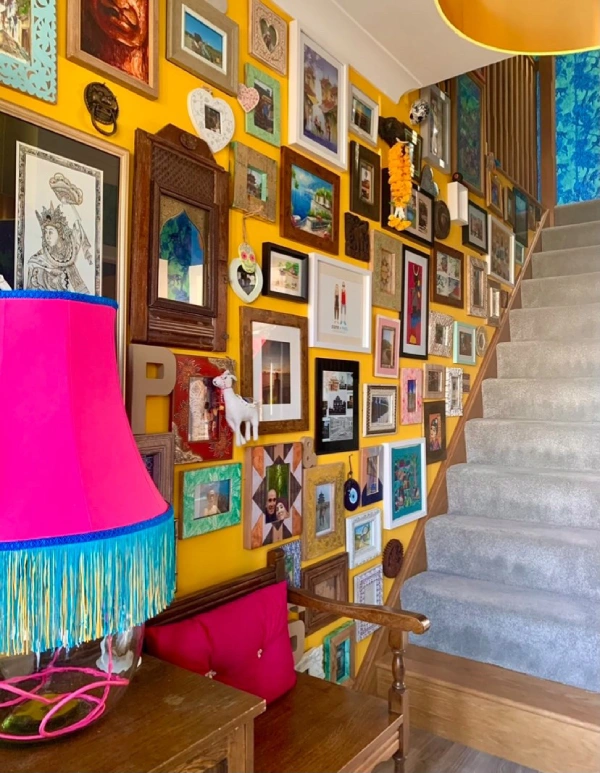 Colourful stairs with gallery wall – Image by Sophie Adele Interiors
"I have a client who came to me with teal blue walls and she wanted the room designed around that, the starting point after that was an Emma Shipley Zebra lime Green fabric for a bespoke sofa that we chose and then we drew a colour scheme from that."
Can you share details of a project you've done that you want to share?
"Our bedroom has been a long project and a tricky one. It's a very long and wide room, but normal height ceilings. I've had to try different room layouts, moving the bed around as it's a big space to fill.  It is so important to match scale in a space like this so it needs big impactful things in, so we are currently making a large headboard, and then I will make some funky bedside lights from bamboo with big shades on."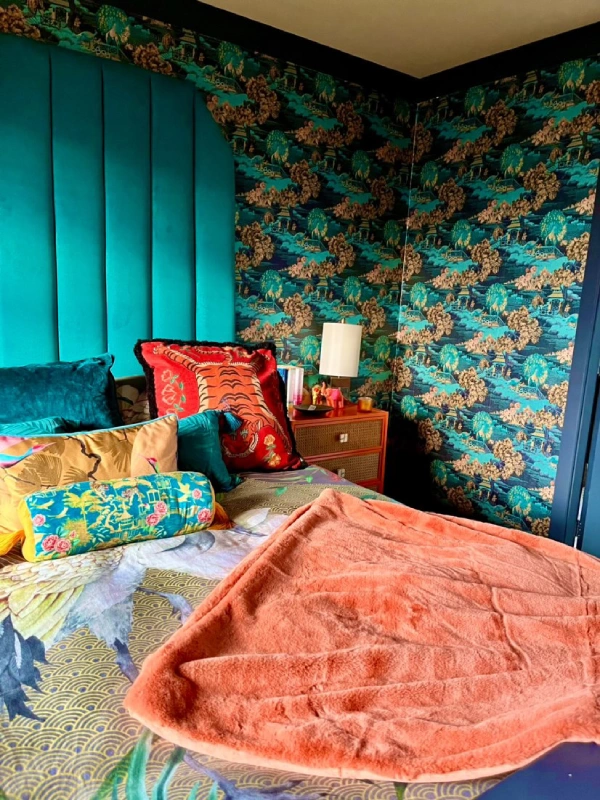 Blue bedroom with eclectic decor and prints for a bold look – Image by Sophie Adele Interiors
"We've tried to bring the space in by painting all the walls, coving and skirting and doors the same colour. Some are broken up by wallpaper but this brings the space in a little and makes it cosy. We've also painted the bed frame the same colour as the walls, as your eye doesn't want too many things to focus on and this makes a flowing and easy-on-the-eye scheme. If there are too many jarring colours and little bits in the room it doesn't work and isn't harmonious."
"The whole scheme for this room came from a wallpaper that I was drawn to from Graham and Brown and is very oriental and so then this influenced me further with what materials to use like bamboo and I'm of course throwing some leopard print in there!"
"I'm also zoning this room because of the length, I'm creating a screen towards the end of the room but by not making it solid it won't feel like a barrier."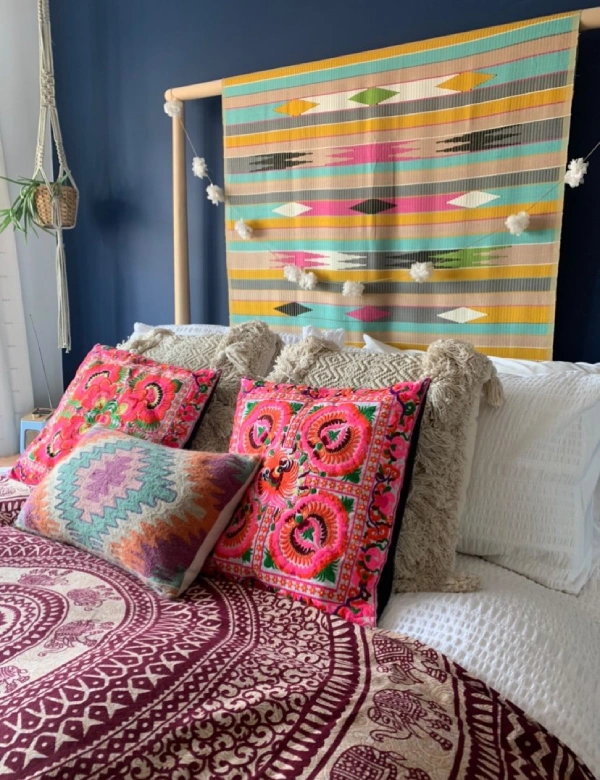 Bedroom detailing – Image by Sophie Adele Interiors
"This room is rather eclectic as we have an old fireplace surround a family member was throwing out and it's perfect to add a feature to the large featureless room but again painted in the wall colour so the decorative pieces on it and surrounding it stand out."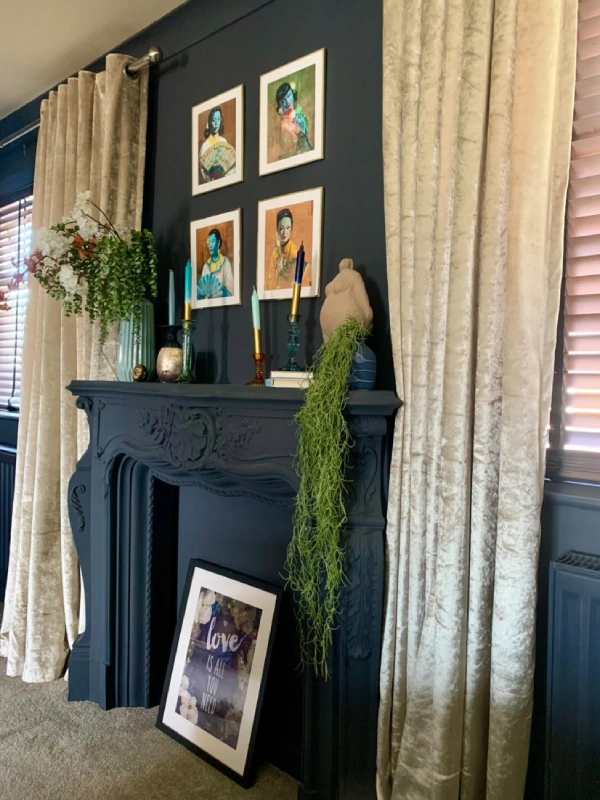 Beautiful statement fireplace with colourful artwork in Sophie's bedroom – Image by Sophie Adele Interiors
"I have inherited pieces from my grandma like her dressing table and I bought some rattan front vintage bedside tables from Facebook marketplace and painted them orange and added legs."
What advice would you give to someone that is wanting to start adding eclectic styling to their home?
"The main thing I would say would to be trust your instincts and if you are drawn to something for a reason then get it, your home has to reflect you and be filled with things that spark joy else you'll get bored with it. You also can't just shop and buy this look in a day, it has to be gathered and it's worth waiting for those key finds."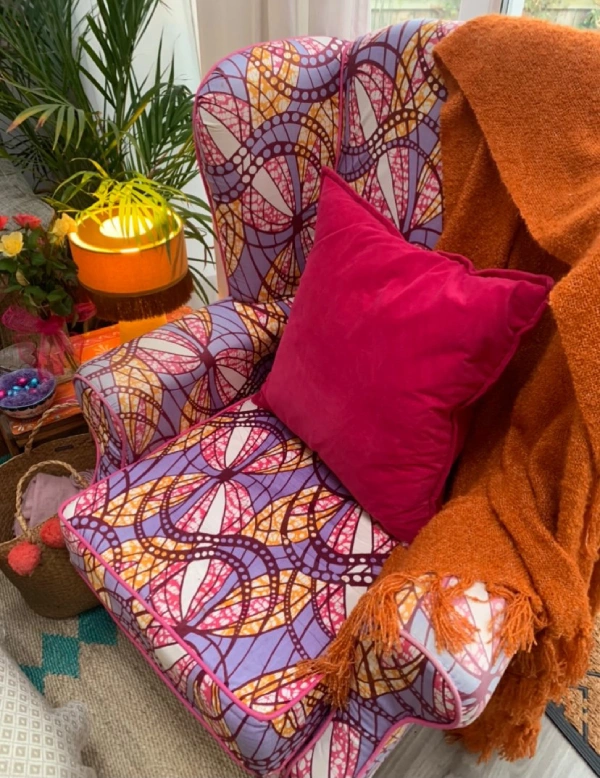 Quirky upholstered chair – Image by Sophie Adele Interiors
 "It is important to follow some basic guidelines like how much light you have in the room and how you use the room and definitely have an initial moodboard so you have a rough idea of what colours you may want to look for in accessories etc. But basically, if you love it, it will fit in your home. A moodboard can simply be a wallpaper you like and draw out 2-3 colours from it and then you can use varying shades of those colours and different textures etc. It gives you a starting point and some direction."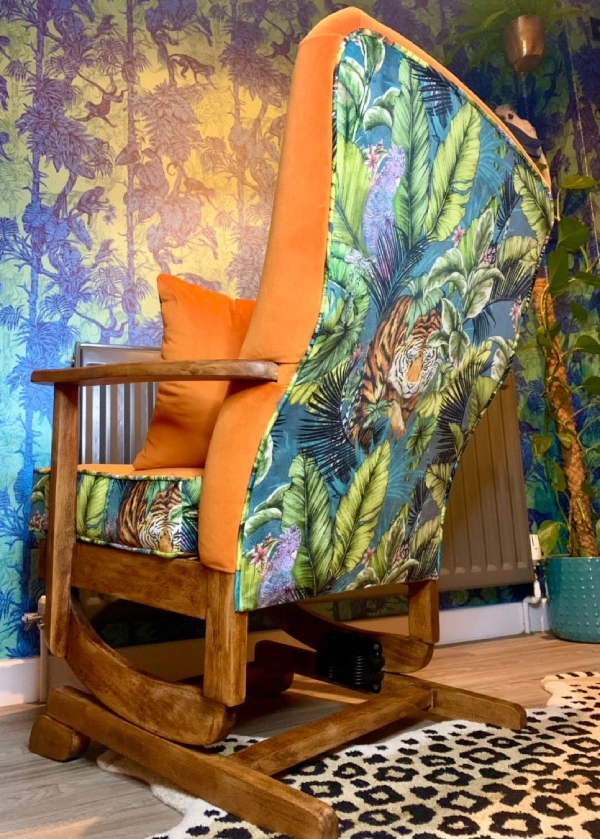 Jungle print upholstered armchair to add eclectic charm to your living room – Image by Sophie Adele Interiors
"I love mixing vintage and new items, so I visit car boots, vintage markets, high street shops, and independent homeware shops and follow the above advice. " 
Do you have a favourite place where you buy your home decor from?
"I love TKmaxx, it has such funky and unique pieces but I love car boots and vintage stalls, and this is how the eclectic theme begins! Charity shops are also a good place to pop into."
"As it's eclectic you can go to the high street and buy a few bits but as long as you mix with unique, vintage pieces."
Finally, what interior trends are you loving at the moment?
"I love wall panelling, although it wouldn't work in my home I really love the effect, and can be done so cheaply yourself."
"Colour drenching is amazing in the right space, so covering your doors, ceilings, coving etc in colour. "
"Being surrounded by nature and plants is always something I've loved, and using natural products, seeing a lot of wood."
Interior design advice from Sophie
"A funny thing is a house can really influence you, who's to say my style would be the same in a different house? I use my intuition a lot and if I were to move to a large period home this would influence me in style but I would still have to put a slant on it with pops of colour but it may be more toned down."
"If I had a little cottage in the country I may use a lot more natural colours but again the pieces I choose and the things I have already will add the personality and make it a sanctuary."
"So basically take into account your surroundings and features of your home but your style will emerge and you can create your own unique space just trust yourself."
Finally, a top tip to take away!
"When looking at images really think about what it is about the image you like, is it the feeling it creates, or is it a certain colour in the image? The biggest mistake people make is taking an image from Pinterest say a Miami beach house and trying to put it exactly as it is in a semi in the UK! Definitely create your own Miami-inspired space if that's what you love but you need to take elements of it like the colours and textures and translate them into your own space. That's maybe where I can help."
For interior design services and beautiful eclectic decor, visit https://sophieadeleinteriors.co.uk/
You can also find Sophie Adele on Instagram >> https://www.instagram.com/sophieadele_interiors
[caf_filter id='10500′]