This article is written by Justin O'Connor Group to provide you with professional real estate advice
Are you ready to upgrade your living space and plan to buy a new home? Instead of being a part of an endless struggle of whether to choose a single luxury standalone house or a condominium, you need to analyse both options carefully. Unfortunately, most buyers are helplessly stuck between condos and luxury homes when investing in real estate.
The truth is that both luxury homes and condominiums have their pros and cons. What you need is to weigh the options carefully before making the right decision. Make sure you touch down on the privacy of the types of houses, the ownership advantages, and the amount of space available.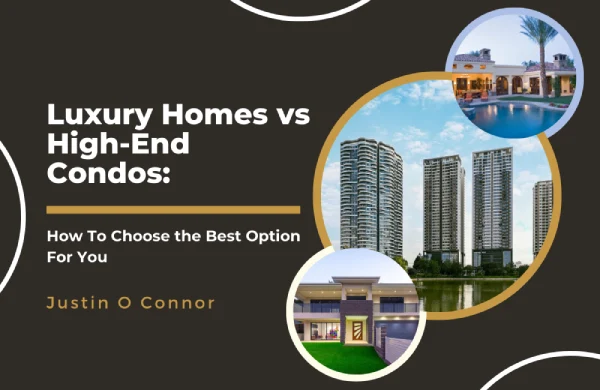 Tips To Analyse Home Buying in Luxury Real Estate:
When the decision is between an upscale condominium and a luxury single home, the basic difference is that the former is located in an amenity-rich neighbourhood and offers a lot of convenience from the point of view of maintenance, the unique experience that comes attached with a standalone house is hard to match. But we will focus on both options in detail to help you make the right decision when investing in a property in Kelowna luxury real estate.
Luxury Homes
Luxury houses are generally more spacious and opulent compared to high-end condominiums. So, if you are measuring the square footage of the house before buying and love the sprawling interiors, you must think about a standalone or a single house that meets your needs and desires adequately. But make sure you calculate the budget carefully before buying a house with several bedrooms, a large living area, spacious kitchens, devoted private spaces, and luxury bathrooms.
If you are planning to buy a house with a blank canvas that is left for you to personalise, think about a luxury home. That way, it will be easier for you to build a house that reflects your personality and meets your needs.
Luxury houses are proven to be one of the best options if you are considering a long-term investment. So, if you choose the location carefully, investing in the house is going to be the smartest decision. Moreover, buying a high-end and luxurious house is worthy of your money only if you prefer a lavish lifestyle.
Luxury Condominiums:
Easy to Maintain and Convenient
If you are ready to invest reasonably, new condo developments in Kelowna are likely to merge as a better choice. Living in a condominium is the right choice for those who stay out of doors often and need not be bogged down with huge maintenance costs. Buying a condo, whether a simple or an upscale property takes away your stress as the building management takes care of the maintenance tasks like landscaping, repairs, and security. Overall, you enjoy a convenient life when you live in an upscale condo compared to a standalone house where everything from renovation to landscaping is your decision.
For families with kids and pets who look forward to a safe living option, buying a high-end Kelowna condo is a better choice. That way, you can secure your family with surveillance cameras, a security staff that is available 24X7, and manned or technology-bound access points, all contributing to a secure living environment. Nowadays, you also have full-fledged gated communities with all-round security options, making life easier for homeowners.
Luxury condominiums come with a wide range of amenities similar to high-end hotels. Some of these features include a spa, swimming pool, private dining rooms, and spa facilities. Many of the high-end condo properties in new developments in Kelowna may have added layers of luxury and convenience, making life more fulfilling and convenient.
Buying a condominium is, therefore, the right option for those who are looking forward to downsizing or beginners entering the real estate market and need to invest in Kelowna's new condo developments, which come packed with luxury features. On the other hand, luxury houses are seemingly larger than the upscale condos where you will not only have an expansive area indoors but lots of spaces in the front and the backyard.
You can start browsing the condos and luxury homes in Kelowna to find what meets your needs. At Justin O'Connor, you will come across a full range of properties and professional realtors. You will come across a fair share of luxury houses and condos listed here for you to make the right choice.  
Did you enjoy this article? Follow us on Instagram or Facebook to stay up-to-date with ideas and tips around the home!