Are you looking to decorate your home with sage green decor? This popular colour trend is perfect for every room in the home, from your living room to kitchen, and your bathroom and bedroom.
In this article, we share moodboards for each room in your home so that you can see how sage green decor can be used. These designs are our own creations and are subjective to our opinions.
Sage green decor ideas for the living room
You can use sage green as a way to bring mood into your living room with a darker shade of green for a toned-down vibe. Brighten up with light furniture and include dark furniture for a mix-and-match style to keep it cozy.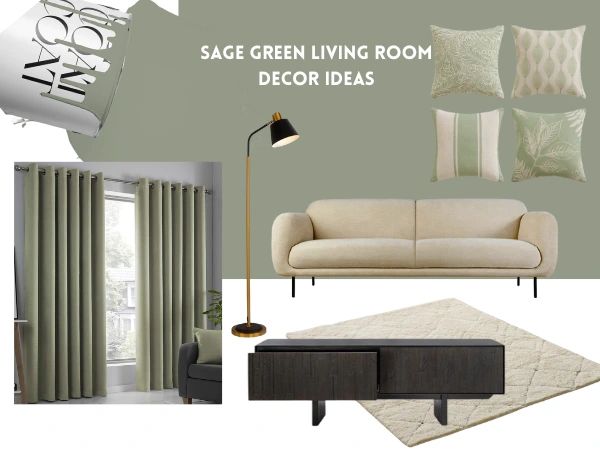 Shop the moodboard below:
Sage green decor ideas for bedrooms
Green, cream, pink and golds are 4 perfect combinations for a romantic and calming bedroom look. Use gold and pink as secondary colours. While sage green and cream are your main colours to give the bedroom a bright and relaxing vibe.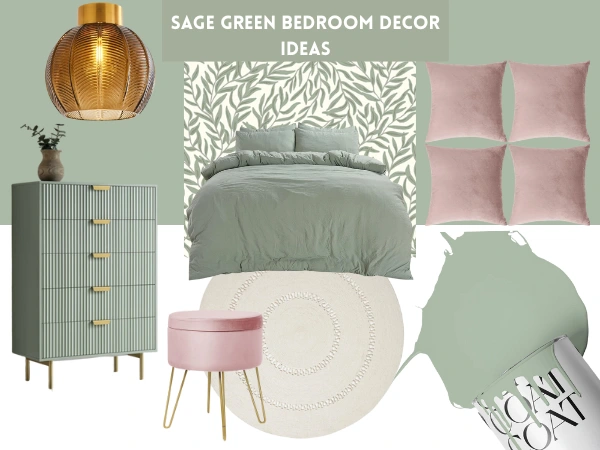 Shop the moodboard below:
Sage green decor ideas for bathrooms
Combine sage green and wood in the bathroom for a natural aesthetic that is calming and tranquil.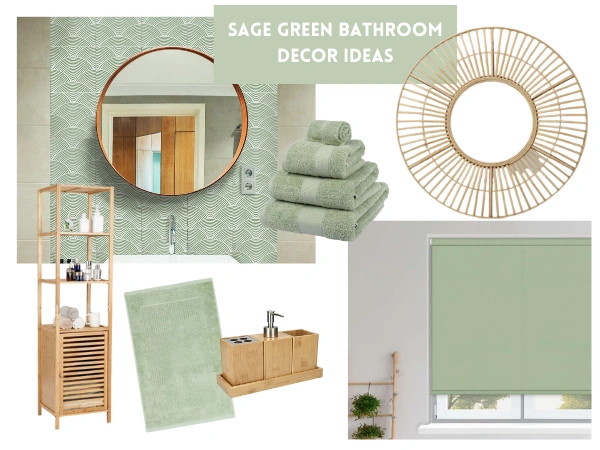 Shop the moodboard below:
Sage green decor ideas for kitchens
Mix and match tones of sage green for a textured kitchen style that will give your kitchen a rustic feeling while being cohesive and colourful.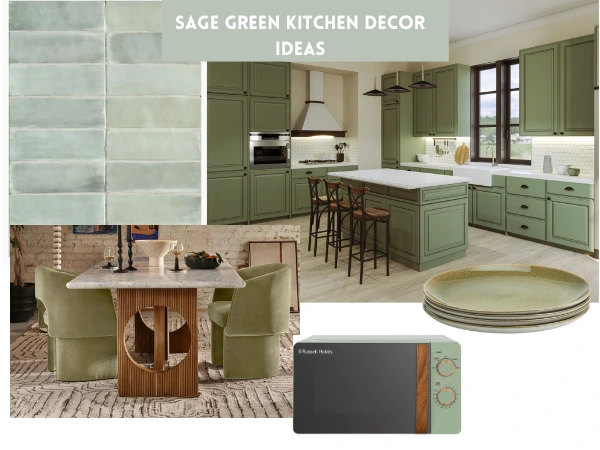 Shop the moodboard below:
Sage Green Decor FAQs
What colour goes well with sage green?
Sage green is a versatile and calming colour that pairs well with several other colours. Some popular options that complement sage green include:

Neutral tones: Cream, beige, ivory, and light gray can create a soft and elegant look when paired with sage green.

Earthy tones: Colours like terracotta, burnt orange, and mustard yellow can add warmth and depth to a room with sage green.

Soft pastels: Light pink, lavender, and pale peach can create a delicate and soothing atmosphere when combined with sage green.

Natural shades: Browns, such as chocolate or taupe, work well with sage green, creating a natural and organic feel.

Metallic accents: Incorporating metallic touches like gold or copper can add a touch of glamour and sophistication to a space with sage green.

What color furniture goes well with sage green walls?
When selecting furniture to complement sage green walls, you have various options depending on the desired style and atmosphere of the room. Here are some suggestions:

Light or medium wood tones: Furniture pieces made from light oak, walnut, or cherry wood can create a warm and harmonious look alongside sage green walls.

White or cream: Light-colored furniture can provide a fresh and clean contrast against sage green walls, creating an airy and inviting feel.

Gray or charcoal: If you prefer a modern or contemporary aesthetic, furniture in shades of gray can complement sage green walls while adding a sleek and sophisticated touch.

Natural textures: Rattan, wicker, or bamboo furniture can enhance the natural and organic vibe of sage green walls, especially in bohemian or coastal-inspired interiors.

Pops of bold colours: Introducing furniture in bold colours like deep navy, mustard yellow, or even rich jewel tones can create a vibrant and eclectic look when combined with sage green walls.

Ultimately, the choice of furniture colour should align with your personal style preferences and the overall mood you want to create in the space.
Is sage green still in style?
Sage green is increasingly becoming more and more popular in interior design, and it continues to be in style. Its muted and soothing tones make it a versatile choice for various design styles, from traditional to contemporary. Many homeowners and designers appreciate sage green for its calming effect and ability to bring a touch of nature indoors.

That being said, it's important to remember that trends and personal preferences can vary. While sage green has enjoyed sustained popularity, it's always best to choose colours that resonate with your individual style and preferences, rather than solely relying on trends. Creating a space that reflects your personal taste and provides a comfortable environment is key when designing any interior.
Looking for more interior design inspiration?
[caf_filter id='10500′]