This article is written by Leanne, Editor at Style Your Sanctuary for an honest review of how to decorate a rented house
Are you dealing with awful carpets in your rented home or apartment?
You're not alone! I am currently renting a house and when we went to view it, we didn't think twice about touching or properly examining the carpet for dirt!
Signs to spot when viewing a rented home
I've rented for years now, so my main observation when viewing a place is to look out for any signs of mould (sometimes newly painted patches on the wall can also give this away!). As well as general upkeep, and anything hanging off the walls (I always open kitchen cabinets etc.).
When I went to view the house that I now rent, it was clean and airy, there were no signs of dampness (yay!) and it was unfurnished, so I could easily check out every inch of the space. The carpet is a cream colour and looked fairly clean, but not new.
Moving into our home and inspecting the carpet
When I moved in, the quality and cleanliness of the carpet was something I instantly picked up on when walking around in my socks. The amount of dirt was quite disturbing. I did reach out to my landlord and as I had already signed the contract, they didn't want to put their hands in their pockets for a new carpet!
Getting the carpet professionally cleaned
My only option was to get the carpet professionally cleaned. We did this the first month of moving in, which was stressful, as I had just moved everything in, to move it all out in the garden again! Unfortunately, the carpet cleaner didn't fully do the trick. We got so much dirt off the carpet, but it still felt unclean.
I could have chosen to pay for a new carpet, but was reluctant as I don't plan to stay for too long and it's not my own home, so I don't want to invest too much into it.
I'm now 1 year into the tenancy of the house and while I brought a rug when I first moved in (so that I didn't have to walk in the dirt that would stain my socks) I have had to make some further adjustments.
What rug to buy to cover the carpet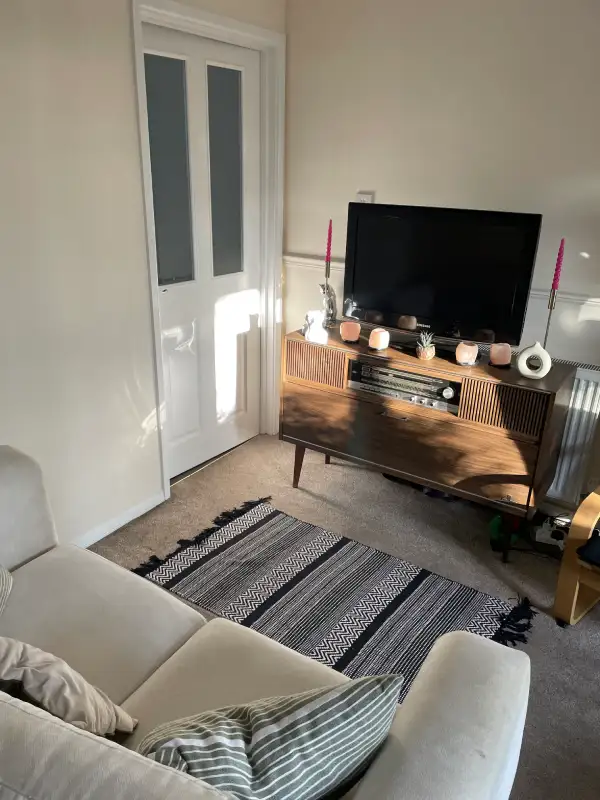 The initial rug I purchased was from TKMaxx and it's a lovely monochrome runner, which fits perfectly between the sofa and TV, which is a main walking point between the dining area and kitchen.
My mistake in buying the first rug is that I went for something I really liked, over the function of it. Also, the rug is very thin and isn't really as durable as I would like.
After 10 months of having the monochrome rug, I decided to give the living area a refresh (it's currently in decorating phase). I had a think about colours and patterns and size when making my decision on what rug to buy for the space. This led me to another trip down to TKMaxx (I love this shop!) and I found this lovely blue and white pattern rug, which is going to set the tone for the rest of the space when I redecorate.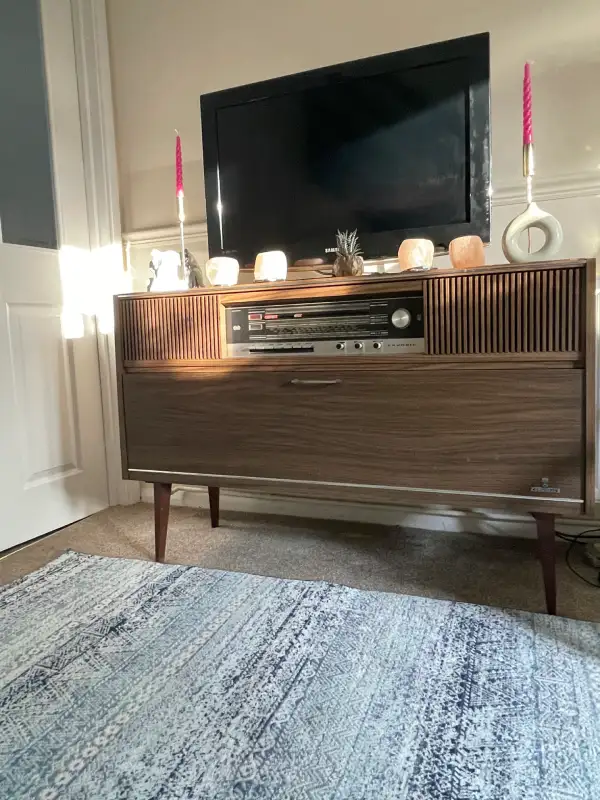 The new rug is much thicker and it gives the space more texture and brightness, which is what I wanted. It's also a lot bigger and fills the space, which is a godsend for my socks and it feels so lovely and comfy.
I've taken a few lessons from having a rug in the living room with access to the garden. One main thing is that I will need to clean it often. It's machine washable, but I am going to do some research on best products to buy to clean it. I will keep this page updated when I find the best product for the job!
Did you enjoy this article? Follow us on Instagram or Facebook to stay up-to-date with ideas and tips around the home!