Why settle for a bland, impersonal rented living room when you can turn it into a cosy haven that feels like home?
There's no need to let the constraints of your lease deter you.
You can metamorphose your space into one that authentically mirrors your character and delightfully fills you.
So, roll up your sleeves and prepare to infuse your distinct personality into every corner and crevice.
Let's make this living room indeed yours.
How to Make a Rented Living Room Feel Like Home
1) Play With Lighting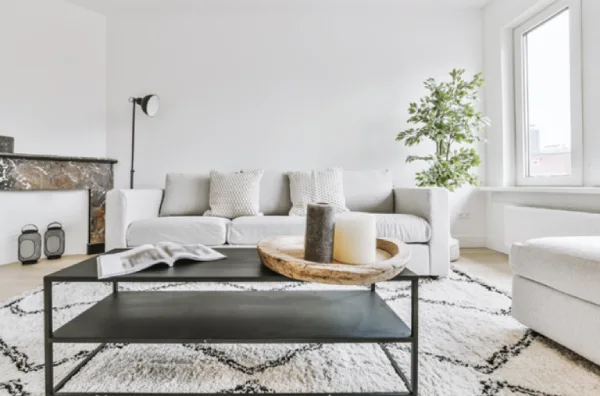 Experiment with your lighting options to create a warm and welcoming atmosphere.
Don't settle for the dull overhead light that came with your rental.
Add some floor lamps, table lamps, and even candles. Embrace the natural light by using mirrors strategically to reflect it around the room. And don't forget to play with different brightness levels to set the right mood.
When making your living room feel more spacious, lighting is vital. Instead of relying on bulky ceiling fixtures, opt for tall floor lamps that draw the eye upwards, creating the illusion of height.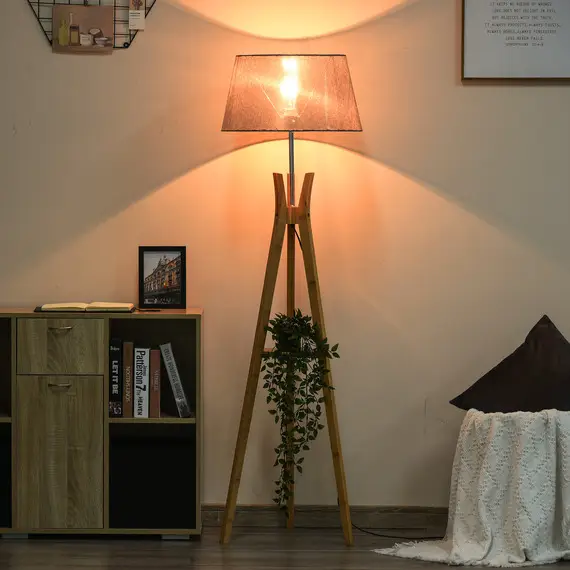 Floor lamp from Furniture Hunter
These vertical lines will make your room appear larger and more open. And if space is a concern, go for sleek and slim designs like tripod-style floor lamps that save space while adding visual interest.
Another option to consider is updating your lighting fixtures. Check with your landlord first, but swapping out outdated overhead lights can be a game-changer for the overall aesthetic.
And if you're not allowed to change the fixtures, don't worry! A new lamp that matches your style can still brighten up a dark space.
Good lighting can completely transform a room. So invest in lamps to decorate your living room furniture, like end tables and side tables. Position floor lamps strategically to illuminate dark corners, and consider hanging plug-in sconces in hallways or above sofas for added light and style.
And don't forget about undercabinet lighting in the kitchen to make cooking tasks easier and give your work areas new life.
2) Make the Room Cosy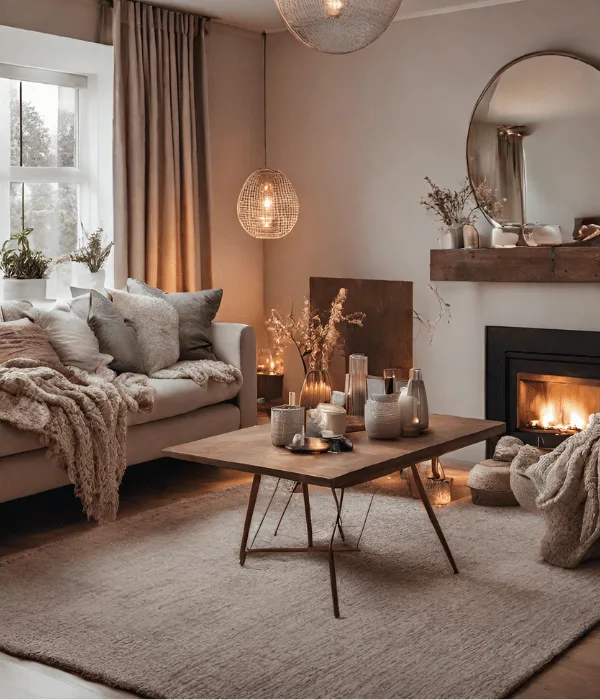 Get cosy by adding warm lighting and plenty of tactile soft furnishings to your rented living room. Start by choosing lighting fixtures that emit a soft, ambient glow.
Avoid harsh, fluorescent lighting that can make you feel like you're in an interrogation room rather than your cosy sanctuary. Opt for warm-toned bulbs or invest in dimmer switches to create a soothing and relaxing environment.
Now, let's dive into the magic of comfy accessories and soft furnishings.
I'm talking about super soft blankets you can snuggle in, oversized cushions perfect for a power nap, and rugs so fluffy your feet will thank you. Get creative with different patterns, and feel free to whip up a space that's both stimulating and snug as a bug.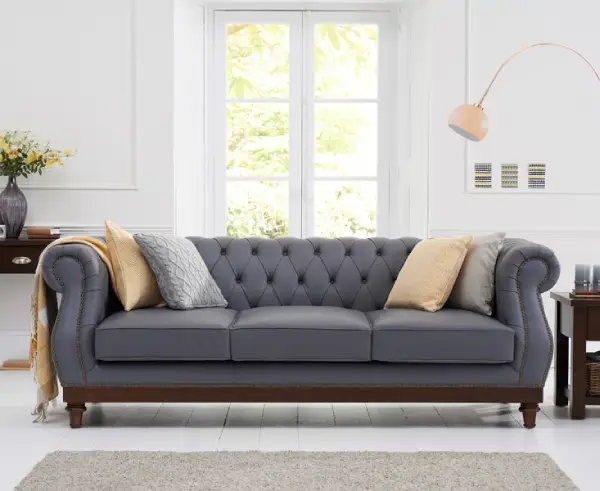 Grey Chesterfield sofa from Furniture Hunter
And remember, when it comes to soft furnishings, go big or go home!
3) Ask Your Landlord
When discussing your plans to decorate your rented living room, it's essential to ask your landlord for permission.
While some landlords may be strict about changing their property, others may be more open to negotiation.
Here are a few tips to help you convince your landlord to let you create a cosy space:
Be prepared: Before approaching your landlord, devise a clear plan of what changes you want to make and how they'll enhance the space.
Offer to compromise: If your landlord hesitates about significant alterations, suggest temporary solutions like adhesive hooks for hanging artwork or removable wallpaper for a pop of colour.
Assure them of your responsibility: Let your landlord know that you understand the importance of caring for their property. Promise to fill any holes, touch up paint, and keep the space clean and tidy.
4) Add Personal Touches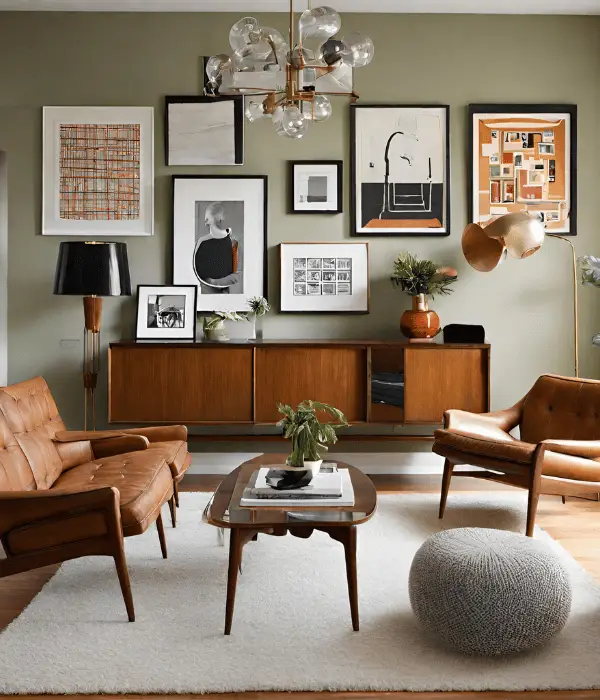 Incorporate items you love to give your space a personalized touch. Don't be afraid to bring those beloved treasures into your rented living room and make it feel like home.
One way to add a personal touch is through a gallery wall. Gather up all those pieces you've collected over time, from the custom illustration of your dog to the framed card from a friend.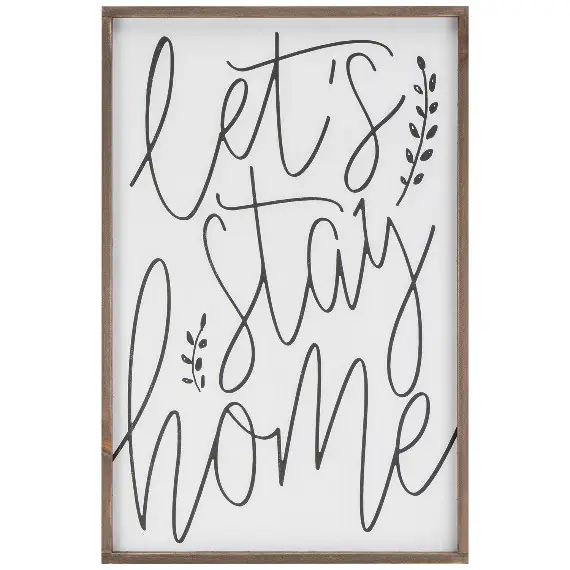 Stay at home art work from Furniture Hunter
Arrange them in a way that tells your unique story, and watch as your living room transforms into a space that's undeniably yours.
Another way to make your rented living room feel like home is by incorporating items that bring you immense joy. Maybe that cosy blanket you curl up with on chilly nights or that vintage record player fills the room with your favourite tunes.
Surround yourself with things that make you happy, and your living room will become a haven of comfort and happiness.
5) Add Greenery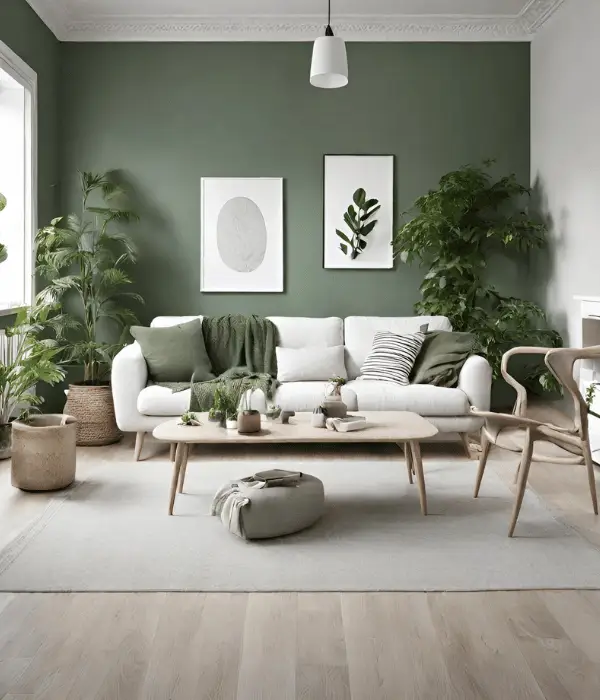 Surround yourself with vibrant greenery to bring life and freshness to your rented space. Adding greenery to your living room is an easy and affordable way to uplift the atmosphere instantly.
Not only do plants scream, 'I live here!' but they also have numerous benefits for your well-being.
Here are some ideas to help you create a green oasis in your living room:
Picture yourself sitting on your cosy sofa, with small pothos hanging nearby, cascading its lush green leaves.
Imagine a row of succulents lined up on open shelving, their unique shapes and textures creating a fun and lively display.
Envision a big, leafy snake plant standing proudly next to your sofa, purifying the air and bringing a touch of nature indoors. Its tall, upright leaves make a statement and cover dull corners or unsightly wires.
6) Clean Up
Give your new apartment or rental home a thorough cleaning. Trust me, you don't want to inherit the mess of previous tenants.
Imagine finding mystery spills, crumbs, and who knows what else lurking in the corners. Yuck!
So grab your cleaning knickknacks and get ready to transform your rental into a sparkling oasis. Start with a good overall scrub, tackling every nook and cranny.
Don't forget to clean those pesky baseboards; they can collect more dust than expected. And remember, it's not just about the visible surfaces.
Pull out your appliances, like the stove and refrigerator, and give them a good clean, too. You never know what surprises might be hiding behind them.
Now, let's talk about windows. Cleaning them may seem like a chore. But trust me, it's worth it.
I wiped down my windows once, and suddenly, it felt like the natural light had doubled. It was like a magical transformation!
Frequently Asked Questions
Can I paint the walls in a rented living room? 
Yes, you can paint the walls in a rented living room. It's a common practice for tenants to personalize their space by adding a fresh coat of paint. However, it's essential to check with your landlord or read your lease agreement to ensure it's allowed. Some landlords may have restrictions or require you to return the walls to their original colour when you move out. 
Are there any restrictions on hanging artwork or shelves in a rented living room? 
Well, it depends on your landlord's rules and the terms of your lease. Some landlords may allow you to make small holes for hanging artwork, while others may require alternative methods like adhesive hooks. As for shelves, you may need permission or find creative solutions like freestanding bookcases. Just make sure to check with your landlord first to avoid any unwanted surprises! 
Can I install temporary flooring in a rented living room to add warmth and personality? 
As long as your landlord allows it, there's no reason not to do it. Temporary flooring options like peel-and-stick tiles or vinyl plank flooring can instantly transform your space without breaking the bank or violating your lease. These easy-to-install options add a cosy feel and also allow you to showcase your style. 
Conclusion
The key to transforming a rented living room into a warm and unique space is to establish a feeling of comfort and connection.
Through the artful manipulation of lighting, the infusion of personal mementoes, and the introduction of vibrant greenery, you can imbue the space with your distinctive style and character.
It's similar to transforming a plain canvas into a work of art representing your true self.
Did you enjoy this article? Follow us on Instagram or Facebook to stay up-to-date with ideas and tips around the home!