Decorating your baby's nursery is an exciting moment in your life. Welcome your newborn with calming interiors, functional decor and fun accessories with our adorable nursery room ideas for your new arrival.
Plan your nursery decorating with our ideas and themes below.
Adventure themed nursery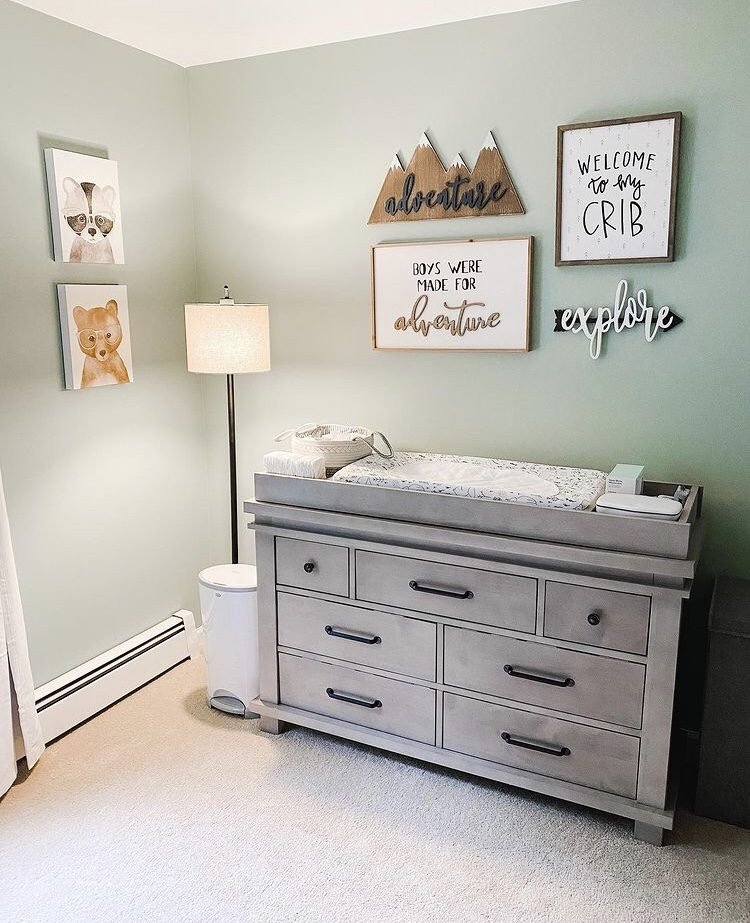 Image source @alexongreystone
Infuse your love for travel through your newborn's nursery with playful interiors like this elegant idea by @alexongreystone. We love the artwork used in this boys nursery, with framed typography and adorable animal art to bring the travel and adventure theme into the space without overdoing it.
The use of earthy colours is used cleverly too, which makes the nursery look calm and relaxed (let's face it that isn't always the case) for looking after your newborn. The two-in-one drawer and changing station is a super functional decor piece that makes use of the space well, and is a great addition if you've got a small room to transform into a nursery.
Safari theme nursery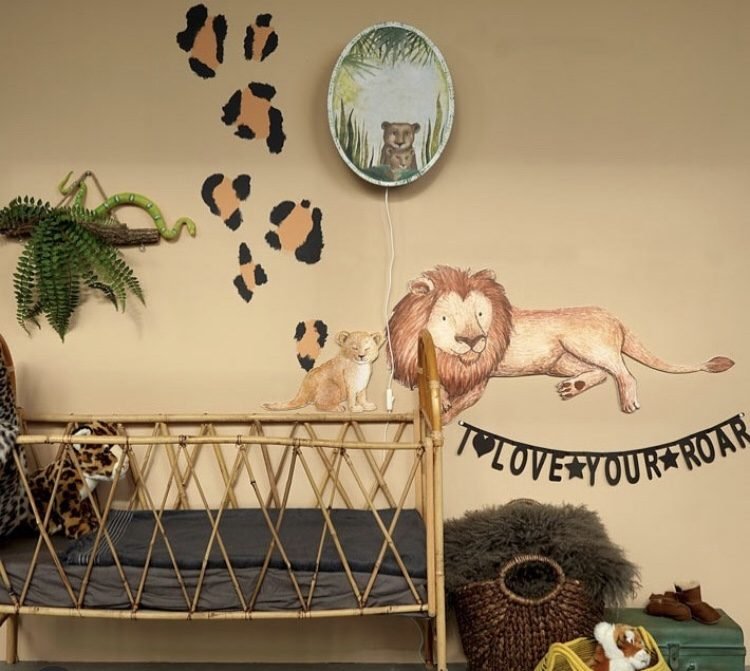 Image source @hartendief_
Transform your spare room into a jungle safari with animal print, fun accessories and cuddly toys, of course. We adore this nursery idea by @hartendief_ that takes on the safari theme to the max!
What makes this space so fun and inviting is how all the elements come together. The statement wallpaper mural and the Flintstone-inspired cot all create the aesthetics of all the favourite childhood cartoons like the Lion King and Tarzan.
It's all in the details in this safari theme nursery and we particularly love the lion sleeps wall lamp for an ambient finish.
Scandi inspired nursery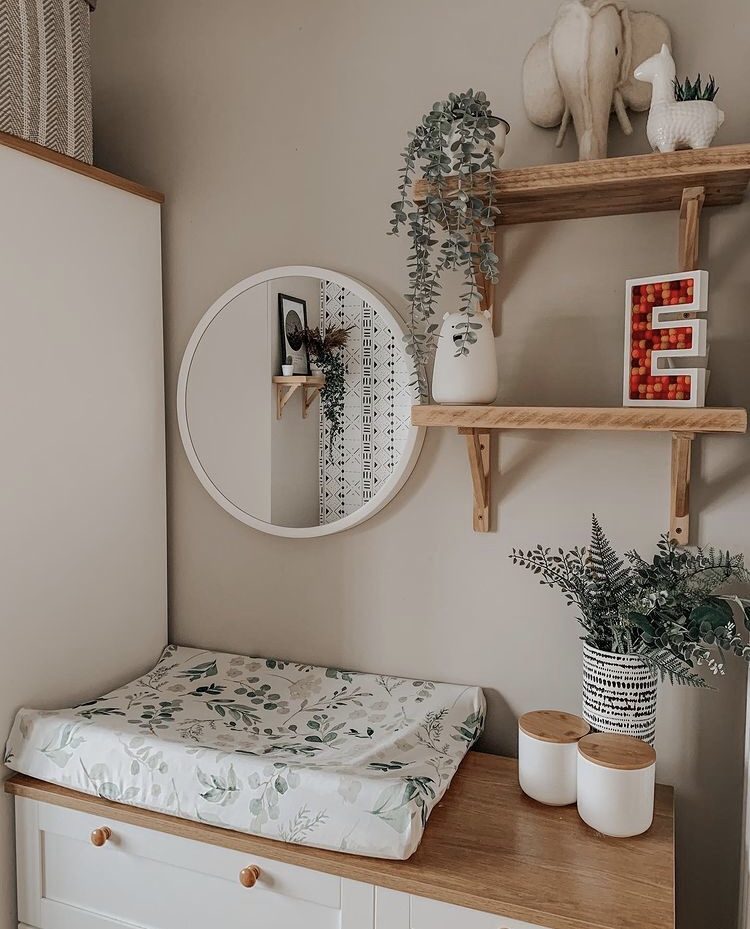 Image source @at.home.with.the.marchants
Style and practicality come hand in hand when designing the best nursery for your newborn. This gorgeous and simple changing station idea by @at.home.with.the.marchants effortlessly creates a fun and zen space to change nappies.
We especially love the white and wood scheme. With floating shelves adorning hanging plants, to the detailed baby mat and playful decor. This gorgeous nursery design is the perfect mix of simple and functional interior design with plenty of style.
Boho nursery idea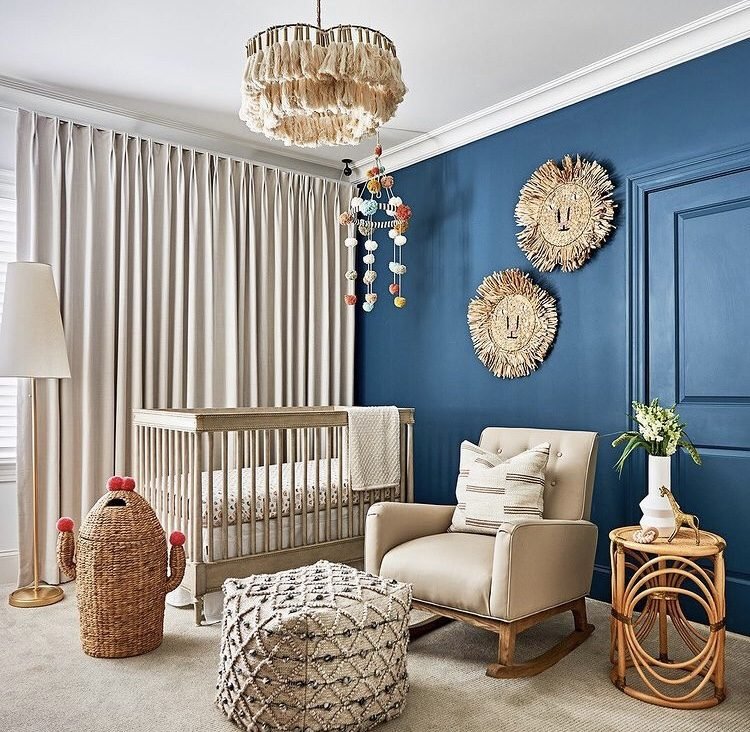 Image source @carolynleonadesign / photographer: Dustin Peck
Style your nursery with comforting interiors that your baby can grow into, like this design by @carolynleonadesign. We love the bold blue accent wall matched with the calming neutral colours from the draped curtains and textured decor. This nursery is effortlessly stylish and can easily be a space for newborns and their parents to relax and unwind.
Cloud theme nursery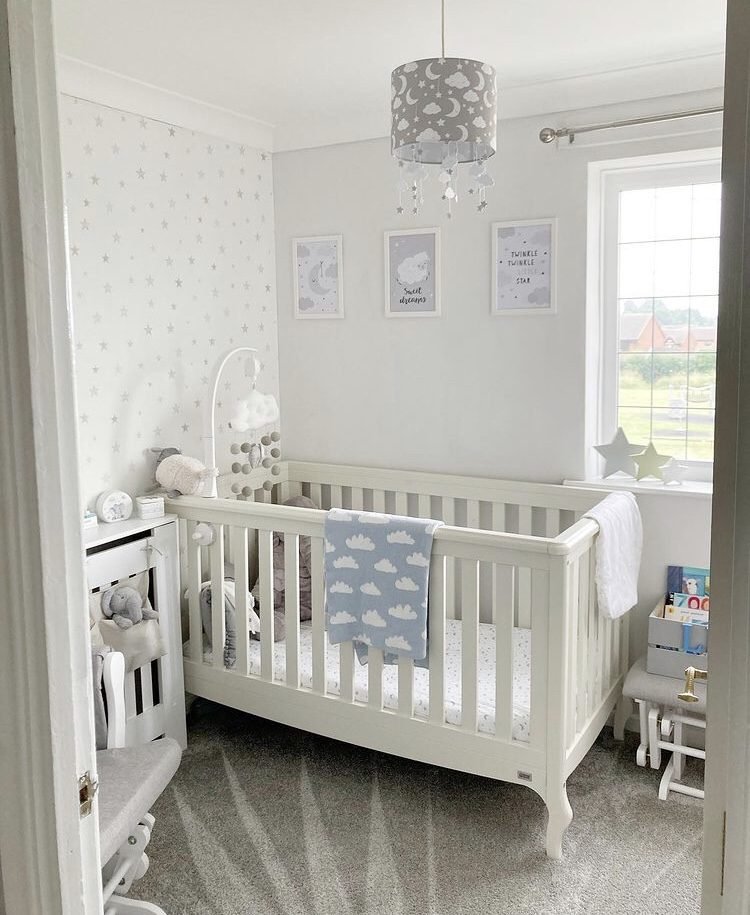 Image source @maddy_athome
Decorating your nursery with white as the primary colour palette is a great way to make the room feel relaxing and neutral. We love this white nursery design by @maddy_athome that uses subtle cloud prints through artwork, lampshades and throws to bring in the night time theme.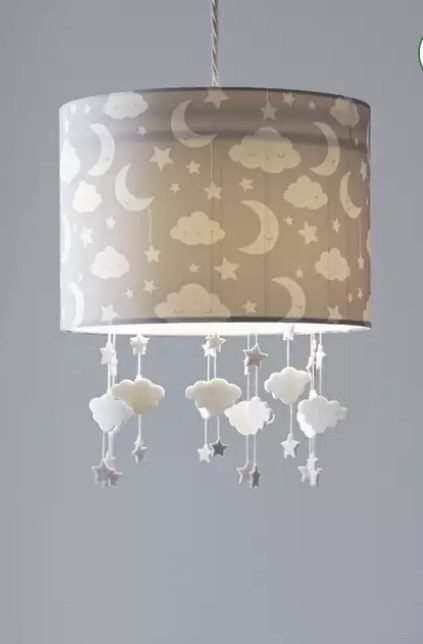 Get the look with the cloud lamp from Argos.
Bold orange nursery idea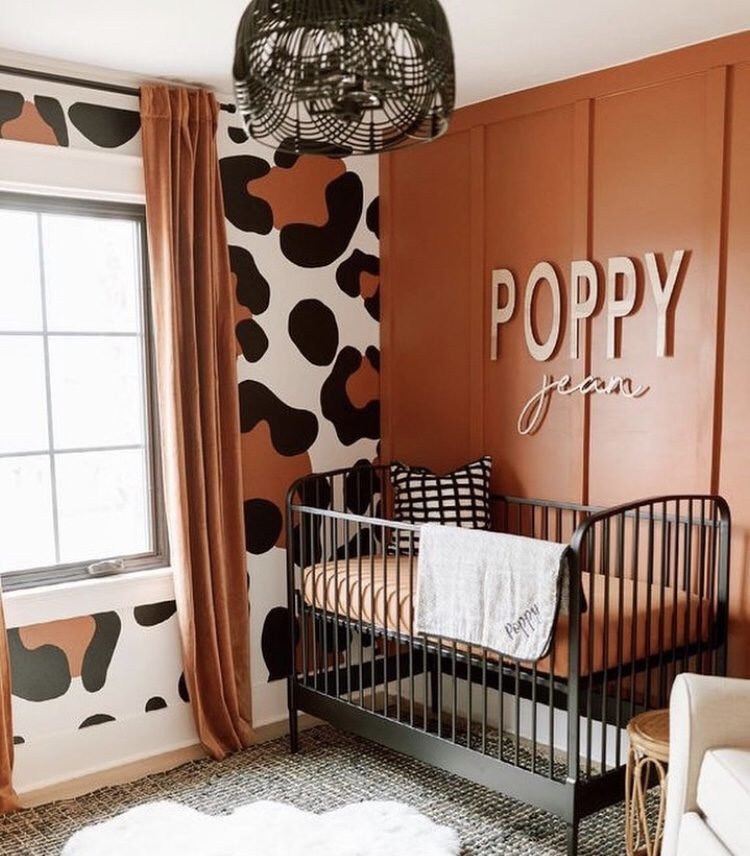 Image source @crateandkids
Colourful nurseries are a great way to bring in the fun element for you and your newborn. Whether it's orange painted walls like this design from @crateandkids or it's statement cots and decor that make the space pop. We love this nursery idea with an orange and black theme to create an abstract safari vibe.
Furthermore, the black metal crib and matching lamp shade add mood to the interior for a bold and mature nursery look.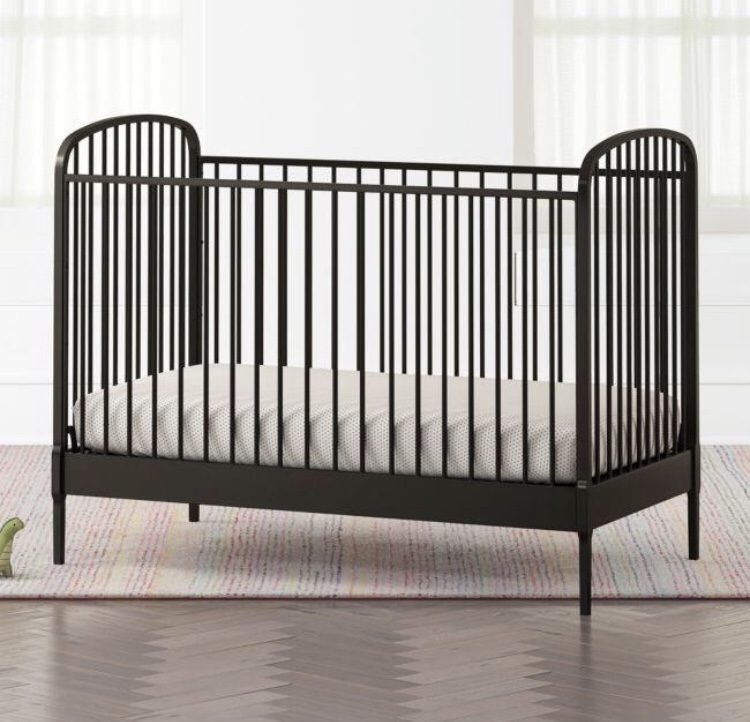 Buy the black metal crib from @crateandkids
Pink and grey nursery idea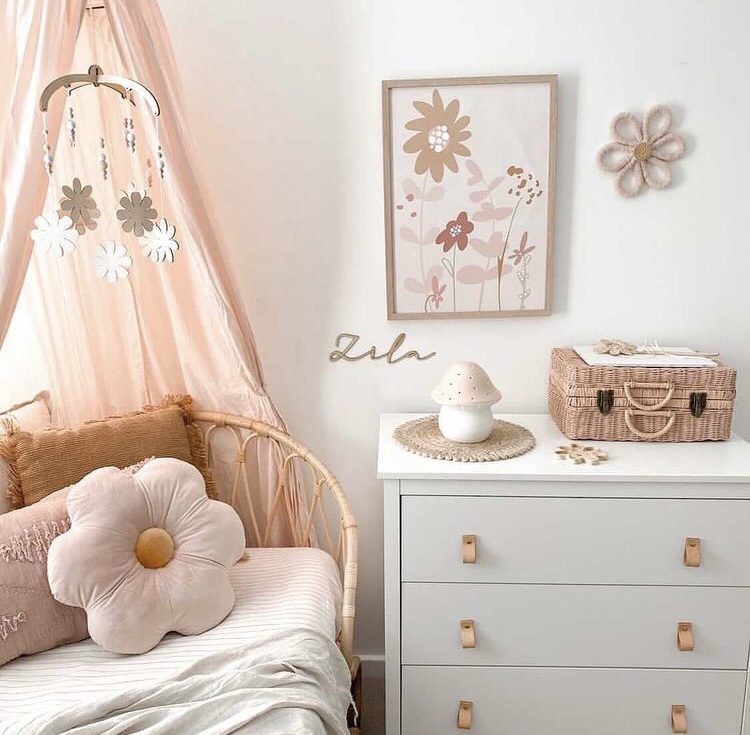 Grey and pink are the ideal colour duo for creating a relaxing nursery. Grey is a neutral shade that will balance pink so it's not over powering. This subtle pink and grey nursery uses this colour combination well with draped canopy bedding in a soft pink. This is carried through from the pillows and artwork, then toned down with grey furniture.
Pink and white nursery idea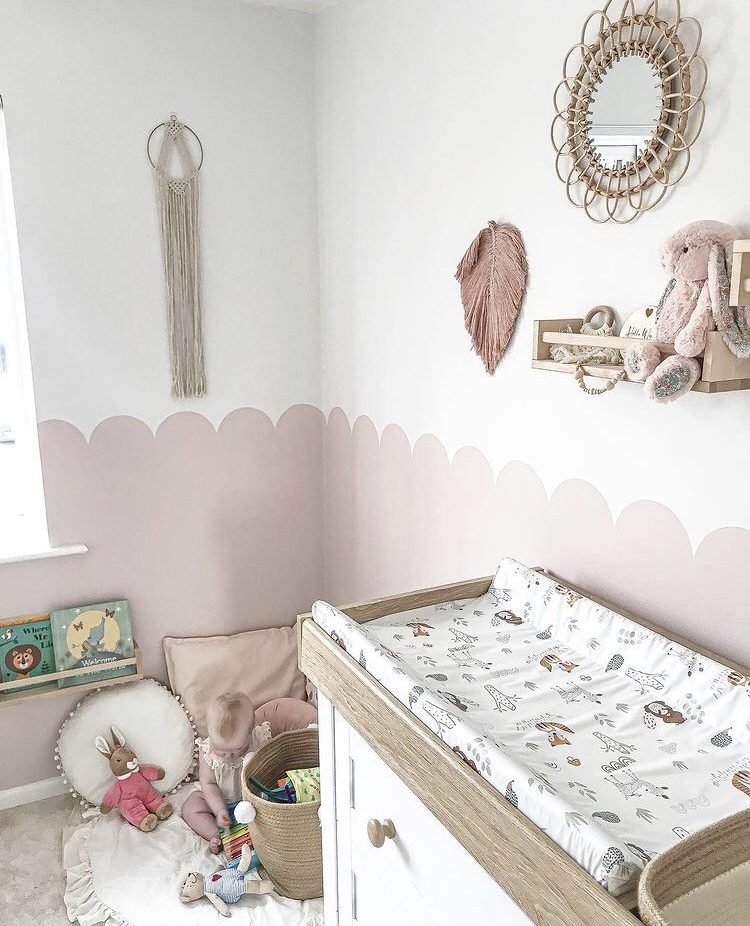 Image source @holman_home
We love how @holman_home has transformed a white room into a playful nursery using a simple colour palette. Painting your wall half way is a quick and affordable way to add instant style to your newborn's bedroom. We can't get over the stunning, yet simple paint finish that wraps around the room in a fun way.
The wall decor and low down shelving is a clever and playful element to add coziness and functionality.
White nursery idea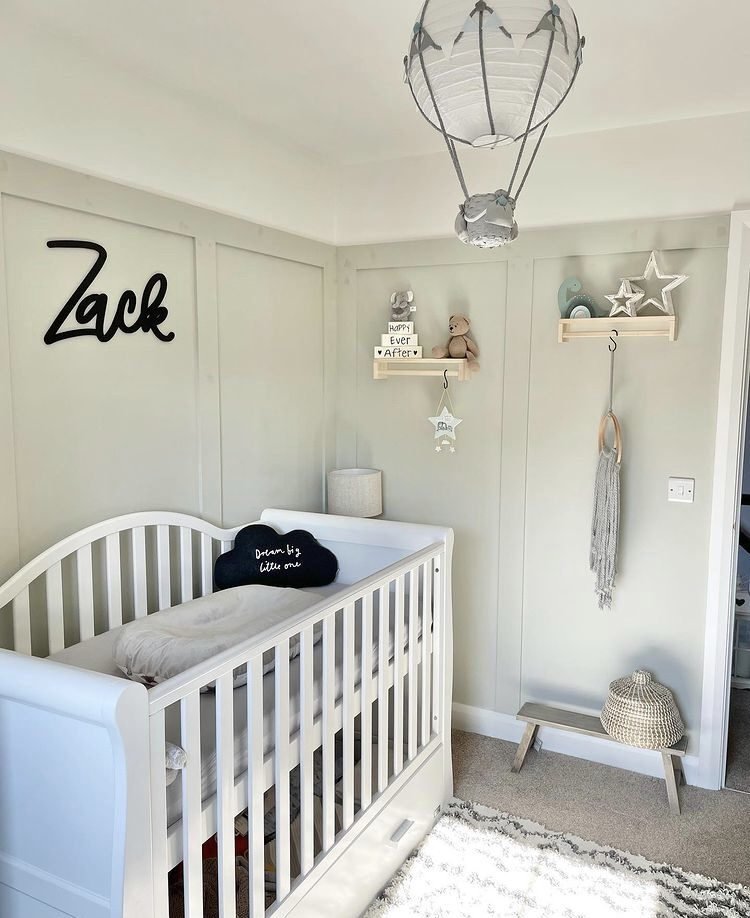 Image source @thesloansquares
If simplicity is what you're after when designing a baby's nursery, taking tips from @thesloansquares is a great idea. We love the mature look of this nursery, from the stylish wall panelling to the fluffy rug and simple decor elements that add character.
The subtle colour matching from the bold 'Zack' wall art to the matching cloud pillow draw your eye to the crib straight away.