IWhen it comes to decorating your bedroom, the walls play an important role in setting the tone for the space. Wall panelling is an excellent way to add texture, depth, and style to your bedroom walls. Whether you prefer a modern, minimalist look or a more traditional and classic aesthetic, there are plenty of options to choose from. In this post, we'll explore some of the most popular wall panelling ideas to help you transform your bedroom into a stylish and welcoming sanctuary.
Best colours to paint your bedroom wall panelling:
Pink bedroom wall panelling for a warm ambiance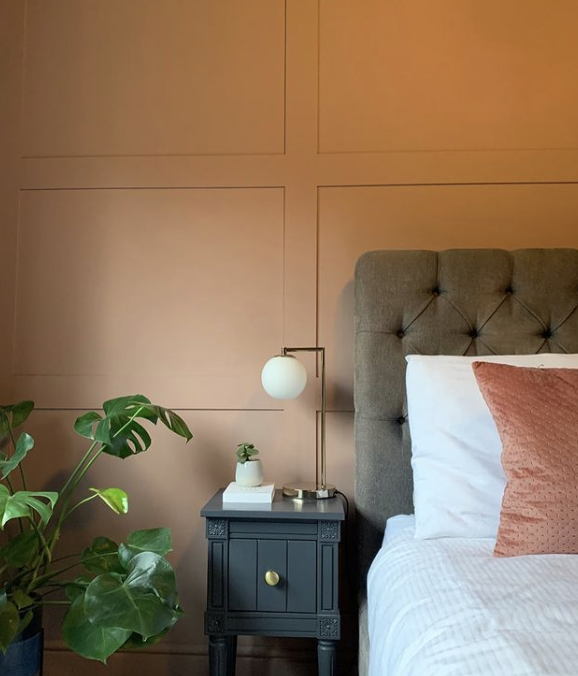 Bedroom by renov80shouse on Instagram. Bedroom colour used: Sulking room pink.
For a subtle pink shade that isn't overly pink and leans more to a muted rose hue, opt for a Sulking room pink, which has been used here in this gorgeous bedroom to create a bold yet relaxing look. Furthermore, we love that the entire wall has been panelled which gives the bedroom an ultra modern feel with the entire wall being a statement piece.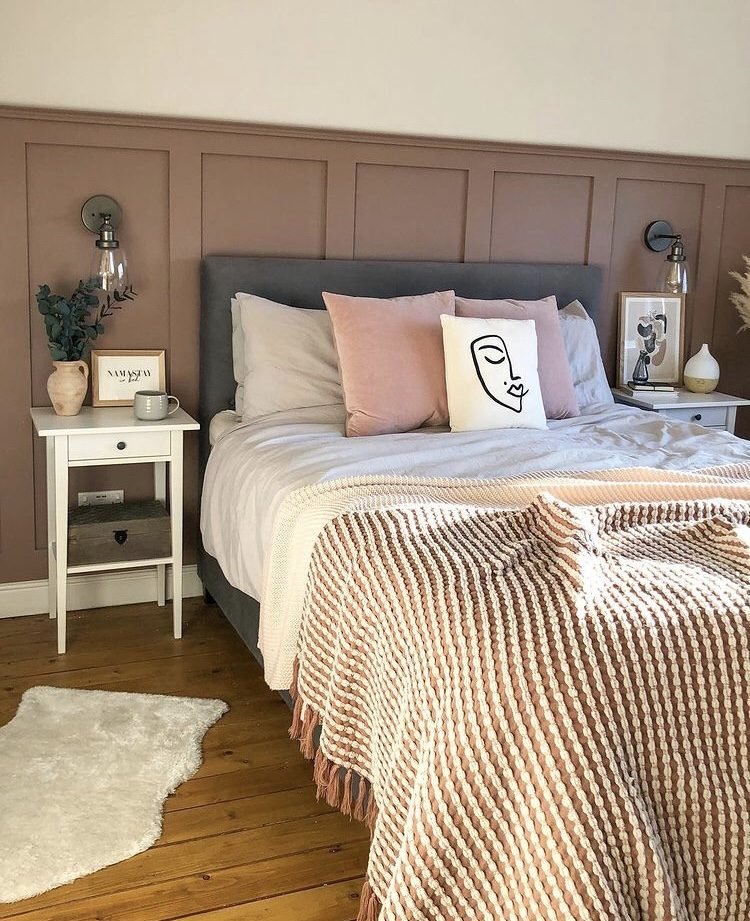 Image source @athomewiththeraines
Play around with pastels when decorating your bedroom with panelling to bring in a sense of fun and colour. This modern period style bedroom by Georgina at @athomewiththeraines matches the clay pink panels to other elements of the room like the bedding and accessories for maximum style.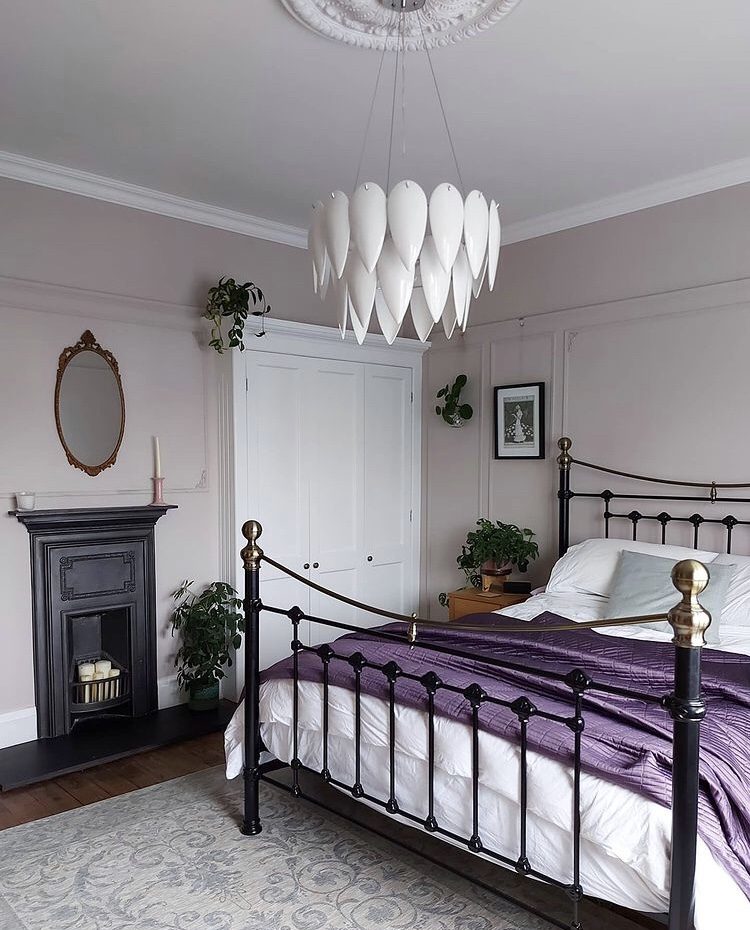 Image source @rosemounthouse
Don't be afraid to add a pop of colour when panelling your walls in your bedroom. We love this design by @rosemounthouse that uses pink walls and styles them with bold white furnishings and purple bedding for a bold look (that pendant light is everything). We can't help but love the bold back fireplace too that adds even more character to the space to compliment the intricate panelling on the walls.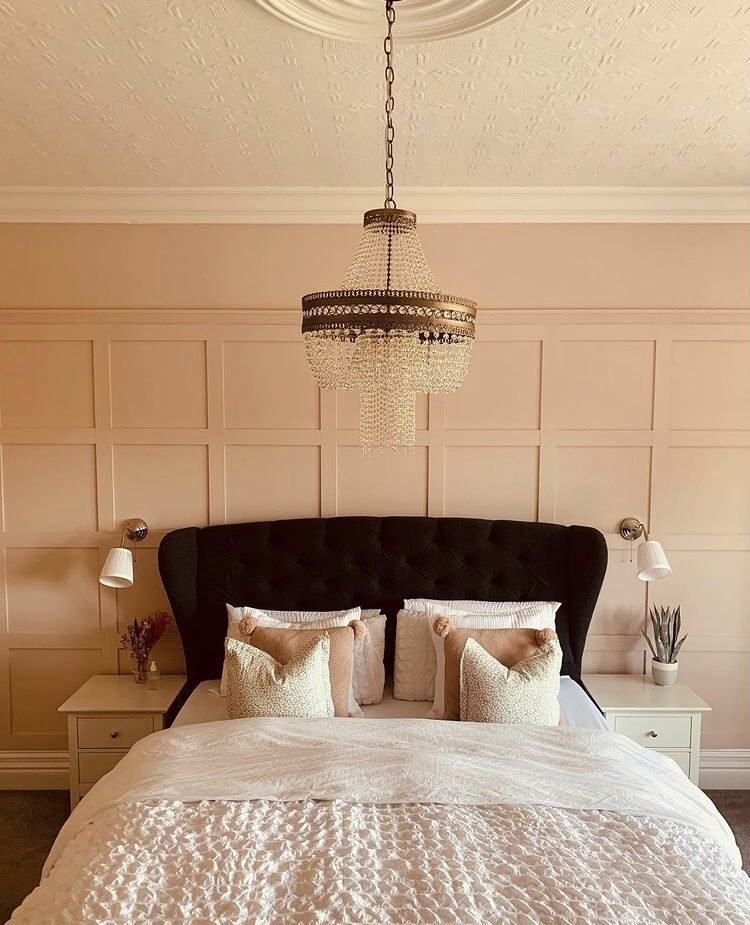 Image source @tresco_trio
We love a glamorous bedroom design and what better way to end our best wall panelling ideas than with a super glam bedroom renovation (see the full transformation). This beautiful panel bedroom exudes with luxury, from the hanging chandelier light over the velvet headboard bed frame, to the delicate colour scheme of pastel pinks and creams that makes the space feminine and fabulous.
Blue bedroom wall panelling for a calming space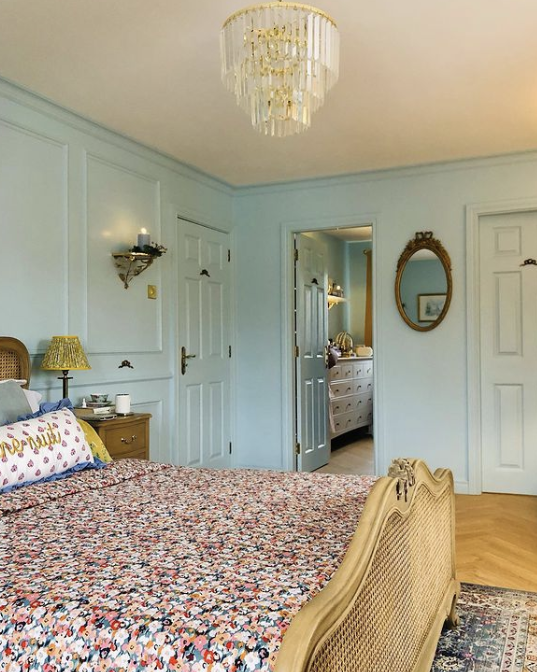 Bedroom by thevintageroom on Instagram: Victorian style is all about luxury and grandeur, and blue paneling is a perfect choice for this look. Blue can add a rich and regal feel to the room, and the paneling adds texture and depth, making a bedroom feel even more sophisticated.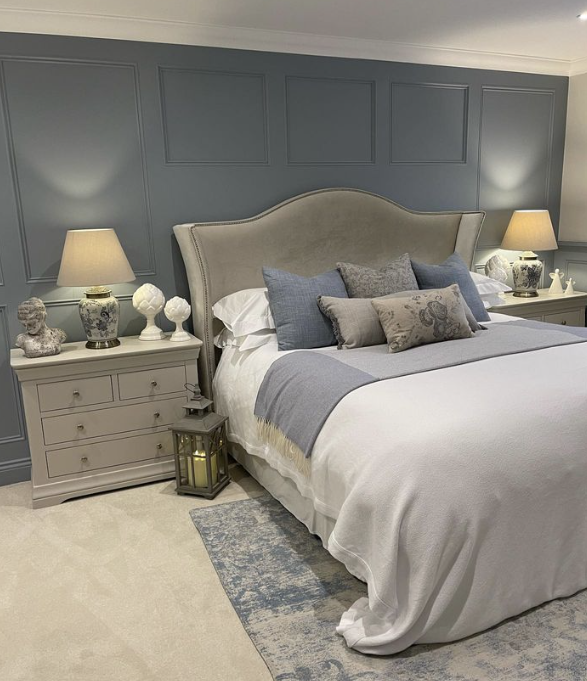 Bedroom by Glebehouse_renovation using Neptune Flax Blue paint.
Using a soft blue color on paneling in your bedroom can create a peaceful and tranquil environment to promote relaxation. The soothing hue of Neptune Flax Blue is great for adding onto panels to add depth to your space as well as being a neutral shade to match with other colours such as grey.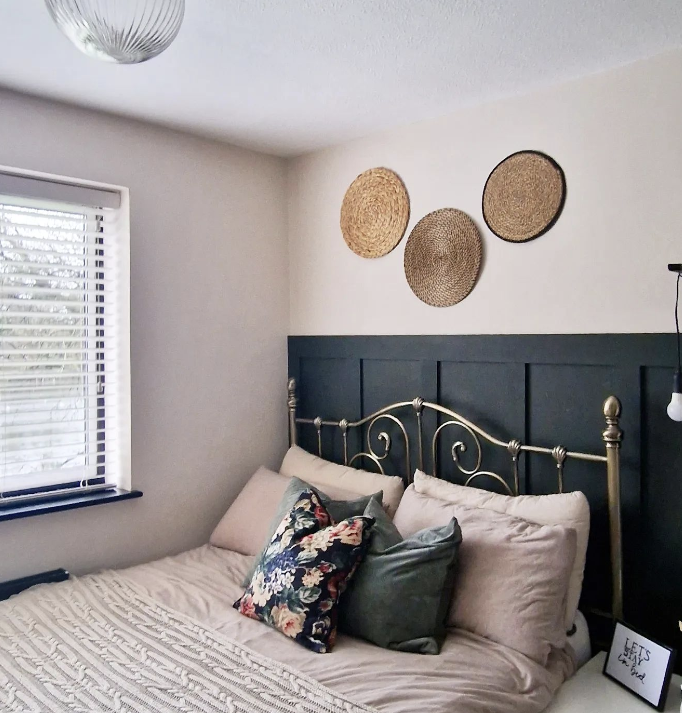 Bedroom by end_of_the_row94 on Instagram: Using dark blue on the paneling in your bedroom can create a cozy and inviting atmosphere. It's a rich and sophisticated colour that can add depth to your space, making it feel warm. Dark blue is also a versatile shade that pairs well with many different design styles, so you can have fun playing around with different accents and textures.
Image source @from_the_ground_up
Wall panelling is a great feature to add contrast and depth into a bedroom space. This gorgeous blue and white bedroom idea showcases how to effortlessly add rich colour to a white canvas. We love the additional accessories to compliment the space such as the textured duvet, wall light and bedside table with elegant finds.
Try Farrow and Ball 'Scotch Blue' for a bold and deep colour that is intense and luxurious looking.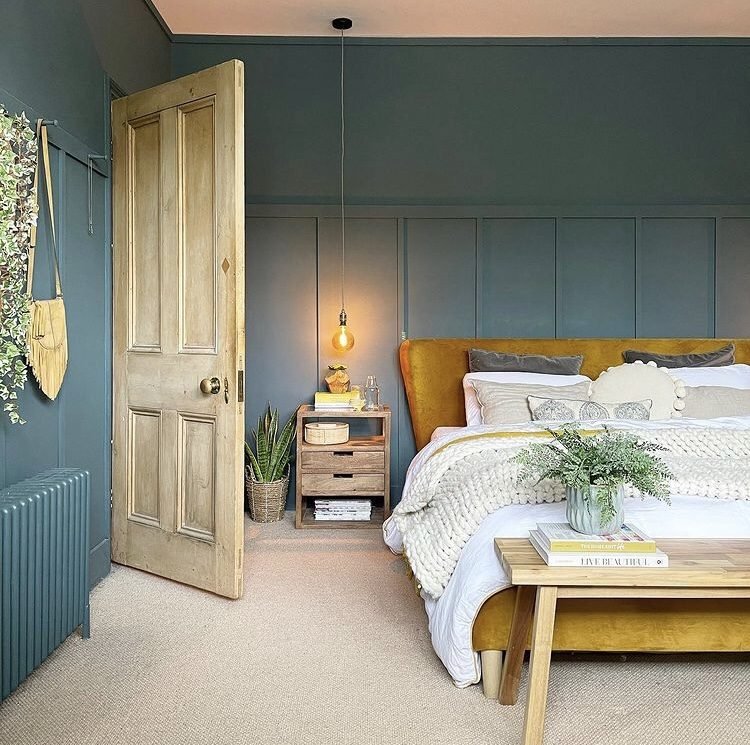 Image source @cotton_and_zinc
Add a pop of colour to your bedroom with bright teal walls that will bring to life your white bedding and wooden furnishings. We love this holiday from home inspired bedroom by @cotton_and_zinc that uses the colours of nature for modern style that reminds us of being by the beach. The long gated wall panelling that goes half way up the wall is trendy and stylish to complete the look and plays with the texture from the wood furnishings, bedding and plants.
White bedroom wall panelling for a clean and fresh look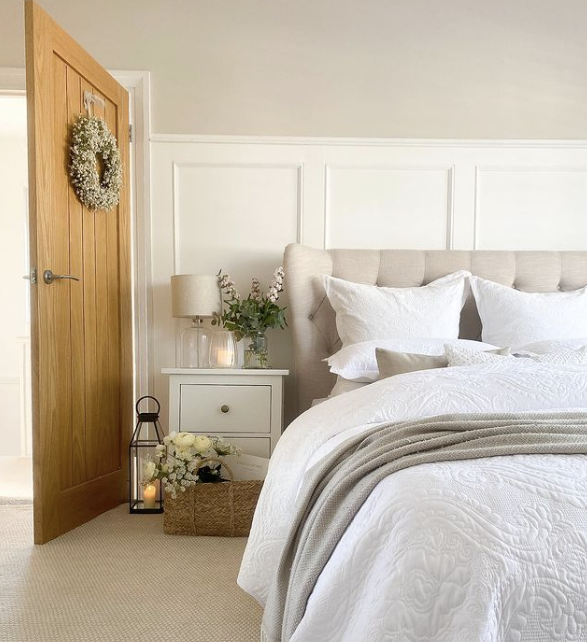 Bedroom by hoops_and_home on Instagram: For an elegant and chic bedroom style, take note of this gorgeous bedroom panelling that beautifully furnishings the bed and side tables. Mix and match your bedding and decor with your panelling and wall colours for a neutral tone in your bedroom, which will feel clean and fresh.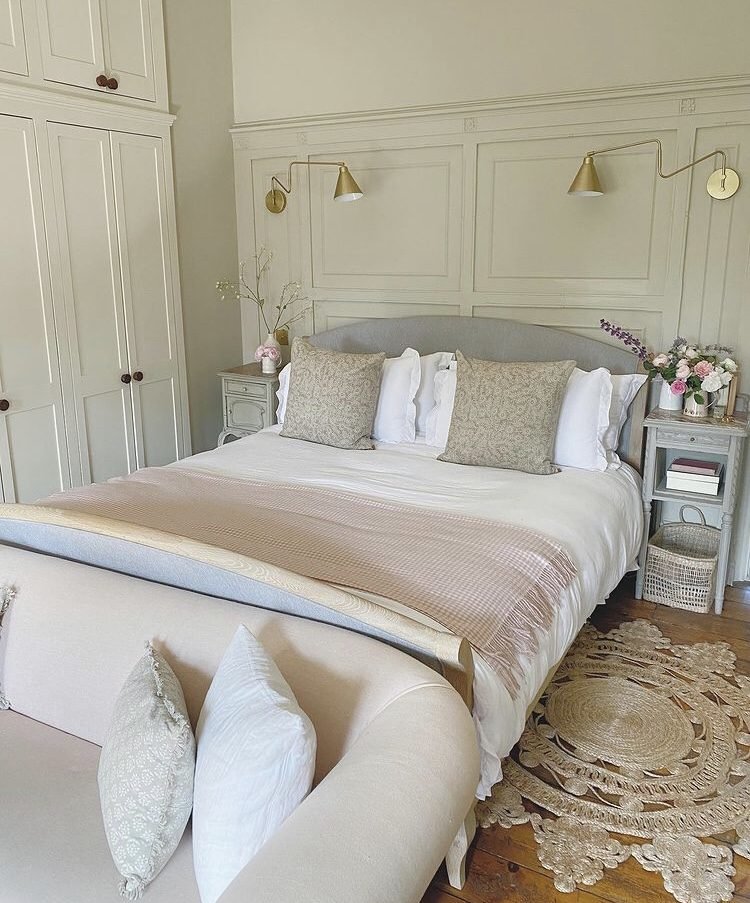 Image source @wallflower_cottage
Pretty pastels and elegant creams are the perfect colour combinations to create a soft space that projects with feminine luxury. This bedroom design with elegant panelling brings in timeless style while being on trend and pretty. We love the mix of texture from the metallic lighting to the boho fabrics and soft furnishings that create a space of creativity and relaxation.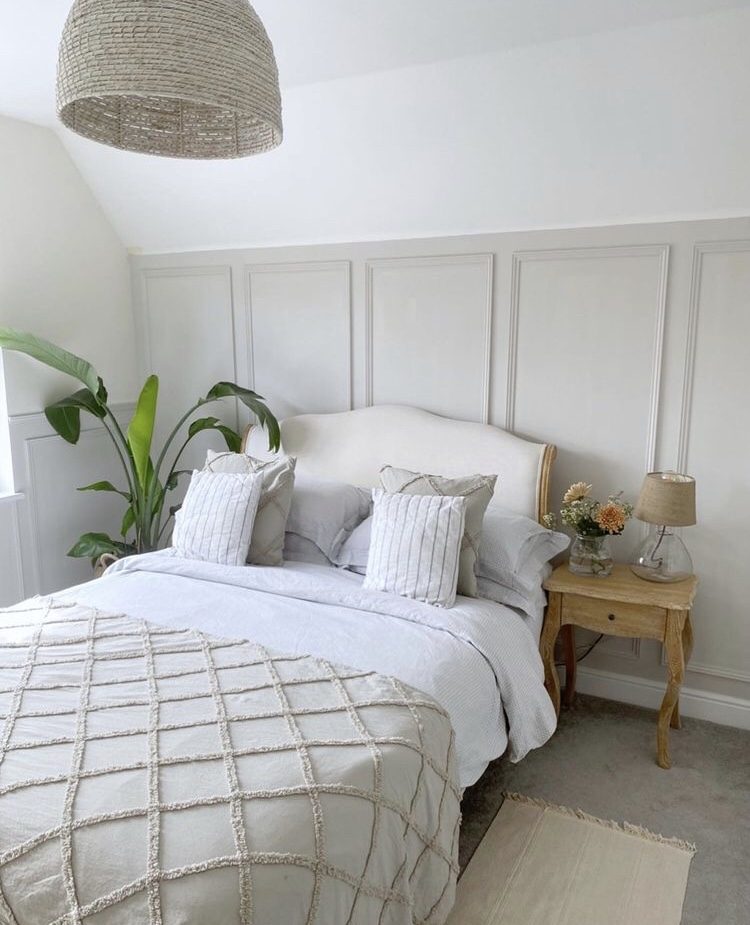 Image source @handpicked_by_grace
Wall panelling is taken from periodic design but that doesn't mean you have to decorate your room in this fashion. We love this modern boho take on decorating a wall panel bedroom by @handpicked_by_grace. The mix and match of textures in this room give life to beige colour scheme and simple furnishings that look effortlessly stylish and with natural decor elements.
Related article: clever ways to style a small bedroom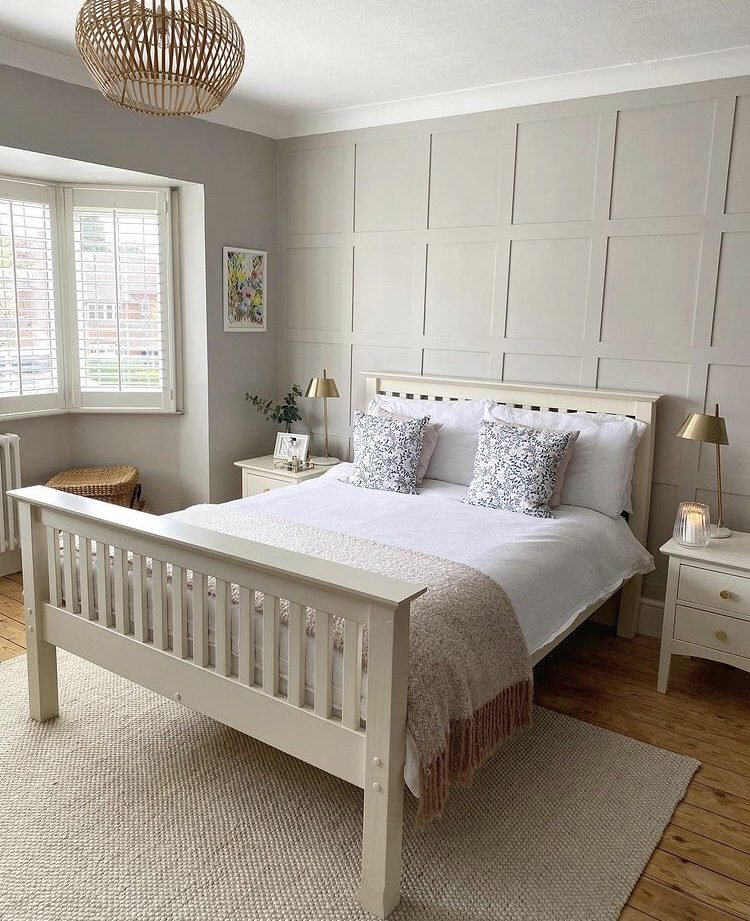 Image source @_houseonthemeadow
Modern country style interiors that are natural and warm, like this design by @_houseonthemeadow bring in a calm space to enjoy. We love the contrast of the muted cream panelling against the light cream panel bed frame. This adds pattern and clean lines to the bedroom space that makes the wall space pop with character without the need of bright colours. The wood flooring furnished with a textile rug completes the space and adds that country living charm.
Related reads: decorate your hallway with these panelling ideas
Grey bedroom wall panelling to bring a sense of calm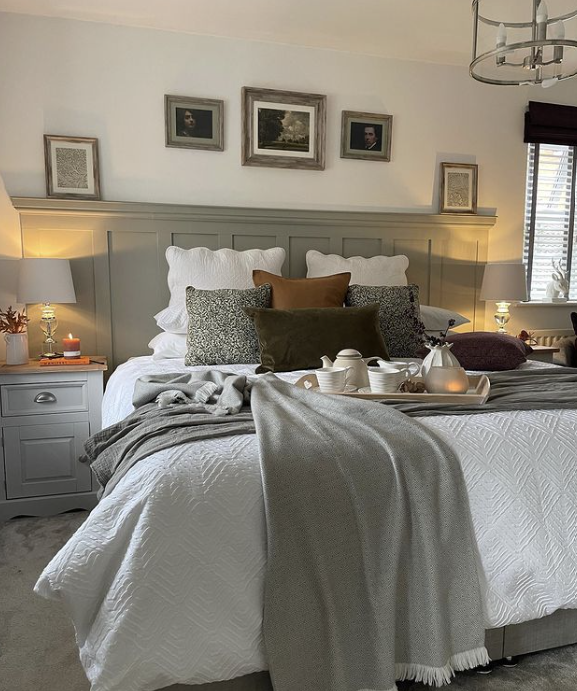 Bedroom by Frenchfamilyhome on Instagram: Grey is a wonderful colour choice for bedroom panelling as it can be used to break up white walls as well as bring in a coziness to the space, just like this gorgeous look.Choose a medium grey colour for your panelling so that when you incorporate mood lighting it will create a warm and snug ambience.
Green bedroom wall panelling for a serene look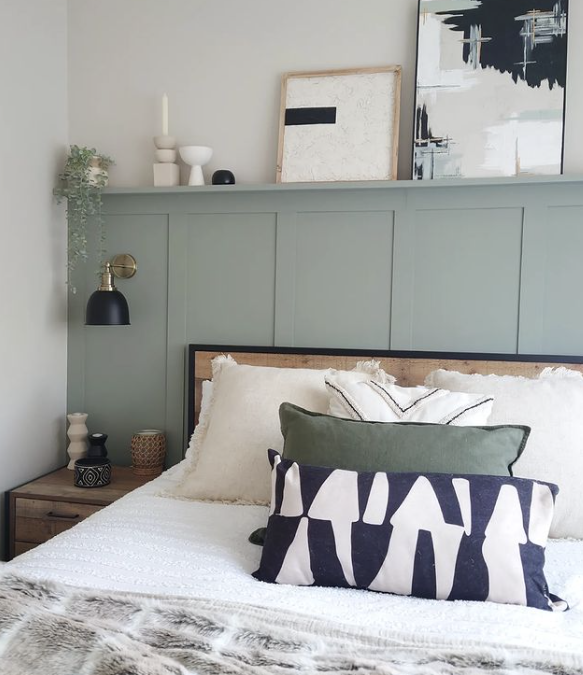 Image by homestyle_bycarly on Instagram: Create a calming space in your bedroom by painting your panelling a light blue. By going for a light blue paint with grey tones, you can create a calming space that feels in touch with nature. Add elements of brown and grey into your decor too, which will complete the look.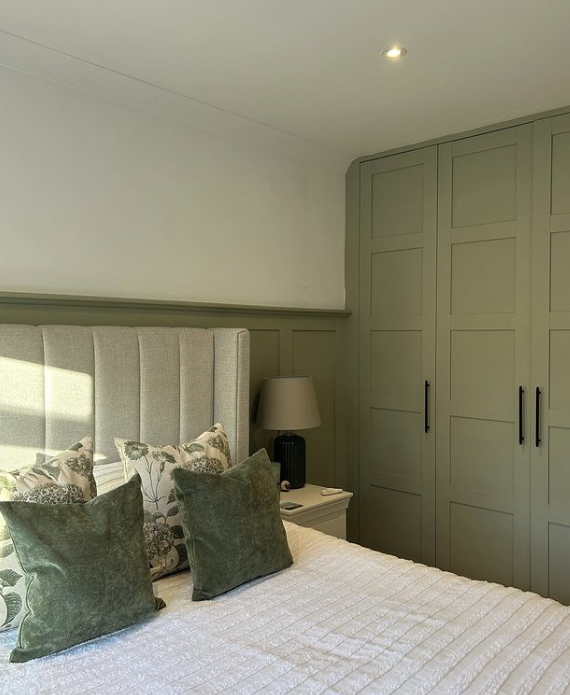 Bedroom by number1_thecountryside on Instagram: Using green on your bedroom paneling is a fantastic choice for creating a fresh and peaceful space. Furthermore, we love this design that has used dark green panelling on the wardrobes and behind the bed for a seamless look that comes together to make a snug space.
Love this? Read our article all about Sage Green Bedroom Ideas >>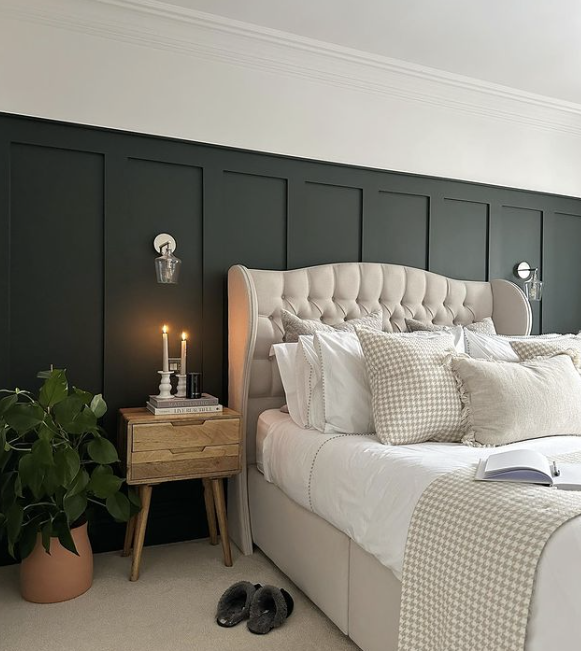 Bedroom by reviving_no37 on Instagram. Bedroom colour used: Green smoke by Farrow & Ball
Consider using a dark green for your bedroom panelling which creates a rich, warm and cozy atmosphere, and can be particularly inviting in a space meant for rest and relaxation. Dark green can also evoke the feeling of being in a peaceful forest or woodland, which can be calming and help you unwind after a long day.
Interior tip: When using dark green in the bedroom, be sure to consider the overall design style and lighting in the room, as well as how the colour may pair with other accents and furniture. Take note from the gorgeous bedroom in the image above that uses cream and beige to give the dark walls a soft contrast.
Cream bedroom wall panelling for a soft style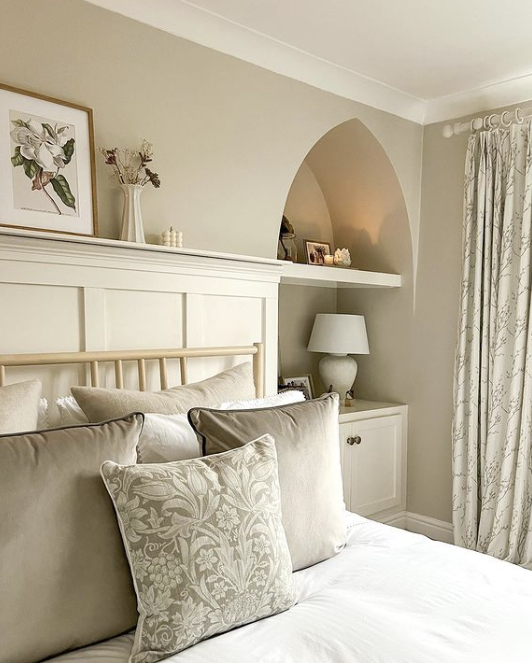 Bedroom by _simplestories_ on Instagram: Add texture and depth into your cream or beige bedroom with half wall panelling alongside the bed wall. Take note of this relaxing bedroom space that has lots of texture and depth by layering white, cream and beige together through paint and decor, to create a well-balanced style that is inviting and calming.
Orange bedroom wall panelling for a pop of colour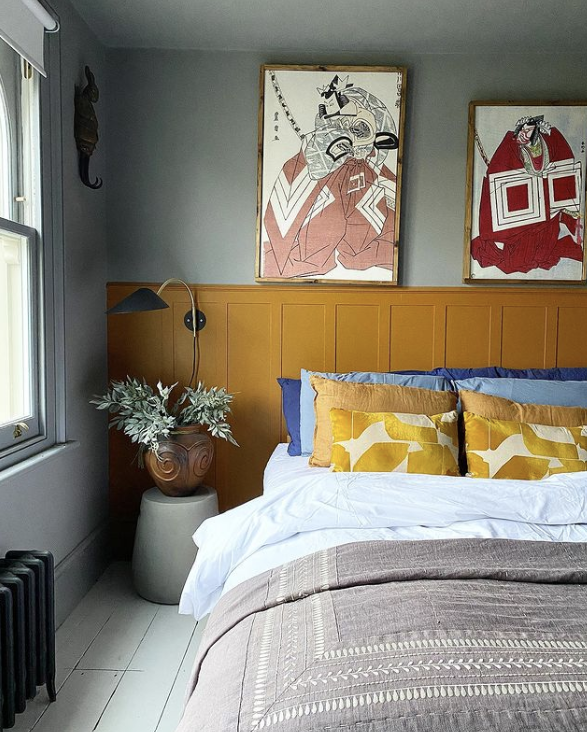 Bedroom by interiorspickle on Instagram: Go bold with your panelling colour choice, like this fun and playful orange and grey bedroom idea that is bold and daring and full of colour!
Orange is a warm and energetic color that can evoke a number of different emotions and associations such as happiness, joy, playfulness and fun, which are all great emotions to express in the bedroom space.