Maximise your bedroom space with these ideas
Whether you're looking for storage ideas or a way to plan the layout of your small bedroom. Our clever ways to style your bedroom will inspire you to create your own unique space to relax and unwind.
From cozy lofts and boho hideaways, to neutral colour schemes and simple storage solutions, our ideas below will help you get started.
Style a small loft room with cozy interiors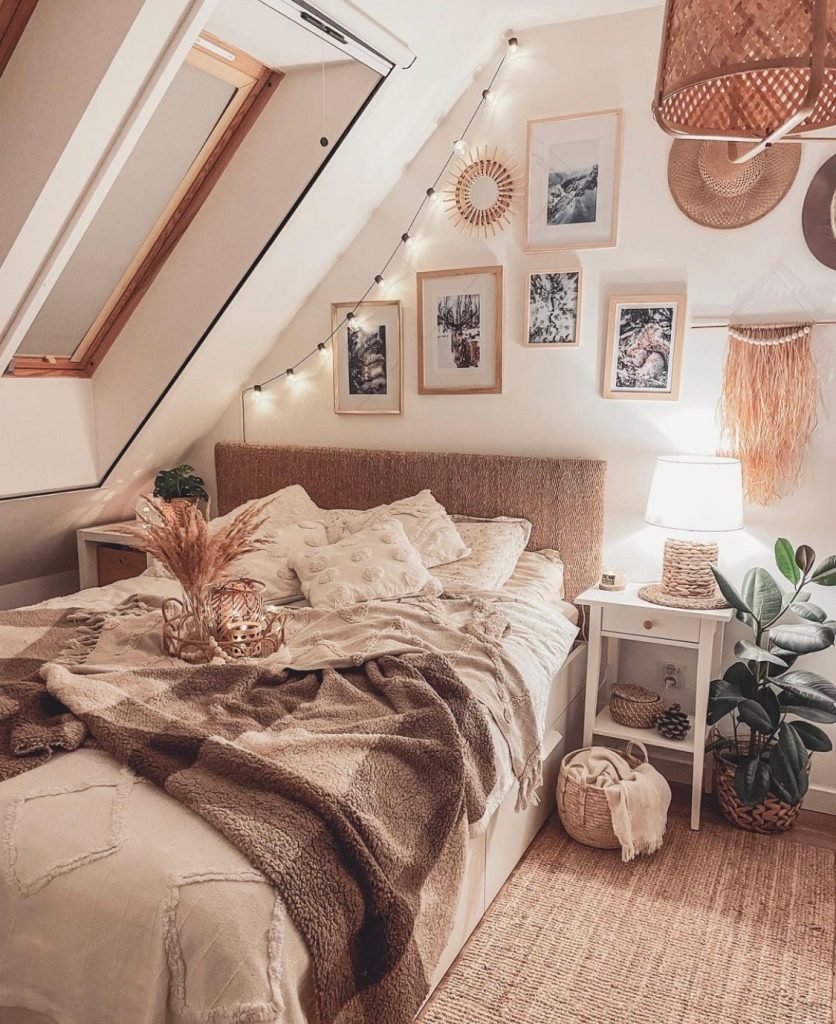 Loft bedrooms can be hard to design, especially when thinking about fitting your bed and furnishings into awkward corners with slanted roofs.
_angelshome shows you how to take advantage of a loft bedroom with limited space. The trick
Is to place your bed to one side of the room. Putting it near the window will not only allow you to stargaze, but will give you an open space layout to furnish your bedroom.
We love this neutral decor that comes together effortlessly using different textures and patterns to add warmth, as well as the mood lighting.
Incorporate storage around your bed to utilise on space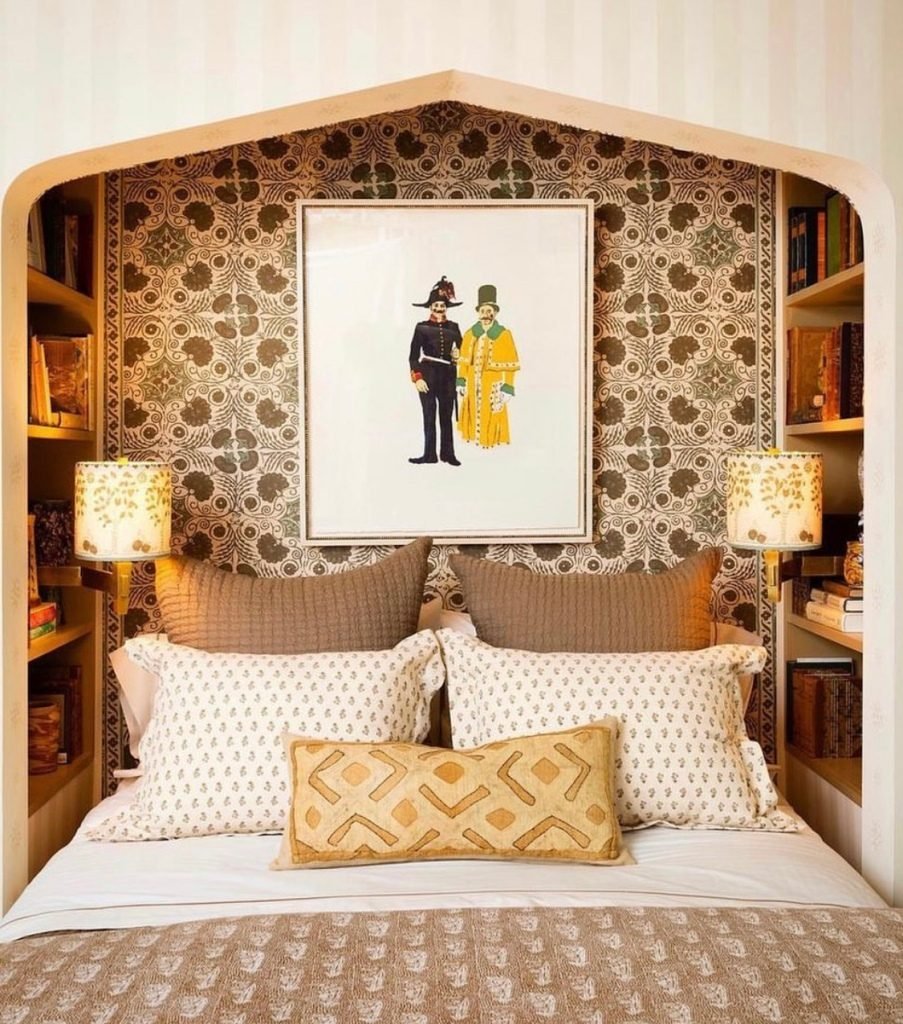 Small bedrooms that lack storage can be hard to style, especially if you have a lot of clothes, accessories and books. We love this small bedroom design by joshhildrerhinteriors that cleverly integrates a storage alcove in the space around the top of the bed.
Adding function and style, this bespoke bed alcove makes a snug reading spot on the evenings before bedtime, don't you think?
Use panelling in your small bedroom for function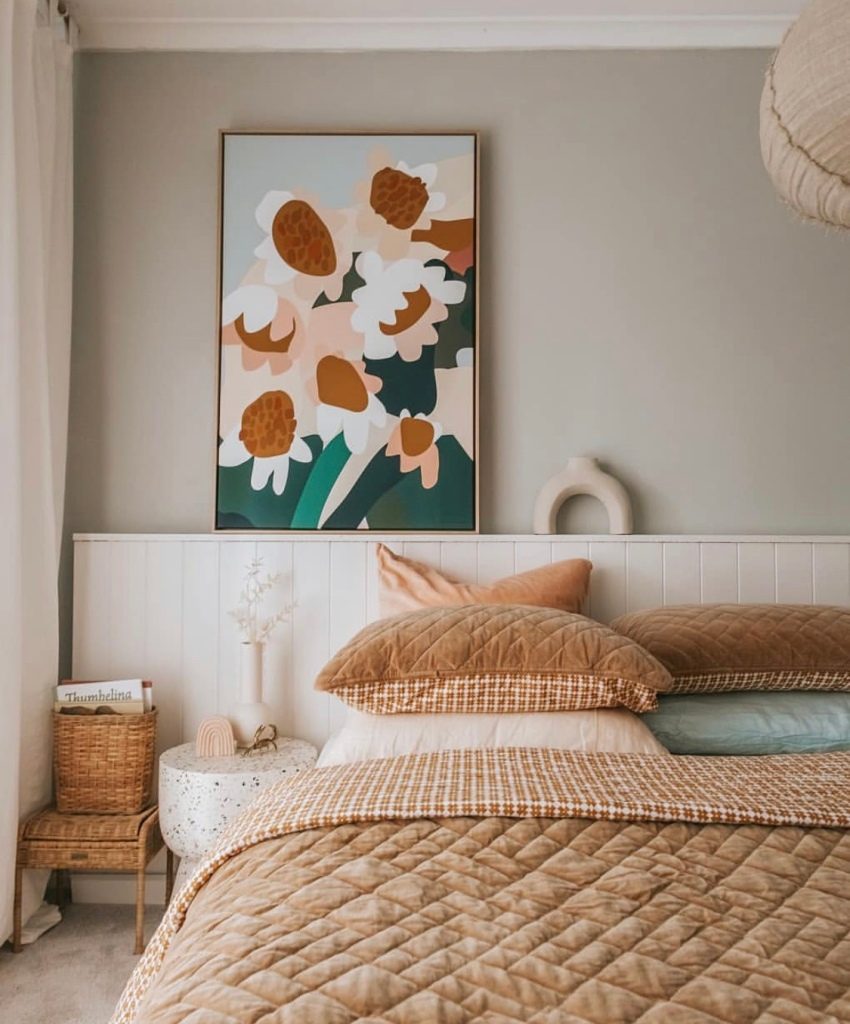 Panelling is a super simple and stylish interior element that can really transform
Your bedroom. This gorgeous bedroom design by rafaela.sofia uses panelling that doubles up as a beautiful headboard and shelving space.
You may think that adding panelling may take up space in your small bedroom, but it will add depth and texture to your room to enhance it. Choose light colours in a small bedroom so that it feels airy and light such as neutral tones for a cozy look.
Make your bed the focal point in a small bedroom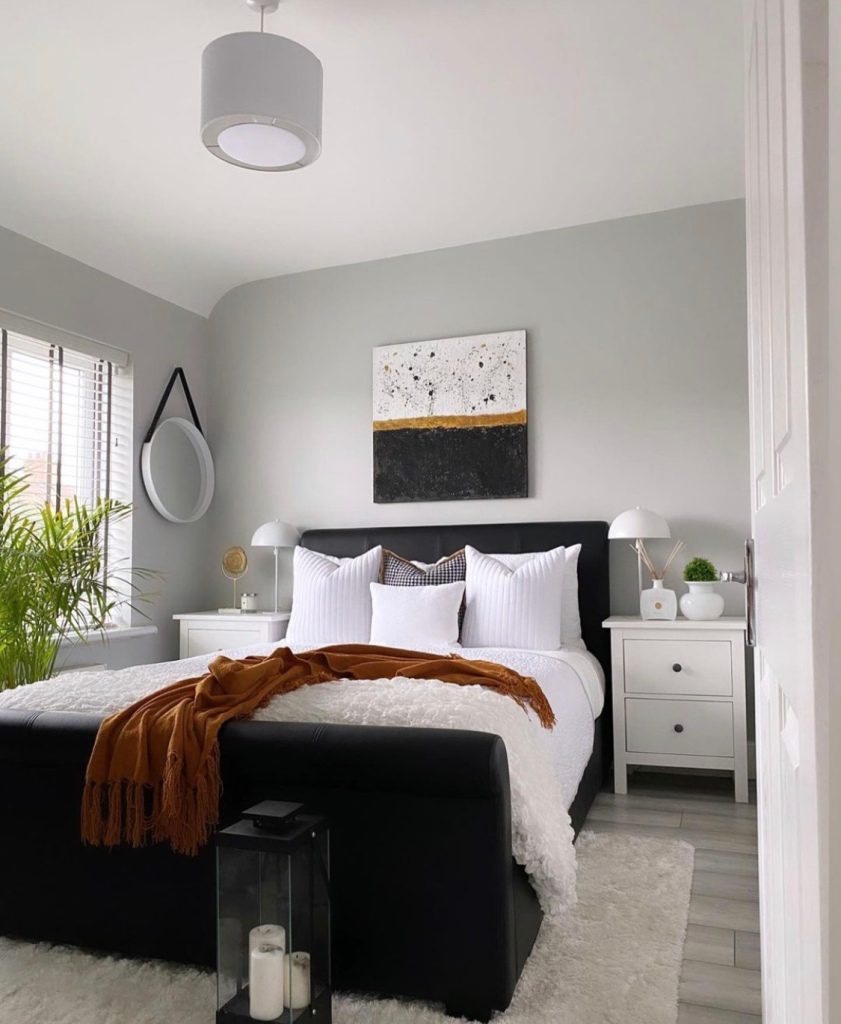 When designing your bedroom layout with limited space, don't try to fit all your furnishings in every corner and floor space you can find. Instead, use your small bedroom space as a way to really show off your favourite bedroom decor.
One way to do this is by choosing a statement bed like this design by homeinteriors_tp where they have chosen a bold sleigh bed to set the look of the room. Then, dress your room with accessories and bedding to add colour and style to your space.
Avoid bulky furnishing and stick to simple and clean decor so that your space feels clutter free and minimal.
Add over the bed shelving for more storage space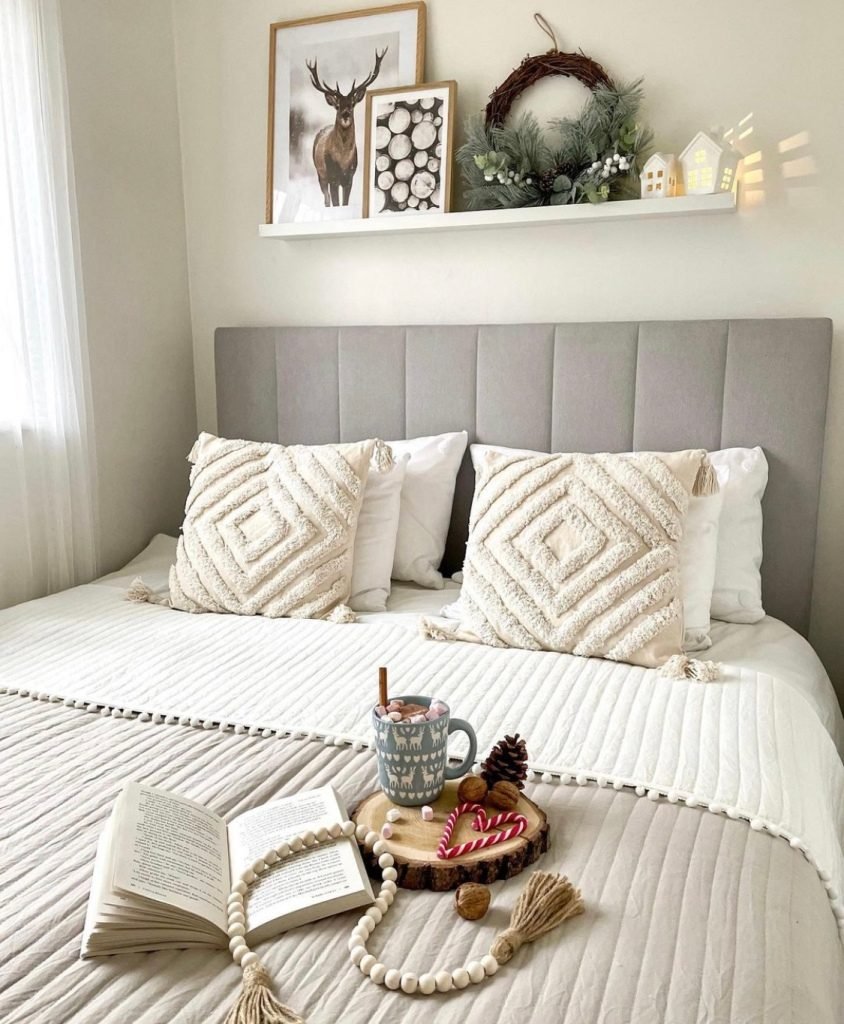 If your bedroom is tiny and you struggle with storage, why not add floating shelves above your bed? julia_and_hania share their bedroom design with us to give you inspiration on maximising on storage in your small bedroom. Whether you're looking to store your favourite artwork, books and accessories, incorporating a floating shelf is the best way to utilise on space without compromising your square footage.
Just like this design by julia_and_hania, make sure your floating shelf matches or closely matches your wall colours so that you have clean lines for a minimalist look.
Paint your small bedroom with neutral colours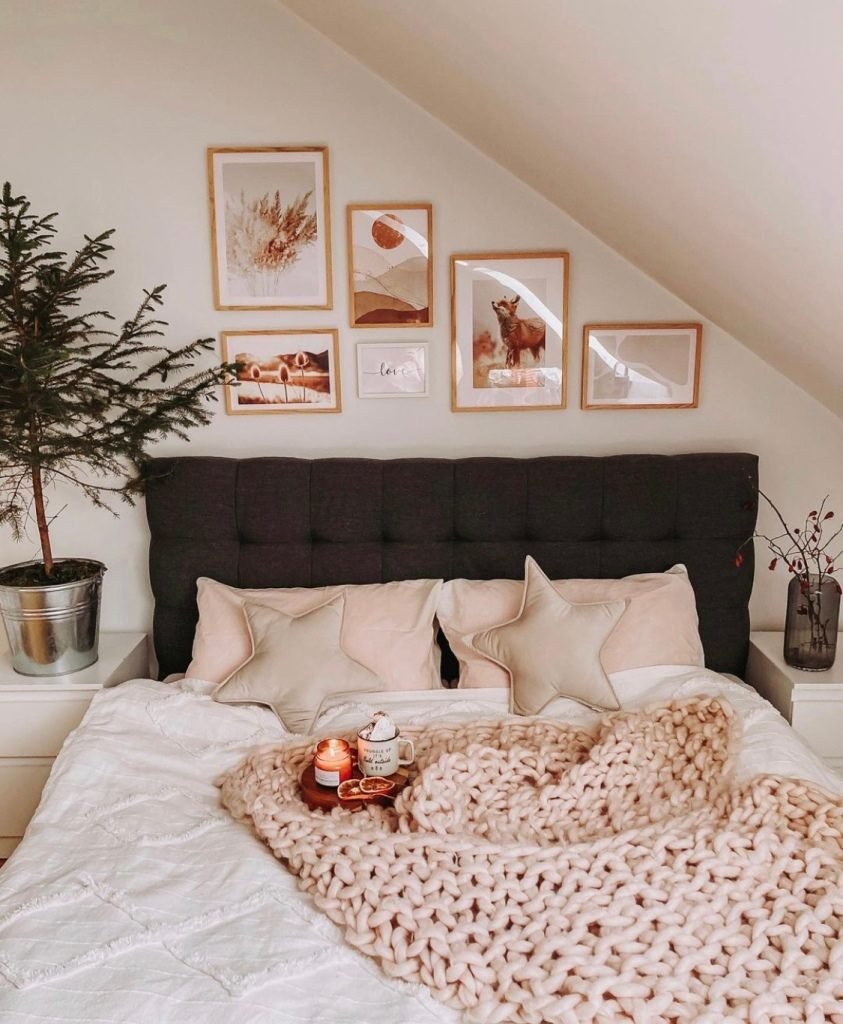 Small spaces, like this cozy design by sto_widoko should be kept minimal and fresh with a neutral colour palette. Take inspiration from this loft bedroom that features a gallery wall and chunky throws to add character and coziness into their bedroom space.
If you've got a loft bedroom, keep your furnishings to a minimum to avoid over cluttering your space, but add artwork, plants and accessories to make the space your own.
Over the bed storage to maximise your space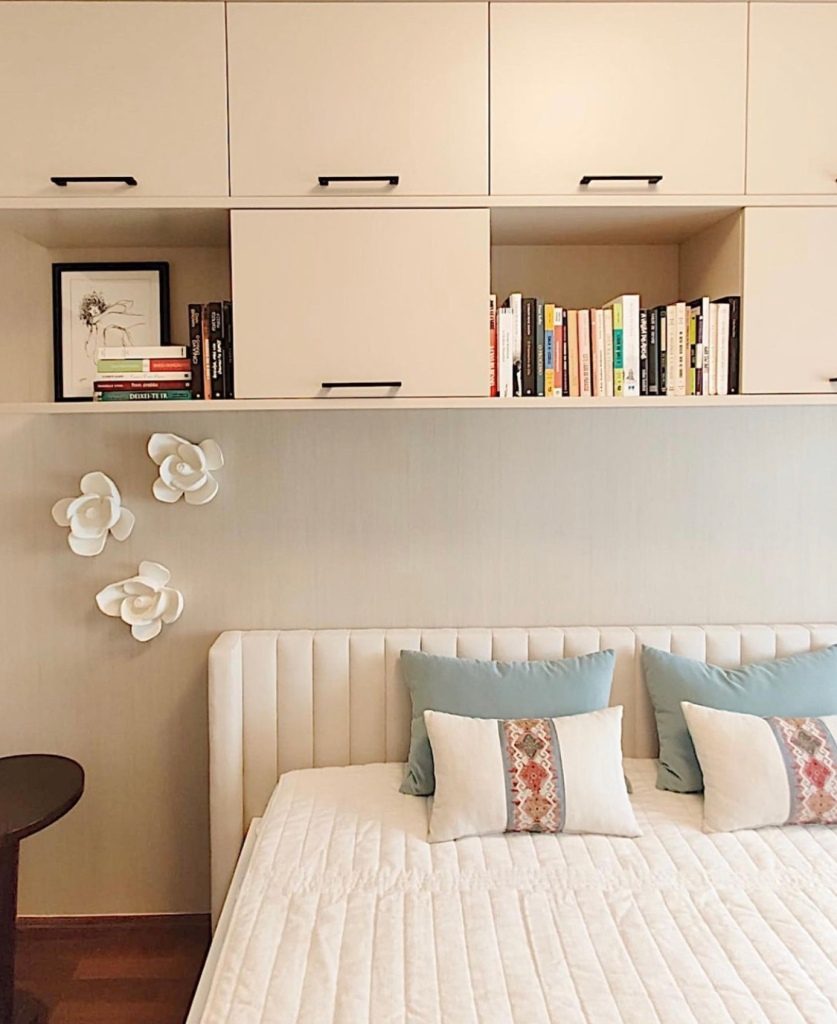 Storage can be a big problem when designing your bedroom to fit your needs. But there's always a solution in the interior design world! This simple and fun storage solution from ritaglorainteriordesign is the perfect example of how to maximise on storage space when dealing with a small bedroom.
Make sure to match your bedroom wall cupboards with your wall and bedroom colour scheme to avoid a contrast of colours, which in small spaces, can bring attention to tiny areas. ritaglorainteriordesign shows us how mixing and matching doors with shelving can draw the eyes to different parts of the space which then makes us forget about the size of the room!
Play with pastels to make your bedroom look bigger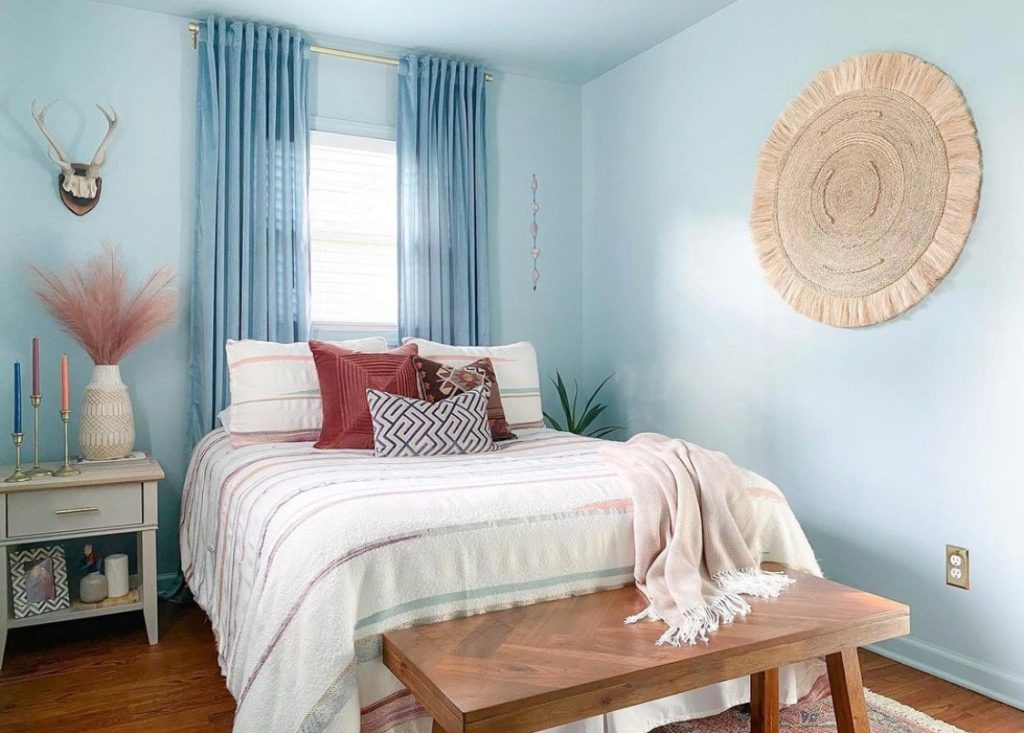 Pale colours add a sense of calm and smoothness to your space, which works really well in small spaces as you are creating a sanctuary to relax in. This pale blue bedroom by kellyvonweber shows us how a small bedroom can look inviting and calming.
Use different textures like pampas grass, sheer curtains, textured bedding and shabby chic furnishings to give your room depth while still looking airy and open.
Create a warm ambience in your small bedroom as a cozy hideaway
Bring in the coziness to your small bedroom with boho interior design elements like earthy brown furnishings, leafy plants, ambient lighting and varied textures.
The key to a cozy boho bedroom is all about layering and depth of different design elements. Take grace_homeuk as an example. Her beautiful small bedroom features a calming, yet rich colour palette of creams, browns and blacks to create a statement look in a small space.