If there's one trend to follow in 2020 when it comes to your home, a gallery wall is definitely a great contender. What better way than to show off your passion and artistic flare in your home with a beautifully created gallery wall that you can call your own.
Gallery walls are a beautiful alternative to an accent wall – whether it's in your living, dining room or bedroom. Simply put, a gallery wall is a display of framed photographs or artwork arranged on your wall to create a statement look. The beauty of a gallery wall is that, unlike wallpaper and paint, you can switch up the prints and artwork whenever you feel like it, so your gallery wall can be refreshed in no time. You can change them seasonally, or not at all – the choice is completely yours. We love that a gallery wall is so personal to each home, there's no set rules on what to put on your gallery wall, but we've listed a few simple ideas below to help you create a beautiful gallery wall that you'll be proud of.
Choose the wall in your home that you want to use as your gallery wall. Consider size, if there's enough space and visualise how it will look. Gallery walls don't have to be a big feature, they can be a place in your home such as a little corner that you want to fill up with colour and style.
Decide how many frames you want on your gallery wall – First off, think about how many pieces of artwork you want. When considering this, think about your wall size and what you will fill into the frames.
Choose the photos/artwork/prints you want in your frames – be selective about your theme and ask yourself "Do these images match with each other" and "What story/idea and I trying to create for my wall".
Plan out your placement – Now you know how many frames you need and what they will be filled with you can start planning. Get a piece of paper and think about the placement of your frames. Draw up your gallery wall considering the different size frames you'll need to buy.
Poster Store offers stunning gallery wall templates that you can use as guidance when creating your gallery wall as well as offering beautiful print designs for you to adorn your gallery wall with and not to mention some pretty frames to fill your artwork with.
We adore the creativity of Desenio, a gallery wall specialist that has so much gallery wall inspiration for all types of themes and styles. Take a look below at some of our favourite gallery wall features from them.
1. Graphic Gallery Walls
Gallery walls with graphic prints are very fun, with various styles to opt for. You can do a bright and bold statement wall or keep it simple with some minimalist style graphics for a more artsy approach where you can play with illustrations and each frame is its own artwork piece.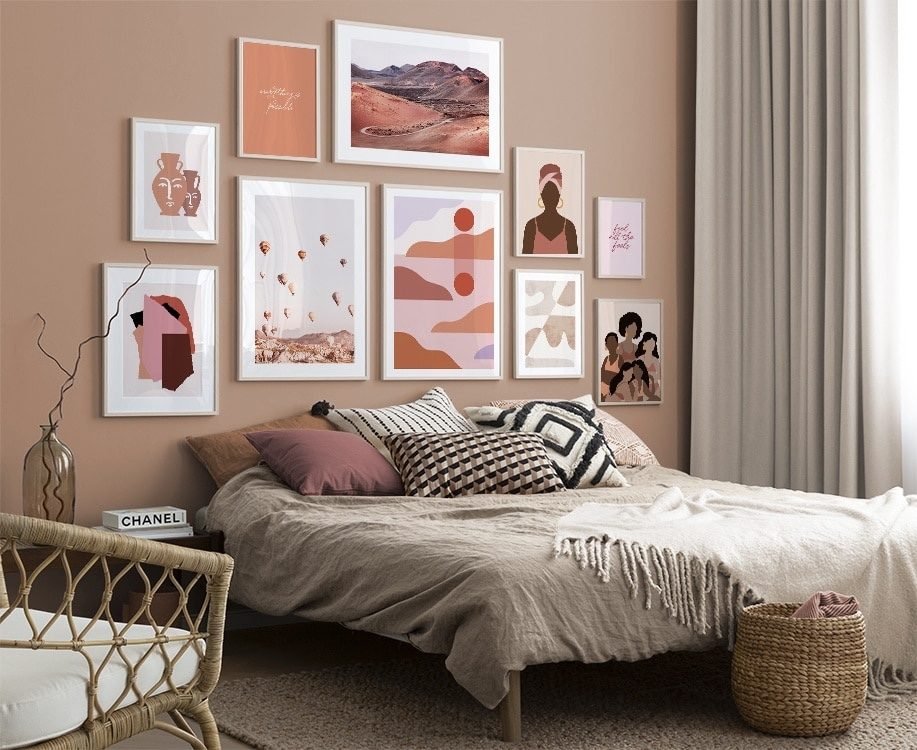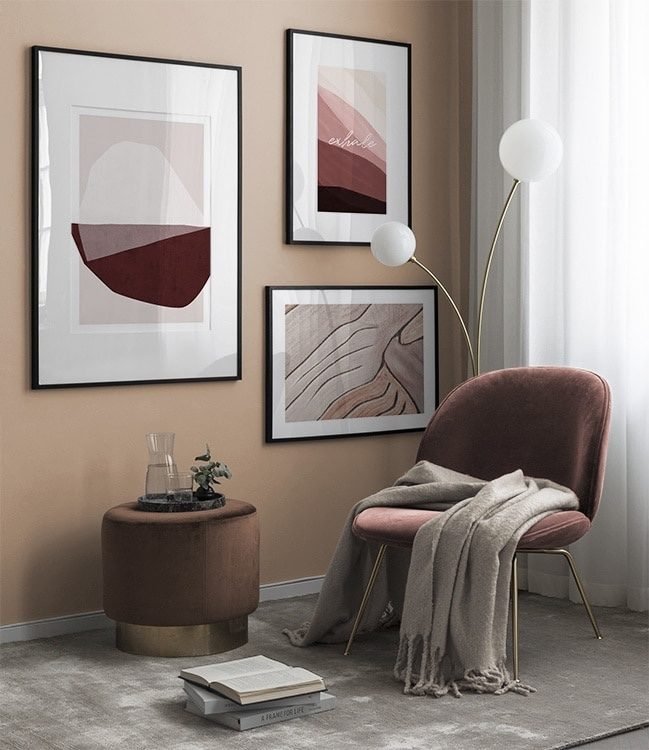 2. Travel Gallery Walls
If you love to travel and you want your room to pop with wanderlust, why not consider a gallery wall made up of your travel photos or places you want to go to inspire you daily? Images of travel speak for themselves, you can bring a collection of stunning sceneries from a place that is close to your heart and create a gallery wall that reminds you of those incredible memories that you created. Play around with colour schemes for a flowing gallery wall, for example skies, oceans and building that are blue can really make your gallery wall pop!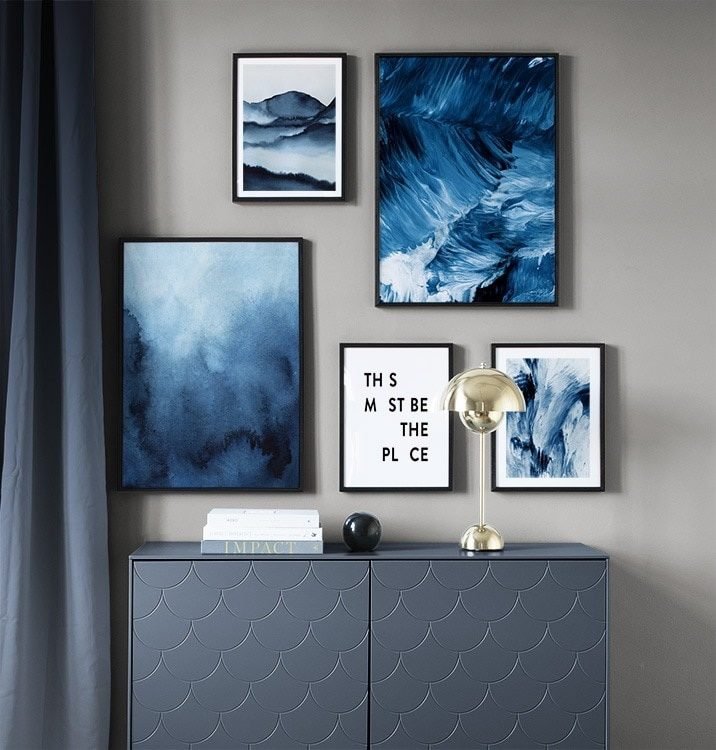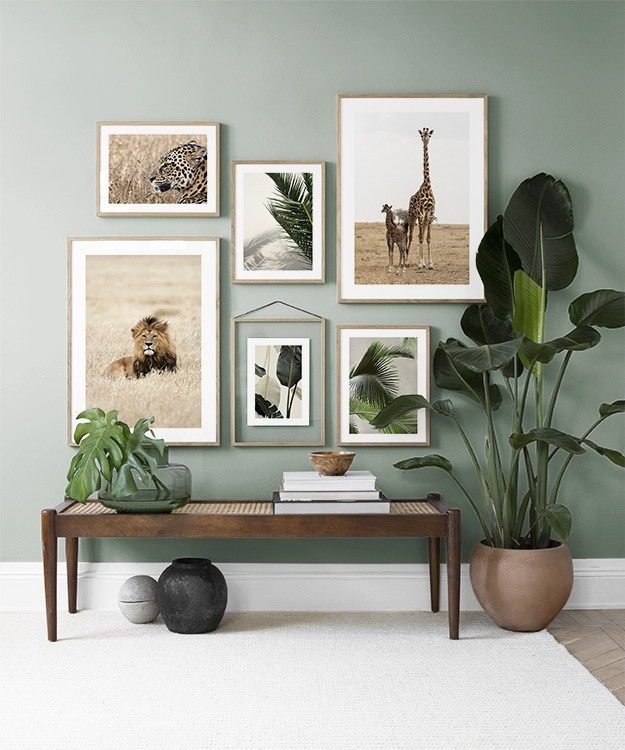 3. Photo Art Gallery Walls
Combining a range of lovely photos in your gallery wall is a great way of bringing together a collection of your favourite things. Whether it's your favourite plant, animal, quotes and hobbies. If you're creating a photo art wall gallery on a range of different photos, it's best to think about your colour schemes carefully. You'll either want to keep it muted or bright depending on what style you want and what colour your wall is.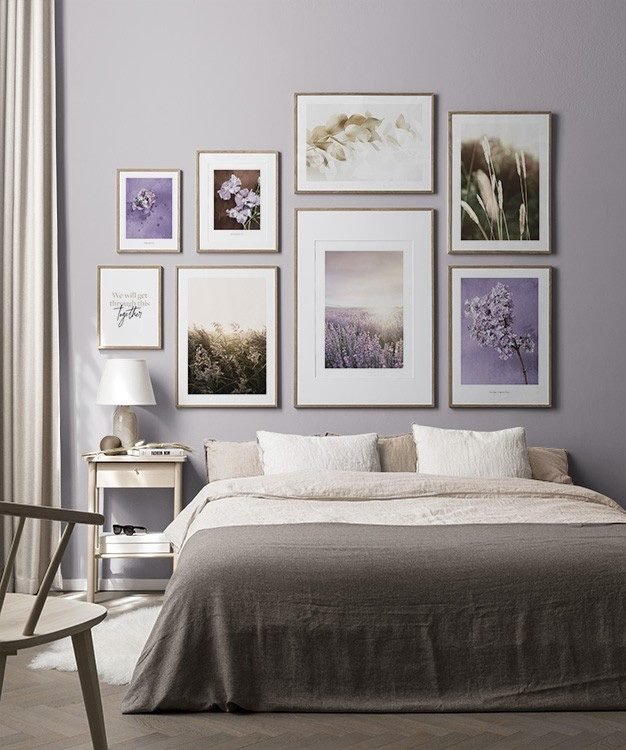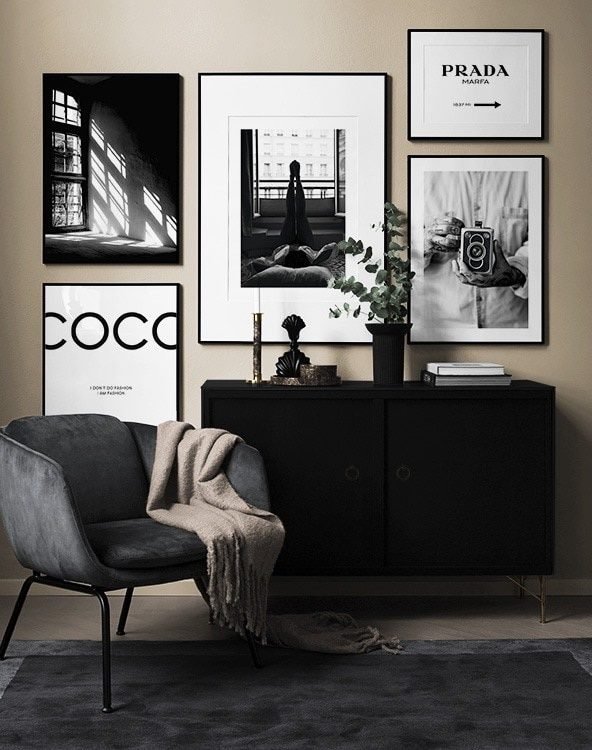 4. Black and White Gallery Walls
A great way to brighten up a coloured room is to create a wall gallery made up of stunning black and white wall art. This will instantly make your wall pop and and because of the coloured wall, your art work will stand out a lot more than if on a white wall. A black and white gallery wall is great if you love a variety of images that might not go well together when in colour, but may work beautifully if they're made into black and white versions.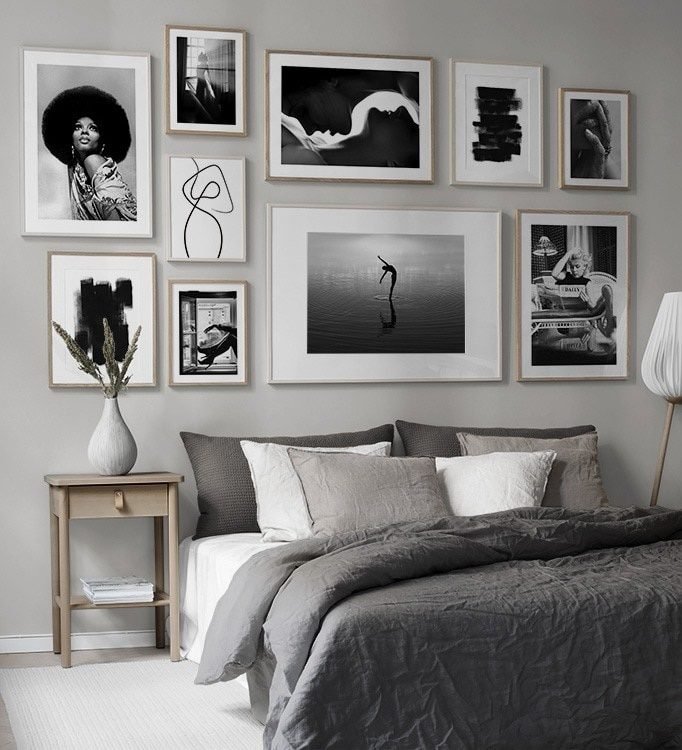 5. Inspiring Gallery Walls
If you want a gallery wall that truly inspires you everyday, why not choose artwork, quotes and photos based on uplifting designs to create a space in your home that you relax. Combine beautiful quotes and words with inspiring places you want to visit, or things that make you happy like animals or places?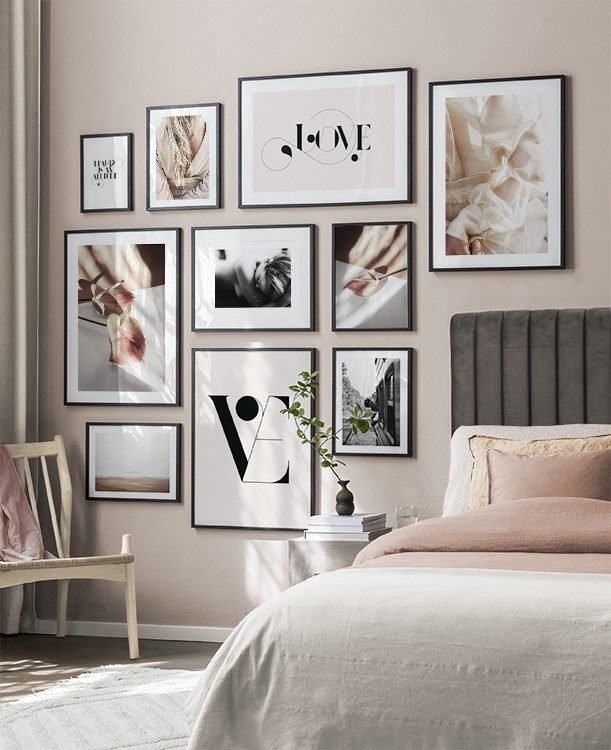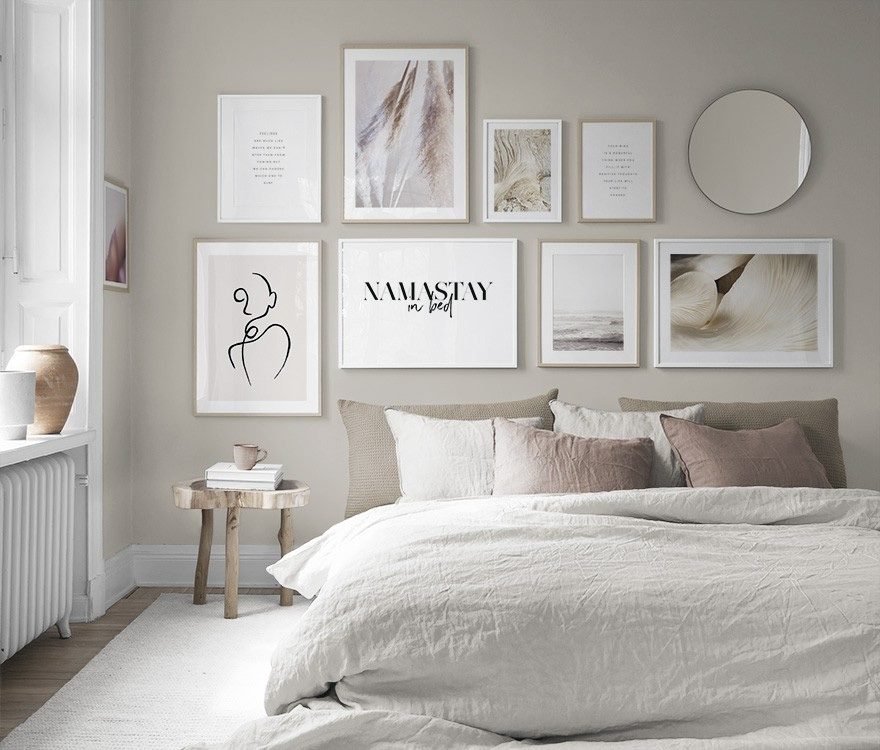 That's our top gallery wall list! Did you enjoy browsing the different types of gallery walls you can do in your home? If you're renting your apartment or house, you can always use adhesive strips to apply your frames to your wall and remove them once you leave – this also make applying your gallery wall just how you like it in a simple and effective way.
Let us know in the comments below what artwork and prints will inspire your gallery wall! For daily home inspiration find 'Style Your Sanctuary' on Facebook or follow us on Instagram.