Are you planning on decorating your teenager's bedroom? It can be a tricky task at hand, especially when it comes to pleasing them and bringing their unique character and personality into the space.
But fear not, we have compiled our favourite teenage bedroom ideas below to help you decide on how to bring your teen's personality into the space in a modern way.
1. Decorate your teenager's white room with colourful decor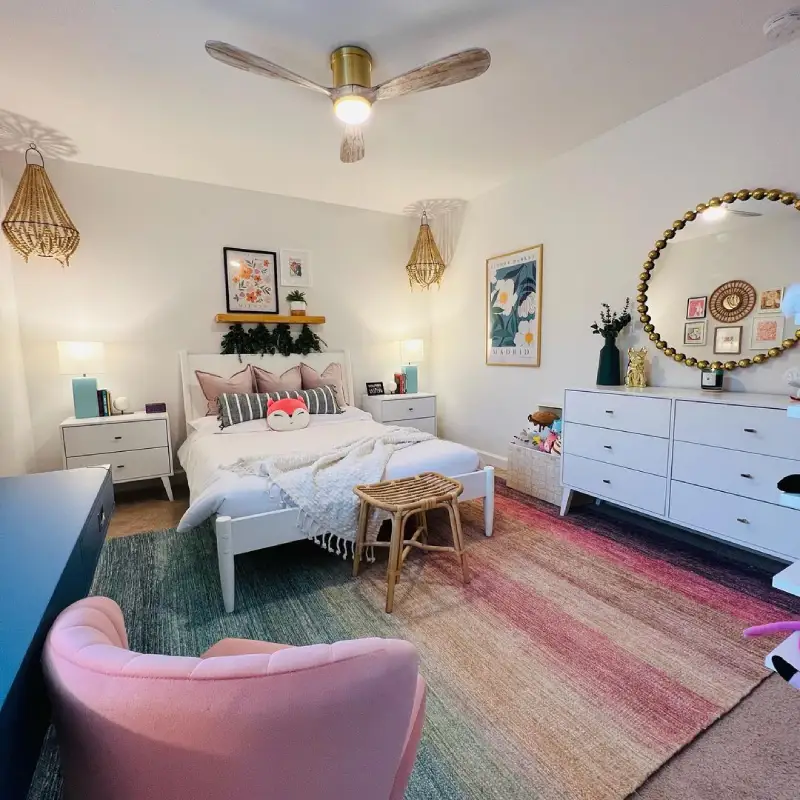 Image by @melissaherriott on Instagram styles a white bedroom with pops of colour through decor.
White walls are a great blank canvas for a teenage bedroom. Depending on your teenager's taste, the walls can be easily dressed up or down. Add pops of color with accessories, such as pillows, bedding, and artwork.
A rule of thumb is to ensure the room is well-lit, both natural and artificial. In the photo above, Melissa has used various lighting options to ensure her teen's room gets plenty of light. Through the ambient ceiling light, to the additional task lighting on either side of the bed for a symmetrical look.
2. Add a dresser for a glamorous teenage bedroom idea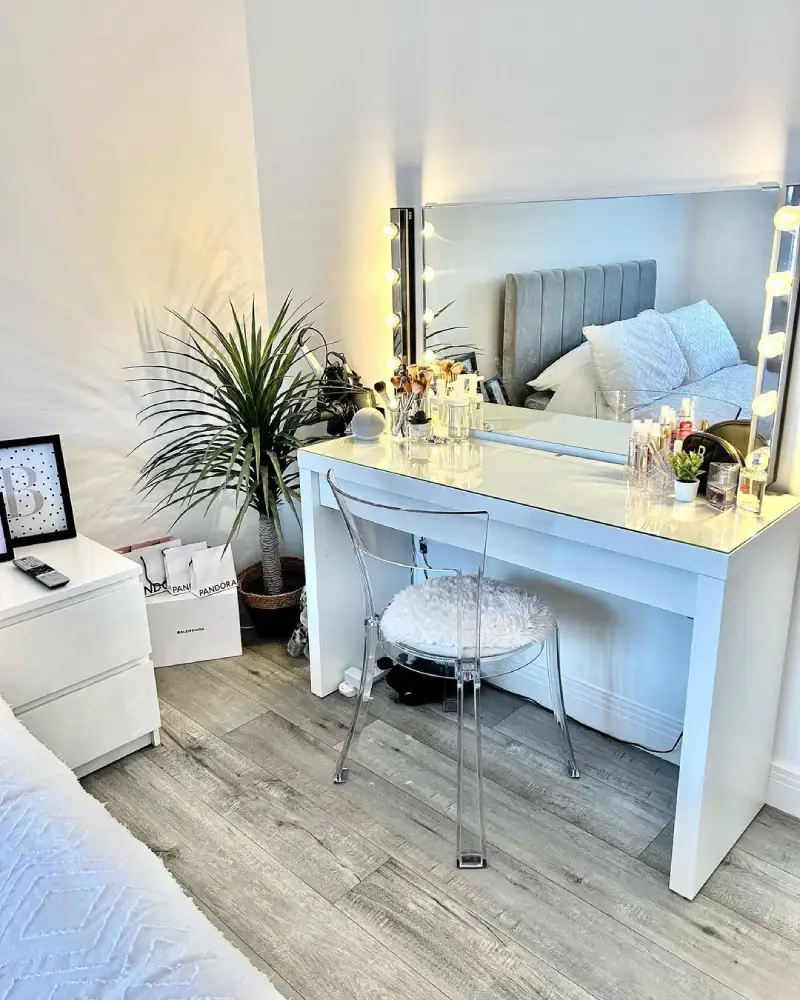 Image by @no36_newbuildtohome styles a teen's bedroom with a glam dresser with bright lights and a white and grey scheme for a mature look.
If your teen loves to get ready and spend their time trying on clothes and doing their hair and makeup, then adding a dresser with lights on the mirror is a great way to add a touch of glamour to the bedroom. Not only is this practical, but it adds a Hollywood glam that your teen will love in their bedroom!
3. Go bright coral for a teenager's bedroom for a colourful look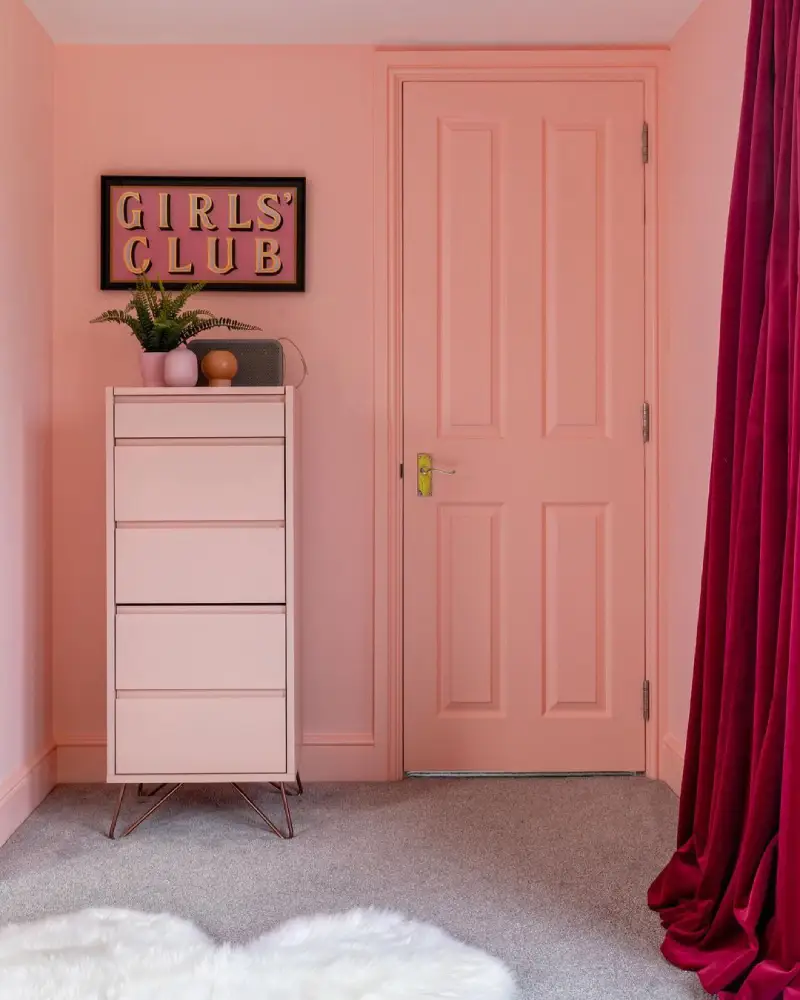 Image by @em.gurner on Instagram styles a pink coral with matching drawers and pink signage for a grown-up look. Photographer: @anna.yanovski
Coral pink is a versatile and sophisticated color that falls somewhere between soft pink and vibrant orange. It combines the warmth of orange with the subtlety of pink, creating a cheerful and uplifting ambiance. Depending on the teenager's preferences, coral pink can be used as an accent colour or as the dominant color in the room. It can be incorporated through wall paint, bedding, decor accents, or even furniture, allowing for a variety of design possibilities.
4. Boho-style teenage bedroom idea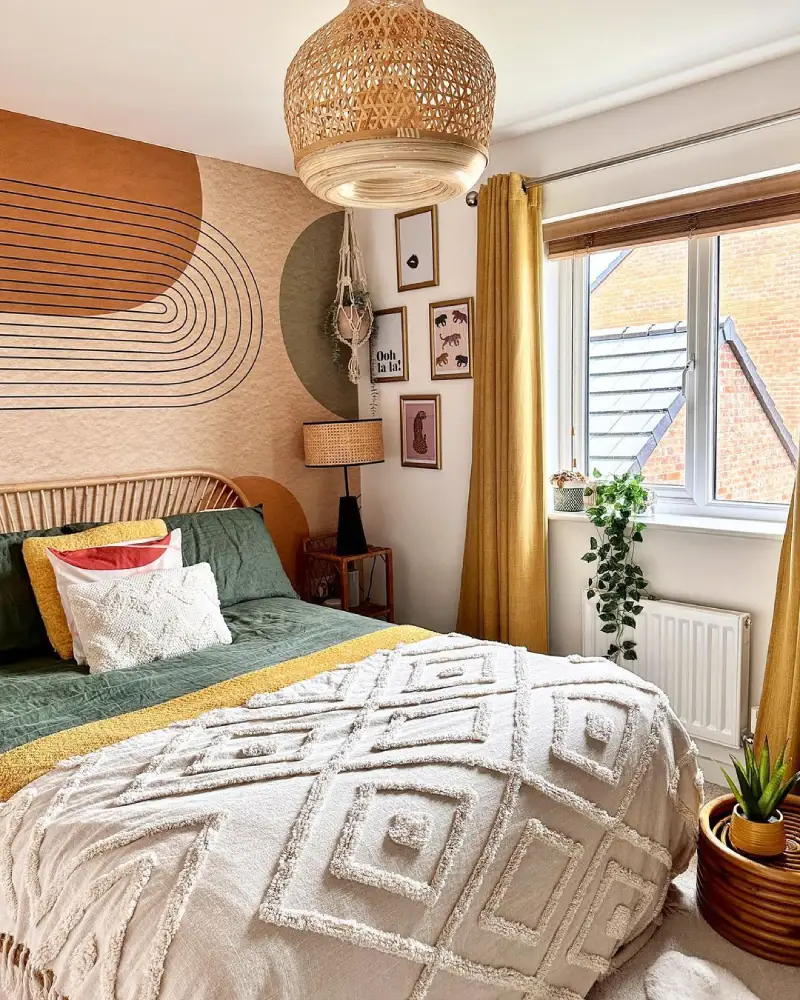 Image by @houseofchi on Instagram uses a gorgeous cream, orange, and green colour scheme along with textured duvet, pattern wall mural and weaved accessories to add a touch of bohemian charm to a teenage bedroom.
Create a boho-style bedroom for your teen, which will look mature but also fun and cozy for them to enjoy. Start with a neutral base. This could be a light-colored wall paint or a neutral-coloured rug. Then, add pops of colour with pillows, blankets, and artwork. Choose colours that are bright and vibrant, and that reflects your teenager's personality. To add texture, include throws and pillows with embossed detailing and pattern. To complete the look, include plants and fairy lights.
5. Modern teenage bedroom idea with panelling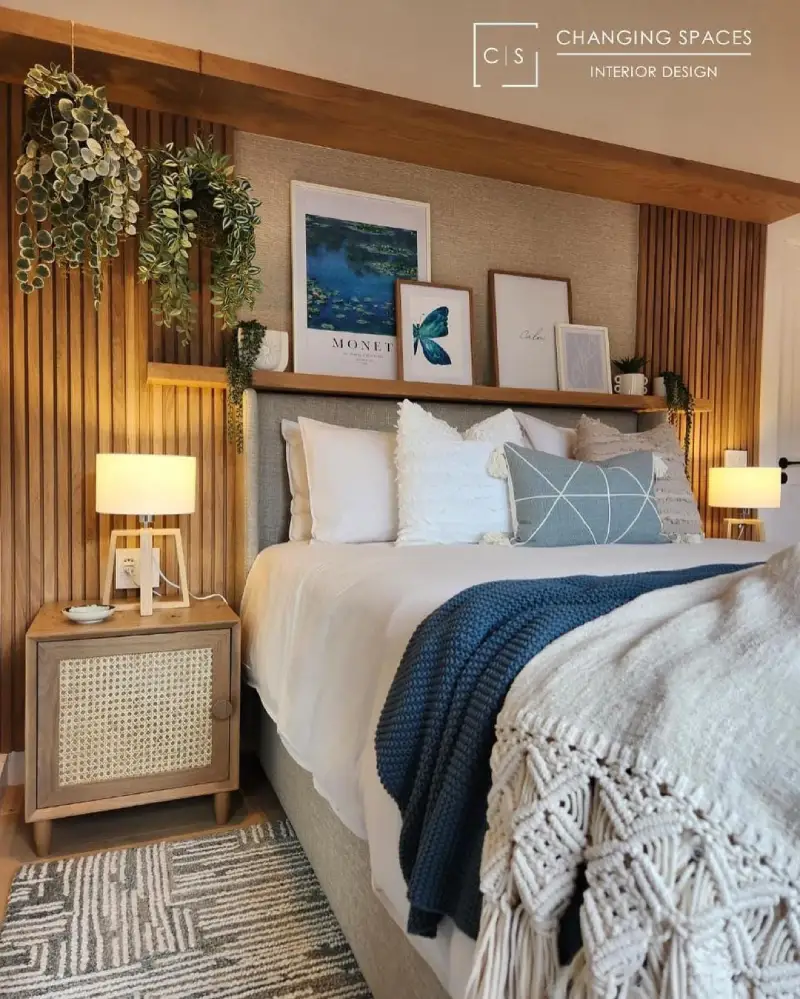 Image by @changingspacesinteriors on Instagram uses slat panelling to create a modern space to combine with a clever shelf headboard for storage and artwork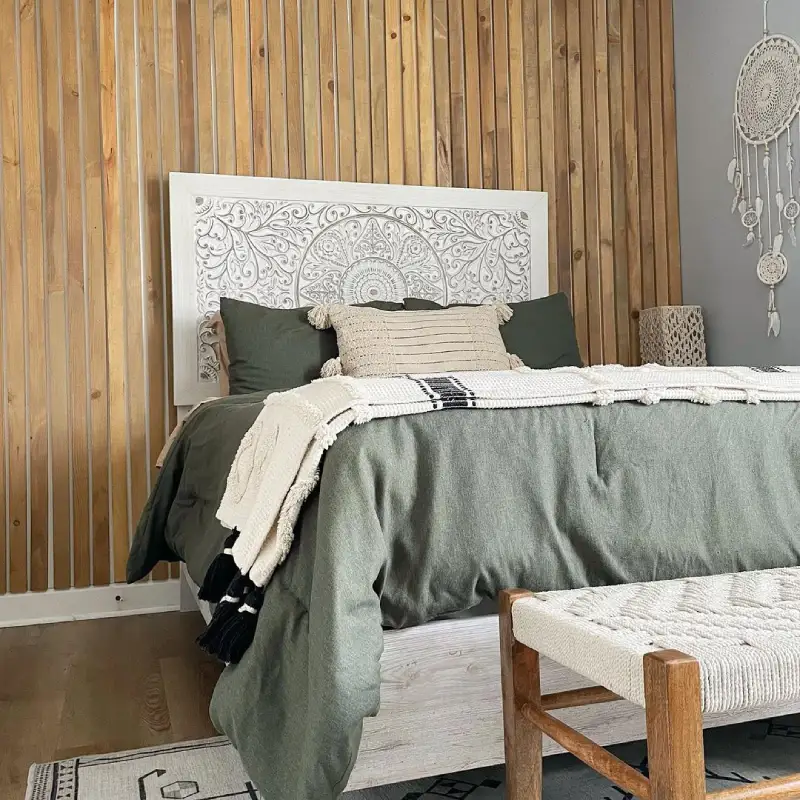 Image by @tampadesignsbyjo on Instagram uses slat wood panelling to creature a beautiful feature wall in a teenage bedroom.
Slatted panelling is a great feature for a teenager's bedroom because it is versatile to match their personality. It can be used to create a variety of looks, from modern to rustic. Whether you want to use it to cover an entire wall or just a portion of it. It can be used to create a headboard, or to partition off a space, as you can see in the idea above.
6. Pastel coloured theme teenage bedroom idea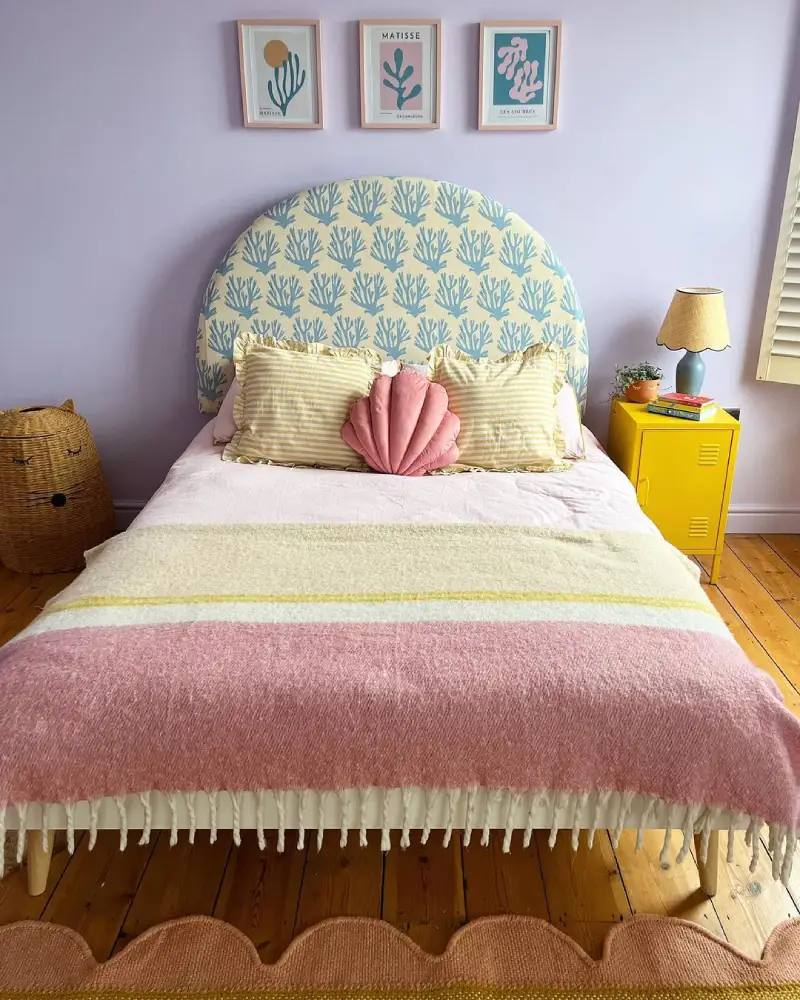 Image by @sarah.tomczak on Instagram styles a pastel purple bedroom with yellow, pink and blue for a fun teenage bedroom style
Pastel colours are a great way to add a touch of softness and femininity to a grown-up teenager's bedroom. They can also be used to create a calming and relaxing atmosphere.
Here are some additional tips:
Use different shades of the same pastel color to create a cohesive look.
Add some contrast by incorporating a few darker or brighter colors into the space.
Keep the overall design simple and clutter-free.
Make sure the room is well-lit to avoid making it feel too dark or closed in.
7. Grey teenage bedroom idea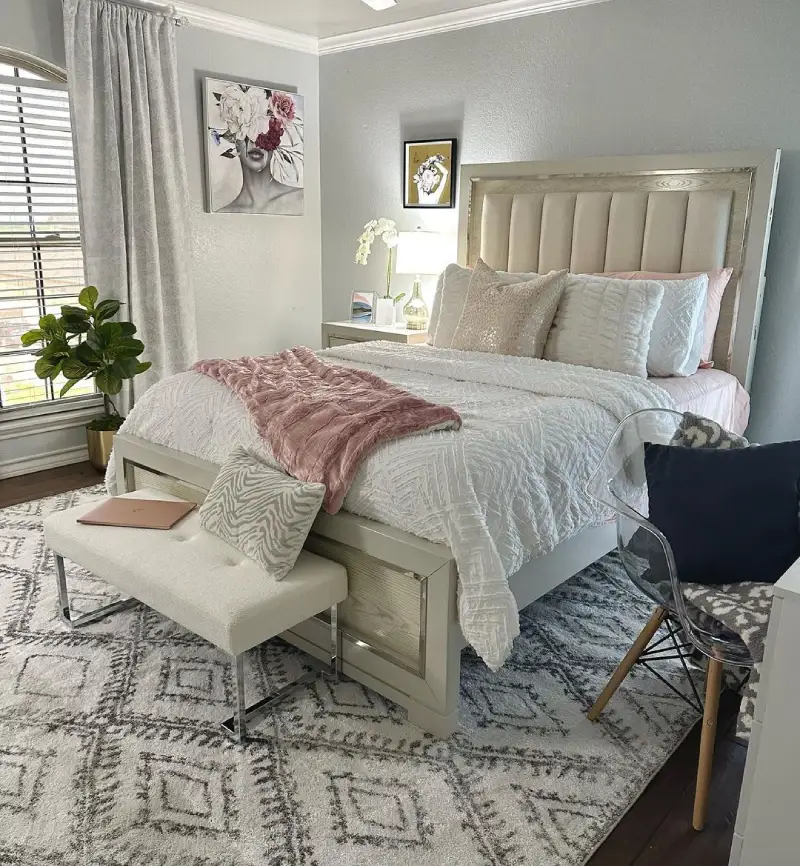 Image by @christinanicolegomez on Instagram uses a light grey colour scheme to create a mature teenage bedroom with pattern and texture through rugs and artwork to personalise the space
Grey is a versatile color that can be used to create a variety of looks in a teenage bedroom. It can be used as a base colour, or it can be used to tone down a colourful room. Grey can also be used to create a calming or energizing atmosphere.
Here are some tips for using a grey colour scheme in a teenage bedroom:
Use light grey for a calming effect.
Add pops of colour with pillows, bedding, or artwork.
Use mirrors to reflect light and make the room feel larger.
Add plants to add life and colour to the room.
Use rugs for zoning a room for multi-functional bedrooms (ie workspace and relaxing space).
8. Add a reading nook for study and relaxation in your teen's bedroom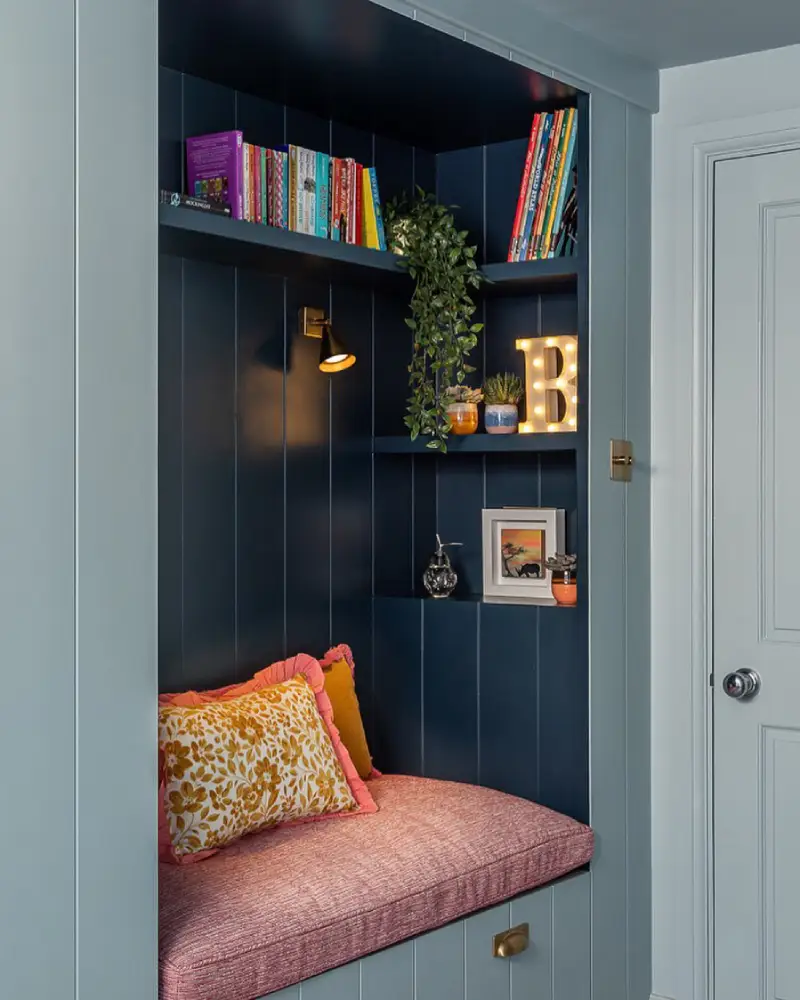 Image by @ottadesign on Instagram utilises the room's corner to create a relaxing reading nook with built-in seating and bookshelf
If you are looking for a way to create a special space for your teenager, consider incorporating a reading nook in a corner of their bedroom. It is a great way to encourage them to read and to provide them with a quiet and relaxing place to do so.
9. Modern built-in bed with storage for a teenage boy's bedroom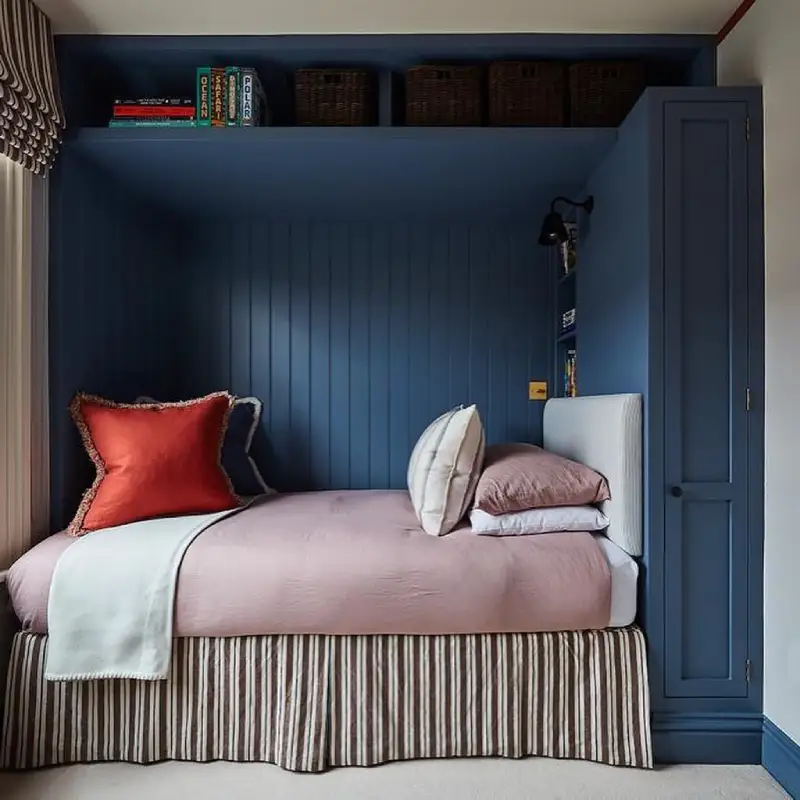 Image by @henryprideauxinteriordesign on Instagram has created a modern and sleek built-in bed for a teen boy's room with clever storage holes and cabinets that border the bed
Transform your teenage boy's room with a modern twist by designing a built-in bed with integrated storage solutions. Incorporate sleek lines through panelling, and minimalist colour scheme to create a space that exudes contemporary charm. The bed's platform design can cleverly conceal drawers and compartments, providing ample room to stow away belongings while maximizing floor space for a clutter-free environment that perfectly complements their dynamic lifestyle.
10. Nature theme teenage bedroom idea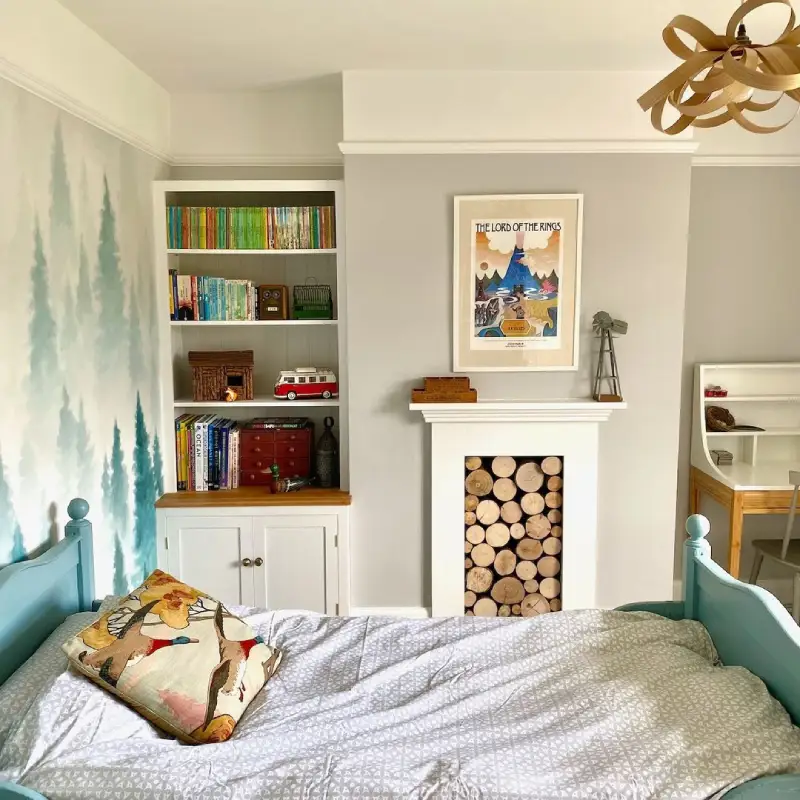 Image by @heritagetrading on Instagram with a teenage bedroom design featuring a forest accent wall and wood accents for a modern bedroom style
Infuse a breath of fresh air into your teenage boy's bedroom by embracing nature-inspired elements. Include natural materials like wood and stone to create a rustic and calming ambience. Potted or hanging plants are also a great way to introduce a touch of greenery and promote a sense of tranquility in your teen's bedroom. Consider adding nature-themed artwork or wall decals to evoke a sense of adventure and connection with the great outdoors, providing a serene retreat for relaxation and rejuvenation.
11. Keep the color palette simple for a mature teen bedroom look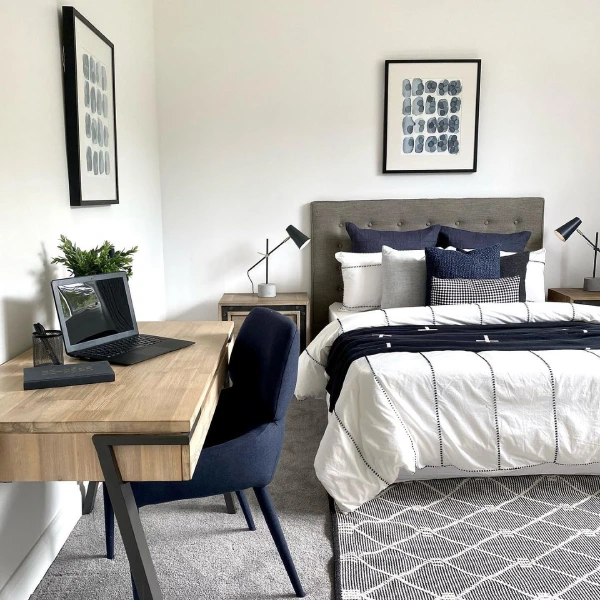 Image by @interiminteriors on Instagram using classic blue for a simple and mature teen bedroom look
If you're looking to decorate your teen's bedroom with a mature style that is timeless, consider using white and dark blue. Not only is this scheme gender-neutral, but there are lots of decor options with this colour scheme. As you can see, the image styled above infuses dark blue through artwork, bedding and a rug to tie in the mature theme while looking elegant.
Enjoyed these ideas? Find more bedroom inspiration below!
[caf_filter id='10852′]