Pink is a wonderful bedroom colour as it can be used to convey a range of feelings for your space. For a calming bedroom, choose pastel pink, or mid-pink to red for a romantic bedroom look.
In this article, we explore different ways that you can decorate your pink bedroom, including paint colour choices, accessories, and decor options. 
Add a pink chair and artwork for a pinktastic bedroom reading nook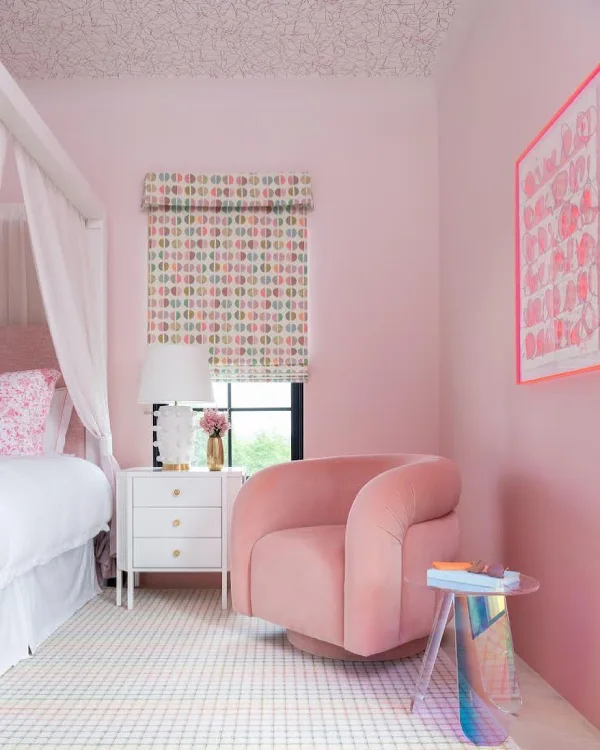 Photo by @kristennixinteriors on Instagram / Photography by Michael Hunter
Incorporating pink furniture into your bedroom can add a sense of fun to the space. Take a look at this pink bedroom design by Kristen, where she's layered pink through artwork, and quirky furnishings to create a fun reading and relaxing space in the bedroom. By using similar tones of pink, the room has a calm and cohesive feel about it that allows colour to be used throughout, without being overbearing.
Use pink patterned wallpaper to add visual interest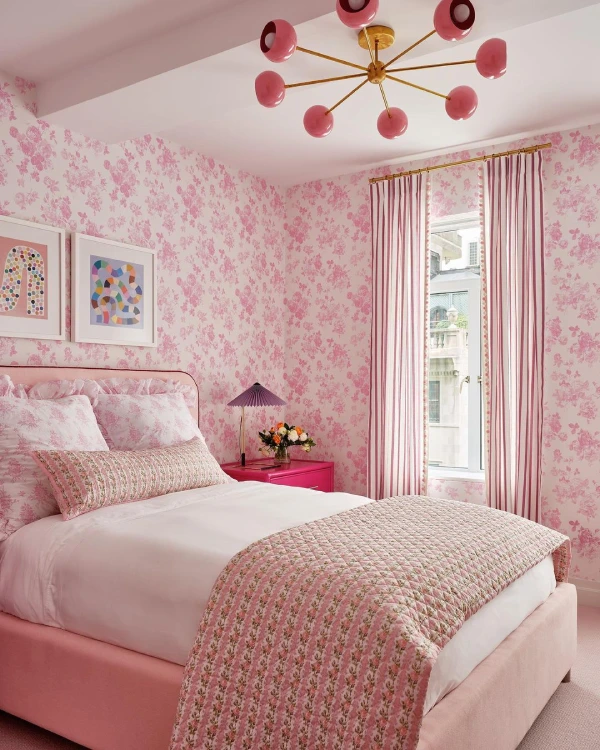 Photo by @changoandco on Instagram
If you love LOTS of pink, don't hold back when it comes to decorating your bedroom. As you can see from the image above, the use of pink through patterned wallpaper, blankets and artwork can really transform the use of pink in your room. The trick is to use it wisely: keep the patterns somewhat similar and use them interchangeably, like this example by Chango & Co where the wallpaper is carried through onto the bedding and framed artwork to break up the wall.
Try pastel pink for a romantic pink bedroom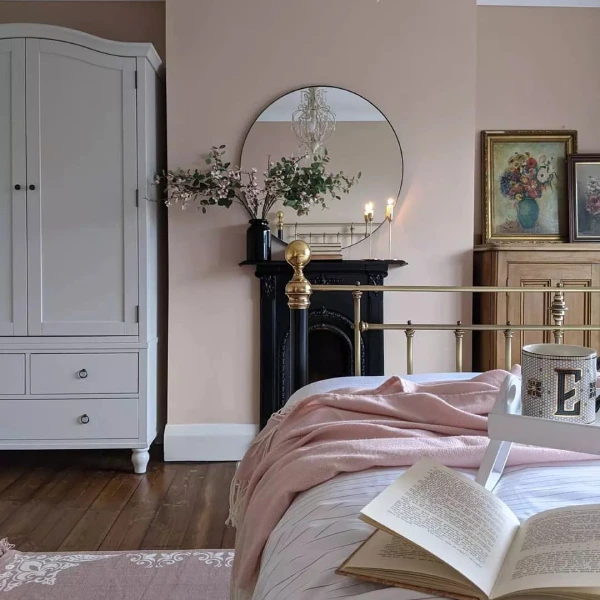 Photo by @cornishbedco on Instagram
Pink is a wonderful colour to add a touch of romance to your bedroom, just like this gorgeous Victorian-style bedroom that features a muted pink wall. The elegant furniture in this space brings the romantic chic theme together, with French-style wardrobes and the metal bedframe that adds a touch of glam.
Add a gallery wall to compliment your pink bedroom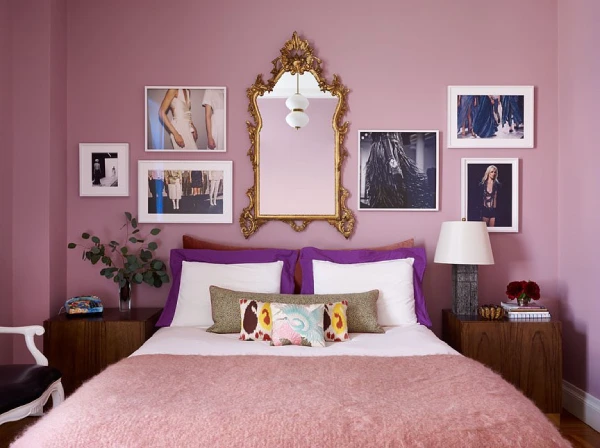 Photo by @kimilletaylor on Instagram / Photographer: Josh Mchugh
Do you love the idea of a pink bedroom but want to include other colours as well? A great way to do this is to include a gallery wall above your bed. It not only gives more interest to a pink wall, but it breaks up the walls by giving visual interest. We love what Kimille has done with this space, and using white frames adds a pop of brightness to the space in a modern way. Also, how can we forget to mention the statement gold framed mirror which adds a touch of glam to the space?!
Use light pink to make a small bedroom look spacious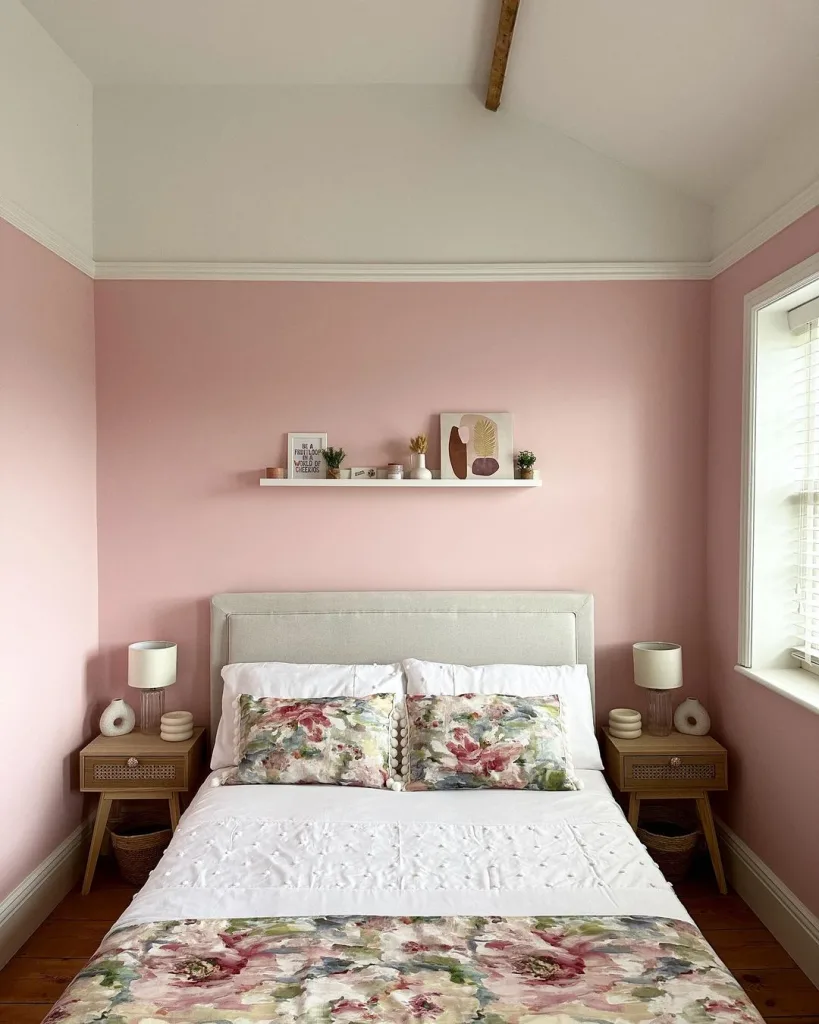 Photo by @_old_court_house on Instagram
Using colour in a small space can actually make it appear bigger. If you want to infuse pink into your small bedroom, take note of the bedroom design above. It uses clever paintwork where all walls are coloured and three-quarters of the way up you border the room with white. The white paint goes against the wall lines, which plays a trick on your eyes to make the walls seem taller by elevating the ceiling.
Use pink decor to layer the colour for a cohesive look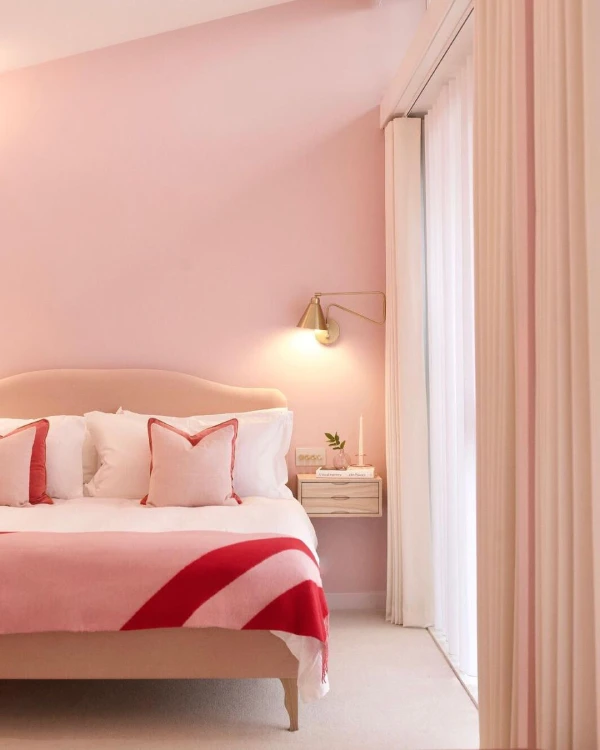 Photo by @topology.danielle / @topologyinteriors on Instagram
Go all-in with pink in your bedroom by using decor to your advantage. Mix and match various shades of pink to create a monochromatic look which will make your space feel and look cohesive and intentional. This pink bedroom design uses soft pink and layers the colour throughout the room by using a few tones darker and lighter to make it all tie in well together.
Dusty pink is great for a subtle pink bedroom style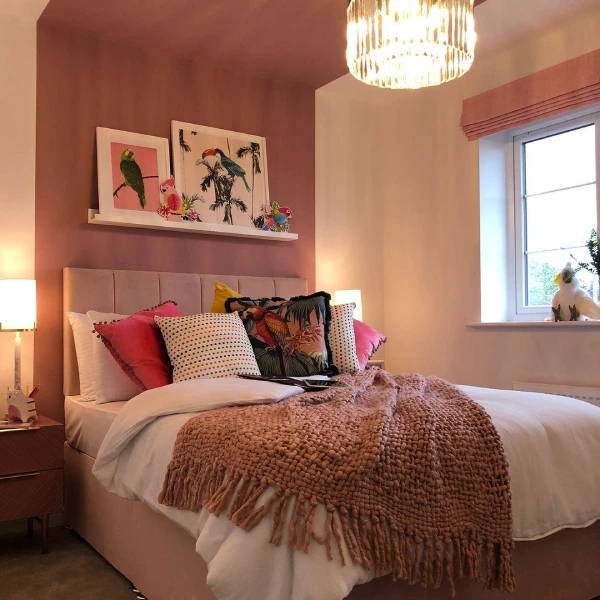 Photo by @owlhomes on Instagram
With so many different shades of pink out there, it can be hard to find the perfect one for you. If you're looking for something subtle and less on the vibrant pink side, why not consider dusty pink? This shade is soft and calming and works well with accent lighting for a calming space. We love this dusty pink bedroom look above, which lays around with paint in a fun way across the walls and ceiling to frame the bed as a focal point.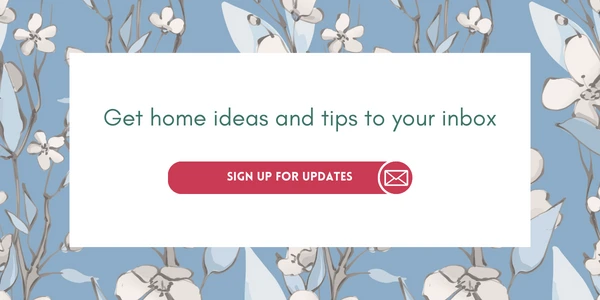 Bring your pink bedroom to life with a bespoke headboard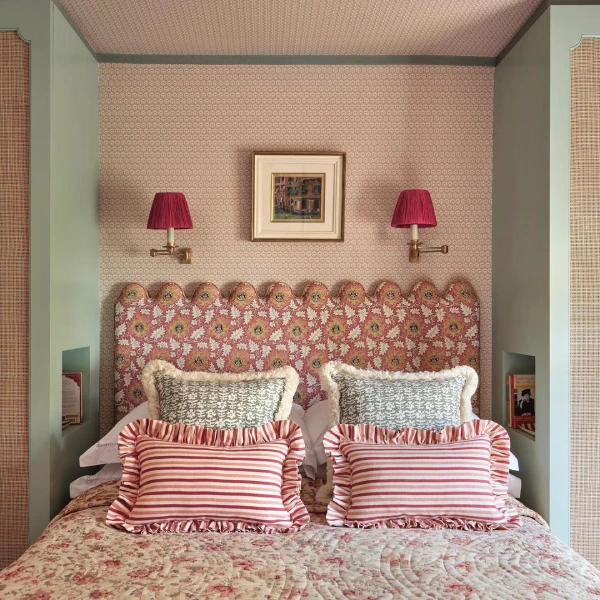 Photo by @oakleymooreinteriordesign on Instagram
If you love being creative, why not give your headboard a makeover with a fun pink fabric? Upholstering your existing items such as a chair, lampshades and curtains can add a touch of individuality to your pink bedroom that will make it personal to you. We think this mix and match of fabrics from the design above is unique and full of character which is why it stands out and is visually interesting.
Pink goes well with Victorian and eclectic interior styles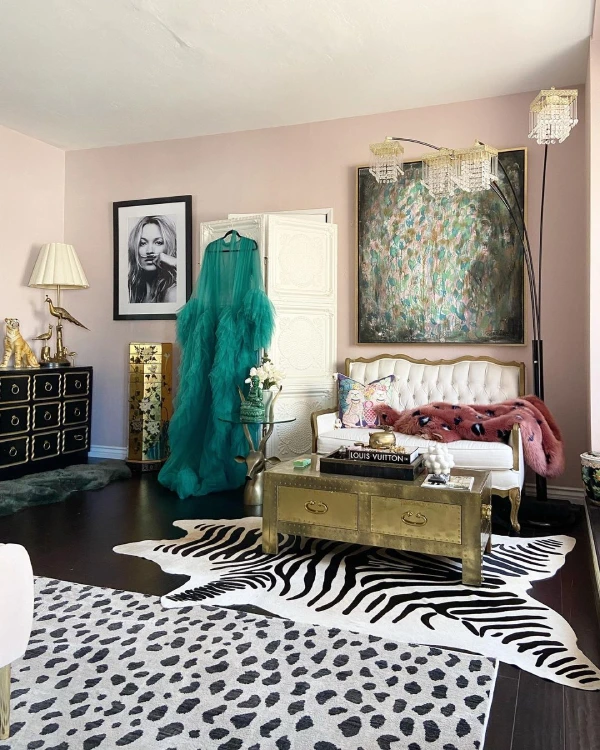 Photo by @lagirl310 on Instagram
Eclectic and Victorian styles are great for pink lovers. This colour is used a lot throughout these interior design styles and for good reason. Whether you want to go bold or soft, pink is a great base and accent colour to go to the max with your decor choices. The bedroom design above shows how you can take a soft pink colour and mix it up with lots of different decor elements, like animal print rugs, large artwork, and mix-and-match furniture.
Combine pink and black for a sophisticated bedroom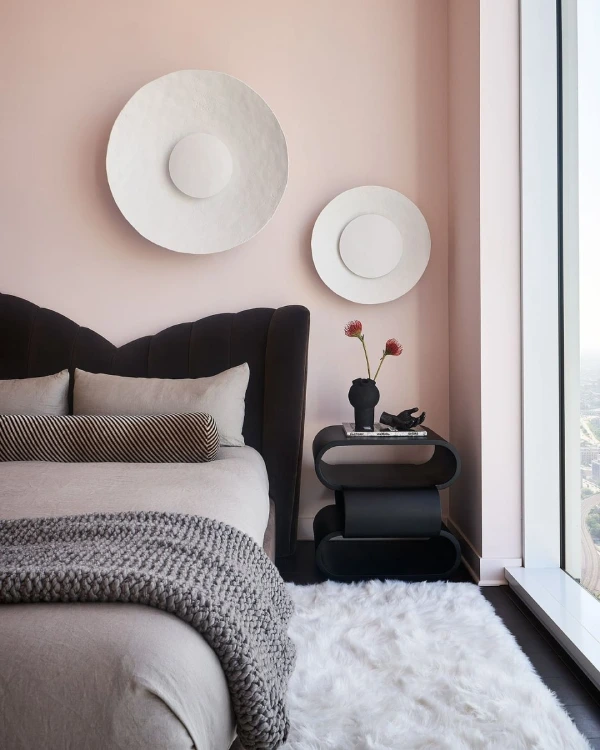 Photo by @studiosven on Instagram
Pink and black are a match made in heaven when it comes to decorating your space, and for a sophisticated bedroom scheme, light pink and bold black work wonders! We love this elegant and muted pink bedroom design by Studio Sven, which uses black elements to compliment the soft pink walls for a contrasting look that is still calming to the eye.
Use pink as a statement look in your bedroom for a bold design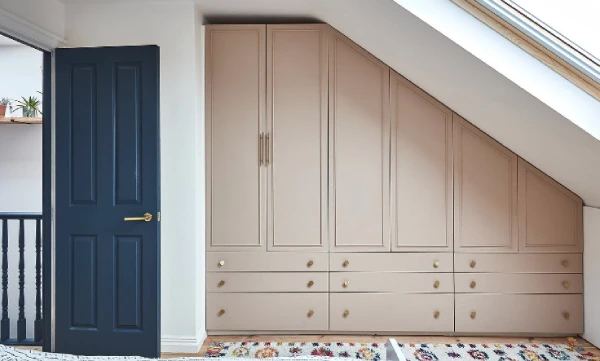 Photo by @therowe on Instagram
To make a space look more interesting, adding purpose-built storage to your bedroom is a great hack to consider. Especially if your room has awkward angles, like this loft bedroom which cleverly uses the sloped roof to add a custom wardrobe. We love the soft pink colour against the crisp white walls which gives it that statement look without being too vibrant and clashing.
Conclusion
Now that you have the options of the many shades of pink you can use in the room, which will you choose? Whether you decide to go neutral in your bedroom with pastel or mid-pink shades and add in decor and accessories, or you decide to go eclectic with vibrant pink and quirky furnishings, the option is all yours. Either way, pink is a fabulous colour choice for your bedroom which can still look sophisticated and mature as an adult.
[caf_filter id='10852′]