All the (light) shades of grey to inspire your next bathroom project…
Are you considering going grey in your bathroom? Whether it will be your primary colour scheme, or in addition to a neutral colour palette, these ideas will help you come up with your own interior design on how your bathroom can look.
Not sure where to start with your next project? We can help with our online style board service. 
Light grey bathroom wall ideas
Explore the many ways you can incorporate light grey on your walls below. From paint to tiles and a mixture of both. We hope the below bathroom ideas inspire your next project.
Light grey bathroom paint with white panelling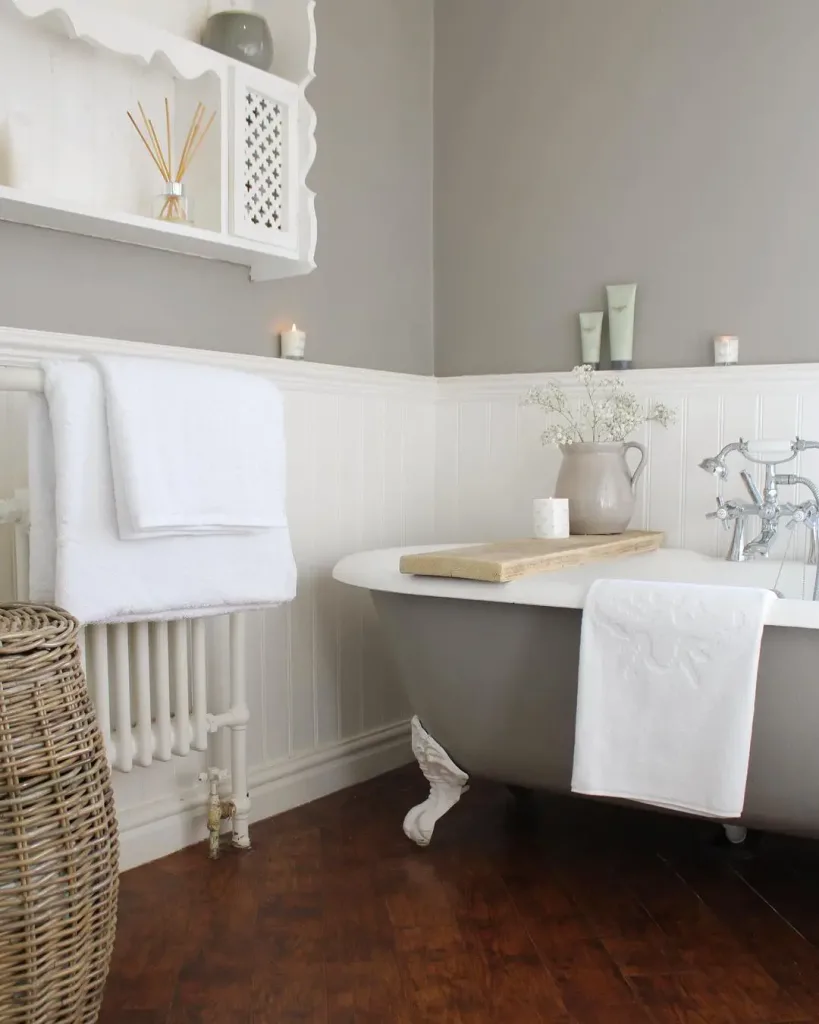 Grey bathroom with panelling by @sammiesvictorianhome on Instagram
Break up light grey walls in your bathroom with slat wall panelling for a modern and chic look. This works really when you have a grey bathtub as the white walls have a striking contrast to them that gives the space more light and an airy feel.
Light grey bathroom tile idea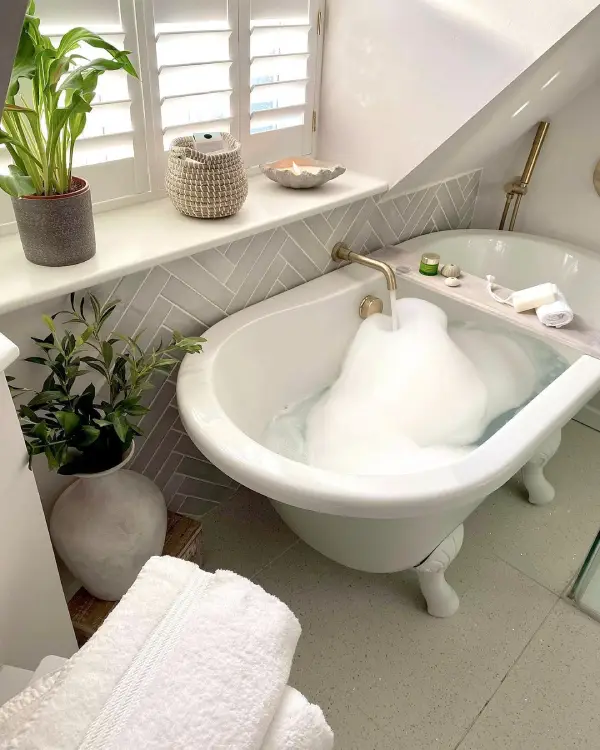 Grey loft bathroom by @lifeat_rosecottage on Instagram
For timeless elegance, consider using light grey tiles as a statement wall against your bathtub. This is great for small or large bathrooms as it adds visual interest while keeping your space watertight too!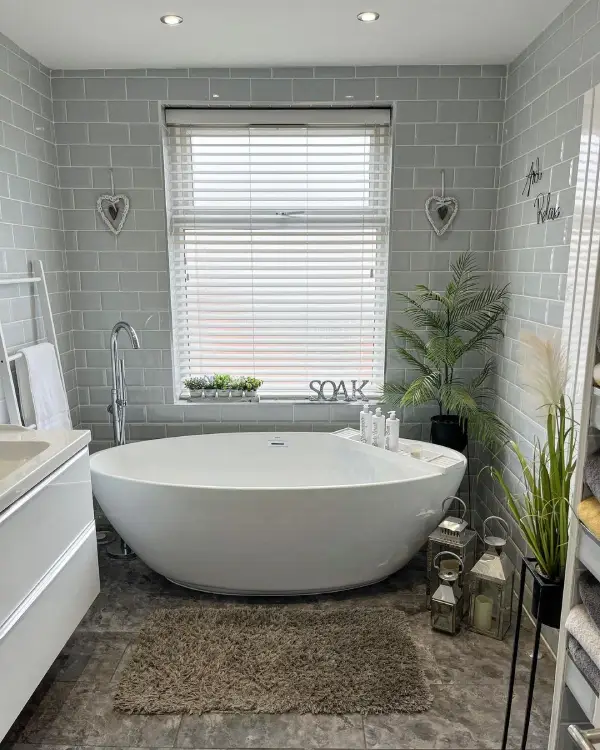 Urban style grey bathroom by @home_sweet_morris_home on Instagram
Embracing light grey metro tiles on all walls of your bathroom can bring a sense of urban sophistication with the distinct rectangular shape of metro tiles. This design choice can visually expand your bathroom, making it feel open and welcoming.
Light grey bathroom walls and flooring idea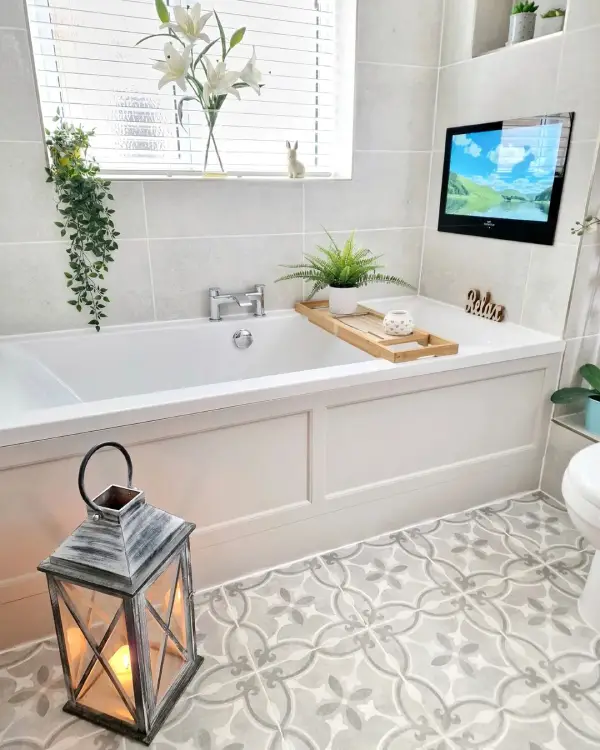 Light grey bathroom with pattern floor by @our_sandal_home on Instagram
If you're wondering what flooring you should go for when designing the scheme and style for your bathroom, keep it cohesive if you don't want to play with too much colour. Grey is a great choice as it's calming and works well with white and neutrals. If you do love patterns, introduce grey and white floor tiles, like Jo has done above which adds visual interest to the space in a neutral way.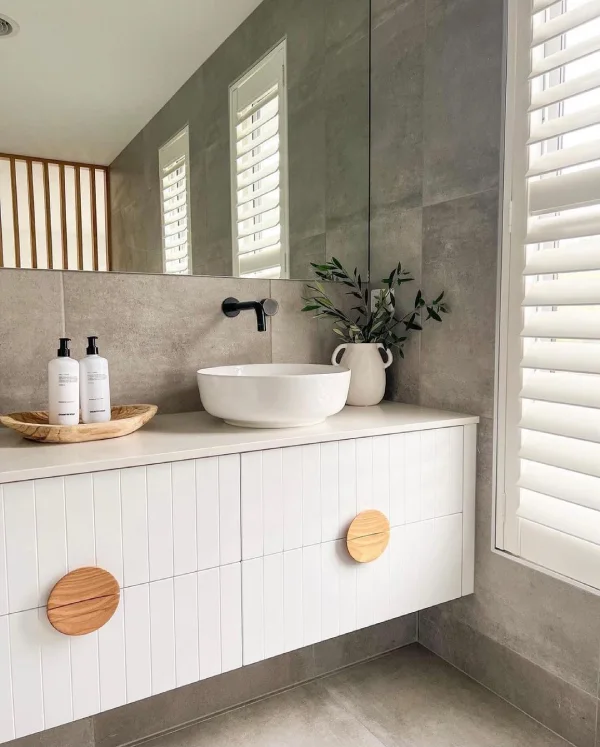 Modern light grey bathroom by @albedor_industries on Instagram
Alternatively, if you want to keep it simple, go all in with a fully tiled grey bathroom like this modern design above. By using the same floor and wall tiling, you create a seamless look which can also make your space appear bigger, as it tricks the eye where wall joins meet. Complimenting a light grey bathroom with mirrors and light furnishings will brighten up your bathroom too!
Half grey and white bathroom idea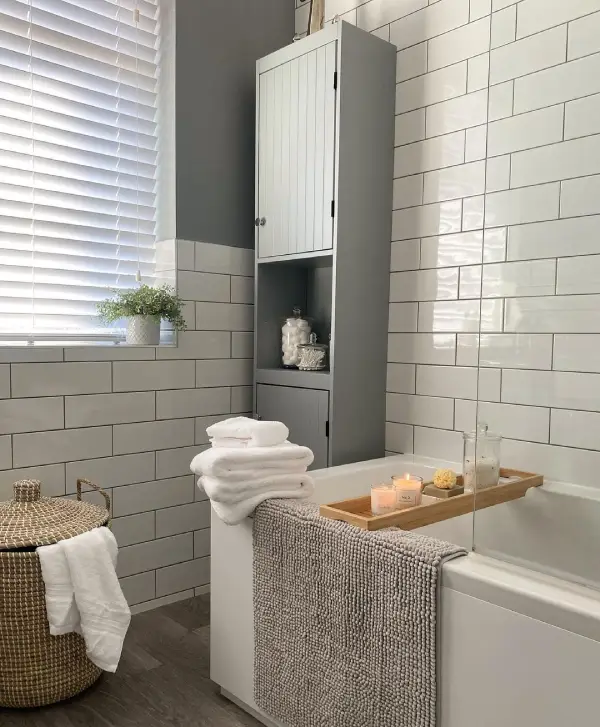 Modern grey and white bathroom by @athomewiththelloyds on Instagram
Breaking up a bathroom wall with a dual-tone approach, using grey paint on the upper half and white tiles on the lower half, adds visual interest and enhances the space's overall aesthetic. The grey upper walls give a sense of depth and coziness, enveloping the room in a soothing ambience. In contrast, the white tiles on the lower half introduce brightness and cleanliness, creating an airy and refreshing atmosphere. This combination helps visually expand the room while maintaining a balanced and harmonious feel.
Monochromatic light grey bathroom wall idea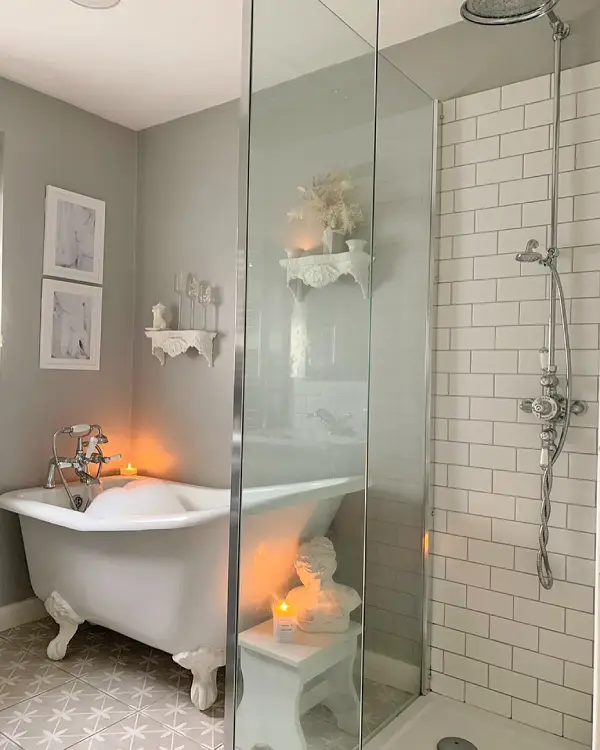 Calming all-grey bathroom by @our_grey_bungalow on Instagram
Opting for a monochromatic light grey scheme in a bathroom is a brilliant choice that brings a sense of serenity and elegance to your space. The consistent use of light grey tones creates a seamless and cohesive atmosphere, promoting a visually harmonious environment. This approach not only lends a modern and sophisticated look but also maximizes the perception of space, making the bathroom feel more extensive and open.
Light grey bathroom fixture ideas
Looking to enhance your grey bathroom with the final touches? Fixtures can really complete the look and we delve into some colour and fixture choices to help you imagine what your dream bathroom could look like.
Silver bathroom fixtures in a light grey bathroom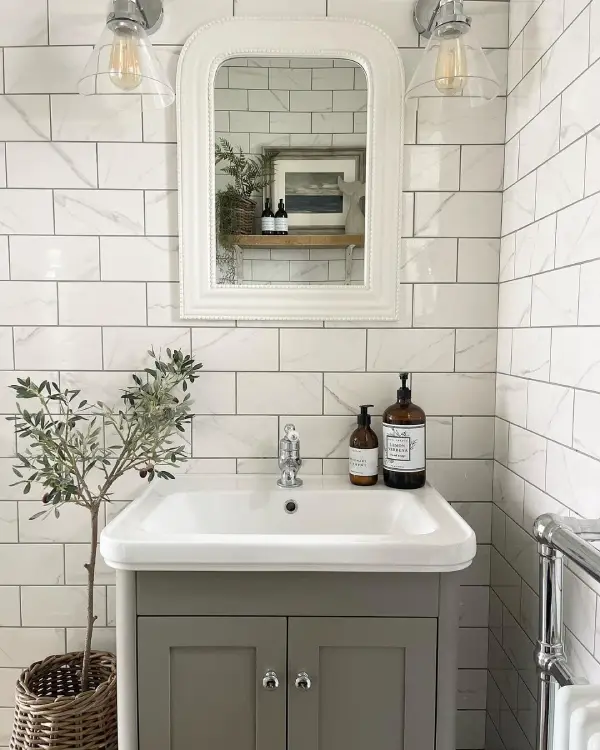 Modern bathroom vanity by @featheringournest on Instagram
Using silver bathroom fixtures in a light grey bathroom is a great design choice for keeping your space light and airy. The reflectiveness of the metal fixtures will make the light bounce around the room to feel brighter. Furthermore, silver bathroom fixtures give the space a touch of elegance as they will be less noticeable and work seamlessly in the overall design.
Gold bathroom fixtures in a light grey bathroom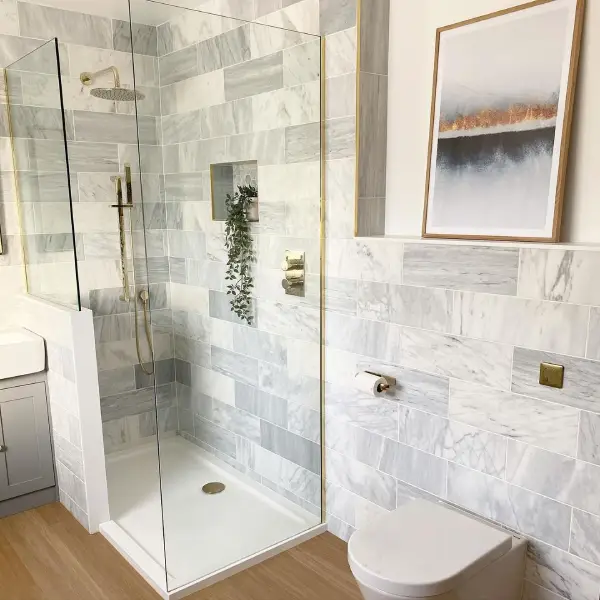 Grey and gold bathroom by @lauraccrombie on Instagram
Infusing gold bathroom fixtures into a grey bathroom can add a touch of luxury. The warm, radiant tones of gold against the cool, calming backdrop of grey work together for a unified look of cool and warm colours in your space. We love how the artwork in Laura's bathroom completes the look and colour scheme for those final decor choices.
Use grey cabinets to break up a white bathroom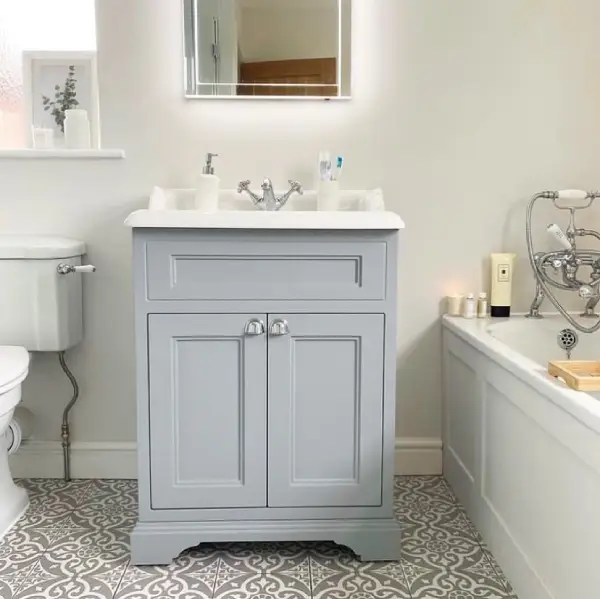 White and grey bathroom by @ourspringfieldhome on Instagram
Are you looking to spruce up a white bathroom? Adding storage, like this gorgeous vanity cabinet above is a great way to incorporate grey into your bathroom design. We also love the silver fixtures from the taps on the vanity and tub that bring the look together. Another great trick is making sure you have a large mirror in your grey bathroom to make the space feel bigger (and a bonus if it's a light-up mirror!).
Conclusion
There you have it, all the ways that you can style a light grey bathroom in one complete guide. From grey bathroom wall choices including tiles and paint, to monochromatic schemes and panelling that can contribute to a grey bathroom. We also looked at bathroom fixtures and how they can complete a look, whether it is the choice of taps or cabinetry to harmonise the bathroom.
If you're looking for style inspiration for your bathroom, check out our online style board service or sign up for our emails to receive free tips in your inbox.
[caf_filter id='11213′]