When it comes to designing your bathroom, every decision you make counts. One particular design trend that has been gaining immense popularity is wall panelling. Wall panelling, often associated with traditional aesthetics, has made a stylish comeback and is now being embraced in modern and contemporary bathrooms alike. But is wall panelling in a bathroom really a good idea? Let's explore the benefits, practicality, and design possibilities that wall panelling can bring to your bathroom oasis.
The Benefits of Wall Panelling in a Bathroom
1. Enhanced Aesthetics
Wall panelling instantly adds character, depth, and texture to any space, including your bathroom. Whether you opt for classic wood panelling, sleek and modern PVC panels, or elegant marble-effect options, the possibilities are endless. With a wide variety of styles, colours, and finishes available, you can customise the panelling to match your personal taste and create a bathroom that reflects your unique style.
2. Moisture Resistance
One common concern when it comes to wall panelling in a bathroom is its ability to withstand moisture. Fortunately, modern wall panelling materials are designed with this in mind. Waterproof and moisture-resistant options such as PVC or composite panelling are readily available, ensuring durability and longevity in a wet environment. Proper installation and regular maintenance will further protect your panelling against moisture-related issues.
3. Practicality and Easy Maintenance
Bathrooms are often subjected to splashes, spills, and humid conditions. The practicality of wall panelling in such spaces is a major advantage. Unlike traditional paint or wallpaper, panelling is easier to clean and maintain. A quick wipe-down with a mild detergent and a damp cloth will keep your wall panelling looking fresh and free from mould or mildew. Additionally, panelling can also act as a protective barrier for your walls, safeguarding them against potential water damage.
Tips for Incorporating Wall Panelling into Your Bathroom
Adding character to a modern home
If you love the blend of modern and periodic features, panelling is perfect for your bathroom. If you've got a bathtub,consider using panelling to add character around this feature to really bring out the characteristics. It can add the finishing touches to your space without over decorating the walls with colour and artwork, for an understated look.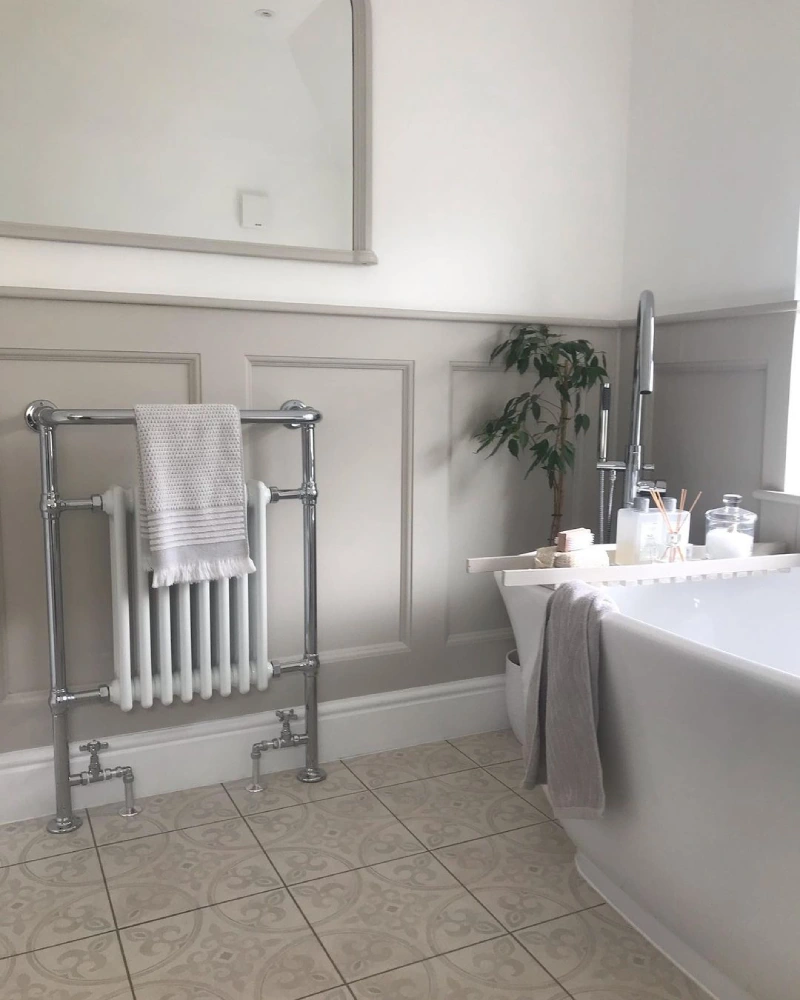 Image by @renovation_no70 on Instagram creates a modern bathroom look with panelling to frame a curvacious tub.
Strategic Placement
Consider the layout of your bathroom when deciding where to install wall panelling. Focus on areas that will benefit most from a visual statement or areas that need protection from moisture, such as around the bath or shower enclosure. You can also choose to panel the entire bathroom for a cohesive look or use it as an accent element on a feature wall.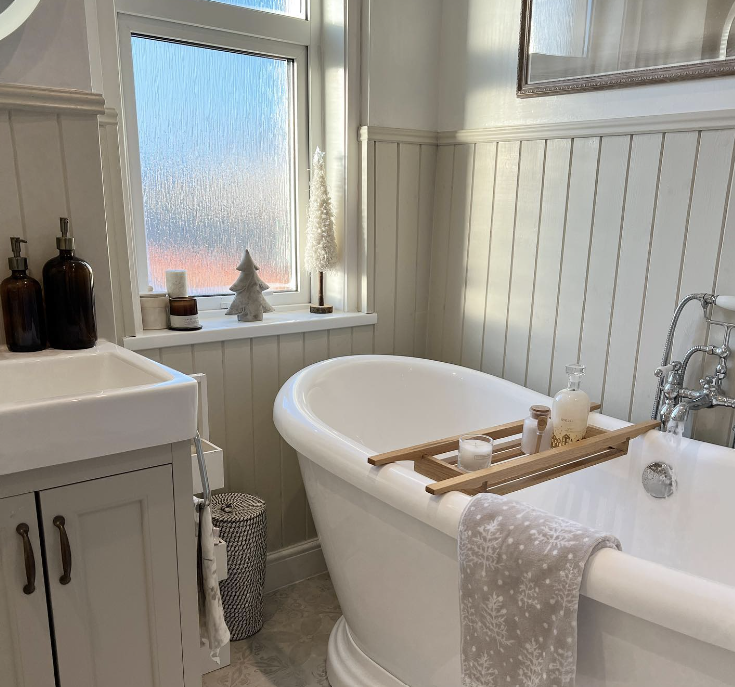 Border your bathtub with slat panelling to give your statement tub an elegant backdrop / Image by @homesweethaven_no.22 on Instagram
Dark country asethetic using white panels and dark blue walls / Image by @oliveandames on Instagram
Mixing Materials and shapes
Don't be afraid to mix and match materials, and play around with shapes to create a unique look. Combine different textures, such as wood with stone or glass, to add visual interest and depth. This combination can create a stunning focal point that enhances the overall design of your bathroom. Furthermore, introduce curved elements to soften square and line panelling for a soft bathroom style.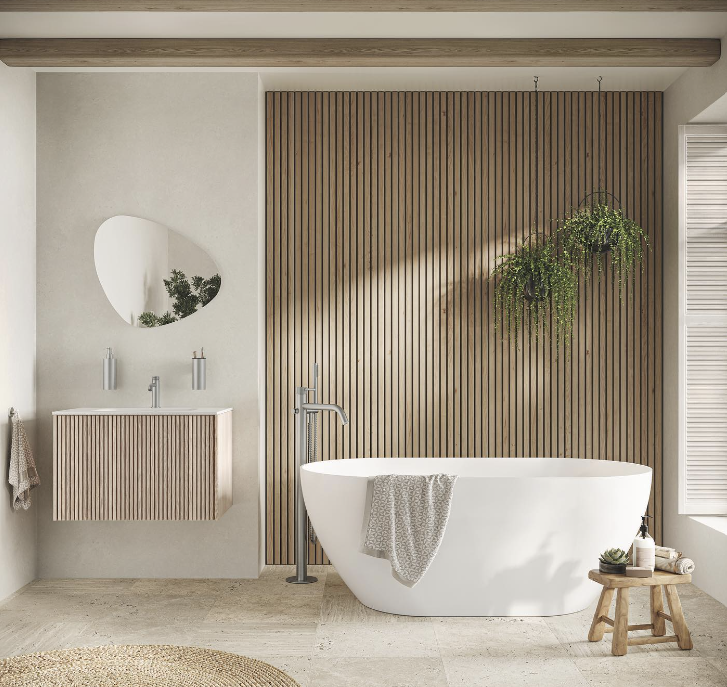 Use curved decors such as custom-made mirrors and rugs to soften straight-line panelling for a calming space. Image by @Waterloo.ie on Instagram
Lighting Considerations
Pay attention to lighting when planning your wall panelling. Incorporate well-placed lighting fixtures, such as wall sconces or recessed lights, to highlight the beauty of the panelling and create an inviting ambiance. Proper lighting can accentuate the texture and details of the panels, elevating the overall aesthetic appeal.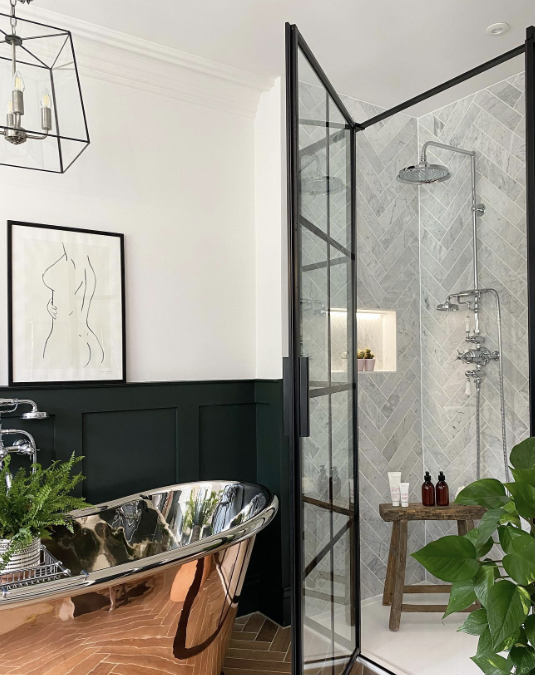 Beautiful bathroom with lots of texture and design elements, such as the chandelier over the bath that connects to the design of the panelled shower / Image by @reviving_no37 on Instagram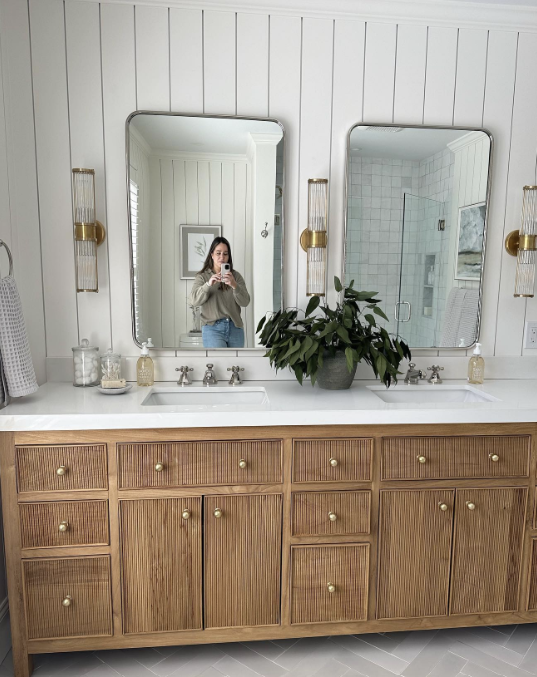 White panelling against a twin vanity with large mirrors to make the space feel open and airy / Image by @pennyandpearldesign on Instagram
Use panelling as a way to introduce colour into your bathroom
A great solution for sprucing up your bathroom walls is to introduce panelling to your space. Especially if you have an all-white bathroom. It can often look overly sterile, but by introducing panelling into your bathroom you can add texture and depth instantly.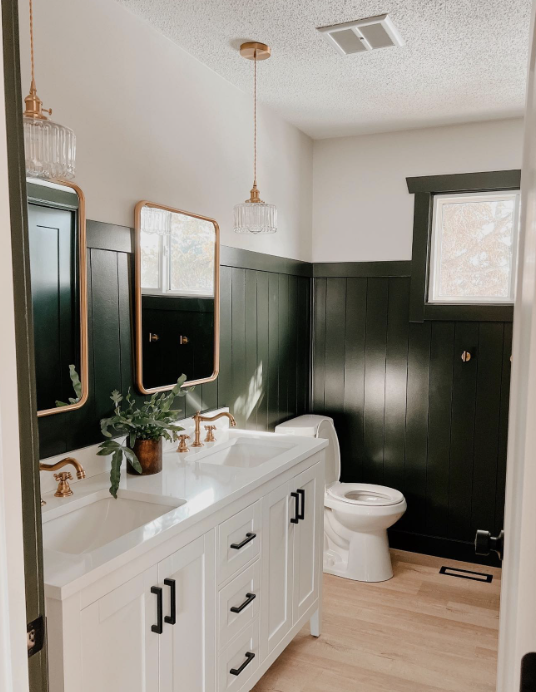 A pop of green is added to a white bathroom to create a gorgeous green contrast that brings out the gold fixtures and decor for a sophisticated bathroom / Image by @mybeautyrevival on Instagram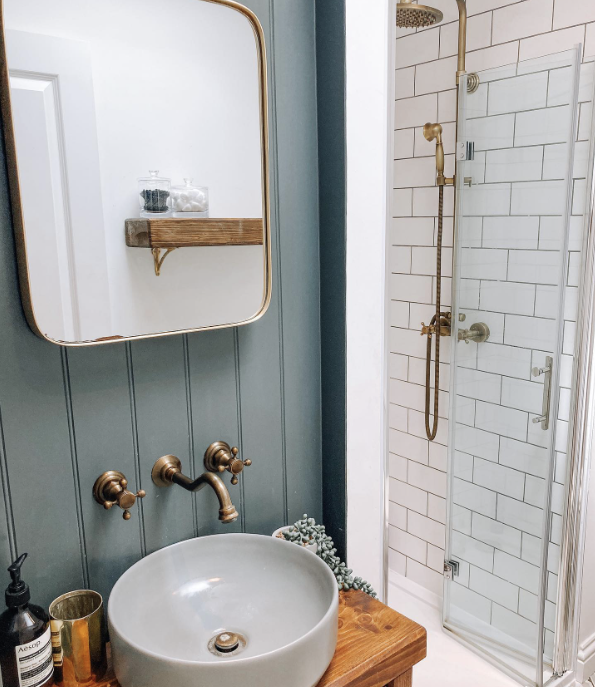 Blue panelling as a backdrop for the vanity with bronze accents and wooden furnishings for a modern industrial style bathroom / Image by @kateshomeloves on Instagram
As an addition to the character of your bathroom
If you love to add lots of character to your space and are wondering whether the bathroom is the right place to add panelleing, why not consider using it on part of your wall? If your bathroom layout has awkward windows or walls, you can still add panelling to enhance your space. Furthermore, if you're looking to add charm to a Victorian-style home, panelling is excellent for this.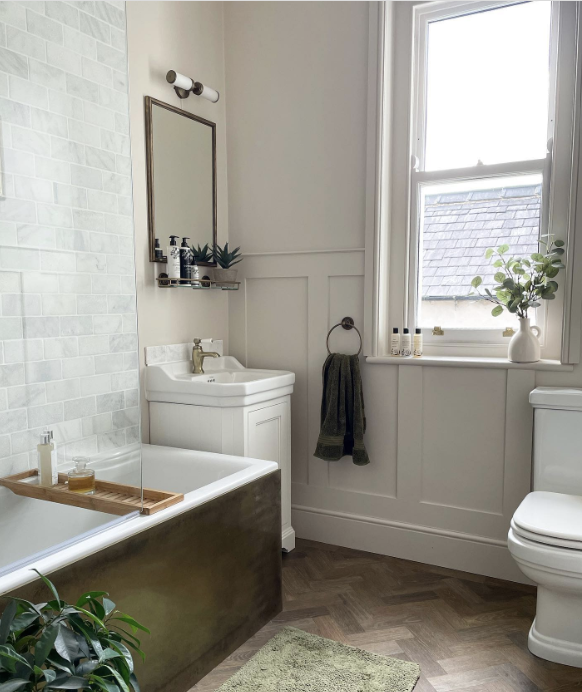 Amelia has panelled part of the wall to warm up the white walls without overstyling / Image by @amelia.home
Shiplap panels for farmhouse charm
Using shiplap in a bathroom is a design choice that brings a touch of rustic charm and coastal vibes to the space. Shiplap, with its distinctive horizontal wooden planks, adds texture, visual interest, and a sense of warmth to the bathroom walls. Whether you opt for natural wood tones or paint it in a crisp white, shiplap can create a relaxed and inviting atmosphere, making it a popular choice for those seeking a cozy and timeless bathroom aesthetic. Its durability and ability to withstand moisture make shiplap a practical option that can withstand the humidity and occasional splashes that come with bathroom use.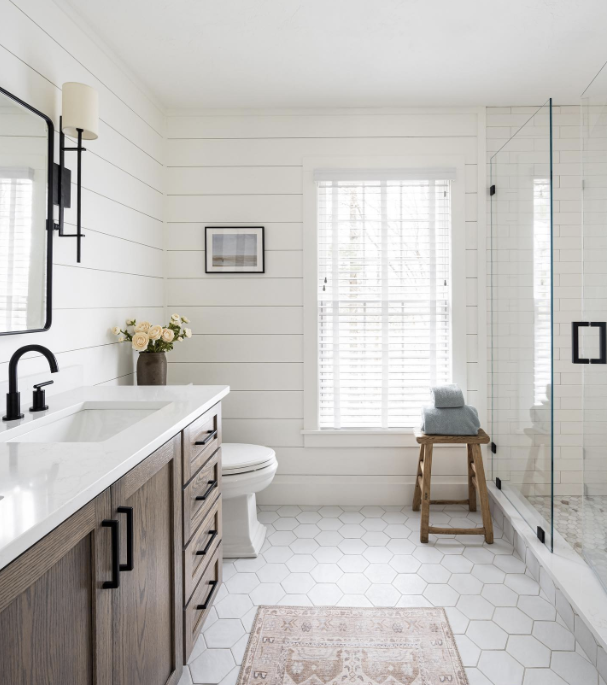 White shiplap matched with dark brown furnishings for a country charm bathroom that feels open and airy / Image by @oliverjames_interiors on Instagram
Conclusion
Wall panelling in a bathroom is more than just a good idea—it's a brilliant design choice that offers numerous benefits. From transforming a dull space into a stylish sanctuary to providing practicality and easy maintenance, wall panelling proves its worth in modern bathroom design. Remember to choose moisture-resistant materials, strategically place the panelling, and consider mixing materials and lighting to maximize its impact. Embrace the versatility and charm of wall panelling and take your bathroom design to new heights!
Incorporating wall panelling in your bathroom will not only make a striking statement but also create a space that exudes elegance, functionality, and timeless appeal. So, go ahead and explore the myriad of possibilities that wall panelling offers, and let your bathroom become the ultimate sanctuary you deserve.
How do you Style Your Sanctuary?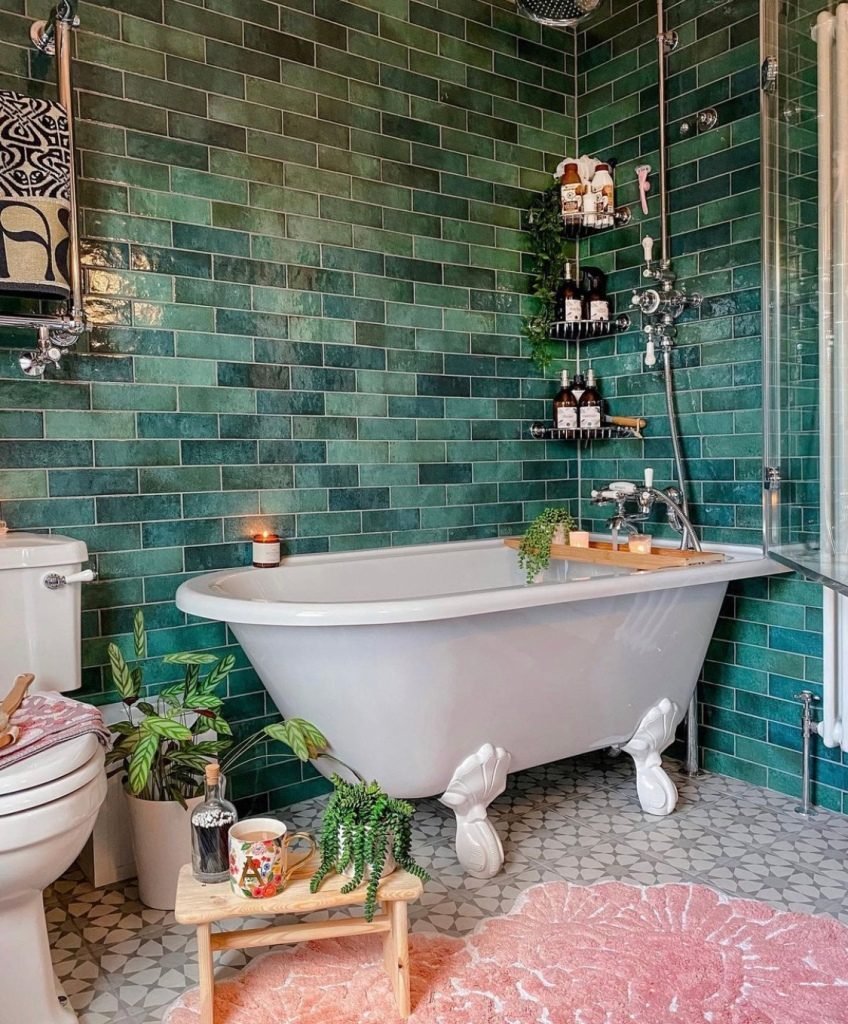 Advice Bathroom Bedroom Decor Inspo DIY and renovation Garden Interior Trends Kitchen Living Room Uncategorized