Colour your bathroom with nature's palette
Green is a great colour for bathrooms as it can be calming and serves as a base colour for your interiors. Whether you're looking for green bathroom tile ideas, wall colour choices or ways on how to style a green bathroom, our ideas below will help you on your way to create the bathroom of your dreams.
Read on to see our gorgeous green bathroom ideas to make your space stand out.
Brighten up your toilet space with a dark green feature wall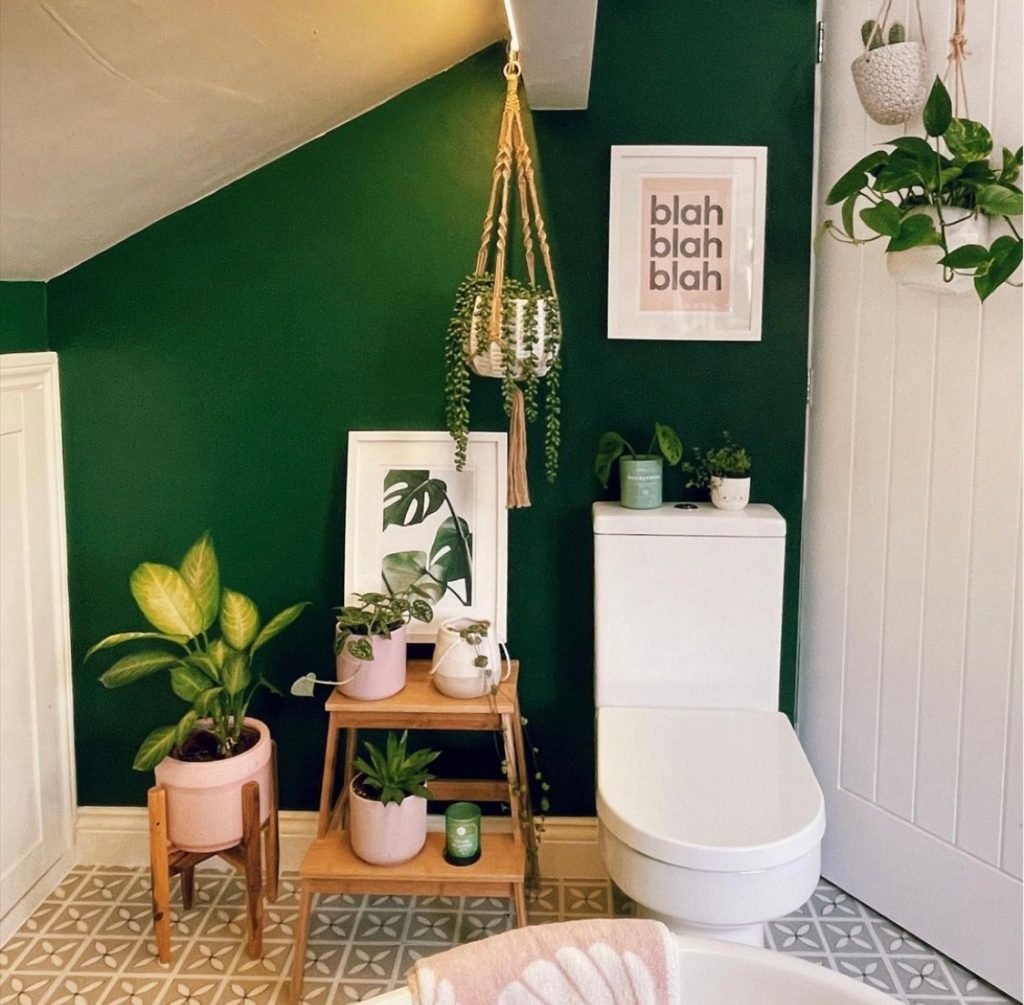 Let's face it, the toilet isn't the most attractive part of the bathroom, but we love what @alexandralouisewu has done to make the space pop with colour. This gorgeous tropical green accent wall makes the bathroom come to life with a warm dark green shade.
"Featuring a variety of leafy and draped plants gives a space a feeling of nature which is a relaxing look in the bathroom." – Style Your Sanctuary Editor
Give your shower wall a makeover with turquoise green tiles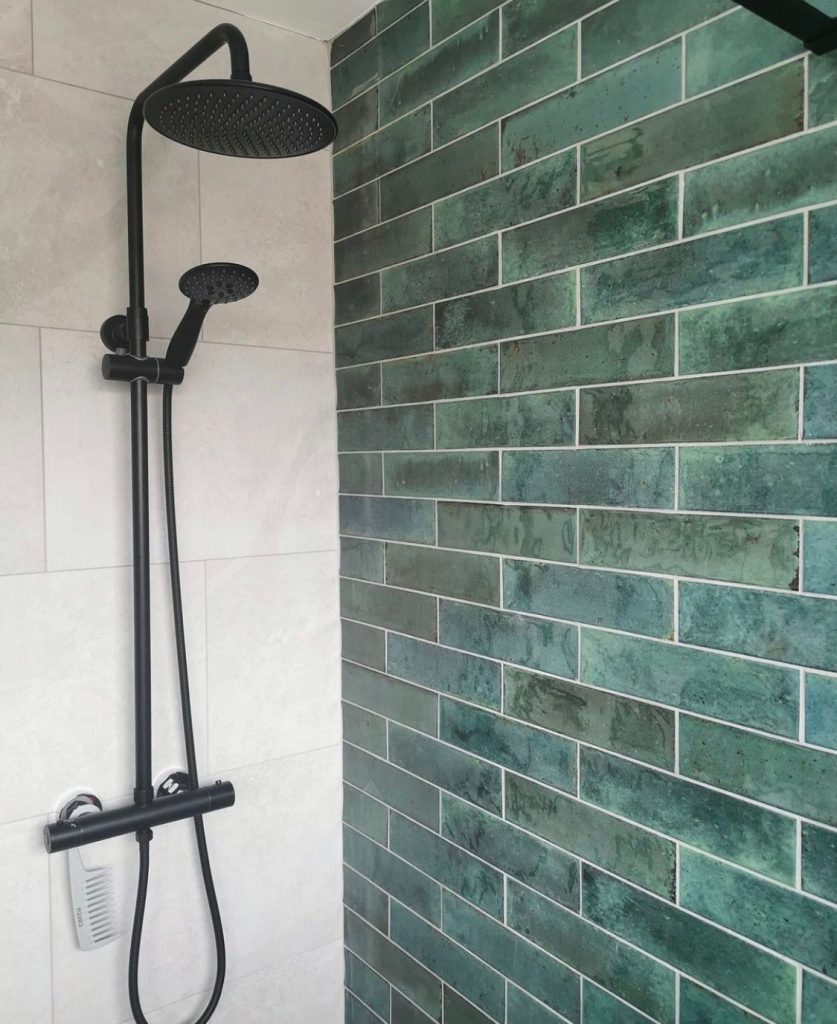 Transform your shower cubicle or area with a pop of green to make your bathroom stand out. We love what @homeatno_9 has done to add a neutral but colourful statement to their shower area for a bold look.
Choose a neutral colour like green or turquoise to make your bathroom feel calm for a slice of tranquility.
Dark green bathroom idea for a victorian home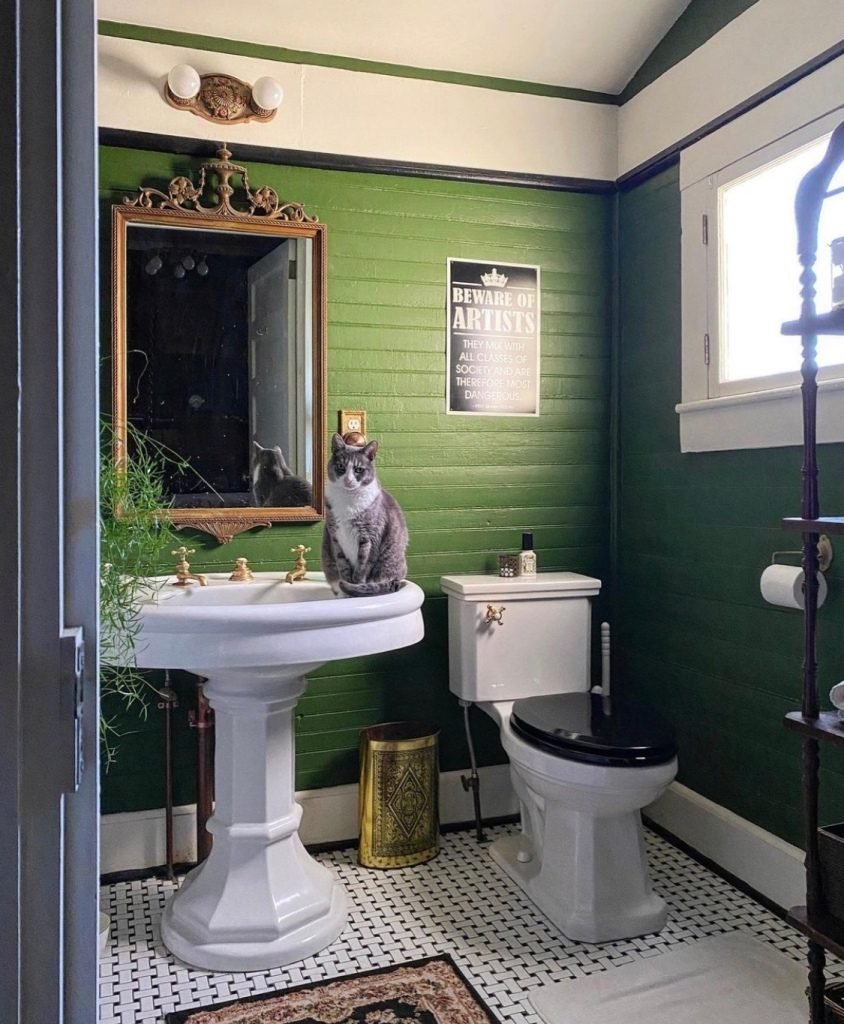 Move over to the dark side with a tropical green bathroom like the gorgeous idea by @victoriannerdess. Matched with gold fixtures, black accents and pattern flooring, makes this bathroom feel like a swanky en-suite in a hotel.
"A great way to add character to a Victorian bathroom is to have a few statement pieces like @victoriannerdess has shown. With a fountain style sink matched with an elegant mirror that really adds charm to the space." – Style Your Sanctuary Editor
As we explore these delightful green bathroom ideas, let's take a moment to consider how incorporating green bathroom furniture from Royal Bathrooms can truly transform your space.
At Royal Bathrooms, they specialize in providing top-quality bathroom furniture and fixtures that can seamlessly enhance the aesthetics and functionality of your bathroom.
So, when you're looking to infuse your bathroom with the calming and refreshing vibes of nature, consider our exquisite range of green bathroom furniture as your perfect companion.
Soft pastel green bathroom idea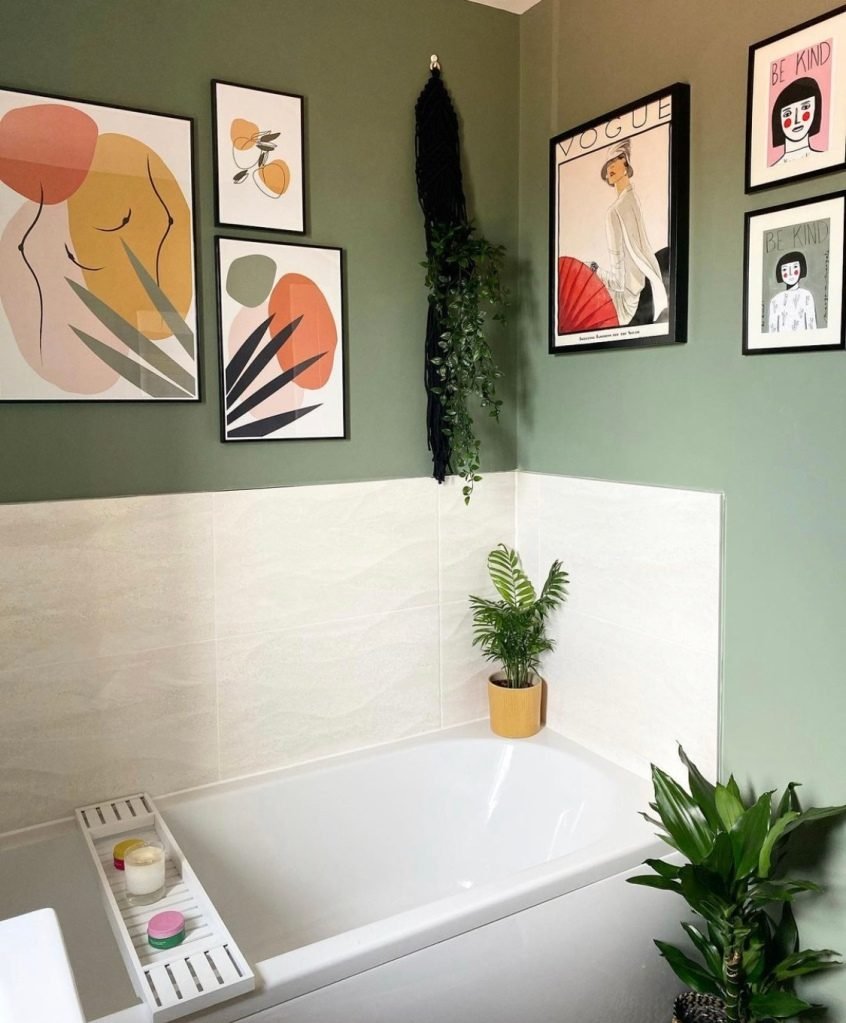 Paint your bathroom a neutral shade of green to feel in touch with nature like this idea by @no5ishome. We love the modern take on this bathroom design with the playful prints that introduce more colour to the space without overpowering the green theme.
"Creating a contrast with your walls is a powerful way to make your space feel bigger and brighter. By painting the top part of your wall in colour and your lower wall in white, you allow the eye to draw upwards, which makes your walls feel higher than they are." – Leanne, Style Your Sanctuary Editor
Turn your bathroom into a green jungle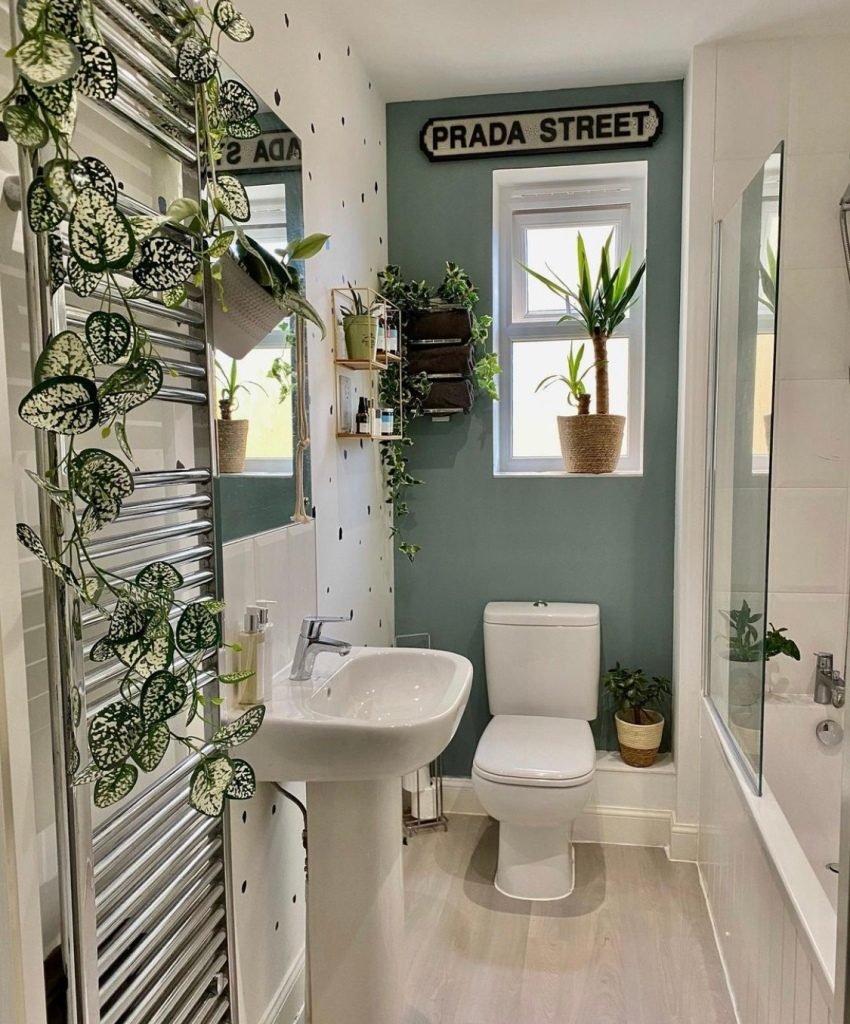 If you're not ready to take the plunge to paint all your walls green, why not take inspiration from @floralfrontdoor with their tropical jungle bathroom? The green accent wall is a great way to introduce colour to your space and to have it featured on the first wall you see when you come into the space is clever and fun.
Add leafy green plants to your bathroom to fill your white walls and fittings with a burst of colour that you can control at any given time. Choose a variety of plants, like draped, palms and wild leafy varieties so that you build texture throughout your space.
Dark green bathroom tile ideas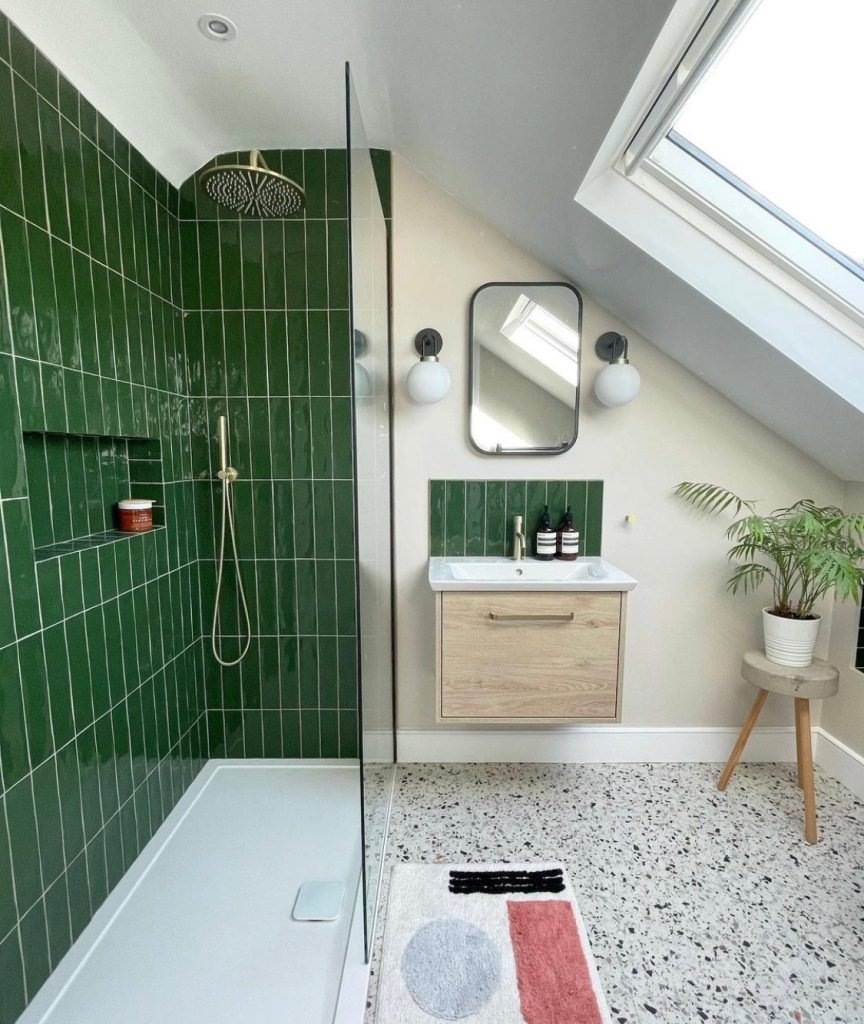 Break up a white bathroom with dark green tiles for a bold look. We love the tile choices from @bell_abode which gives the loft bathroom feel like a city apartment for a glam, yet retro look.
If you're tiling your shower cubicle with a dark green tile, incorporate this into another space in your bathroom like this green bathroom idea from @bell_abode that has added the same dark green tiling above the sink. This will make the space match effortlessly without having to tile additional walls.
Glam green toilet room idea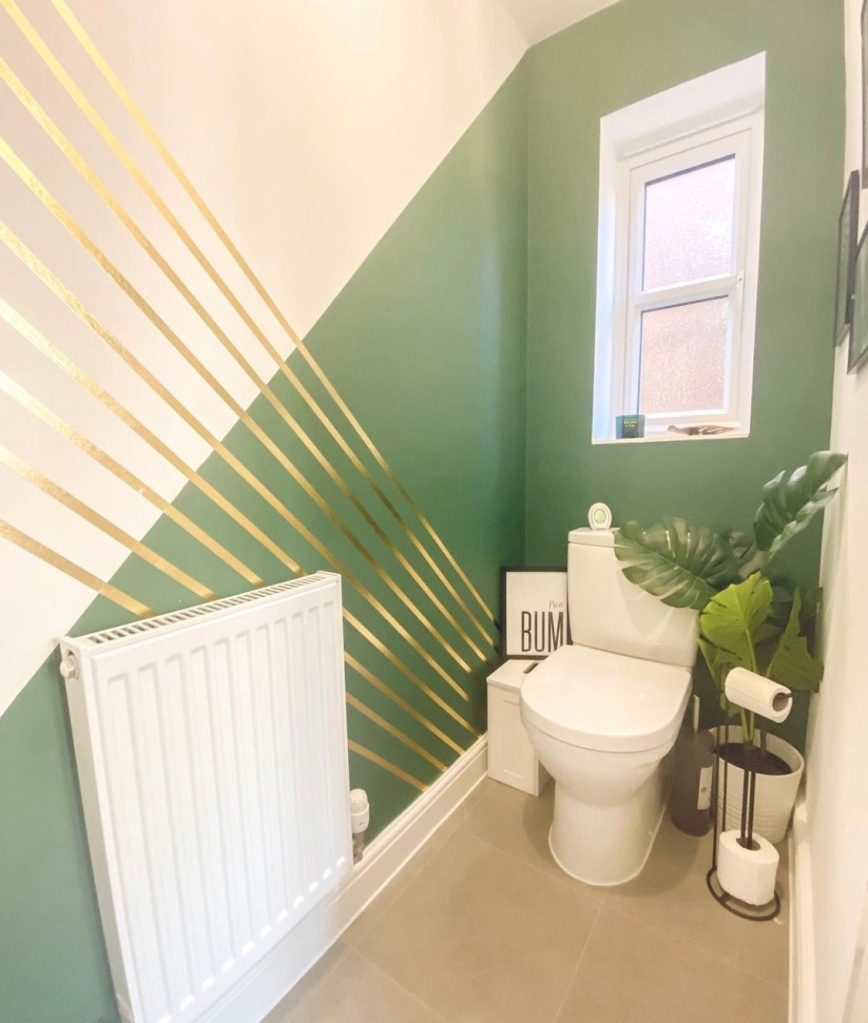 Transform your toilet room into a fun space with abstract green walls like this gorgeous idea by @the_view_from_no2. We love the fun wall painting that they have done to make the space feel fun and unique. Furthermore, the gold stripes add a touch of glam which matches the green and white walls perfectly.
"A great way to add life to your toilet room is to introduce plants, as this brings in a sense of nature to your space to feel inviting and fresh.

– Style Your Sanctuary Editor
Dark green and white tile bathroom idea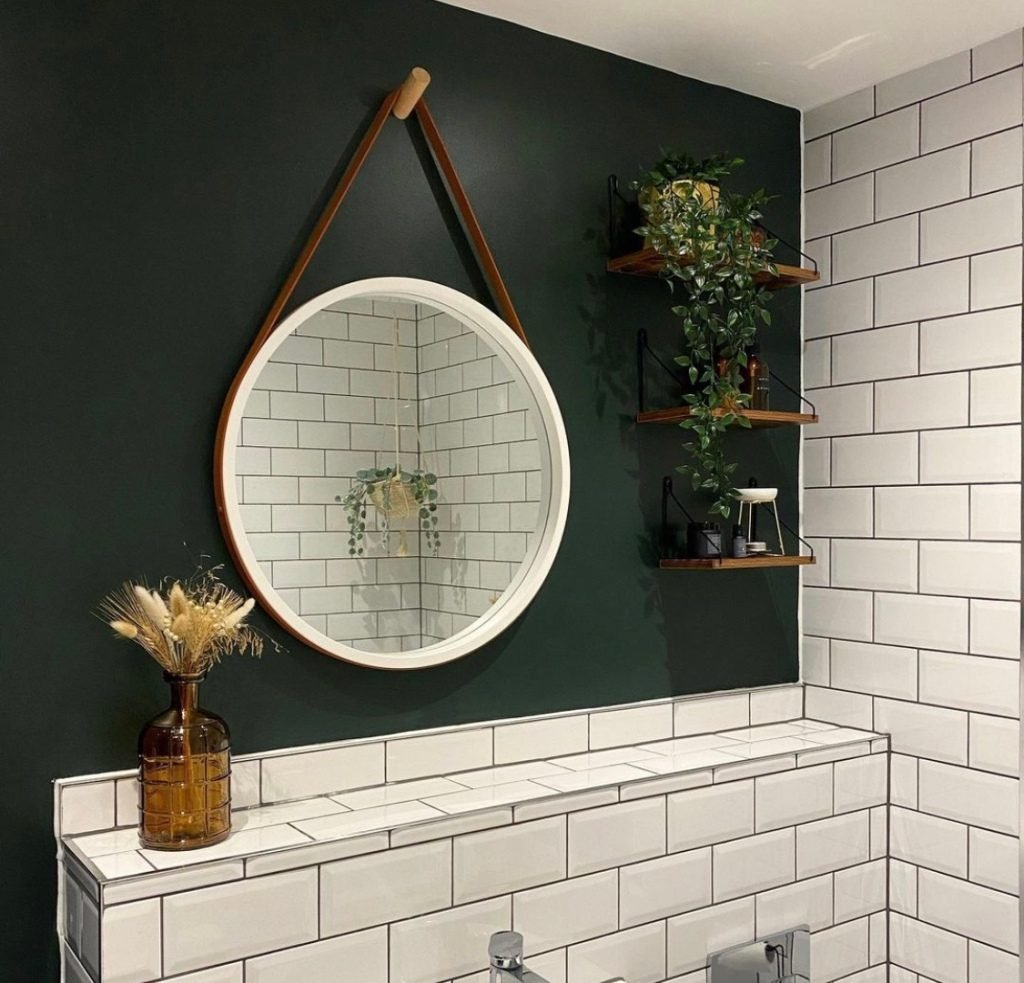 Create a sophisticated space in your bathroom with a dark green and while colour scheme to bring in a relaxing, yet grown up look to your home. We love this spa-like bathroom idea by @fourwallsandwinston with white tiles with black grout that makes the space pop against the deep green walls. Furthermore, the brown accents bring the bathroom design together for a natural look.
Turquoise tile bathroom idea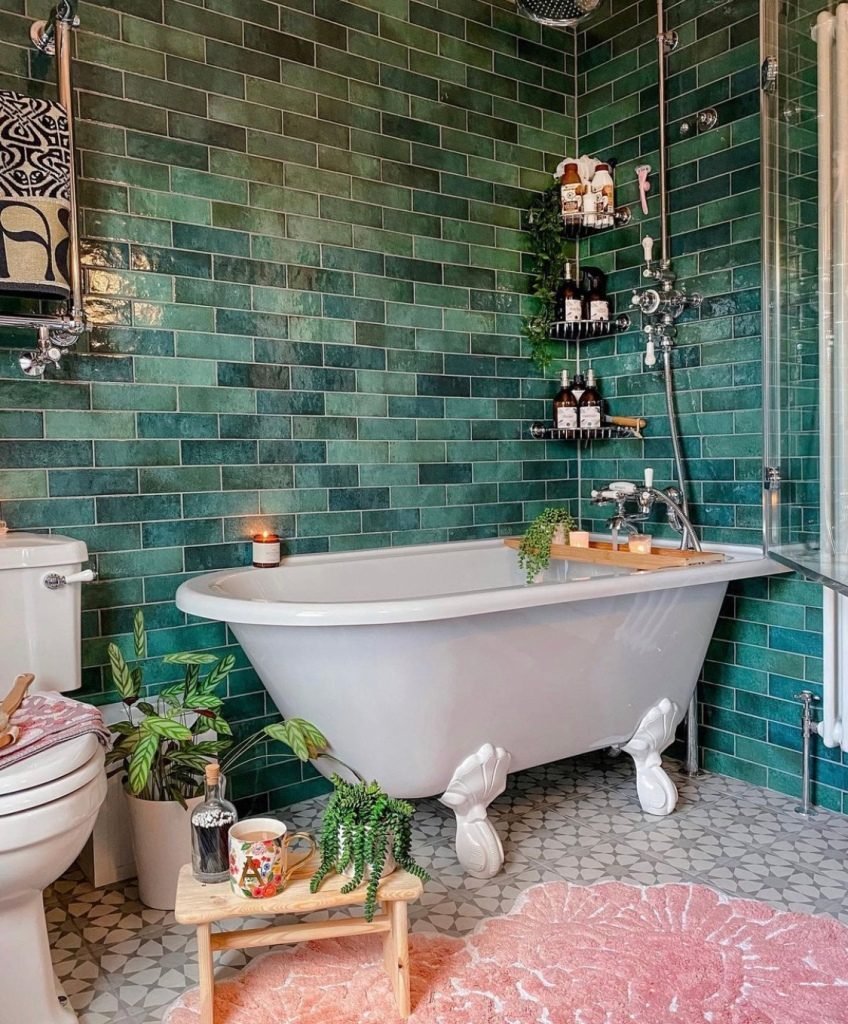 Turquoise green is a relaxing colour that reminds us of the sea and what better way than to add a splash of the tropics than in your bathroom. Over at @littlehouseinlondon they have taken the plunge to makeover all their walls with a gorgeous turquoise green tile with wash effect to bring texture and depth to their bathroom.
We also love the introduction of the pink fluffy rug, tiles flooring and assortment of plants surrounding the tub for a luxurious looking bathroom that feels in touch with nature.
Green and orange bathroom idea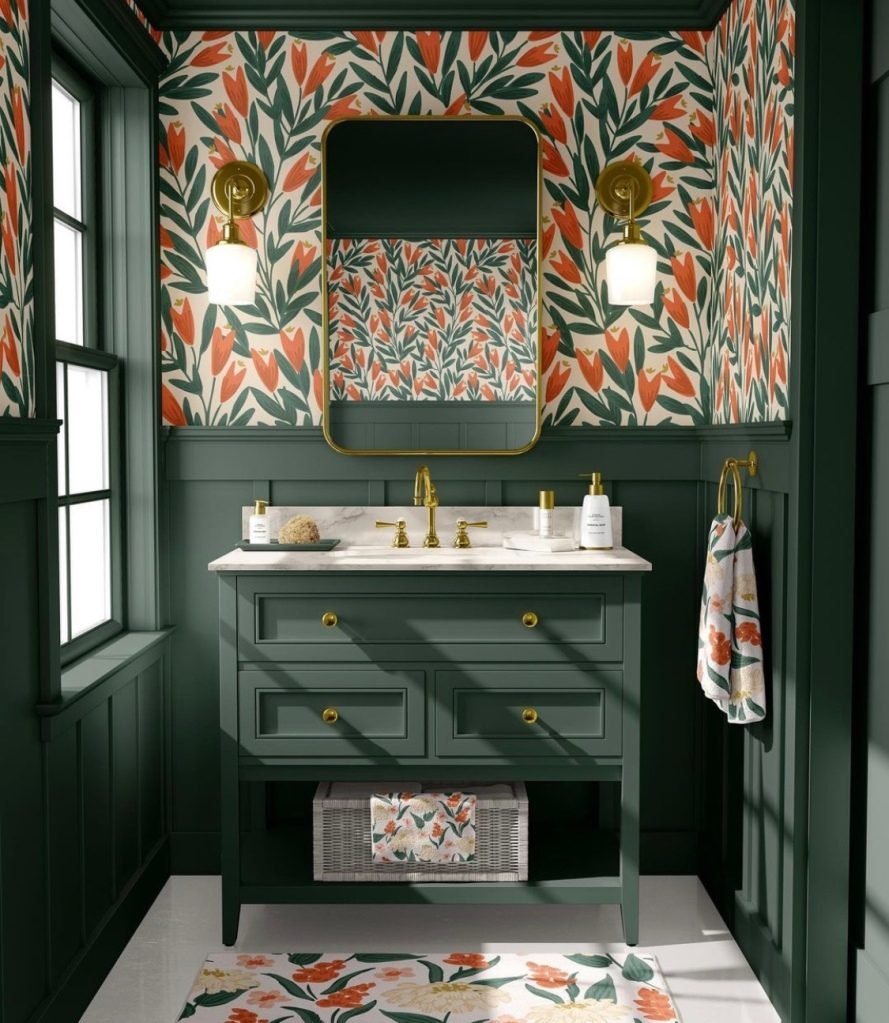 Green and orange are great colours to combine together as they bring out the feelings of nature, the trick is to match the brightness of each shade together so that they pair well.
Over at @kayillustrations we can see that the bright orange and bold green go really well together to create a statement look through patterns and textures. We really love the dark green furniture that sets the canvas for the space, while the orange print makes the space appear brighter and more fun.
Neutral green bathroom idea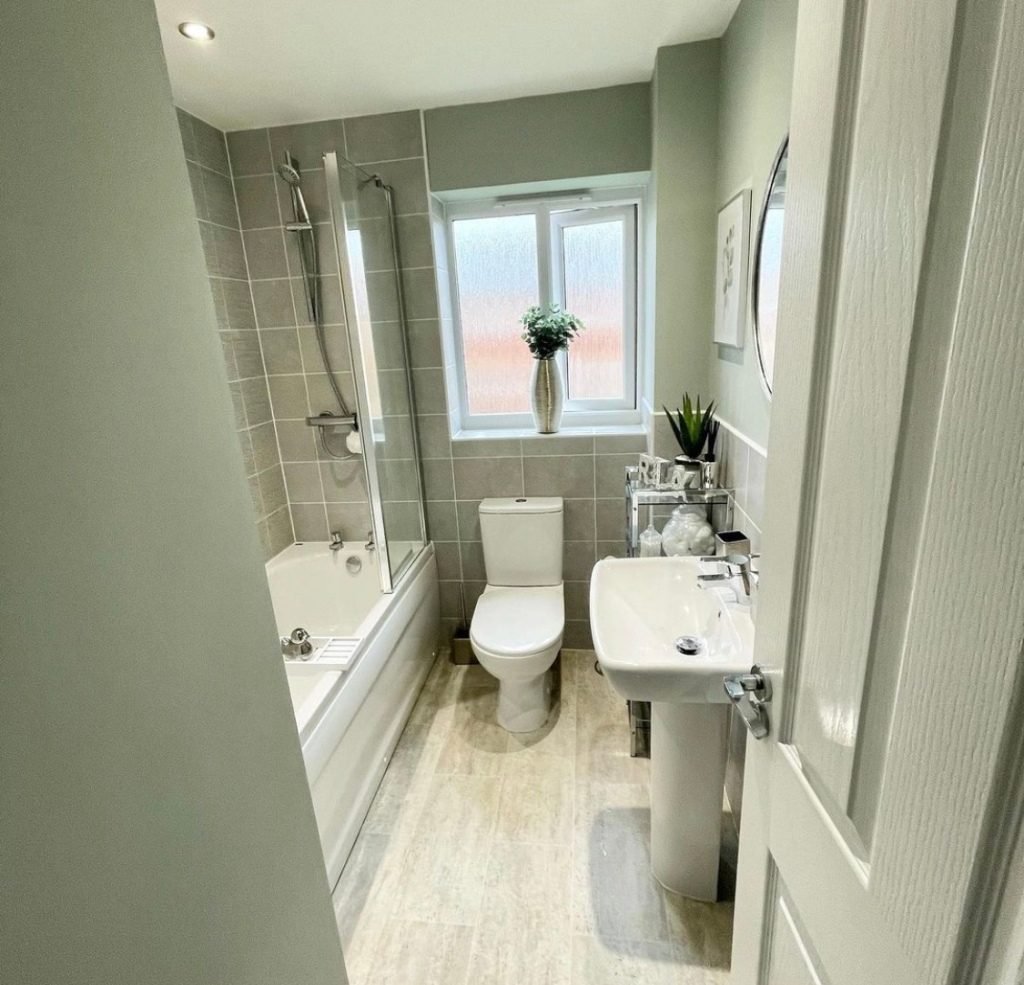 Green is the perfect shade for a neutral looking bathroom as it sends us back to nature and feels calm and inviting. This neutral green bathroom idea by @insideourhome.39 shows us how to style a space while still being minimal and fresh.
Layer your greens with different hues, like this design, as it will give your room depth. Choose your base layer then add to it. We love what @insideourhome.39 has done with the green tiles and walls with subtle decor features such as art work and plants to add a touch of character without over-bearing the pace.
Discover more ideas below!