Choosing bathroom flooring can be a tough decision to make, especially if you're not sure what colour scheme you want your bathroom to be. We've compiled some of our favourite bathroom flooring ideas, which include DIY ideas so that you can achieve beautiful interiors at a more affordable cost.
Are wooden floors good in bathrooms?
It depends on the type of wood and the finish used, as well as the bathroom's level of moisture. Some types of wood, such as engineered hardwood, are more resistant to moisture and can be suitable for bathrooms. However, it's important to apply a moisture-resistant finish to any wooden flooring in a bathroom to protect it from water damage. It's also recommended to choose a lower-grade hardwood for bathroom use, since it has a tighter grain and is less likely to warp or cup due to humidity. Additionally, it's important to keep the bathroom well-ventilated to help reduce moisture.

It is always better to consult with a professional or the manufacturer before installing wood flooring in a bathroom.
Is it good to paint bathroom floor tiles?
Painting bathroom floor tiles can be a cost-effective way to give your bathroom a fresh look. However, it's important to keep in mind that the success of the project will depend on the type of tile and the paint used. Some types of tiles, such as porcelain and ceramic, can be painted successfully with a specialized tile paint, while others, such as natural stone, may not be suitable for painting. It's also essential to properly prepare the surface by cleaning the tiles and applying a deglosser or etching solution to help the paint adhere. Additionally, it's important to use a paint that is specifically formulated for use on bathroom floors, as it will need to be able to withstand general wear and tear and moisture.

It is always recommended to test the paint on a small, inconspicuous area before starting the full project to ensure the desired results and compatibility with the tile material. Painting bathroom floor tiles can be a fun DIY project, but it's always better to consult with a professional before starting to ensure the best outcome for your bathroom.
Best bathroom flooing options:
Wood effect bathroom flooring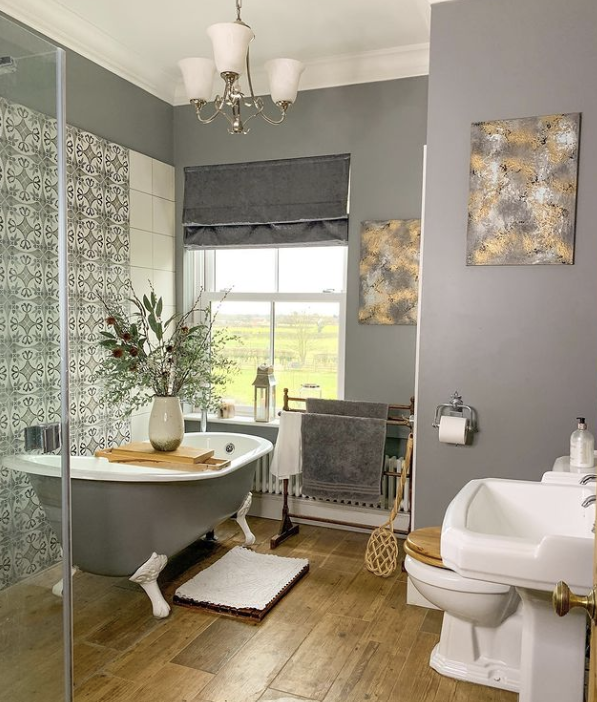 Warm bathroom style using wood effect tiles by Charlotteclarkhome on Instagram
Wood effect tiles are great to give your bathroom that warm and cozy feeling without using real wood. It means that your bathroom flooring will last longer and no extra treatment is needed. Wood effect tiles can be purchased at a range of homeware stores with so many varieties available to suit your interior styling.
Charlotte redesigned her bedroom into a bathroom oasis. See the full bedroom transformation here
Parquet style bathroom flooring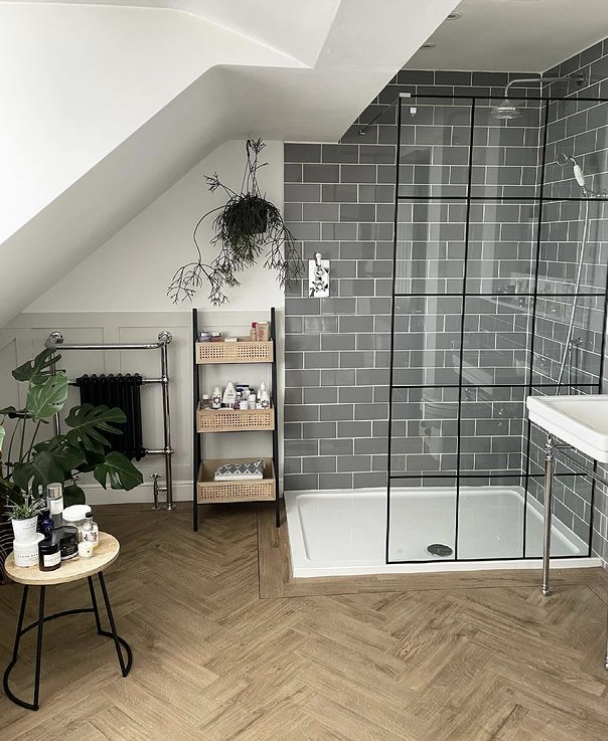 Choose parquet flooring for a warm and traditional bathroom style. Image by Mamofboys on Instagram
Just like how word effect flooring is great to add warmth to your bathroom, parquet flooring is another option that intensifies depth and texture to your bathroom. It's also a great tile choice for adding a classic look for a timeless bathroom style. Match with glossy tiles and wooden furnishings to bring a warm and glam ambience to your bathroom.
Water resistant laminate flooring in the bathroom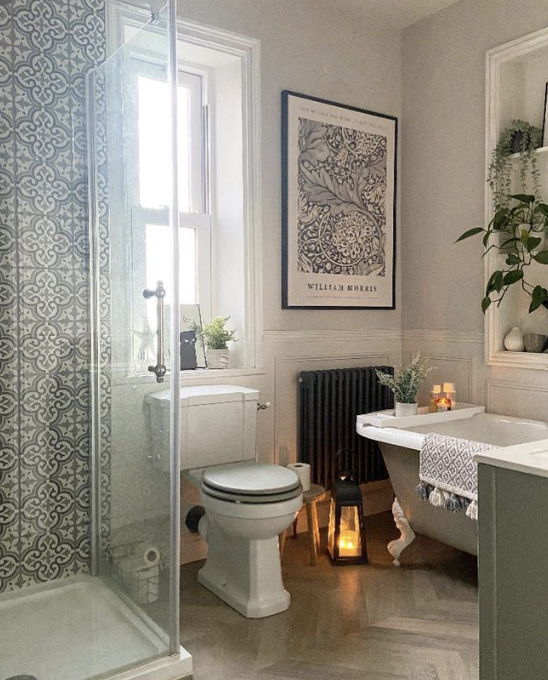 Natural bathroom look by Love_this_old_house on Instagram, using laminate flooring.
Get the look: Chic Chevron Laminate flooring from FAUS International Flooring
Love the natural look in the bathroom? Consider laminate flooring as an option for your bathroom, which can make your space feel lighter and can also add texture to your floor to emphasize on the rest of your bathroom's interior. Furthermore, adding wood effect flooring will give your bathroom a fresh and clean look and feel.
We love this gorgeous bathroom design that combines laminate flooring with a soft colour scheme for a delicate touch to create a spa-like bathroom to relax in.
Light Wooden bathroom flooring idea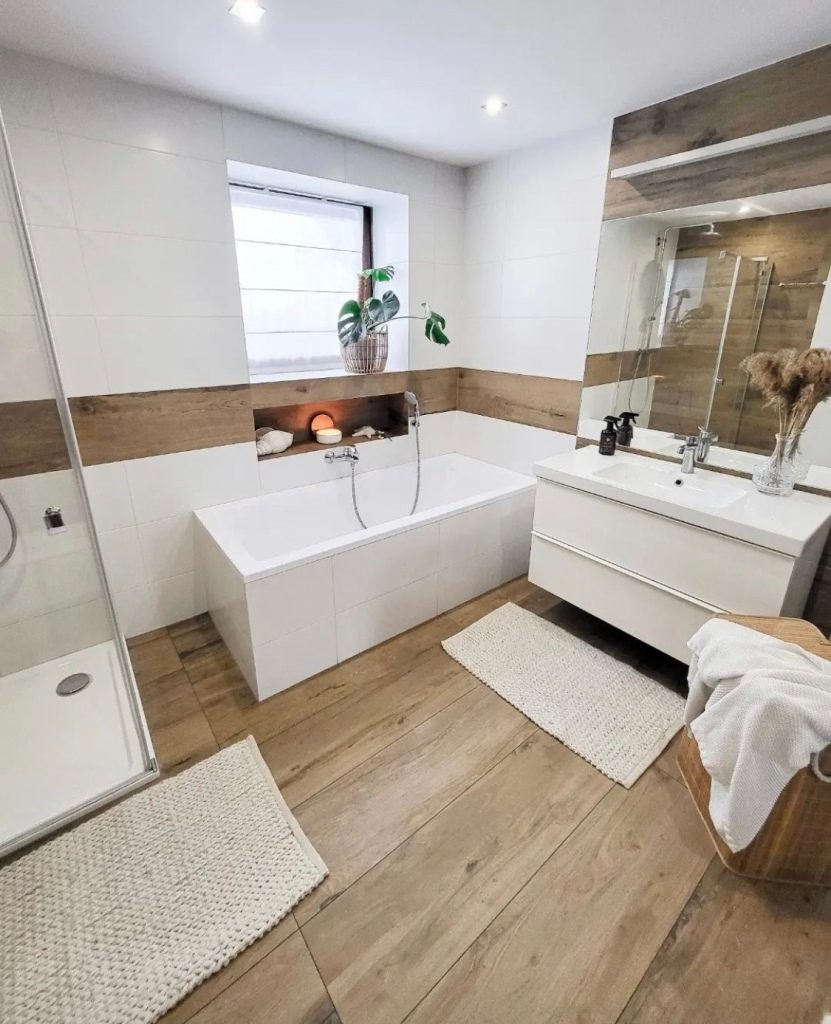 Choose wooden effect flooring in your bathroom for a natural looking space. Whether you've got light or dark bathroom fixtures, wooden flooring can help make your space feel bright and airy. For light bathrooms, keep to light wooden/oak coloured flooring to neutralize your space.
Stencil your own bathroom flooring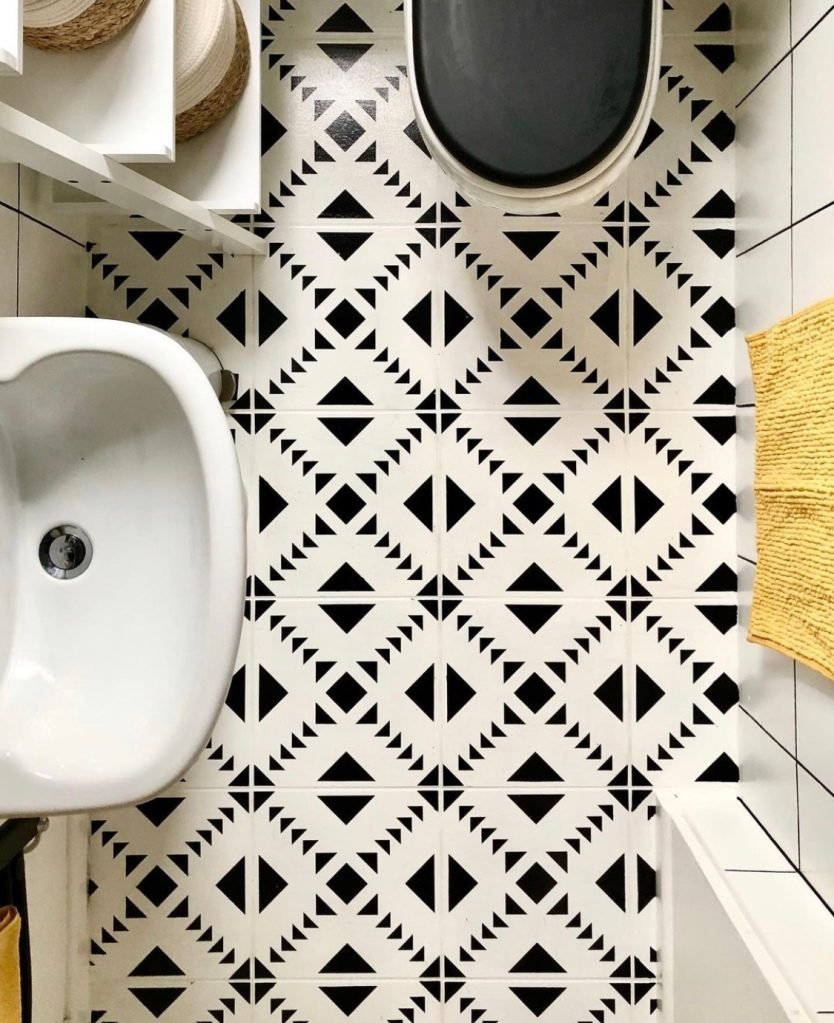 You don't have to blow your budget on brand new bathroom flooring if you've got an eye for detail. Stencilling your own existing floor tiles is a great way to spruce up an old floor that will only take an afternoon or do.
To recreate this look, all you need is a stencil, your favourite paint colour and a time. It's as simple as that. See the transformation here.
Marble effect bathroom flooring idea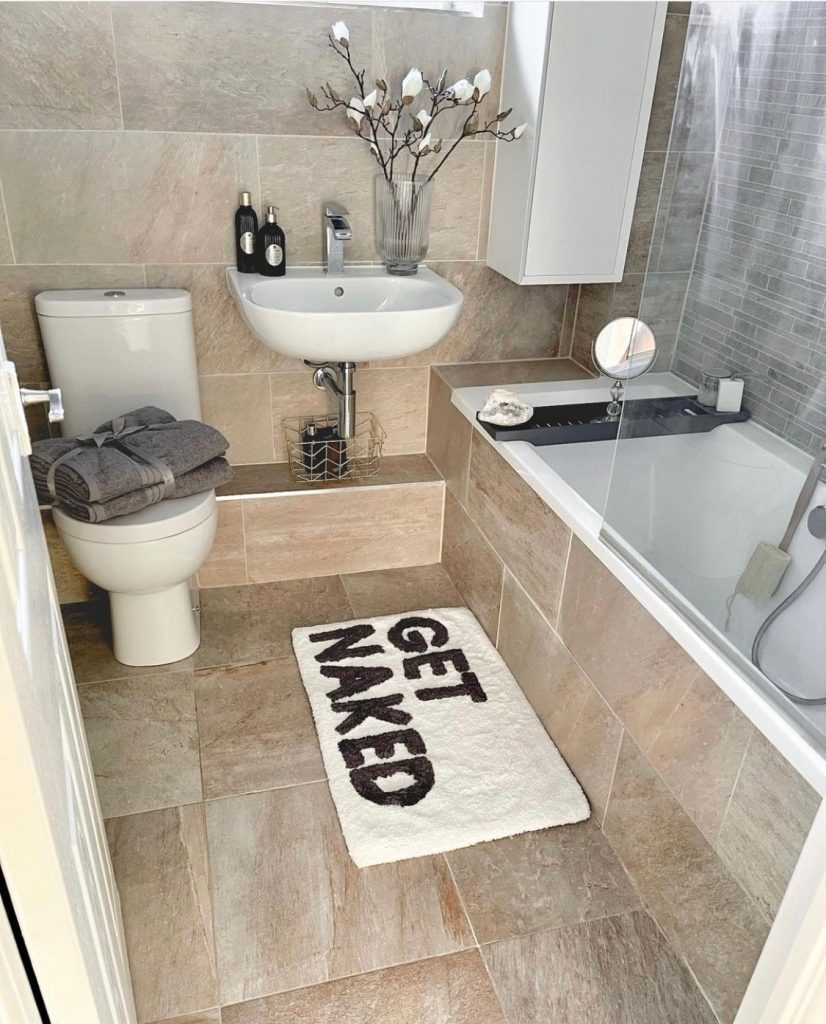 Marble and stone effect flooring in your bathroom adds a touch of class to your space. Choose a warm colour like earthy brown to prevent your bathroom from looking washed out against your white fixtures. To add a statement look, match your flooring to your wall tiles too, which will help give your bathroom a theme.
---
Love marble? see the best marble kitchen accessories here
---
Patterned bathroom flooring idea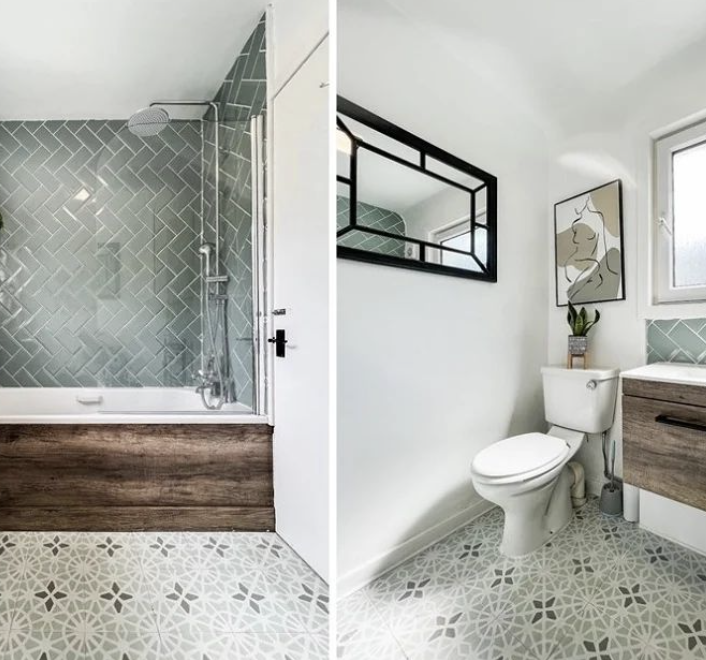 Image by @lifes_a_stitch_oban uses Adele Sea Green floor tiles by Tiles 247 to create a victorian inspired bathroom full of character.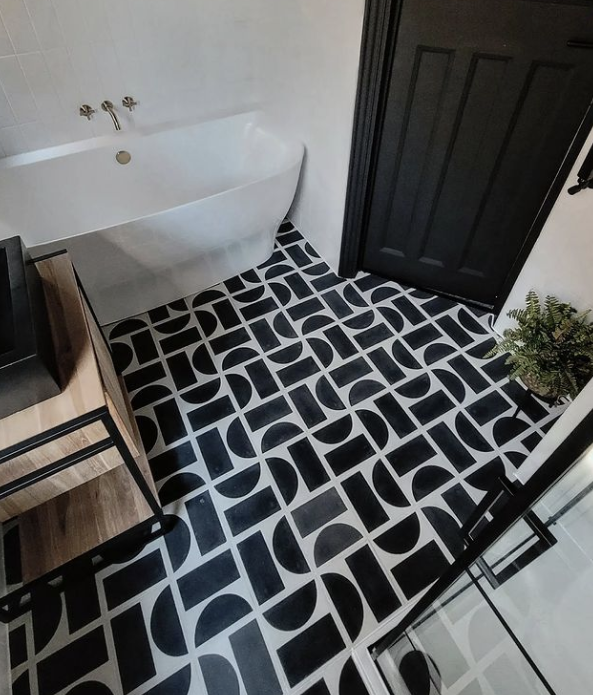 Style a small bathroom with statement-pattern flooring. Bathroom design by N13mils on Instagram.
Get the look: Black Spirit Shift Tile from Bert and May
Spruce up your bathroom with bold tiles that can add contrast and depth to your space just by replacing the flooring. We love this monochrome bathroom style that uses bold patterned tiles to make the bathroom come to life. Furthermore, adding black accents to other parts of the bathroom, like the door, shower and furnishings will make it feel complete.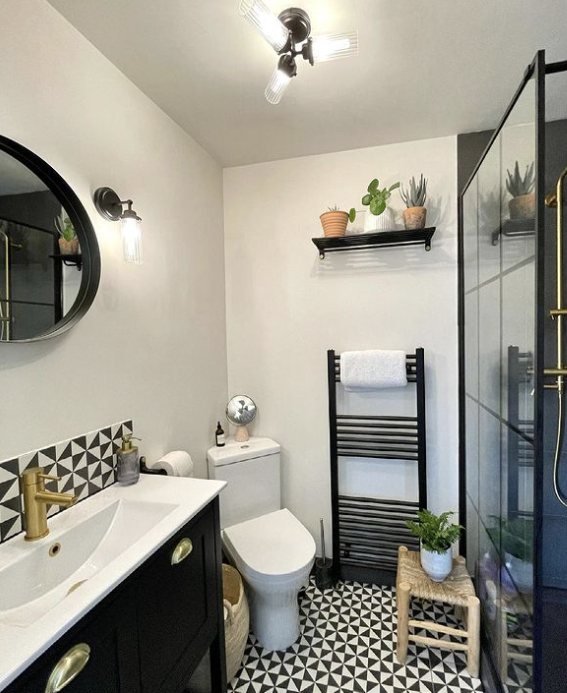 Monochrome bathroom idea using patterned tiles on the floor and sink to style a small bathroom layout. Design by Little.black.cabin on Instagram.
We love this monochrome bathroom design that allows the flooring to take centre stage to become a statement look. Furthermore, the patterned tiles give the space a full of character look even in a small bathroom layout, which is great if you're looking for instant style in a small space.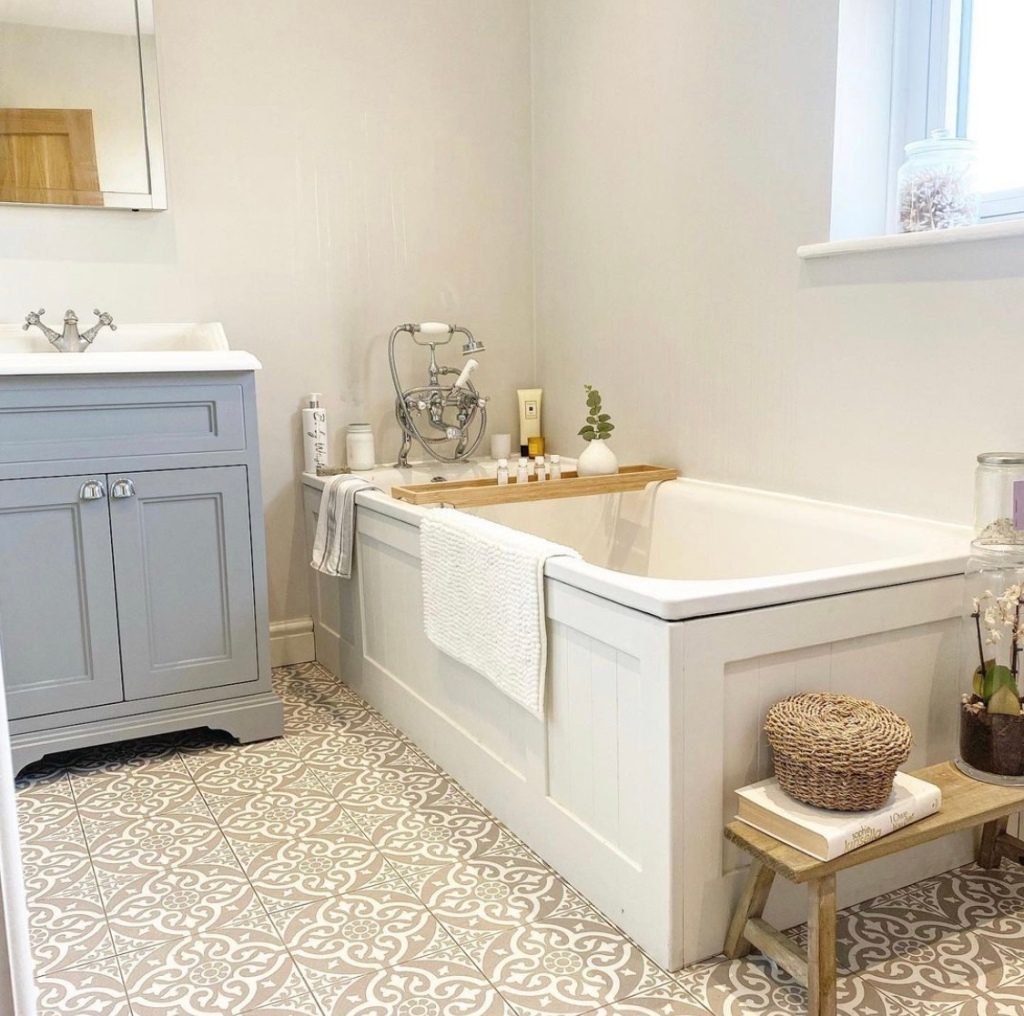 Adding pattern flooring to your bathroom is a fun way to add texture and style in a bold way. If you feel that your bathroom is lacking in character, why not jazz up your space by retailing your floor to give it a new lease of life. Try to match your flooring to your existing scheme, for example, if your bathroom has calming colours, then opt for pastel coloured patterned tiles. On the other hand, bright bathrooms will look best with bold prints to contrast against.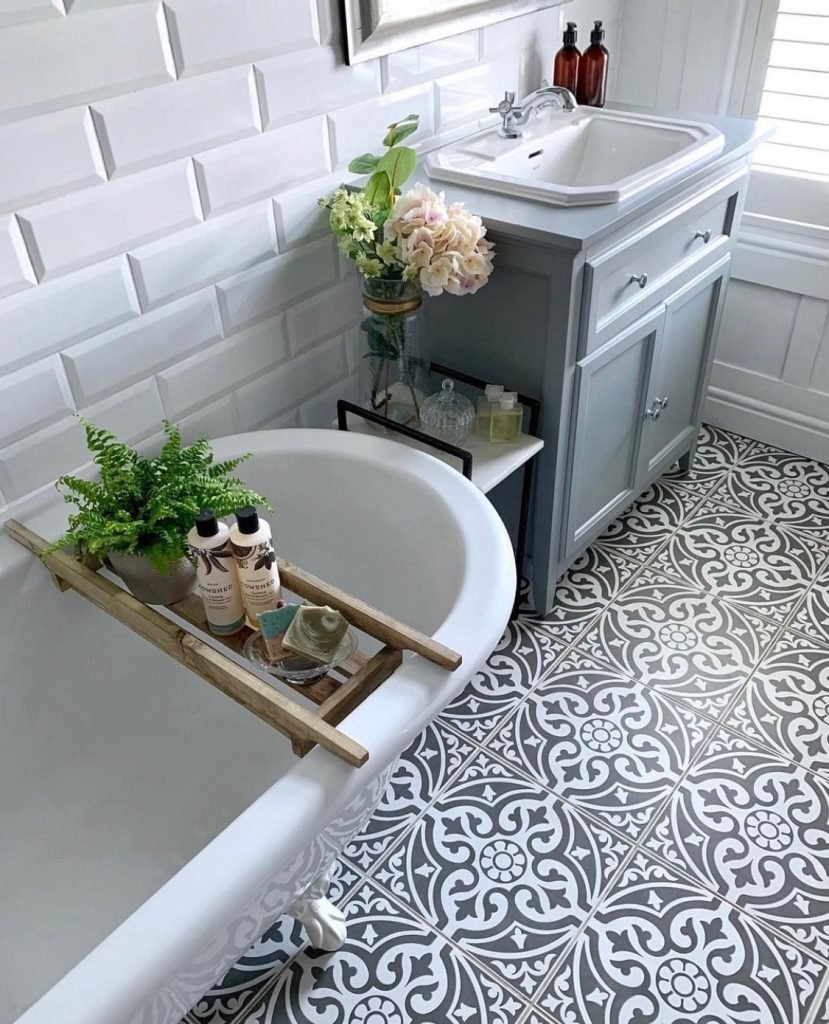 Patterned flooring can be a great way to break up an all white bathroom too and looks gorgeous against a roll top bath. Opt for black or grey patterned flooring in your bathroom for a classic and timeless look that you can keep for years and years.
Repaint your old tiles to give your bathroom floor a fresh look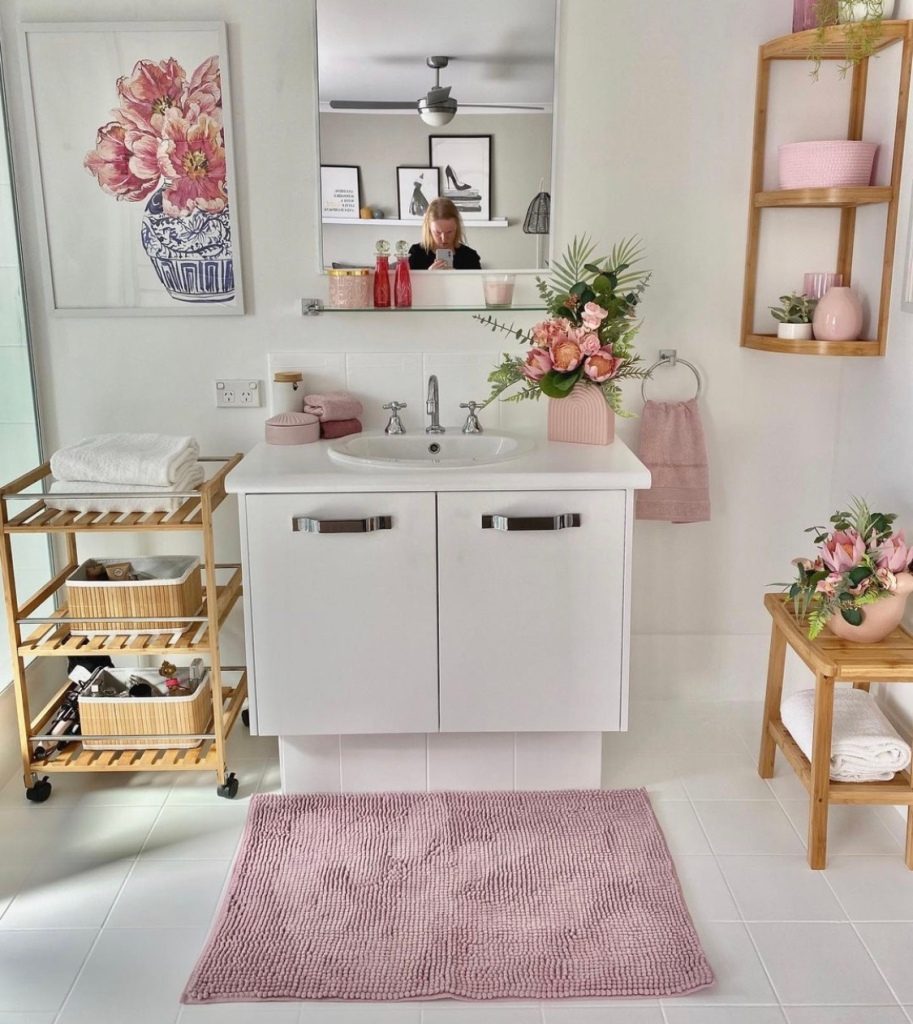 Repaint your existing floor tiles to give your bathroom a fresh new look without having to take apart your floor and buy new tiles. Overtime, bathroom floor tiles can wear out or look outdated and by giving them a lick of paint will give your bathroom a new perspective too. Plus, it's a great way to switch up your colour scheme if you're bored of the colours.
Dark wood effect bathroom flooring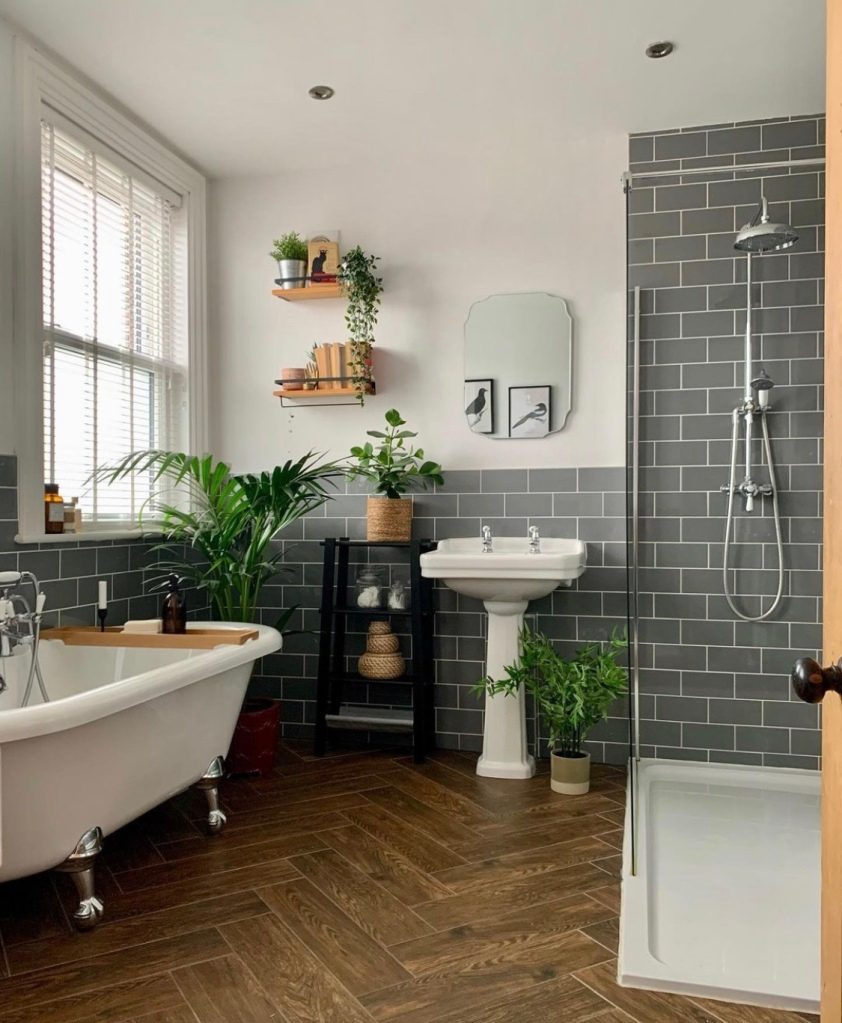 Love moody and dark homes? You can transfer the look to your bathroom with dark wood effect tiling with plenty of bathroom flooring tiles on the market. If you're going for the dark wood effect, choose a secondary colour scheme to bring your bathroom to life. Earthy colours like green or grey work well with dark flooring to keep the space feeling calm.