Marble kitchens are certainly #KitchenGoals. From countertops to dinnerware, appliances and accessories. A marble kitchen exudes with luxury and sophistication, and the best part is that it doesn't have to cost the earth to get the luxurious look in your kitchen.
Scroll down to discover the most popular marble kitchen ideas from our favourite UK home decor brands below. (Bookmark this page as we update this regularly)
This article contains affiliate links.
1. Marble Kitchen Tiles
Glossy kitchen floors create the canvas for a luxurious finish in your kitchen and these white polished marble floor tiles will add timeless elegance to your kitchen space. The shiny marble floor tiles matched with a matt kitchen island is a beautiful contrast of texture to make the kitchen look clean and bright.
2. White Marble Kitchen Floor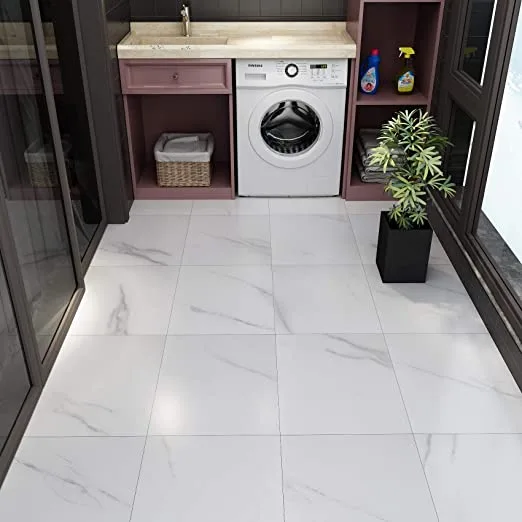 Marble effect flooring is a great way to add contrast to you kitchen, especially if it's a dark colour like black or navy blue. Vinyl floor tiles are really great for this as they are cost effective, durable and can be changed at any time.
3. White Marble Effect kitchen Worktops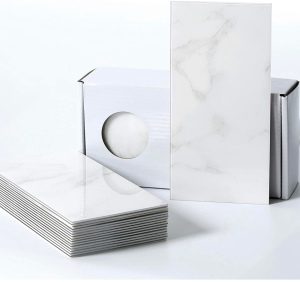 A white marble effect countertop is a great way to add contrast in a dark kitchen to brighten up the space, whilst adding texture too. This affordable white marble effect kitchen worktop board is great for easy installation and will instantly transform your space.
4. Marble Dining Table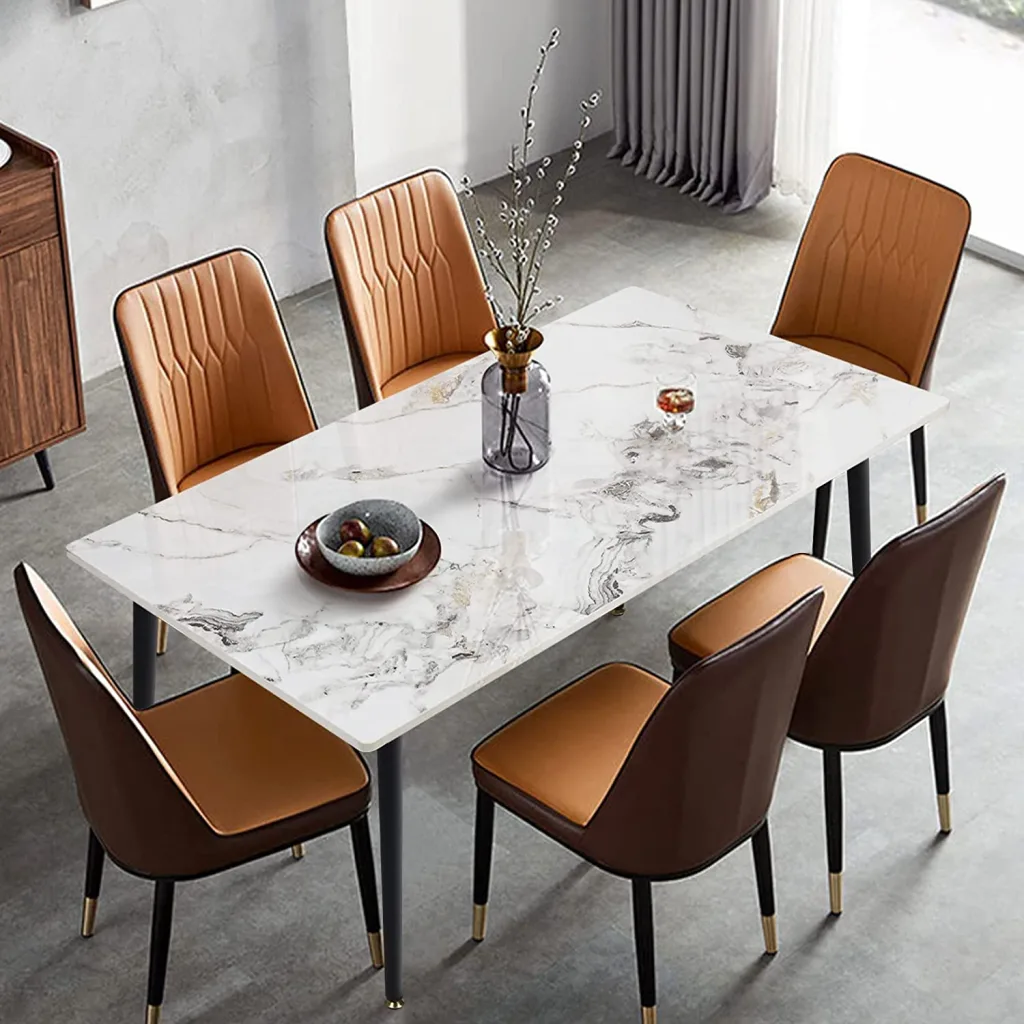 Furnish your dining room with an elegant marble table to match your kitchen style. We love this marble effect round dining table from Amazon that combines light grey and a marble effect top and plush fabric seating for a luxurious finish.
5. Marble Plates Set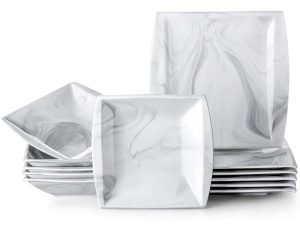 Serve your meals in style with these beautiful Dunelm marble effect plates set with luxurious gold rim finish. This dinnerware set will look stunning at your dinner table with matching gold cutlery.
6. Marble Effect Kettle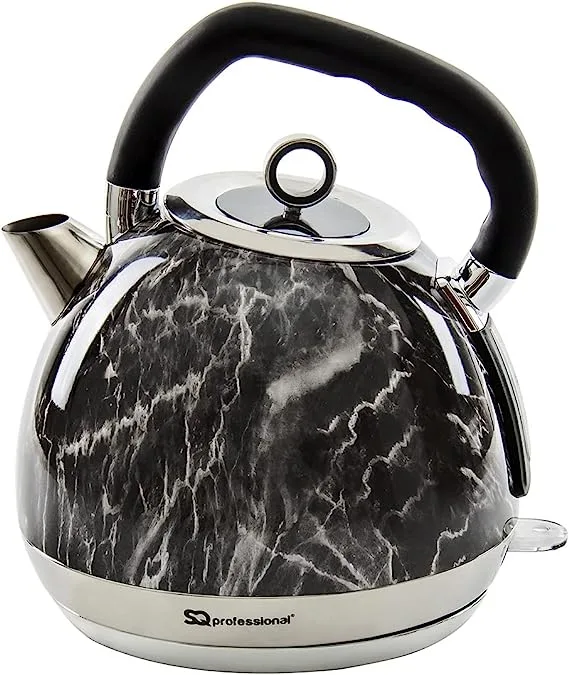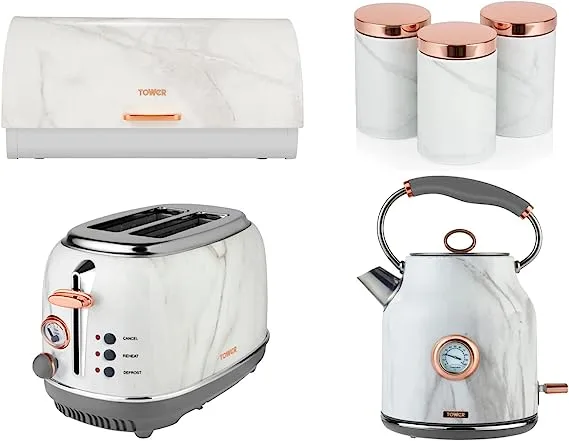 Match your marble countertop with this beautiful Tower marble-effect kettle with temperature dial feature that combines luxury and industrial style into one trend. What's more, this kettle features a range of wonderful benefits including quiet boil technology and minimal noise distribution. Who says style and substance can't be combined?
7. Marble Cookware Set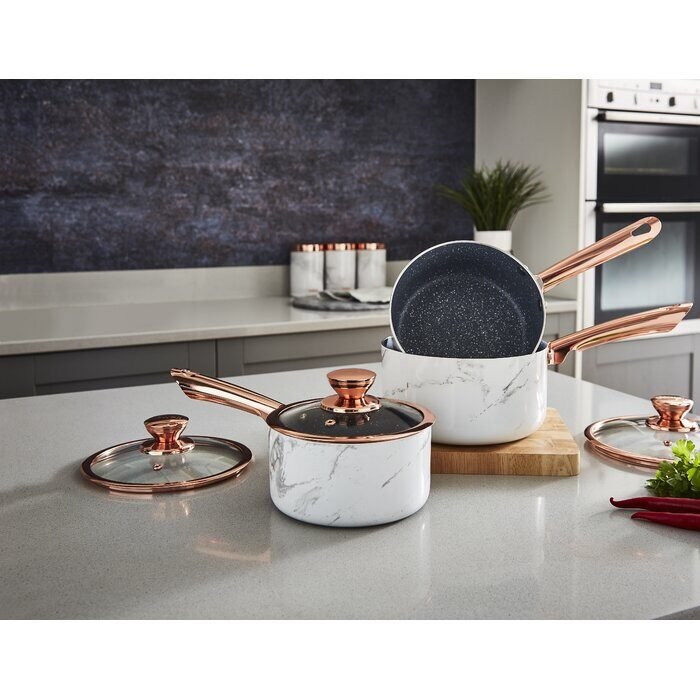 Cook in style with this set of 3 marble pans, with a beautiful rose gold handle and glass lid. These marble pots are super stylish and elegant looking, and even if you don't have a marble kitchen, they'll still look stunning!
8. Black Marble Kitchen Accessories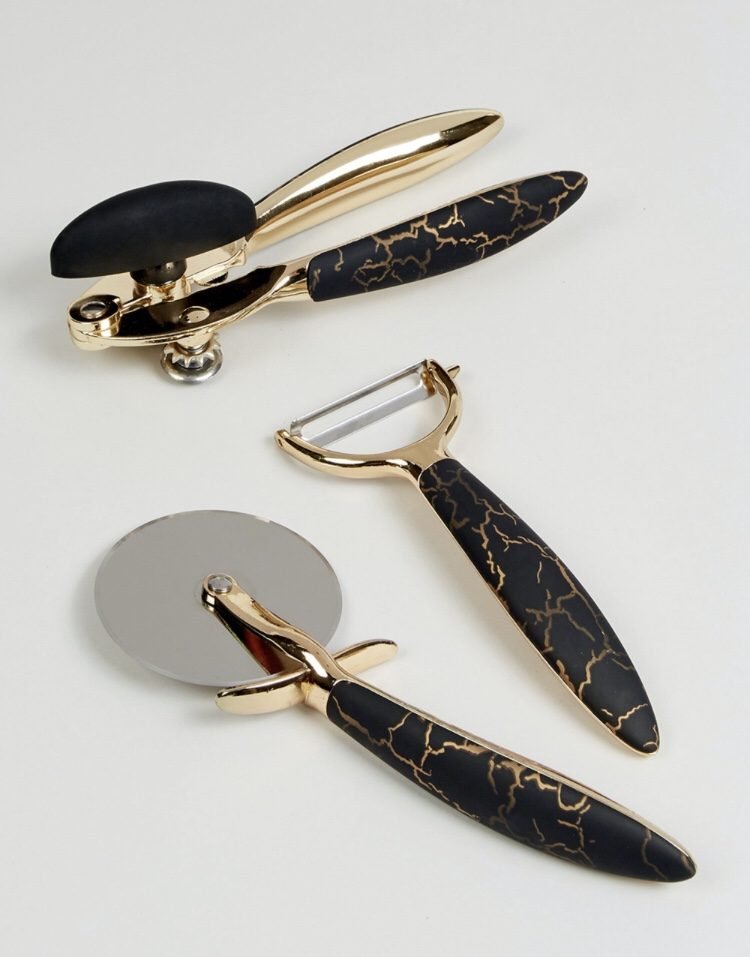 Who says cutting, peeling and can-opening has to be boring? These chic marble black and gold utensils are strikingly beautiful and are a stylish set to hang on a kitchen rail for design and functionality – especially in a kitchen with black or dark cupboards.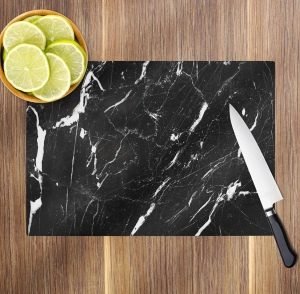 9. Marble Salt & Pepper Set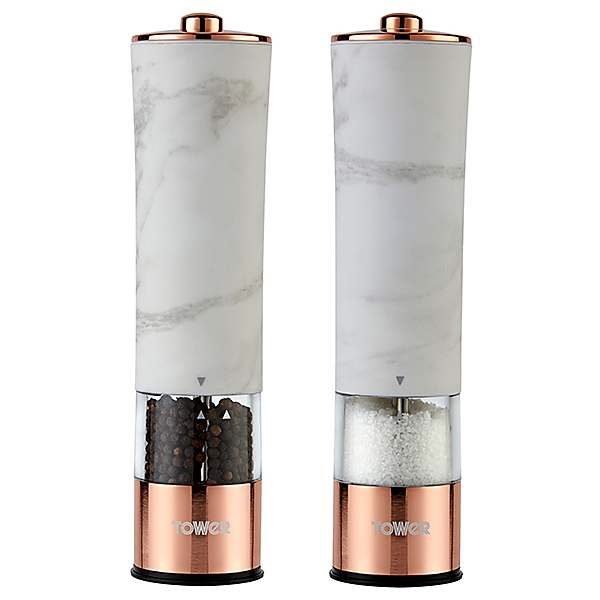 Season your food in style with this marble salt and pepper grinder duo. Place on your marble countertops or have as a table feature in your dining room for glamorous kitchen decor.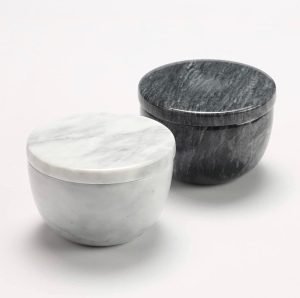 10. Marble Style Coasters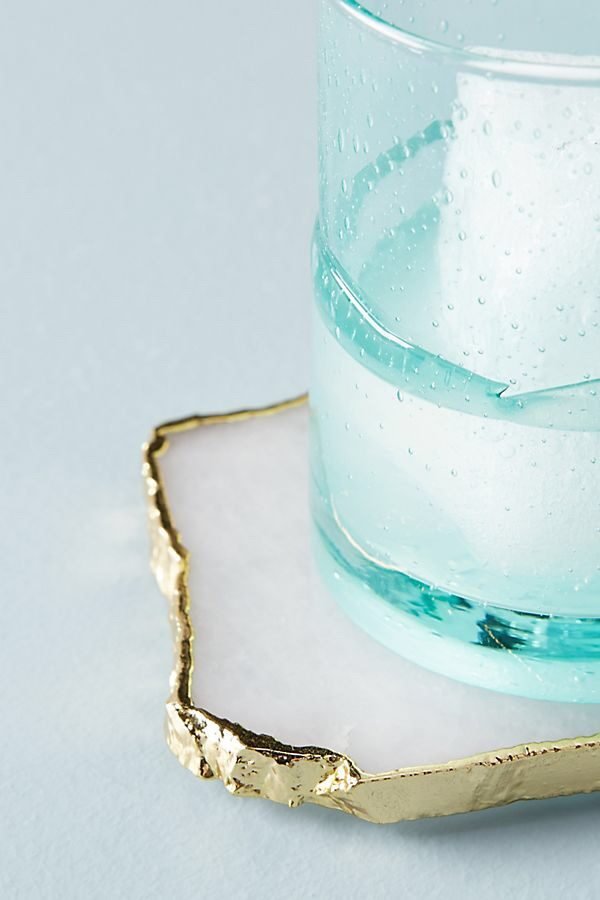 Geode coasters are a big trend at the moment, and although not quite marble, they do resemble a marble effect, so we've cheekily added this into our list of marble kitchen accessories. We love the gold edge and pastel colours of the geode, which makes your kitchen or dining space look chic and elegant.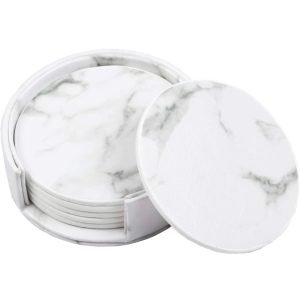 11. Marble Effect Ceramic Mugs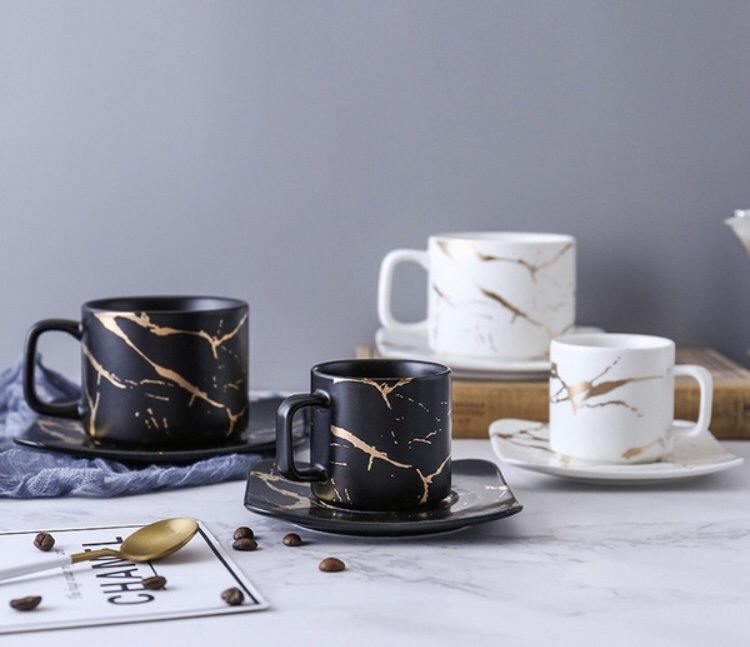 Make your friends and family a stylish brew with these on trend marble ceramic mug and saucer sets in either a gold and white marble or gold and black marble.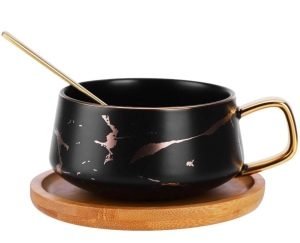 12. Marble Top Kichen Island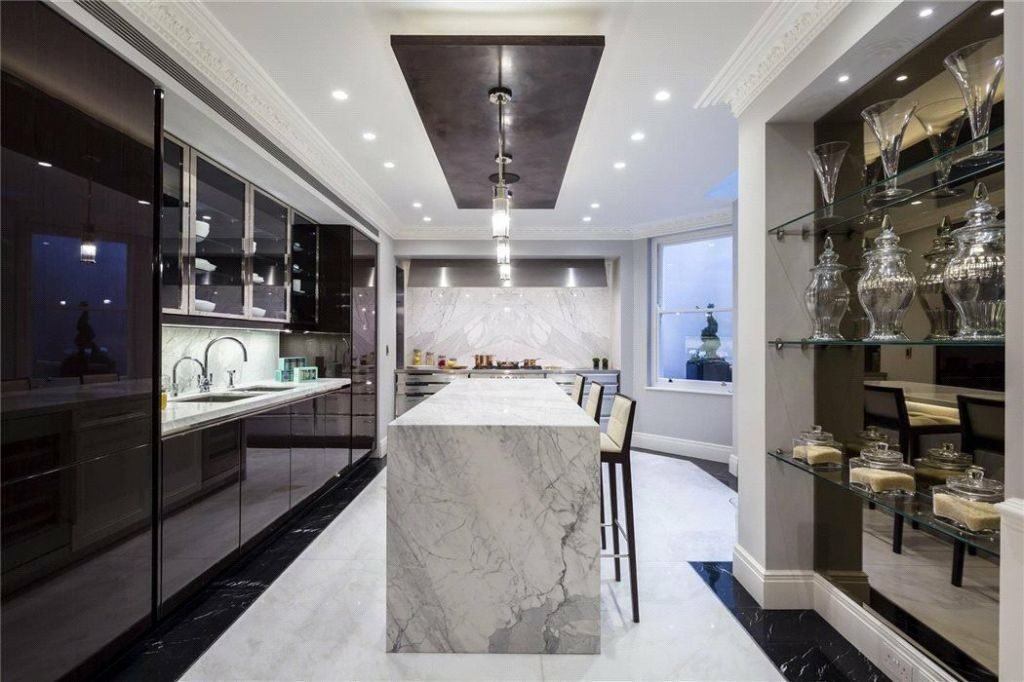 Image source: eBay
For a luxurious kitchen style, create the focal for your kitchen with a marble top kitchen island. If you've got dark cabinets, this will give you kitchen a contrasting look which is always on-trend in the kitchen.
Furthermore, light kitchens with marble top counters will make the space brighter and look more spacious.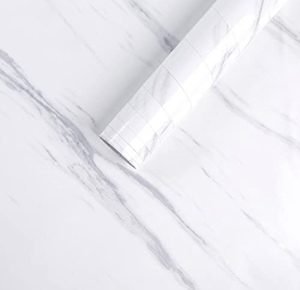 Inspired by these marble effect kitchen accessories? Explore more kitchen ideas below!
[caf_filter id='10630′]