Are you planning to decorate your living room including a complete colour scheme change? Our best living room colour schemes with images will give you plenty of interior inspiration to take the plunge to paint your walls, switch up your sofa and refresh your curtains. Read on to discover the best colours for your living room.
Beige living rooms
Beige sofa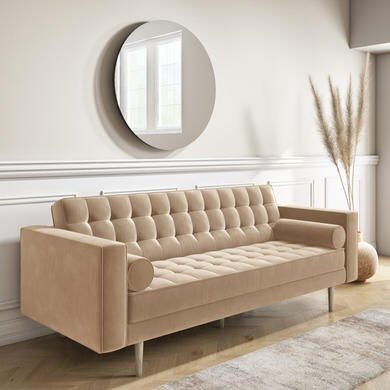 Soft tones like beige is a great colour scheme for the living room as it is delicate and relaxing to create a cozy space. Mixing different hues of creams and white together is a great way to add contrast in a subtle way. This mid century sofa with deep button detailing and velvet finish is a luxurious statement price for your home to add style into a beige living room design.
Beige curtains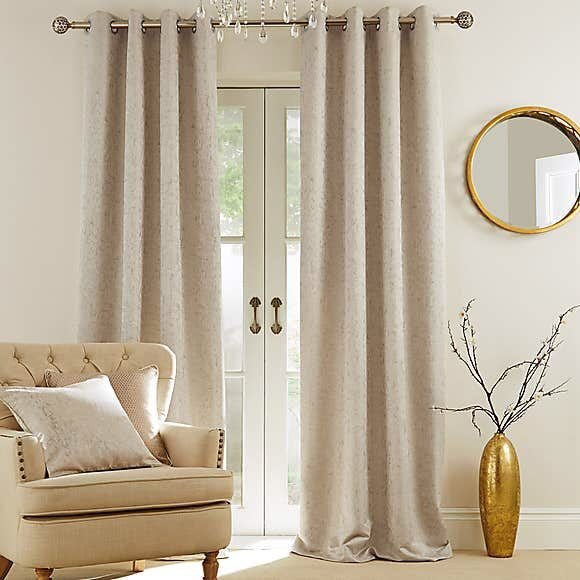 Glam up your living room with opulent curtains to complete your living room style. If you're worried about your living room being too beige, you can dress your window with champagne coloured curtains for a metallic and shimmery look. This will draw in the glam elements from your living room and will stop your space looking flat.
Beige living room with gallery wall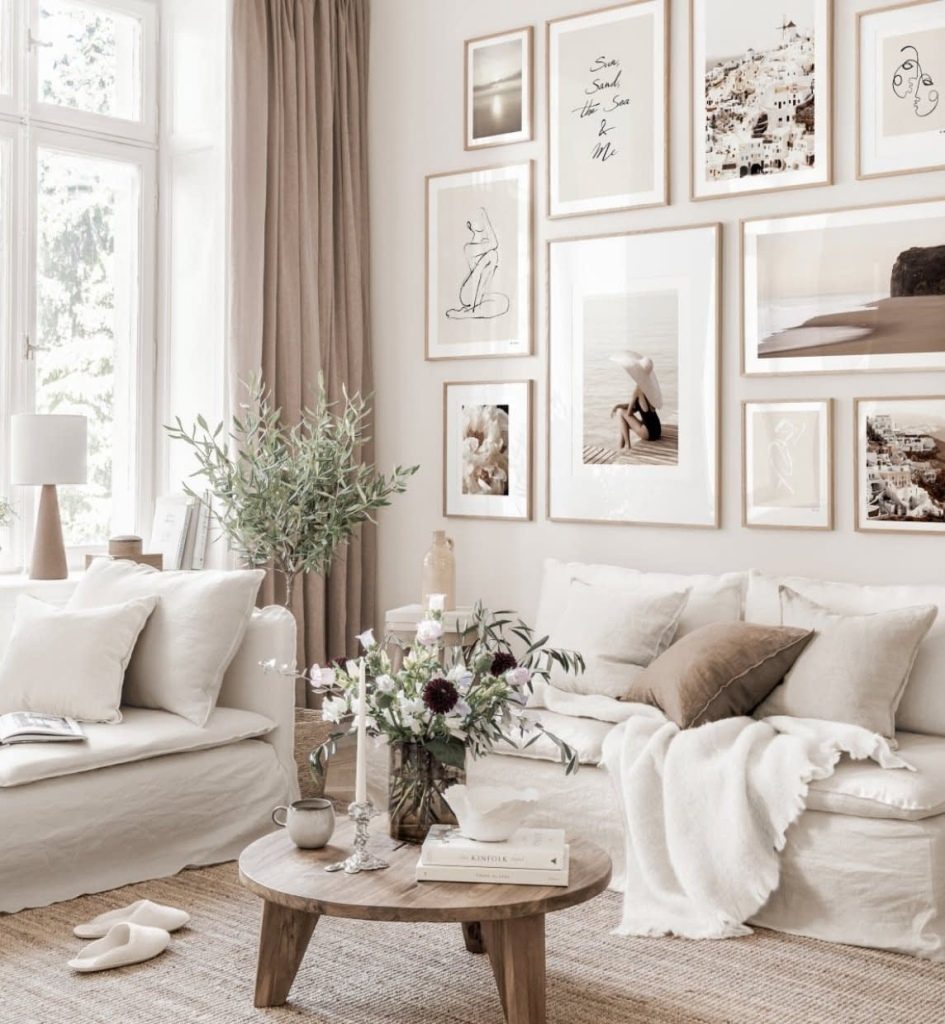 Gallery walls are a great feature in your lounge as it can break up the beige decor beautifully. If you're unsure how to put together a gallery wall on your beige wall, this example by Poster Store uses subtle brown filter photography and white borders to keep the style delicate.
Furthermore, plants are a beautiful decor element to bring into a beige living space as it serves as the perfect canvas for vibrant green florals.
White living room
White sofa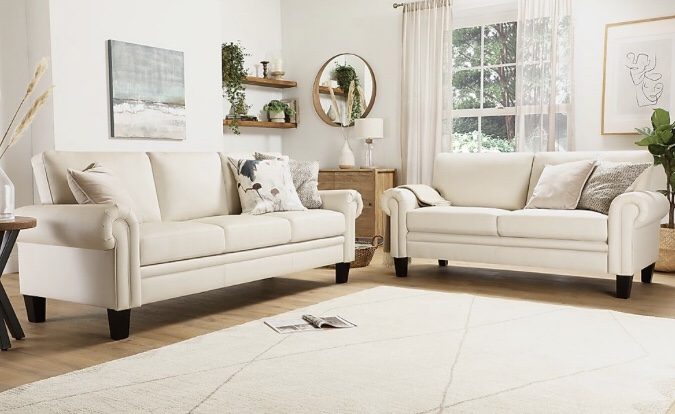 White living rooms are hugely popular because they act as a blank canvas where you can invite pops of colour and patterns. Choose a luxurious white sofa to feature as your focal point, like this 3 seater from Furniture Choice. The solid dark wood legs will help draw in your living room theme by adding decor elements throughout to match.
White marble top coffee table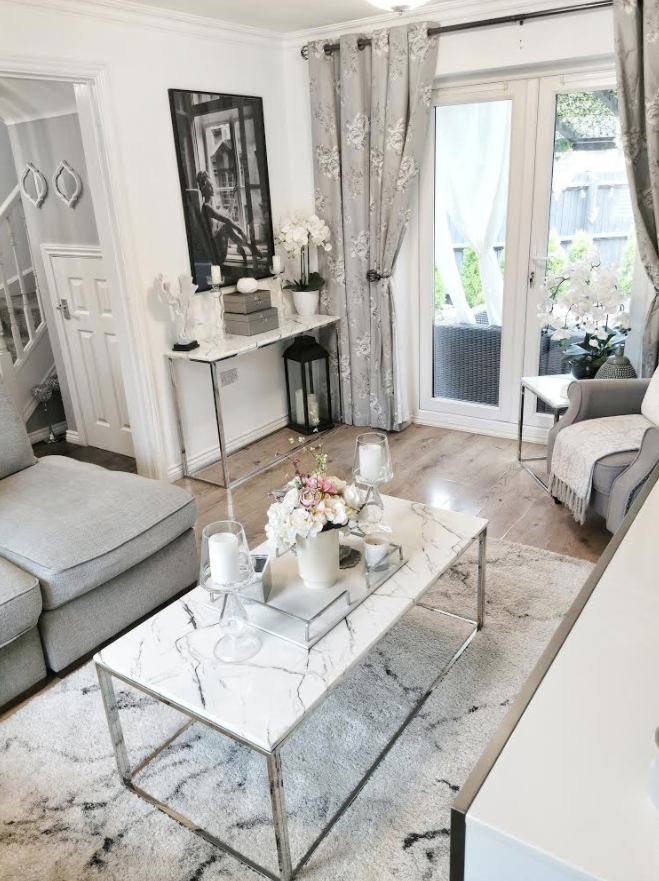 For a sleek and stylish white living room incorporate marble decor like this elegant coffee table with white marble top and glass legs. The matching marble rug and throw infuse the marble pattern for a glamorous living room style.
White corner sofa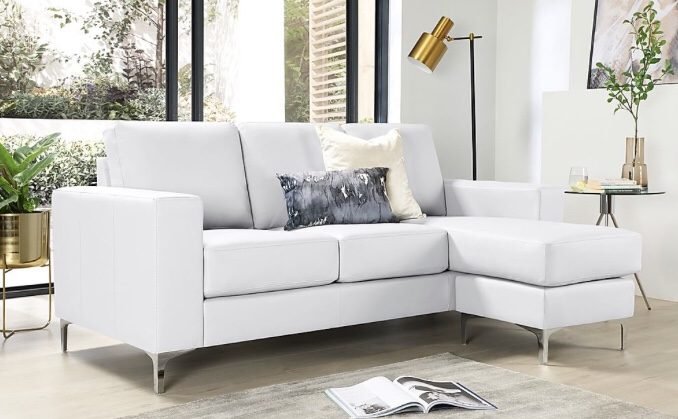 A corner sofa in a small or medium sized room will create a cozy space for relaxing. Choose a white L shaped sofa and arrange patterned and colourful cushions to add texture to your white living room. Gold metallics against white walls and furnishings create a subtle feel of luxury.
Green
Green and beige living room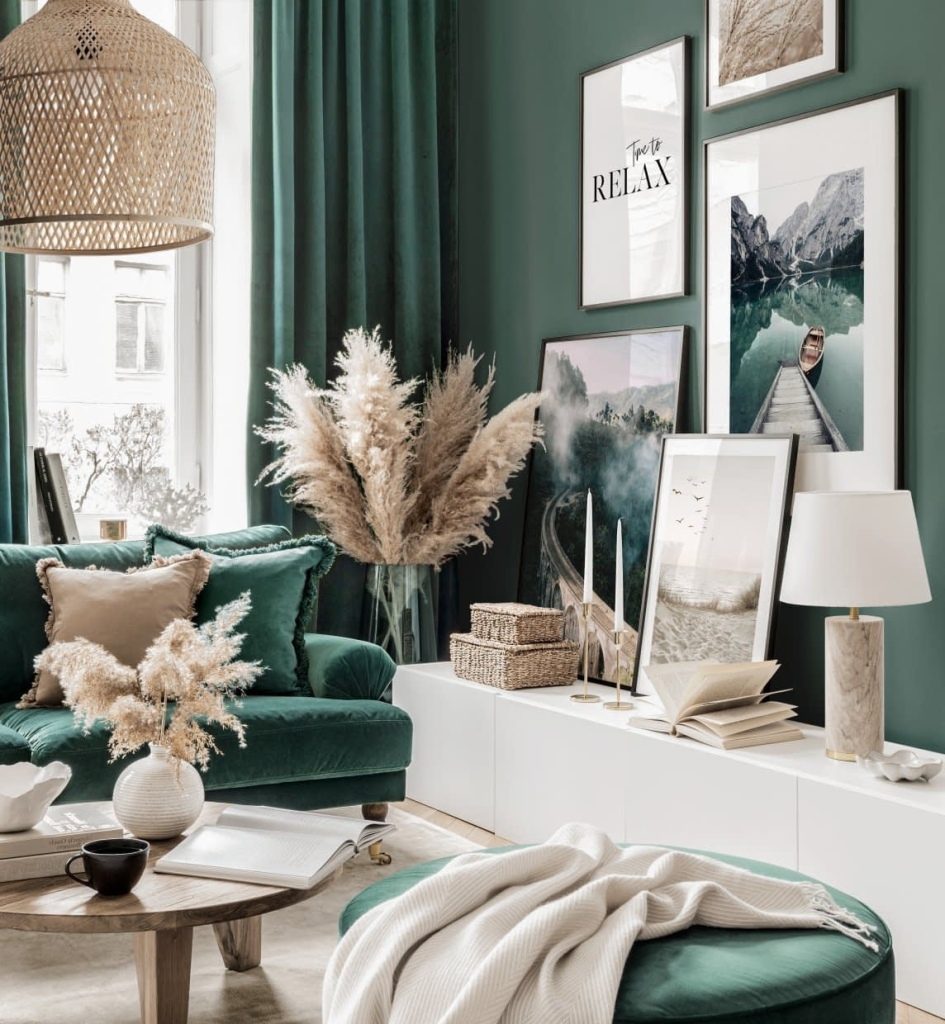 Image source: Poster Store
Luscious green living rooms are cozy, relaxing and allow you to reconnect with nature through painted walls, plush sofas and decor. This gorgeous green living room style mixed with beige detailing, from the fluffy pampas grass and textures lighting softens the green for a calming style.
Moody green living room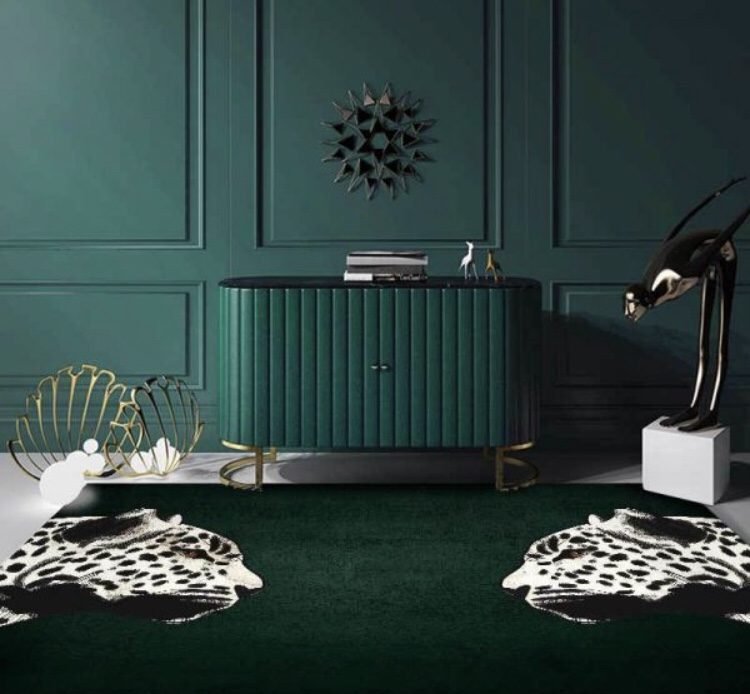 Rich green combined with striking white and bold black decor creates a luxurious living room space. For a moody living room, combine dark green walls with fierce animal print rugs for a dramatic and unique interior style.
Rich green living room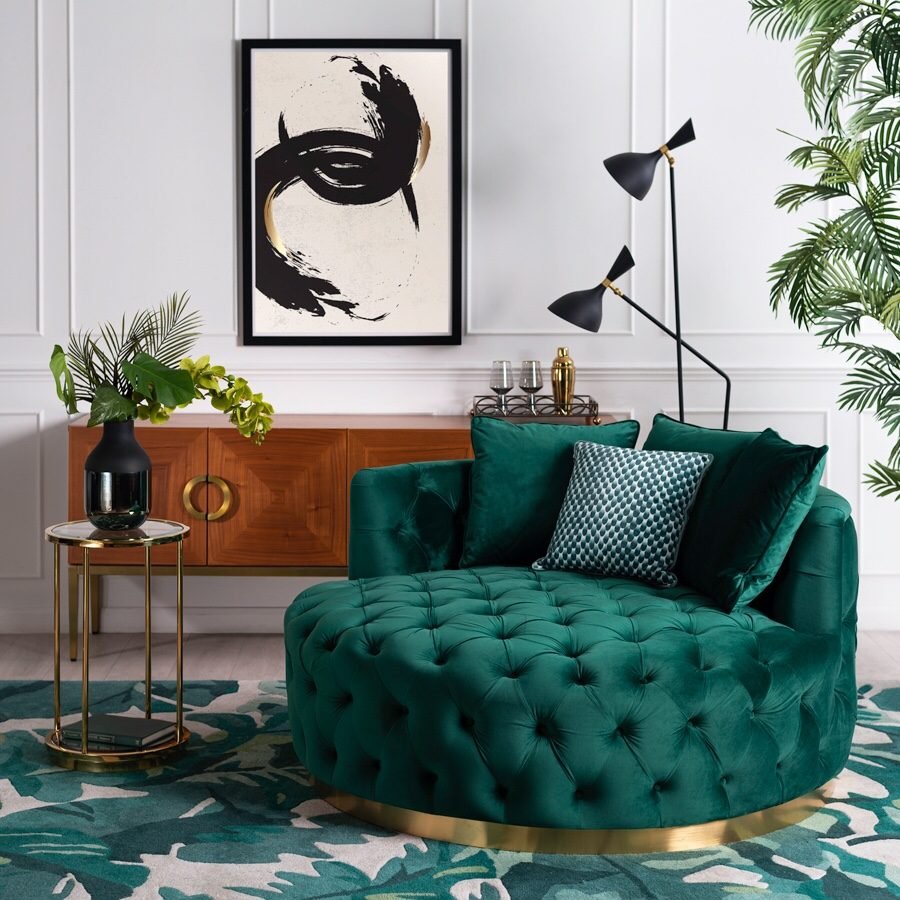 Deep green interiors create an opulent space for relaxing. Furnishings like this elegant loveseat is perfect for a romantic living room style that brings Victorian flare into your lounge area.
Elegant green curtains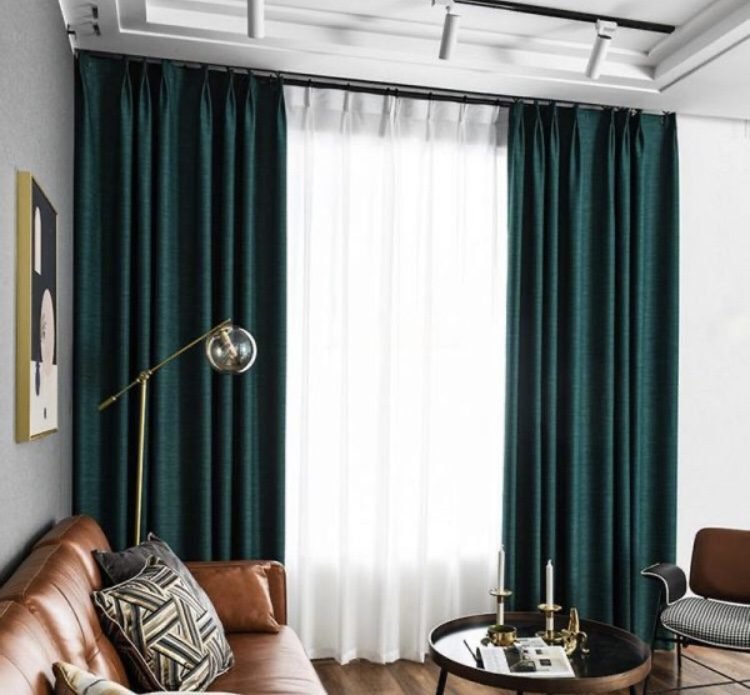 Image source: CurtainsIn
Drape your windows with silk pinched curtains in a deep green to complete the look for a modern green living room. Choosing a dramatic coloured curtain like green goes well with dark brown and black furnishings for a contemporary look.
Grey
Dark grey living room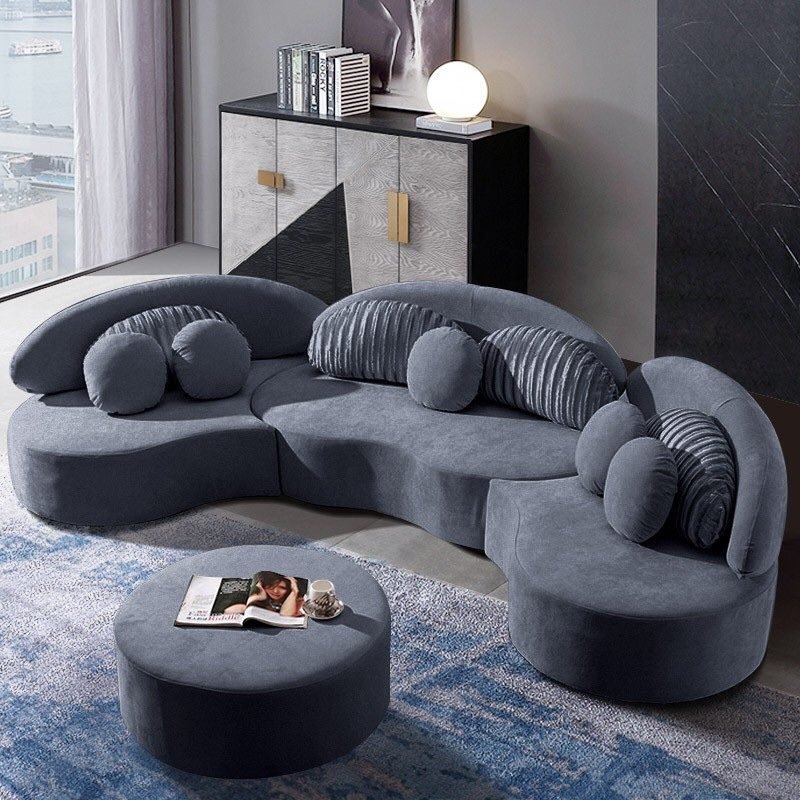 Modern grey living rooms will always be a popular colour scheme. If you're looking to create a moody space, opt for dark grey interiors. Play around with soft grey sofas, contrasting walls and textured furnishings to bring the look together. This gorgeous curved sofa is ultra modern and sleek for a unique and contemporary living.
Light grey living room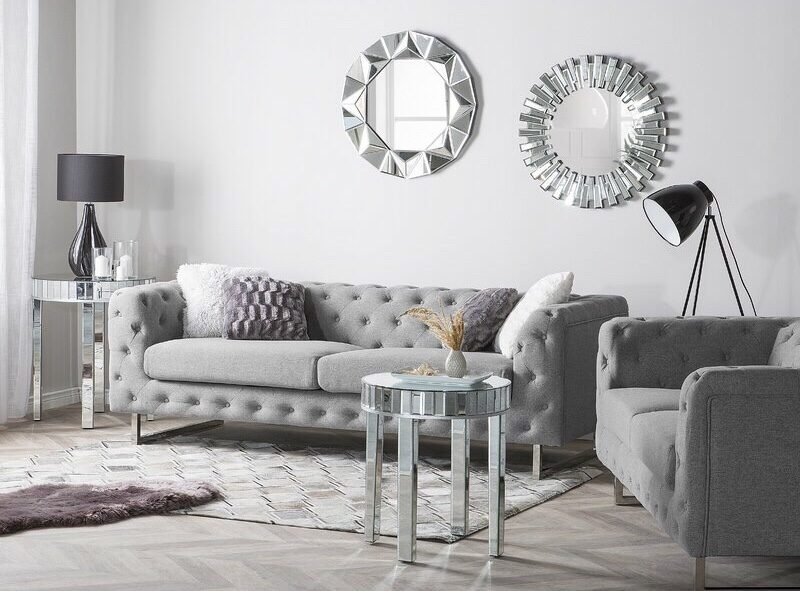 Image source: Wayfair
Light grey colour schemes create a tranquil living room space through soft and delicate furnishings and interiors. Light grey tones are a useful interior trend to make your room appear bigger and brighter, and when you introduce mirrors and reflective decor, this elevates the feeling of more space too.
Grey and pink living room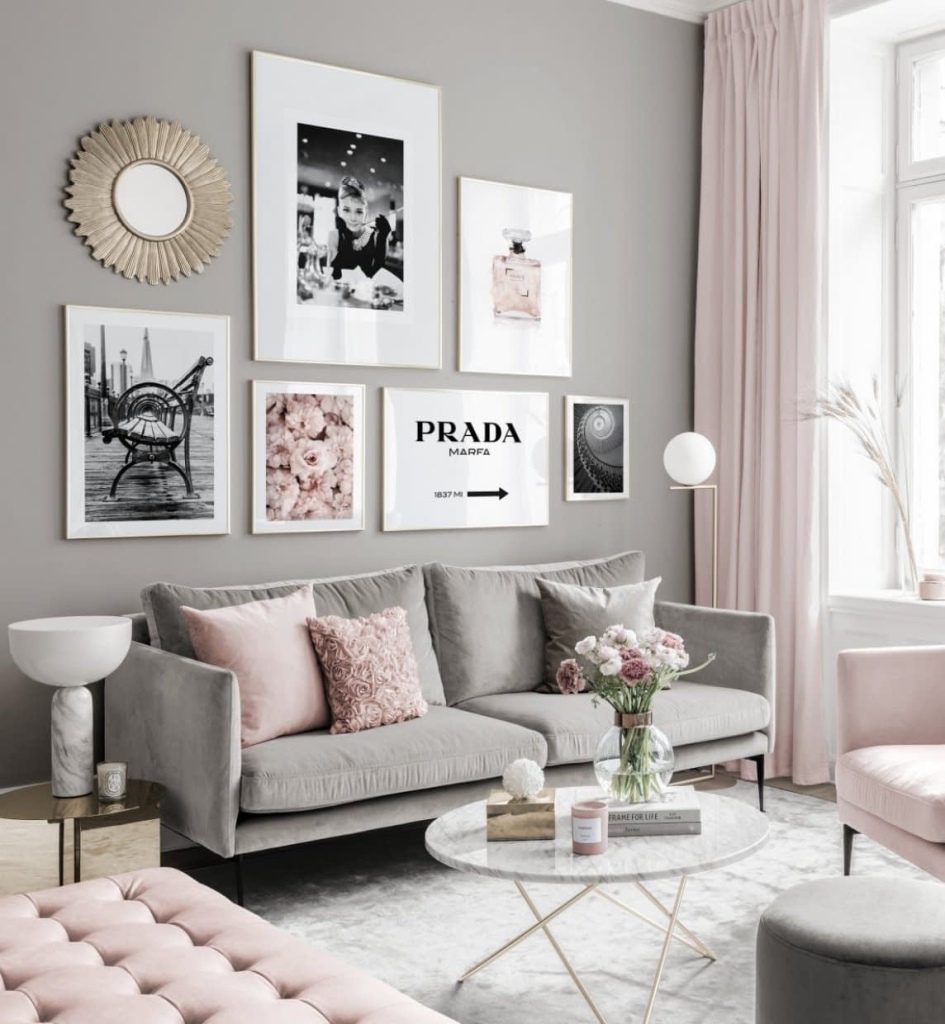 Image source: Poster Store
Serving as your canvas to incorporate soft colours into your living room, light grey walls, sofas and carpets invites other colours for a playful space. Introduce pink decor in a grey living room for a sprinkle of feminine touch. From soft pillows to plush ottomans and elegant florals to create a stylish and youthful lounge area.
Brown
Gold and brown living room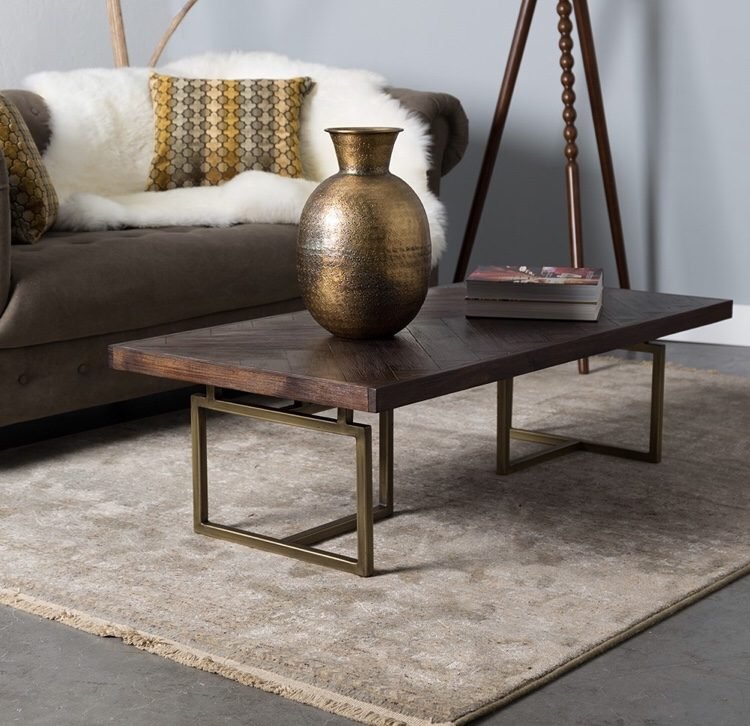 The use of dark brown decor in a living room creates a cozy and snug space that looks warm and inviting. Not only that, but dark brown and gold furnishings are modern and contemporary for a space that will look timeless and effortless in your home. We love this modern and sleek dark brown coffee table with antique brass legs for a cozy statement price.
Gold living room rug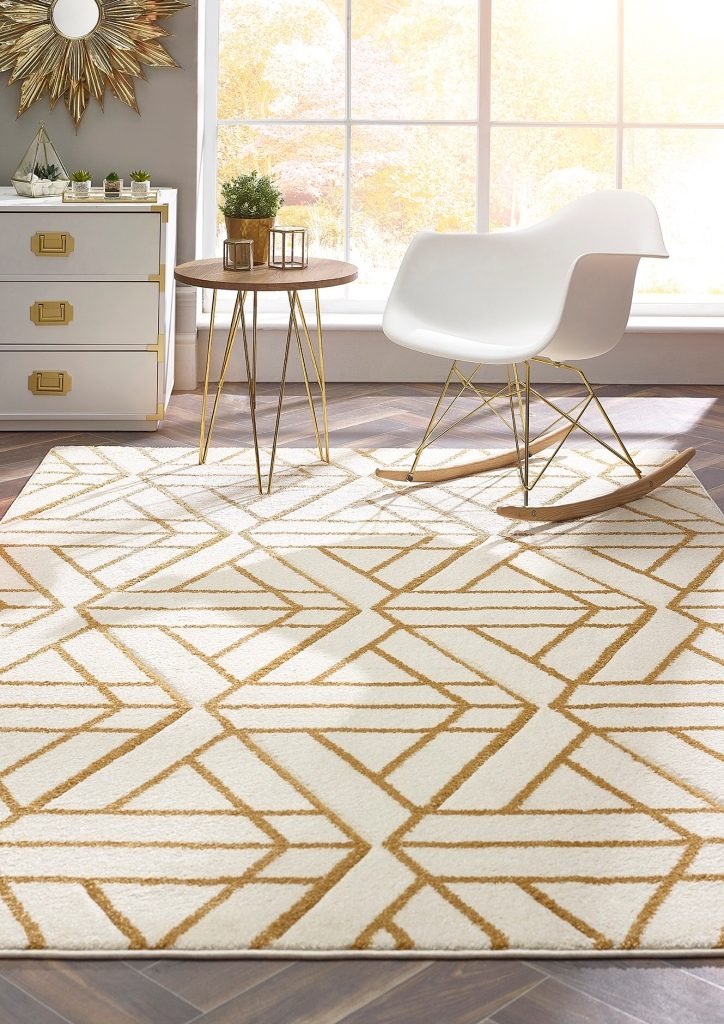 Image source: Rugs Direct
Elegant gold decor is a fun way to incorporate glamour into your living space. This fun cream and gold pattern rug is trendy and goes perfect with brown decor, from wooden floors to tables for a Scandi and cozy look.
Brown country house living room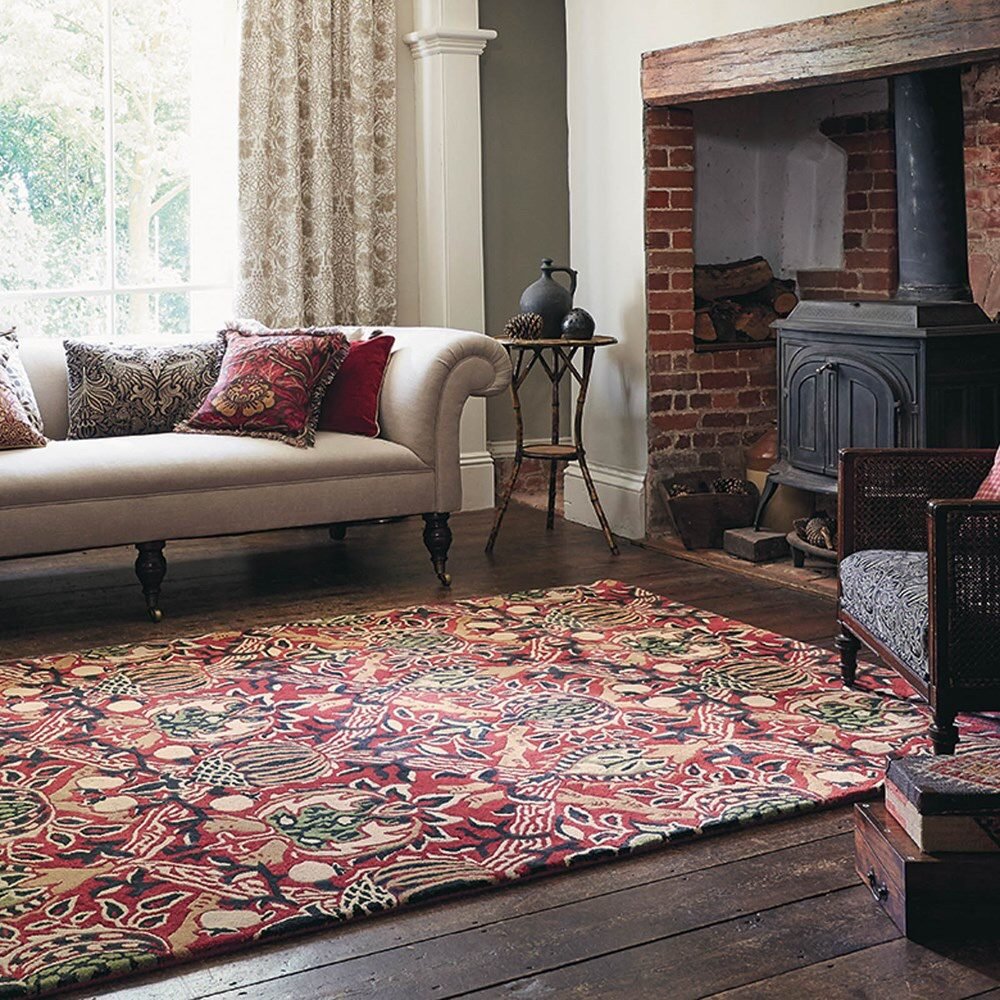 Image source: The Rug Seller
Adorn your home with country charm with a brown colour scheme. Combine soft creams with dark wood flooring, brick walls and pattern rugs and curtains to bring in the charm of a countryside cottage into your home.
Blue
Moody blue living room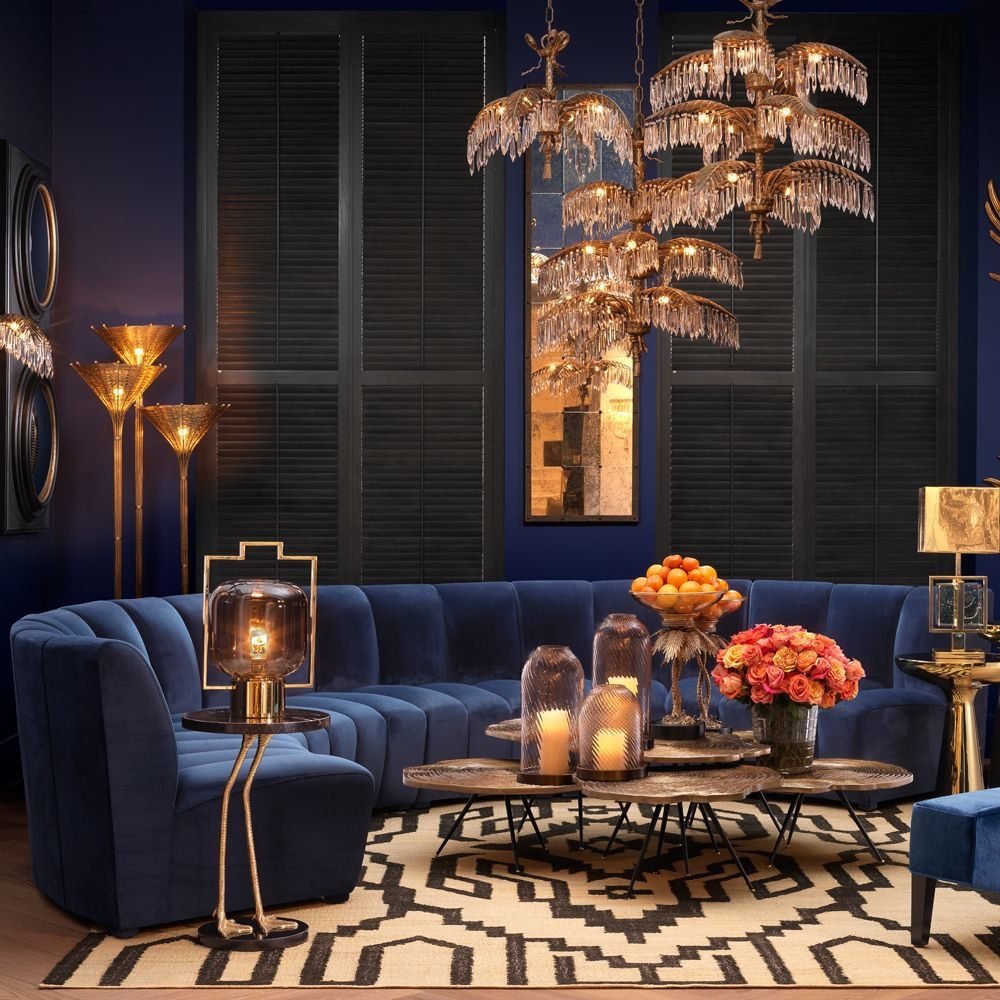 Velvet blue sofa, metallic lighting, dark walls and statement rugs are elements that you can bring in to create a moody blue living space that is dramatic and bold. The focal point of any living room is the sofa and this luxurious velvet deep blue sofa in a C shape is perfect for entertaining all the family.
Calming blue living room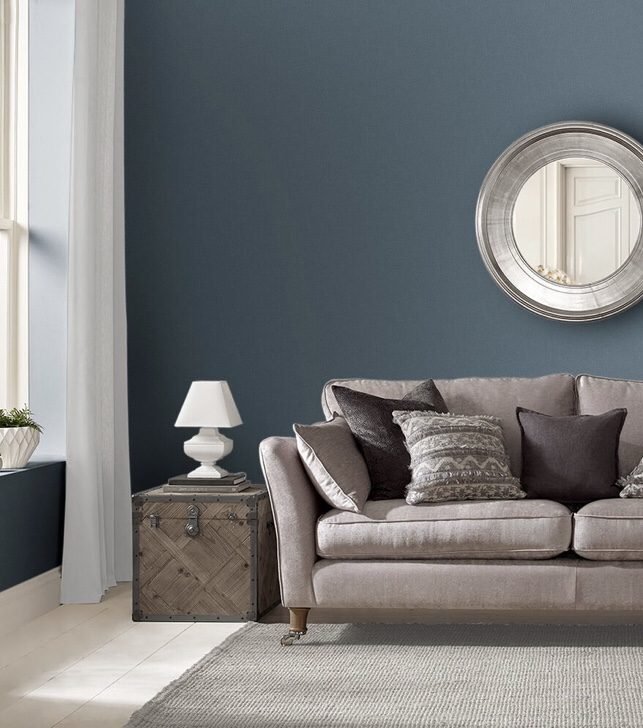 Colour your living room with calming blue shades like this Benjamin Blue by Graham & Brown. This gorgeous shade is somewhere between light and dark blue for a tranquil colour to bring in calmness and space into your living room. Mix with metallics as grey for added coziness that contrast beautifully together for an overall sense of calmness.
Blue and brown living room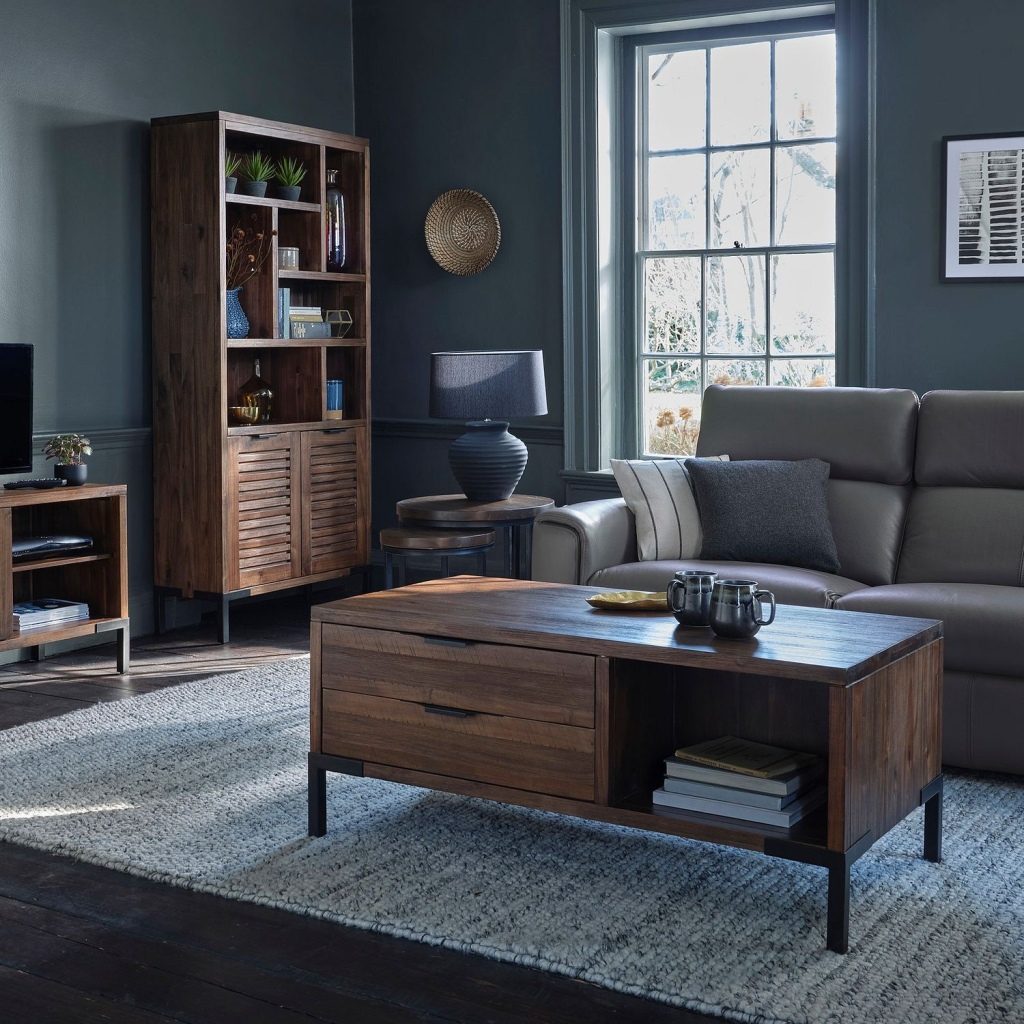 Image source: Oak Furniture Land
Bring in warm tones and textures to a blue living room by incorporating dark brown furnishings such as coffee tables and bookcases that will also add texture to your space. This beautiful living room design is a great example of how wooden furniture can be used to warm up a cool blue colour scheme.
Black
Black and white living room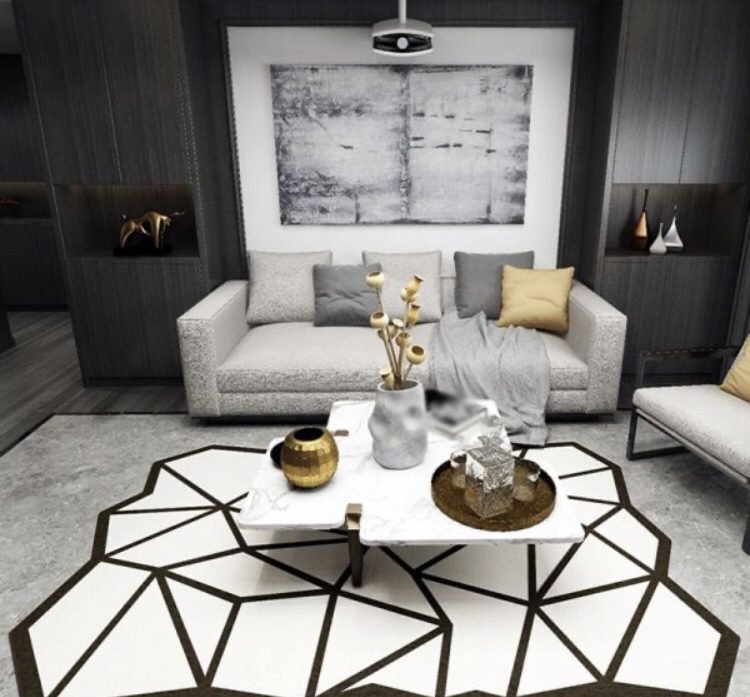 Image source: Litfad
Go bold with your interiors like this dramatic white and black living room design. Play around with geometric patterns, grayscale artwork and textured decor to make a black living room soft and cozy.
Black marble coffee table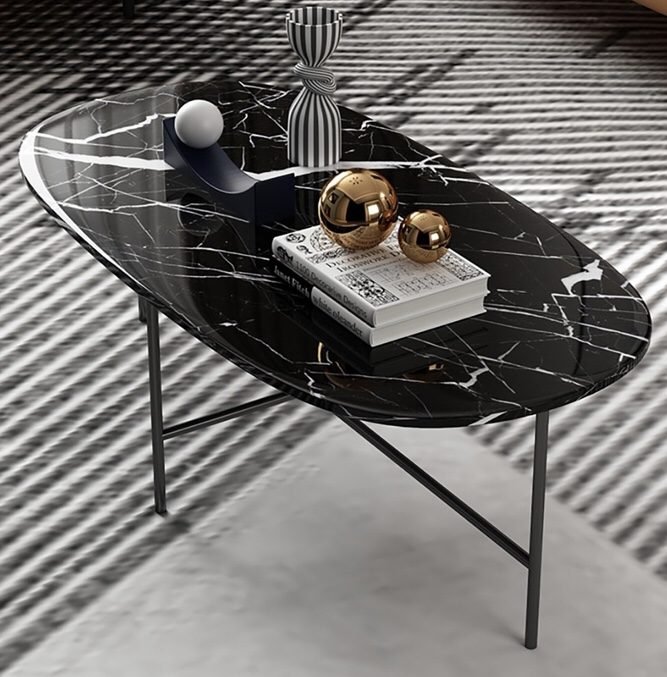 Image source: Homary
Dramatic and elegance go hand in hand when styling your black living room. This unique black marble coffee table is sleek and stylish with shiny finish. Style with metallic accessories for a glamorous living style.