Grey bathroom designs offer a subtle canvas for an inviting and calm space to recline. That's not to say that a grey bathroom has to be boring.
We've got some inspiration and images to inspire your grey bathroom ideas for a full-of-character bathroom that will make it your new favourite room in your house.
See below for our stunningly grey bathroom tile ideas, and don't worry even if you have a small bathroom, there is plenty of inspiration on getting the most from your space.
Grey bathroom tile ideas
1 of 10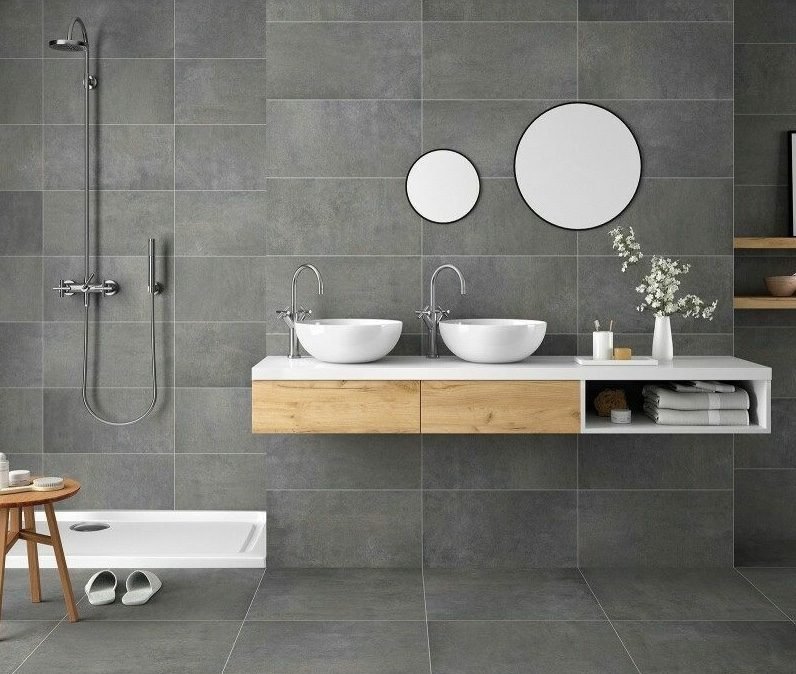 Create a space in your bathroom that feels clean and minimal by using grey tiles to give your bathroom a luxurious and elegant ambience. Whether you plan to tile the entire bathroom from ceiling to floor, or just your walls. Our grey bathroom tile ideas below will give you plenty of inspiration for your next decorating job.
Natural stone effect grey bathroom tiles
2 of 10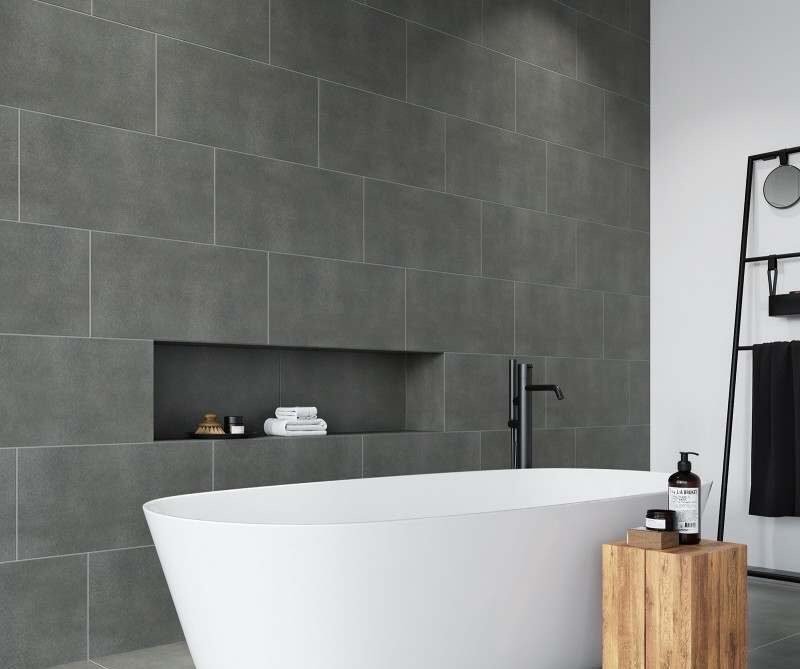 Contemporary bathrooms looking for an elegant aesthetic can opt for a stone effect tile that will make the bathroom feel spacious and spa-like, even if you don't have a bath tub. We love this Titanio Grafito Wall and Floor Tile by Tile Mountain as the large tiles come together to create a space that is blissful and calm – everything a bathroom should be.
Large grey bathroom tiles idea
3 of 10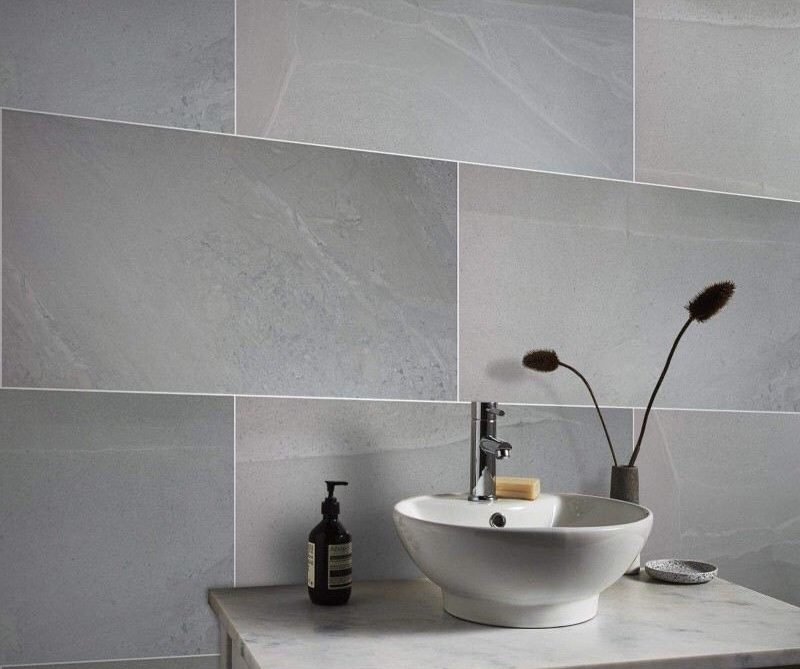 Choosing large tiles to decorate a bathroom is great for minimising grout lines for a more simple, Scandinavian inspired look. These beautiful dark grey bathroom tiles from Tile mountain are chic and timeless and the subtle stone effect brings a sense of texture into the space.
Related article: Small Bathroom Storage Ideas
Contrasting stone effect bathroom tile ideas
4 of 10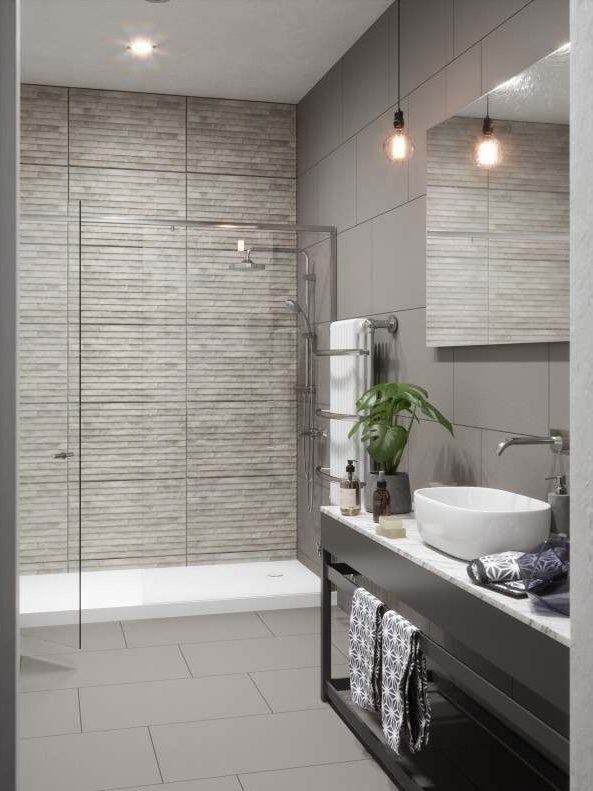 Creating the look of stone walls in your bathroom is a great way to bring the spa-like ambience into your home. These gorgeous contrasting tiles from Tile Mountain are designed to replicate real stone and when fitted together, you get a realistic and irregular effect that looks more natural.
Grey texture bathroom tiles
5 of 10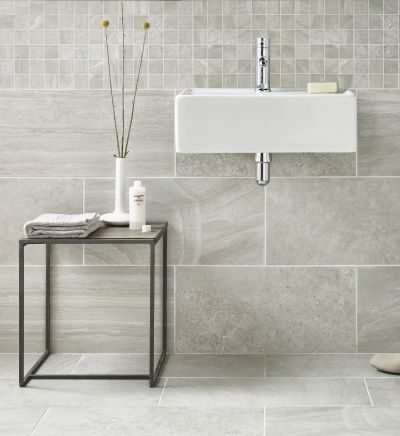 Textured tiles can give your grey bathroom character without the need of overdoing it on the decor. We love this graphic stone wall tile from Tile Mountain, which brings the essence of Yosemite National Park to your bathroom.
Light grey bathroom tile idea
Light grey bathroom designs are great for opening up a space to look bigger and airy (even if you have a small bathroom). Furthermore, light grey bathrooms offer a subtle canvas for bold bathtubs and furnishings to do all the talking. Our ideas below offer inspiration for your next renovation with the light grey colour scheme in mind.
6 of 10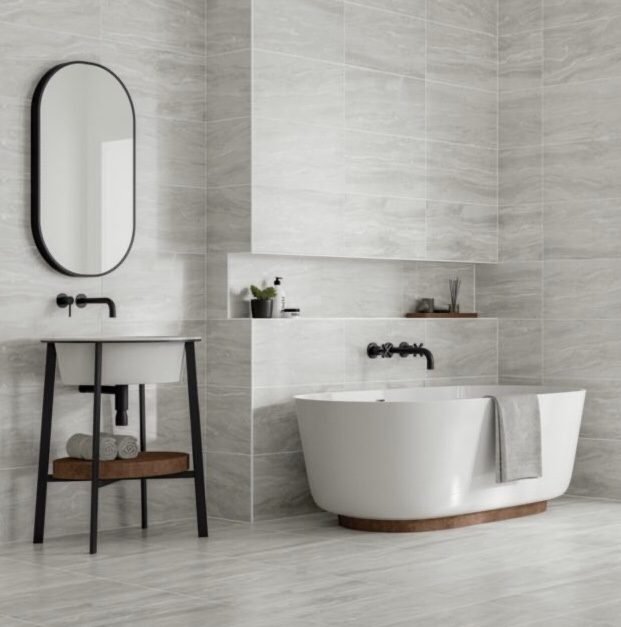 Image source Wickes
Minimalist bathrooms with light grey tiles can be styled with hardwood and metal furnishings to outline focal points in the room. A bold white bathtub against a light grey wall will create an indulgent and relaxing ambience in your bathroom.
7 of 10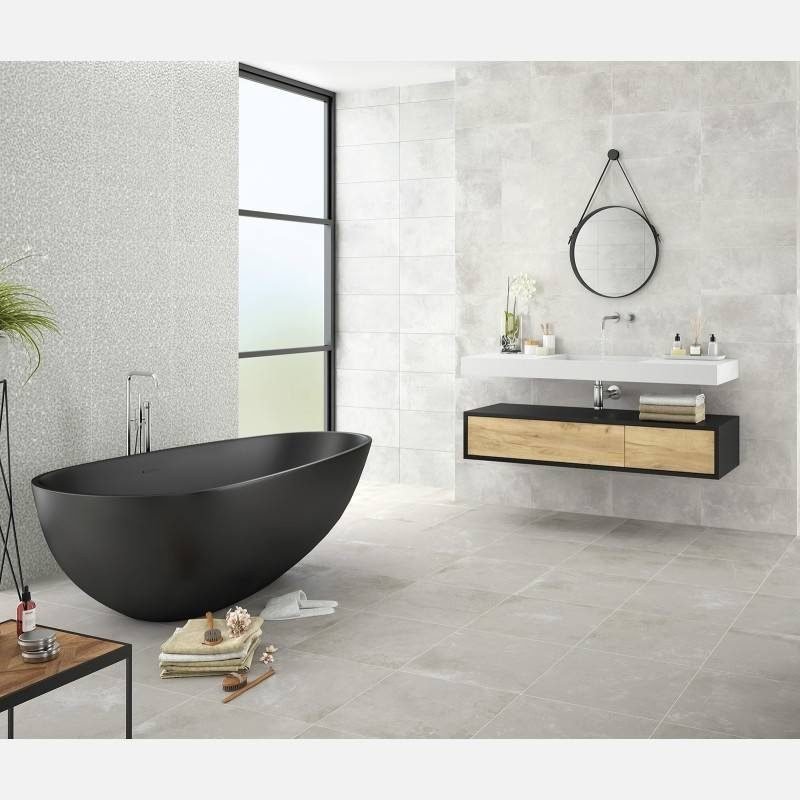 Image source Tile Mountain
Colour your bathroom with a light grey canvas if you've got a bold bathtub that you want to make your focal point. This will draw your eyes attention to the tub while being relaxing and calm. Leafy plants, towels and textures can also be introduced for a natural outdoors ambience.
8 of 10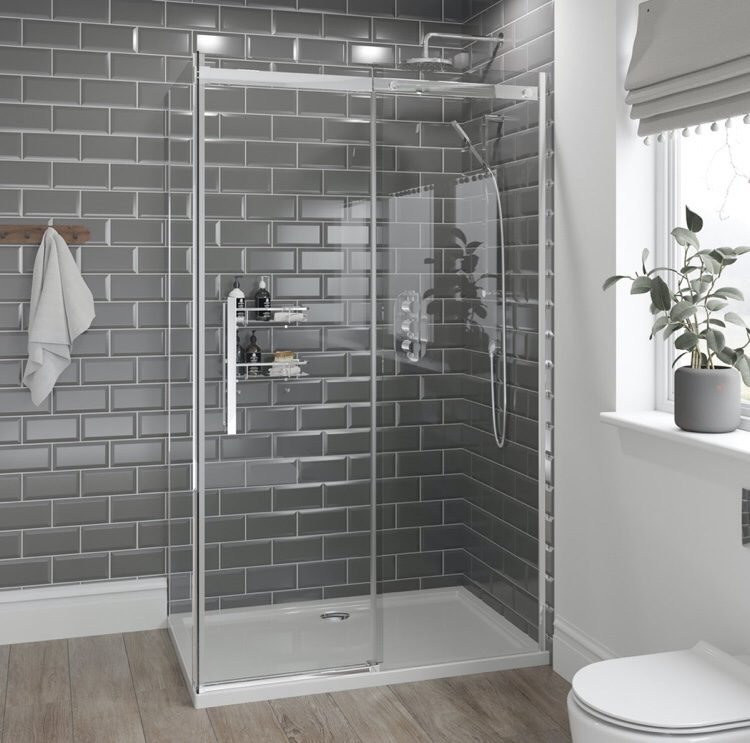 Image source Victoria Plum
This light grey and white bathroom design is a great example of how to play with texture with a light grey colour scheme. From the glossy tiles to the textures floors and the delicate blinds, this bathroom design oozes with luxury and calmness for a truly indulgent bathroom space.
Dark grey bathroom tile designs
Moody home interiors are a big trend right now, and there's no reason why the bathroom should be left out of getting a revamp with this style too. Dark grey bathrooms don't have to be gloomy and dull. Make sure plenty of white is used throughout your design as well as pops of bold colour to add your own twist too. Below are some ideas and images to inspire your renovation.
9 of 10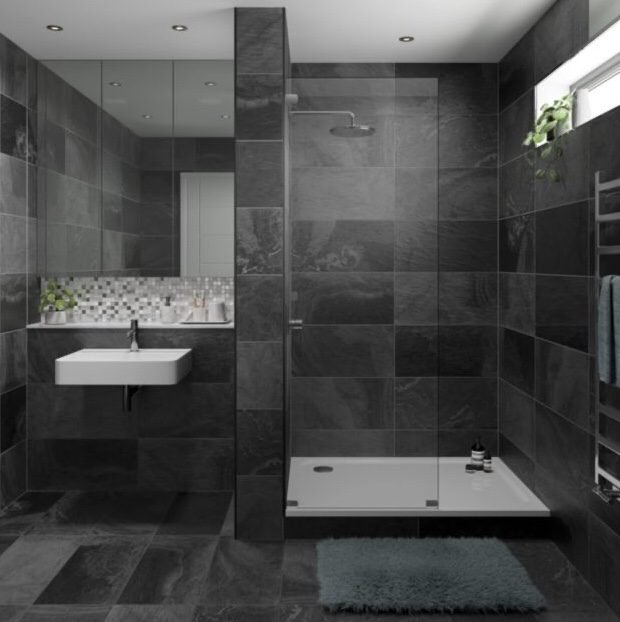 Image source Wickes
If you love the idea of a black/grey bathroom, this design by Wickes is a great example of how to bring a moody vibe into your bathroom space.
Using a slate effect tile throughout, this bathroom has plenty of texture and is broken up by beautiful architecture design from the vanity to the shower cubicle. The use of mirrors makes a dark room appear bigger and brighter and we love how the tiling above the floating sink adds a unique look to the space with a pop of bright tones.
10 of 10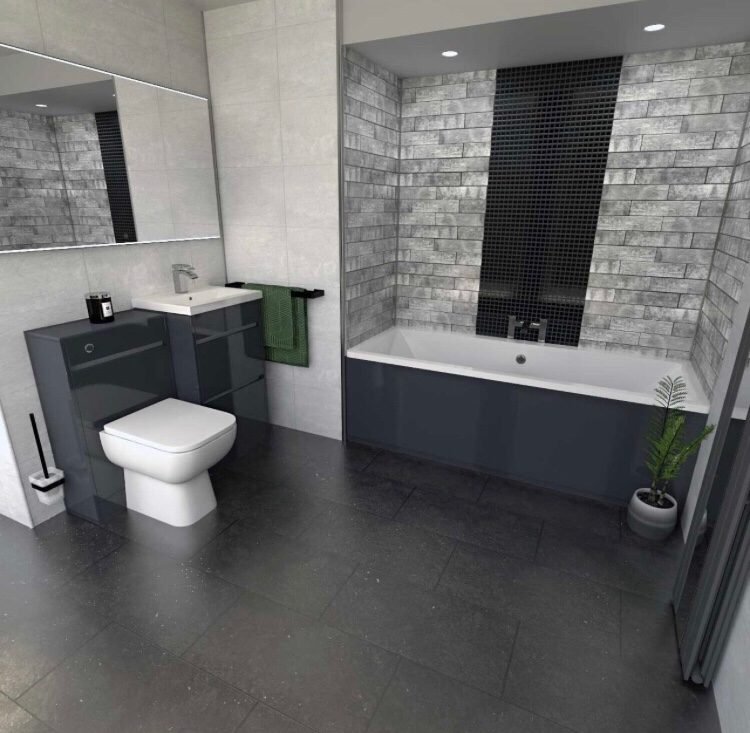 Image source Wholesale Domestic
Modern bathroom designs just like this gorgeous dark grey suite from Wholesale Domestic uses a range of different textures to bring to life each element. The matching sink and toilet cabinets with the bathtub exterior are glossy and luxurious, while the bathtub wall combines a natural stone effect tile and textured black panel running through the middle. To finish off you have a Matt grey floor to bring in a sophisticated look to the entire space.
How do you Style Your Sanctuary? Find more bathroom ideas below!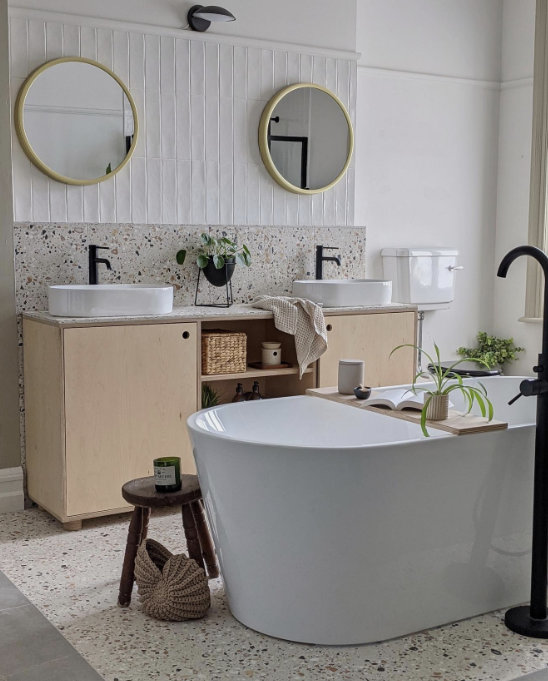 Beautiful bathroom ideas and trends
Find the latest bathroom trends and inspiration to fill your space with gorgeous interiors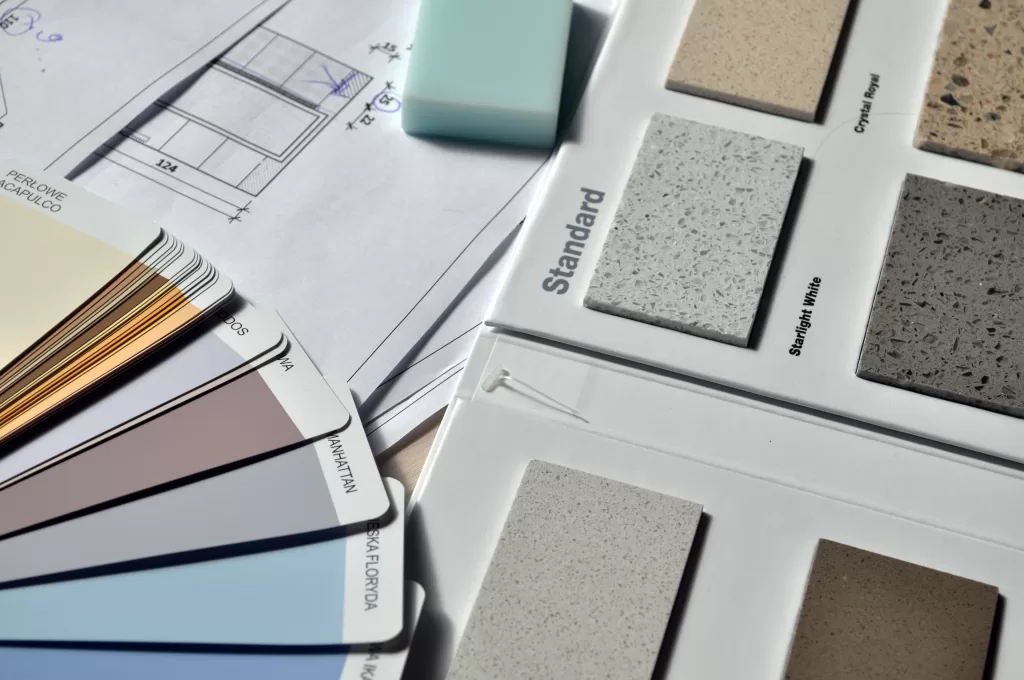 Home Advice Hub
Need some inspiration for a project, renovation or furnishings? Our Home Advice Hub is a great place to seek answers