This article was updated in September 2023
Blue is a classic and timeless colour to incorporate into your bedroom. From light shades that can make your space feel open and airy, to dark shades that can create a relaxing ambience. In this article, we share all the different shades of blue you can use in your bedroom as well as decor options and ideas.
1. Floral blue bedroom ideas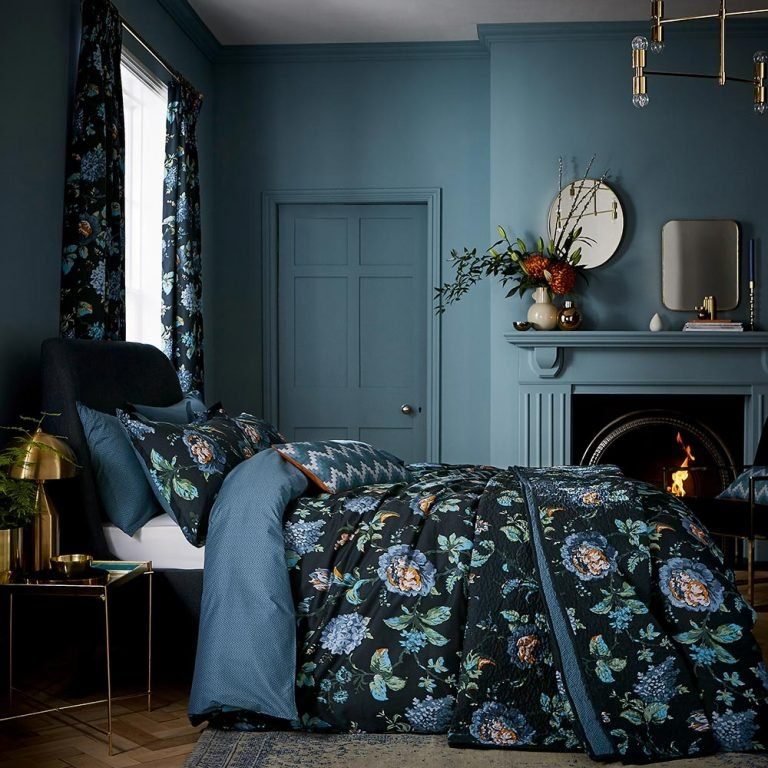 If you want an all-blue bedroom look, think about incorporating a monochromatic colour scheme. Find your favourite shade of blue as the base colour, then use one or two tones lighter and darker to create a visually appealing blue bedroom. You can do this with patterns to add texture, like this inky blue duvet with coral blooms for a cozy statement look in a bold room. 
Blue floral bedroom theme idea: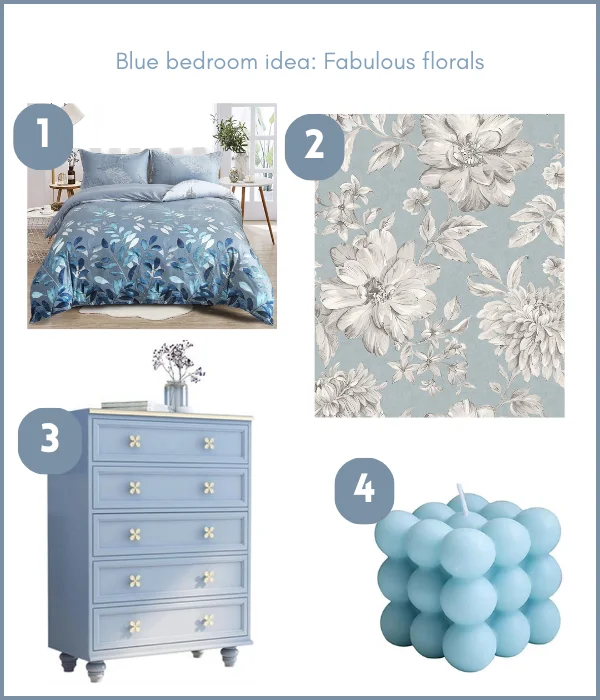 If you love florals, you'll love our style board above. We've included floral bedding and floral wallpaper to set the theme of the room. Then, we have selected a gorgeous blue chest of drawers with floral knobs to carry the theme through. To match the rounded shapes of flowers, we've included a bubble candle too, which can add a subtle nod to the theme without being too illustrative.
2. Velvet blue bedroom idea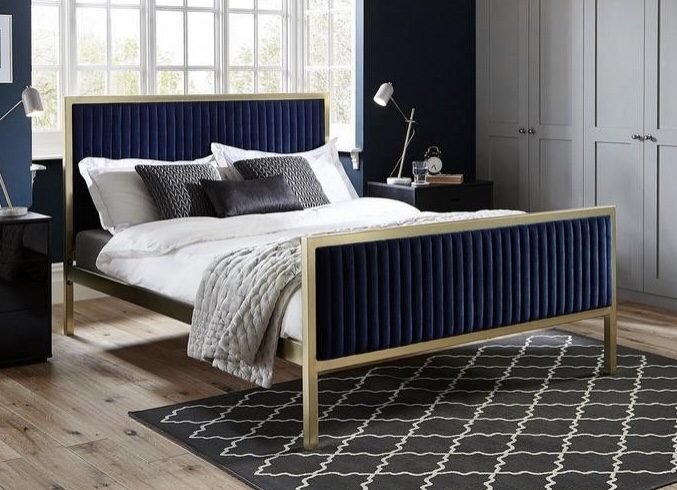 Add a touch of Art Deco luxury with this blue velvet bed with a gold frame that looks minimal and stylish even in a small room. Using lines in your room can make your room feel boxed in, but if you add in different types of lines, like curved, horizontal and vertical, the space can feel bigger as there are various elements that they eye draws attention to. Additionally, using lots of vertical lines can help make your walls appear taller!
Luxury blue bedroom decor idea: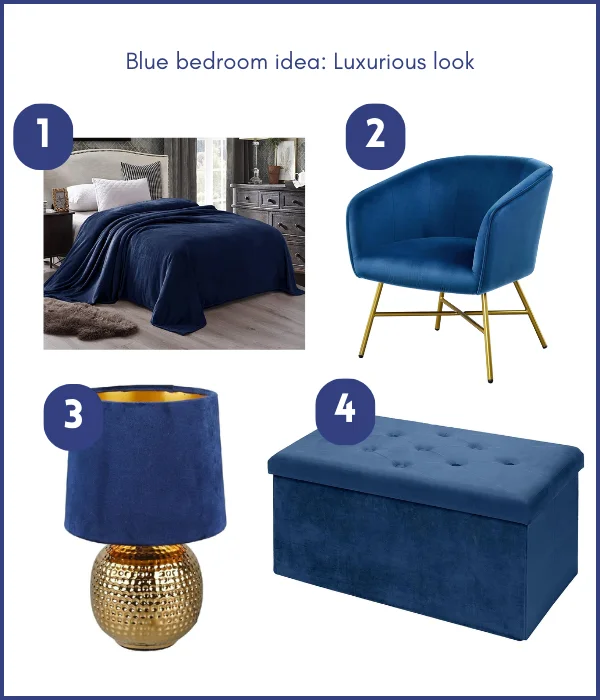 Dark blue and gold are the perfect colour combinations to create a luxurious bedroom space. We've chosen a lovely velvet blue throw which will give your blue bedroom a cozy look. As for storage and accessories, we've selected a gold and blue table lamp which is a statement piece to go on your bedside table. The blue velvet chair and storage ottoman are fab bedroom accessories to help you enjoy the space and keep things tidy.
3. Inky blue bedroom idea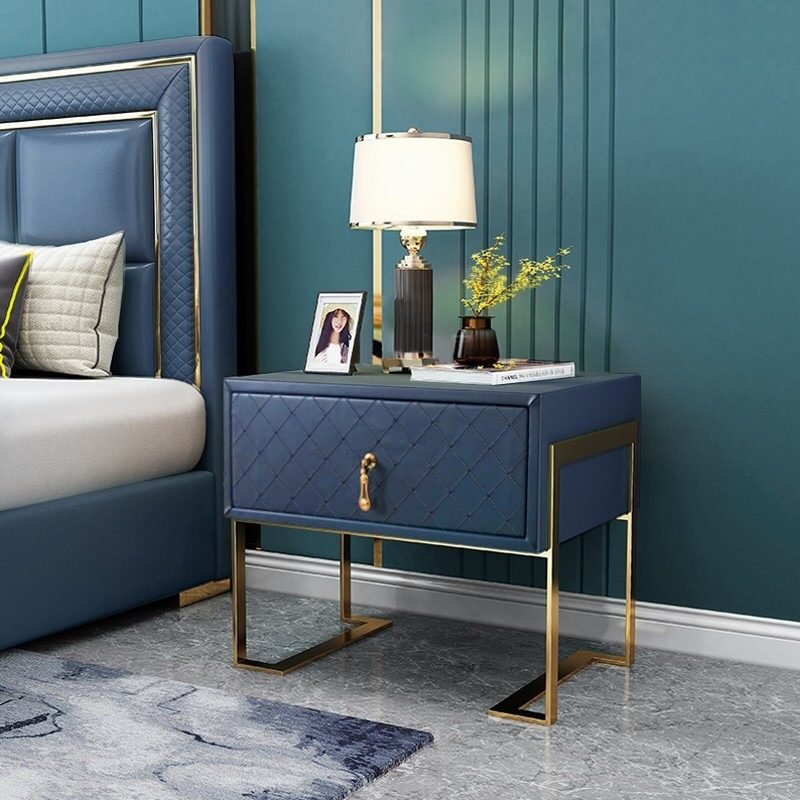 Match your blue bedroom design with contrasting furnishings, like this gorgeous blue nightstand with luxurious gold legs and a matching handle. The PU leather upholstery adds texture and luxe for a sophisticated look.
4. Blue and gold bedroom idea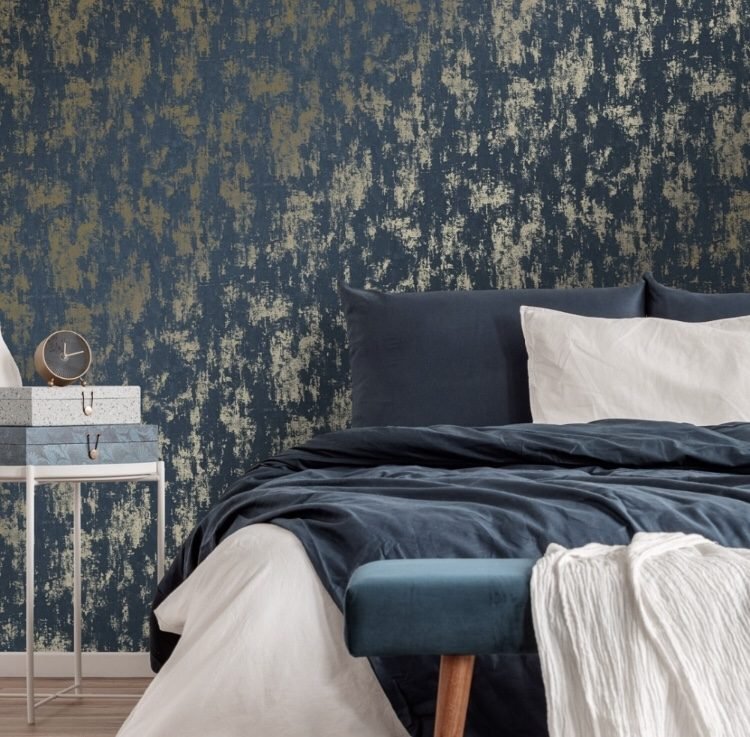 Blue and gold are a great combination for the bedroom as the colours combine to bring a real sense of luxury to the space. This beautiful navy blue and gold wallpaper adds instant texture to your bedroom walls. Combine with blue decor and bedding and white elements to attract the eye.
5. Romantic blue bedroom idea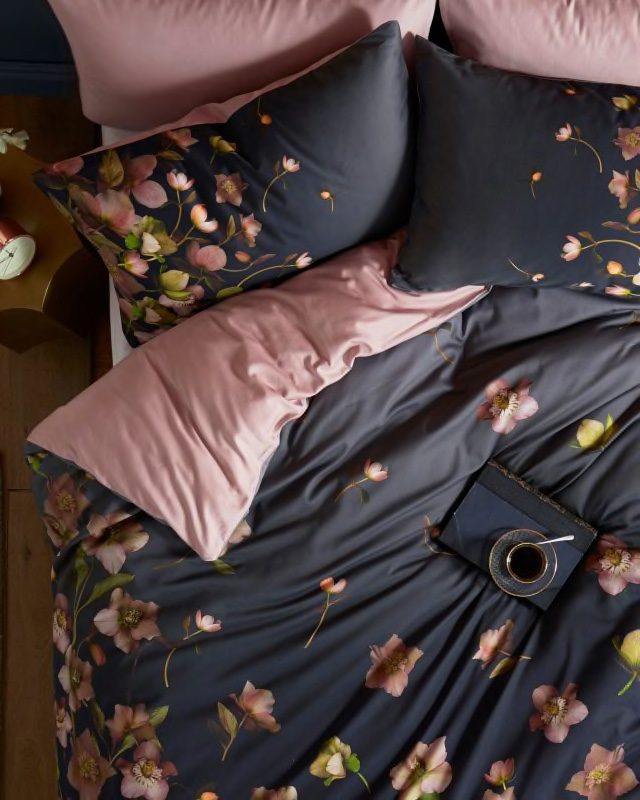 Create an intimate space in your bedroom with a floral duvet in blue and pink that oozes luxury and looks utterly romantic. We adore how the blue and pink mix together for a delicate look to a blue bedroom style. We have an entire article on romantic bedroom colours, if you're looking to add a touch of romance into your space.
6. Moody dark blue bedroom walls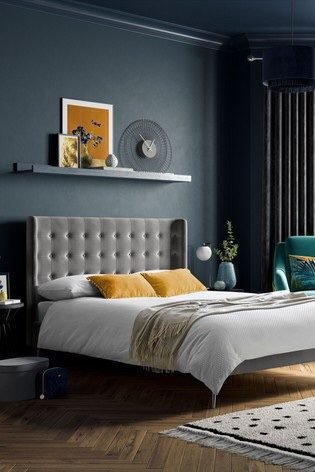 Paint your bedroom walls in a dark moody blue shade like this design by Next. Moody interiors don't have to mean dark and gloomy and this example is perfect for showcasing that with pops of colour from the yellow cushions and artwork.
7. Mood lighting in a dark blue bedroom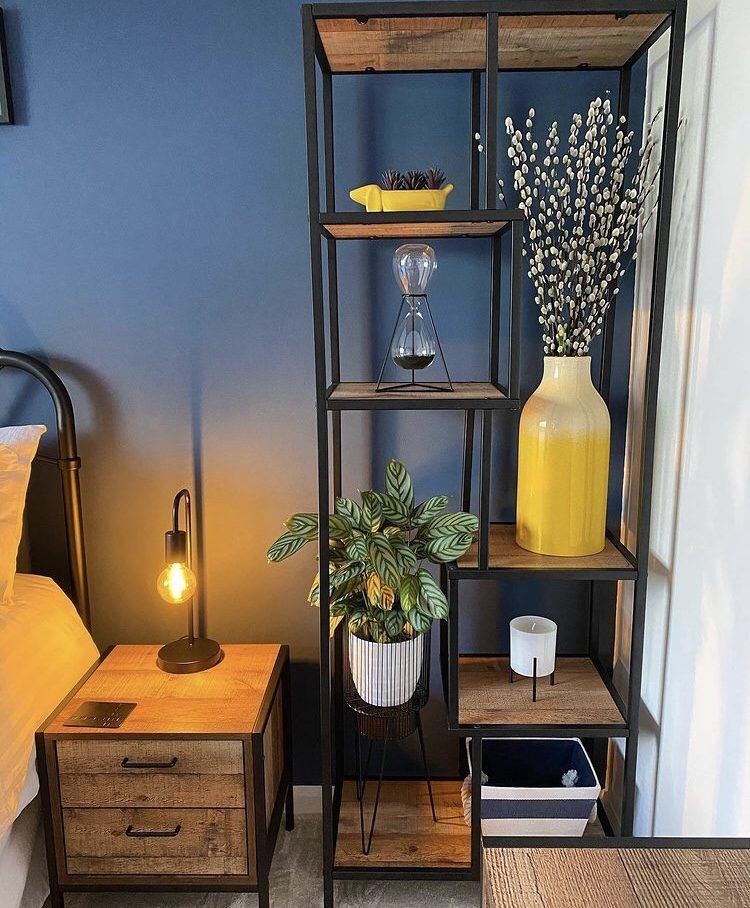 Bring your blue decor and styling to life with mood lighting to make your blue walls warm and cozy. This blue bedroom idea by @anglesey_home_renovation on Instagram combines industrial metal and wood shelving and a nightstand together for a rustic and moody look.
8. Dramatic dark blue and white bedroom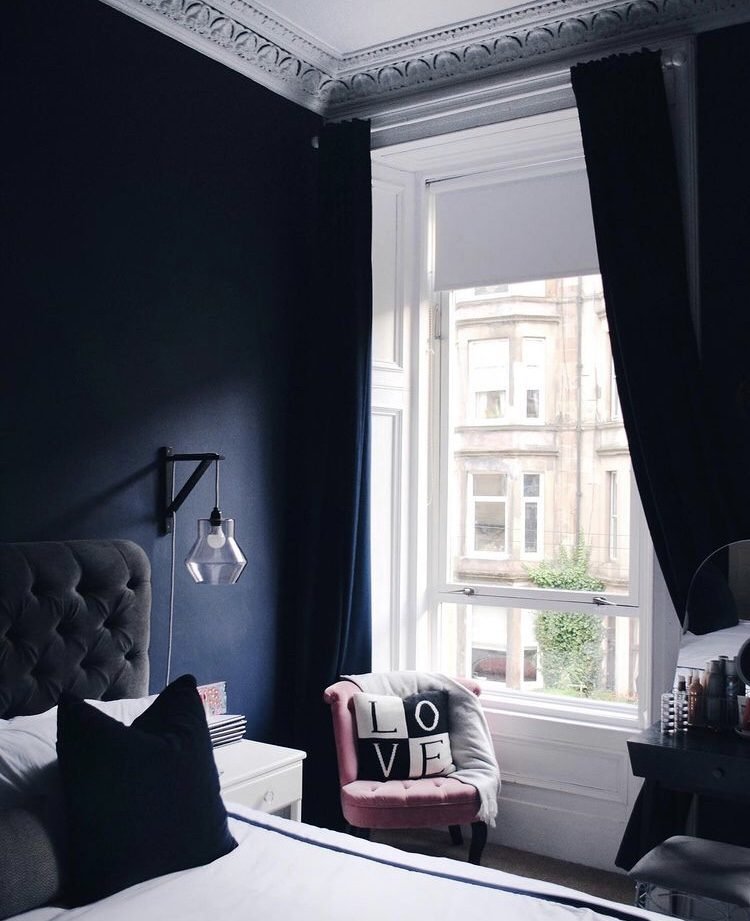 High ceilings, luxurious curtains and velvet furnishings come together exceptionally well in this gorgeous blue and white bedroom by @theneutraldesigner on Instagram. Typically, too much white in a room stops the design from being moody, but the use of white ceilings matched by the window and the bedding makes the space appear dark and indulgent.
What are the benefits of using blue in a bedroom?
Blue is often associated with peace, tranquility, and relaxation. This makes it a great choice for a bedroom, where you want to create a space that is conducive to sleep. Blue can also help to reduce stress and anxiety, making it a good choice for people who have trouble sleeping.

In addition, blue is a versatile color that can be paired with a variety of other colors to create a variety of looks. This makes it a good choice for bedrooms that are decorated in a variety of styles.
What are some tips for decorating a bedroom with blue?
Here are a few tips for decorating a bedroom with blue:

1. Start with a light blue base. This will create a calming and relaxing atmosphere.
2. Add pops of darker blue throughout the room. This will add depth and interest.
3. Use white or other light colors to balance out the blue. This will prevent the room from feeling too dark or overwhelming.
4. Add metallic accents to add a touch of glamour.
5. Don't be afraid to mix and match different shades of blue. This can create a unique and stylish look.
6. Pay attention to the lighting. The right lighting can make a big difference in the overall look of the room.
What are some common mistakes to avoid when decorating a bedroom with blue?
Here are a few common mistakes to avoid when decorating a bedroom with blue:

1. Using too much blue. This can make the room feel too dark and overwhelming.
2. Using only light blue. This can make the room feel too bland and boring.
3. Not adding enough contrast. This can make the room feel flat and uninteresting.
4. Not paying attention to the lighting. The wrong lighting can make the blue look washed out or too dark.
5. Not accessorizing. Accessories can add personality and style to the room.