Are you looking to decorate a small living room? Our ideas full of interior trends and decor hacks will help you furnish your tiny lounge so that it feels cosy and welcoming to relax by the fire or TV without sacrificing the things you love. See below for our small living room ideas.
Small living room idea with a fireplace
1 of 11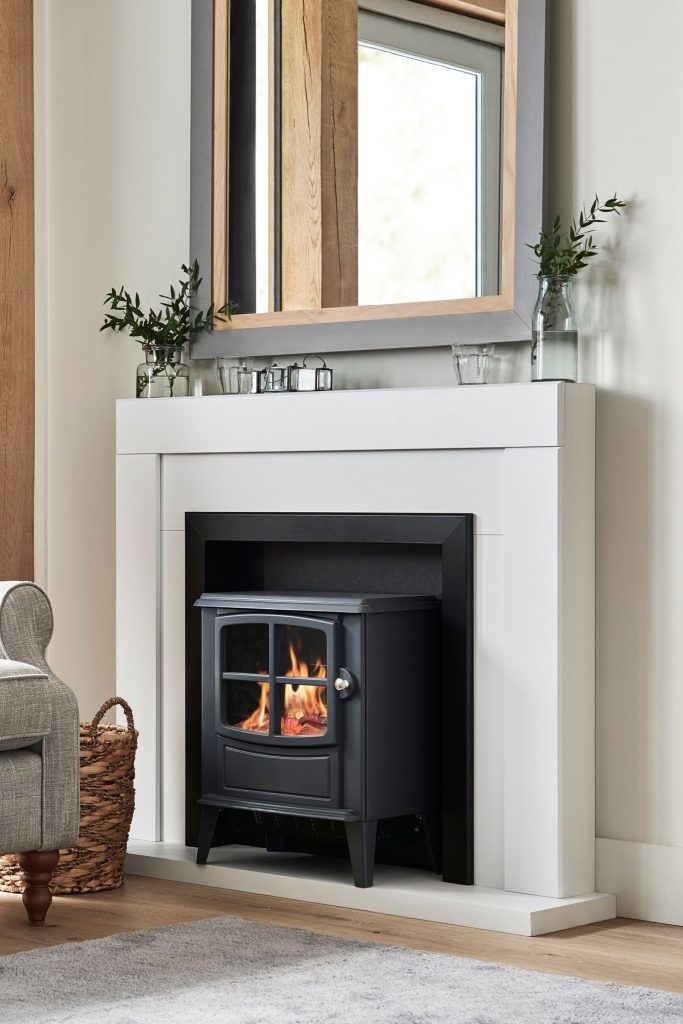 Image source: Next
The fireplace is the focal point in your living room and if you've got a small layout, the best way to make the most of it is a by bringing character to your fireplace. A wood-burning stove effect fireplace in a small living room will make your lounge feel cozy and stylish without overdoing it.
2 of 11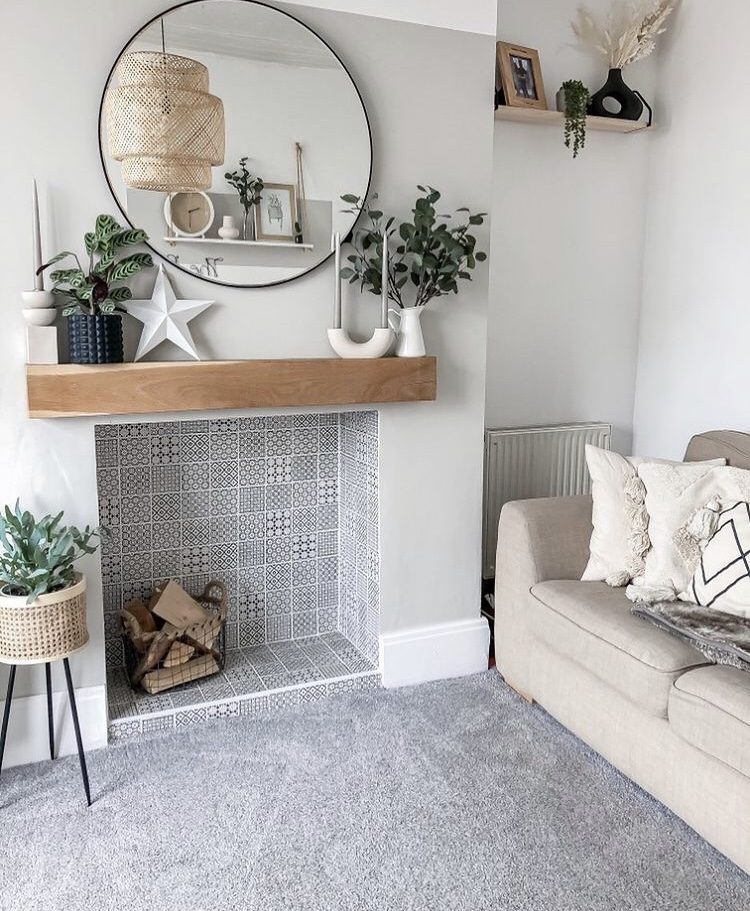 Image source: @at_home_with_the_ryans on Instagram
Alternatively, if you're not keen on having a wood burner or a log fire, you can dress an empty fireplace with tiling to make it a focal feature like this beautiful and small living room design by @at_home_with_the_ryans on Instagram.
Small living room with fireplace and TV
3 of 11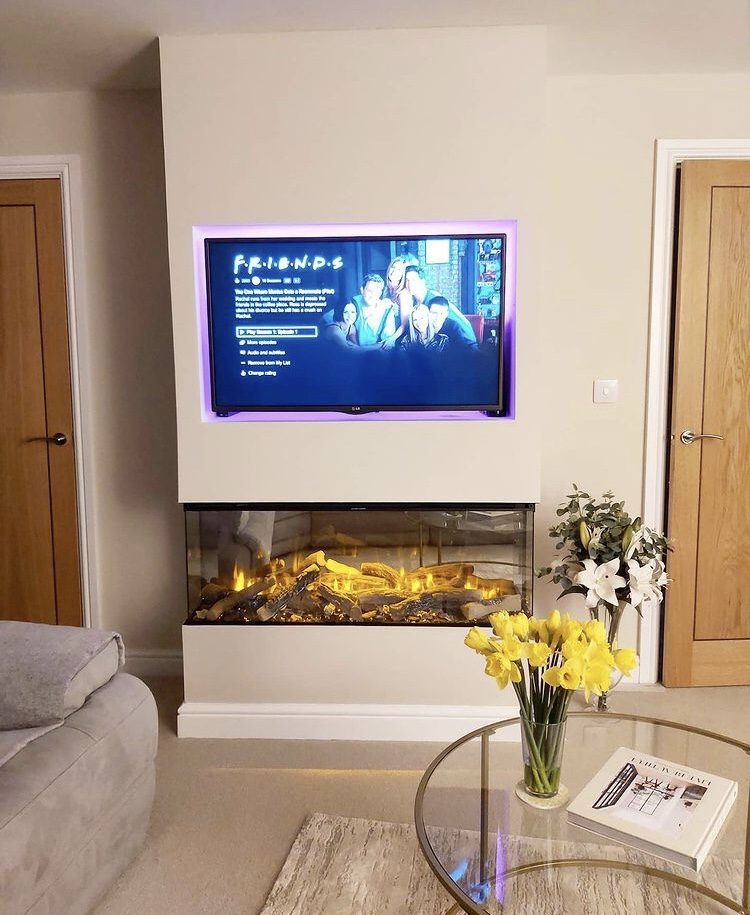 Image source: @our_burnabyhome on Instagram
Being clever about your small living room can be tricky, we love the built-in fireplace design idea from @our_burnabyhome, which uses the wall as a focal point for the fireplace and TV, which is perfect if you have a small lounge to work with.
4 of 11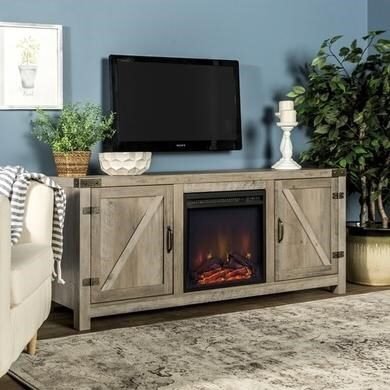 Image source: Furniture123
This clever TV stand with fireplace by Furniture123 is a two-in-one statement piece that is perfect for a small living room. The rustic wood finish complements the built-in electric fire insert beautifully and gives you storage and space to furnish with your favourite things.
How to decorate a small living room
Arranging a small living room can be difficult if you love to play around with decor and furnishings. There are some hacks that you can use to make your space appear bigger, such as the use of mirrors and artwork. Below are some small living room layout ideas using these techniques.
5 of 11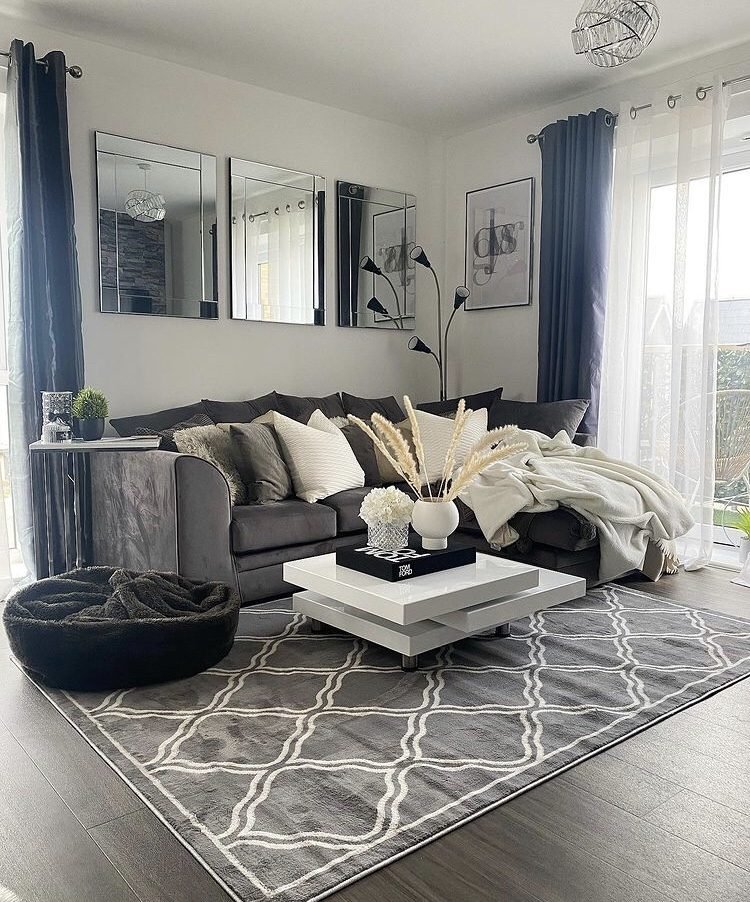 Image source: @myhousemyhome101 on Instagram
Mirrors are a fantastic way to boost light in a small space. This gorgeous small lounge uses a line of three mirrors to create a decor feature while also making the corner feel more spacious with the mirrors reflecting off the walls to infuse the cream and grey colour theme that brightens up the room.
6 of 11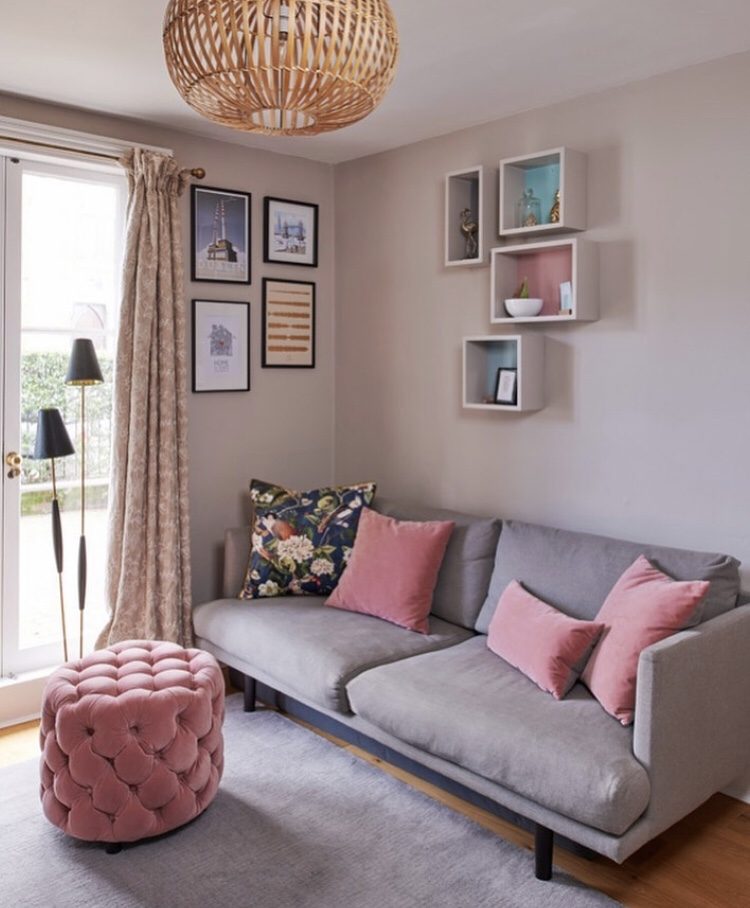 Image source: @katelovejoyinteriors on Instagram
Living room decorating ideas for your small living room includes filling your walls with colour through paint and artwork, which will make your space cozy and inviting. Choosing a colour scheme of around three colours will create a beautiful arrangement in your home. From box shelving filled with your favourite decor to framed artwork as a mini wall gallery idea just like this tiny living room style by @katelovejoyinteriors.
Related article: Gallery Wall Ideas For Your Home
Low Sofas for small living rooms
Picking furniture for a small living layout is one of the trickiest things to figure out. The best way to start is by choosing a low sofa that will make your walls appear taller. Plus, this will give you room on your walls for a gallery wall or shelving for added storage and style.
7 of 11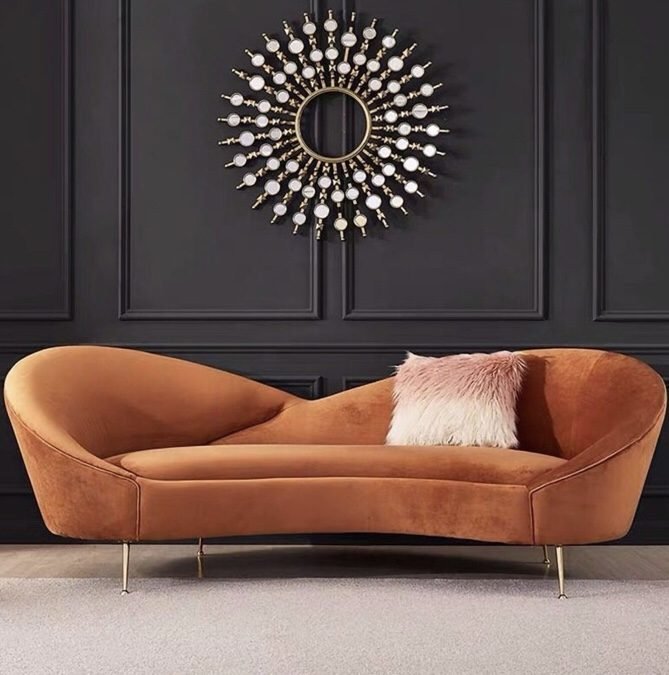 Image source: Homary
Swap bulky sofas for a slimline velvet sofa with curves for a luxurious look. The low design will look in proportion in a tiny living room whilst being comfy and stylish. Match with rounded furnishings like tables, lamps and vases for a relaxing look.
8 of 11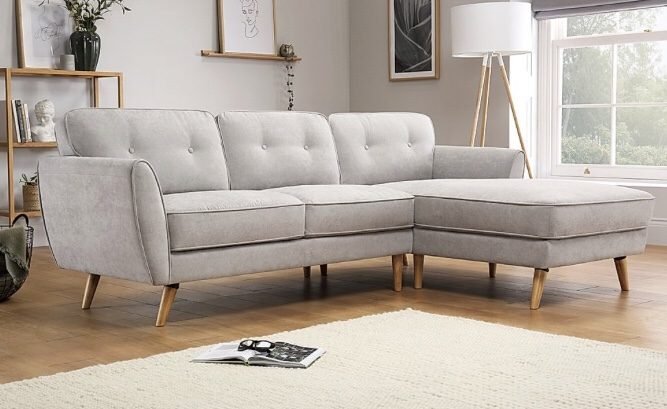 Image source: Furniture Choice
Corner sofas work well in a small living room. Choose a corner sofa with a slim L shape, that is low and compact to fit perfectly in a small lounge.
9 of 11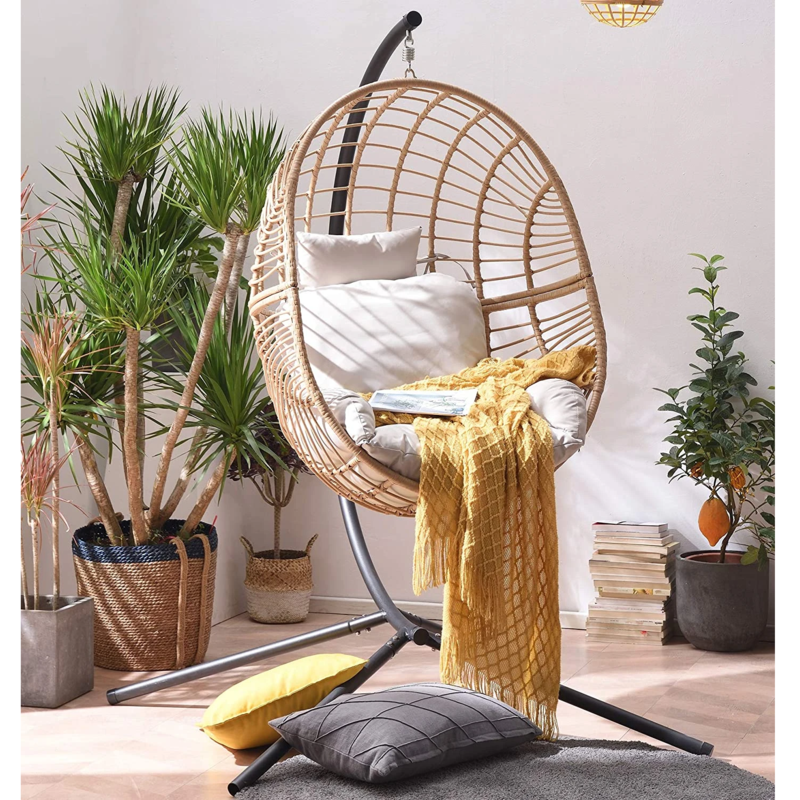 Image source: DaAl's
Ideal for reading corners or tiny living rooms or a studio apartment, the egg chair is a simple and beautiful furniture choice that is stylish and trendy. It can be easily moved around your room if you decide to change your living room layout.
10 of 11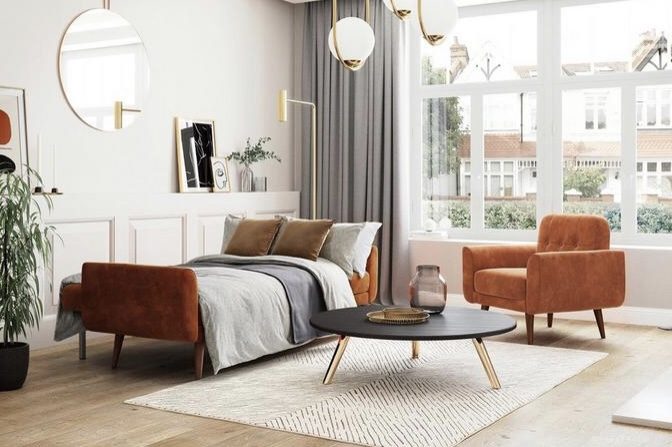 Image source: Dreams
Sofa beds are designed for compact living and this gorgeous chic velvet-look sofa by Dreams is trendy and functional to fit a small space.
11 of 11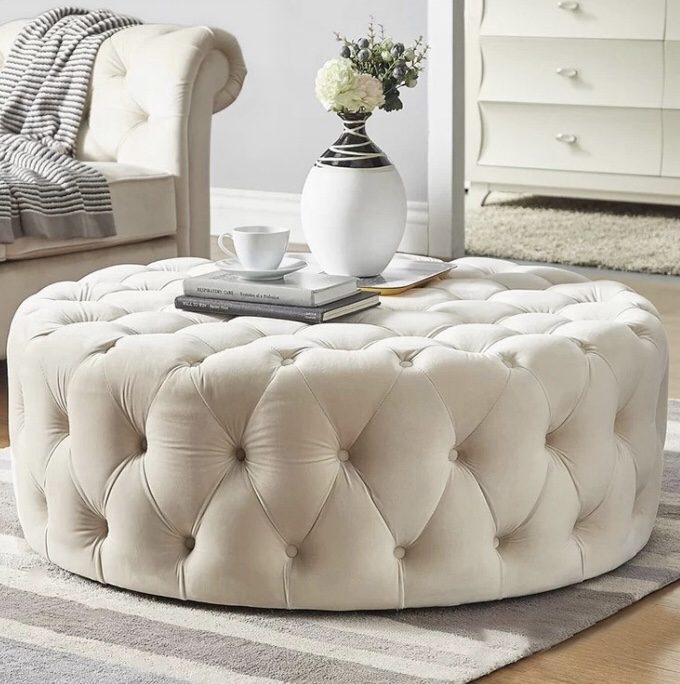 Image source: Homary
Trendy interiors like this tufted ottoman serve as a coffee table, footstool and chair, which is great for small living rooms as you can use it in many ways.
Read more articles: