Grey is a neutral colour for your bedroom decor and our ideas will help you bring out the mood you want in your room so that your space is a modern and comfortable sanctuary. See below for our best grey bedroom ideas.
Start with the bed
When decorating a grey bedroom, firstly you need to find a bed that suits your taste and style. This will become the focal point of your bedroom so that you can furnish it to match.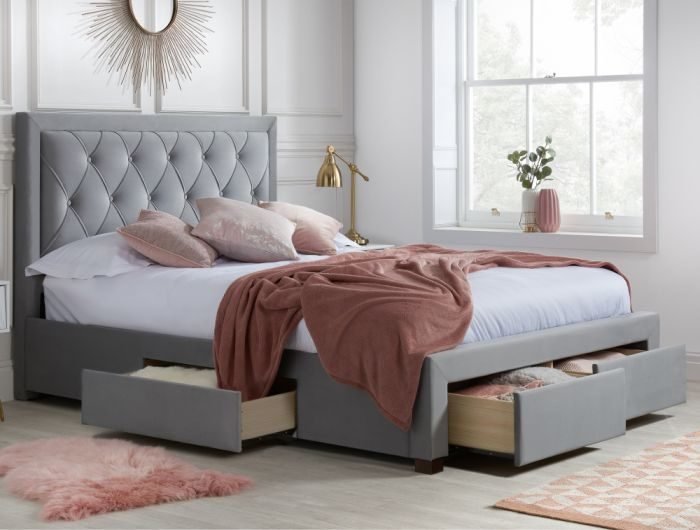 Image source Happy Beds
The gorgeous button quilted headboard and storage bed frame is stylish and effortless, so even if you have a small bedroom you can still make it look elegant and tidy. We love the grey and pink bedroom colour scheme to add a pop of colour for a modern look.
Grey and white bedroom idea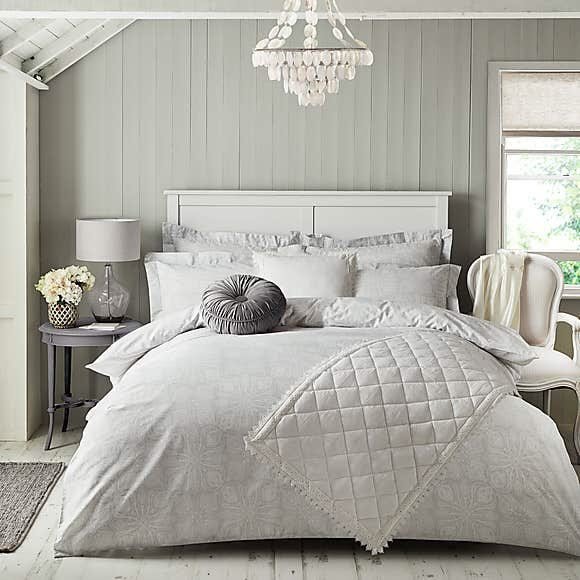 Image source Dunelm
Light grey bedding is a subtle way of introducing lighter shades to your grey bedroom decor. Rather than crisp white sheets, opt for pale grey duvets just like this Holly Willoughby set at Dunelm.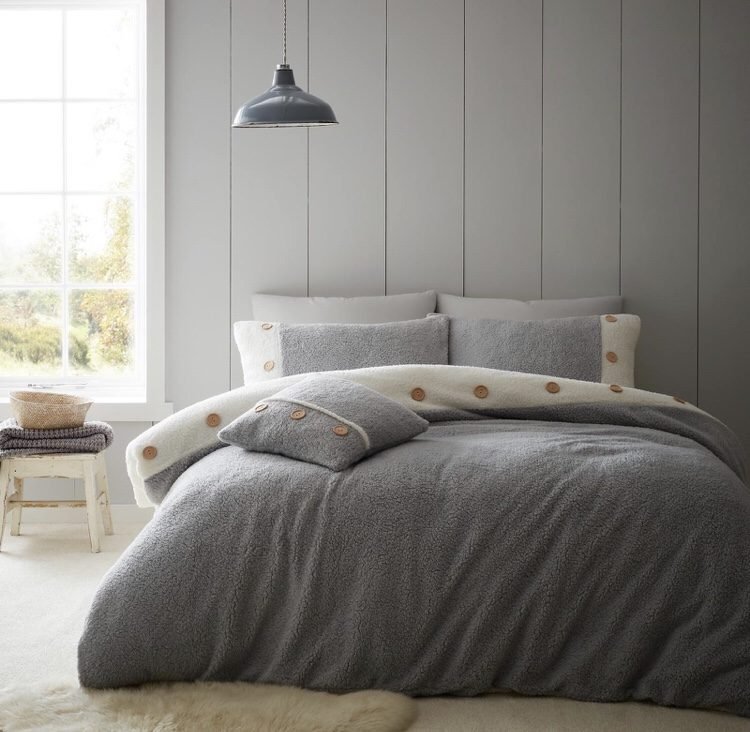 Image source Ideal Textiles
Snuggly textures like this fleece duvet set create a warm and cozy space in your grey bedroom bedroom.
Choose the right shade of grey for your personality
Depending on how to express yourself in your room can depend on the shade of grey you paint your walls. Dark grey, for example, is a neutral shade like black or white and can create a warmer look to your room, especially with how you like it. On the other hand, light or pastel grey can be considered more feminine in nature and is more subtle and will affect what decor pieces and colours you choose to furnish your home.
Dark grey bedroom idea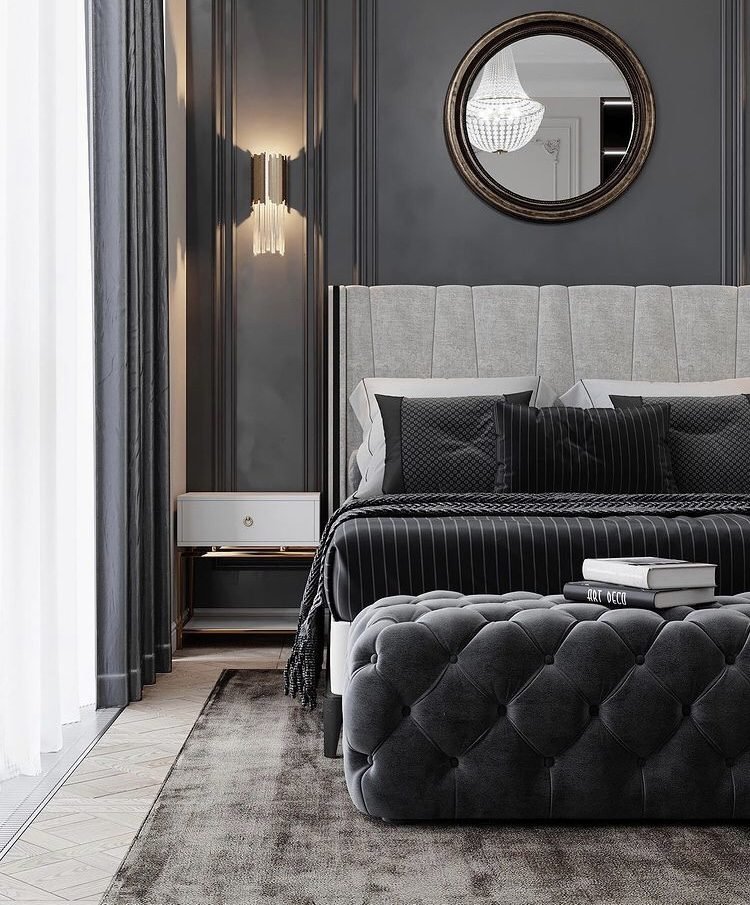 Image source @interer_architects on Instagram
If you're looking for dark grey bedroom decor that has a neutral tone, this example is perfect as it doesn't look either feminine or masculine. The dark grey painted walls and darker curtains and furnishings give it a sleek and sophisticated finish.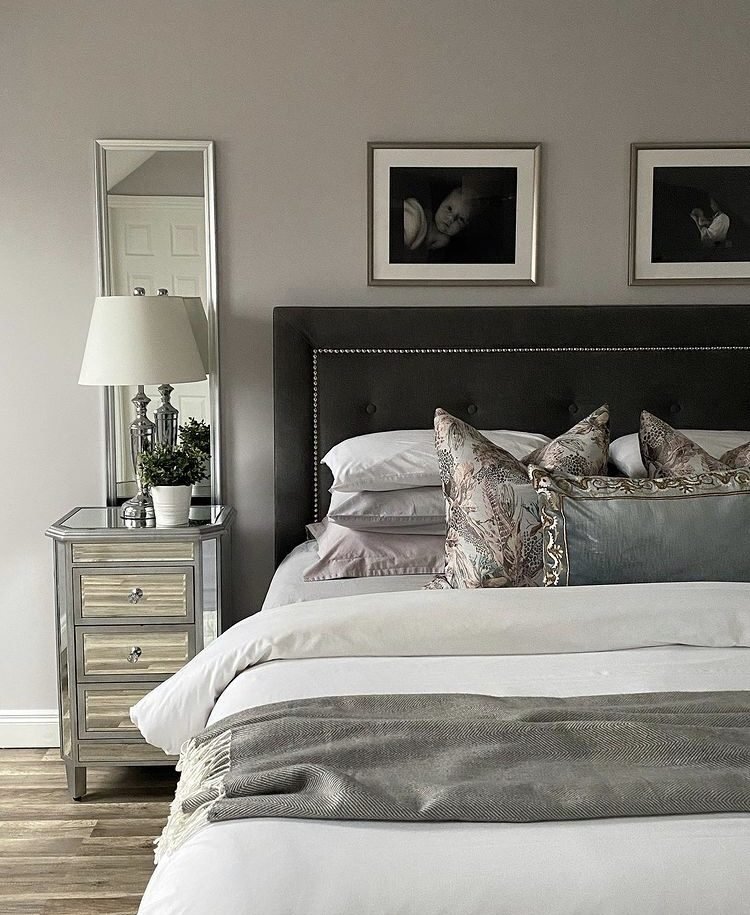 Image source @ter_home on Instagram
Light grey bedroom designs, like this example above, showcases a mixture of texture and colours. With light grey walls and matching throw – to a dark grey bed frame for a bold statement. We love the shimmer of metallics on the pillows and the reflective bedside table to add a touch of glam to the overall look.
Mix and match with grey furniture for your bedroom
The beauty of grey bedroom decor is that when done properly, you can mix and match it for a unique style. Combine dark and light grey furniture sets to allow for contrasting if you don't like one-tone interiors.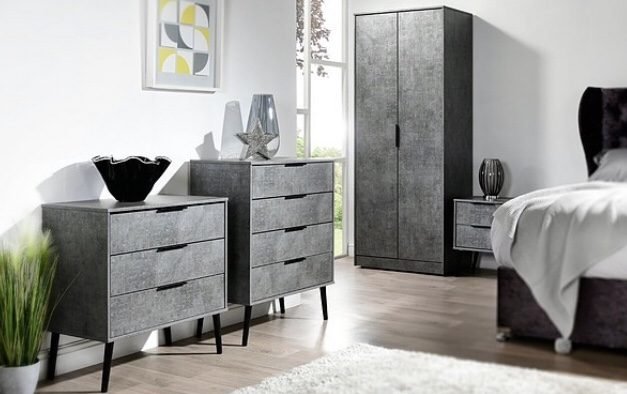 Image source Very
Dark grey furniture sets combined with light grey walls, bedding and artwork create a relaxing and contrasting space in the bedroom. This gorgeous grey bedroom furniture set has a granite style finish to create texture in your bedroom.
Decorating your grey bedroom
Wondering which colours go well with a grey colour scheme. See below for images on how to decorate a grey bedroom or skip to our article about contemporary colours that go well with a grey bedroom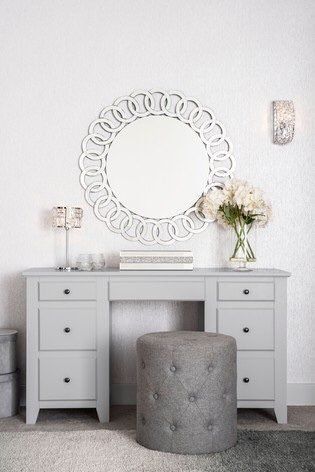 Image source Next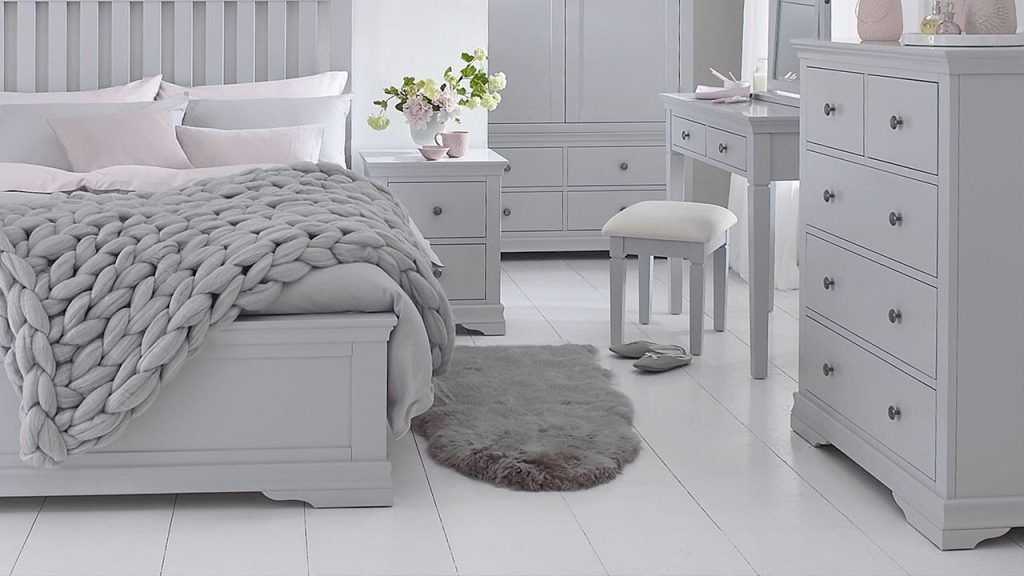 Image source House of Oak
Light grey is the perfect colour scheme for a sophisticated and elegant bedroom design, just like this statement dressing table. Decorate your grey bedroom with reflective decor such as mirrors, vases, and lamps to glam up a grey bedroom, makes the space feel brighter and spacious. A grey carpet adds a soft touch to your bedroom space to complete the overall look and feel of your room.
Mix and match light grey decor for a minimal and neutral feel to your bedroom, just like this cozy creation by House of Oak. Introduce subtle pastels like cream, yellows and pinks for a delicate look.
Modern Grey Bedrooms
You can play around with more than the colour of your walls when opting for a modern grey bedroom . From grey wall panelling to wallpaper, artwork and wall decor – there's no limit on what you can do to your bedroom walls. Here are some ideas below. Additionally, small grey themed bedrooms that utilise the walls as decor allow for your style to shine through without looking packed in.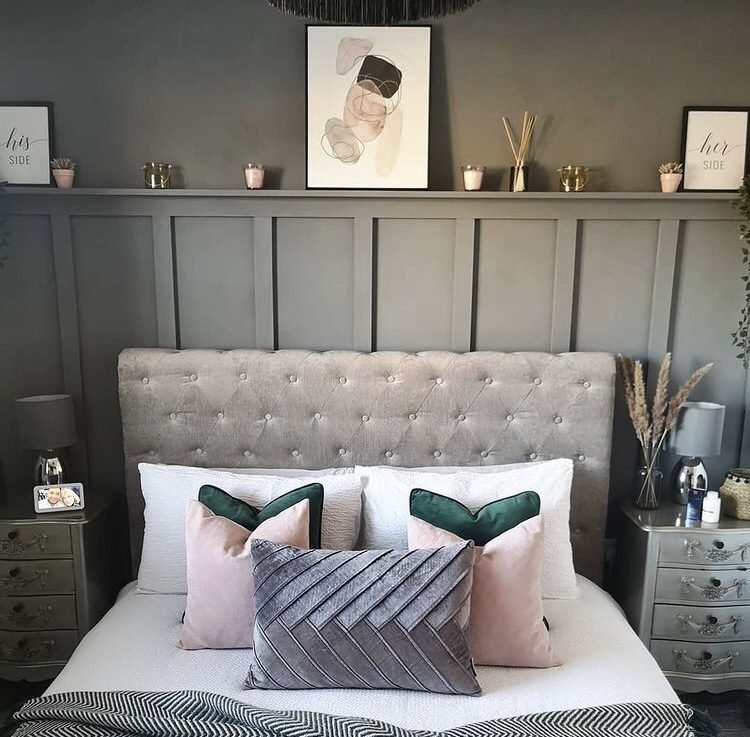 Image source @home_at_door4
For depth and texture add wall panelling to your bedroom, which is easy to do and also a great way to decorate your wall as a feature. We love this idea for small bedrooms to make the space feel stylish without having to put up artwork or shelving to fill the wall.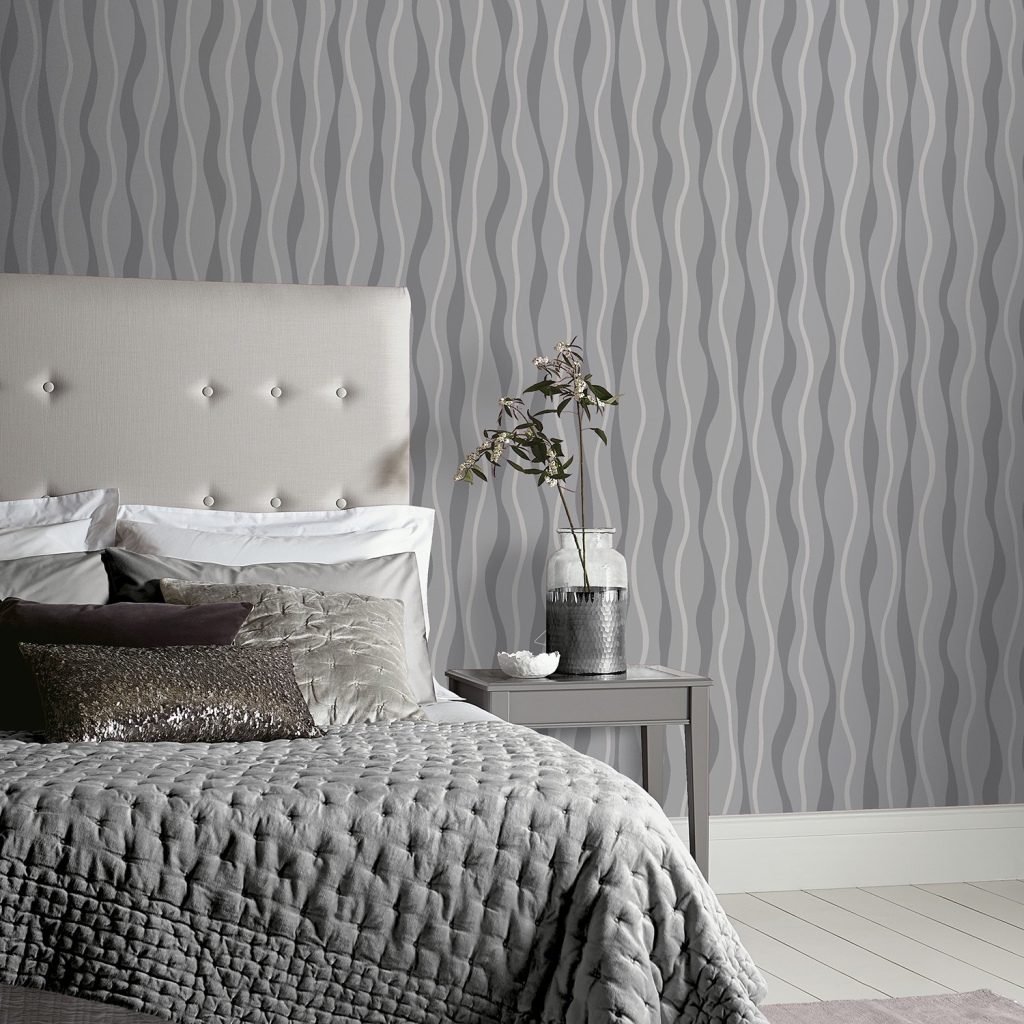 Image source The Range
If you love texture but you're not keen on the idea of wall panelling, opt for a grey wallpaper that has a pattern for the same effect. This gorgeous wave pattern wallpaper creates that layer of depth while also adding glam with the metallic glitter detailing.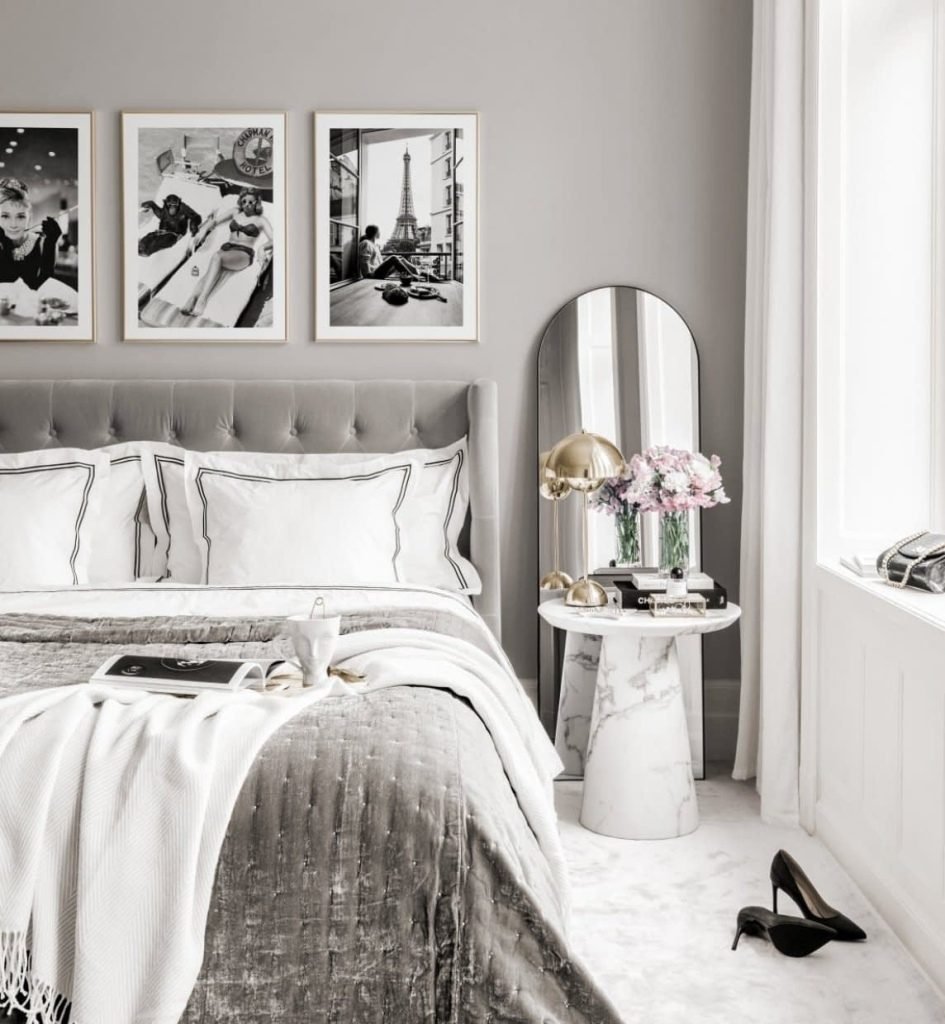 Image source Poster Store
Subtle artwork like black and white photos in simple frames can really make a small grey themed bedroom pop without the need of vibrant colours, which can sometimes take away the classy look of a room. We adore this simple gallery wall idea for the bedroom by Poster Store, which utilises black and white artwork perfectly.
Related article: Gallery Wall Ideas For Your Home