Dark and moody doesn't have to mean lack of colour when it comes to styling your bedroom. We've got 10+ dark bedroom colour ideas to make your space relaxing and cozy. Whether you love the idea of a tropical green scheme, a dusky blue theme or perhaps a pretty and purple moody look. Our ideas will help inspire you to create a super cozy space to relax, day or night! See below for images and ideas on dark bedroom designs.
1. Olive green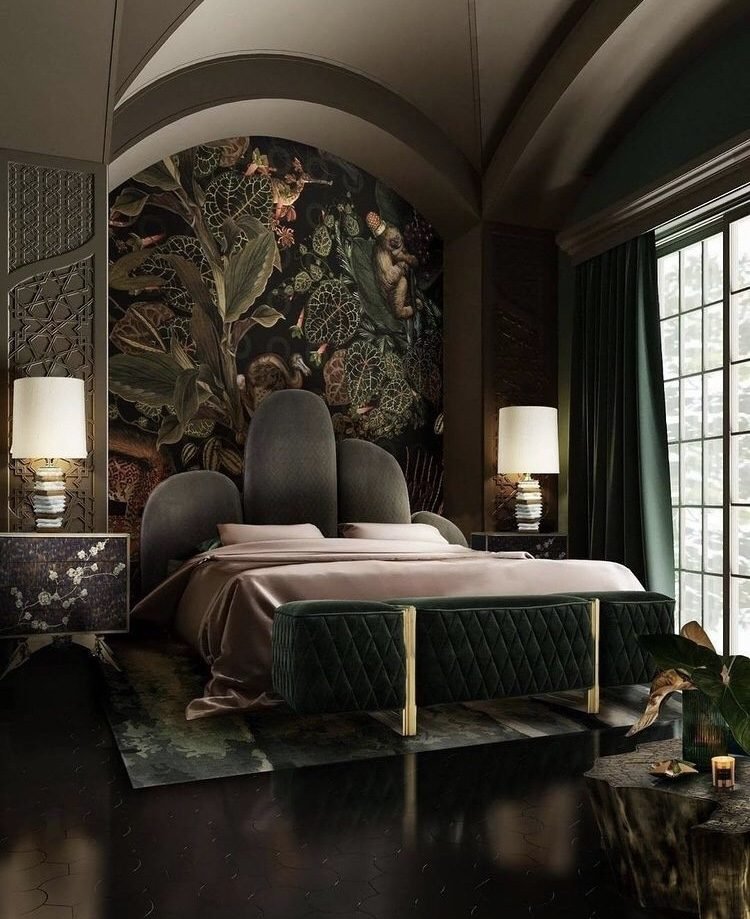 Deep olive green is a great colour for a dark and cozy bedroom to bring in a luxurious feel and a sense of calmness. We love this dark green bedroom by @covetlondon_ which is a great example of how to play around with texture. The gorgeous tropical mural and velvet bed add the glamour of this beautiful and majestic bedroom idea.
2. Black and pink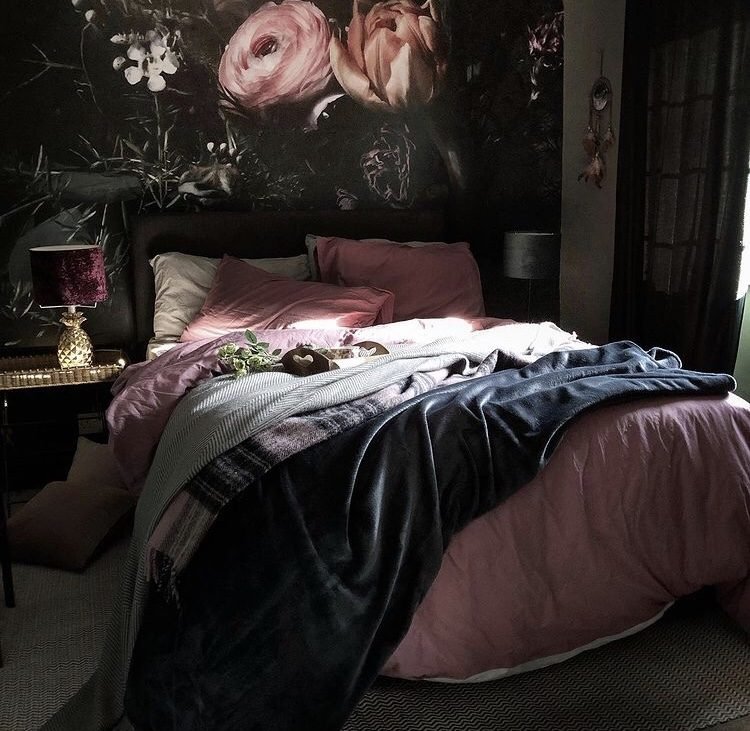 Dark bedroom walls provide a brilliant canvas for luxury and romantic interiors to take the lead in setting the mood. We love this bedroom style by @catwalktocowpat. The gorgeous pink elements such as the bedding, lampshades and the floral mural work together to bring a space of romantic flair.
3. Moody boho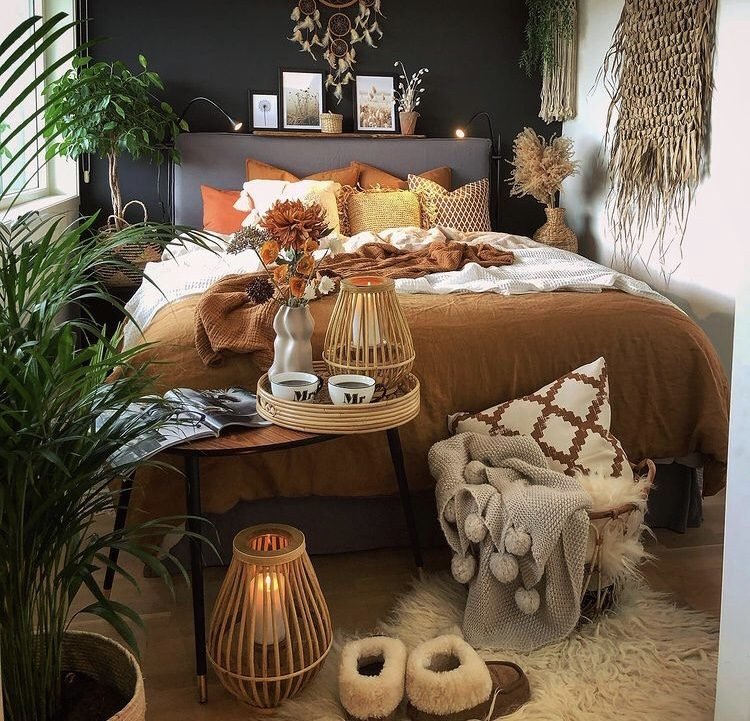 Bring in natural elements to dark interiors to create a space that feels chic and hygge for extra coziness. This moody boho bedroom design by @linflo66 is a great example of how to bring in light wood decor, orange bedding and fluffy textures from the pampas grass. The leafy plants styled throughout the bedroom brings in the nature of this dark and snug bedroom.
4. Black glam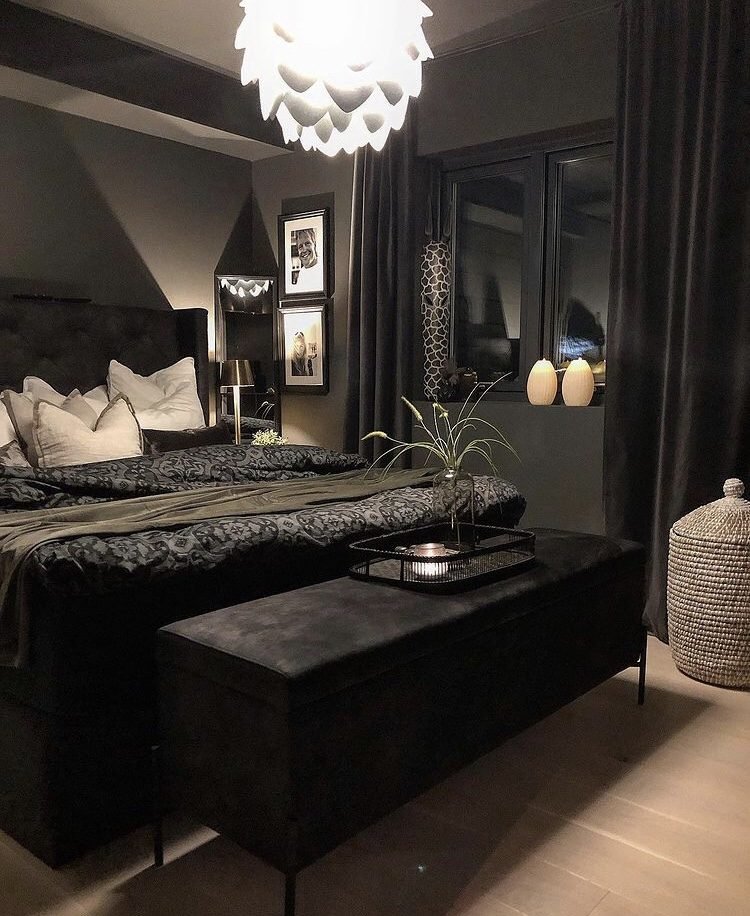 Opt for black decor when styling a moody bedroom for the ultimate glam look. It's also a great shade for a neutrally styled room with subtle elements to bring in your character. This glam bedroom design by @majes_passion showcases elegance with a dramatic pendant lighting, plush ottoman and high positioned curtains.
5. Moody metallics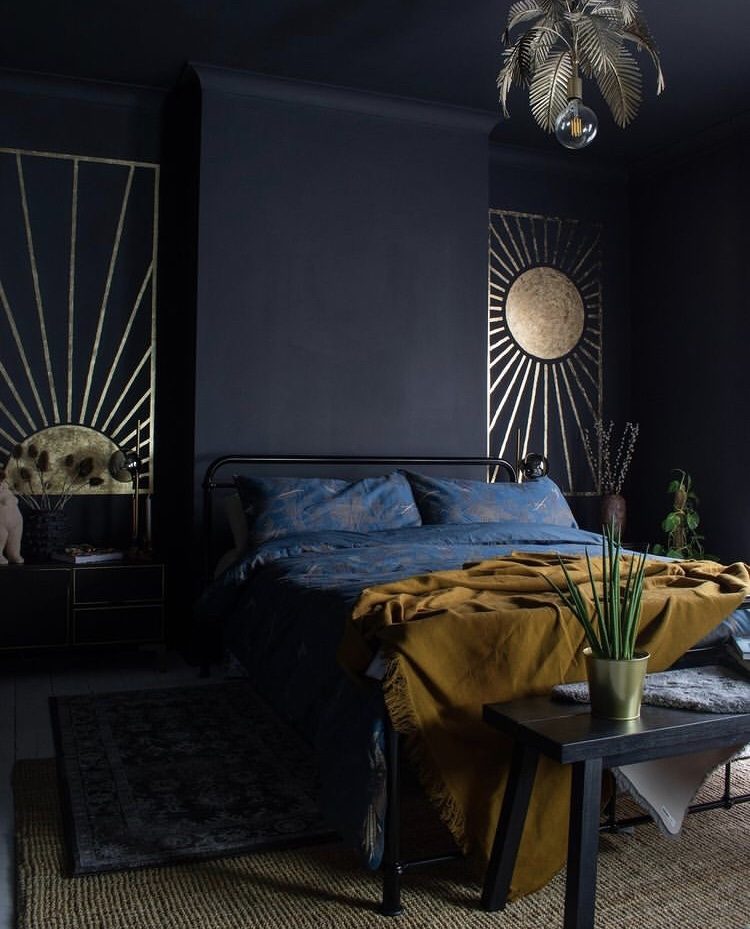 Dark blue rooms with hints of metallic detailing is a great way to bring shimmer and luxury into a space. This gorgeous moody blue room by @zephs_house plays around with glam metallics with the wall murals, the palm light pendant and plant pot to bring in subtle shimmering pieces.
6. Deep orange bedding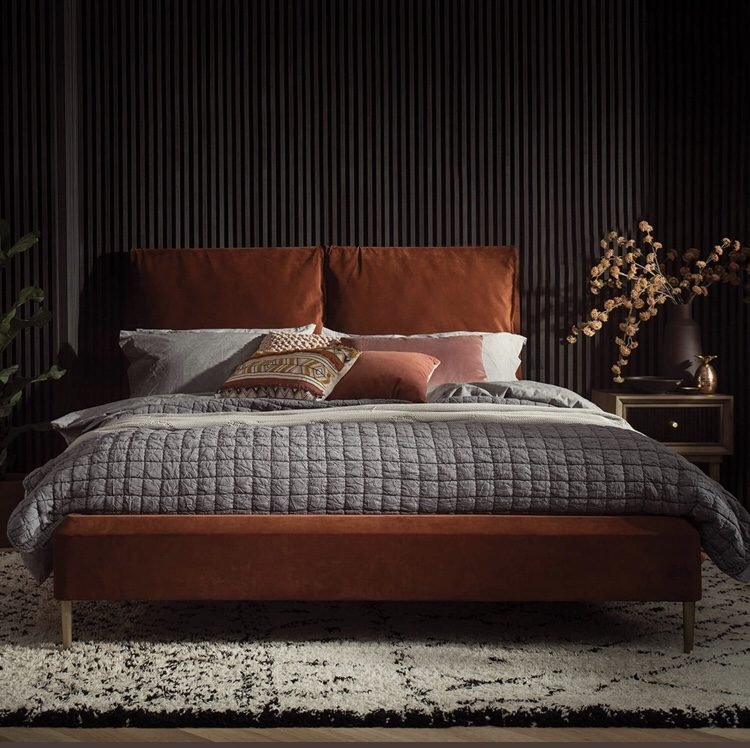 If you love moody bedrooms with a pop of colour, this elegant bed by Housing Units is a statement piece to make the focal point in your room pop with character. The low bed is ideal for small bedrooms too, as it will make your walls appear bigger, even with the large pillow headboard. The burnt orange makes the bed eye-catching against the deep blue wall for a warm chic look.
7. Panelling and print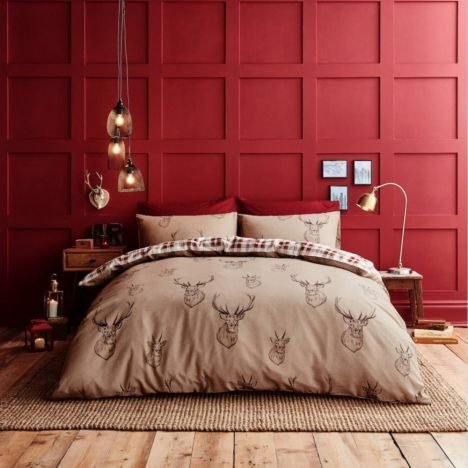 Bedroom paneling is a huge interior trend that is simple to do yourself, It adds instant depth to walls and can be painted in any colour of your choosing. This unique and dramatic red bedroom design creates a moody, yet bright space to relax at anytime of the day or night. The red matched with accents of brown, beige and golds play together for a subtle blend of similar tones to create a warm atmosphere. Shop this gorgeous stag print duvet set by Tony's Textiles.
8. Glamorous purple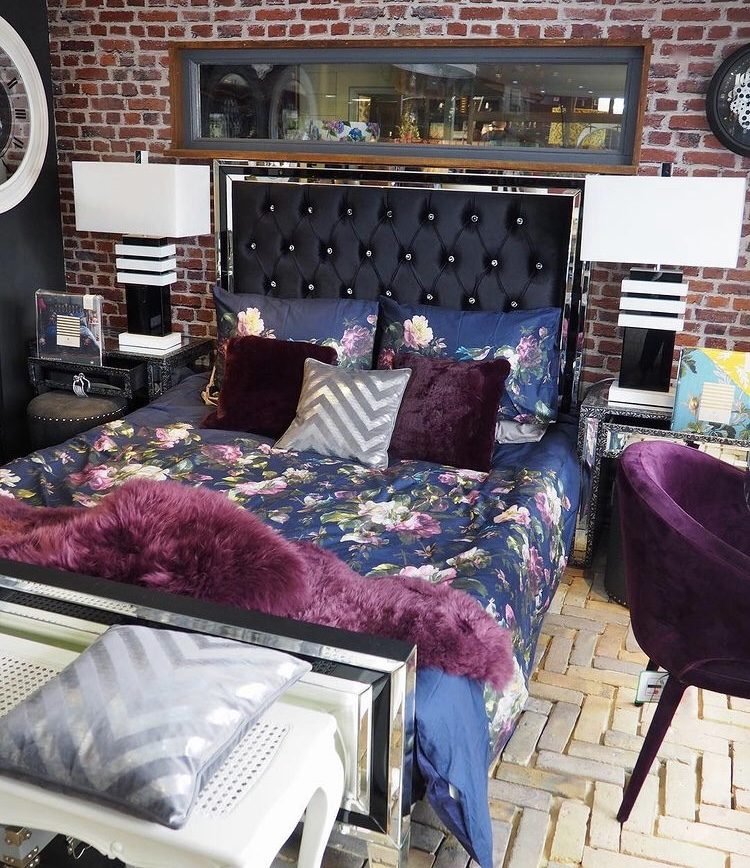 Purple is a fabulous colour for a dark and dramatic bedroom. From fluffy throws to velvet chair and elegant bedding. There's a lot of fun texture and florals you can play around with using this colour scheme, as well as incorporating black and dark blue interiors that will work harmoniously together. This beautiful design from @visualroarsinteriors is a great example of colour schemes bouncing off each other for moody interiors to create a dark and relaxing ambience.
9. Pops of purple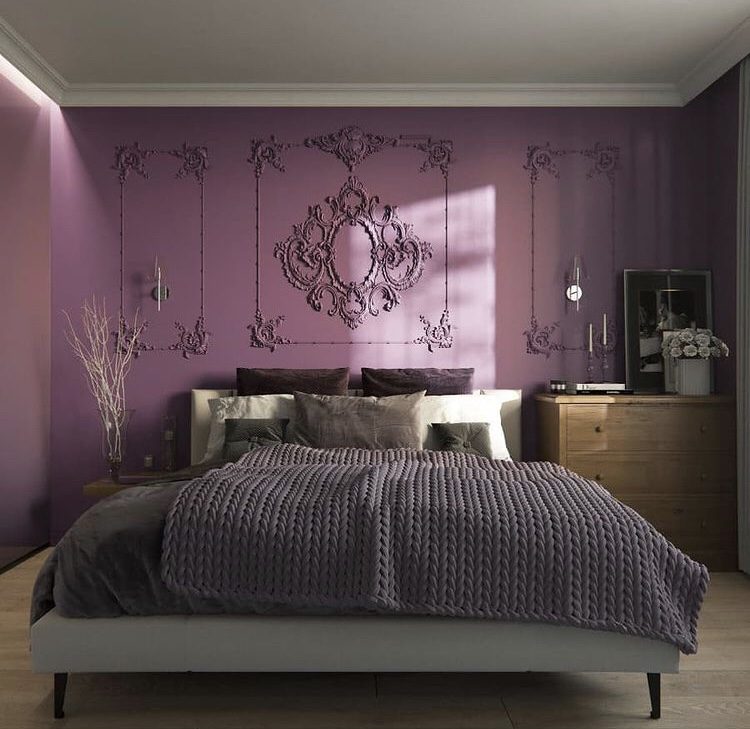 Alternatively, use purple as your main colour scheme with dark walls and bedding to bring in texture and depth to a space, just like this beautiful design by @dbrainstudiosg.
10. Green botanics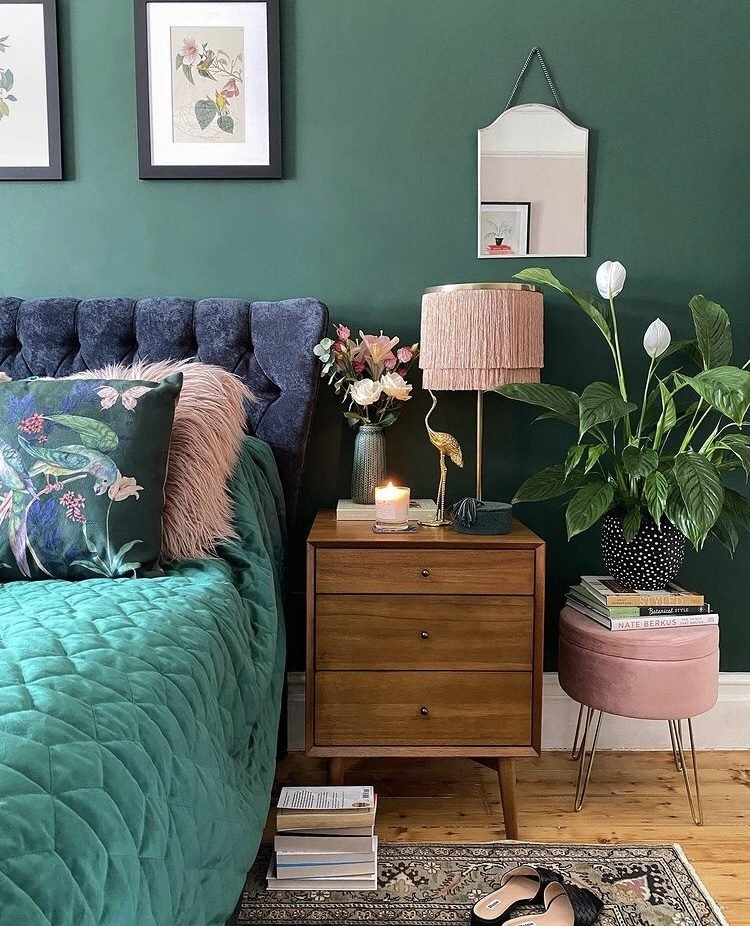 Take inspiration from nature when styling a dark bedroom, just like this interior design by @harrison_nate_and_me that has a loving flow of green, blues and browns included in the styling. We love the pop of blush pink for a subtle feminine colour that also adds a sprinkle of glam to the look. Furthermore, the botanic colour scheme is carried on throughout with the simple framed art work, printed pillow cases and vase arrangements.
11. Cozy glam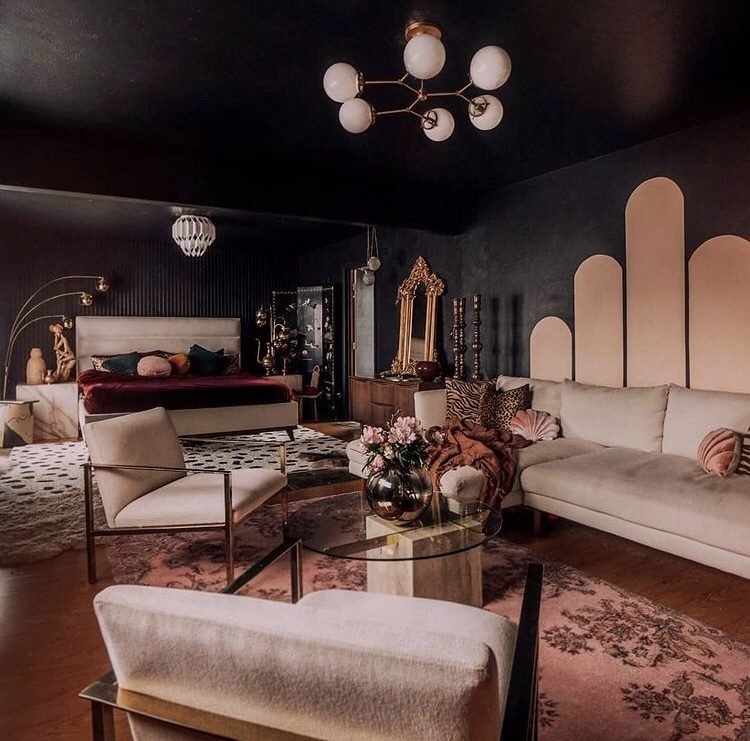 If you love playing with many elements, textures and style in one room you will love this design by @arianna_danielson that incorporates dark walls and light flooring along with velvet soft furnishings and decor pieces that are both traditional and super contemporary.