Be inspired by our beautiful home panelling ideas for your bedroom, living room, stairs, hallway and more. Add texture and depth to your walls without having to compromise on wallpaper to spruce up your space. We've handpicked some of our favourite Instagram posts showcasing stylish wall panelling ideas for around your home. See below for some beautiful inspiration.
If you want to do it yourself, here's our guide on how To Panel Your Wall At Home.
1. Double-wall panelling idea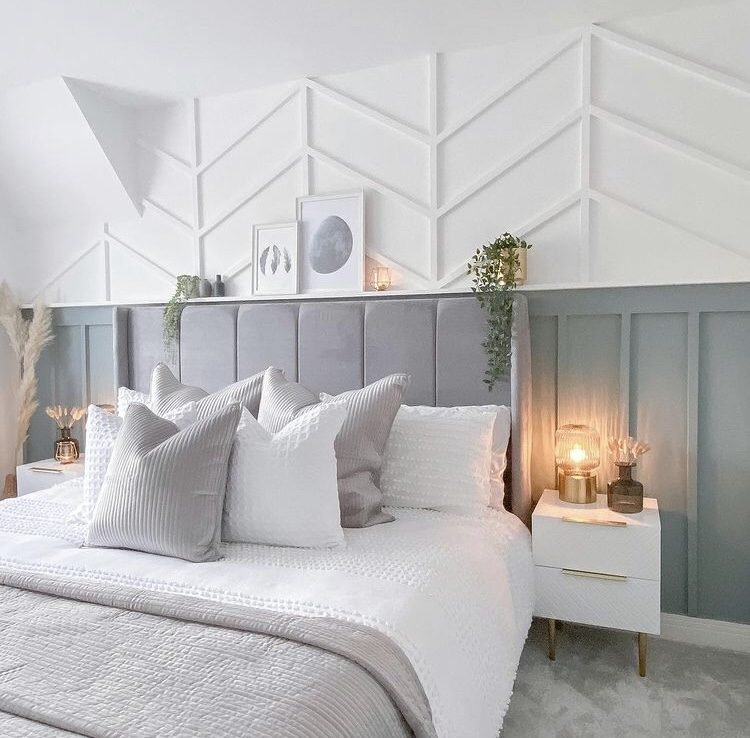 We love this stylish twist on a traditional wall panel idea from NewBuildToHome that introduces double panelling to create depth and texture on what would be a blank canvas. We especially adore the zig-zag style on the white wall for a modern twist. Follow @newbuildtohome on Instagram.
2. Geometric wall panelling idea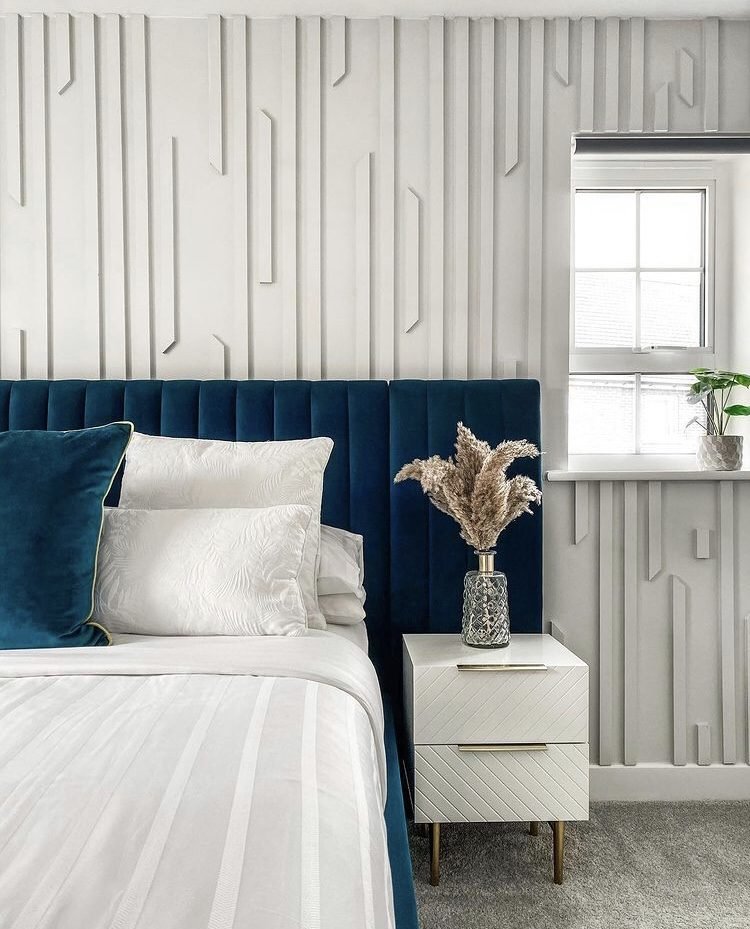 If you love geometric shapes then you'll love this bedroom panelling idea from Lydias_Layton_Life that adds depth and pattern on the walls with soft grey colour to enhance the style. We love the velvet blue headboard and pillows that pop against the wall too! Follow @Lydias_Layton_Life
3. Luxury beach house wall panelling idea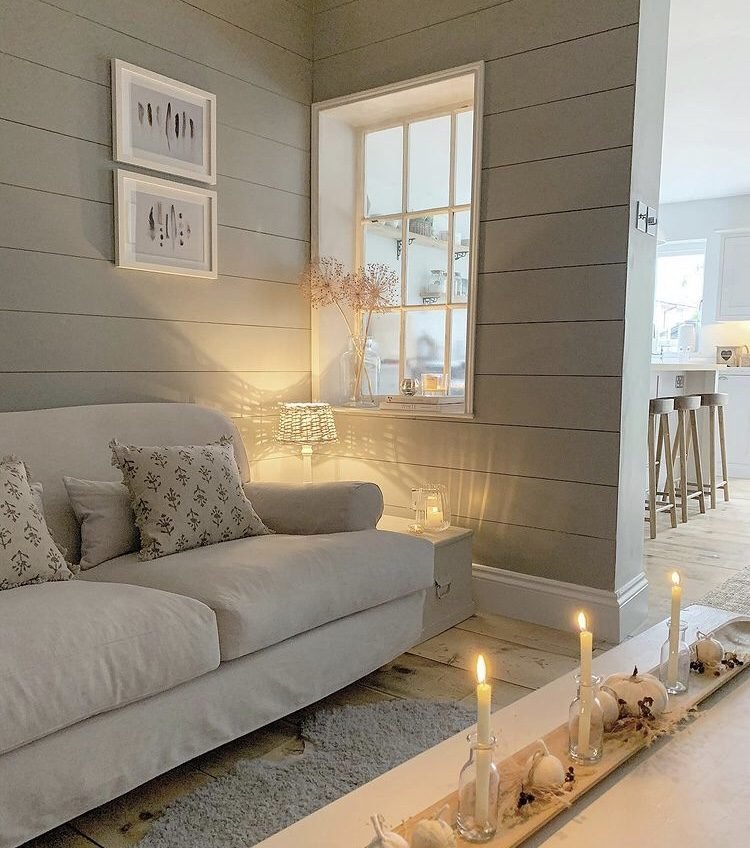 For a simple wall panelling idea, why not go for a minimal horizontal wall panel just like this one by Simplyscandiekatie. We love the elegant styling with soft grey and beige furnishings that look just like a Malibu beach house. Follow @Simplyscandiekatie on Instagram.
4. Wall panelling that doubles as a shelf idea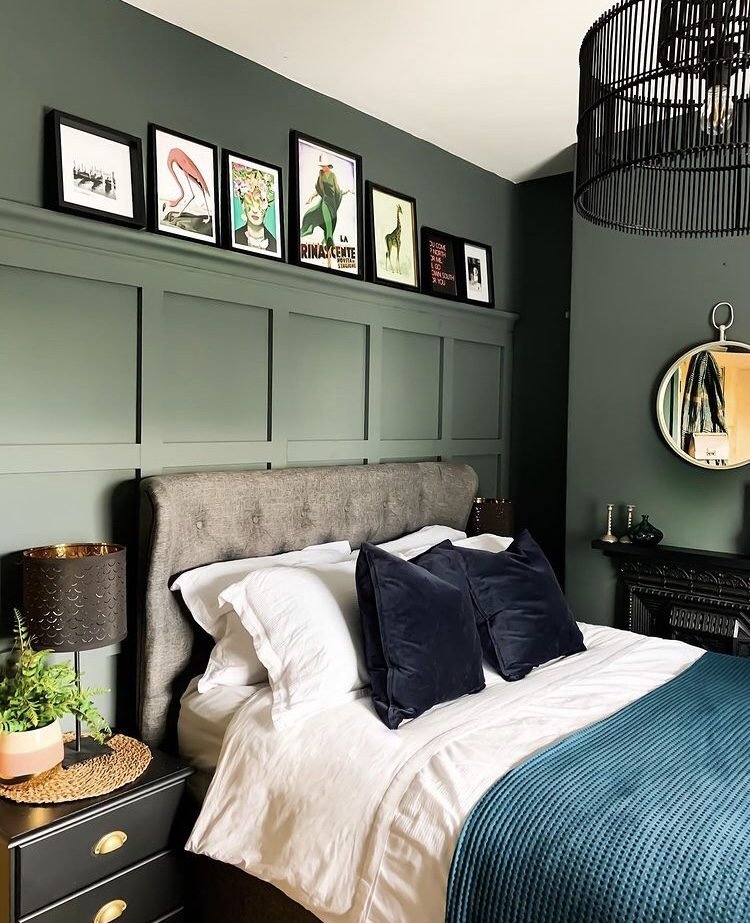 Add a bit of functionality to your wall panelling just like this beautiful picture shelf by tiny_victorian_home which incorporates a shelf into the beautiful panelled wall. The rich green colour scheme is great for vibrant prints to make the wall pop with colour and personality. Follow @tiny_victorian_home on Instagram.
5. Built-in closet wall panelling idea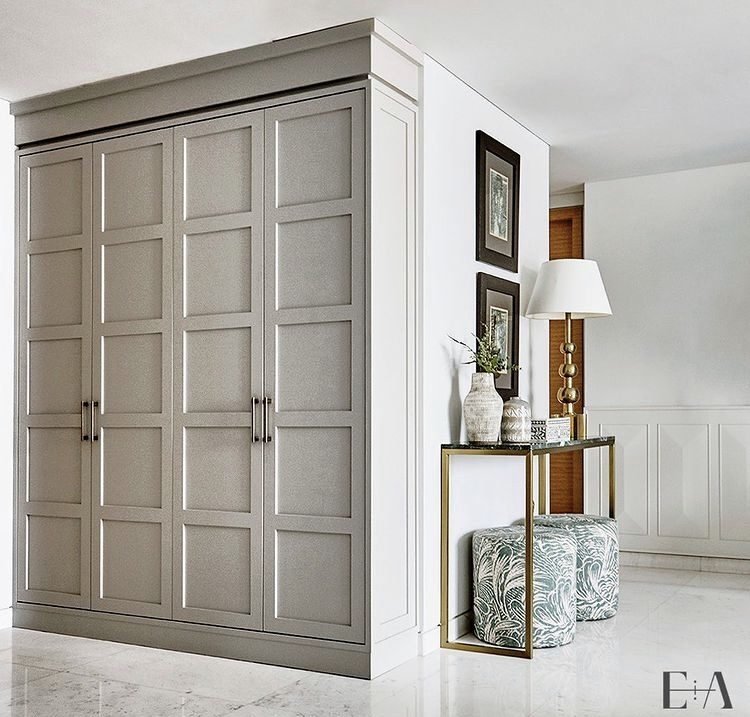 Style up closet doors with wall panelling to add depth and style to your room. We love this idea because it can transform your space and make it a focal point for your bedroom. This design by eandainteriors is a wonderful example of an elegant wall panel closet. Follow @eandainteriors on Instagram.
6. Subtle bathroom wall panelling idea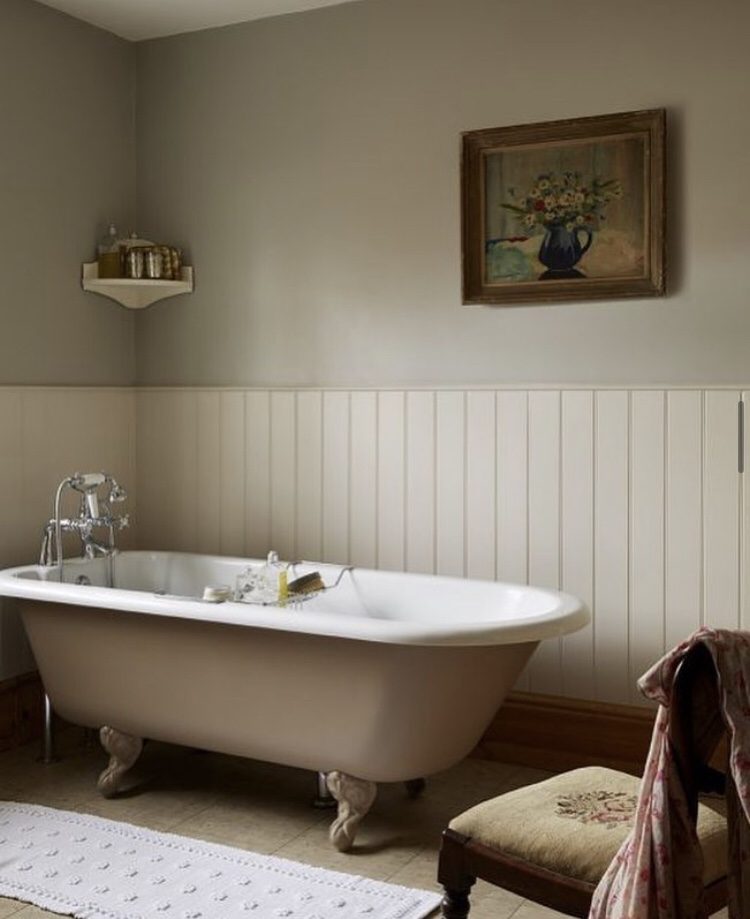 TheDecorateMum creates a tranquil space with mindful wall panelling in the bathroom. The calming grey-green mixed with the soft beige creates a relaxing ambience for a soak. Follow @TheDecorateMum on Instagram.
7. Accent living room panelling idea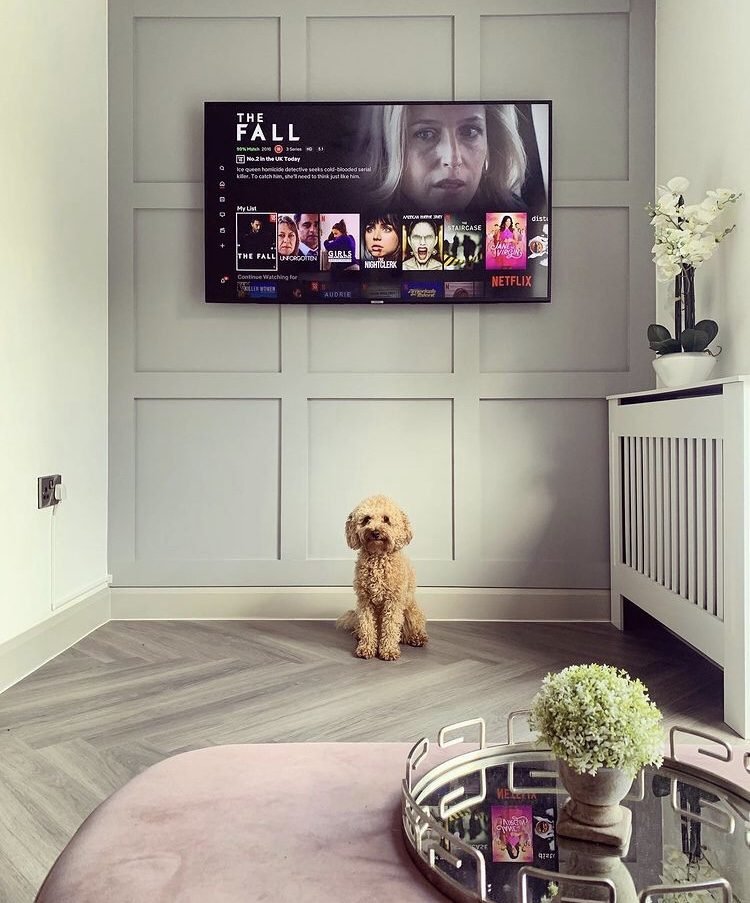 Spruce up a bare wall with square panelling, which will make your area appear bigger. We love this wall panelling idea by MilleniumMoseley for the living room as it is great for a minimal space to add texture and depth rather than a painted or wallpaper accent wall. Follow @MilleniumMoseley on Instagram
8. Full wall bedroom panelling idea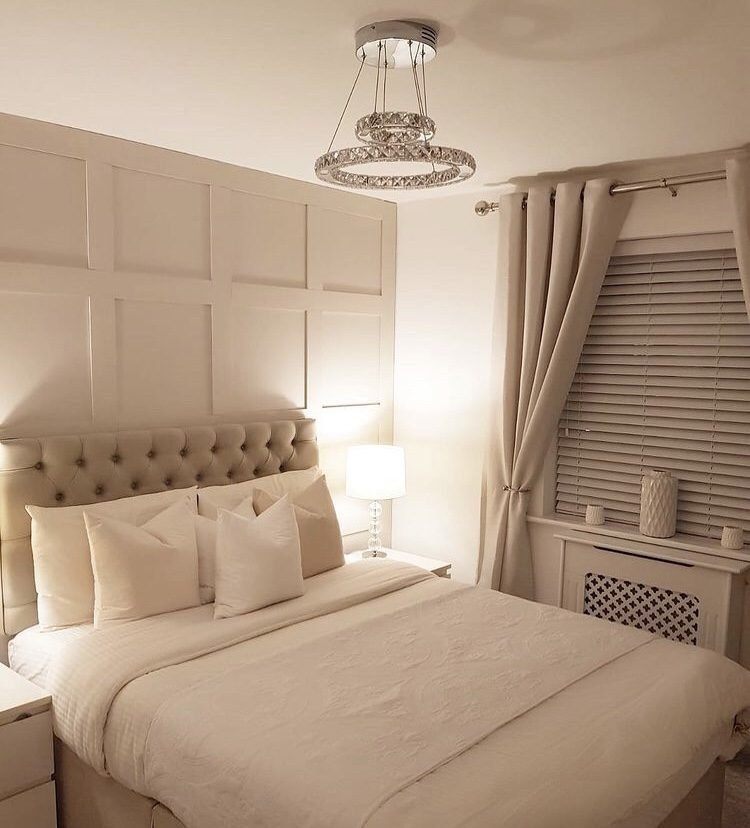 Rooms that are painted with one colour scheme just like this beige bedroom layout by at_home_with_nellie adds texture and shape to a beige bedroom that looks nothing but comfy and warm. The use of wall panelling in this room adds the perfect balance of texture to add substance without looking overdone. Follow @at_home_with_nellie on Instagram.
9. Stairs panelling idea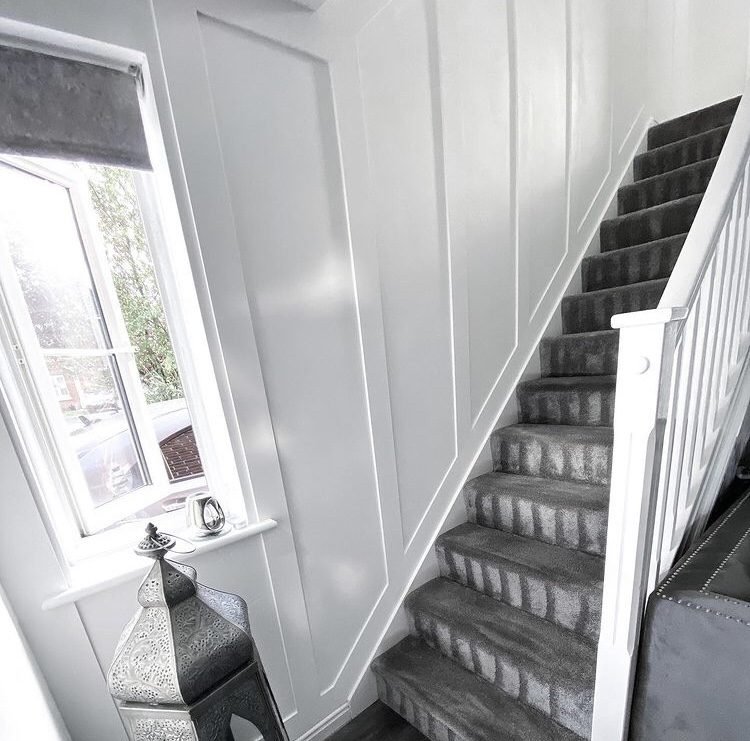 Liven up your stairs with wall panelling just like this interior by homebycullen. Adding the wall panelling to the blank wall will create depth to your walls and will double up as a decor feature without needing to hang artwork. Follow @homebycullen on Instagram.
Related: Beautiful Staircase Ideas For A Show-Stopping Entrance
10. Elegant Hallway panelling idea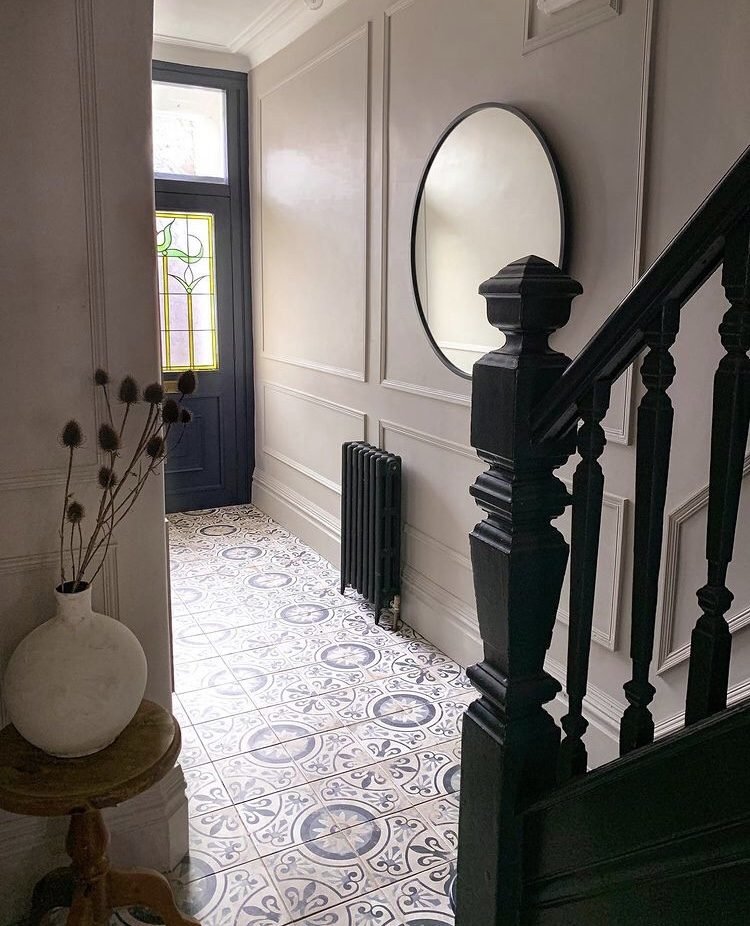 Your hallway is a great way to set the scene for the rest of the home. While you don't want to over do it on the styling, incorporating panelling in your hallway will break up the walls to add instant character and sophistication. We love this hallway design by @homes_and_renovations that uses panelling in a modern and elegant style.
11. Living room panelling idea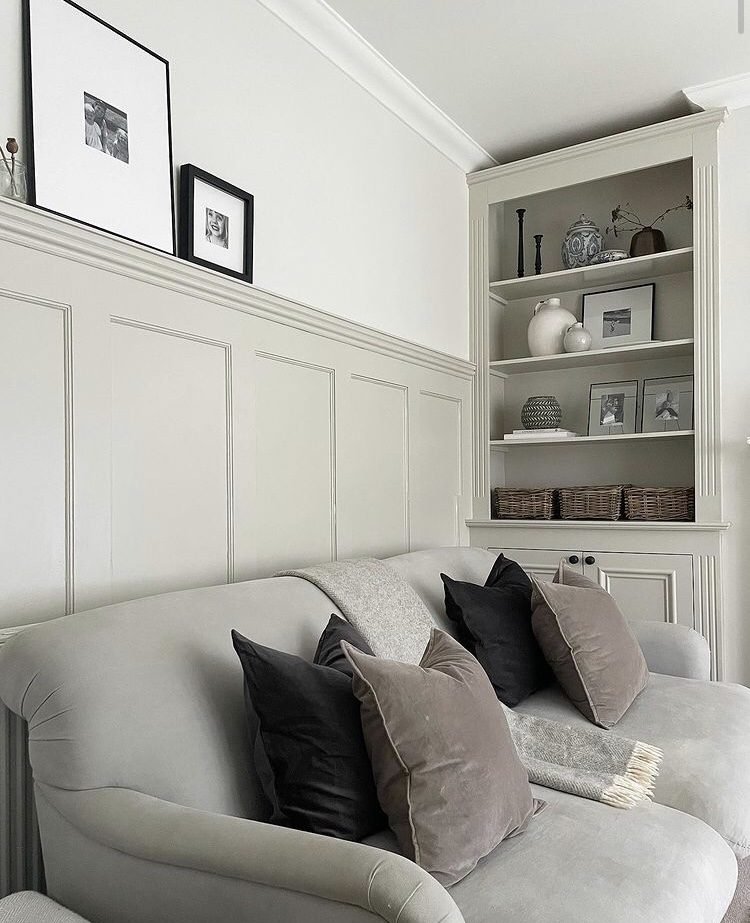 Swap wallpaper for panelling to add texture and elegance to a living room. We love this design by @renovating.no10 which breaks up a beige living space with panelling across the bottom half of the wall and doubles up as a shelf. Matching furnishings will bring the panelling design together so that it becomes a flowing part of the interior.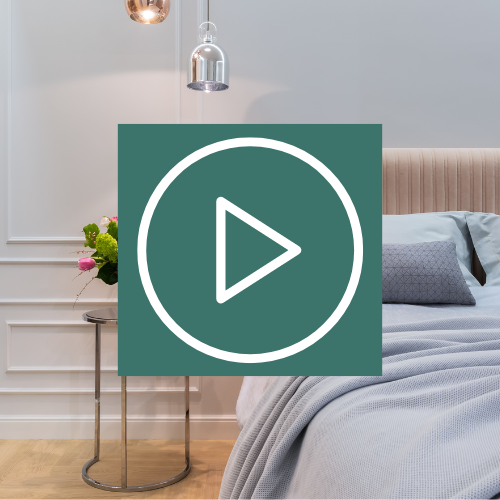 How to install wall panelling in your bedroom (video guides)
Thinking of panelling your bedroom yourself? Before you do, check out these 5 video ideas on how to install wall panelling in your bedroom.