No matter what type of interior style you love in your home and bedroom, adding a modern twist to your space is a great way to incorporate a fresh look. Whether you're designing your bedroom from a blank canvas, or you're simply adding to your current decor – our beautiful modern bedroom design ideas will give you plenty of inspiration on freshening up your space to feel like new. 
1. Minimal Modern Chic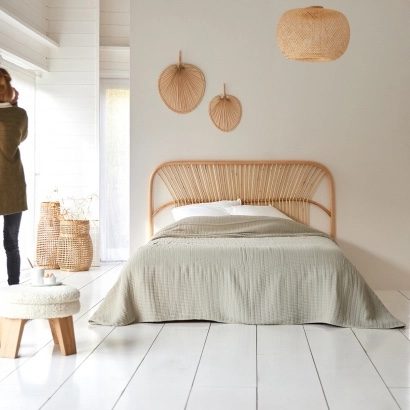 Image source: Tikamoon
Bedrooms with white walls can sometimes make your space appear too clean and less cozy. To bring in the snugness that you want in your space, bring in elements of nature such as wood. This light wood bed frame from Tikamoon is the perfect addition to creating a comforting, yet minimalist style bedroom for a modern home. Carry the look throughout with woven lamp shades and light bedding for a warm and bright look.
2. Moody Modern Bedroom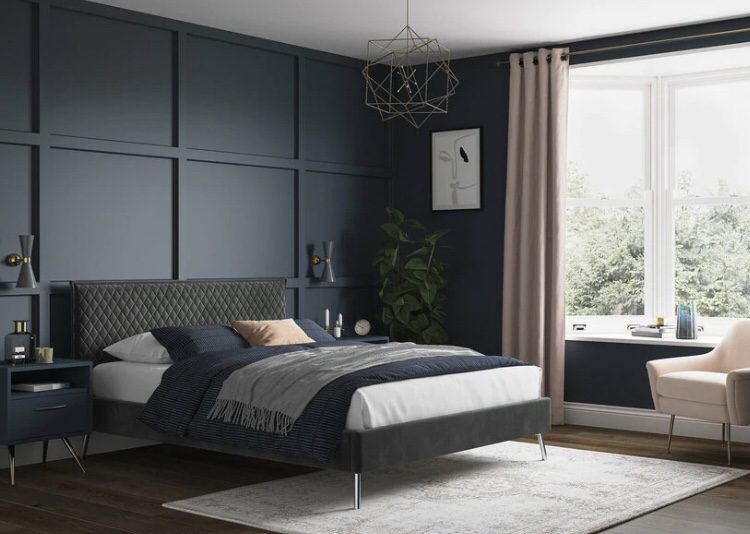 Image source: Benson For Beds
Dark bedroom designs create a space of warmth and luxury. Give your bedroom a modern twist by featuring a panel wall painted in a dark blue to give your space an opulent feel. Combine with delicate pink, and a mix of dark and light grey furnishings for a contemporary and modern style.
3. Contemporary City Chic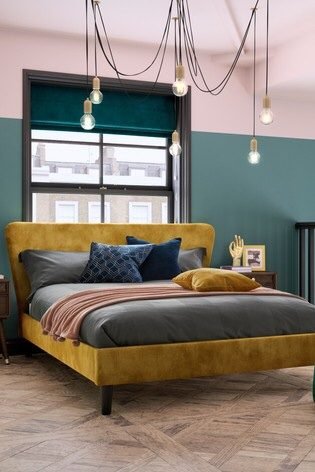 Image source: Next
Add a pop of colour to your bedroom with warm earthy tones of blue, grey and yellows. As well as playing with colour, bring in different textures to create a modern space for city living without looking dull and busy. We love this design by Next, which uses a low velvet bed and two-tone walls to make the walls feel fun and inviting.
4. Modern Elegant Bedroom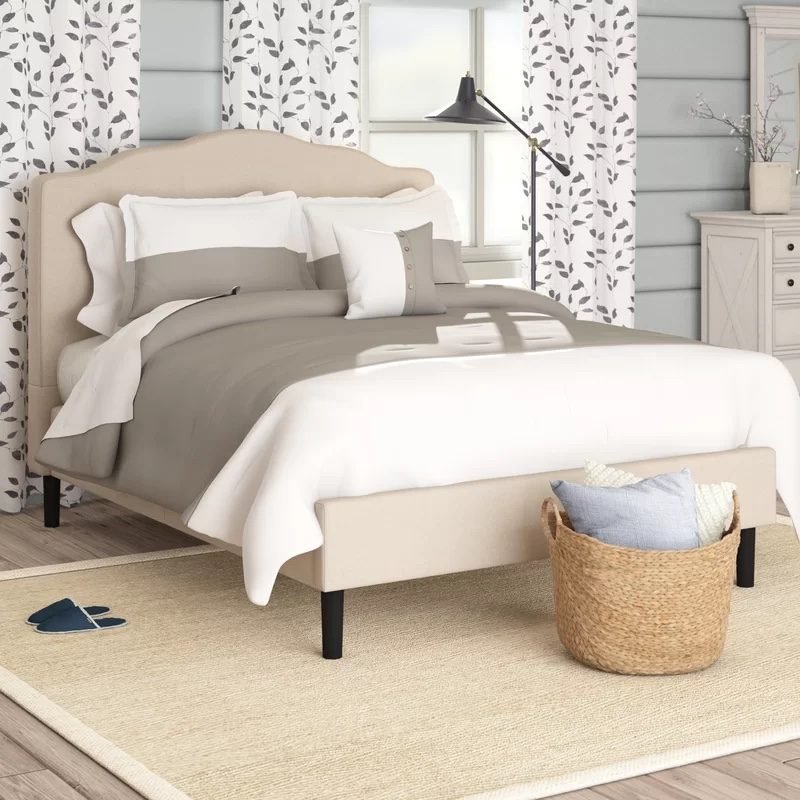 Image source: Wayfair
Style your bedroom with elegant farmhouse style with a beautiful upholstered bed with curved headboard to furnish your modern bedroom. We love this cream bedroom design, which will make your space appear bigger and serves as a blank canvas for incorporating subtle patterns and colours to add texture into a modern bedroom space.
5. Black and White Design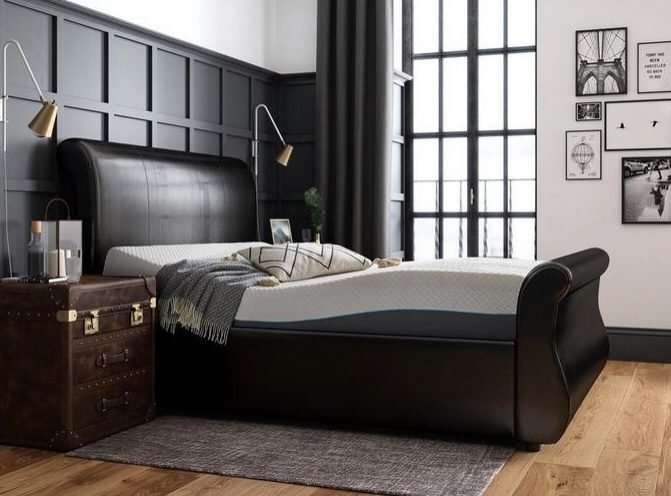 Image source: Dreams
For a classic and modern bedroom style, go monochrome on your interiors and furnishings just like this design by Dreams. Working with black and white for your bedroom brings in a contrasting look which will never look outdated. Style with a sleigh bed for an on trend look that is show-stopping and elegant.
6. Minty Fresh Hues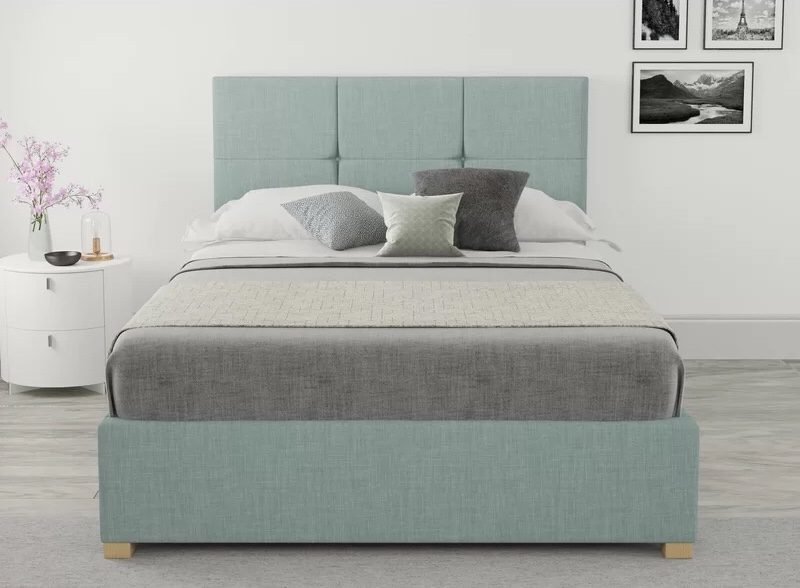 Image source: Wayfair
Brighten up your bedroom with a palette of modern colours to make your space pop. This mint coloured bed is perfect to brighten up white walls to look cool and fresh.
7. Grey and Pink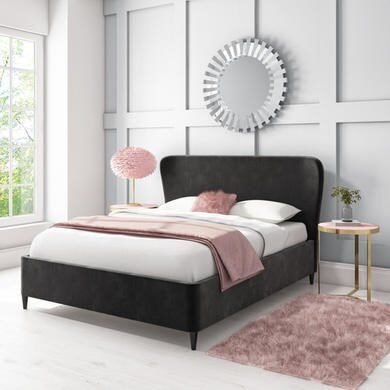 Image source: Furniture 123
For an on trend bedroom design, combine pink and grey together for contemporary and relaxing interiors. Grey is a calming colour for a modern bedroom and incorporating delicate pink hues adds a touch of elegance into your space. Start with grey walls and carpets, then bring in pink through curtains, duvet sets and decor accessories like lamps and side tables.
8. Modern Luxury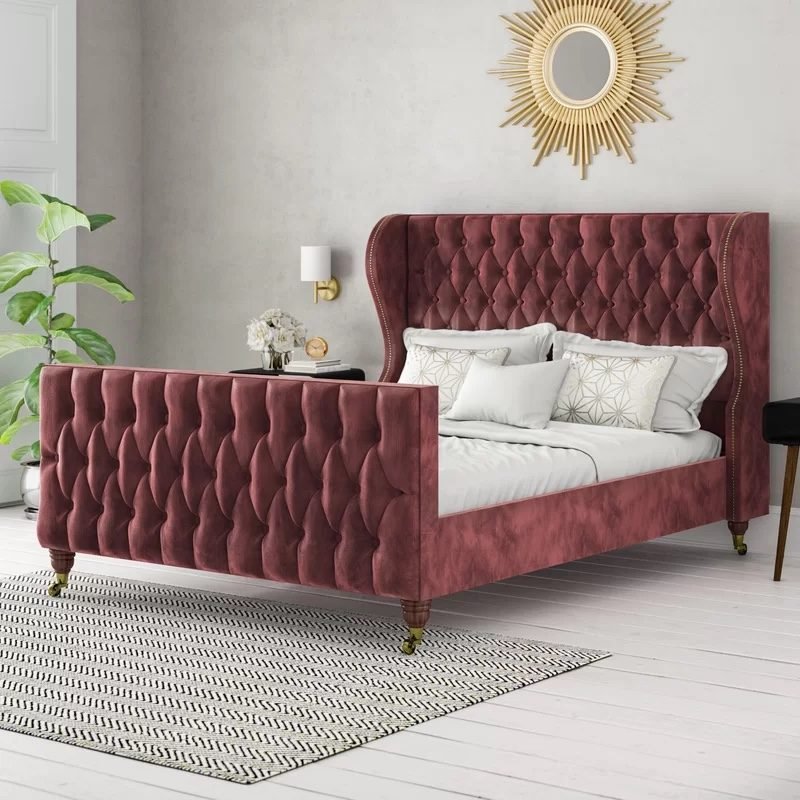 Image source: Wayfair
Add a touch of glamour to your bedroom with this velvet bed from Wayfair in a moody orange colour. Style in a light coloured bedroom like this design to make the bed pop in your room for an ultra modern look.
9. Beautiful Beige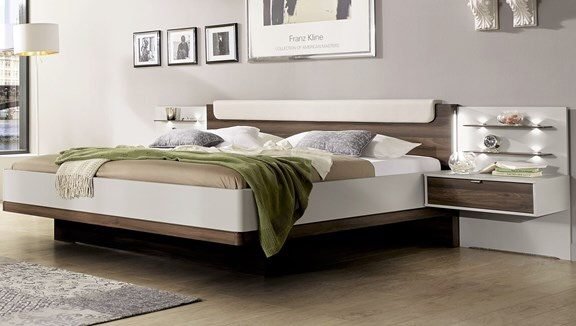 Image source: Head2Bed
If your idea of modern living is space saving and being organised, this design is perfect for you. Using furniture that has clean lines and clever functionality, like floating bedside tables will declutter your floor space to give the illusion of a bigger room.
10. Romantic chic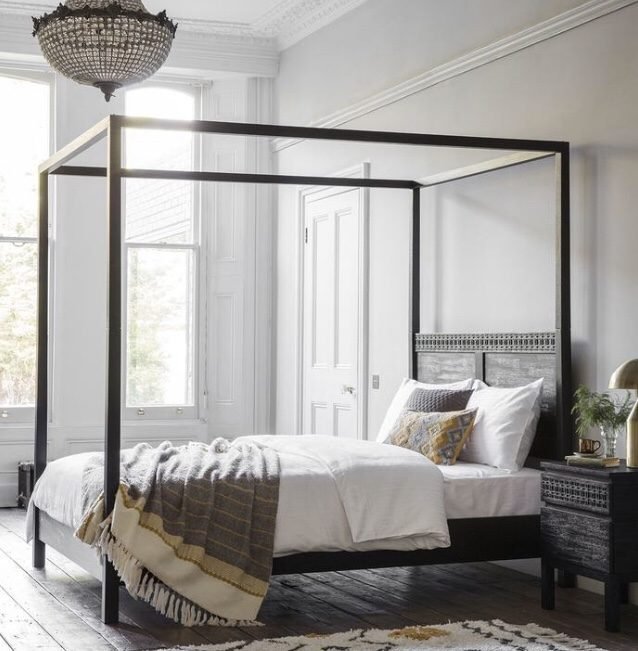 Image source: Solo Mia
Simplicity is key when styling a modern bedroom for couples. Choose a statement bed, like this 4 poster king bed with gorgeous black finish that is bold and elegant. Style with drapes and romantic bedding to complete the look, or keep it minimal like this design that incorporates luxurious finishes with chandelier lighting.