Decorating your bedroom in grey and pink creates an elegant, chic, and utterly stylish space to relax.
Grey is the perfect canvas for introducing pink interiors, as it looks glamorous and delicate when combined together for a pop of colour without giving you an eyesore. See below for our 10 gorgeous pink and grey bedroom ideas.
How to style a pink and grey bedroom
Styling pink and grey in a bedroom can be quite tricky, as you want it to look mature whilst also being comfy. So, how do you style a pink and grey bedroom? See below for some of our annotated ideas which will help you think of ways to incorporate this colour scheme into your home. Further down in this article, we also how 10 different ways that a pink and grey bedroom has been styled.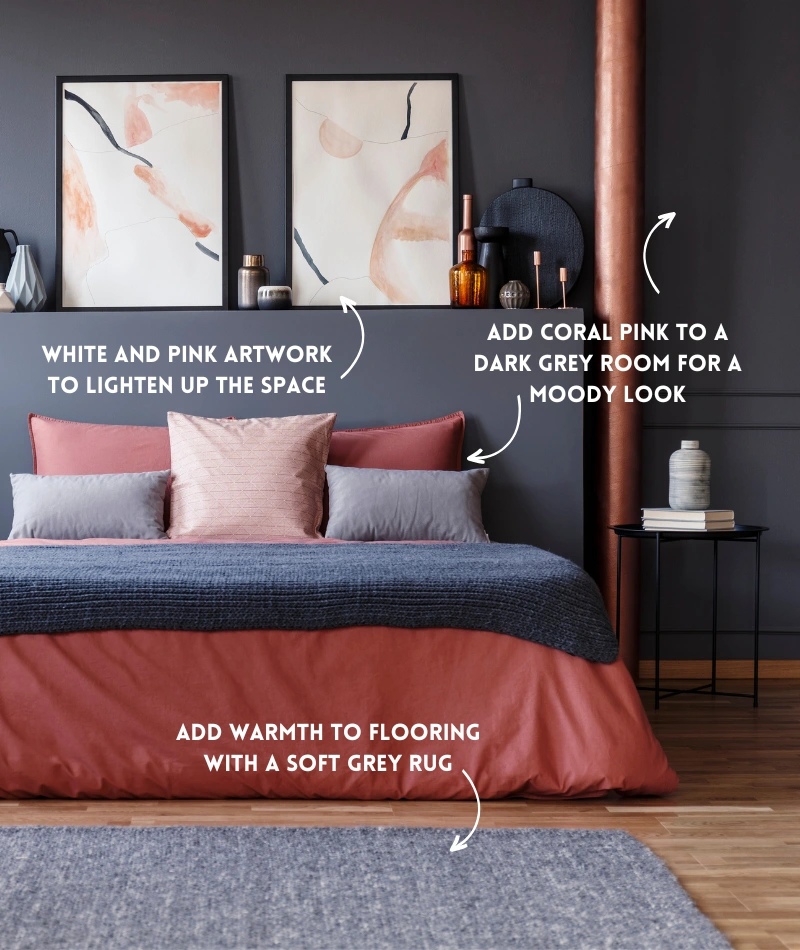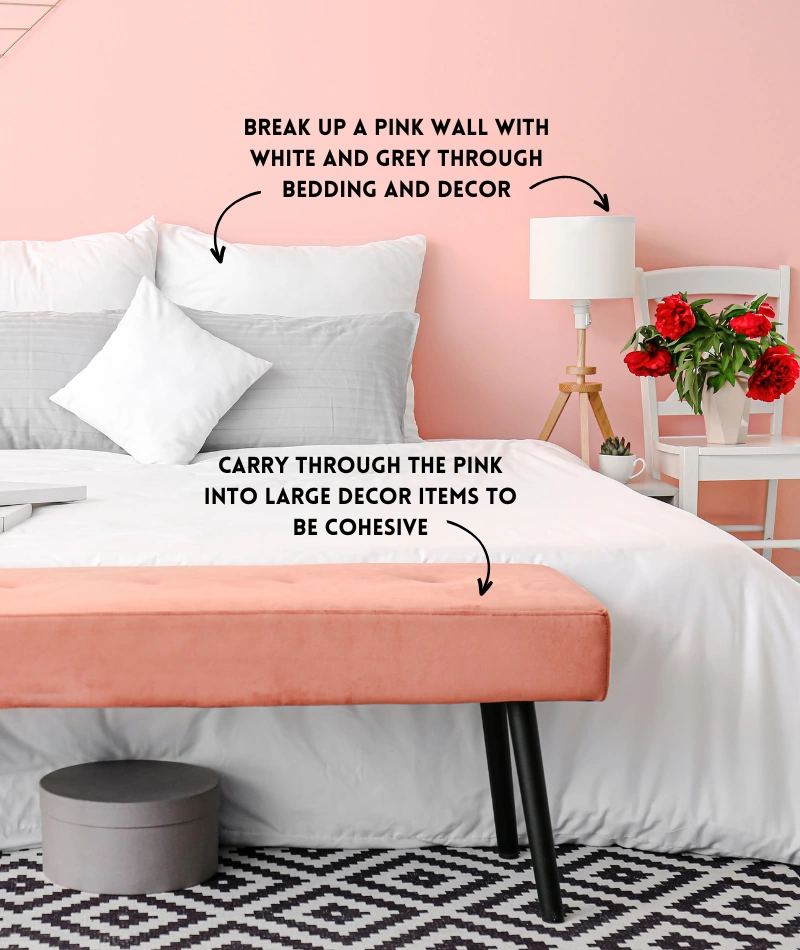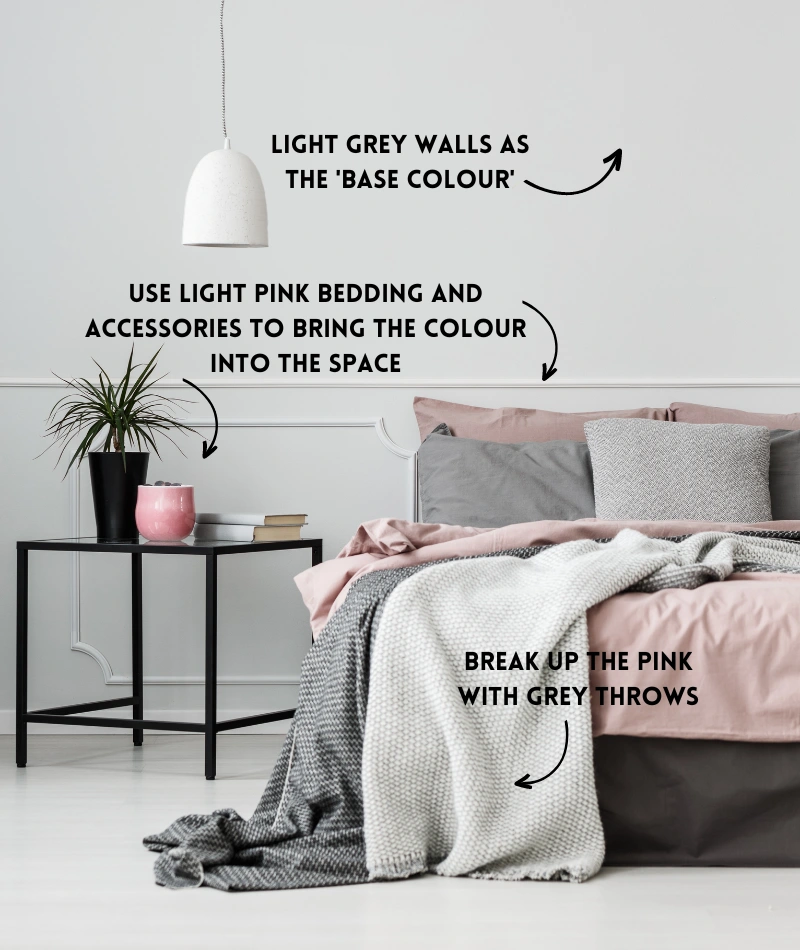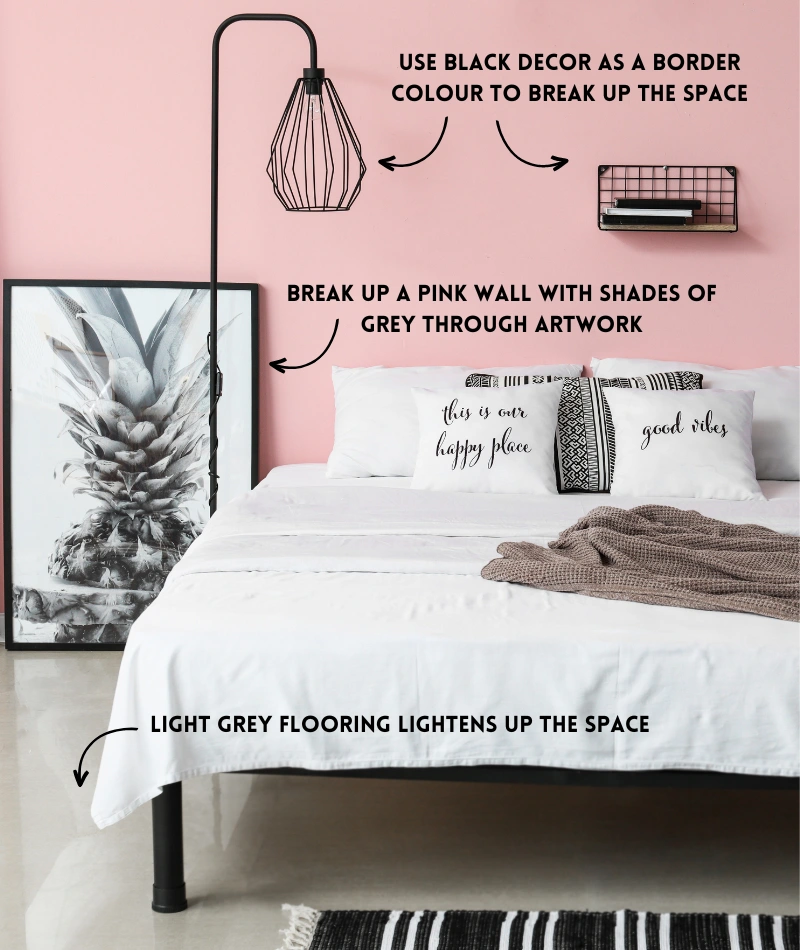 See below for 10 pink and grey bedroom ideas
1. Pink bed in a grey bedroom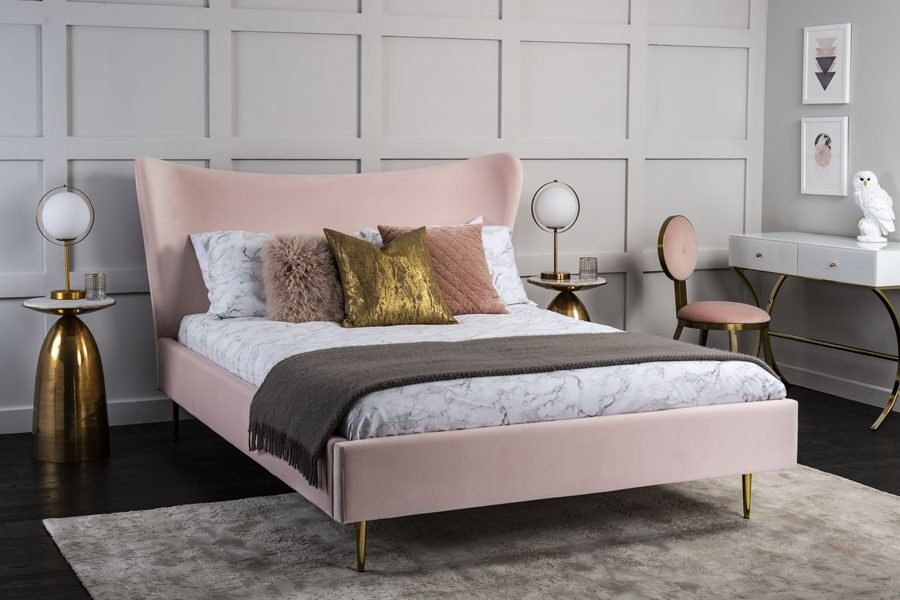 If you don't want pink to overpower your bedroom we suggest painting your room a soft grey to bring in pink through statement decor pieces. We love this tretton deluxe bed in a soft pastel pink against the light grey wall paneling. Introducing subtle pink decors like artwork and chairs will carry the colours together in a calm and neutral way.
2. Grey bedroom with pink pillows and throws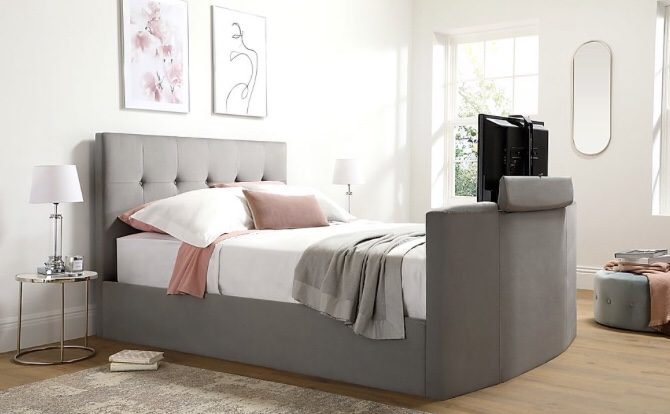 Grey bedroom designs are hugely popular as they are super cozy, calm and neutral with pretty much any other colour. Subtle pink decor like pillows and linens is a great way to introduce soft colours into a neutral space. The Langham grey velvet TV bed makes a bold statement with an elegant headboard and hidden TV slot at the foot of the bed.
3. Blush pink velvet bed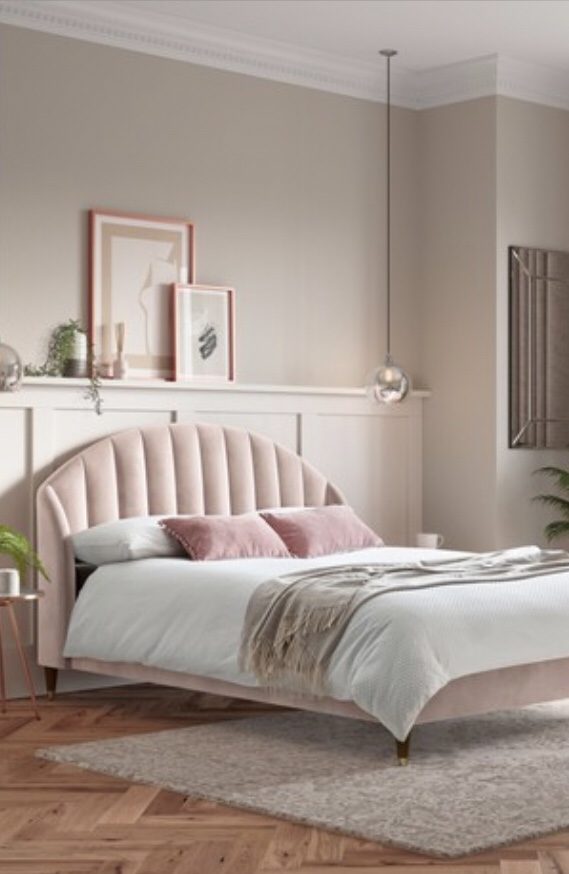 Subtle shades of pink create an elegant bedroom space just like this design from Next, featuring a blush pink velvet bed. The pastel pink walls and pink detailing such as the velvet cushions and photo frames contrast the room in an elegant and soft way. The grey rug and throw and slight detailing on the pendant light introduces the calm grey tone to break up the pink in a soft way.
4. Pink and grey wall decor ideas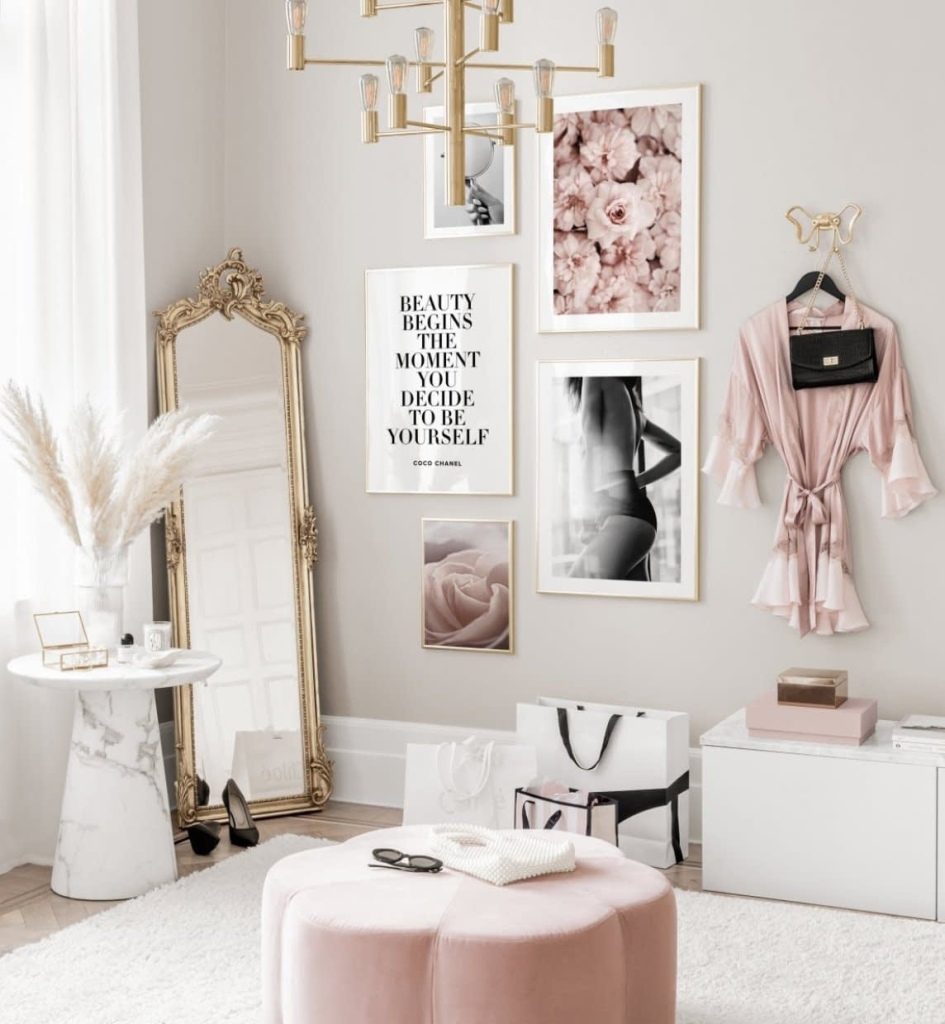 Framed artwork is a great way to freshen up your home without using any DIY skills. Poster Store is a great source of inspiration when planning a gallery wall in your bedroom. Mix and match black and white photos with pretty pink framed art for a contrasting look.
5. Pink rug for a cozy bedroom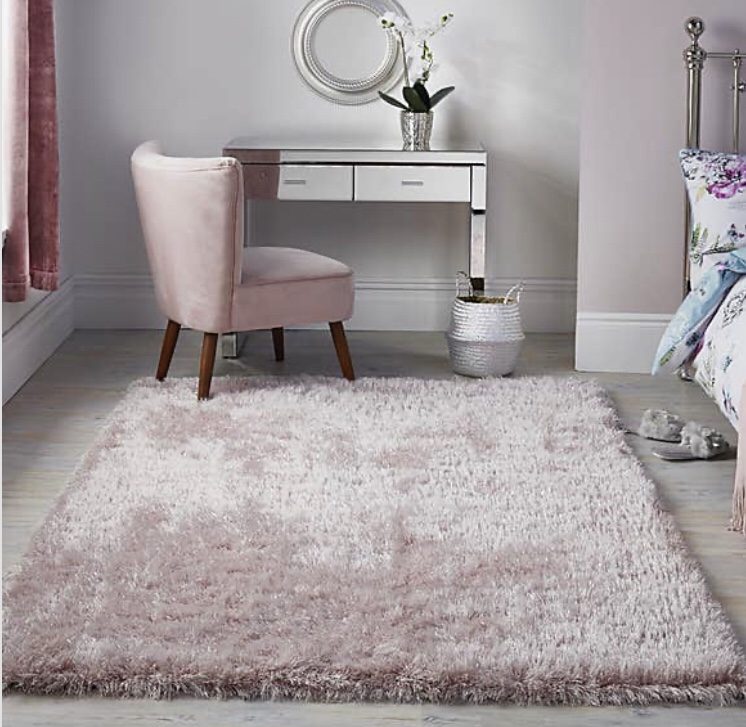 A grey and pink bedroom is a colour scheme that oozes glam and elegance and what better way to add a touch of glam than with a sparkling blush pink rug to add texture and warmth to your bedroom.
6. Blush pink decor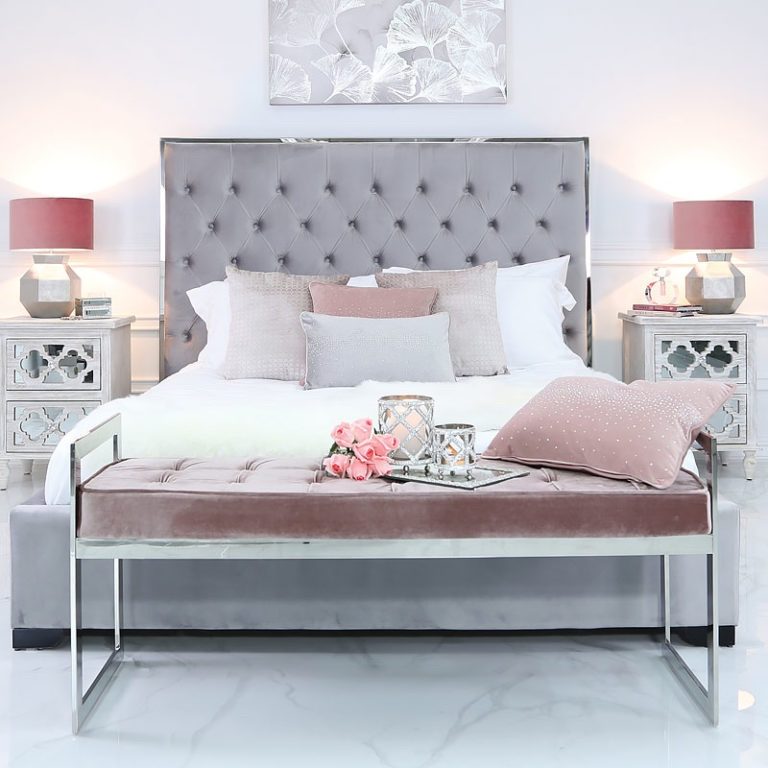 Statement pieces, like this padded tufted seat adds a delicate seating space in your bedroom for a contemporary look. Combine with an elegant bed with a statement headboard for a glamorous grey and pink bedroom design.
7. Neutralize your grey and pink bedroom with navy blue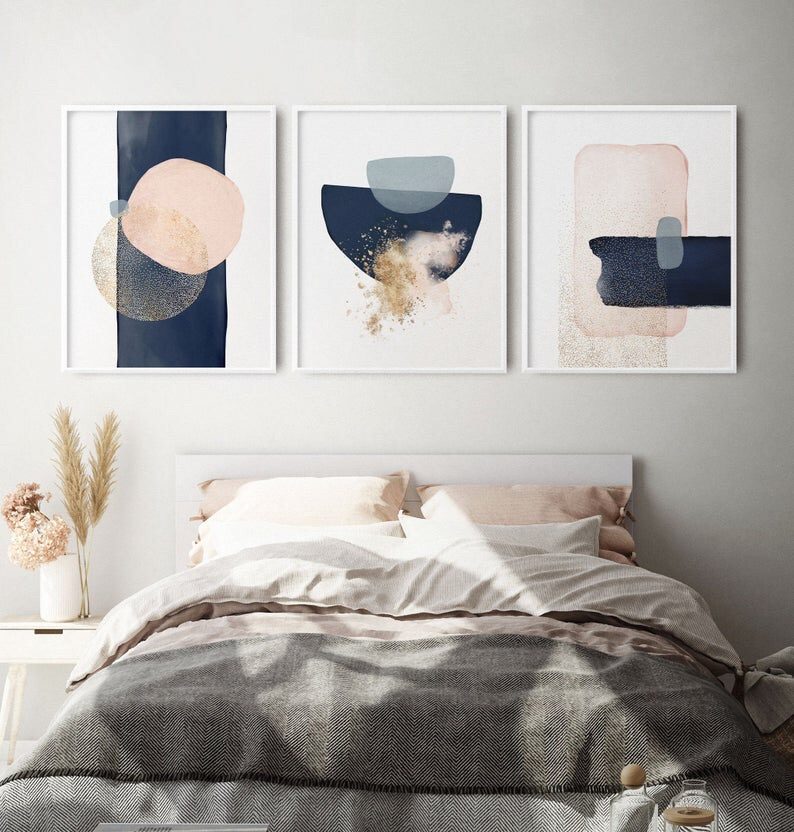 Navy blue detailing neutralizes the softness and feminine look that grey and pink characterize when used together. You don't have to overplay it on the blue detailing, this example from Etsy uses blue and pink artwork to contrast the soft grey walls and bedding in a delicate way.
8. Dusky pink and grey bedroom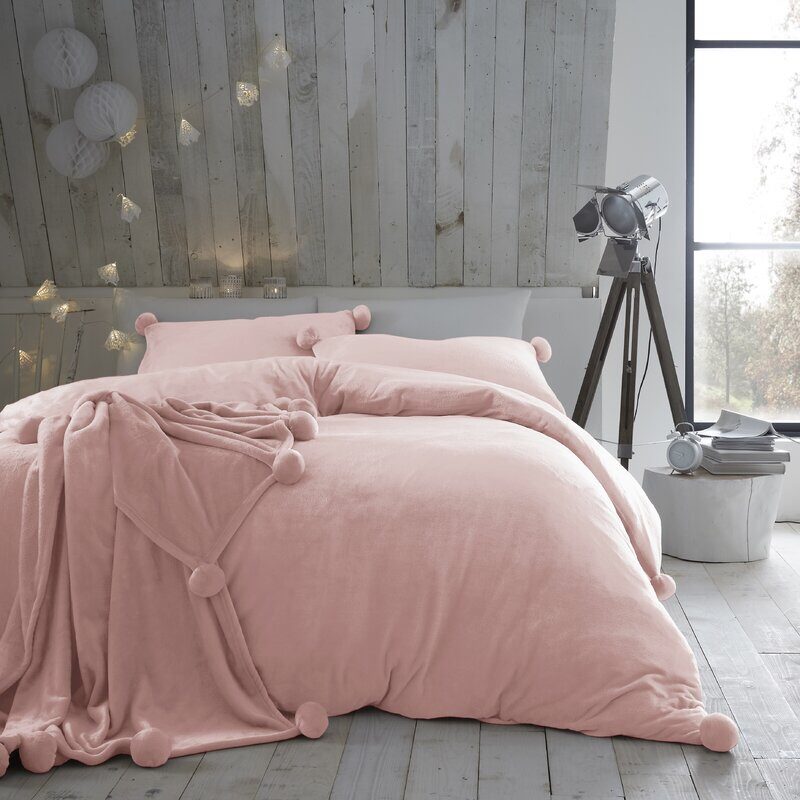 One way to brighten up a grey bedroom is by dressing your bed with a dusky pink duvet set that will completely transform your space. This cozy pom pom duvet is chic and stylish and soft to the touch for a snug bedroom hack to add a pop of pink against grey walls.
9. Contrasting grey and pink tones for depth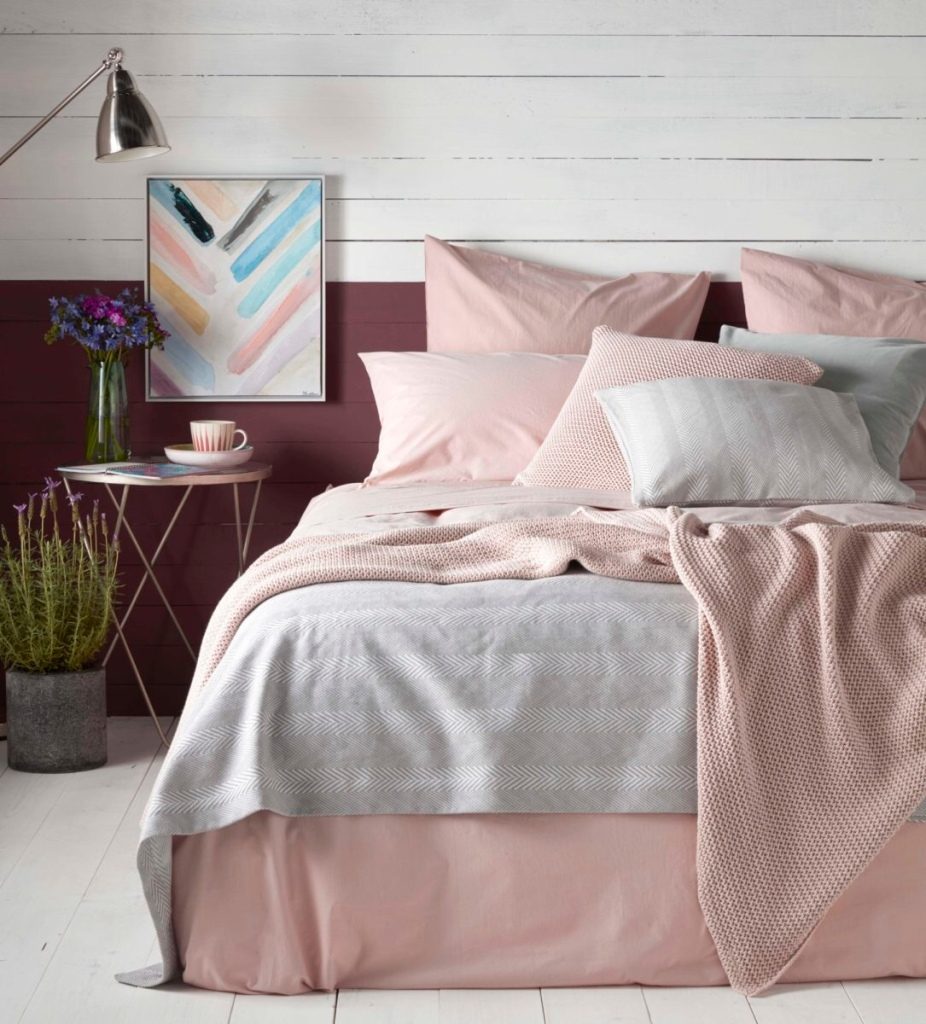 Play around with multiple shades of greys and pinks to add depth ad boldness to your bedroom. We love this idea by Secret Linen, which has styled a blush pink duvet set with grey pillows and sheets. The two-tone walls with deep pink and light grey add depth as well as being bold and mature against the soft bedding.
10. Pretty pink bedroom dresser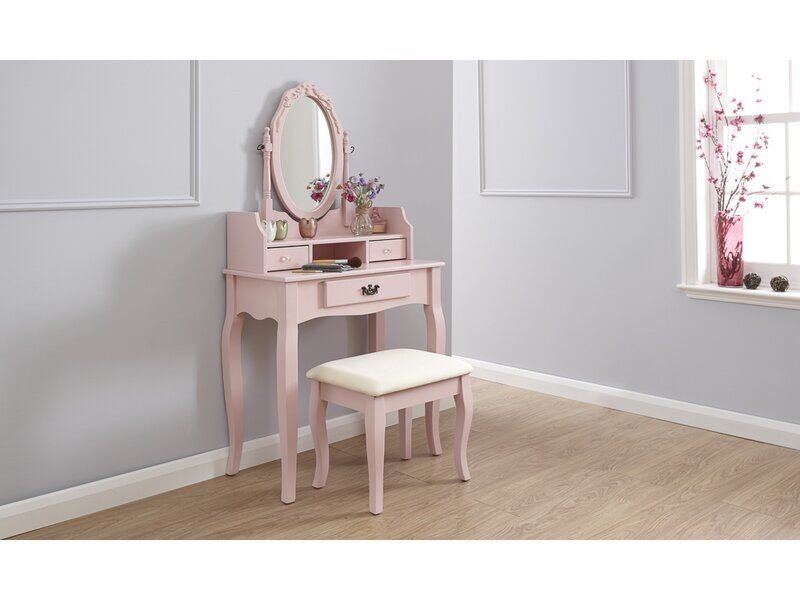 Finish off your elegant grey and pink bedroom with a gorgeous and glamorous french style dresser with stool. This gorgeous dressing table from Wayfair brings in country charm with the vintage-inspired design for an elegant space to get ready in the morning. 
[caf_filter id='10852′]