Create a snug space in your living room with our fireplace ideas to add style to the statement and focal point of your living space. Our ideas include every type of living room style, from modern to minimal, farmhouse to fashionable. Scroll down to discover the best fireplace ideas to transform your living room.
Modern Fireplace Ideas
Get cozy by the fire with a modern fireplace that looks sleek and decorative for a functional focal point in your living room. Our contemporary fireplace ideas are ultra-modern, so if you're thinking about renovating your old fireplace or looking to add a fireplace feature to your lounge, look no further than these gorgeous ideas below.
Electric Fireplace Suite
Glam electric fireplaces are becoming increasingly popular, especially in newer-built homes and homes without traditional fireplaces. If you still love the idea of having logs in your home as a decor feature, this beautiful electric fireplace is designed to incorporate that effect with cozy log storage space.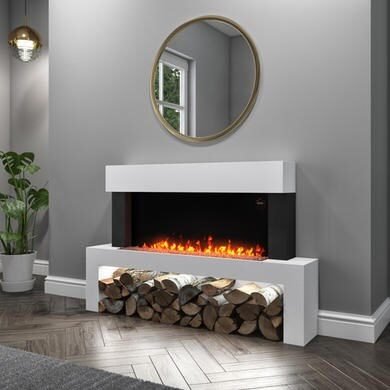 Sandstone Electric Fireplace
Contemporary meets tradition with this ultra-modern electric fireplace from Wayfair. The gorgeous sandstone finish and the chamfered edges give this fireplace a modern look, while the sleek electric fire settings allow you to adjust the coziness of your living room with ease.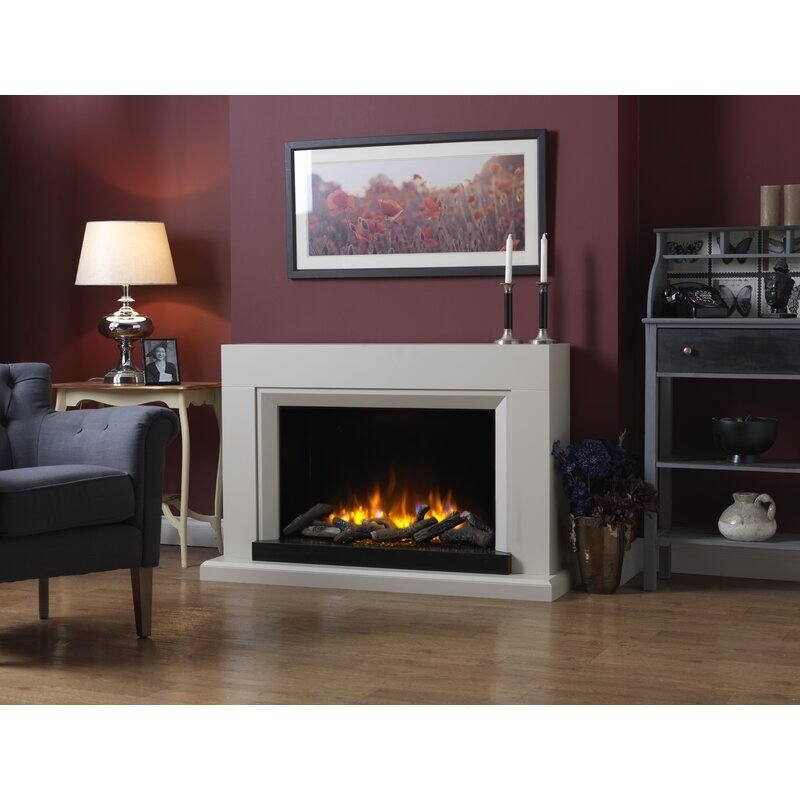 Electric Wall Mounted Fireplace Suite
This sleek fireplace uses natural elements and modern design to create a contemporary look, with chunky wooden frames in a striking white to make the electric fire pop with warmth. The handy remote controls two heat levels, as well as three LED flame adjustments.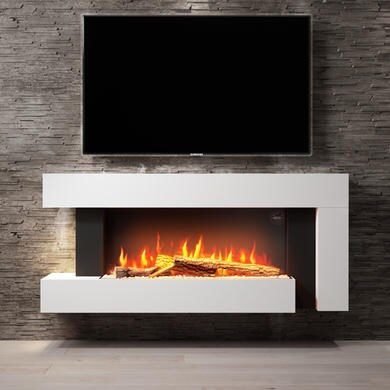 Minimalist Electric Fireplace
If you have a small living room but still want the coziness of a fireplace, this simple and modern fireplace is ideal as it mounts on your wall and the long rectangular design makes the fire the focal point.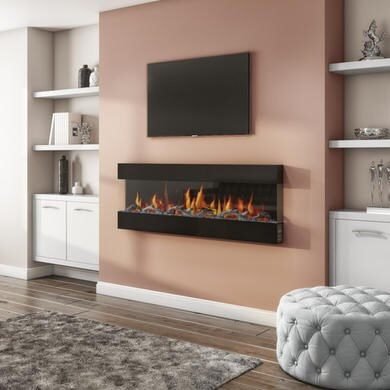 Stone Fireplace Ideas
Stone fireplaces are great for bringing natural elements into your living room. A mix of classic designs and warm textures from the stone allows you to furnish your living room in any style you want, as a stone fireplace serves as your blank canvas and focal point to interior style your space as you wish. It's also a great way to add a touch of luxury to your home.
Angled Stone Fireplace
This beautiful limestone fireplace with angled sides will add depth to your living room, even if you're not bold on the colour schemes in your space, this stone fireplace will add instant character against your walls and furnishings.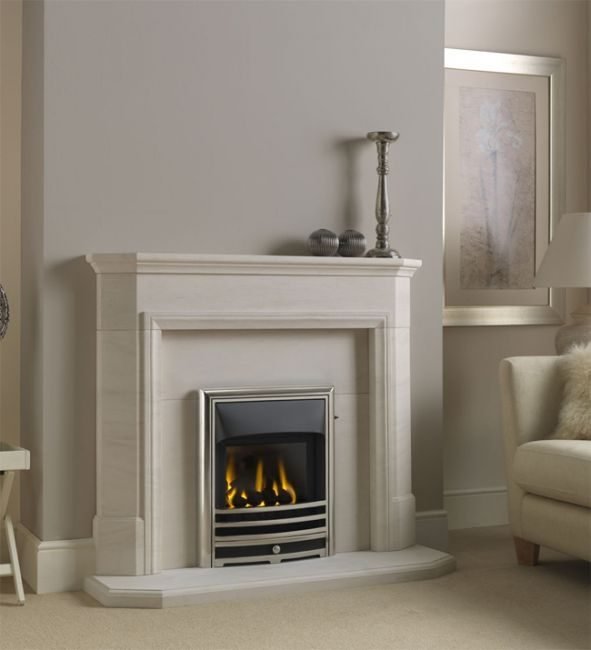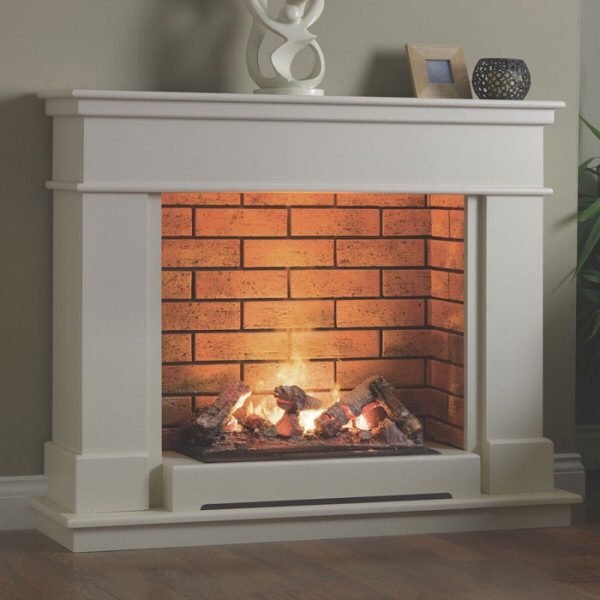 Modern Limestone Fireplace
Stone fireplaces don't have to mean old and dated. This beautiful limestone fireplace is a modern take on a classic design using natural Portuguese limestone with simple detailing to hold its own style. We love the styling here with a woodburning stove to make the fireplace look on-trend.
Chic Stone Fireplace
Sleek lines and elegant detailing come together to make this fireplace ultra-chic and contemporary. We love the small frame that looks simple and fashionable to style a contemporary and swanky living space.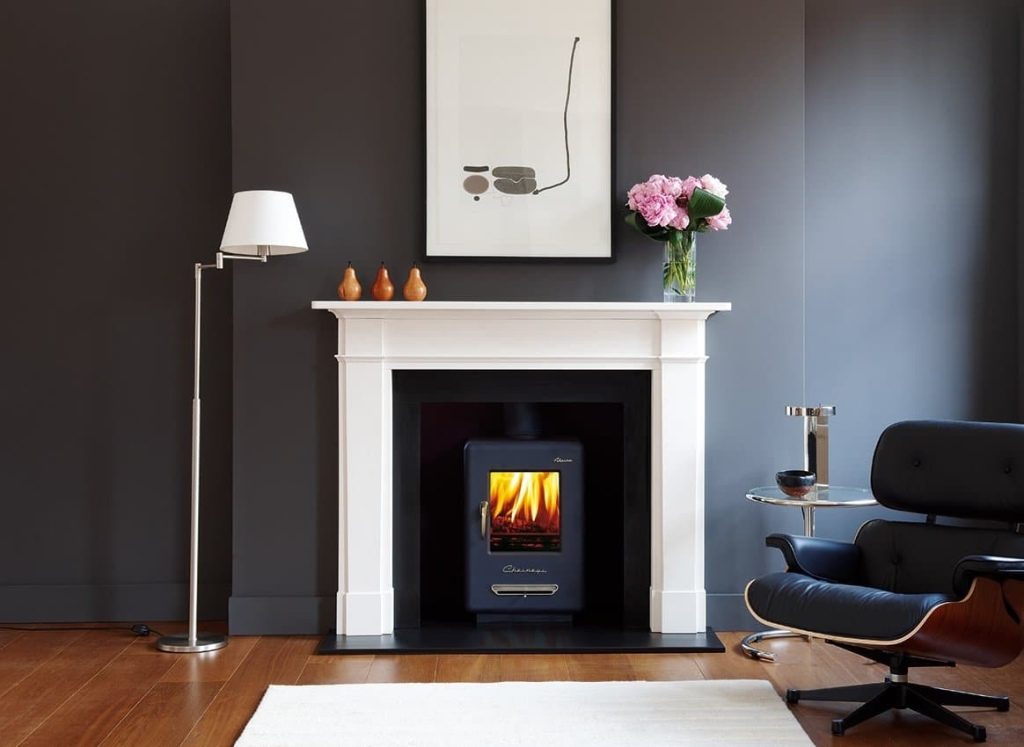 Stone and Brick Fireplace
Incorporate natural elements together for a show-stopping focal point in your living room. This beautiful and unique fireplace suite uses sandstone finish with a red brick interior for an authentic and super cozy fireplace in your living room. The beautiful electric fire feature looks warm and cozy like a real fire crackling against the red brick interior.
Brick Fireplace Ideas
A brick fireplace design can look contemporary, classic, traditional, and unique because it's such a versatile material that can be painted and designed to fit in with your interior styling. See below for some beautiful brick fireplace designs that you can take ideas from when renovating your lounge.
Rustic Brick Fireplace
Styling your fireplace with a brick interior is a wonderful way to incorporate cottage-style interiors if you don't have an exposed brick wall to work with. Natural elements like a wooden beam will help create the finishing touches of a fireplace frame to look traditional and authentic.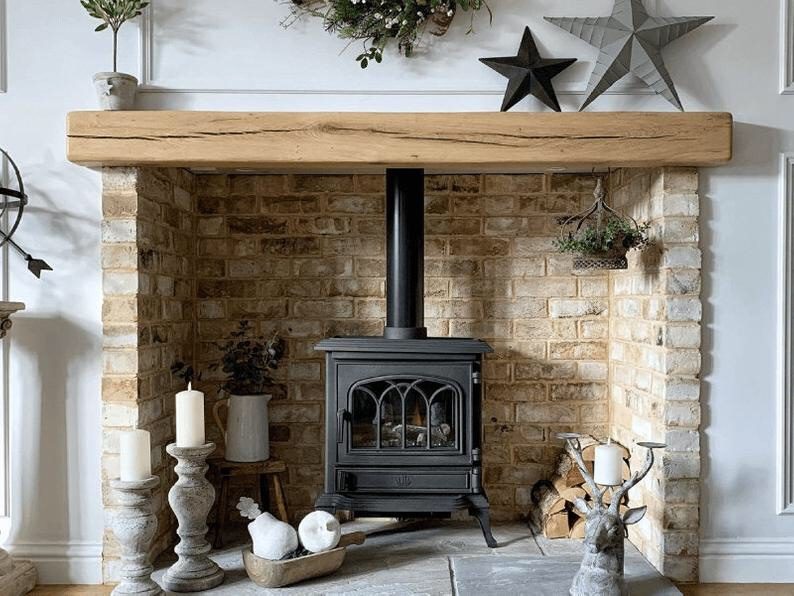 Modern Brick Wall Fireplace
Exposed brick walls, like this design from @pimpmyfarmhouse on Instagram infuse elements, like a  dark brick wall and dark wood fireplace frame to mix and match traditional and modern farmhouse charm. We love the use of rich wood furnishings such as the mirrors that sit on the mantel and the log fire insert.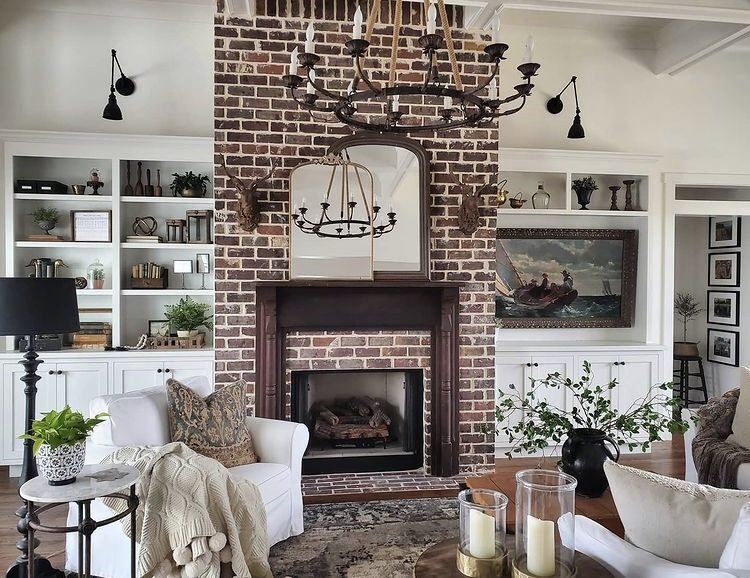 Brick Carved Fireplace
Another great use of brick for a fireplace design in your living room is showcased by @homebyjulianne on Instagram. We love how the fireplace is carved from brick and cute shelving to provide a simple, modern, and unique take on a traditional fireplace design. The styling using a wooden shelf across the brick ties brings the elements seamlessly together.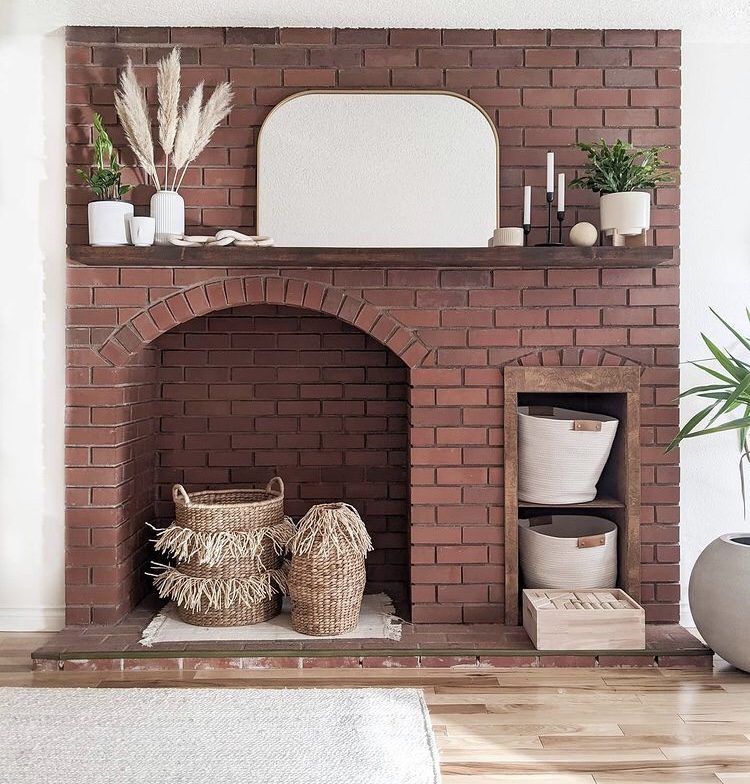 Tile Fireplace Ideas
Tile fireplace designs are a hot interior trend, as they can be easily changed up throughout the years to match your style, as well as a great way to cheaply renovate your fireplace with so many stylish designs to pick from. See below for some of our favourite tile fireplace ideas.
Unique Fireplace Tiles For Moody Rooms
Choose a tile with texture when styling a moody living room with rich colours and varied patterns. This gorgeous tiling by @rookwoodtile is inspired by mermaid patterns for a funky and unique fireplace design.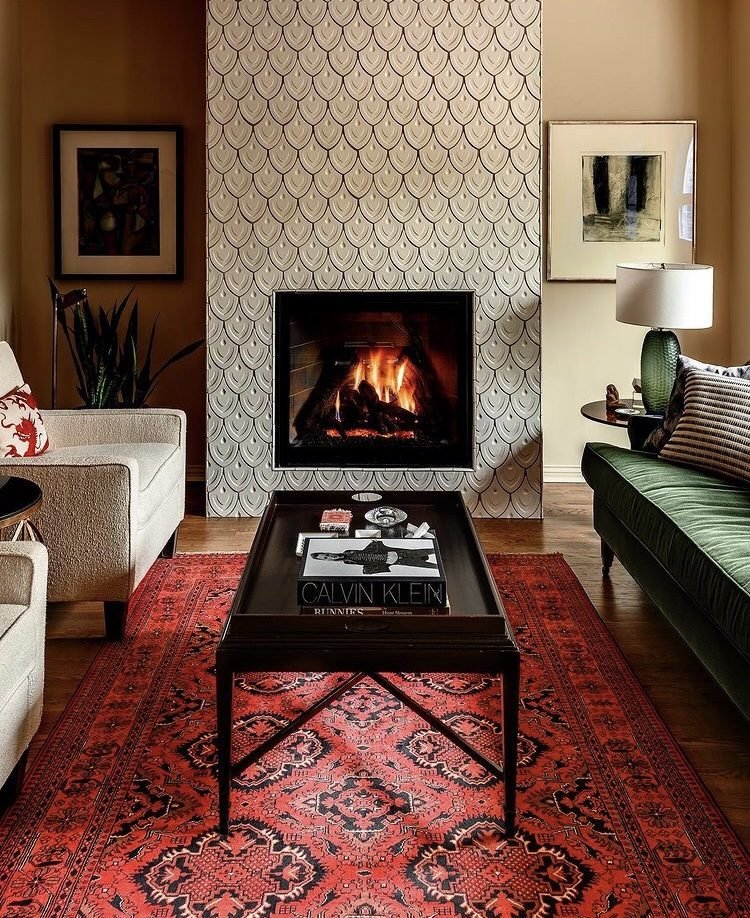 Simple Fireplace Tiling
Blend your fireplace tiles with your interior choices just like this elegant idea by @jobe_homes that decorate a traditional style fireplace frame with gorgeous tiling that subtly uses different hues of white and grey.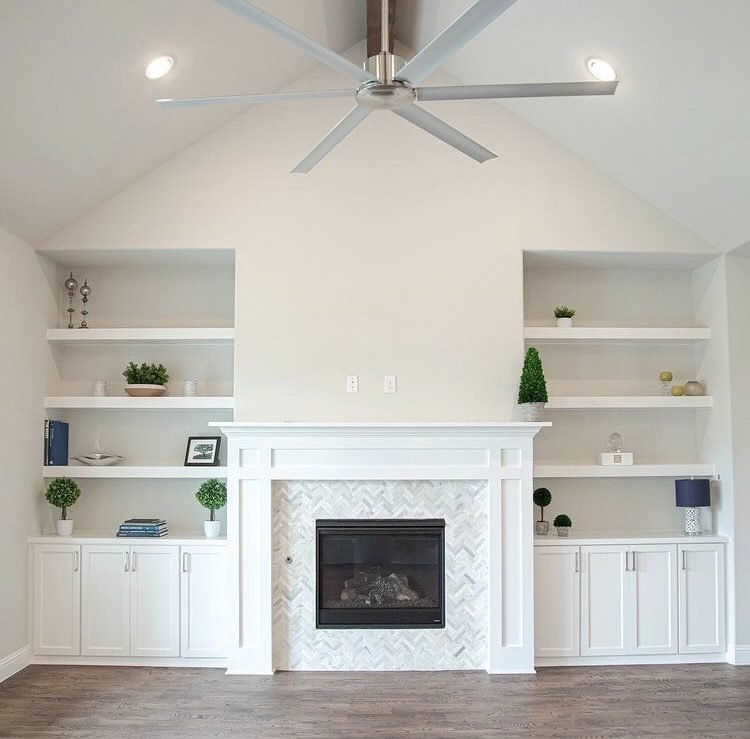 Navy Blue Fireplace Tiles
Create a unique fireplace using patterned blue tiling just like this idea by @creativetileimports, which looks striking and bold against the logs and the fireplace insert.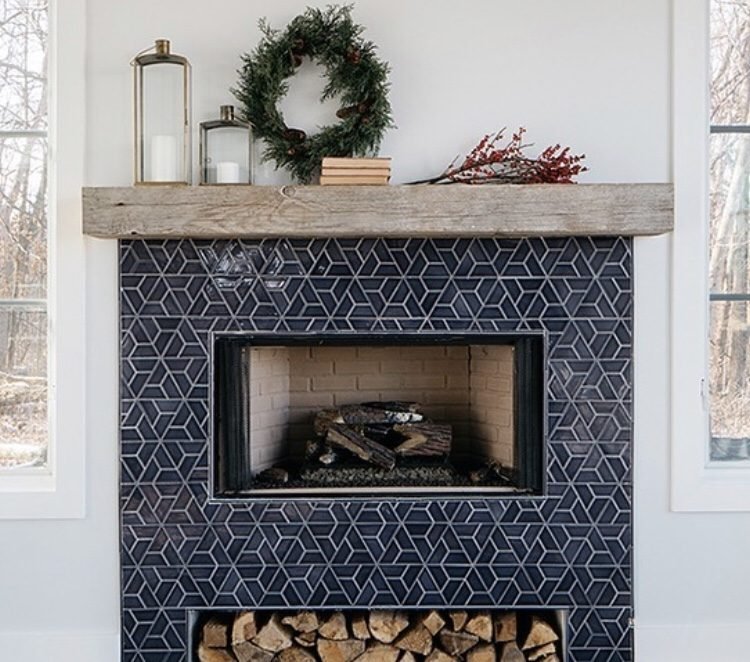 Find more home ideas below: