Should I put a console table in the hallway?
Absolutely! A console table can be a great addition to any hallway, providing both style and functionality. Not only does it create an attractive focal point, but it can also serve as a practical storage solution. You can place decorative items, such as vases, candles, or photo frames, on top of the table while using the space underneath for baskets or boxes to store items such as keys, gloves, or hats. Consider the size and style of your hallway when choosing a console table, as it should complement the existing décor and not overwhelm the space. With the right choice of table, a hallway can be transformed into a welcoming and functional area of your home.
Continue reading to see different ways that you can add a table or console to your hallway to make your space feel warm and inviting.
1. A table can make your decor and accessories stand out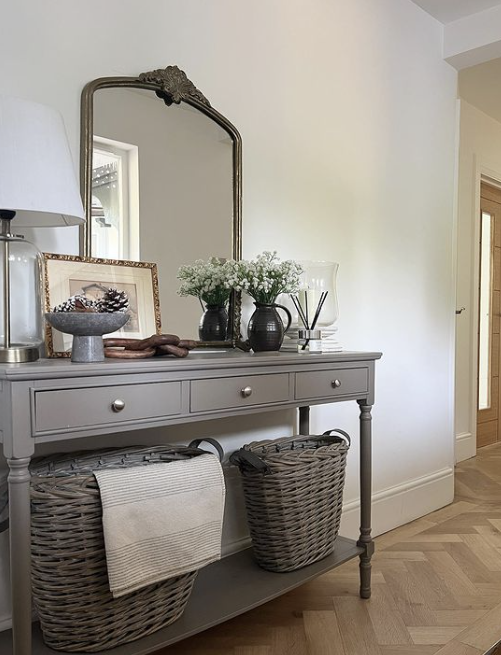 Faye from @fayes_home_edit explains that "Everyone has different styling techniques but I like to have a focal statement point, such as a large vase or in this case the mirror. Then work my way out. I like to have some symmetry on either side of the focal point but not identical so I have two large pieces, the lamp & candle hurricane. Then use pieces of different heights and materials to create some depth and texture. Always love having some form of greenery or florals." – Image by @fayes_home_edit
2. First impressions count, so keep it classic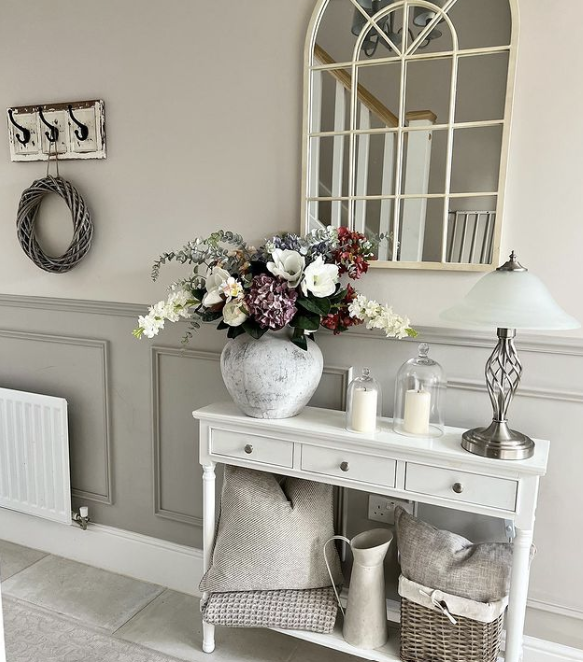 Stacey from @no12_thewarwick keeps her hallway simple, explaining: "With my hallway, I wanted the space to be light and airy, with classic pieces that stay in style. It is the first impression of the house so it was important for me to have it decorated in a way that would flow with the rest of the house." – image by @no12_thewarwick
3. A console table allows you space to add plants to your hallway 
Plants are a great feature in a hallway as it adds instant freshness to your home's entrance and can also be a great source of colour. We love this countryside hallway idea by Becca at the Heron Barn, where she has used natural wood tables to serve as a way to add lots of colourful and green plants to give the hallway a bright and in-touch-with-nature vibe.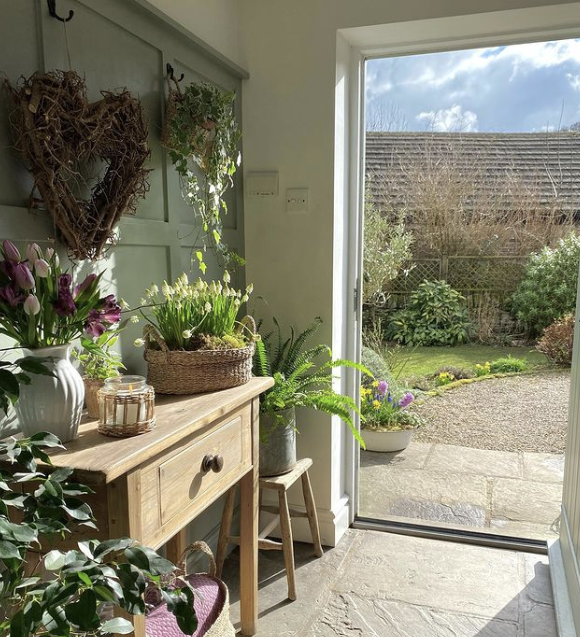 Image by @heronbarn
4. Keep the table simple for a clean hallway look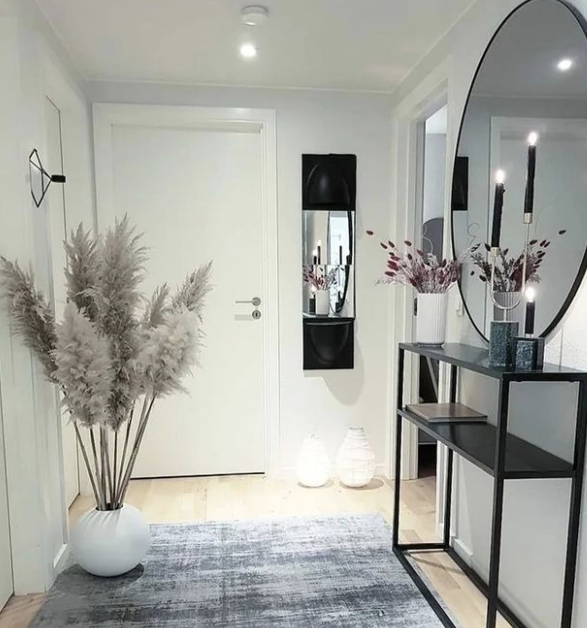 Lina from @Is.Interiorhome says that you should "keep it simple when decorating". Choose furniture and a colour scheme that complements the space to make it feel like your sanctuary. For instance, we love the monochrome aesthetic of this entryway as it makes the space feel bright with the white walls and contrasts with the darker furnishings to make up for no natural lighting. Keep your hallway table simple with a few accessories and add a statement mirror that is both functional and will reflect more light into the space.
5. Work with your space and choose the right-sized hallway table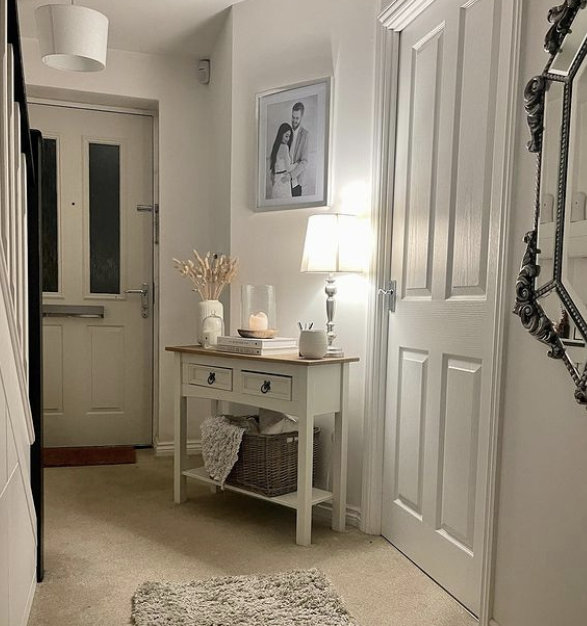 Picking the right-sized furnishings for your hallway is super essential, after all, you don't want to keep tripping over or knocking things off your hallway table every time you enter and exit your home. Consider the space you need to work with when shopping for a hallway console. Take note of this lovely neutral hallway by @neutral_little_newbuild has chosen a mini console table that perfectly fits a twisted wall, which brings out the quirky hallway shapes in a fun and subtle way.
6. A hallway table with storage adds functionality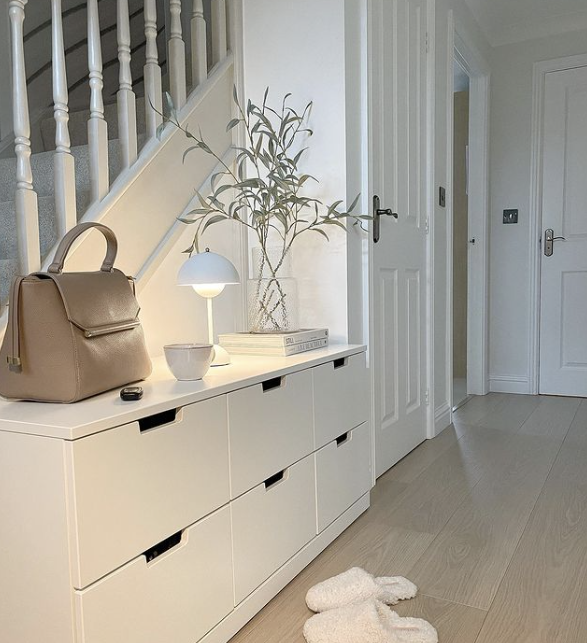 Cheryl from @cb_loves_interiors20 explains that "I like to keep things simple, maybe add a lamp for dull days or some subtle evening light. Compliment with fresh or faux stems for a nice welcome as you walk through the door. Storage is important for coats and shoes etc. make sure your choice works for you and your family." – Image by @cb_loves_interiors20
7. If choosing a white hallway table, keep the space warm with different hues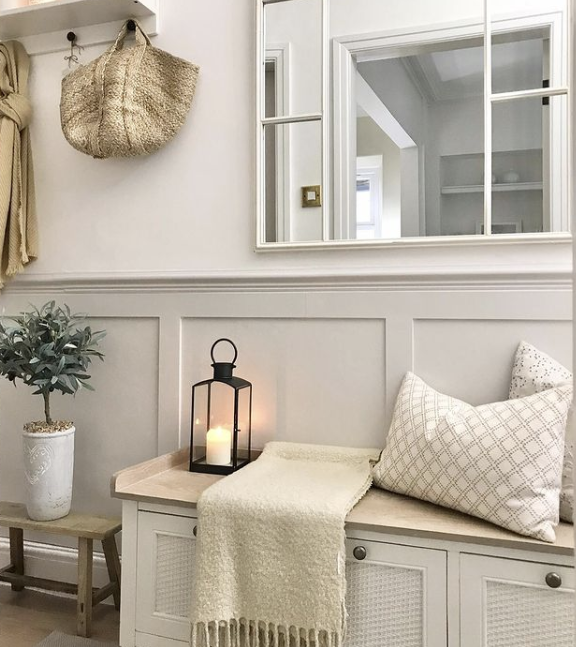 White is a great scheme for a hallway as it's neutral and colour can be added to it anytime. However, when styling your hallway with a white table, it's worth considering the amount of light you get and how you style it. Claire from @home_at_ivy_corner says: "Chose your white carefully. North-facing halls need a warmer white. Glass doors bring more light through." – Image by @home_at_ivy_corner
8. Add shelving above the radiator for narrow hallways for a makeshift table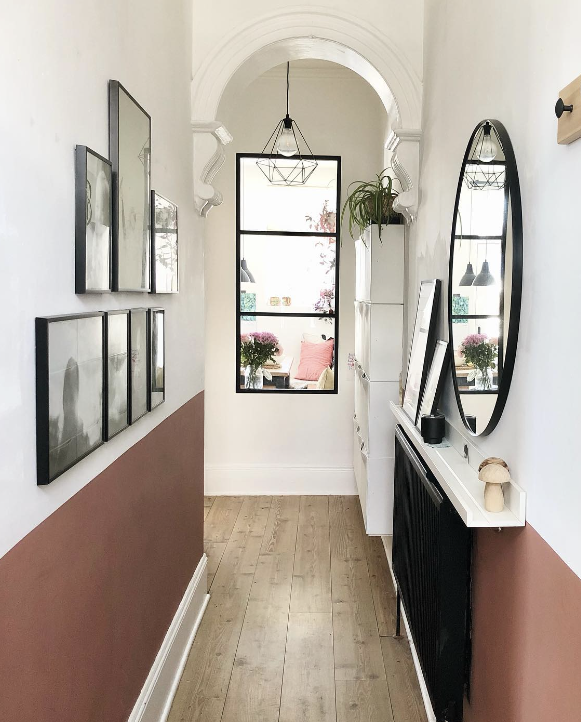 If you've got a narrow hallway and you really want to add some functionality and style to it, why not consider adding some shelving? Margy from @margyforshaw utilises her space beautifully by adding small shelving over the top of the radiator to give the room more depth and functionality where accessories and decor can be added to the area in a non-cluttered way. We also love the final touch with a large statement mirror to complete the look.
9. Use a glass table in your hallway to introduce more light into a dull corner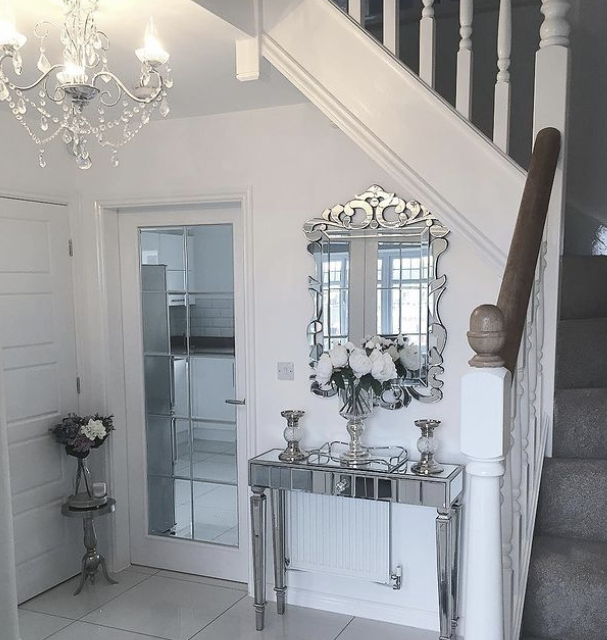 Bring a dull hallway that doesn't get much light, to life, with reflective decor such as a glass table, mirrors, and lighting. We love this glam hallway look that features a statement glass dresser to make the hallway feel more spacious. Sammy from @sammys_x_home says:" I received this gorgeous light and can honestly say that it has added that extra touch of luxury that was missing in my previous hallway interior. This is the 3-light Vara chandelier but is also available in a 5-light."
10.Keep your hallway neutral to compliment your space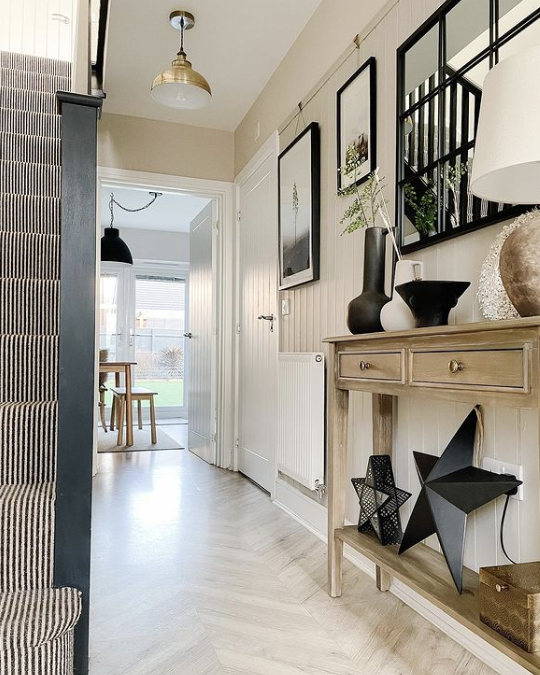 Hallway tables come in all shapes, sizes, and colours. If you've got a neutral hallway interior style, the best thing to do is find a table that compliments the space you have already designed. For example, this gorgeous and neutral hallway by Rose from @our.olive.tree uses a wood console table to match the flooring and wall colour white the mirror and framed artwork matches the banister and stairs for a complete look. Image by @our.olive.tree
Will you be adding a table to your hallway? Get more ideas below!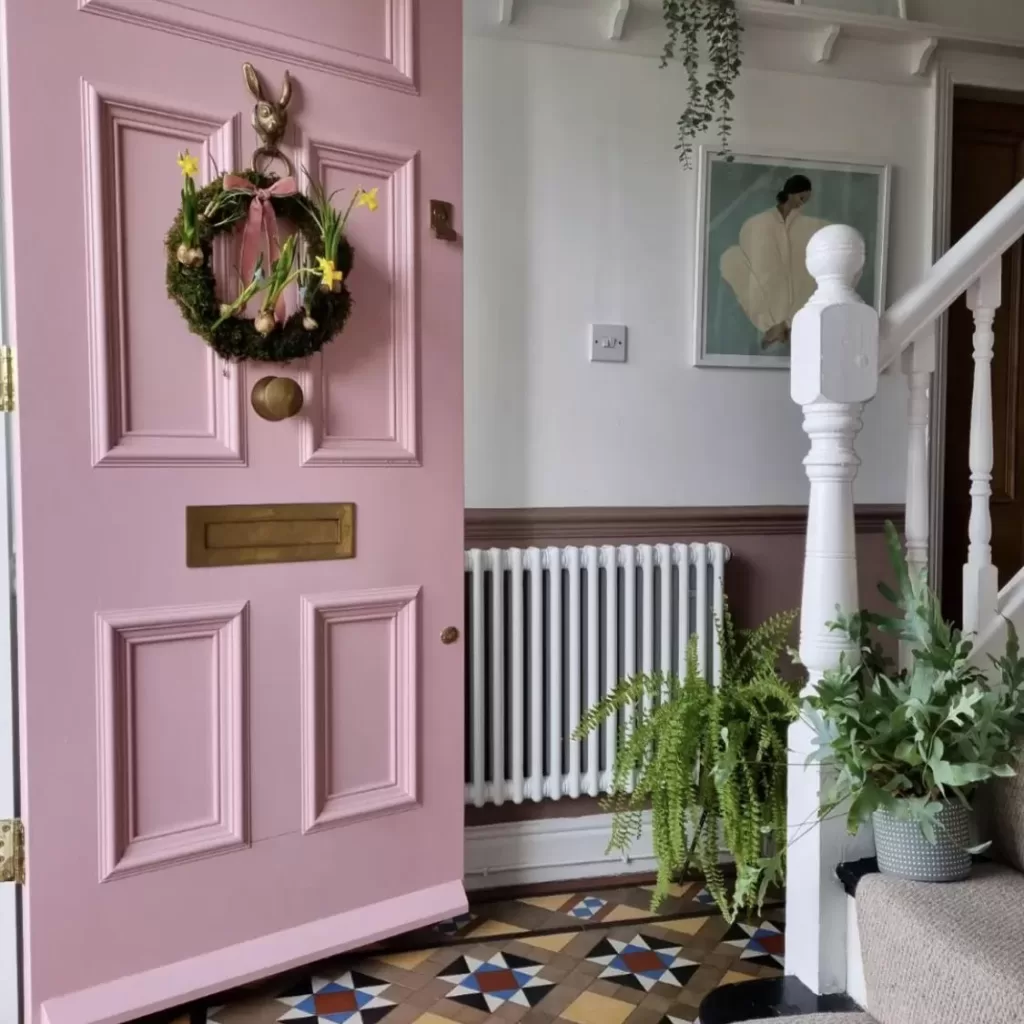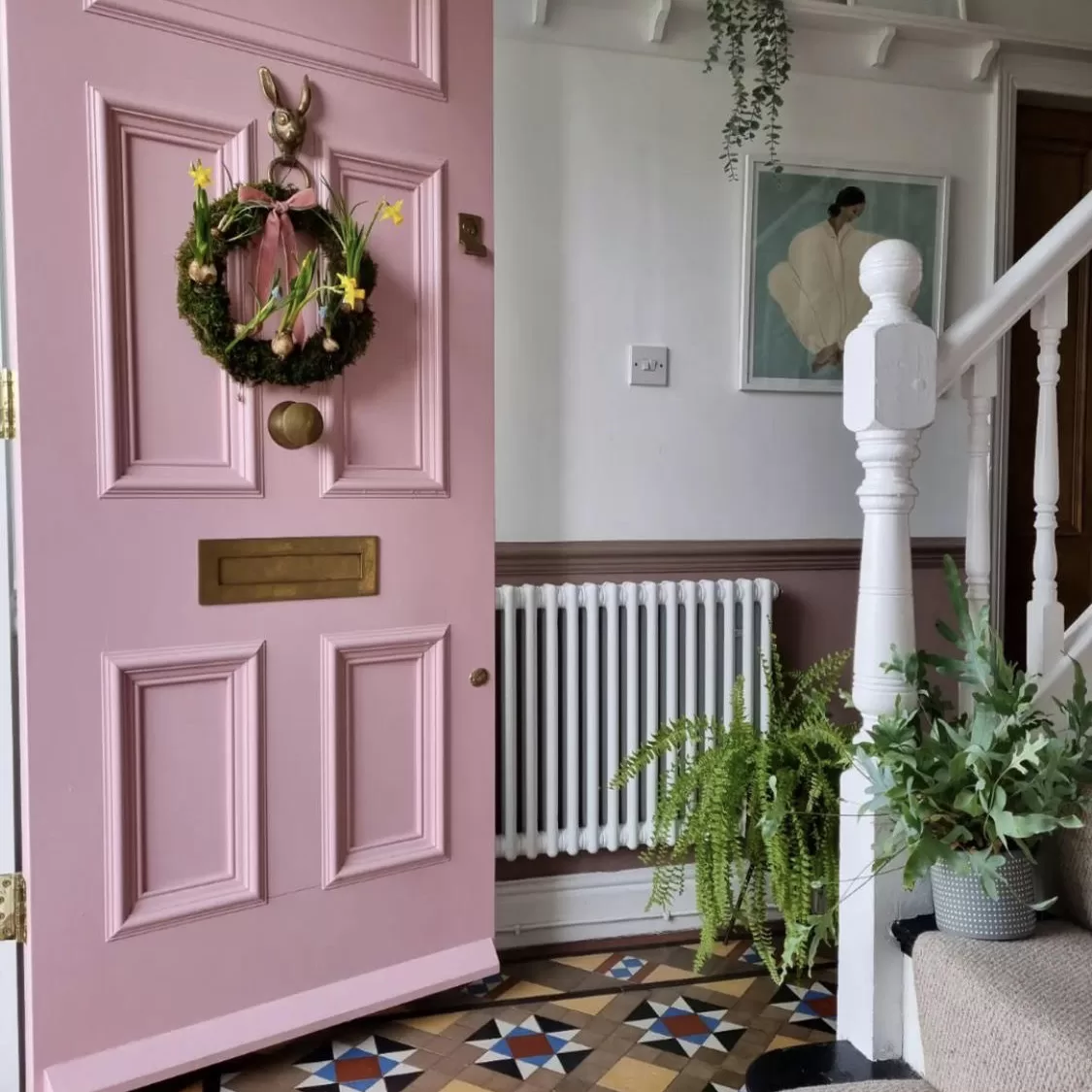 Bathroom Bedroom Decor Inspo DIY and renovation Hallway How To Interior Trends Kitchen Living Room Uncategorized