Transform from your hallway with these neutral colour ideas…
Your hallway is a chance to set the scene for the rest of your home. It's also a great place to bring in your own personal touches to make it your own, through accessories, paint colour and decor.
Whether you're looking to brighten up your hallway or give your space a new leash of life, our best neutral hallway ideas include paint colour ideas will help you with the planning process.
Paint your banister green for a natural entranceway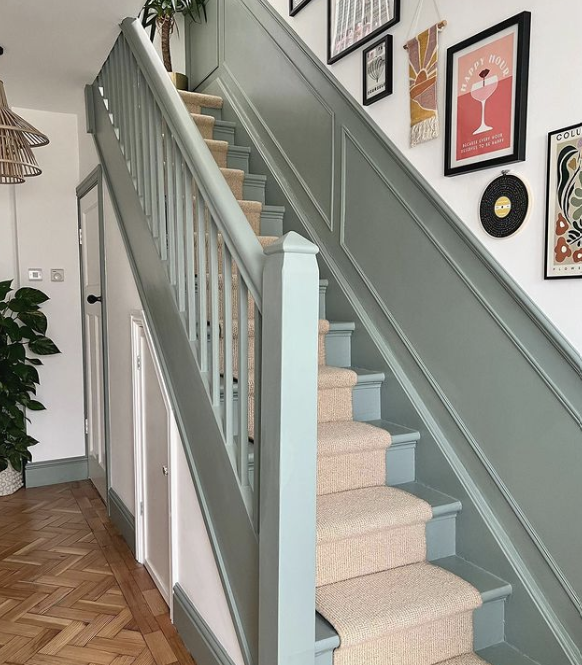 Paint used: Card Room Green by Farrow & Ball
A great way to add some colour to a neutral hallway is to add a pop of neutral green to your banister and stairs. It's a simple way to give your hallway a striking look while still feeling calm and easy on the eye. This minimal green hallway gives character to the space while blending in for an elegant hallway aesthetic. Furthermore, layering the green woodwork with a cream runner gives the stairs a cozy finish.
Combine grey and brown for a neutral victorian home style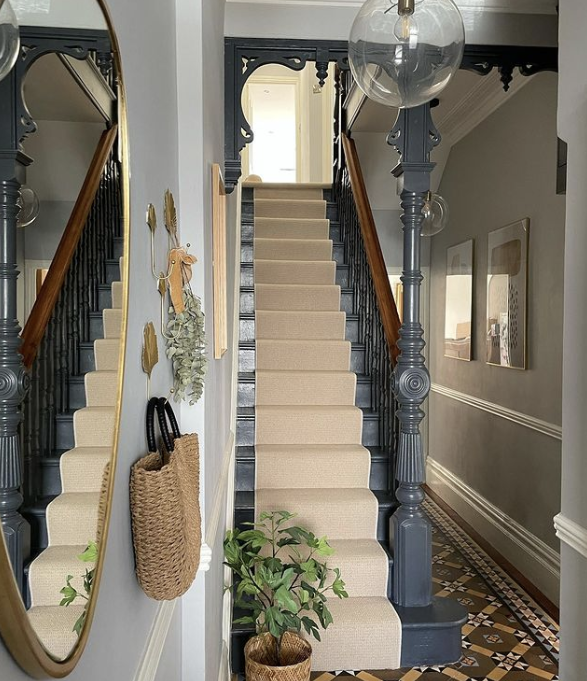 If you love having lots of character in your home but wish to keep the palette minimal and neutral, why not consider a grey and brown combination for your hallway? When combined, these two colours play off each other in a relaxing way that feels in touch with nature while also feeling inviting and cozy.
Victorian interiors are known for their full-of-character design elements. To achieve this in a neutral setting, let your floor do all the talking by guiding you with a colour palette and then layer from there with different hues to bring the room together in harmony.
Brighten up a neutral hallway with stained glass windows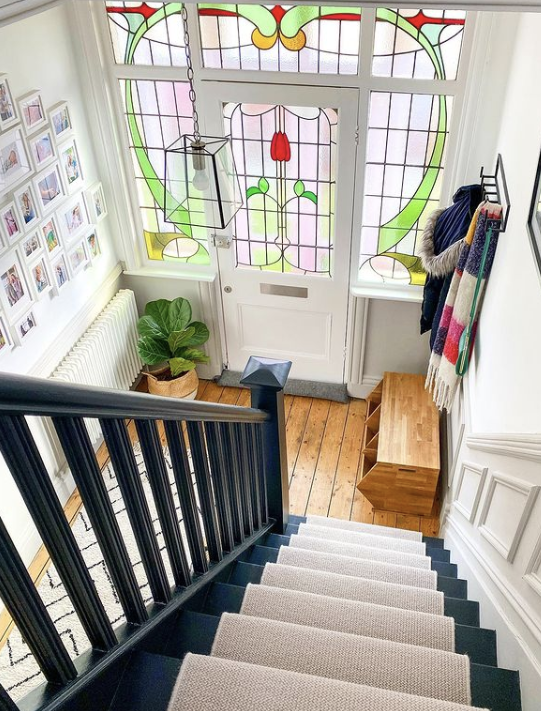 Looking to brighten up your hallway? Try something different and be unique with gorgeous stained glass windows like this neutral hallway design, which has been opened up with stained glass windows around the door frames and in the door. Adding more windows to your hallway will brighten up your space and will make your neutral colour scheme lighter.
Create depth with dark green for a cozy neutral hallway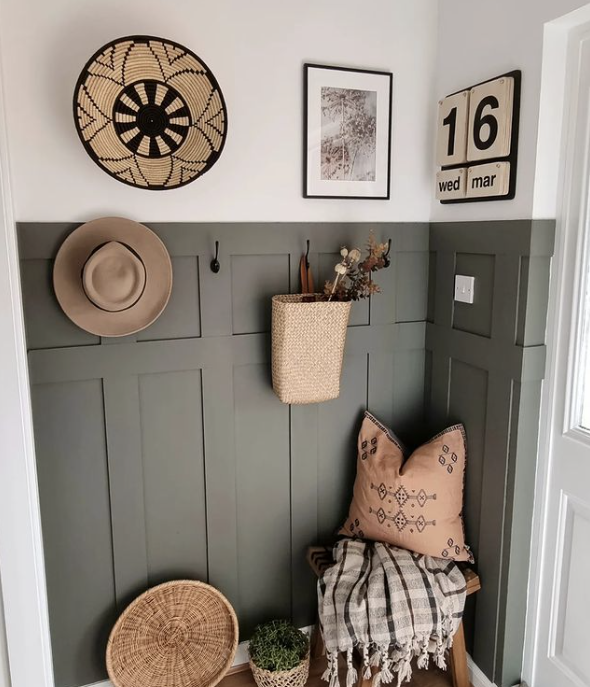 Paint colour used: DH slate by Dulux Heritage
Adding dark accents to your hallway can still be done in a way that looks neutral. Furthermore, dark tones can add a sense of coziness to your space which makes it feel homely. This dark green and white hallway idea is perfect to feel in touch with nature as you can layer colours such as light browns, creams and greys to bring in neutral interiors to the space for a warm ambience.
Introduce Scandinavian decor for a neutral and minimalistic hallway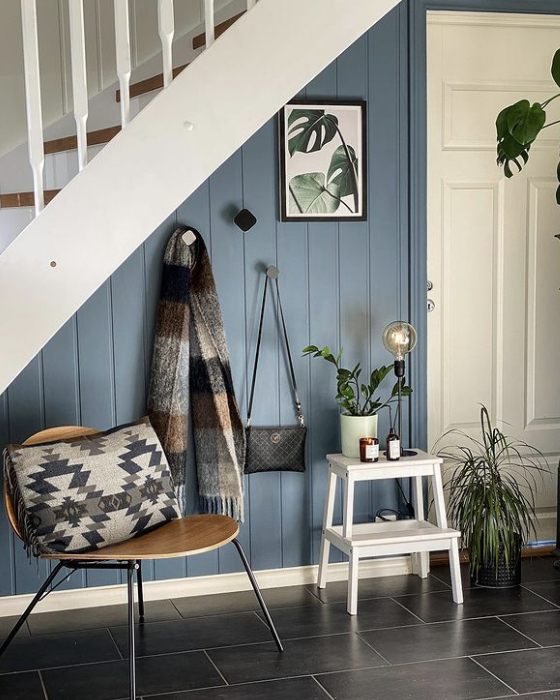 Neutral hallways are often seen as minimal and easy on the eye. By adding Scandinavian inspired decor and colour schemes you can create a clean and simple hallway look without compromising on style. This elegant hallway idea uses warm colours to bring in coziness by layering blues, browns and blacks for a warm look that still feels neutral and harmonious for an entrance to your home.
When thinking about adding Scandinavian decor to your hallway, picture clean and rounded lines, simple furnishings and compact decor that you can dress up the space with.
Use clever storage for a fresh looking hallway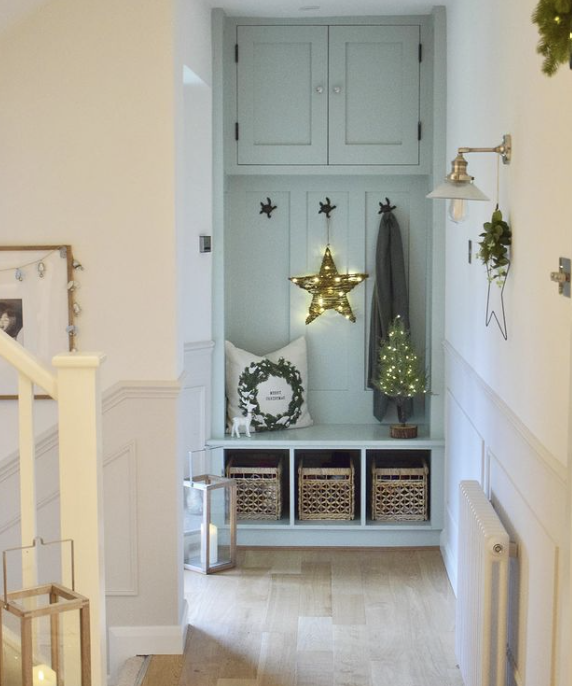 Keeping your hallway tidy will add a sophisticated feel to your space, this can be done by using built-in storage to hide away coats, bags and shoes so that your space is clutter free. We love this neutral white hallway idea that has done just that, with a clever storage and seating area the space feels modern and sleek.
Furthermore, choosing a soothing colour scheme will also help to bring a sophisticated look together. Consider layering white and creams in your hallway for a neutral and snug look that can easily be adapted throughout the seasons.
Decorate a long hallway with neutrals and eclectic decor to bring in characteristics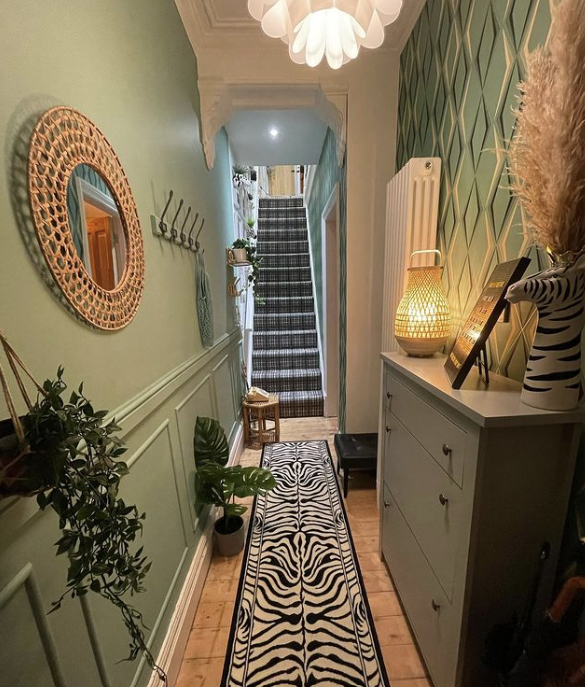 If you love lots of texture but still want to keep a neutral look to your hallway, why not consider using green as your base colour. You can then layer your space with decor such as printed rugs, mirrors, side tables and accessories to bring your look together.
Complete your neutral hallway with a stair runner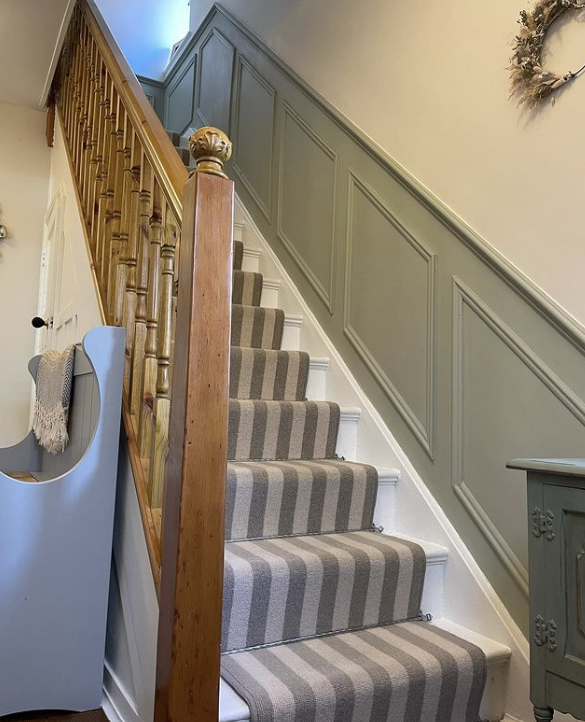 Create a show stopping entranceway with a stair runner to create a simple yet sophisticated look for your stairs. Always choose colours and patterns for your stair runner that will complement the rest of your space, just like this cozy grey hallway that uses different tones of grey in the runner to match the contrasting walls.
Warm up a grey hallway with rich hues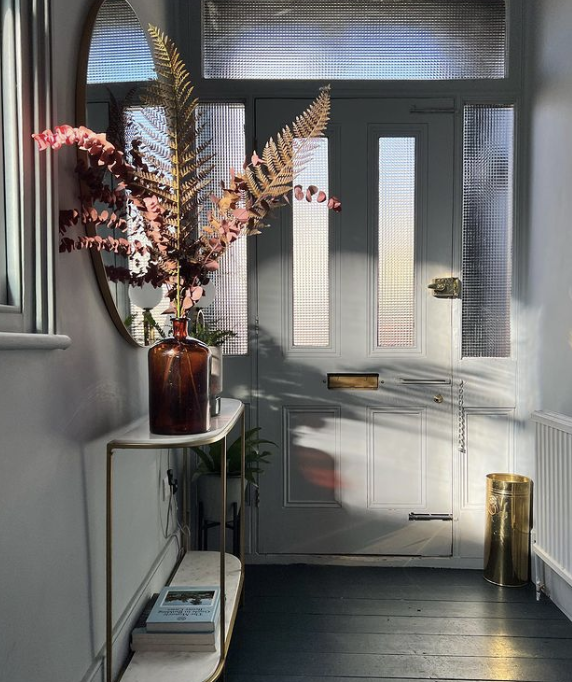 Grey is one of the best neutral colours to adorn your home with, as it's a good balance between black and white and can easily be adapted with other colours. While it's a good base colour for a neutral hallway, grey can sometimes look and feel cold, however, incorporating warm decor can transform the space instantly.
Use wood to make your hallway feel light and homely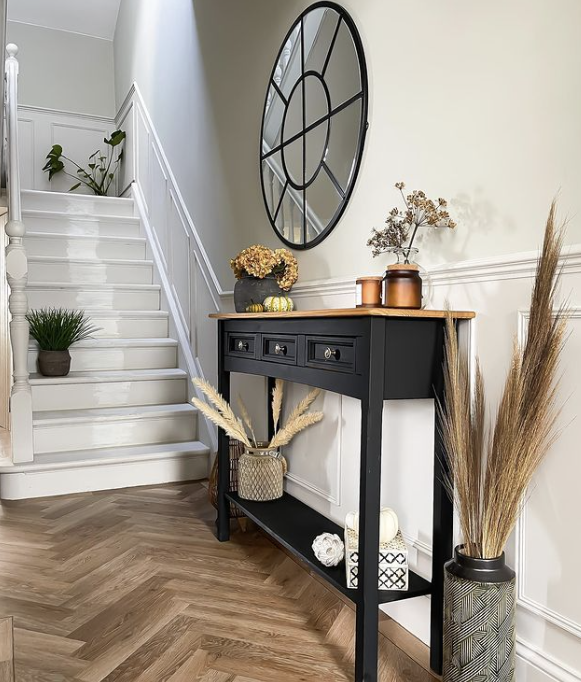 White hallways can run the risk of looking too bright and clinical. To help tone down a light hallway, incorporate some darker neutrals to the space such as wooden flooring and dark decor so that you create a contrast against white walls for a warmer feel to your hallway.
Layer brown colours for a neutral and soft hallway aesthetic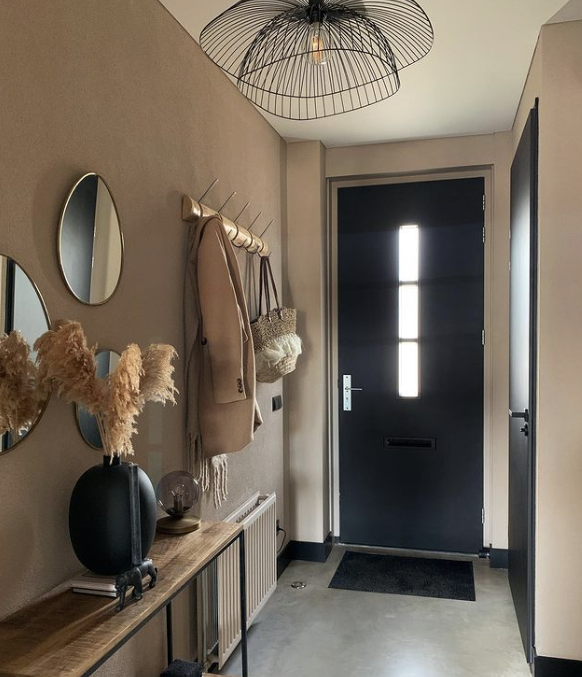 Earthy colours like brown are great for hallways because it's a natural shade, and works especially well when layered up through different textures. When thinking about styling a neutral hallway, consider using a soft brown like taupe for your walls and natural wood furnishings to complete the look. You can always include dark decor accents too, which will give a bold look to the room as well.