Half the work, double the style
What is half wall panelling?
Half wall panelling, known in the USA as Wainscoting is an interior hack where you panel a portion of your walls rather than the full wall.
Wall panelling is a huge interior trend right now that is set to stay. If you're thinking about panelling your bedroom, bathroom, living room or hallway, why not consider adding half wall panelling to give your walls periodic character?
Our half wall panelling ideas will give you the inspiration to switch up the walls in your home to add texture, shape and colour to your plain walls.
What's the right height for half wall panelling?
There is no rule of thumb when considering the heigh for half wall panelling in your home. A good way to see how high up your walls you should panel is to consider what furniture you will be using in the room. Typically, half panelling is higher up the walls than your furnishings to give the best impact on your space so that it's not lost amongst your decor.
Hop to sections of this article:
Half panelling by colour scheme
Nursery half wall panelling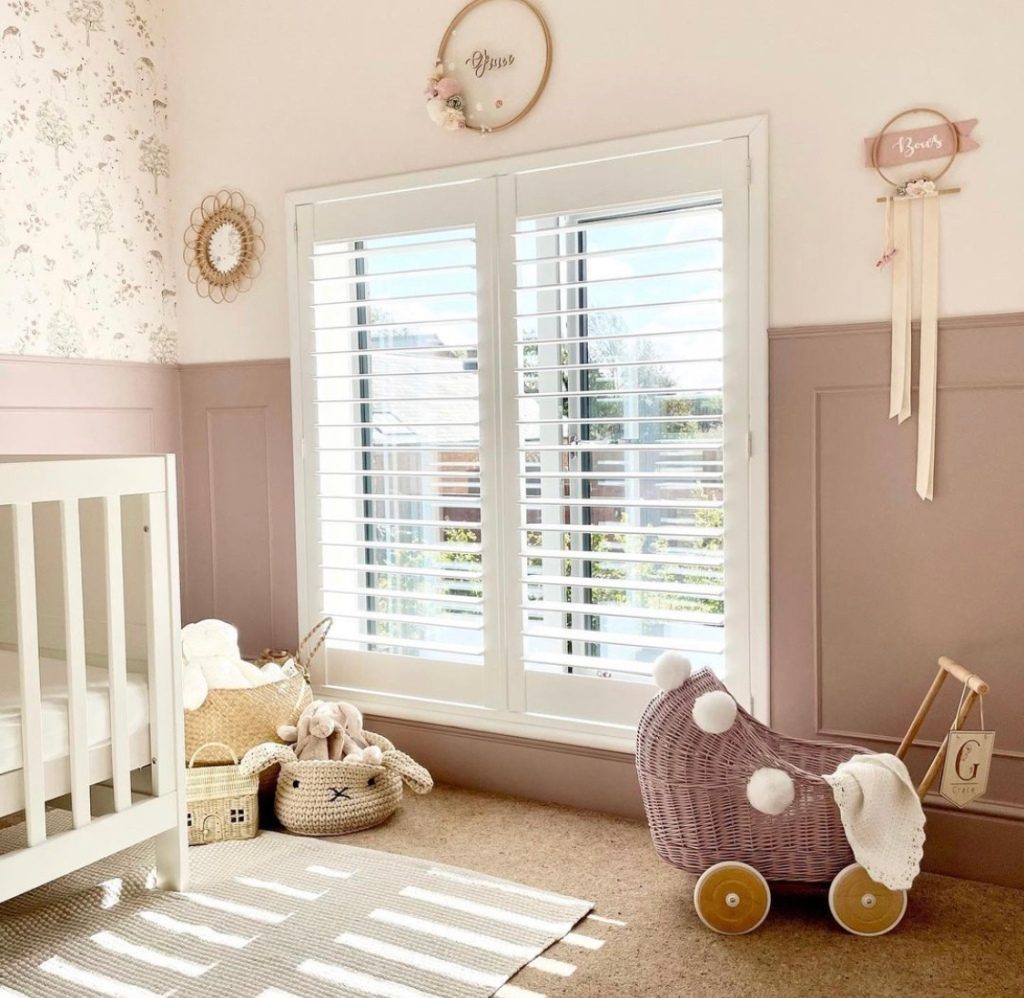 Paint colour: Light Peach blossom by Little Greene Paint Company
Decorating a nursery is one of those special moments therefore, creating a space to bring warmth and love into the room is beneficial for a newborn. With more homes infusing pink colour schemes, a nursery is one of those rooms where pink can be overused to your heart's desire.
We love this gorgeous soft blossom pink and cream nursery that uses panelling beautifully to break up the walls for a mature and delicate nursery.
Navy blue half wall paneling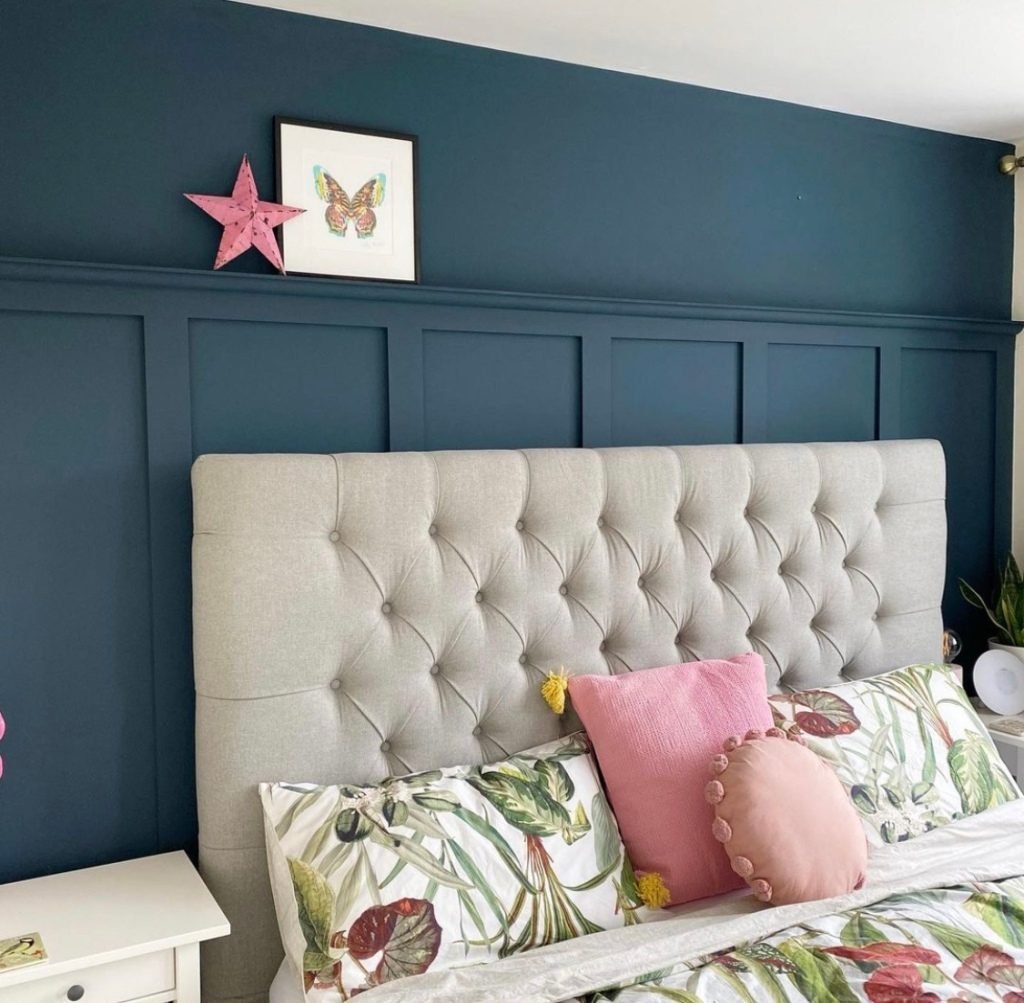 Paint colour: Farrow & Ball Hague Blue
Transform a navy wall with half panelling up to make a statement feature for your room. We love this design that has kept the navy colour throughout the walls and used panelling to give the walls more depth and texture, which makes the bed stand out.
Black half wall panelling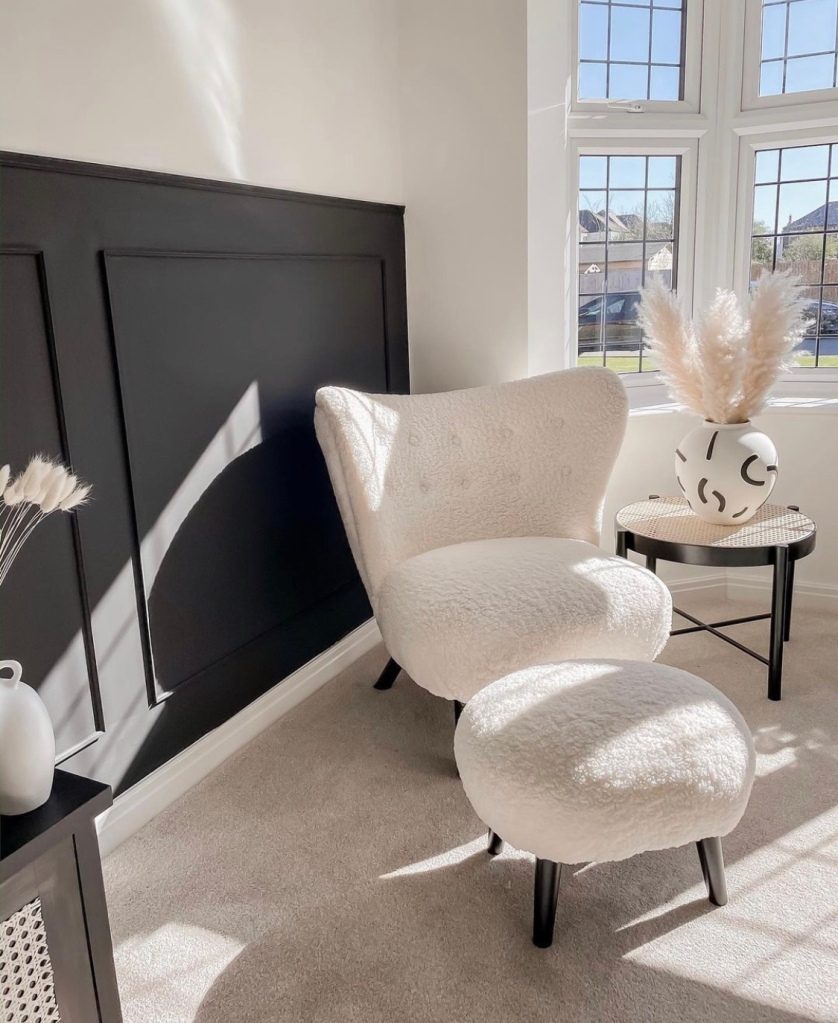 If you're looking to add a bold look to your home why not consider black panelling. It's a great way to incorporate a monochrome design in a modern way that sections off your wall to make it look bigger. We love this white and black lounge idea that uses half wall panelling to create a bold statement while still looking neutral and cozy. Match your black panelling with monochrome accessories to complete the look for a homely touch.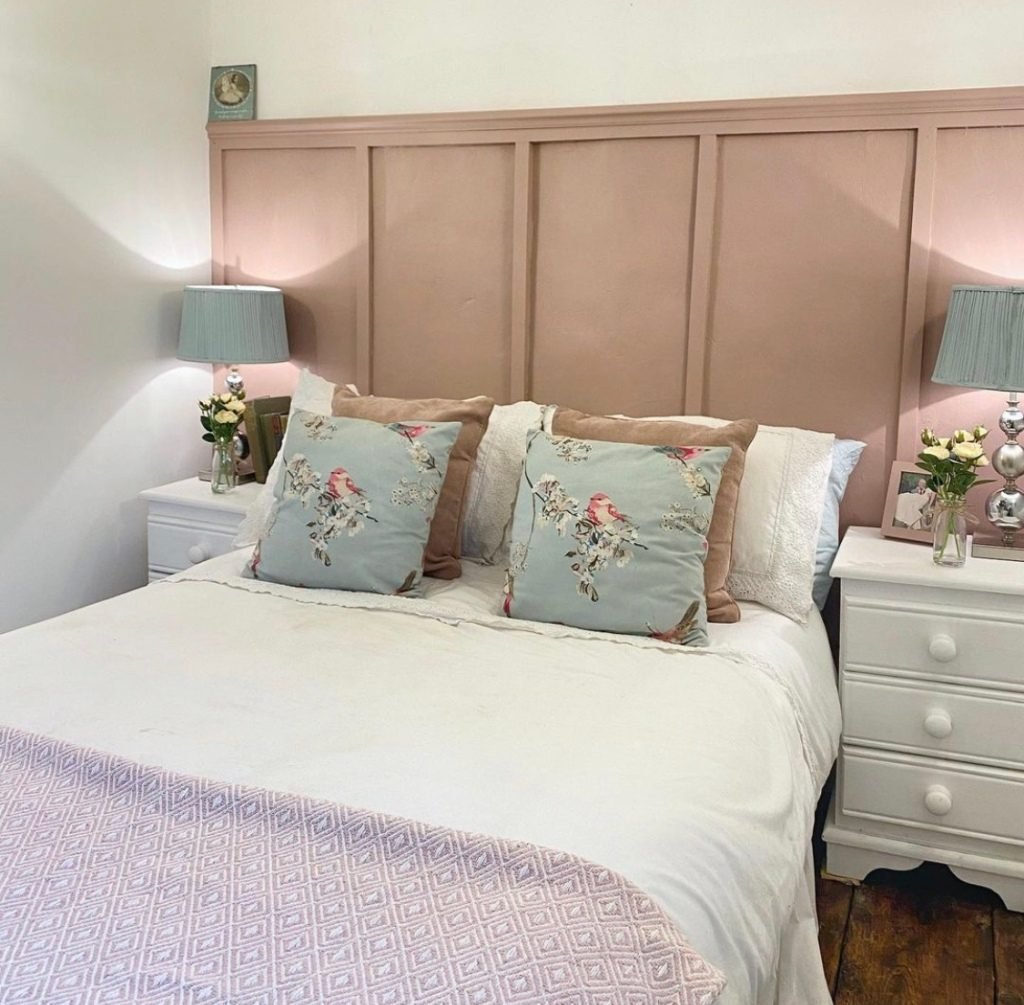 Paint colour used: Dusky Pink by Frenchic Paint
Half wall panelling is great for small bedrooms to add a statement look and it's also an opportunity to add colour to your walls in a way that adds texture.
Half wall panelling in the dining room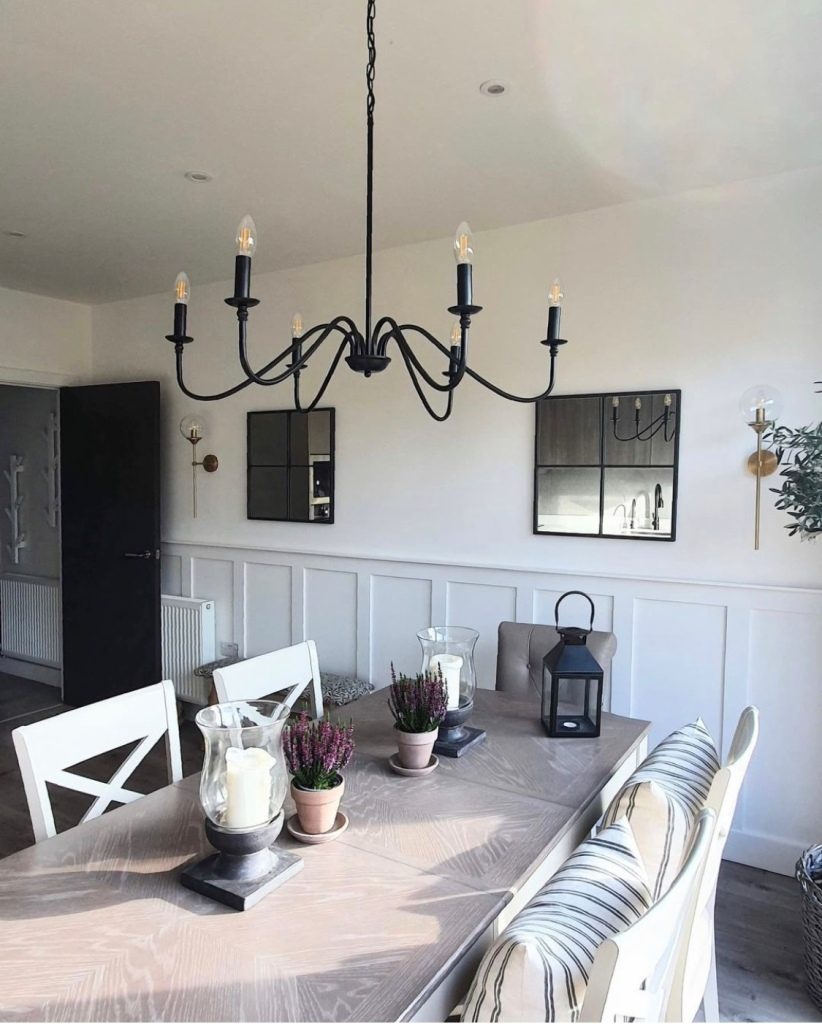 Break up your dining space with panelling that goes halfway up your walls like this design by home_by_mone. We love how this white dining room has plenty of depth and texture and how the panels break up the space so that the walls are still minimal but ooze with sophisticated design.
Interior design tip: opt for rectangular shapes when panelling the bottom half of your walls as this will transform your walls to appear longer and will make your room feel more spacious instantly.
Half wall panelling in the bedroom
Upholstered wall panelling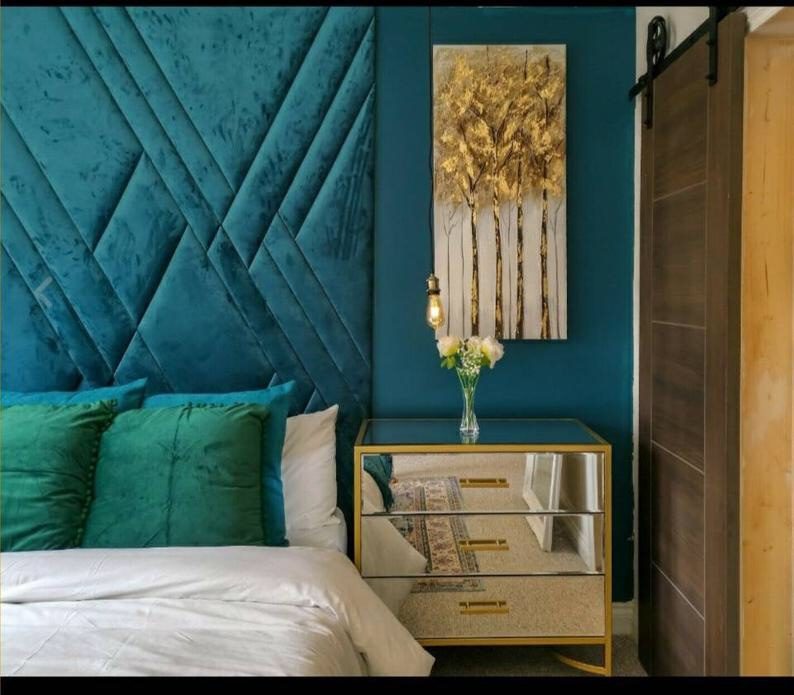 Image source Etsy
Use your headboard space as a way to incorporate the half wall panel trend in your bedroom. Upholstered wall panelling adds sophistication and elegance to your room while drawing all the attention to your bed, which should be the focal point in your room.
Interior design tip by Homeoure: opt for rectangular shapes when panelling the bottom half of your walls as this will transform your walls to appear longer and will make your room feel more spacious instantly.
Headboard half wall panelling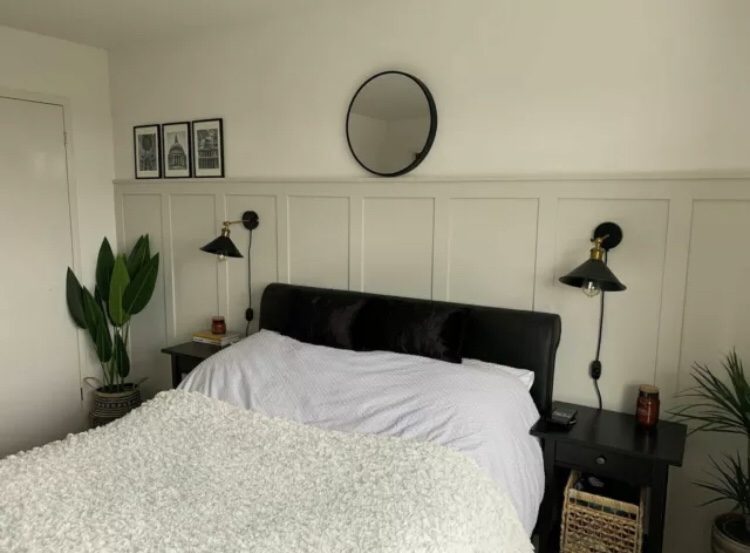 Image source eBay
Transform a white bedroom design into a tailor made sanctuary with this bespoke half wall panelling from eBay. If you've got one primary palette in your room, like white, break it up with half panelling for a stylish look.
It will add depth and texture to your space without having to bulk up your room with furniture. What's more, you can use the mid panel as shelving to double up on space. If you have a small bedroom, check out these bedroom storage solutions you wish you knew sooner.
Living room half wall panelling
Shaker half wall panelling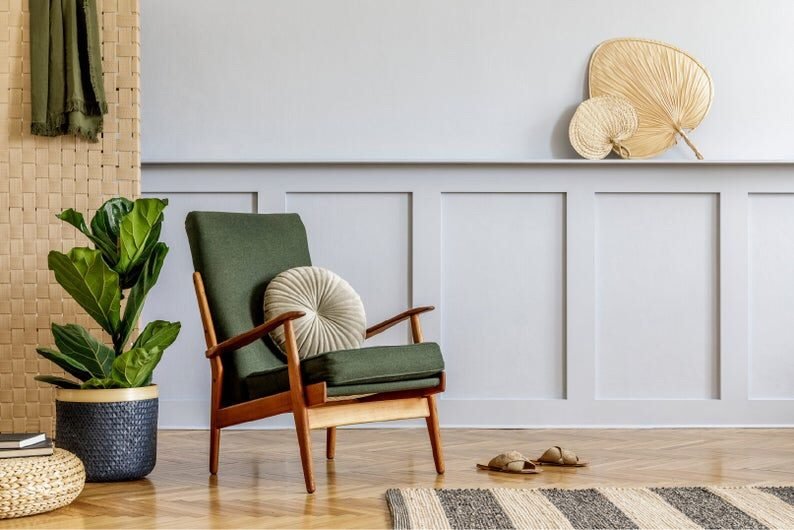 Image source Etsy
Bring periodic flair into your main living space with shaker wall panelling strips. Design your half wall panels to suit your space, like this half panelled living room from Etsy which breaks up a painted wall effortlessly without using additional paint colours or wallpaper to divide the wall.
Create a cozy corner with grey half panelling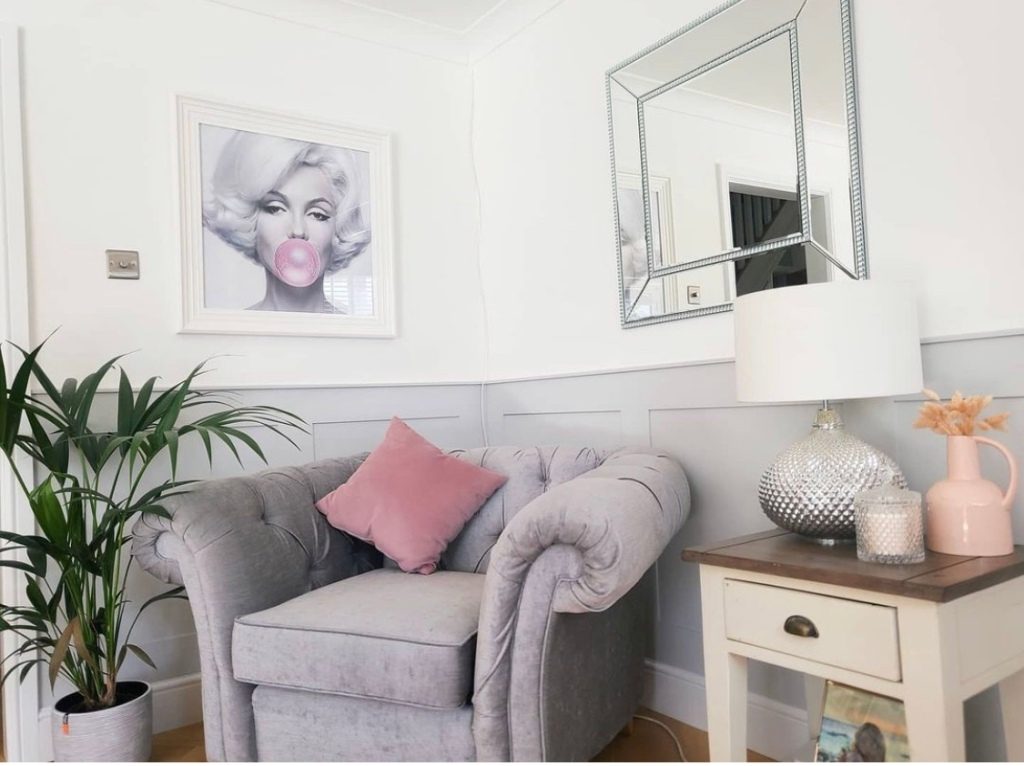 Looking to make your living room more cozy? Half panelling is a great way to spruce up your walls without overdoing it on accessories for a clean and clutter free space.
Take inspiration from cuppa_at_claires with her design that shows us how to create a snug area in the living room using white and grey interiors and a dash of pink. We love how the grey panelling adds to the space to break up the white walls and creates contrast with bold colours that still look neutral and calm.
Interior design tip: add mirrors or reflective decor into a small space or area in your home to make it appear bigger and brighter
Half wall panelling in the hallway
Tongue and groove panelling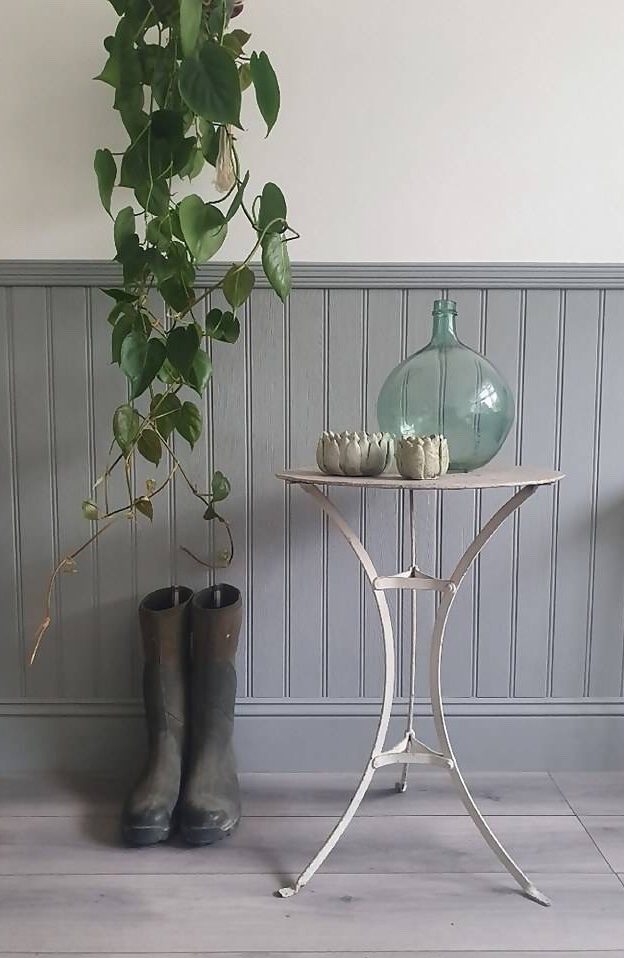 Image source Homebase
Add sophistication to your hallway with this gorgeous tongue and groove panelling. Designed to go just half way up your walls, this design plays on contrast for a classic look. We love this half wall panelled hallway idea by Homebase that uses grey panelling against a white wall to make the space pop.
Edwardian style half panelling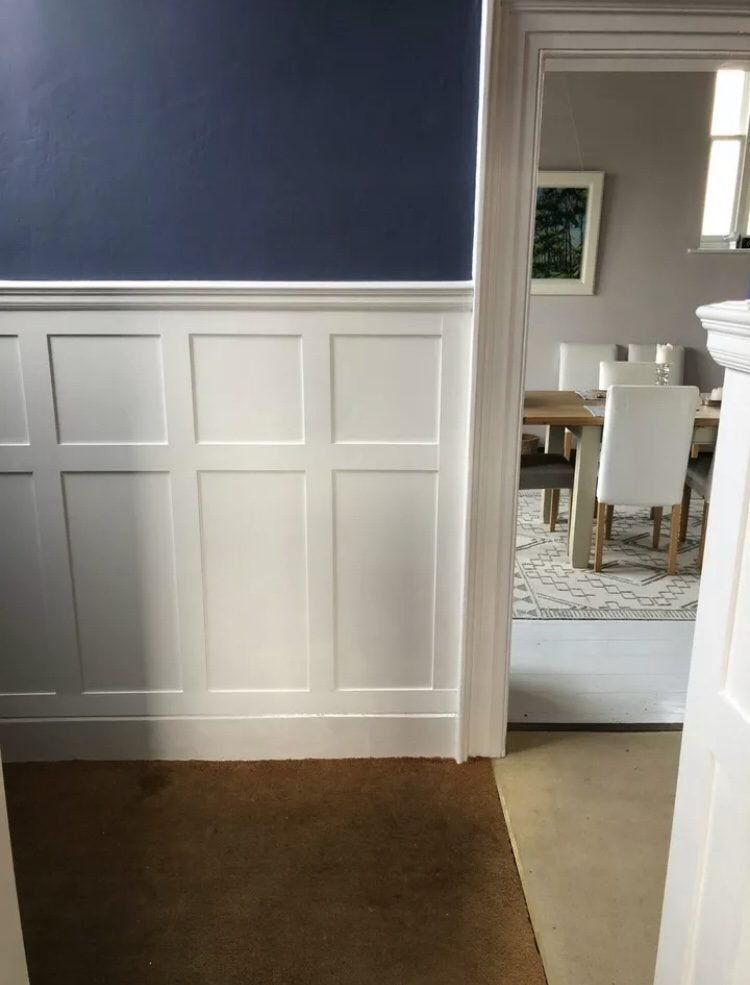 Image source eBay
Alternatively, feature half panelled walls in your hallway to break up colour like this idea from eBay. Using Edwardian style panelling to add a pop of white into the space, this design follows through on the door frame and dining room.
Raised panelling up the stairs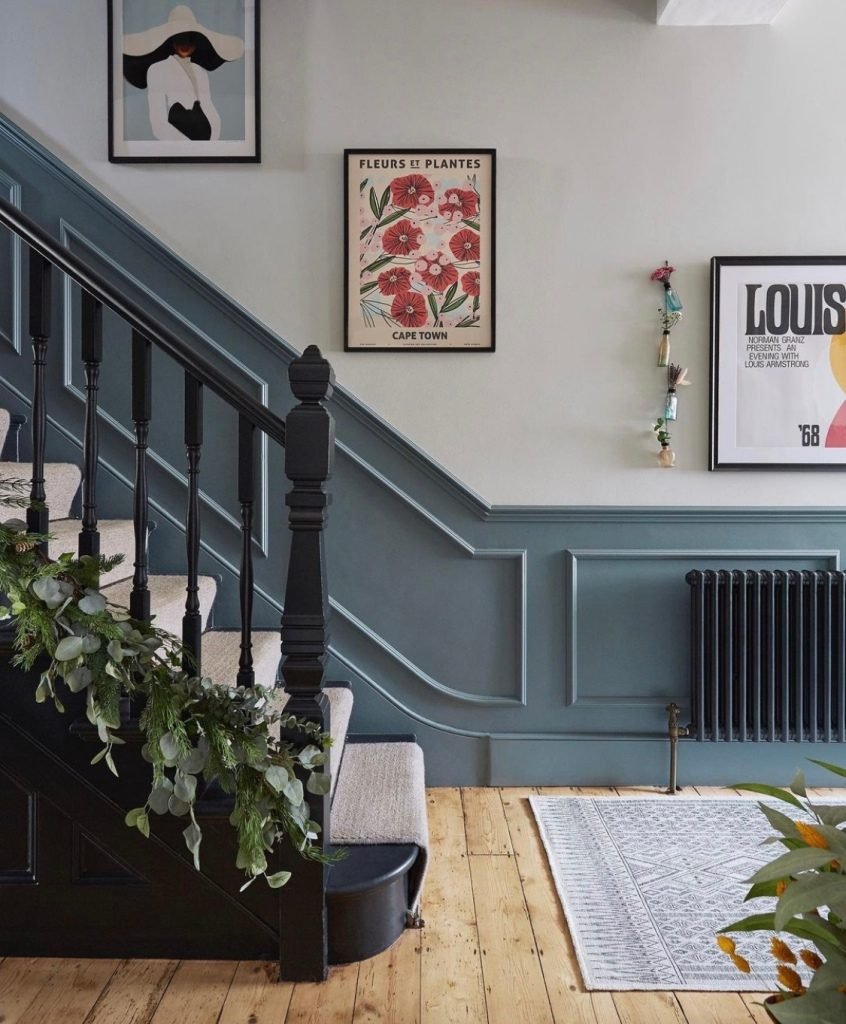 Add depth and warmth to your hallway by featuring raised panelling halfway up your walls. We love this design by vincent_the_house that uses a bold blue colour to frame the stairs to break up the white walls instantly. Include even more style by incorporating bold artwork to add your own character to the walls.
This easy to do yourself panelling was done by cutting out bespoke pieces of wood in traditional panel styling and painted over to give the effect. See the full transformation.
Related reads: ideas on decorating your hallway with panelling
Grooved half wall panelling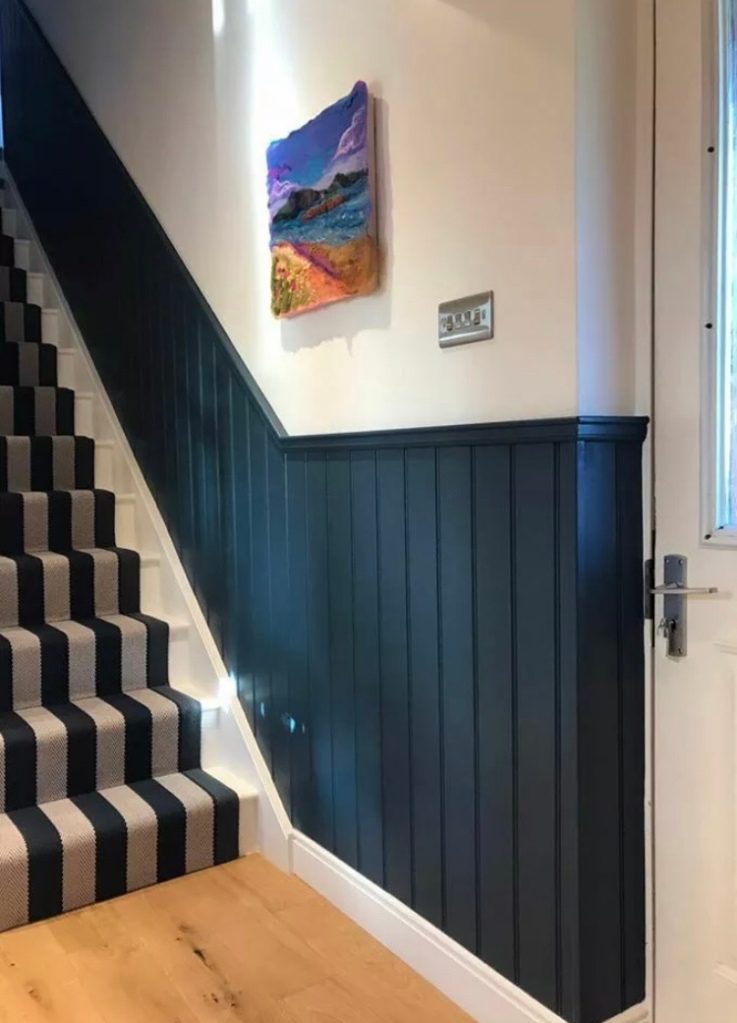 Image source eBay
Source your interior ideas from other rooms like this hallway idea which takes the design of bathroom panelling right into the hallway. These thin wall panels that go halfway up the wall and add subtle elegance to your hallway and stairs for a timeless look.
Half wall panelling in your bathroom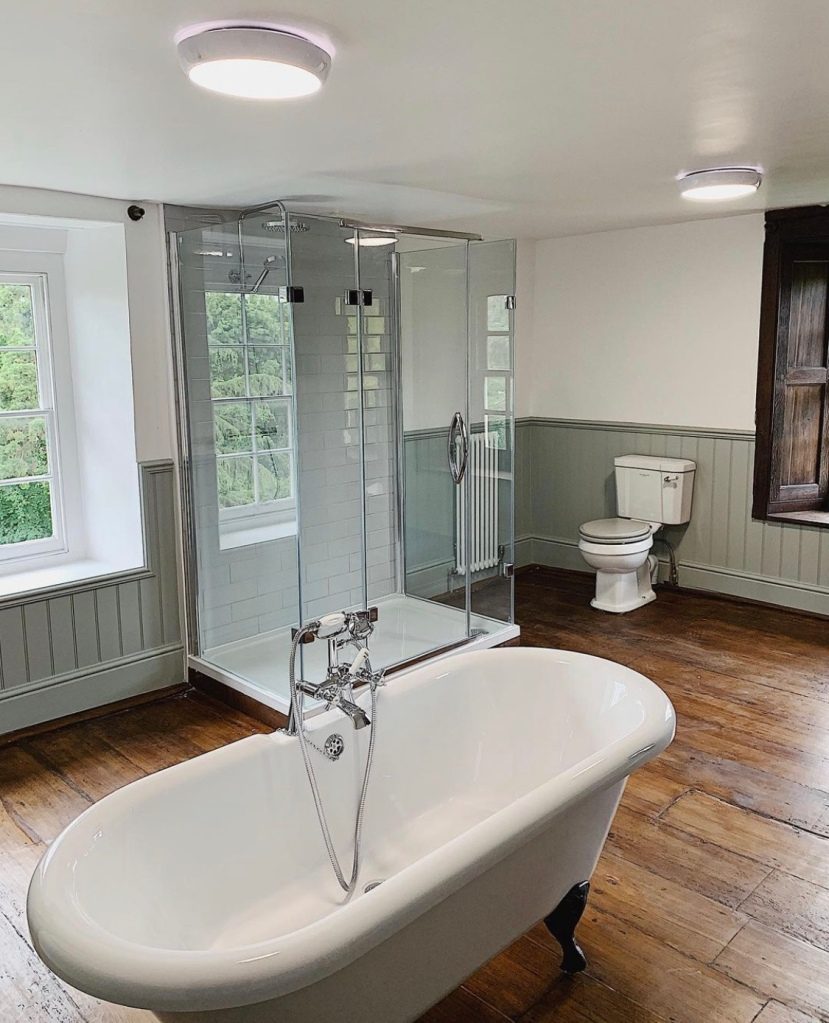 Are you thinking about incorporating panelling into your bathroom? This period style wall feature is a great way to add a a statement look in a bathroom with a bathtub. Whether you're looking for a cottage core style or a Victorian elegance, half wall panelling in the bathroom can instantly make your walls stand out.
Furthermore, MDF panels are moisture resistant which is great for half panelled bathroom walls, as you can decorate the top half of your walls with water resistant paint or paper. We love what tidalconstruction has done to break up a large bathroom and shower space by bringing warmth and depth with calming blue panelling to contrast with the 17th century floors.