Make a big impact on your small bedroom with these clever bedroom ideas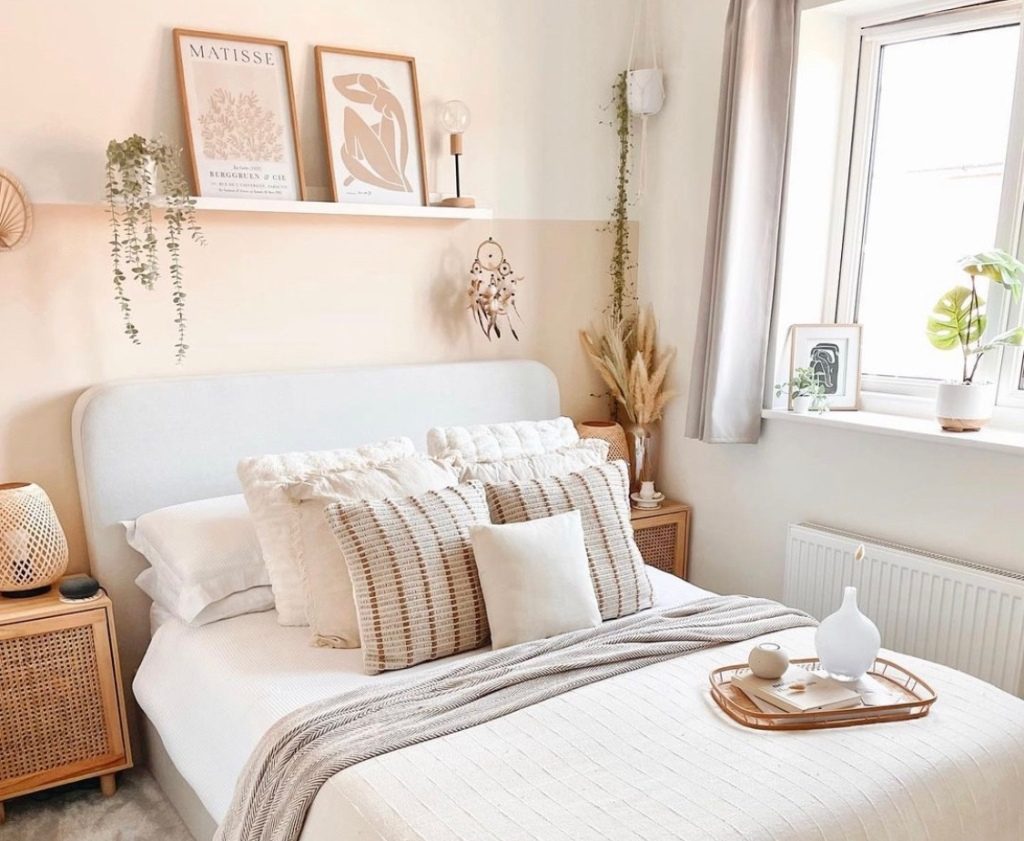 Having a small bedroom means being more savvy about the space you utilise. Luckily, you've come to the right place, as we've got lots of tips to help you make the most of your space with our small bedroom ideas that will inspire you to be creative when decorating your bedroom.
Scroll down to discover our top tips and buys to make the most out of your small bedroom.

Turn everyday bookshelves into a space saving storage solution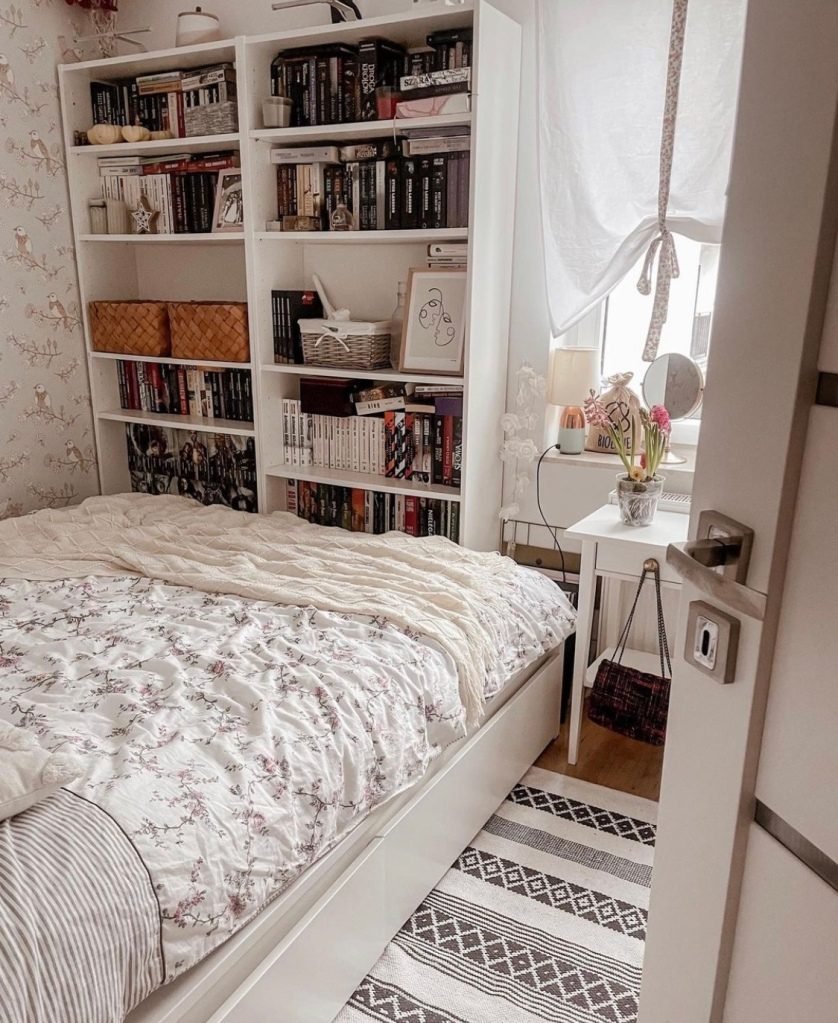 Be clever when it comes to your storage in your small bedroom, you want to choose furniture that will be as functional as possible without taking up too much room.
We love this idea of using bookshelves as a storage solution for the bottom of the bed where there is unused space. The great thing about the shelving is that you can fit more than a book-wide object inside so you can be really flexible in how you use the shelving. So our top tip would be to use a shelving unit that has a good depth and width between the shelves to fit any excess bedroom storage you need to fill it with.
Use floating bookshelves to keep all your books together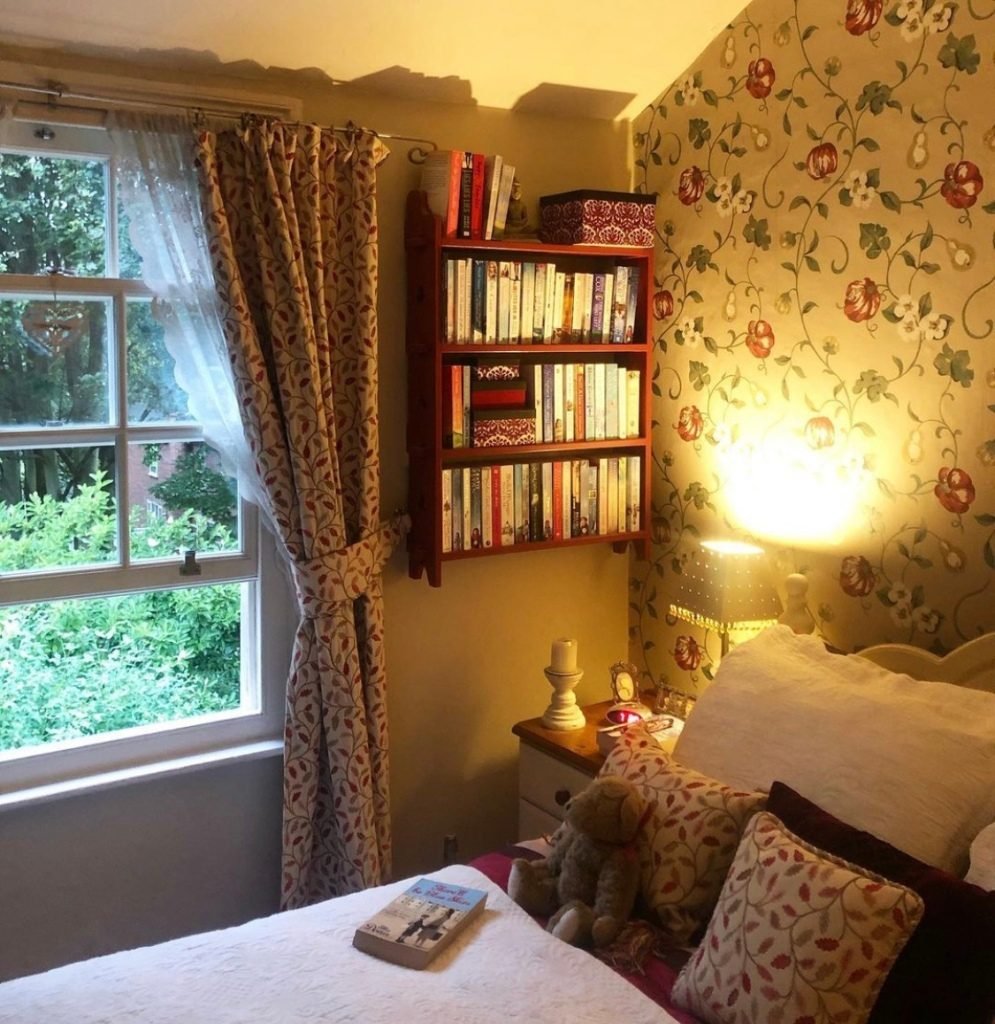 Having your favourite things in an easy to reach place in your bedroom can make all the difference to how you interact with your room. If you're a bookworm and you can't resist having a place to put all your best books in your bedroom, then take note from this cozy book shelf idea.
We love that even in a small space, the floating book shelf makes the space feel like a cozy reading nook without imposing on floor space. It also adds to the rooms cottage aesthetic with dark wood tones that complement the rest of the interiors.
Use your rooms wall width for functional furnishings as a solution if you have no room for bedside table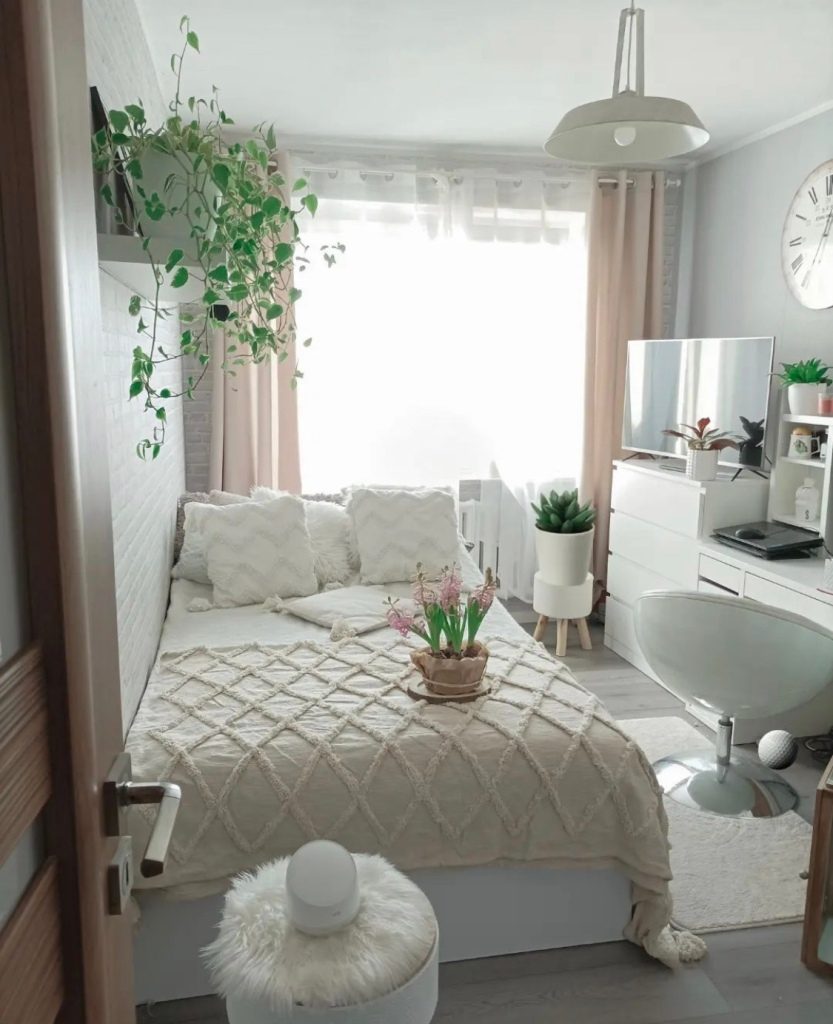 If you've got a small bedroom with no space for a bedside table, consider extending storage across one side of your bedroom to make the most of the space. We love this simple bedroom design where the bed is pushed up against the wall to create extra floor space for furnishings.
Combine your storage with functional space, such as a chest of drawers and desk space that can double up as a WFH office and a get ready parlor while keeping your clothes and bedroom items neatly tucked away.
Add storage space to a small bedroom with floating shelves above the bed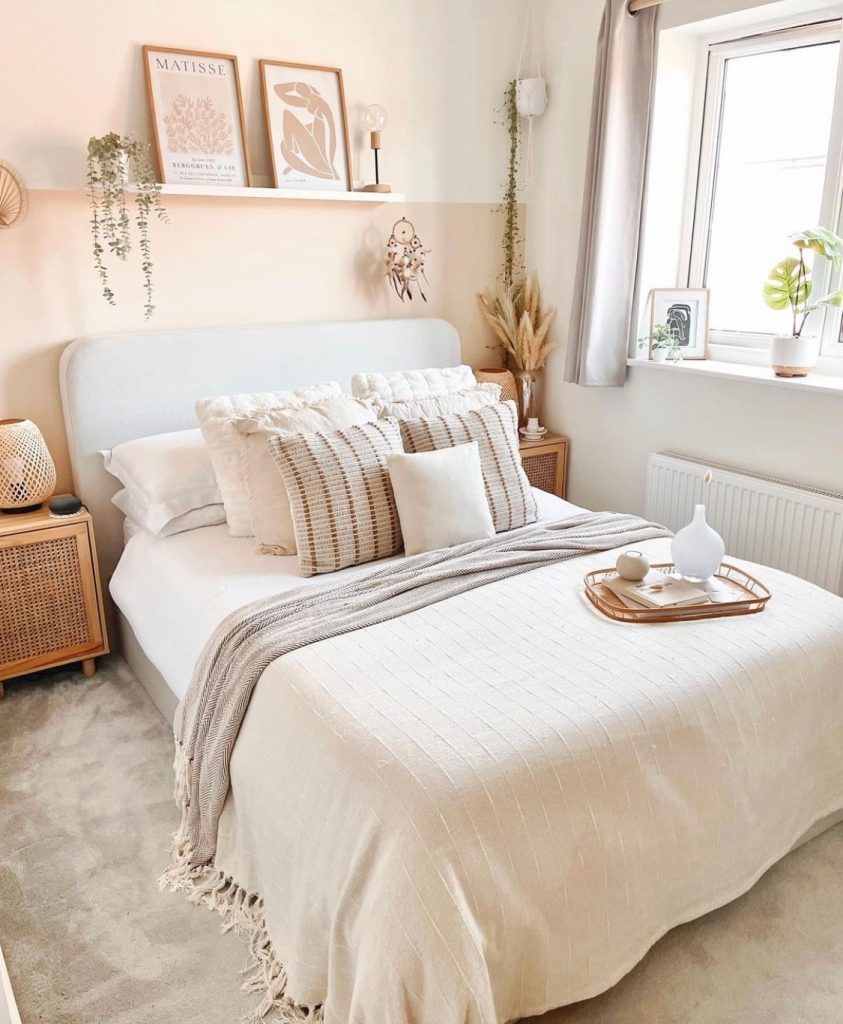 Small bedrooms with limited floor space need clever storage solutions such as floating shelves to store necessities so that they are within easy reach. Having over the bed shelving is a great way to style your bed too, it will feel like you are using less space as the shelving serves as functional and a stylish way to decorate. Small bedroom without bulky furnishings that can make small bedrooms look even smaller!
Use floating shelves in an alcove to maximize on space in the bedroom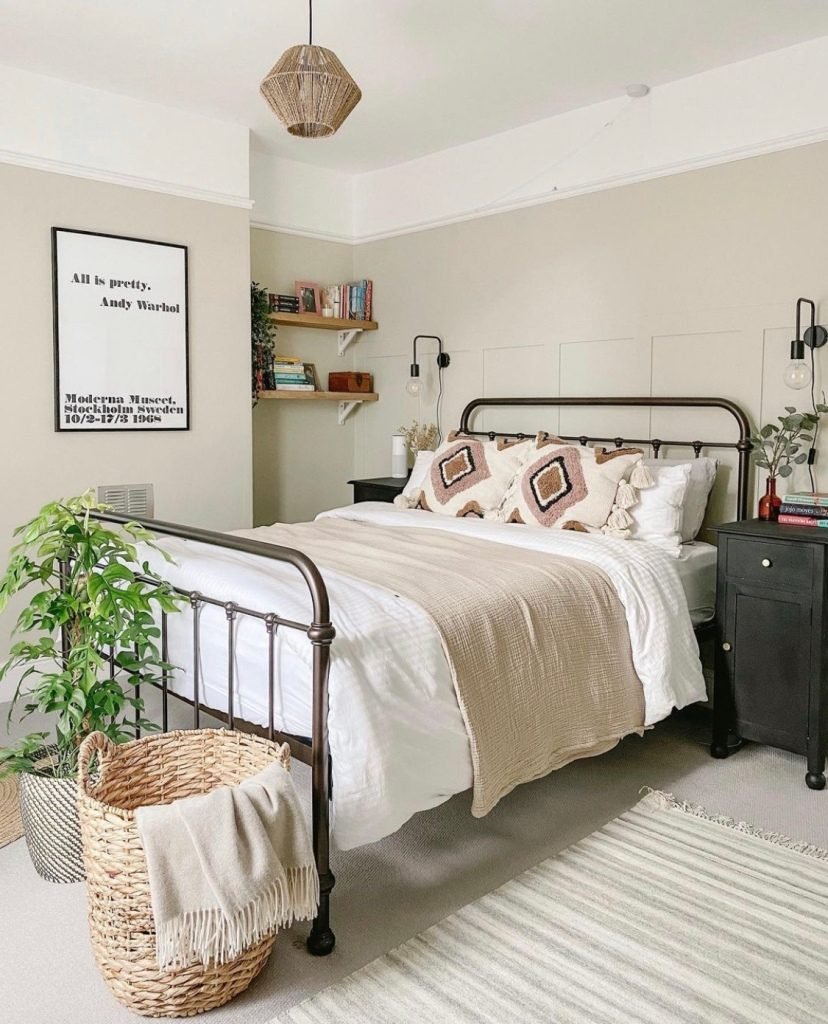 Bedrooms with alcoves and unique wall layouts can benefit from using floating shelves to create extra storage. As the shelving sits within the alcove, it won't feel as imposing and it will look neat and tucked away.
We love this modern small bedroom design that uses wood floating shelving to match the rooms neutral decor for a relaxing ambience. Furthermore, we love how the shelving is only on the top half of the wall for a clutter-free look.
Utilise storage with a tall bookshelf
If you've got a small bedroom but have the issue of storage, why not consider investing in a tall bookshelf? It's also a great way to separate the room if positioned right, which gives off the illusion of more space, just like this one from Wayfair.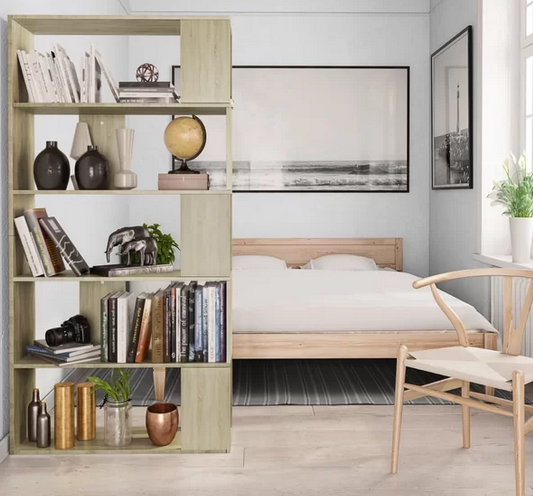 Storage bed for small bedrooms
Choosing a good bed for a small bedroom is not only setting the tone for the rest of your room, but it can serve as additional storage so that you have a place for your things that you don't want on show. This 4 drawer storage bed from Happy Beds is ideal for small spaces to hide clothes, books, makeup and any other bedroom items you can think of.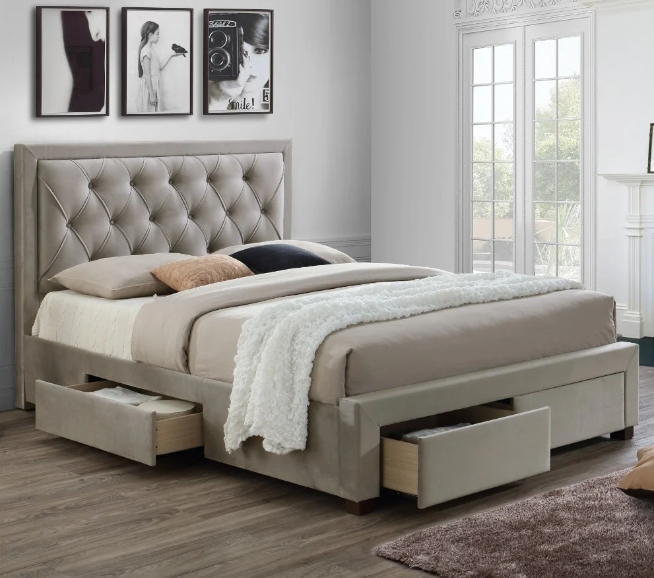 Floating bedside table to save space in your bedroom
For small bedrooms where the bed takes up most of the space, a floating bedside table is the ideal solution. This floating bedside table from Not On The High Street even has a built in shelf for extra storage. The beauty of a floating bedside table is that you can position it as low or as high as you want depending on your bed. We love this small bedroom idea for studio apartments and super small spaces.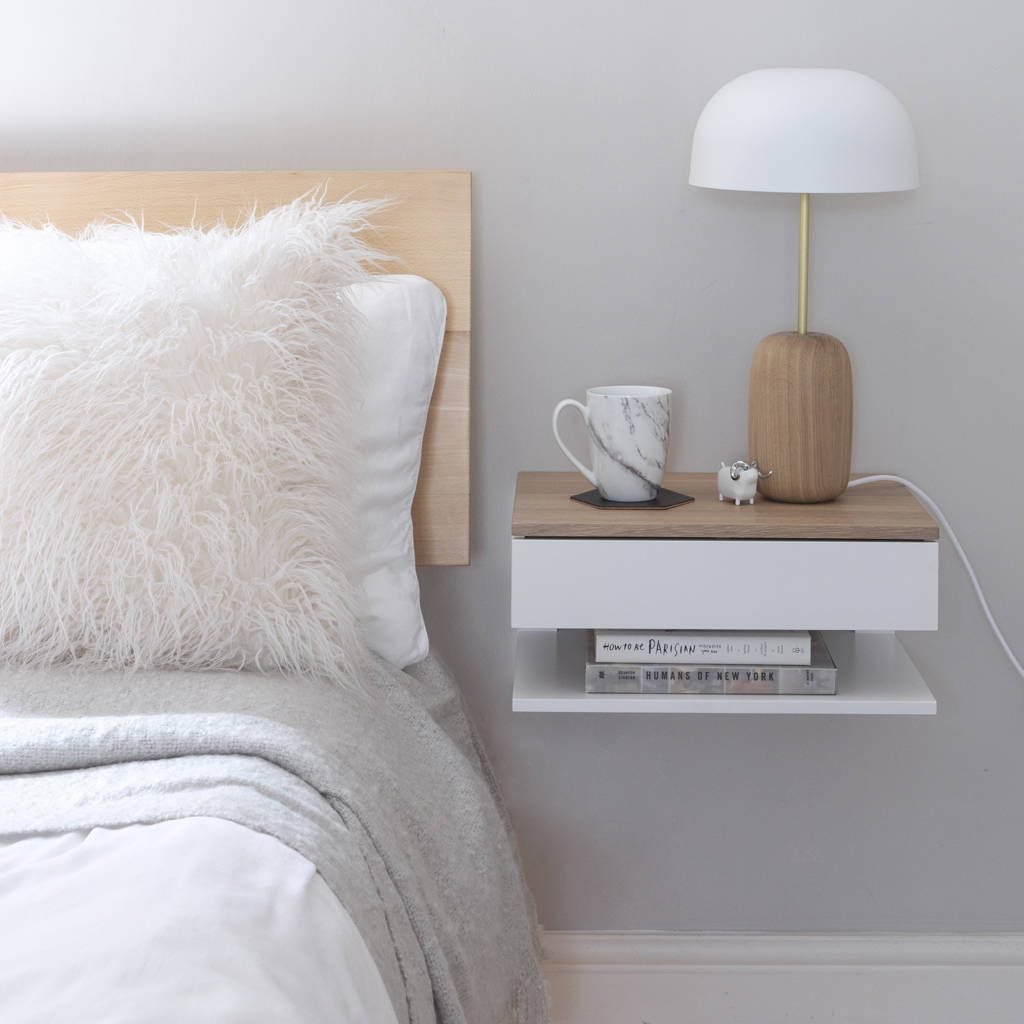 No wardrobe? Use a clothing rack
Clothing racks can be really useful if you don't own many clothes, or if most of your clothes are in a chest of drawers. When styled right, it can be an aesthetically pleasing piece of decor for your bedroom.
Image source: Amazon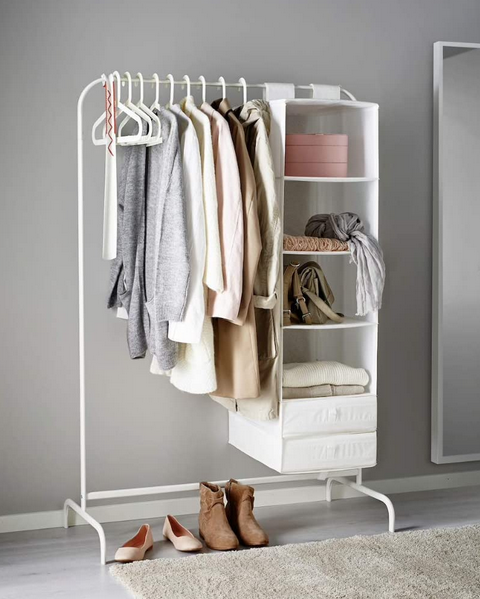 Headboard with storage
It's important for small bedrooms to not feel cluttered and the best way to do this is to minimise having too much furniture in the room. A great way for a minimal look with maximum storage is to buy a headboard with built in storage. There's a lot of storage headboards on the market, including this JD Williams headboard. It has storage solutions on the side and front of the headboard so that you can utilise the space to suit your style.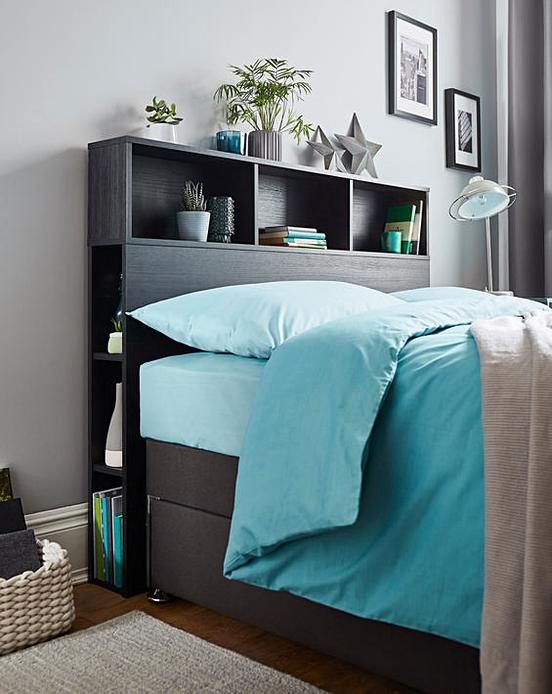 Be organised with an Ottoman
If you have extra space at the foot of your bed and you want to fill it with additional seating, why not consider an ottoman. They offer plenty of storage for quilts, blankets and pillows. If you have difficulty in finding space to store extra bedding, this is perfect. Plus, it looks glamorous if you opt for a velvet styled one.
Image source: Etsy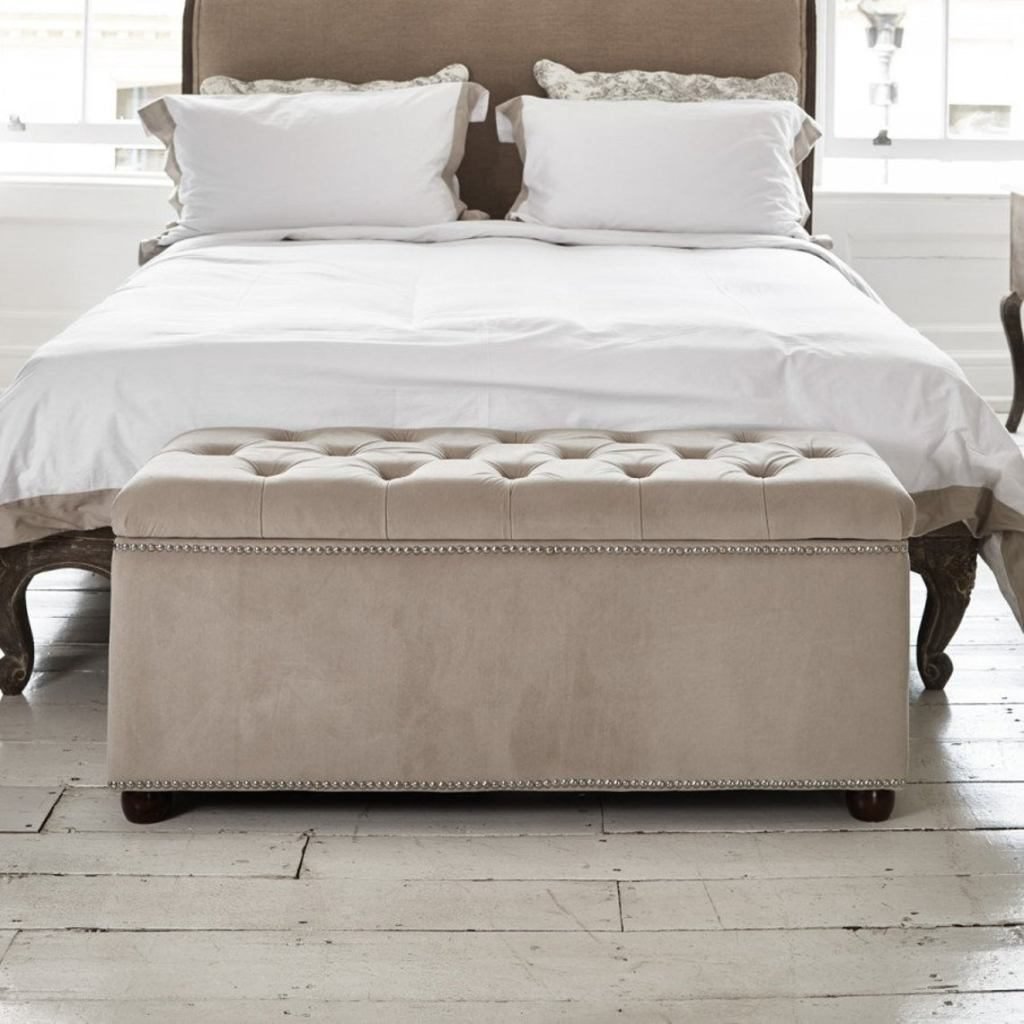 Cube Shelves for extra storage
No room for a bookshelf? No worries… Cube shelves are a win-win storage solution for small bedrooms. Not only do they offer multiple storage options inside the cube and on top, but when styled right they can look really stylish. Use art and plants to mix in with your items to create an inspiring space in your room.
Image source: B&Q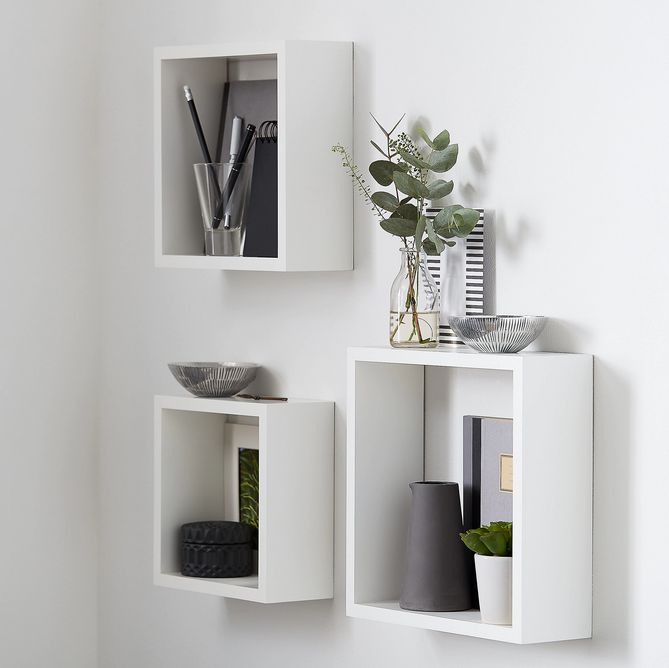 Where do you put a bed in a small bedroom?
Placing the bed up against the wall further away from the door creates the illusion that the room is much bigger. This is because the eye will draw in on the immediate space when entering the room instead of focusing on the bed. It also allows you to play around with rugs and other furniture that may not have fit in the room if the bed was centrally placed.
How do you make a small bedroom look nice?
Everyone has a different style but when it comes to small spaces you have to think in a more clever way about the space you're styling. Opt for simple coloured walls like grey and white to brighten up your space and don't clutter your room with bulky dressers and drawers. If you can, get floating nightstands and arrange shelves in a way to bring style to your walls which will minimise on furniture.