As you embark on your journey to create a home office that resonates with style and functionality, remember that the right furniture plays a pivotal role. To complement your panelling masterpiece, explore a diverse range of office furniture that not only fits your design aesthetic but also ensures comfort and productivity. Just as wood panelling adds depth and texture to your workspace, the right furniture pieces can contribute to an environment that fosters creativity and efficiency.
Panelling is a great way to introduce colour, depth and texture to a space and we think this interior trend should be expressed in the home office too.
Read on to see our list of amazing home office ideas to inspire your work week.
Wood panelling home office idea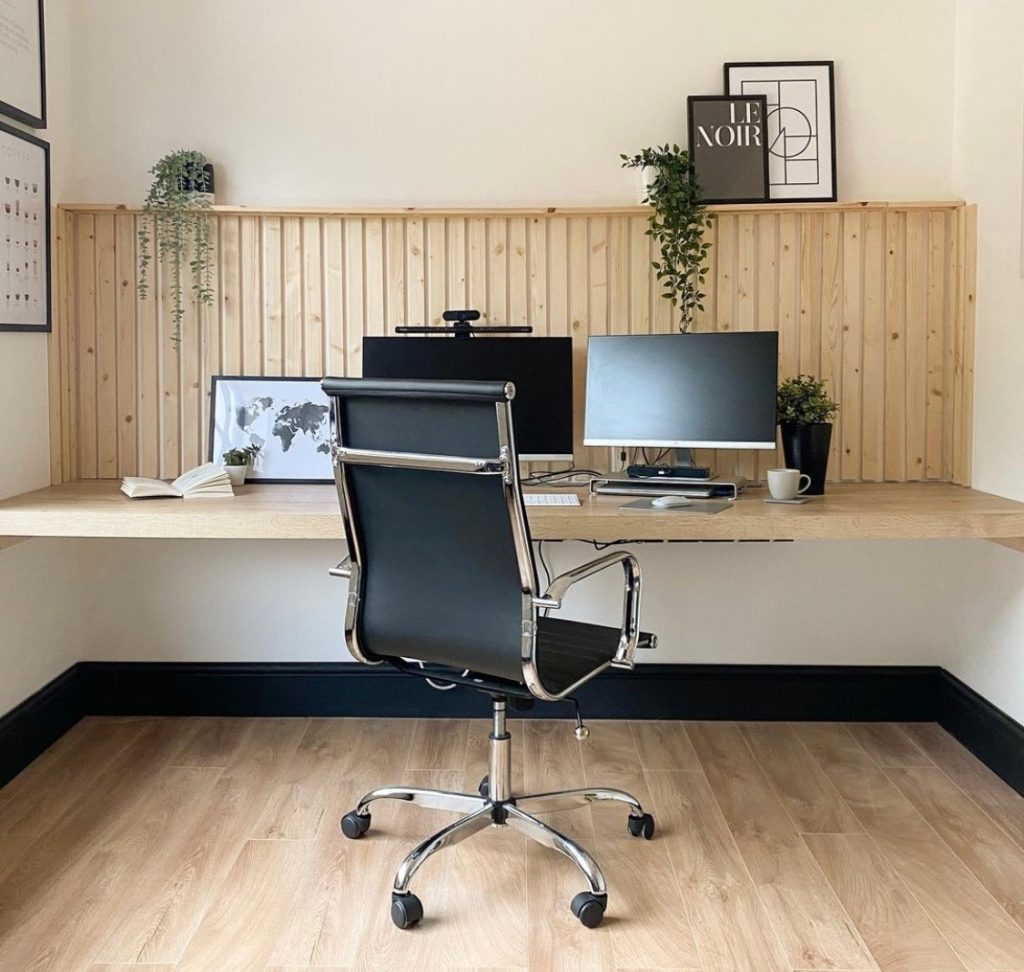 Separate a blank wall with wood effect panelling in your home office for a really simple yet bold look. Use natural-looking wood panels to break up half of your wall to draw attention to your desk space, especially if your desk is wooden as the panelling will blend in seamlessly. Panelling with shelving is also a fab way to add extra storage for your workspace, from storing books to showcasing motivational artwork to get you through the day.
Grey home office idea with panelling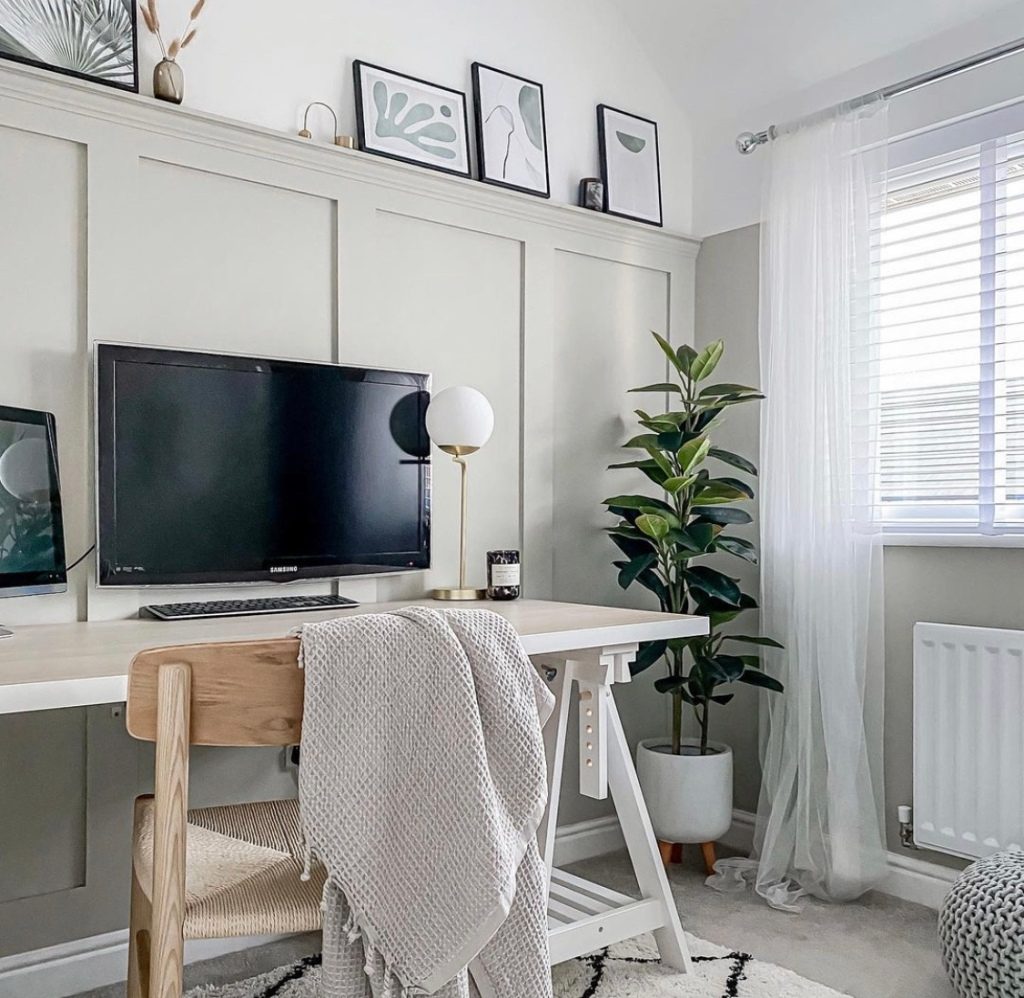 Grey is a calming colour, and makes a wonderful choice for a home office colour scheme. Create texture and depth in your work space with tall panelling that spans 3 quarters of the way up your wall to give your room a contrast that will make your walls appear taller and your room bigger.
When styling a grey home office, keep your decor pieces simple and soft with delicate pastels and natural tones for an overall feel of calmness.
Get a similar look: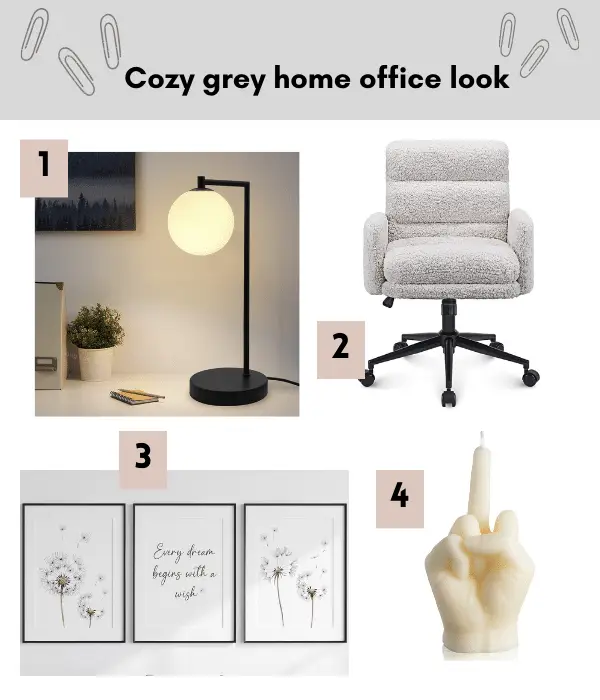 Related: beautiful wall panelling ideas
Elegant black home office panelling idea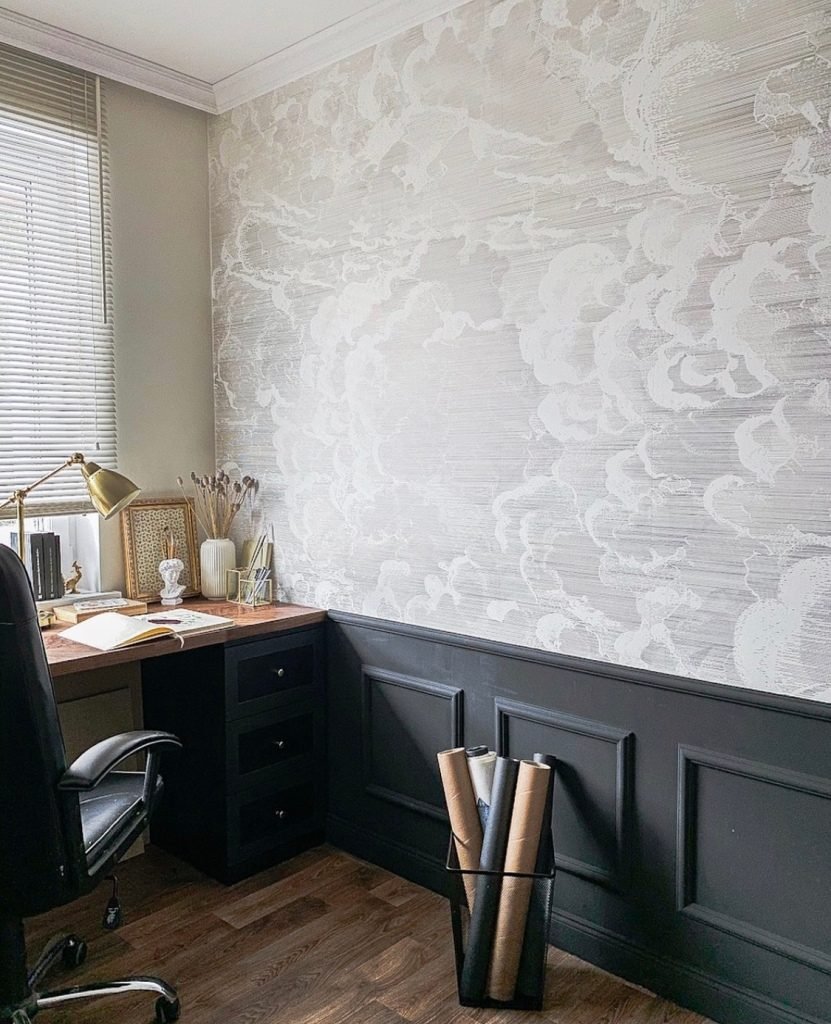 Love dark interiors? Bring your love of the dark side into your home office space with traditional-style panelling on the bottom part of your walls to give your space a subtle look. Match your panelling with shimmer or metallic wallpaper to give your walls an edgy look, just like this dramatic and cozy home office idea above.
There are lots of ways to accessorise a dark home office, but one of our favourites is to incorporate gold decor to give your space a glam finish.
Office panelling with storage cabinets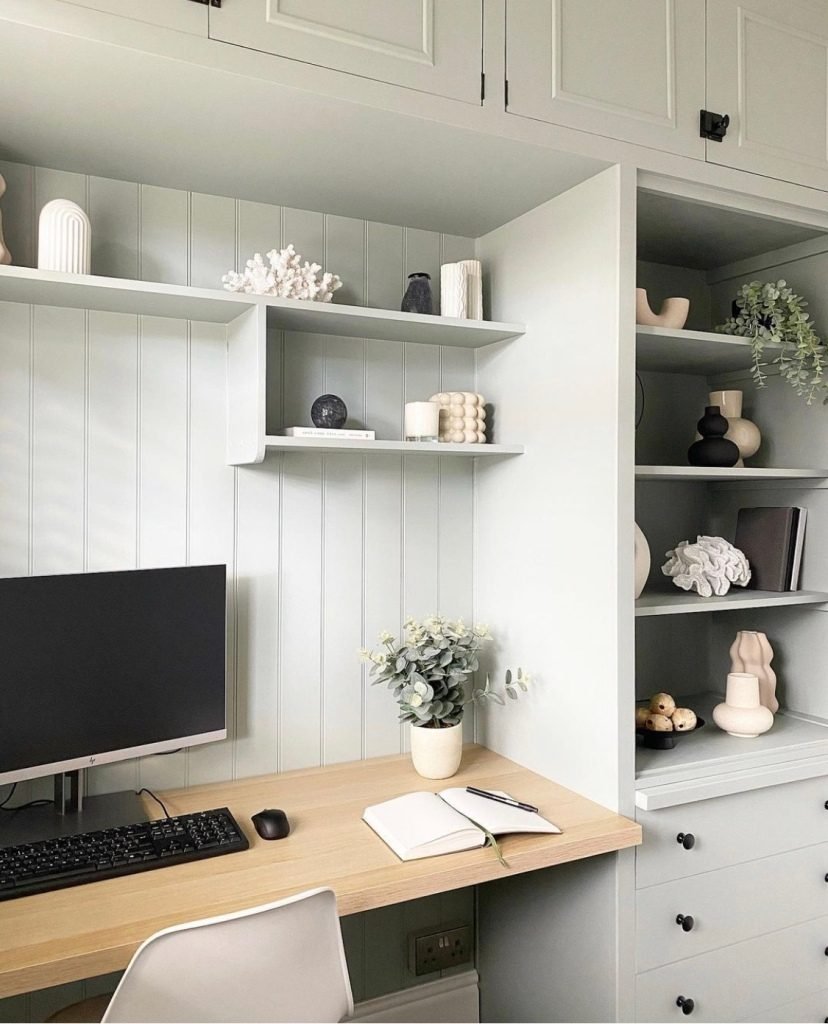 Combine panelling with cabinets in a home office for formal interior styling that will make you feel organised and ready to take on the day. Soft neutral colours like blue are associated with inspiration and imagination, which is a perfect palette for your workspace.
Minimal home office idea with panelling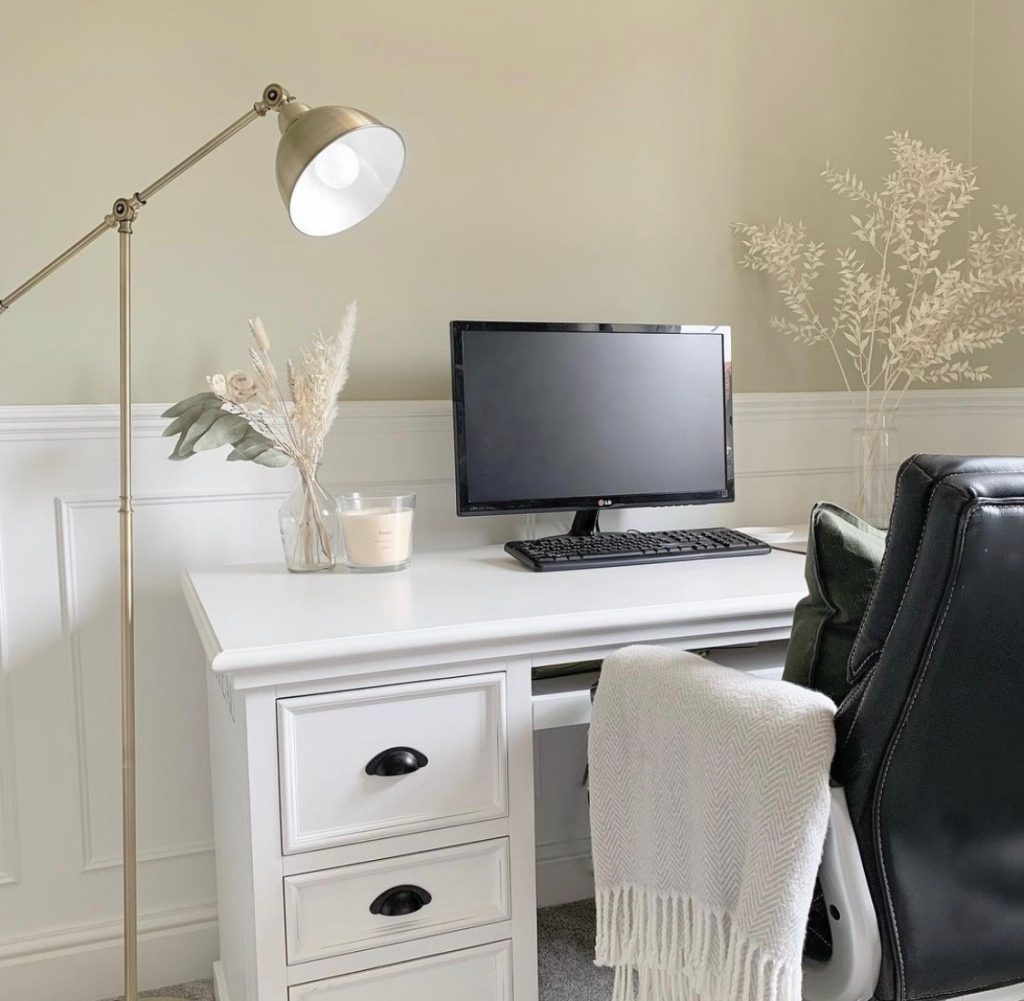 Create a minimalist workspace at home with a white and beige colour scheme, just like this simple but stylish design above. By breaking up your beige and white walls with elegant panelling, the space is transformed to look and feel professional with a timeless design.
Don't be afraid to add dark accents to your office with bold draw handles and accessories to break up the light colours slightly.
Dark grey office with panelling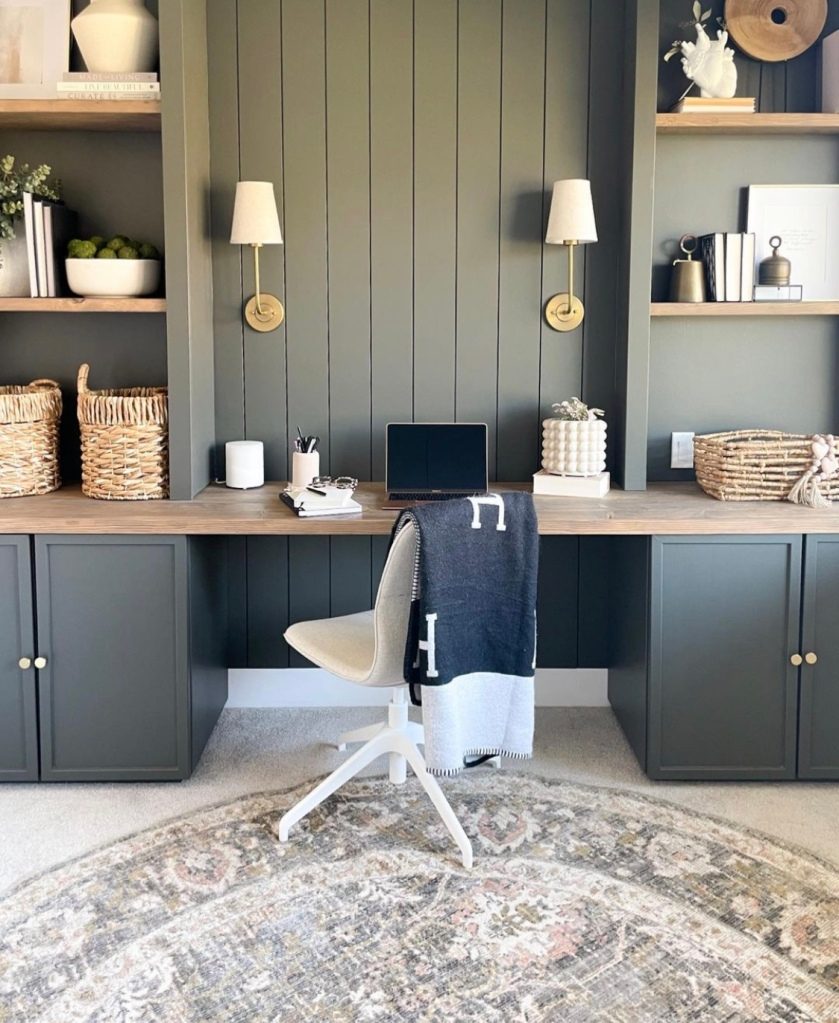 A grey office space doesn't have to be dull, liven it up with a purpose-built workspace with panelling to add to the design. For tall workspaces, opt for vertical stripe panelling to really show off the length of the walls. Furthermore, built-in light fixtures are small details that add to the regal style of a sophisticated workspace setting.
Neutral home office idea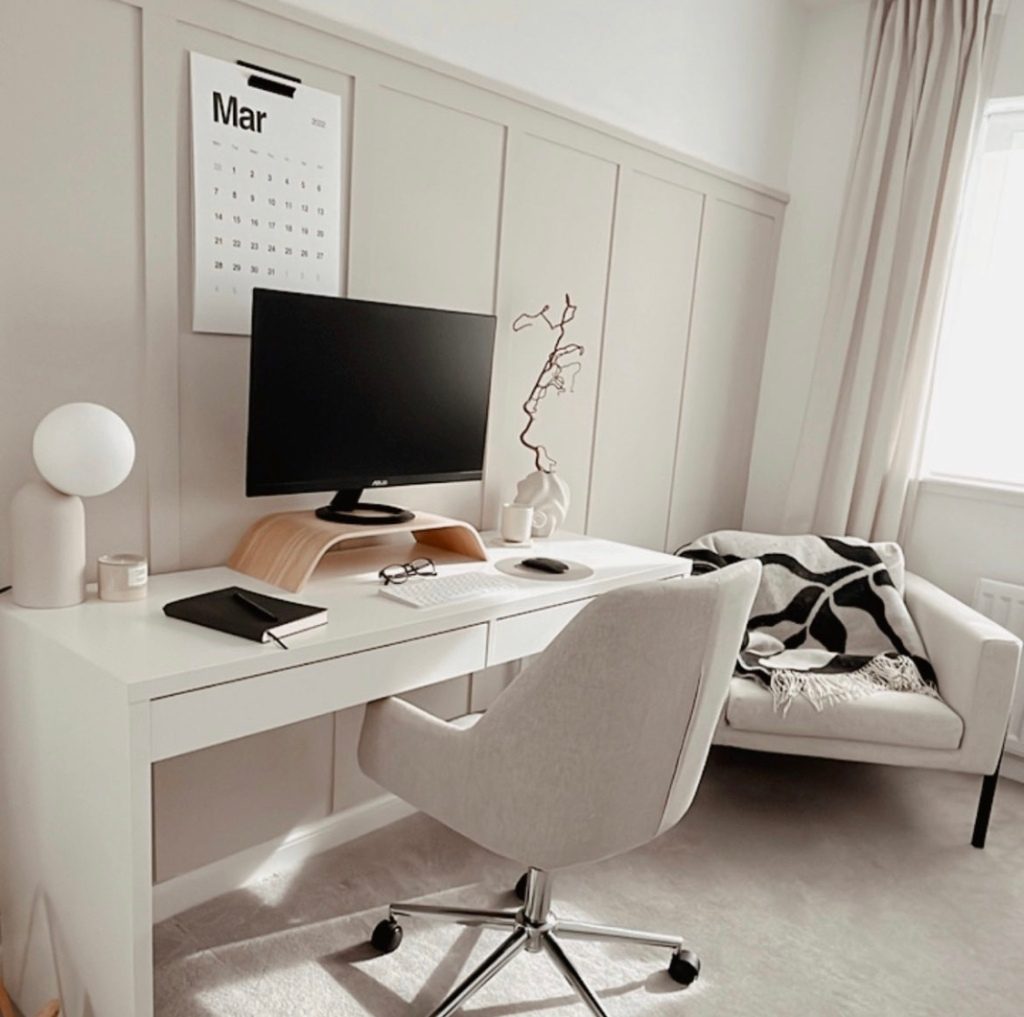 Set a relaxing tone for your home office with a neutral palette like cream and beige that provide a blank canvas. To spruce up a neutral room, add half-wall panels to add depth and texture to a neutral colour scheme. Layering a cream room with different shades will create a snug space that feels warm and inviting.
Don't be afraid to keep your office space one tone, it'll provide less distractions and will bring a sense of calm and relaxation to your working day.
Get a similar look: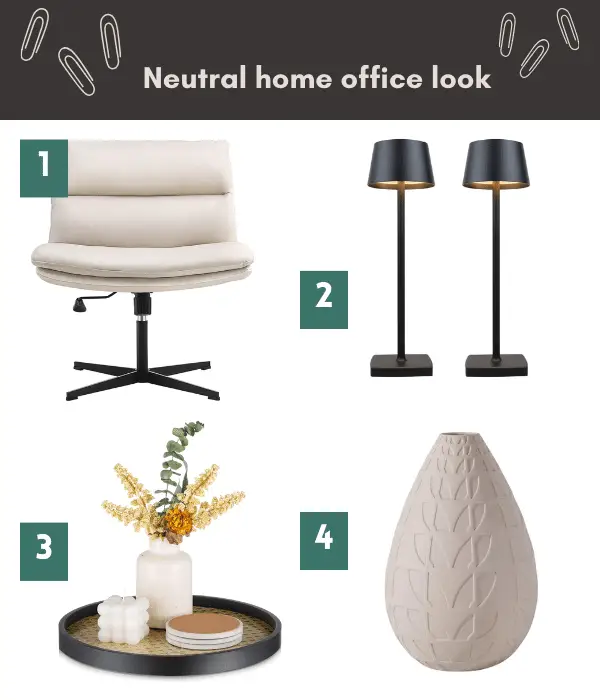 Related: half wall panelling ideas you'll love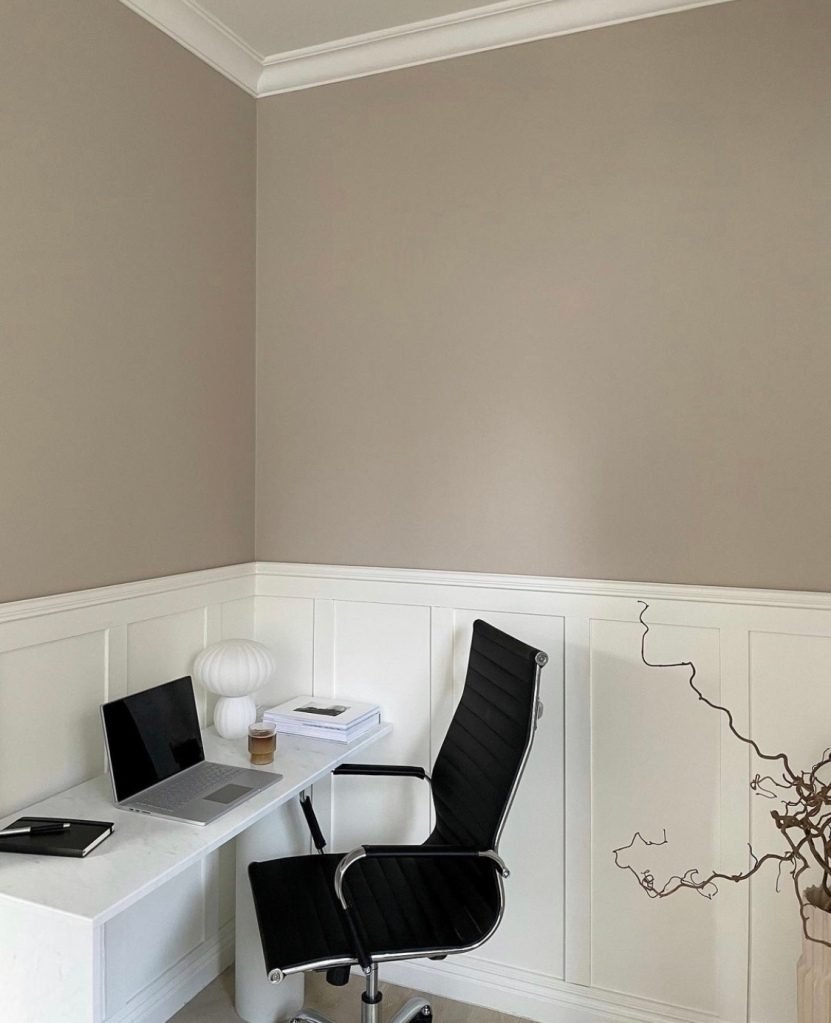 Panelling is a great way to break up the walls in your home office as well as providing a contrast so that your walls don't look too dark. We love mid-wall panelling that is bright and bold to add a pop of character to a space to really be transformative.
Green shaker wall panel home office idea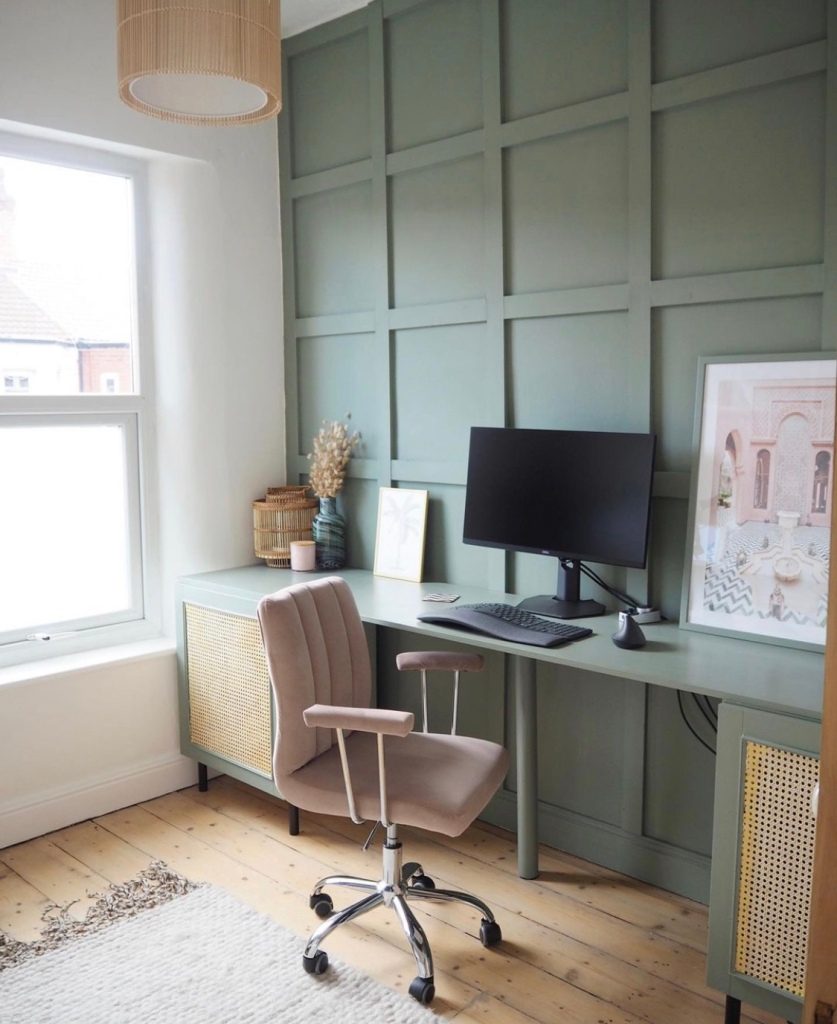 A fab way to spruce up a wall instantly is with square (shaker) wall panelling that'll make your home office pop. This gorgeous green-panelled wall adds depth and a sense of fun to a blank canvas. The great part about this style of panelling is that it doubles up as wall art so you don't need to decorate your walls. To keep the tone neutral why not incorporate brown, wood and creams into your space through decor such as rugs, lamps and accessories?
Get a similar look: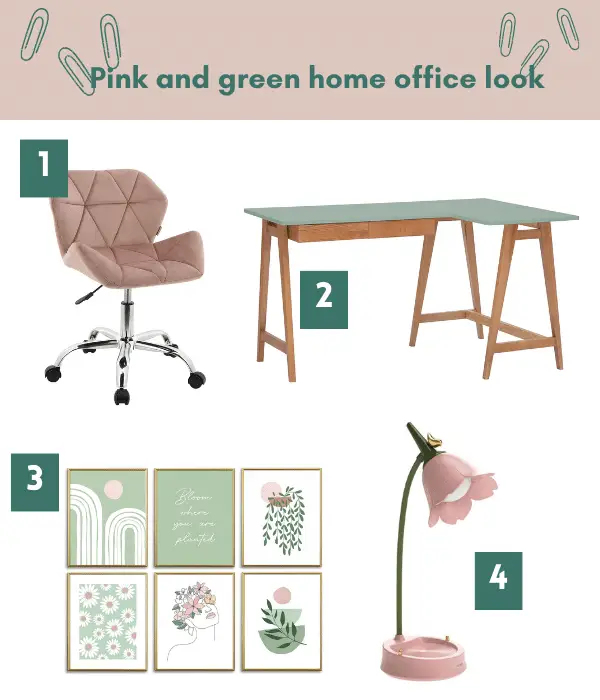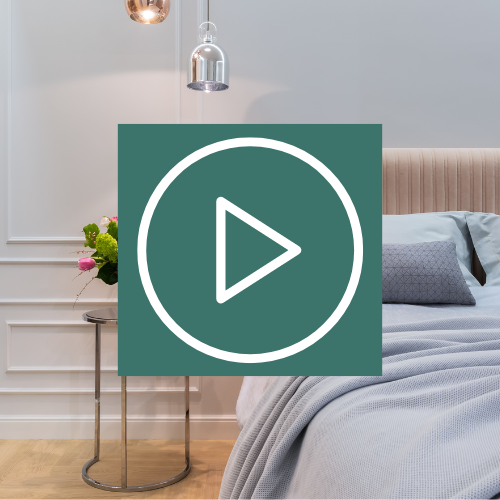 How to install wall panelling in your bedroom (video guides)
Thinking of panelling your bedroom yourself? Before you do, check out these 5 video ideas on how to install wall panelling in your bedroom.
Did you enjoy this article? Follow us on Instagram or Facebook to stay up-to-date with ideas and tips around the home!